See how to decorate an Elegant Gold and White Flocked Christmas Tree! Lots of ornament ideas and glam tree decorating tips! Plus see more gorgeous Christmas tree inspiration in this fun 35 Christmas tree blog tour!  
Be sure to visit each of the blogs ( linked at the end of the post) throughout this week to see lots of magical Christmas trees!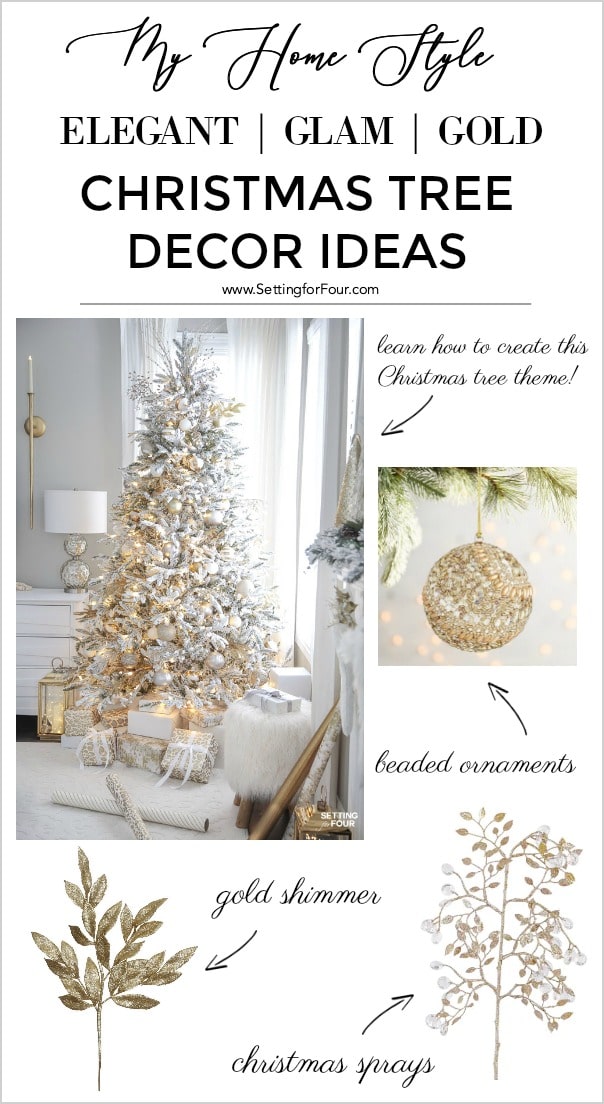 This post contains some affiliate links for your shopping convenience. Click here to read my full disclosure policy.
See the paint colors in my home and my favorite go to gray paint color!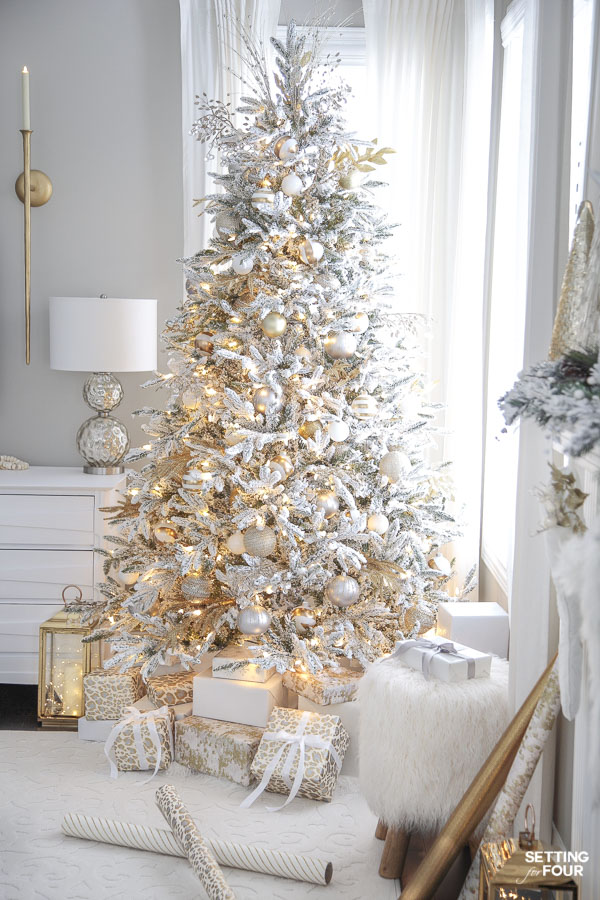 See the sources of my elegant, gold and white Christmas tree! Exact or similar items are shown.
Click on the pictures below to shop and see more details about each item. Scroll using the arrows to see them all!


  I'm so excited to be sharing with you my Christmas Tree decor ideas today! 
Of all the holiday decor, the decorated Christmas tree is the most beautiful I think!
There is so much Christmas tree decorating inpso in this post – 25 creative design bloggers are joining me in this My Home Style: Christmas Tree Edition blog tour hosted by Stephanie at Casa Watkins Living.
We want to introduce all of our amazing readers to a variety of decorating styles, to inspire you as you decorate your tree this year!
It's always fun to see new holiday decorating ideas!
If you're new here, here's a bit about me: I'm an Interior Decorator, Design and Lifestyle Influencer and proud military wife!
You can check out my  About Me page to read about how and why I started my blog Setting for Four, after having a career in Research & Development Microbiology!…..and if you enjoy my blog please subscribe!
---
Do you need help decorating your home or picking paint colors? See my online decorating & paint color services and  client reviews!  Email me at [email protected] for more info!

---
Every year I like to create a different focus and color palette for my Christmas tree and holiday decor!
I reuse my Christmas decorations and ornaments each year and love to tweak things slightly to create a whole new look!
I've done a:
 This year my Christmas tree was inspired by a gorgeous gold sparkly Christmas spray I found (also comes in a beautiful champagne color!)
I bought a bunch of them and built onto it's beautiful gold color with white and a bit of gray.
This is the first year I've experimented with adding Christmas sprays to my Christmas tree….and I am hooked!
I just love the different textures they bring to the pine branches, the shimmer and color!
You can really breathe new life into a Christmas tree you've had forever with Christmas sprays!
Elegant Gold and White Flocked Christmas Tree
I love, love love flocked Christmas trees! I have a natural green tree too, but there is just something so magical about the snowy winter wonderland look of a flocked tree!
I put my Christmas tree in this corner of my living room between the two windows, by our media unit. It's really the only spot for it and I love how the sunlight streaming through the windows sparkles off of the ornaments in the daytime! It's so magical!
5 Design Tricks To Brighten A Dark Room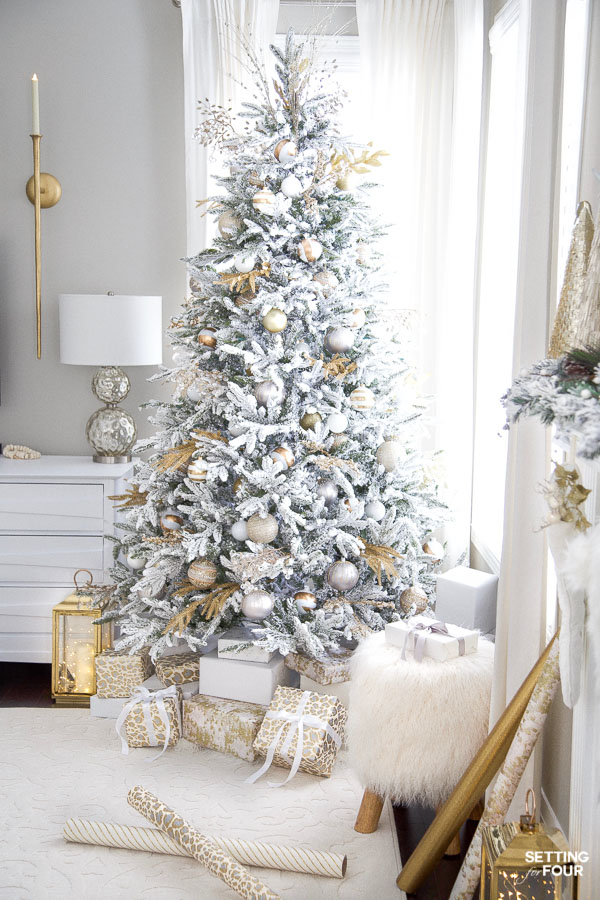 See the sources of my elegant, gold and white Christmas tree! Exact or similar items are shown.
Click on the pictures below to shop and see more details about each item. Scroll using the arrows to see them all!


My Christmas tree decor always starts with a tree skirt! See How To Set Up A Flocked Christmas Tree To Minimize Flock Shedding.
I start the elegant look to my tree with an glam faux fur white tree skirt – just love the texture and soft white color that looks like freshly fallen snow!
Next I decorated the tree with three types of Christmas picks. I bought 7 sparkly jeweled sprays, 7 gold branch sprays and 7 gold sparkly sprays I picked up at HomeSense. If you don't have a HomeSense near you check out it's sister store, HomeGoods!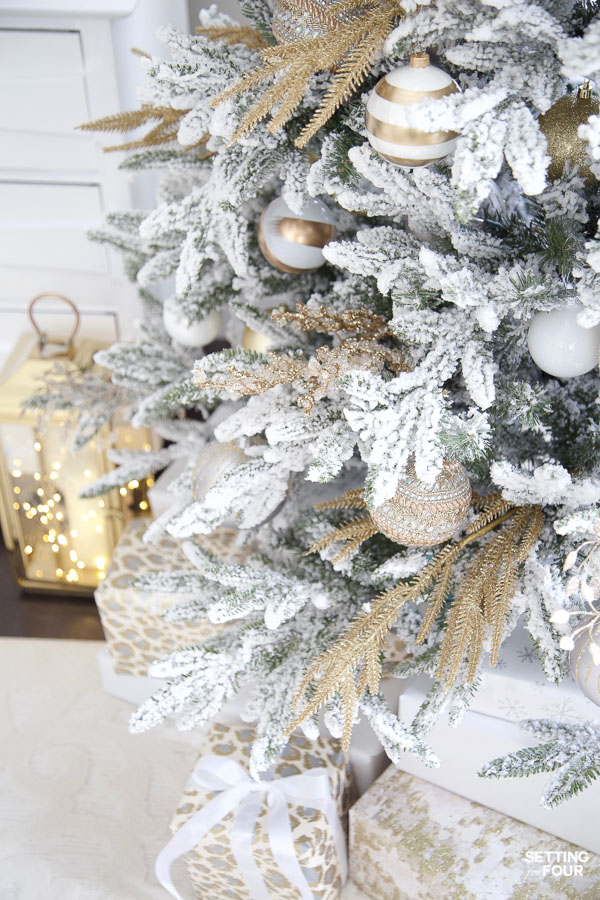 I arranged a few of the sprays at the top of the tree instead of using a tree topper. I love tree toppers but this year I wanted the texture and sparkle of these gorgeous sprays at the top of the tree!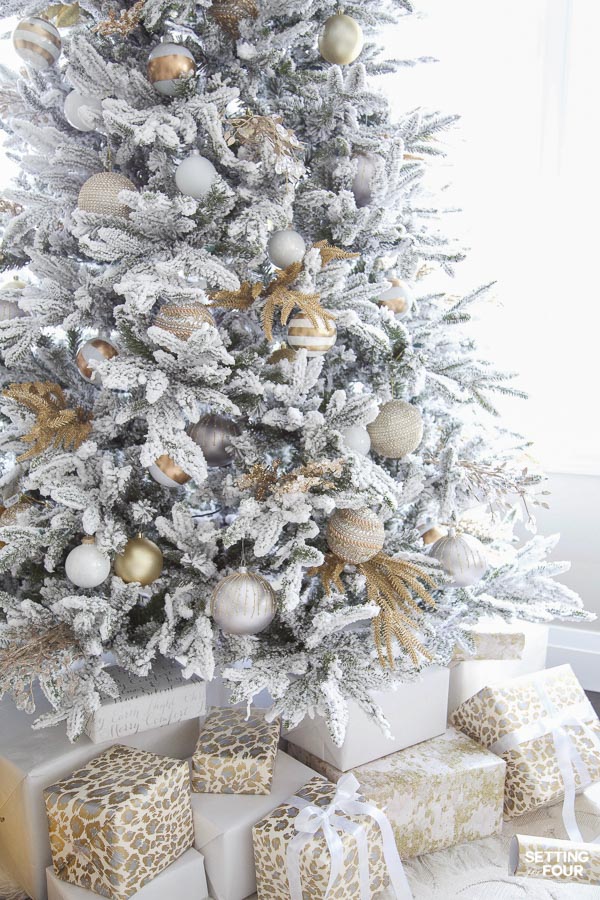 Then I placed the sprays randomly from tree top to bottom, making sure I mixed up each type of pick around the tree.
The sprays just lay on the branches so it's very easy to add them!
Just stick in the end and slide them into the tree until the end of the spray is draping over the Christmas tree branches.
These sparkly sprays make the tree look it's dipped in gorgeous jewels!
Next I layered on more gold with added these gold jeweled Christmas balls and some of my gold Christmas balls I've had for many years.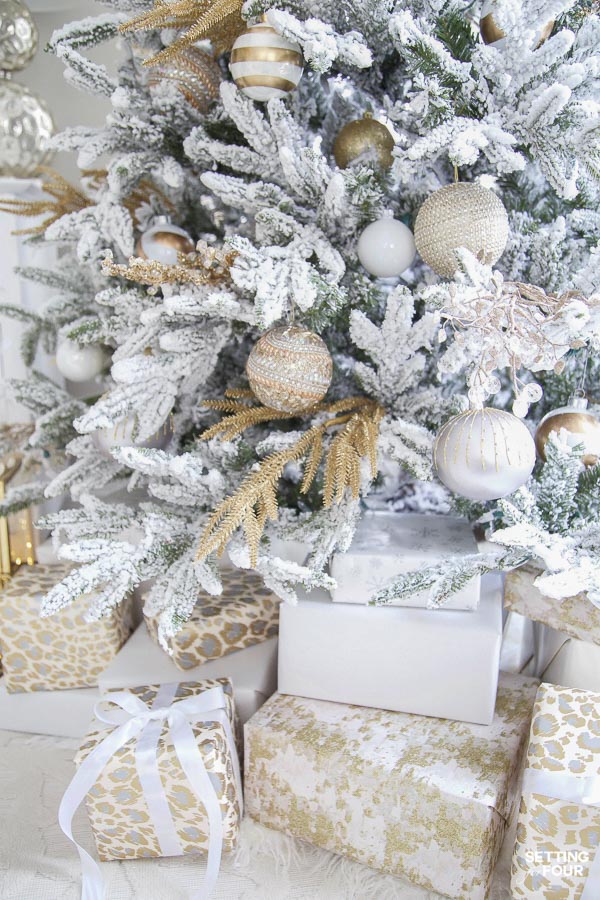 Then I added 20 beautiful white Christmas balls and 10 gorgeous gray balls with sparkly gold beading for a pop of gray to repeat my gray wall color!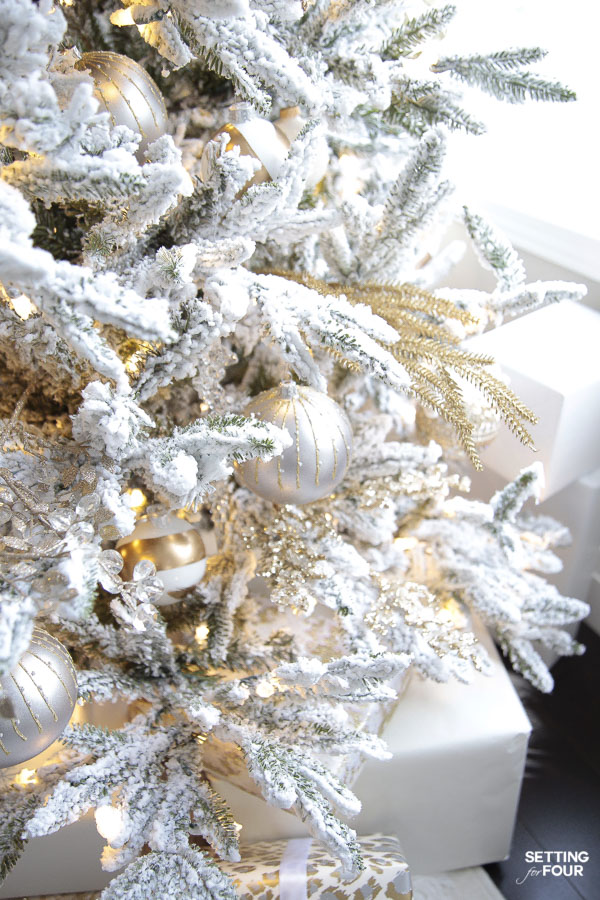 Lastly I added several clear acrylic icicle ornaments I've had for 5 years, for a wintery vibe. They look like crystal but are very lightweight.
The last step in decorating my tree is to add a final layer of elegance and pattern with faux presents wrapped in gorgeous wrapping paper! I always use wrapping paper colors that coordinate with the tree color palette. These faux gifts started out as empty cardboard boxes!
My jaw dropped to the floor when I saw this stunning gold and silvery gray leopard print wrapping paper that I found at HomeSense!
It completely speaks to my tree theme, colors and style! I mixed up the leopard print with plain white wrapping paper and a gold and white abstract print wrapping paper and white satin ribbon.
I love the modern, contemporary style it gives my holiday tree!
These faux presents are a fabulous way to cover the unsightly tree stand and give your tree a gorgeous festive look! With just 3 or 4 rolls of wrapping paper, they a really inexpensive way to decorate your tree on a budget!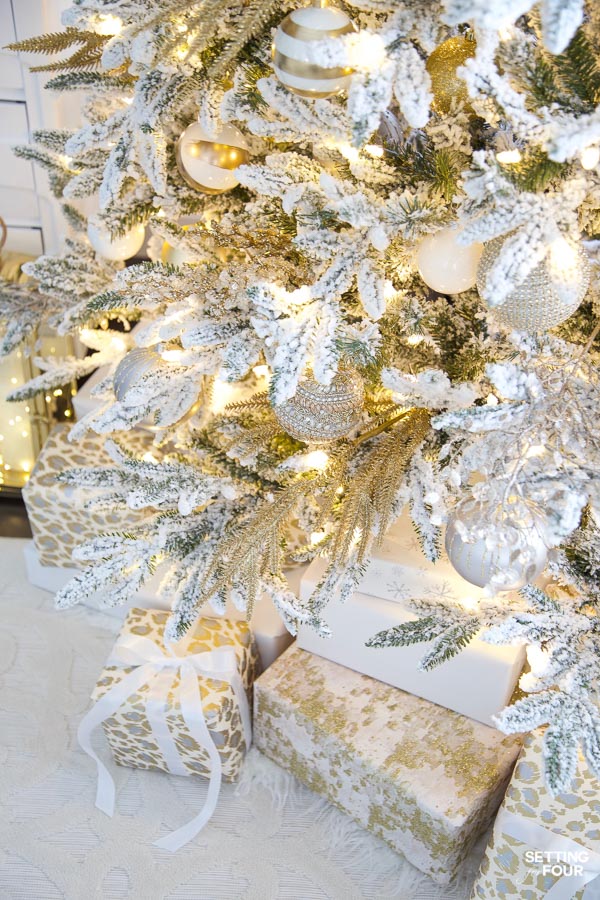 I just love all the beautiful wrapping papers for sale at Christmas! Have fun with them and buy ones that coordinate with your tree colors to get a designer look!
Using these Christmas decor supplies and steps, you can create your own elegant, gold and white flocked Christmas tree with a traditional meets modern style.
Stay tuned for more elegant, timeless Christmas decor ideas in my kitchen and living room Christmas tours  – coming soon!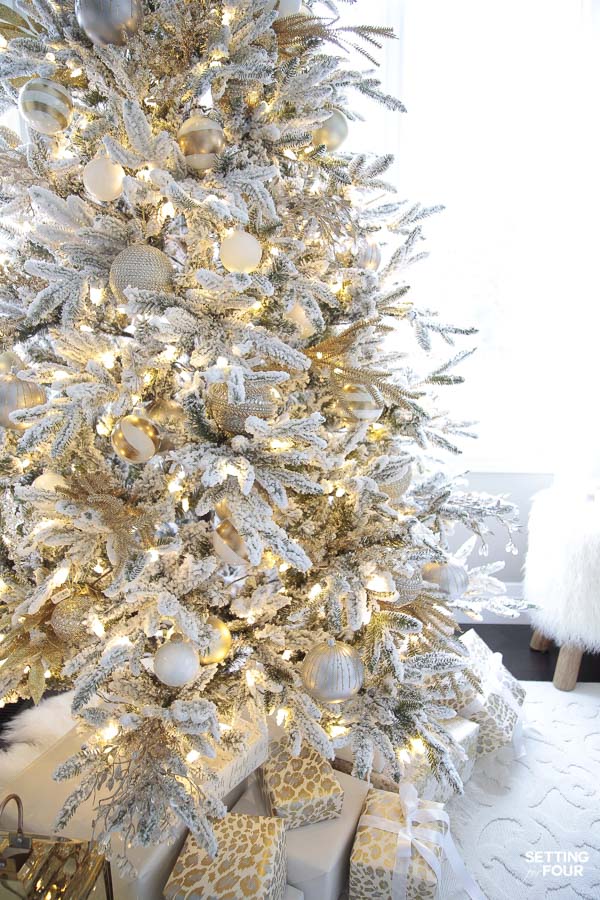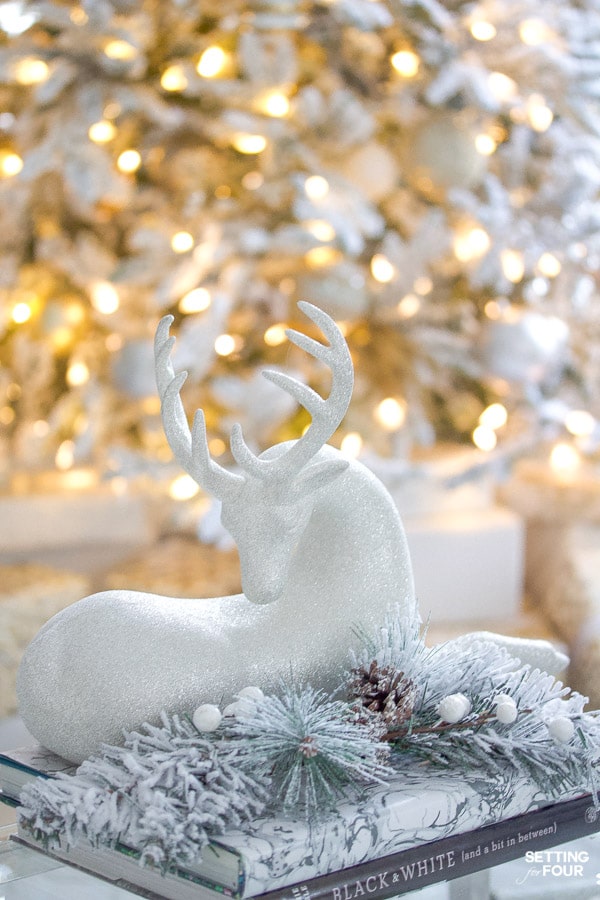 Here are some more Christmas entertaining and decorating ideas to enjoy!
Grab more beautiful Christmas tree ideas by clicking over to each of the blogs below!
Monday
Casa Watkins Living // Up To Date Interiors // Delineate Your Dwelling // Thou Swell // House Of Hipsters // French & French Interiors // Haneen's Haven
Tuesday
Two Twenty One // Jeweled Interiors // Dimples and Tangles // PMQ For Two // Kaleidoscope Living // Reality Daydream // Heathered Nest
Wednesday
Setting For Four // Monica Wants It // Domicile 37 // The Happy Housie // Lovely Indeed // Lemon Thistle // Amber Oliver
Thursday
Taryn Whiteaker Designs // Cherished Bliss // Lovely Etc. // The Honeycomb Home // My Sweet Savannah // Cuckoo For Design // Kate Decorates
Friday
Our Fifth House // Kelly Elko // Daly Digs // Tag & Tibby // House Homemade // Lolly Jane // The DIY Mommy