This refreshing, sparkling Christmas sherbet punch recipe is the perfect drink to serve your guests during the holidays! It can be made in both nonalcoholic and alcohol versions that everyone can enjoy!
Whether you are entertaining the whole family or having an adult-only get together, this punch is a fun beverage everyone will love!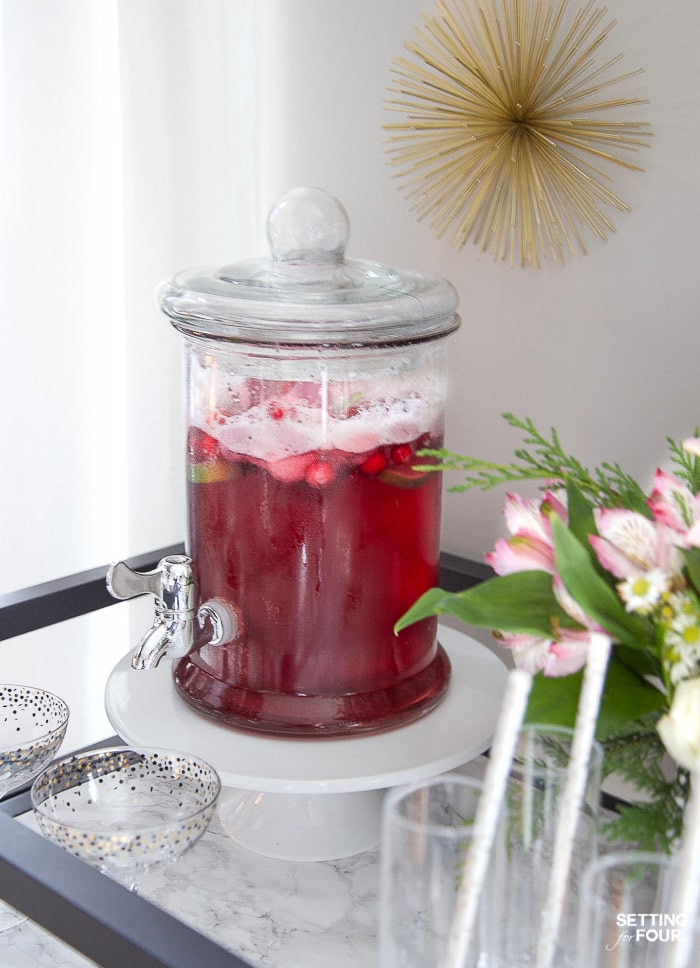 I love the festive look of this sherbet punch with it's gorgeous holiday red color! It's delicious, beautiful and simple to make.
By the way is it pronounced sherbet or sherbert? I've seen it spelled both ways!
So I looked it up and the proper pronunciation is sherbet ("shur-bet")!
It's commonly mispronounced and mispelled as sherbert ("shur-bert"). So now we know!
You only need 4 ingredients to make this yummy holiday drink – and it serves a crowd!
Be sure to get this beautiful 27 page Printable Holiday Planner so you won't forget a thing this holiday season and stay organized! Includes calendars, menu planners, gift planner and Christmas card lists and more!
I serve my sherbet punch in a large drink dispenser placed on my bar cart, but you can use a beautiful punch bowl!
Click on the pictures below to shop!

Add it to your kitchen island with some beautiful glasses or on a buffet table in your dining space.
I've got lots of Holiday decorating ideas and Christmas sales on Instagram, so be sure to follow me there!
This holiday punch recipe will definitely make your Christmas party merry!
Christmas Sherbet Punch Recipe
Prep time: 5 minutes
Serves 20
Ingredients:
1 gallon Berry Sorbet (raspberry or strawberry or the one I used is gluten free triple berry)
1 gallon cranberry juice, chilled
2L bottle ginger ale, chilled
2L bottle club soda, chilled
Frozen cranberries, optional
For alcoholic version: add 1 bottle (750 ml) of vodka and use 750 less club soda
Directions to make this delicious Christmas punch:
Make sure all the ingredients are very cold. Scoop the sherbet into a large drink dispenser or large punch bowl, then pour in the cranberry juice, ginger ale and club soda and stir gently. If adding vodka, add it last and stir gently.
Add frozen cranberries if desired.
PIN THIS TO SAVE FOR LATER!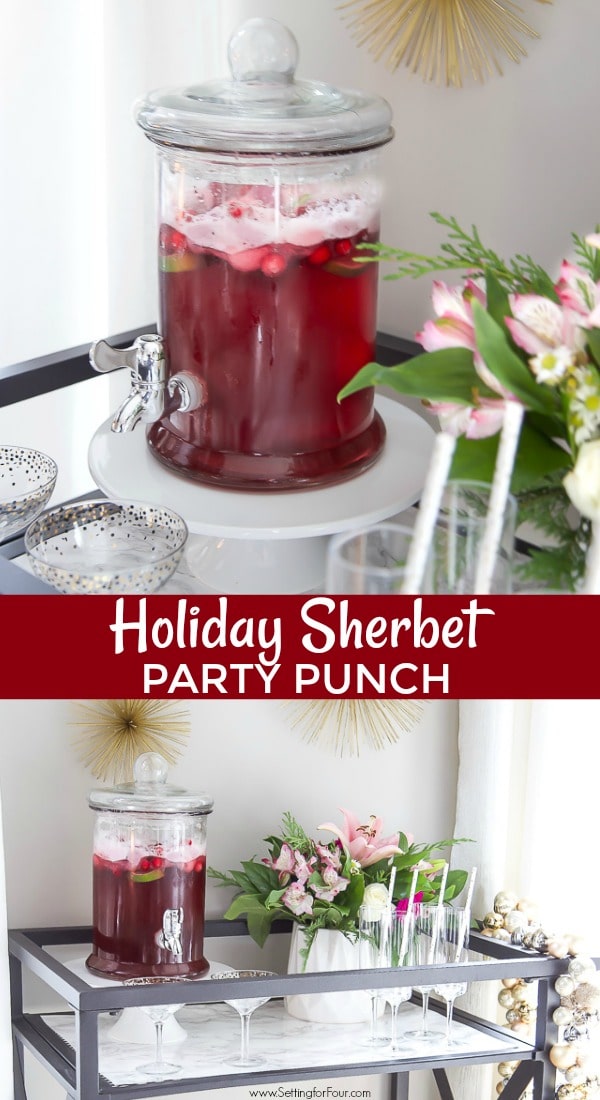 Here is how I love to serve my Christmas sherbet punch in my glass drink dispenser and my Christmas bar cart set up!
See more of my Easy Christmas Bar Cart Decor & Styling Ideas.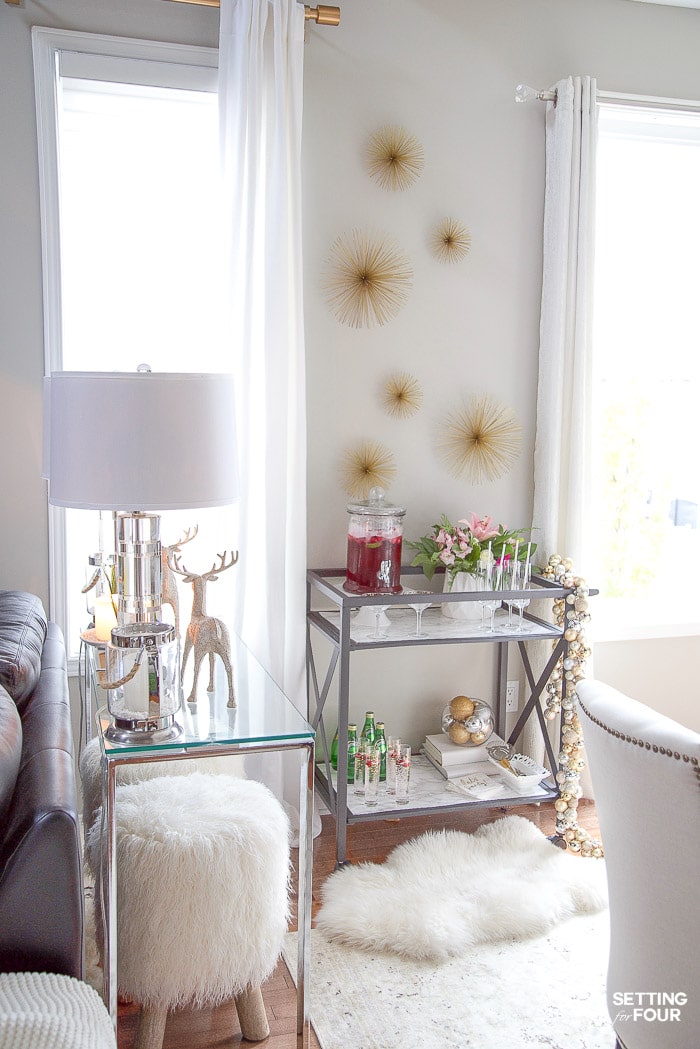 See these 34 Christmas sweets and treats – holiday baking recipes to make and to gift!
You may also like:
7 New Year's Eve Bar Cart Decor & Entertaining Ideas
DIY Marble Bar Cart Top and Shelf
How to Style a Bar Cart For The Holidays
How To Create A Fabulous New Year's Eve Bar Cart
15 Creative Ways To Use and Style A Bar Cart!