This Easy Chocolate Lasagna No Bake Dessert is so quick to make! It's a decadent, one dish dessert that's perfect for potlucks and dinner parties. I've added chocolate liqueur to the recipe for an extra chocolatey flavor – but you can omit that if you like! A great make ahead recipe that can be frozen too. Everyone will be asking you for this recipe!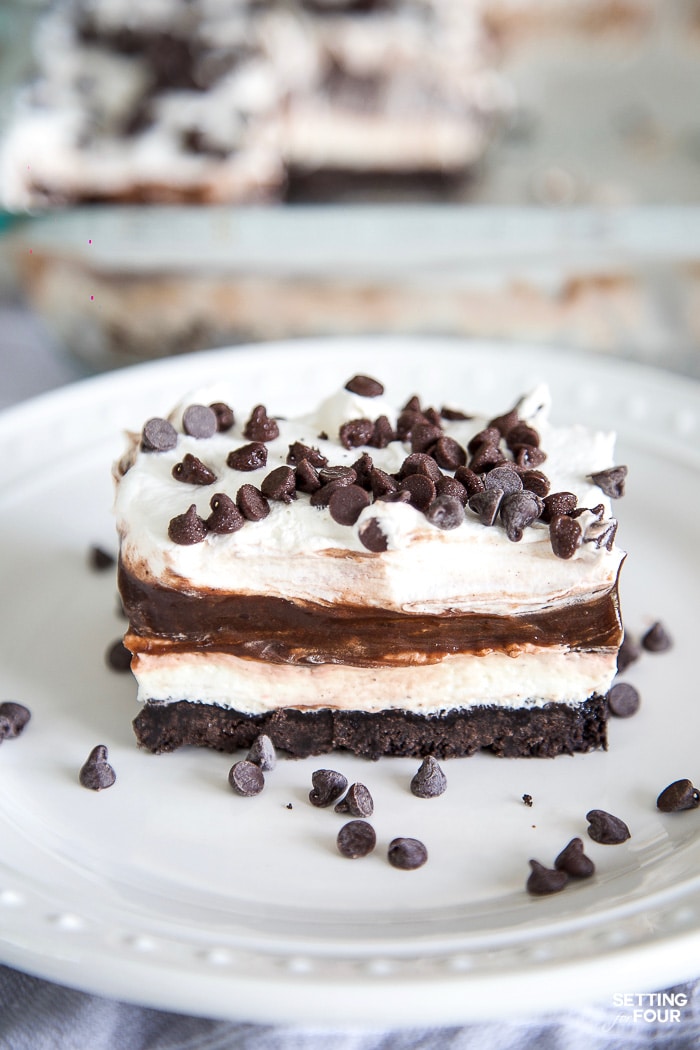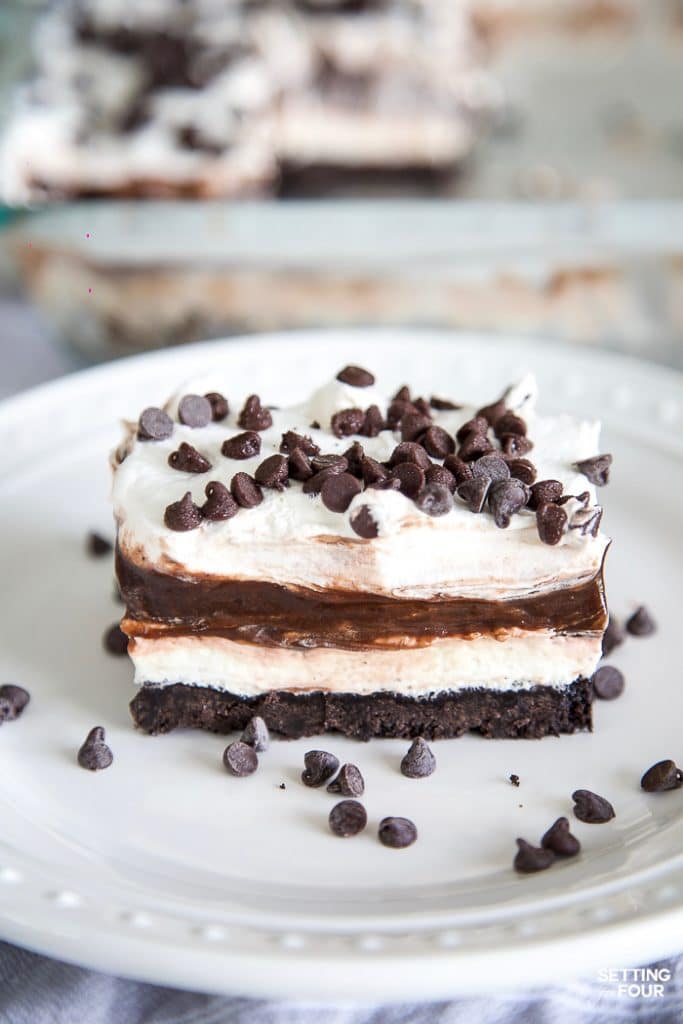 Chocolate Lasagna No Bake Dessert
I love collecting amazing, sure-to-please recipes do you? This is one of them that is easy to make and everyone raves about!
THere are a few Chocolate Lasagna recipes out there – but mine has an extra chocolatey, yummy twist! It has chocolate liqueur in it!
You can omit the liqueur if you want!
This dessert is perfect for potlucks and special events – everyone loves chocolate and the combination of whipped center and crunchy bottom!
Our youngest son has declared this his favorite 'birthday cake'!
Here's a video to show you how EASY and quick it is to make!
Recipe Ingredients:
1 package regular Oreo cookies (not the Double Stuff kind) – about 36 cookies
5 Tablespoon butter, melted
8 ounce package cream cheese, softened
1/4 cup granulated sugar
2 Tablespoons cold milk
Optional – 4 tbsp chocolate liqueur such as Godiva Chocolate Liqueur or Bailey's.( If you don't want to use this, just leave it out! No substitution of another liquid is required.)
12 ounce tub Cool Whip, divided
2 of 3.9 ounce packages Chocolate Instant Pudding
3 1/4 cups cold milk
1 1/2 cups mini chocolate chips
Instructions:
Crush 36 Oreo cookies. I use my food processor, but you could also place them in a large ziplock bag and crush them with a rolling pin or meat tenderizer mallet. Crush until the Oreos have turned into fine crumbs.
Add the Oreo crumbs to a large bowl. Stir in melted butter. Use a fork to mix the butter into the cookie crumbs. Transfer the mixture into a 9 x 13 inch baking dish, pressing the crumbs into the bottom of the dish. Place the baking dish into the refrigerator and work on the additional layers.
In a large bowl mix the cream cheese with a mixer until light and fluffy. Add 2 Tablespoons of milk and sugar. Mix well. Add the chocolate liquor if desired. Stir in 1 1/2 cups Cool Whip and completely mix. Spread this mixture over the oreo crust.
In a bowl, add 3 and 1/4 cups cold milk to the chocolate instant pudding. Whisk for several minutes until the pudding starts to thicken. Use a spatula to spread the pudding mixture over the cream cheese layer. Allow the dessert to firm up on the countertop for 5 minutes.
Spread the remaining Cool Whip on top. Next sprinkle mini chocolate chips over the top. Place in the freezer for 1 hour, or the refrigerator for 4 hours then serve.
This dessert can be frozen for a week.
It not only looks amazing – but is so delicious!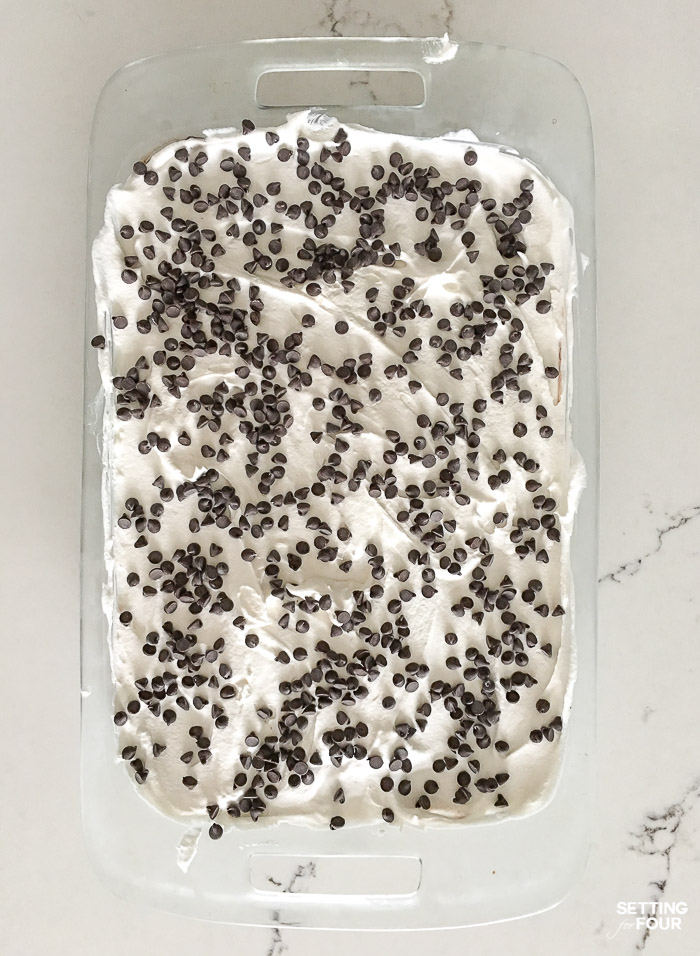 I hope you liked my Chocolate Lasagna No Bake Recipe!
PIN THIS AND SHARE IT WITH YOUR FRIENDS!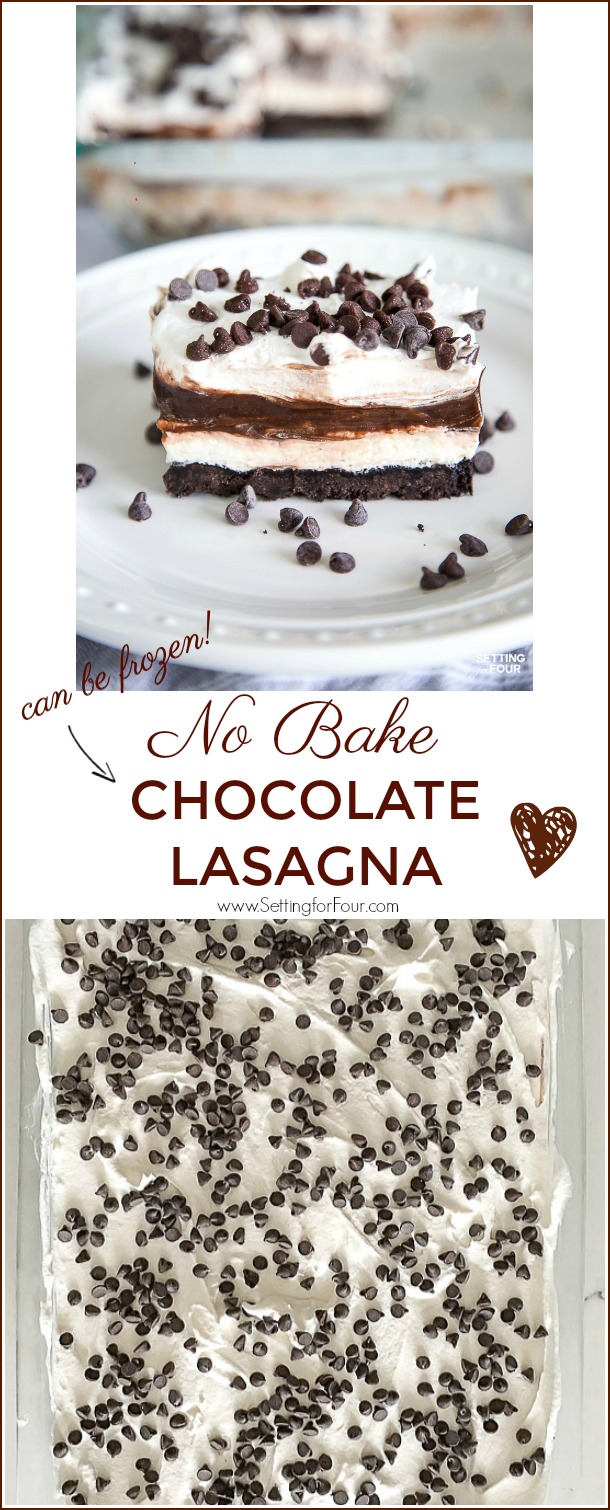 You may also like:
14 Delicious Freezer Meals, Appetizers and Desserts
15 Creative Ways To Use and Style A Bar Cart!