See these easy Christmas Bar Cart Decor & Styling ideas! How to get your bar cart party ready with drinks and decor for entertaining Christmas guests or just to enjoy with your family!
This is my first Christmas post for the season and I'm so excited to share it with you since it's part of a fun Bar Cart Blog Tour hosted by my sweet talented friend Jessica at House Full of Summer!
You'll find lots of holiday decor inspiration in today's holiday decor post – 6 design bloggers are sharing their bar cart styling tips with you – they are listed at the end of the post!
I promise you'll find lots of gorgeous ways to decorate your bar cart with festive style!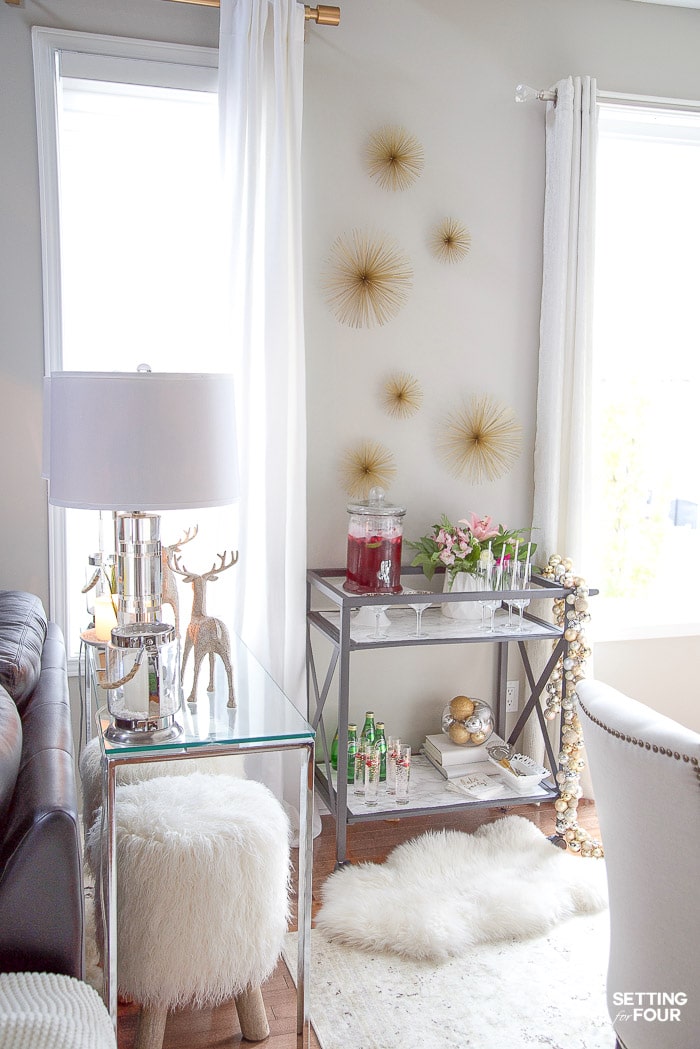 This post contains affiliate links. Funds from affiliates help pay for web hosting, domain registration, email delivery, and other fees to keep settingforfour.com up and running. Thanks for your support!
CLICK ON THE IMAGES BELOW TO SEE MORE ABOUT EACH ITEM AND SCROLL WITH THE ARROWS!

Easy Christmas Bar Cart Decor & Styling Ideas
I love my bar cart so much! There are so many Creative Ways To Use A Bar Cart – I love using mine for the holidays to set up drinks and to display Christmas decor!
Plus it doesn't take a lot of time or money to set up a bar cart with a festive look.
---
Do you need help decorating your home or picking paint colors?
See my online decorating & paint color services plus client reviews! Email me at [email protected] for more info!

---
Let me show you how to set up a beautiful bar cart – the easy way!:
1. The Bar Cart!
First thing – let's talk about the bar cart itself! If you are reading this then obviously you love bar carts too!
They are a great way to add storage and function to a living room or dining room – as a place to store drinks and alcohol, platters of food….and are just plain fun to decorate.
Bar carts can be expensive but I did the research and found some inexpensive bar carts for you!
These lovelies are under $100

and these beauties are under $200


My black bar cart is no longer available but here are some other gorgeous black bar carts!

If you live in a small apartment or condo and don't have room for a 6′ or 7′ foot tree – use a bar cart to display a mini 3′ or 4 ' Christmas tree!
( This mini 4 foot pre-lit flocked tree is my FAVORITE! It's so stunning and doesn't take up much space – I display it in my family room on an end table. It's also great for kids rooms!)
2. Christmas Garland
Add a string of Christmas garland to the handle end of your bar cart and let it drape! You can use flocked pine garland with lights or a pretty ornament ball garland like I used!
You could also add a glittery star banner like I did here.

How to give your bar cart marble shelves – an easy DIY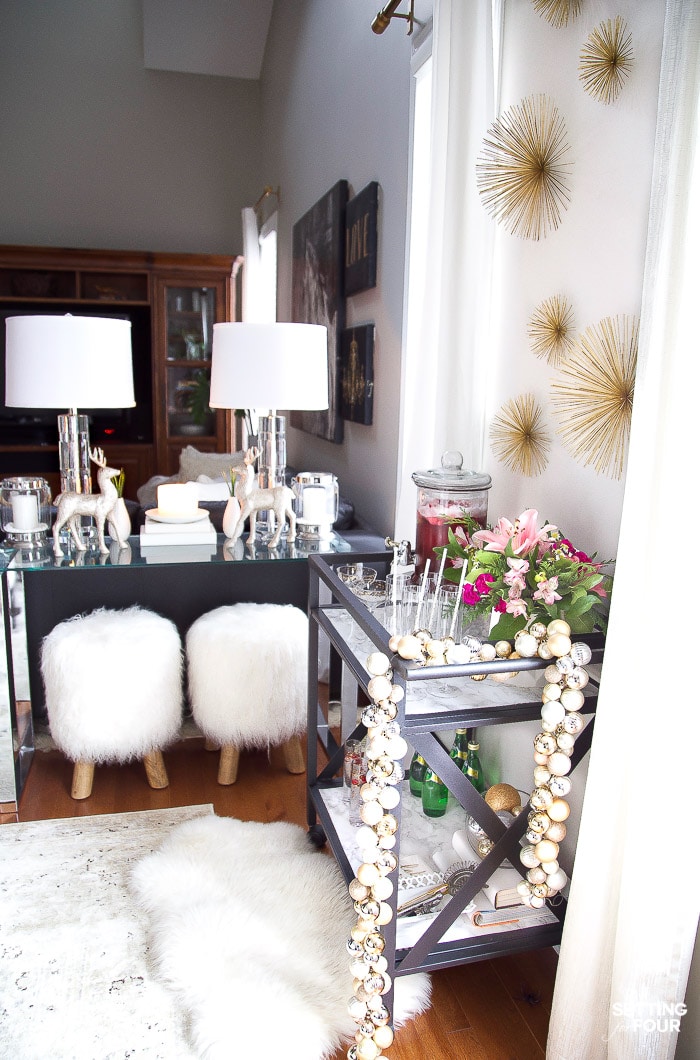 3. Vase or Bowl of Ornaments
Add some Christmas ornaments to a shallow bowl, a clear vase or my favorite bubble vase for a quick and inexpensive holiday decor idea!
Place it on your bar cart shelf for a simple festive feel.
A vase or bowl of ornaments looks beautiful on a kitchen island, coffee table, book case or end table too.
See my home's paint colors and my favorite go-to gray paint color here.
4. Flowers
These are inexpensive grocery store flowers – aren't they pretty?
I sprinkled some cedar clippings (from our back yard) in the arrangement here and there and popped the bouquet in a white ceramic planter I had.
Simple and easy!
I didn't use 'traditional' Christmas colors in my floral arrangement – don't be afraid of using pink flowers, plum colors, blue or white hydrangeas – whatever your store has available will work fine!
Simply adding pine or cedar clippings will turn any inexpensive bunch of blooms into a fabulous 'holiday' look!
Design Tip: If you buy fresh pine and cedar greenery for garland and urns, keep some of it for your indoor holiday bouquets.
See these gorgeous winter floral arrangements! Click on the images below to shop!: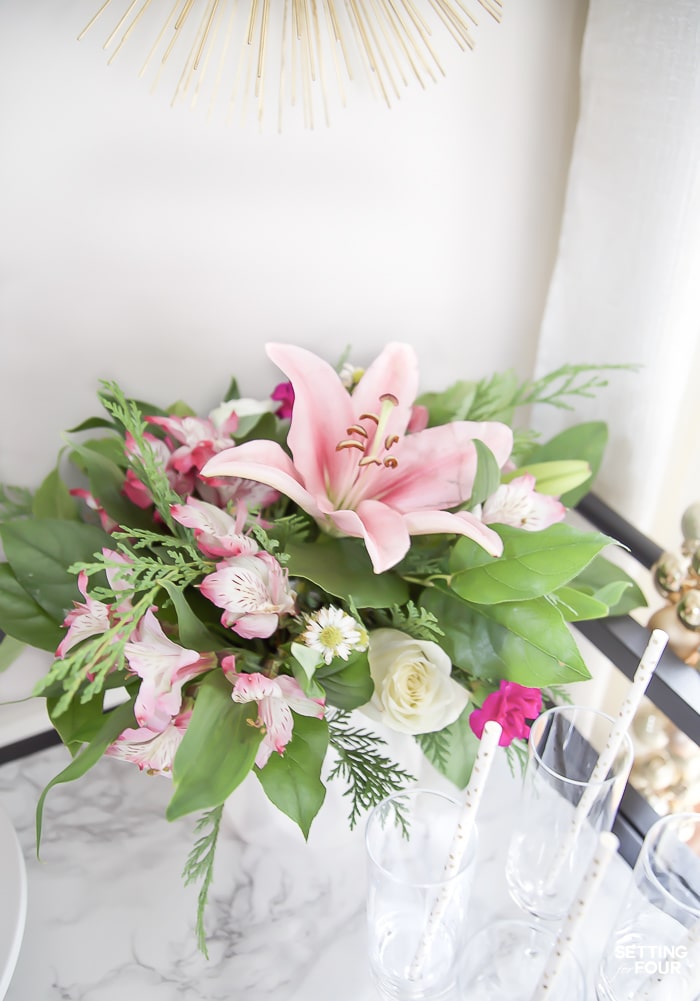 5. Drinks
I love to make up a signature Christmas beverage every year.
This is my Christmas Sherbet Punch recipe- Nonalcoholic and Alcohol versions! It's so delicious and can be made with alcohol or without.
You can serve non alcoholic punch, wine, beer, cocktails, hot chocolate, Christmas coffees or flavored waters… your choice!
I also put a few mini bottles of Perrier on my bar cart for the designated drivers and anyone who would like a sparkling water.
See my 20 Refreshing Cocktail Recipes for fun cocktail ideas!
These 5 Delicious Thirst-Quenching Flavored Water Ideas and 20 Best Hot Chocolate Recipes To Try are great pairings for a holiday bar cart too!
Instead of using a punch bowl, I put my punch in a glass drink dispenser and put it on a cake stand so that everyone can fit their glass under the spout!
Christmas Sherbet Punch Recipe- Nonalcoholic & Alcohol Versions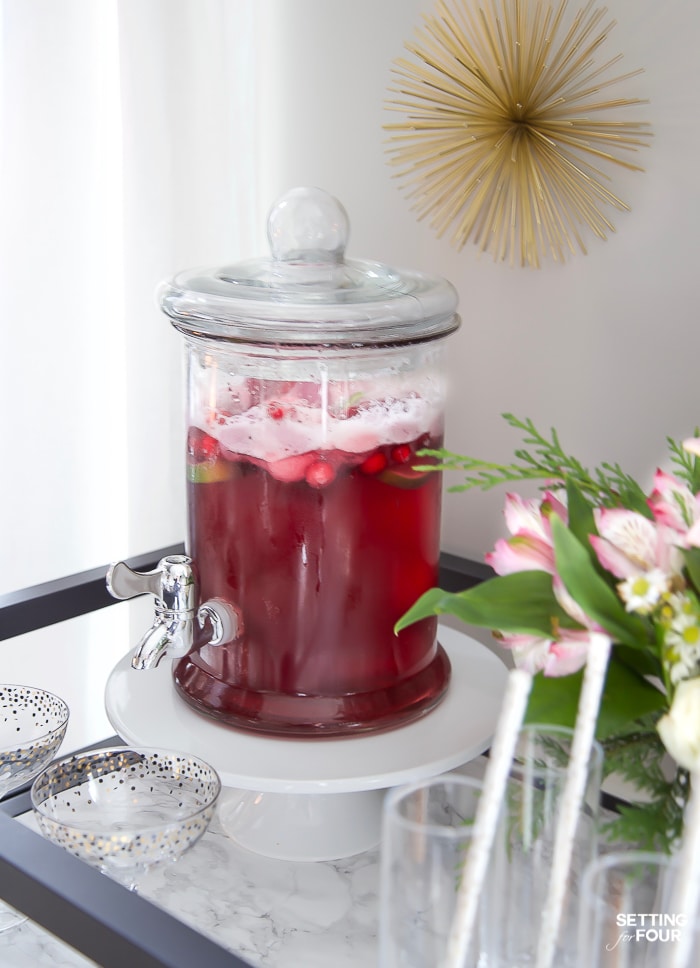 6. Barware
Add some glasses to your bar cart and straws if you'd like to make this a self-serve bar cart.
I love adding these fun coupe glasses and champagne glasses for my punch!
Don't forget to add napkins and any barware you need for your drinks such as a bottle opener, wine stopper, cocktail shaker ect.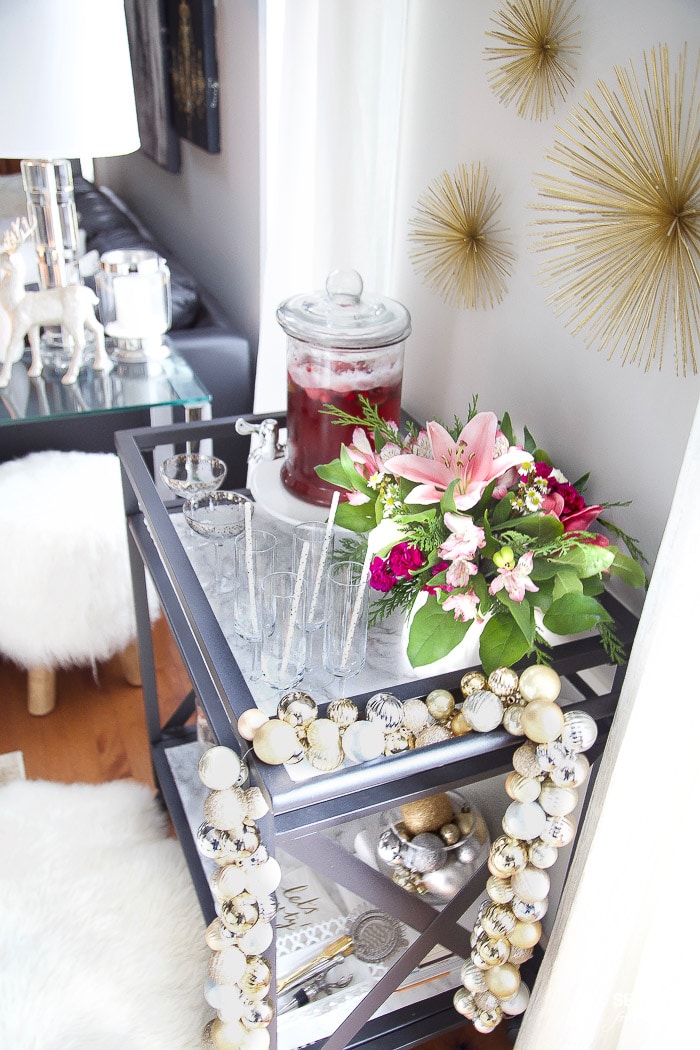 7. Setting the Scene:
Place your holiday bar cart in your living room or dining room for easy access to the holiday punch.
Mine is in our dining room, which opens onto the family room.
I added these two gold glittery deer to the console table to tie in the golds I used on the bar cart.
You could also put deer figures on the bar cart too!
Another place to put your bar cart is by your tree on Christmas morning and make it a coffee /hot chocolate bar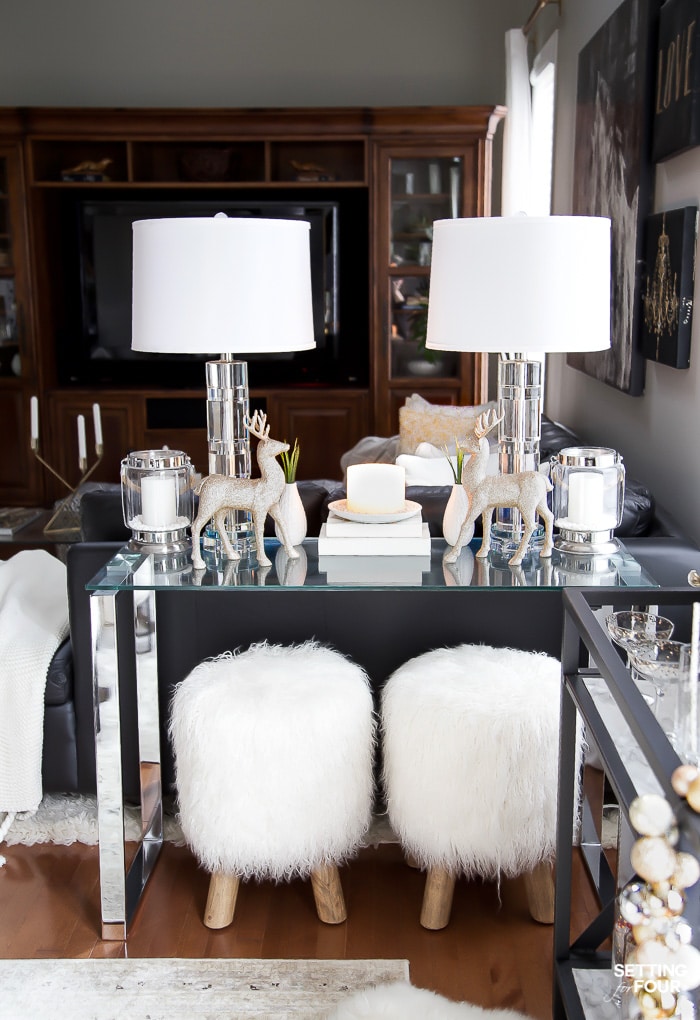 I hope you like my Easy Christmas Bar Cart Decor & Styling Ideas! How do you decorate your's for the holidays and what's your favorite Christmas drink?!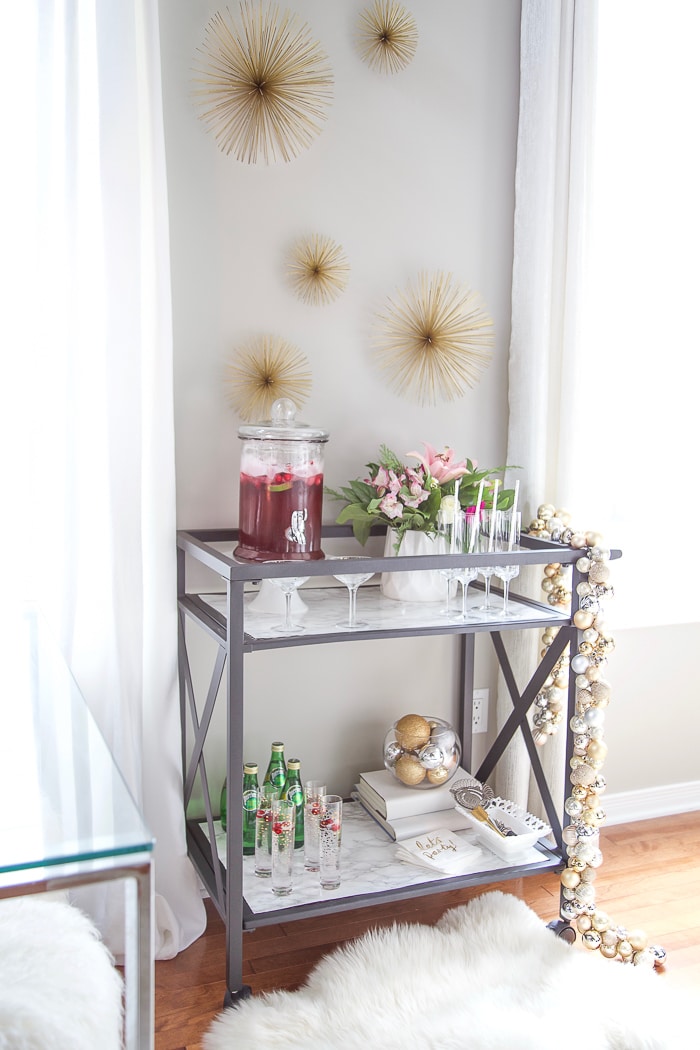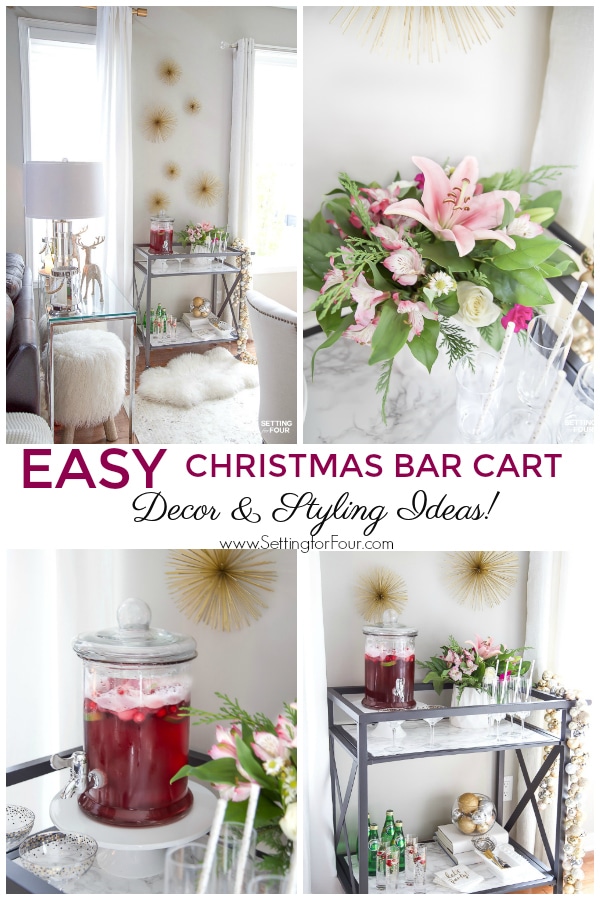 Need help with a room? Click here to read all about my affordable online decor and color services – and the most popular service I'm asked for! I'd love to help you create a home you love!

Check out my Amazon Shop filled with tons of FABULOUS DECOR & GIFT IDEAS. DEALS AND STEALS with Prime Shipping!

You may also like:
FREE Printable Holiday Planner – 27 Pages to Organize and Plan Christmas!
Flocked Christmas Tree – White and Gold Glam Style
7 Ways To Make A Small Living Room Feel Larger Instantly!
Now grab a cup of hot chocolate, turn up the Christmas music and take a look at the Merry Little Bar Cart Blog Hop: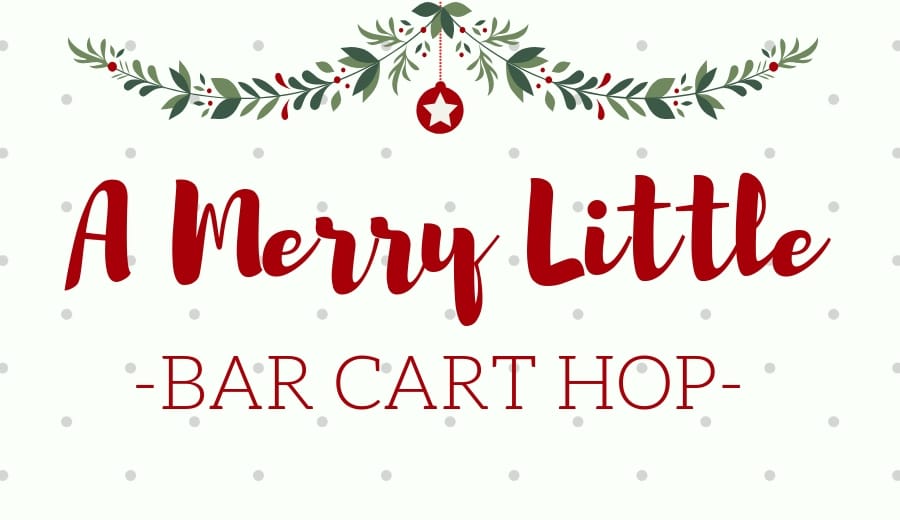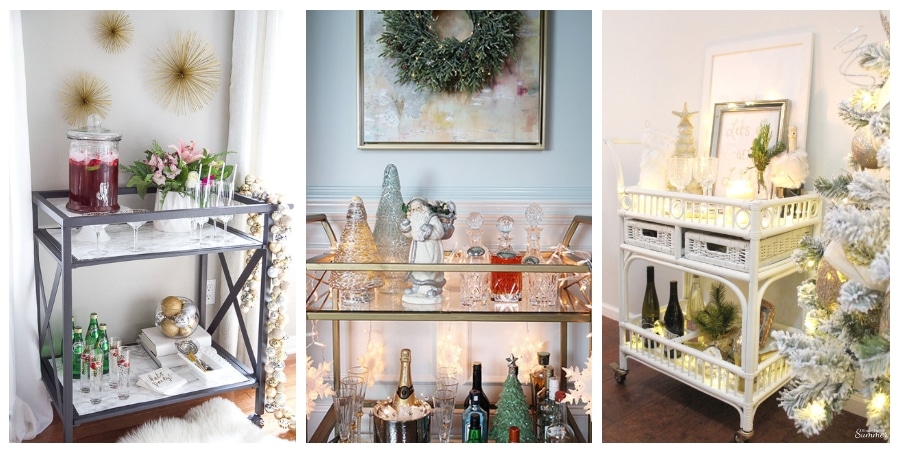 Setting for Four | Porch Daydreamer | House Full of Summer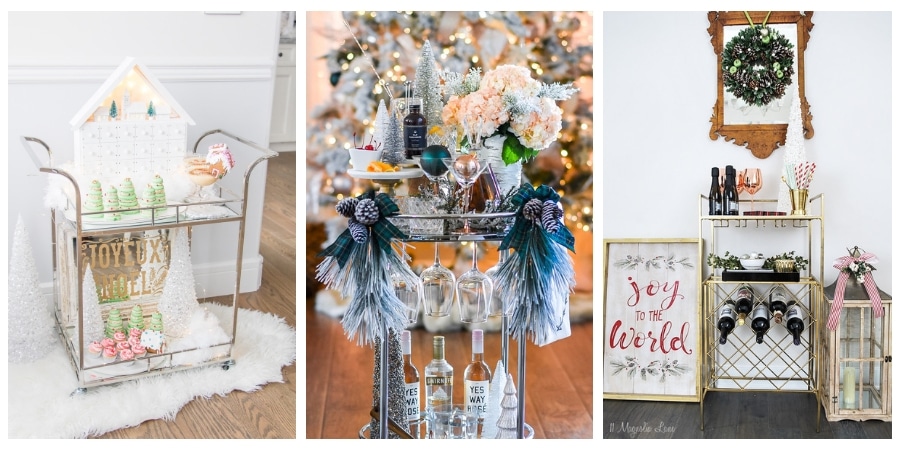 Chandeliers and Champagne | Ashley Nicole Interiors | 11 Magnolia Lane