Use the BEST tips for planning your holiday decor to make the season stress-free and easy! Included are ways to organize everything in advance and holiday decor tips for your home.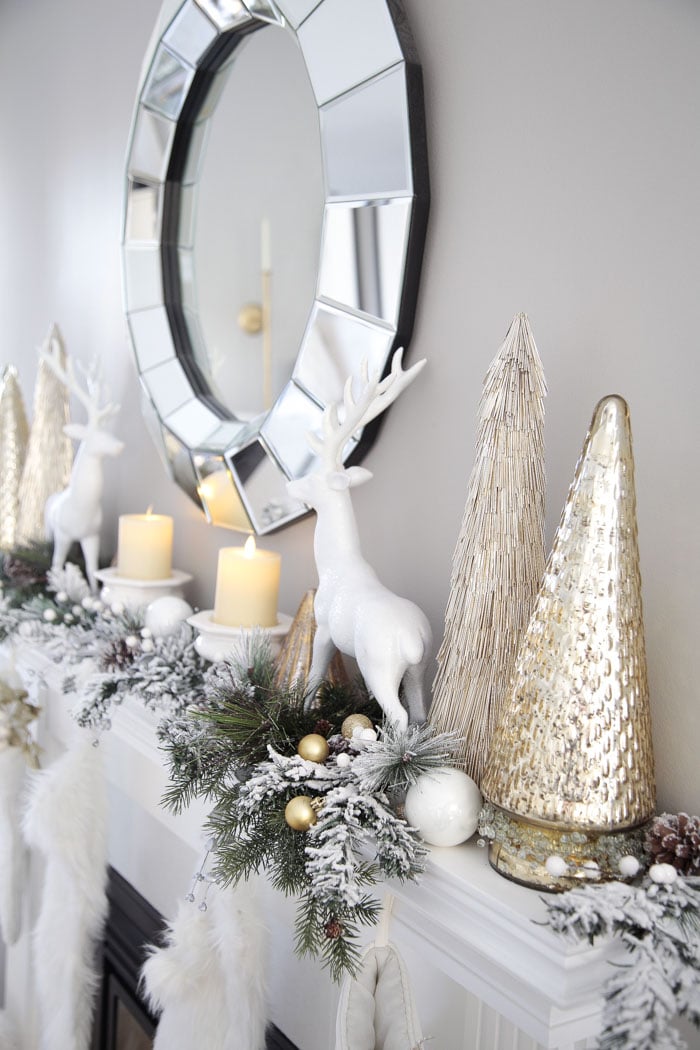 The Best Tips for Planning Your Holiday Decor
This is going to be a Christmas like no other! With Covid 19's impact on our lives, I think we are all more than ready for some holiday cheer and celebration!
Our Christmas gatherings will be smaller and definitely more home based, but that's okay… we can make up for that by celebrating to the fullest, with our closest loved ones in our 'quarantine bubble'!
I've heard through many sources that this year everyone will be decking their halls and homes like never before.
We will decorate to bring us cheer, joy and wrap our homes in the beauty of gorgeous holiday design!
There's an interest in nostalgia right now, so I believe that the classic red and white Christmas look is going to be very popular, as well as the timeless winter woodland Christmas decor style!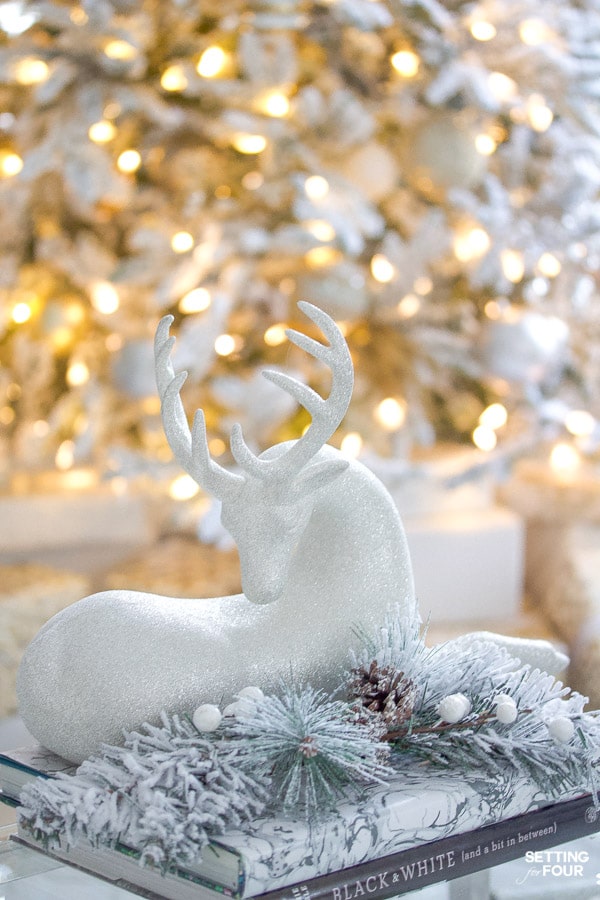 Affiliate links  included. Click HERE for my disclosure statement.
Nostalgia and tradition are also going to be mixed this year with a keen sense to try new trends.
So trendy Christmas colors and Christmas themes will be explored this holiday too! I'm sharing the holiday trend color ideas below.
Because Covid 19 has had a tremendous impact on supply chains and delivery times I'm giving your holiday tips and ideas now so that you can plan early and shop early.
Item's are going to be sold out long before Christmas arrives, so please order your Christmas cards, your holiday tree and decor and your presents early! I'm not trying to rush you at all, I just want you to be able to get what you want!
Plus starting early will make all of your Christmas plans easier!
I do 98% of my shopping online, but I recently visited HomeSense and Michaels… and holiday stock is on the shelves right now – and the selection is amazing.
All my favorite online stores like Wayfair, Pottery Barn, World Market and Target all have launched their holiday 2020 merchandise – and believe me it's gorgeous!
PLEASE PIN THIS AND SAVE IT FOR LATER!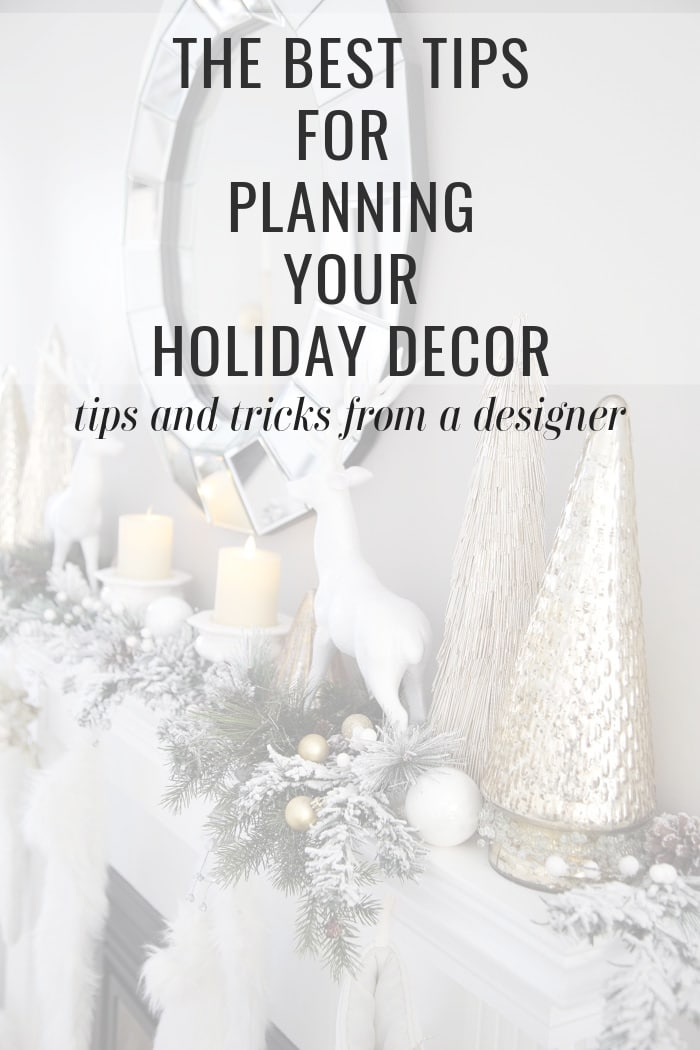 Planning Your Holiday Decor
Plan what decor you need to buy this year to fill the gaps from last Christmas.
Maybe your Christmas pine garland is looking frazzled or you need some new twinkle lights.
Use my 27 page Ultimate Holiday Planner to plan your Christmas colors and decor for this year!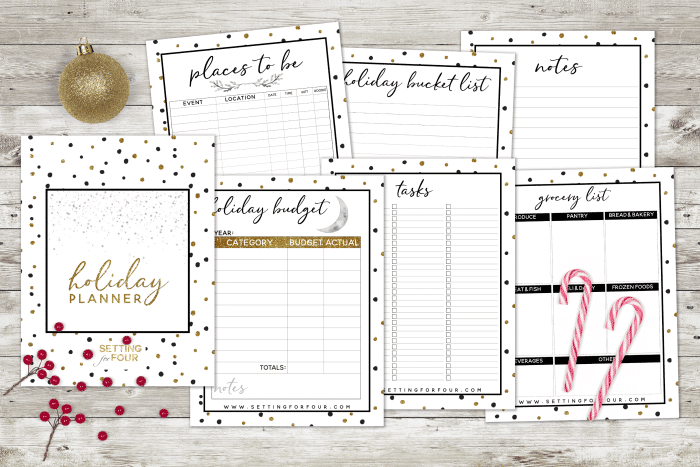 Inventory Your Existing Christmas Decorations
It's very important to know what you have, so you don't buy items you already own.
It's easy to forget what you have take a quick inventory.
Take the time to go through your existing Christmas decorations now.
Purge what's broken or you no longer want.
Also make sure you have enough Christmas tags, Christmas bulbs, twist ties and hangers for outdoor garland and wreaths.
Do you need a new holiday wreath or can you use the one from last year?
This is a good time to reorganize your holiday decor if it's a bit of a mess!
Now you know what you have and that it's all in good shape.
Choose Your Theme or Color Scheme
I love to tweak my Christmas colors each year to keep things interesting.
However I typically build around a white, gold and silver look.
And I typically decorate with reindeer and go with a glam, wintery woodland look.
Elegant Gold and White Flocked Christmas Tree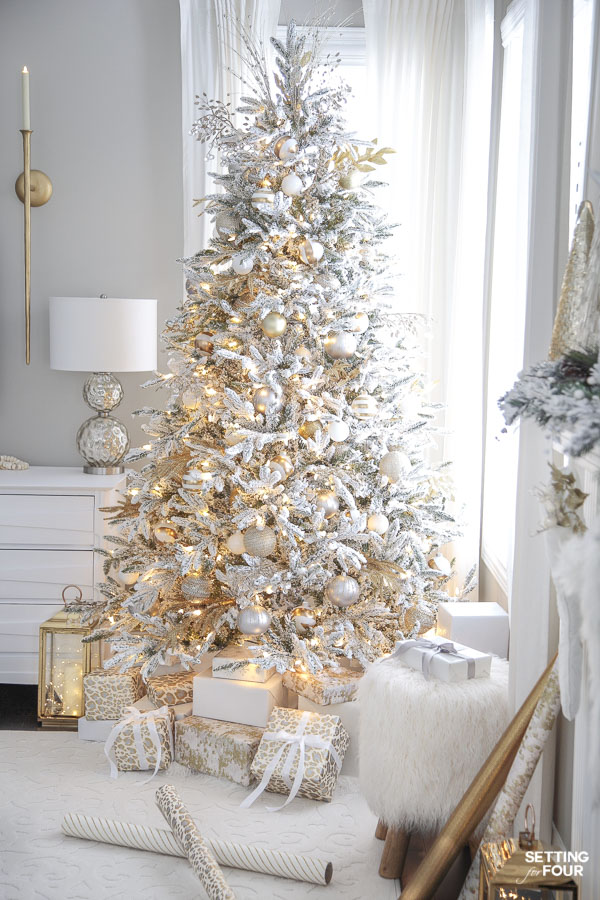 ---
Do you need help with your furniture layout, picking out the perfect furniture or paint colors?
See my online design & paint color services!  Plus my client reviews! 
Email me at [email protected] for more info!

---
You can try a whole new Christmas theme this year or just add a new accent color like red, navy, aqua or forest green to what you have.
The 2020 Christmas trend colors this year are blush pink and a gorgeous sage green which I've had my eye on.
I always pick up a few new wrapping papers to decorate with! I love wrapping boxes to look like gifts and decorating with them.
Last year I used a gorgeous gold and silver leopard print paper!
I'm craving a twinkly, shimmery holiday look this year so I'm using mainly neutrals with lots of sparkly faux pine stems and shimmery Christmas picks.
As I mentioned, the classic red and white holiday look and the winter woodland Christmas tree theme will remain strong decor ideas this year too!
Winter woodland Christmas tree decor ideas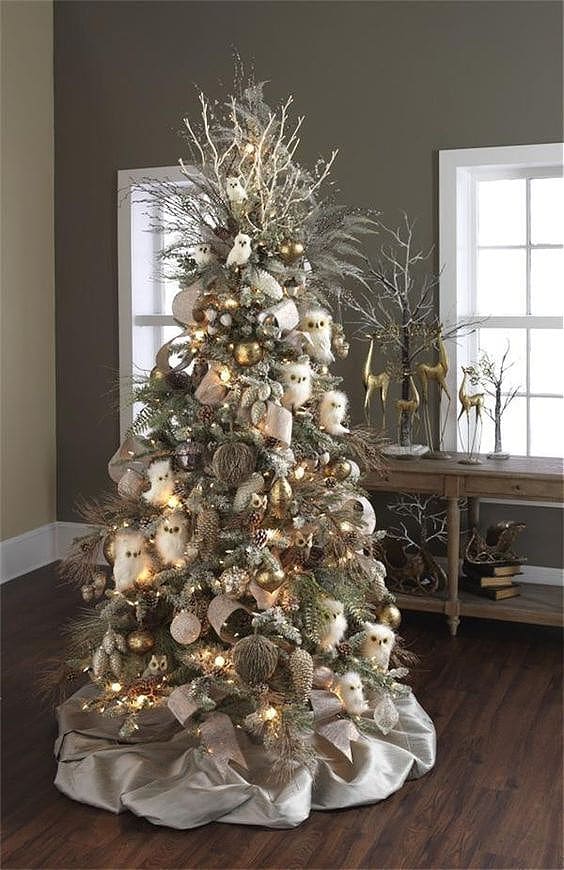 Here are the 6 NEW Holiday Decor Trends for 2020!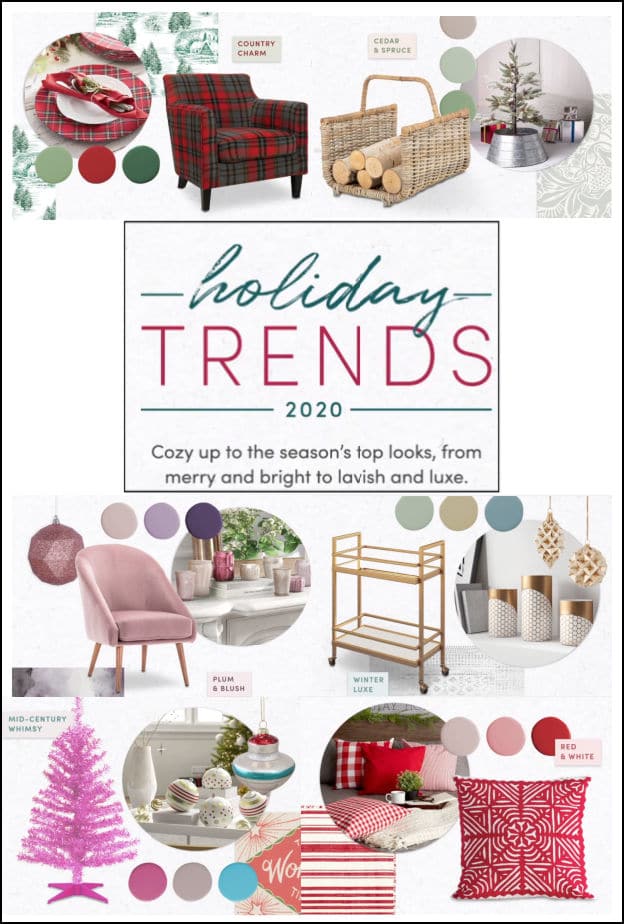 Choose One New Decor Idea To Try This Christmas:
This year I'm going to make a few miniature gift wrapped presents to tuck into our Christmas stockings like this!
It's a little thing but I think it looks so beautiful.
miniature wrapped presents tucked into holiday stockings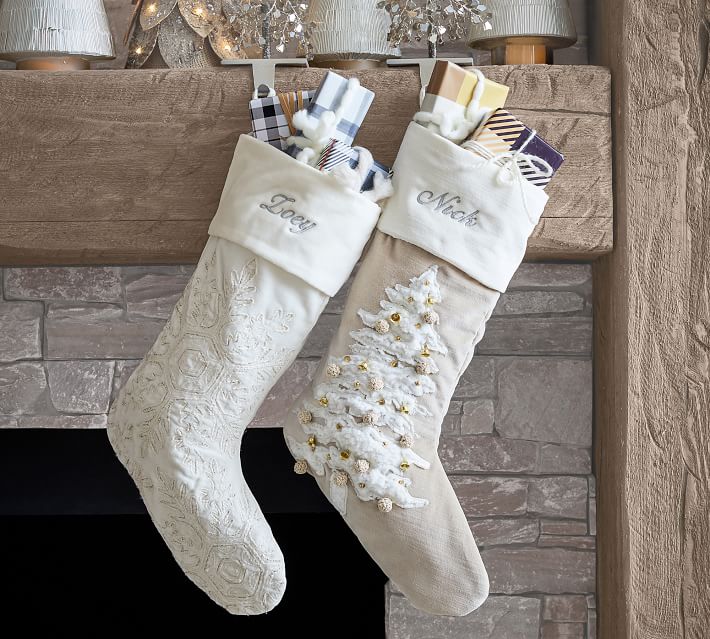 Last year I tucked sparkly faux leaves and Christmas berry picks into my stockings, so the miniature wrapped presents will be a new tweak I'll try this holiday!
Elegant Gold and White Christmas Living Room Decor Ideas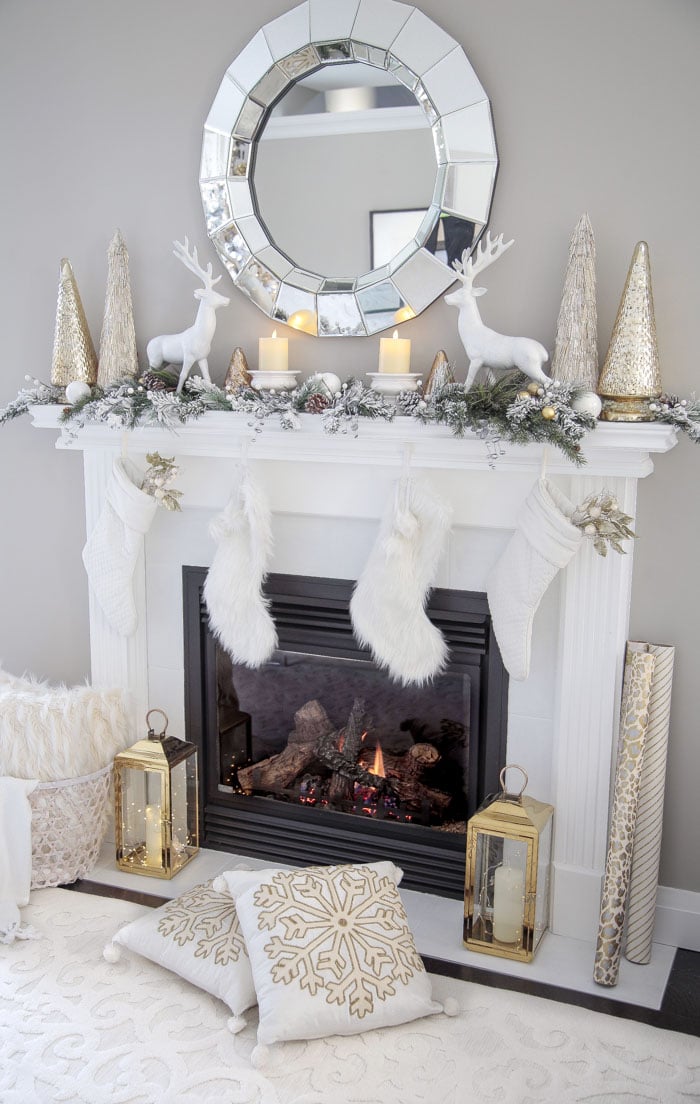 Mixed Metallics Christmas Porch Decor &  Holiday Living Room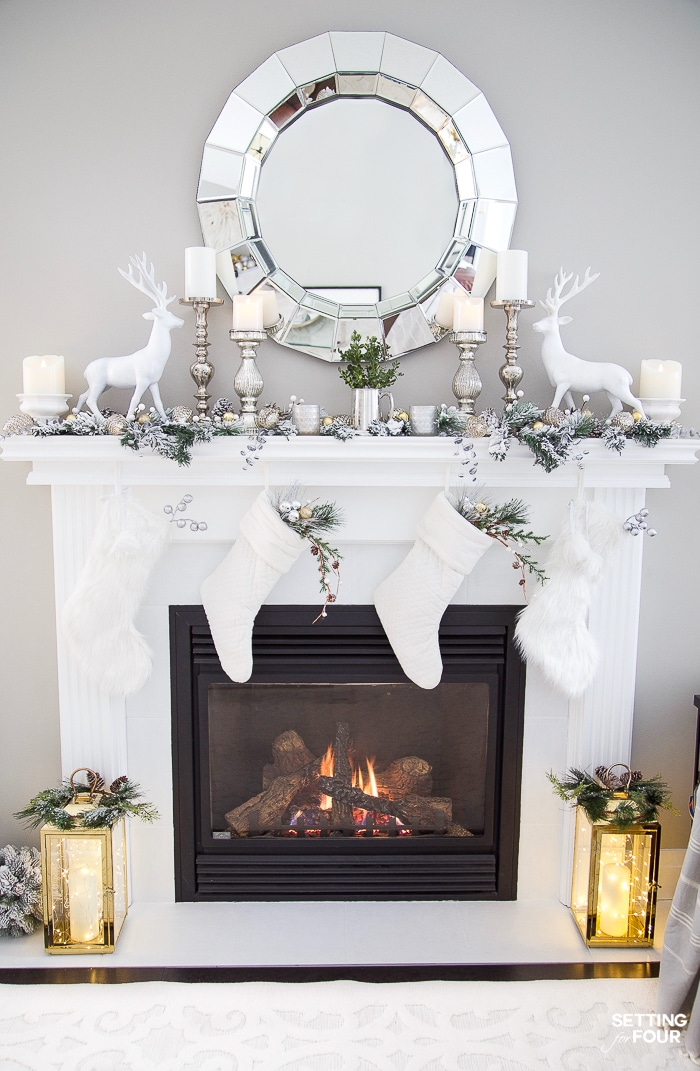 Follow me on Instagram for decorating tips and decor sales alerts!
I'm also going to add some small artificial pine trees to my front porch, like the photo below.
Every year I also add my quick and easy fresh pine and cedar planters and make my fresh pine, cedar and birch tall planters.
I think the little Christmas trees will add a pretty forest look!
Spruce up your front porch with traditional wreaths, garland and trees trimmed with twinkling lights and red ribbons.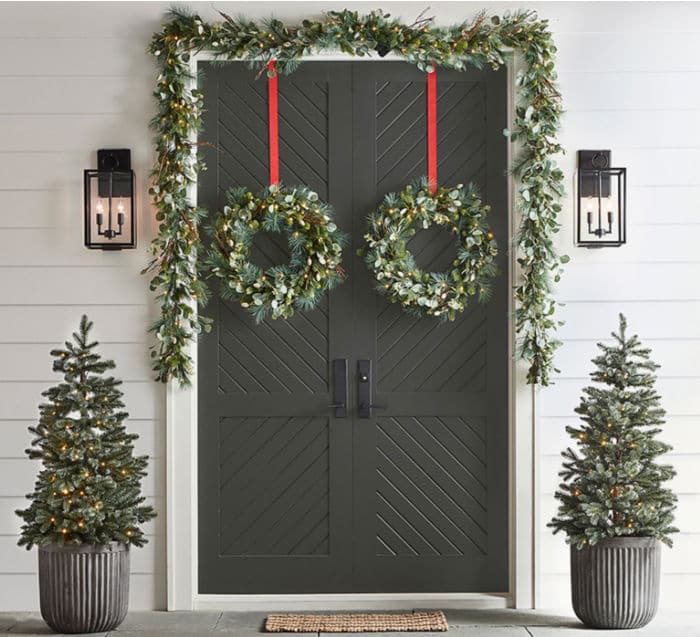 Make A List
Now that you've completed your inventory and you know what colors and theme you are going to use, make a list of what you need to buy.
Stock up on holiday ribbon, wrapping paper, ornament hangers and ornaments now before they are sold out!
And if you need outdoor decor make sure to pick it up as soon as you can, because that's typically the first Christmas decor to sell out.
Also if you need a new tree, buy it now!!!! They will sell out very fast this year!
I'm thinking of buying two new slim Christmas trees for my entryway and am going to buy them this weekend to make sure I get them!
And if you've always wanted to try something new decor wise, why not this year? Do you love those light up glass Christmas trees? Or light up ceramic holiday houses? Put them on your shopping list!
Christmas reindeer decor ideas. Click on the images below to shop

Christmas holiday houses decor ideas. Click on the images below to shop

Christmas tabletop and mantle tree decor ideas. Click on the images below to shop

Assemble Your Items
Pick a spot in your home where you can gather your Christmas decor. I have many labelled plastic bins for my holiday decor so I pull all of them out and set them aside in one area of our basement.
By the way, this is my favorite portable wireless label maker!
I also use a couple large plastic bins to place new things that I buy this year, in so it's all in one place.
When my online orders arrive I unwrap them and put them in the bin so it's ready to decorate with.
I've started decorating for the upcoming holiday home tours I'll be sharing with you – stay tuned!
Benefits of Planning Your Holiday Decor Early
You will stress less! And be less frustrated.
Putting up your decor will be so much easier if you have a plan in place. You won't have to tweak your mantle 5 times if you have it all thought out in advance.
You can start decorating when you want. Some people like to put their holiday decor up after Thanksgiving and some people like me, love to start earlier. When you have all of your decor ready and organized you can pick the day you want to start and not have to rush.
Your Christmas looks will coordinate and be cohesive….not a hod podge of different colors and styles.
You can spend more time enjoying your holiday decor and more time with your family creating beautiful holiday memories!
Setting for Four | Christmas 2020
Here are my ideas and plans for the coming holiday season:
The front porch: I'll be using the same wreath I have the past few years because I LOVE IT so so much and haven't found anything as nice! I'll be adding these new pillows for my porch chairs . I want to use small artificial evergreen trees in the planters as I mentioned above and add a few pots of faux pine greenery.
The entry: I'm planning on adding a couple of slender pencil trees to our entry, to flank the door. I also plan on creating a tray of decorative Christmas cone trees for the foyer too! I'll also be adding new pillows to our settee.
The living room: new pillows for the sofa, a small tree on the end table by the sofa, an elegant, glam Christmas tree and mantle.
The dining room: my gorgeous DIY marble table runner with a beautiful centerpiece I'm working on.
I hope this has inspired you to begin planning your holiday decor!
What holiday themes and colors are you thinking of using?
If you have any questions ask them in the comments below!
More Christmas design ideas: