The best tips on how to set up a flocked Christmas tree to minimize flock shedding!
I'll show you all my hacks and tricks to assemble your artificial faux flocked tree without the mess!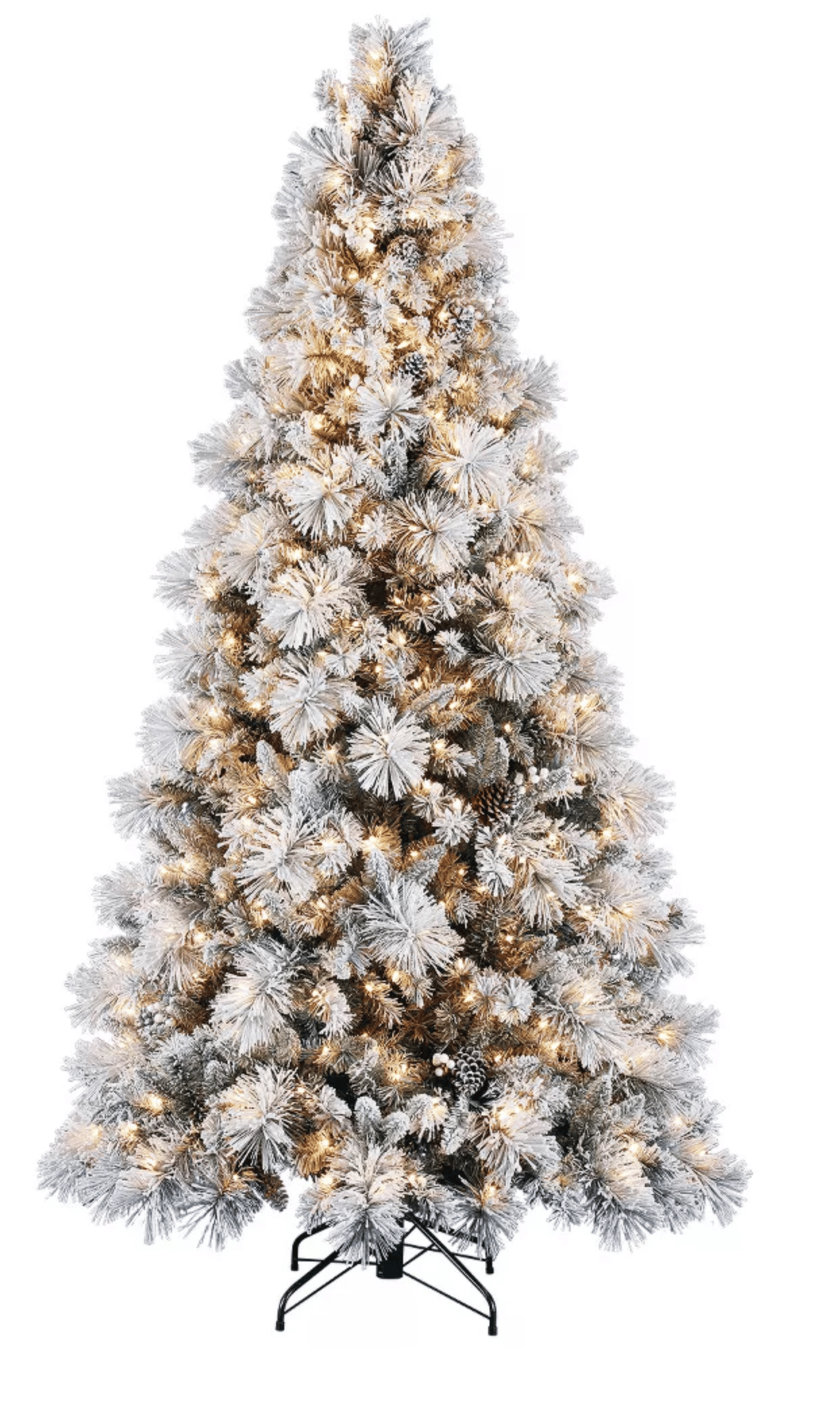 Click on the image below to shop this gorgeous flocked Christmas tree!

How To Set Up A Flocked Christmas Tree To Minimize Flock Shedding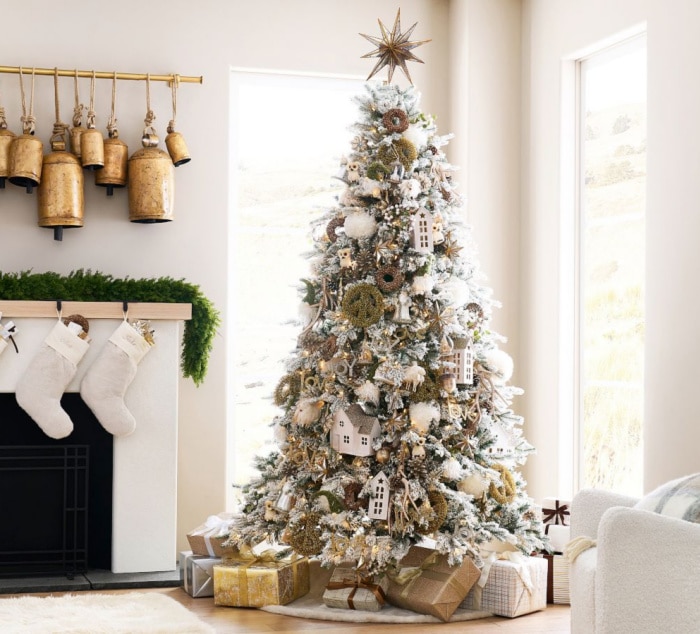 Modern Classic Christmas Tree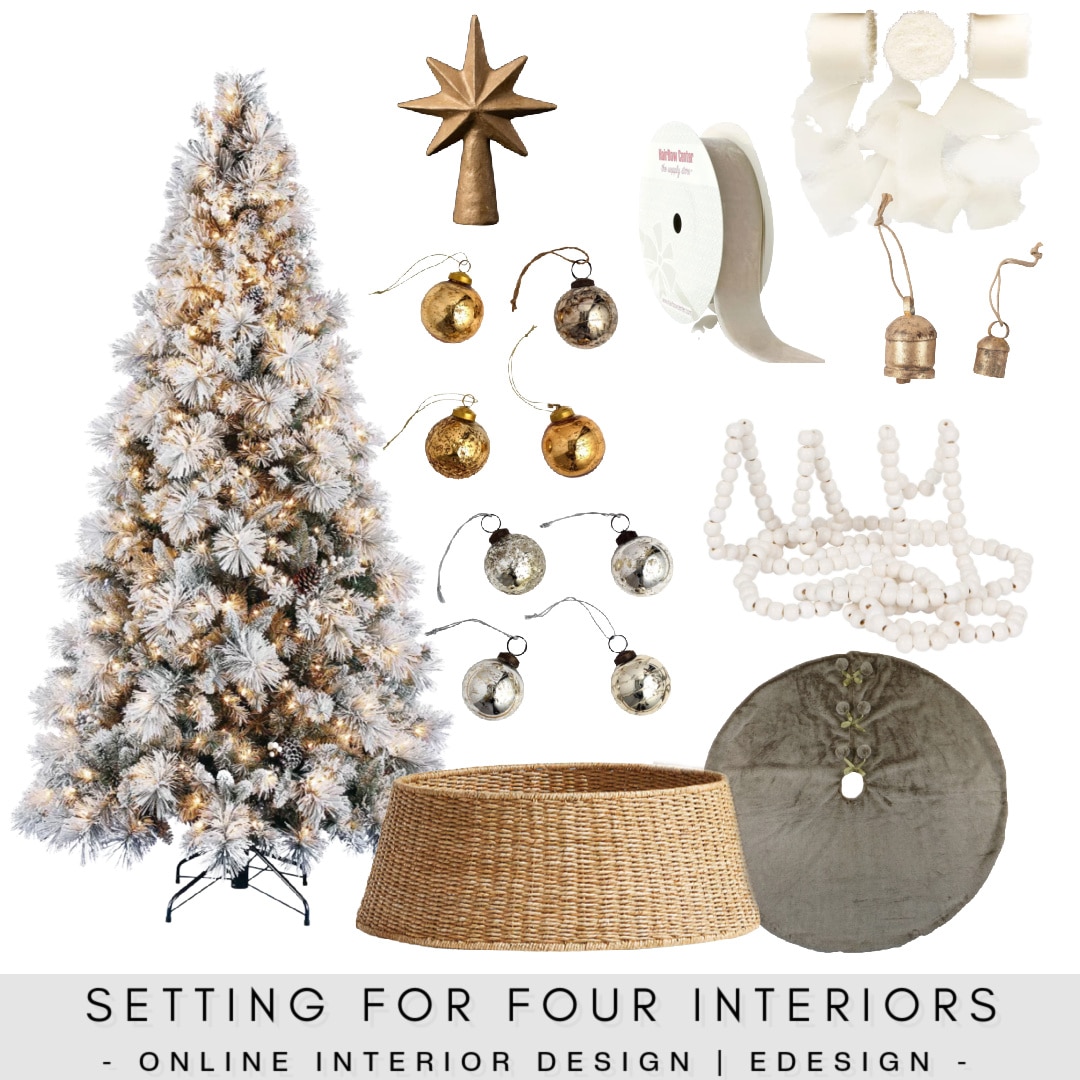 Shop this Christmas tree decor!!

When a flocked Christmas tree is unboxed, set up and fluffed, it will shed a lot of flock material!
It can end up ALL over the place!
But I've come up with a winning way to assemble your tree as mess free as possible, that I want to share with you!
….so you may ask, why even bother with a flocked tree if it sheds a lot?
Because they are so swoon worthy beautiful!
Flocked Christmas trees are hands down my favorite style of Christmas tree! They have such a gorgeous snowy, wintery look!
Christmas tree and decor ideas: Click on the images below and scroll using the arrows to shop.


What is a flocked Christmas tree?
Flocking refers to a synthetic material that looks like snow that is either applied on an artificial Christmas tree by the manufacturer or you apply yourself, to achieve the look of a snowy Christmas tree.
What is the best flocked Christmas tree?
These are best sellers:
This is the best 4 foot pre-lit flocked Christmas tree or table top tree: it's fluffy and perfect for kids bedrooms and small spaces! Plus it's so affordable! I own this one and shared it in my Christmas family room last year.
This is the best slim flocked tree for small and narrow spaces. It's the one I have in the tight corner of my dining room. See it here with my Christmas Table Decor Ideas
From what I've heard and seen on Instagram, this is the best, inexpensive regular size 7.5 foot flocked tree. It has really high online reviews and looks very full with lots of beautiful branches.
If you want to flock your own tree you can get the flock powder here.
Do flocked Christmas trees shed?
In my experience some flocked trees shed more than others depending on how the flocking is applied and the amount of flocking on the tree.
Every time you put your tree up there will be less flocking falling off, thank goodness!
Flocked trees are my favorite type of holiday tree and absolutely stunning.
Here are some strategies on how to keep flocking from falling off.
How to set up a pre-lit flocked Christmas tree without the mess:
How to keep a flocked tree from shedding? Use these steps!
Wear old set of clothes like your painting clothes – no fleece! The flocking material sticks to fleece like crazy and is really hard to remove!
Keep pets away as you set up the tree so they don't pick up flocking and drag it though the house!
Turn off the ceiling fan if you have one and close any nearby registers, to prevent moving air from spreading the flocking.
Get an extension cord and timer if you need them, an old cotton sheet or old shower curtain, felt pads or chair leg sliders for the tree stand and a step stool or ladder.
If it's a new tree that you've just purchased, get out scissors to cut off any tags on the tree as you go.
Get out your vacuum cleaner and set by the tree to vacuum flocking up as the tree is set up.
This is a pic of my old vacuum cleaner… but I recently bought a new one that is my FAVORITE vacuum cleaner – I'm obsessed with it and it's on sale!!! It's a best seller cordless stick vacuum and so easy to clean the canister on the handle!
Try to minimize walking around the house as you put up the tree, to minimize flocking falling off everywhere!
Plug extension cord and timer into wall socket. Set the timer how you'd like.
Pull the flocked tree in its box as close to the location you are going to place your tree.
Open box and find the tree stand.
Unwrap it in the box ( so any flocking will remain in the box) and assemble the stand.
Place the tree stand as close to the final tree location as possible and place felt pads on bottom of tree stand legs to protect hardwood floors from getting scratched.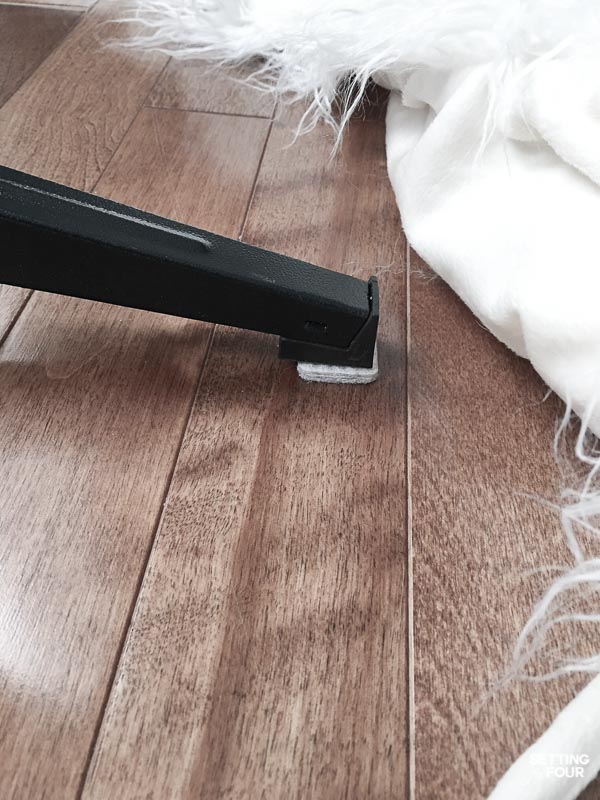 Place the tree skirt around the tree stand and cover the extension cord. Pull the end of the extension cord ( the plug in end) up thru the middle opening of the tree skirt and sit it near the middle of the tree stand.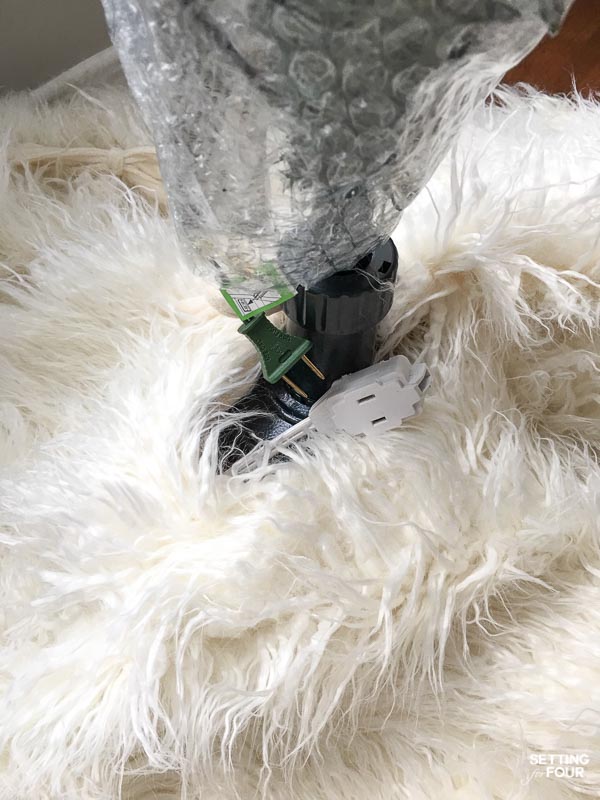 Spread an old sheet or shower curtain around the tree stand and cover as much of the tree skirt and floor as possible.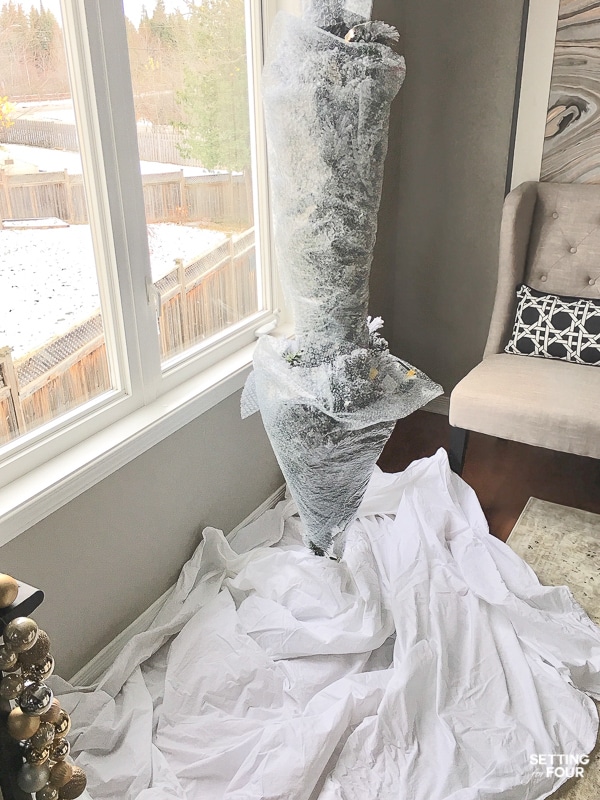 Locate the bottom piece of the flocked tree and take it out of the box – do not fluff or unwrap it if it has wrapping on it.
Place bottom piece of tree in the stand.
Take out the middle piece of tree -do not unwrap or fluff!! Attach to bottom of tree according to distractions. Assemble plugs together.
Take out the top piece of tree from box and attach it to middle piece of tree. Assemble all the tree plugs together.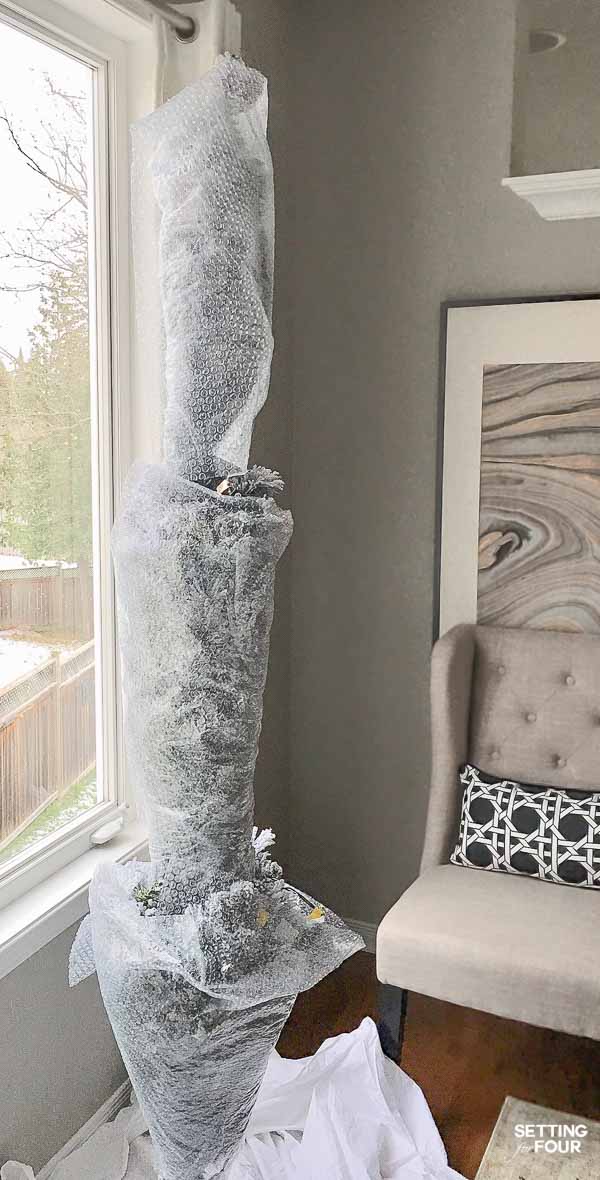 If you're tree is brand new from the store, plug in tree – still wrapped to make sure lights work.
If they don't work take down tree and place back in box to return. Yes – I've had to return a brand new tree once because the lights didn't work – ugh!
Since the wrapping is still on the tree you won't have done all the work fluffing and unwrapping it for nothing and you won't have a huge amount of flocking to clean up!!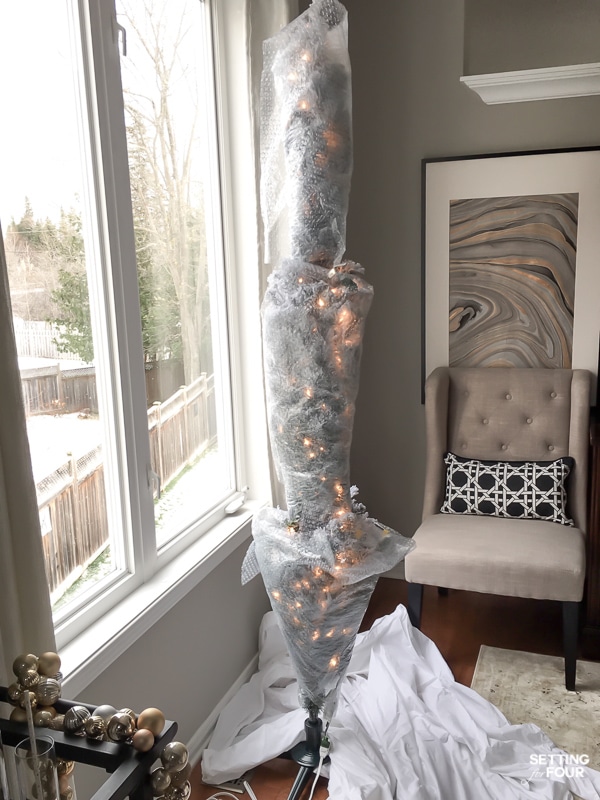 If the lights work:
Unwrap top of tree, carefully.
Place bubble wrap in box and label with 'top ' so you know it's for that piece when you pack it up after Christmas.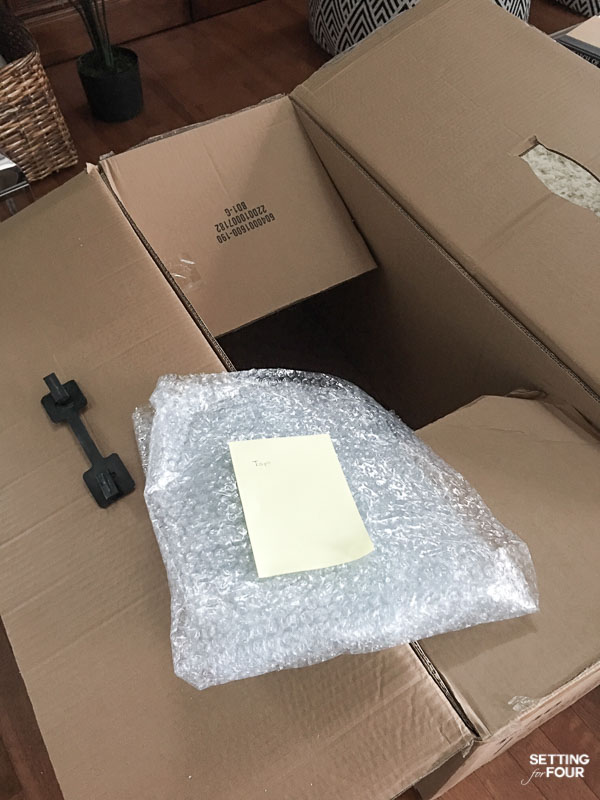 Fluff top piece.
Since the bottom parts of the tree are still wrapped the amount of flocking that falls off will be minimized since you won't be knocking into it.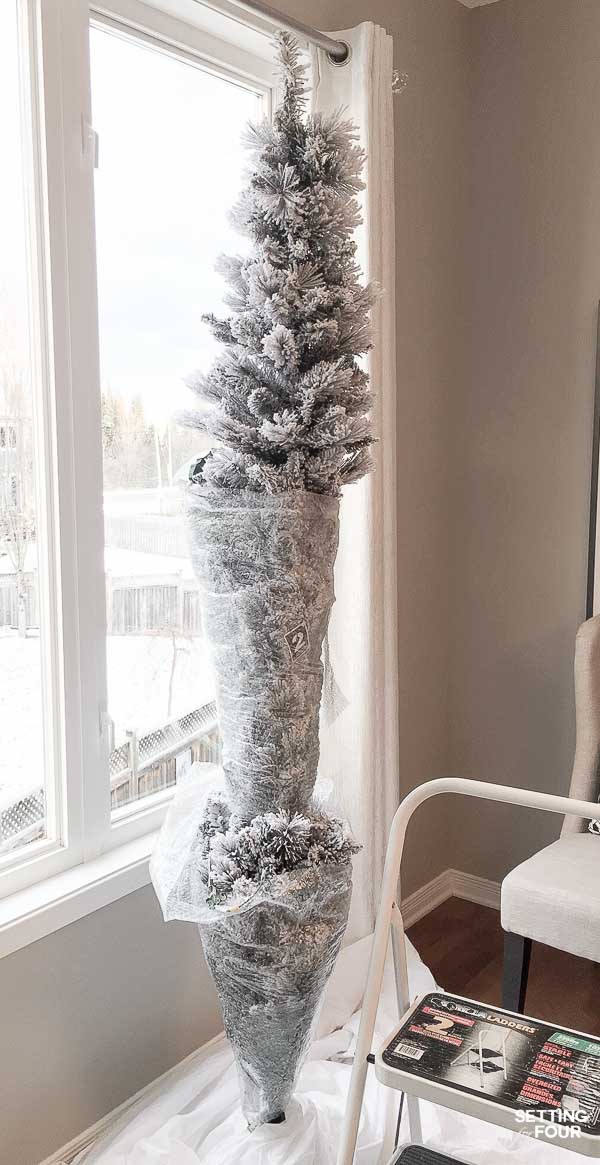 After the top is completely fluffed check all the lights on the top piece to make sure they work and replace any blown bulbs if required.
Vacuum up any flocking that's shed onto the floor.
I find it's better to vacuum as you set the tree up, otherwise the flocking can spread all over as you walk in it.
Repeat these steps with the middle piece and finally the bottom piece of tree, vacuuming up flocking from the floor as you go.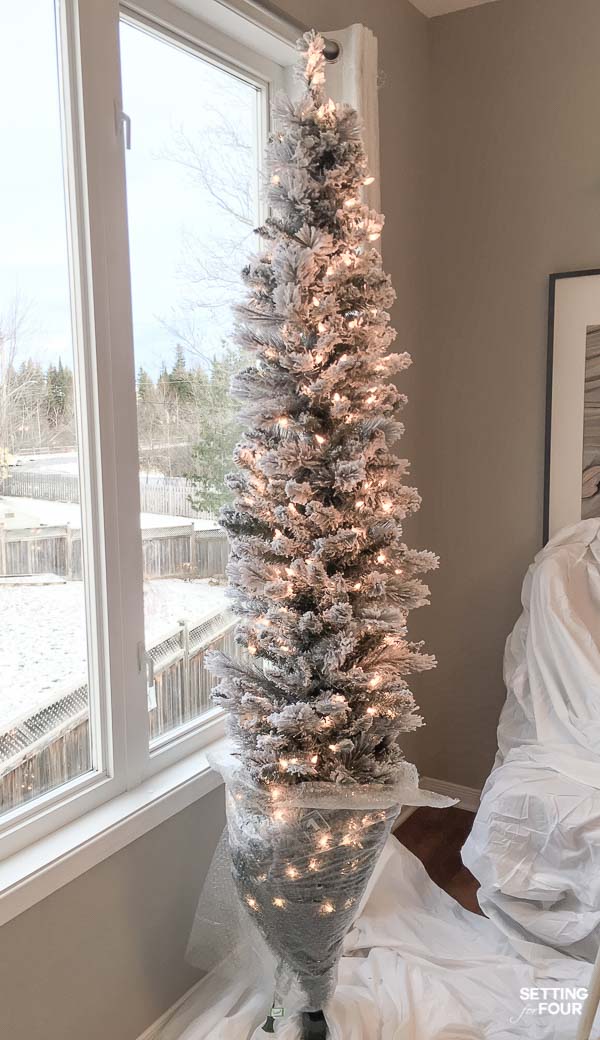 Slide tree into place if needed.
Decorate the tree. Check out my Amazon Christmas Decor Shop here for affordable decorations and prime shipping!
When you are finished decorating the tree slowly roll up the sheet and take it outside to shake off flocking. Throw into washing machine and dryer to wash and dry.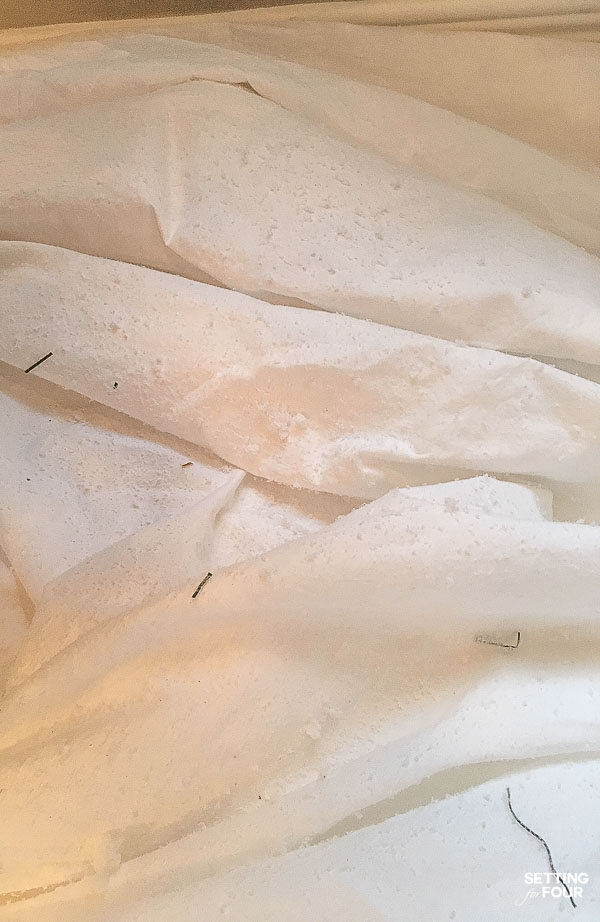 Do a final vacuum around tree to pick up any flocking that's left.
Enjoy your Christmas tree!
I can't tell you how much these Christmas tree set up tricks has saved my sanity!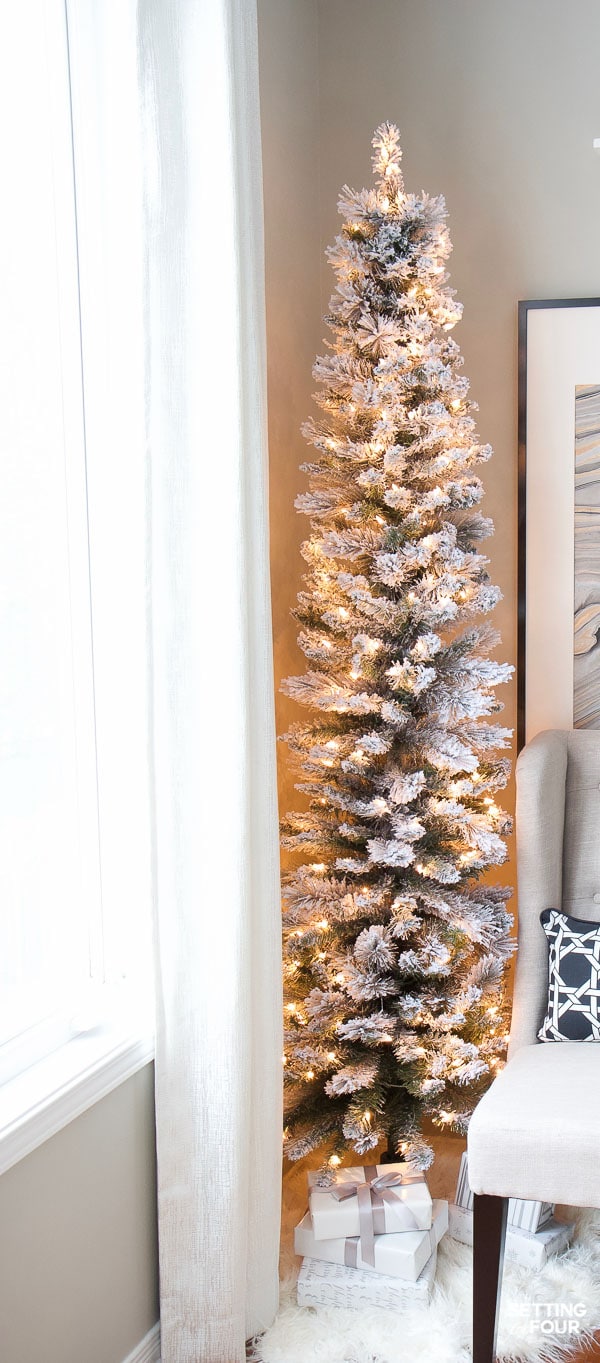 Christmas tree and decor ideas: Click on the images below and scroll using the arrows to shop.

Here are some more Christmas decorating inspiration!
Follow me on Instagram where I share fabulous holiday decor ideas, decor sales, room refreshes and more decorating tips!
This post contains some affiliate links for your shopping convenience. Click here to read my full disclosure policy.