Elegant Crystal, Gold and White Christmas Tree Decor Ideas! See these Christmas tree ornament ideas, garlands, crystal accents and sophisticated, glamorous tree decorating tips!

This post contains some affiliate links for your shopping convenience. Click here to read my full disclosure policy.
These tree decorating ideas will go with any design style: farmhouse, traditional, modern, transitional, coastal, boho and more!
Elegant Crystal, Gold and White Christmas Tree Ideas
Click on the images below to shop my Christmas tree look!

Click on the images below to shop my living room!

This year I decorated my flocked white Christmas tree with loads of gold, champagne and crystal accents to celebrate the holidays!
I wanted extra shimmer and glimmer to brighten up the end of one crazy pandemic year!
So I decked my tree with extra gold accents, extra shine, extra glam and sparkle!
---
Do you need help with furniture arrangement, room design or picking paint colors?
I'm a Designer and True Color Expert® – I can help!
See my online Interior Design & Paint Color services – and  client reviews! 
Email me at [email protected] for more info!

---
See my previous Christmas tree themes:
Here's the breakdown of how I decorated my gold and white tree!:
Flocked White Christmas Tree With Lights
Starting off with the tree itself – I am obsessed with flocked Christmas trees! Yes they can be a bit messy to put up but I just love the snowy winter wonderland effect!
See How To Set Up A Flocked Christmas Tree To Minimize Flock Shedding
A flocked pine tree is necessary to get this glam, elegant look. The flocking emphasizes the gold and metallic accents and crystal touches.
This year I plugged my tree into a Programmable Digital Timer Outlet and set the timer to turn the Christmas tree on at 4:30 pm and turn off at midnight, so that I'm not fussing with the Christmas tree switch!
I really love it and wish I had used a programmable timer on my tree years ago! I'm all about making life easier!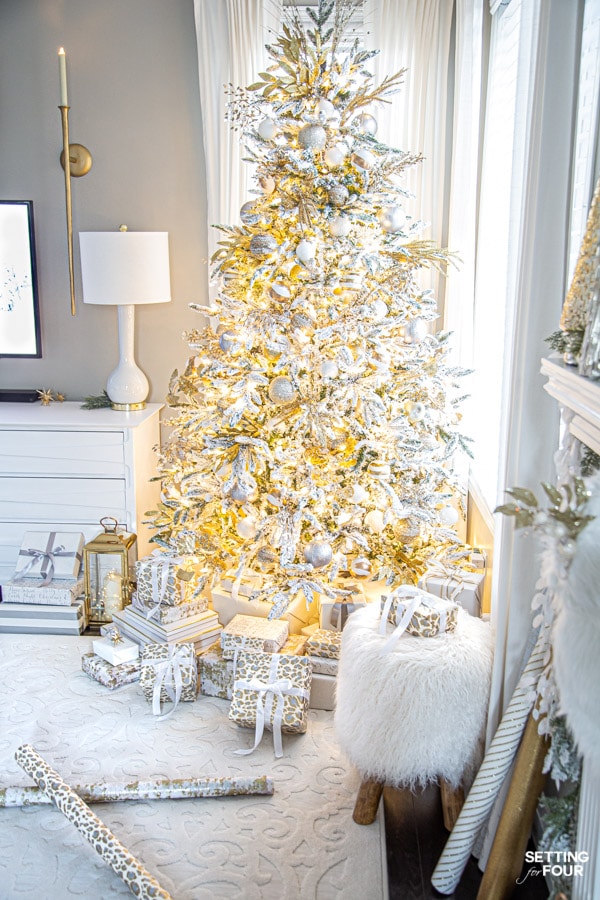 Use Decorative Christmas Stems and Sprays For A Tree Topper
Skip the standard tree topper star and add 5-10 Christmas stems and sprays into the top of the tree.
Christmas tree toppers can be so expensive – using holiday stems is much more cost saving!
These shimmery stems and add a sophisticated crown of sparkle, shine and so much gorgeous texture to the tree.
It's an instant way to create an elegant Christmas tree.
Make sure you add the stems in a diagonal direction so that the stems aren't pointing straight up.
The goal is to make the Christmas sprays look like they are growing from the top of the tree and spilling gently outwards!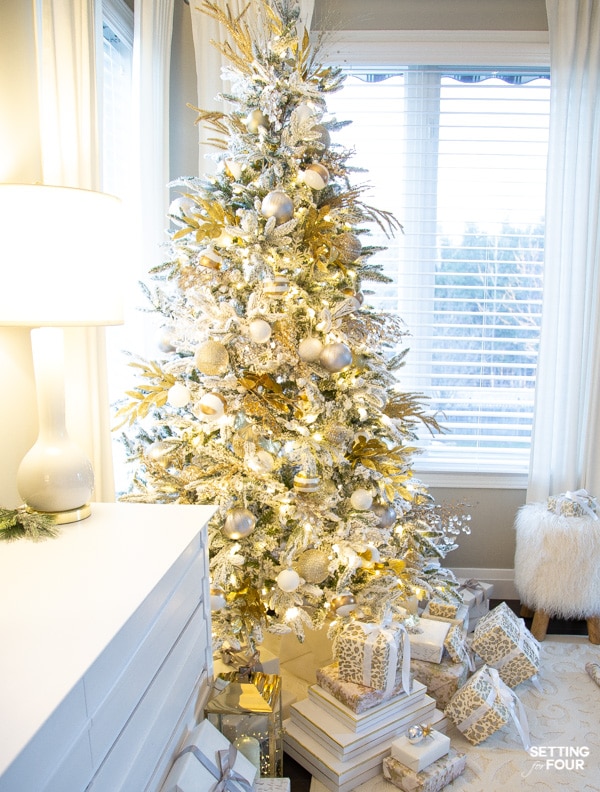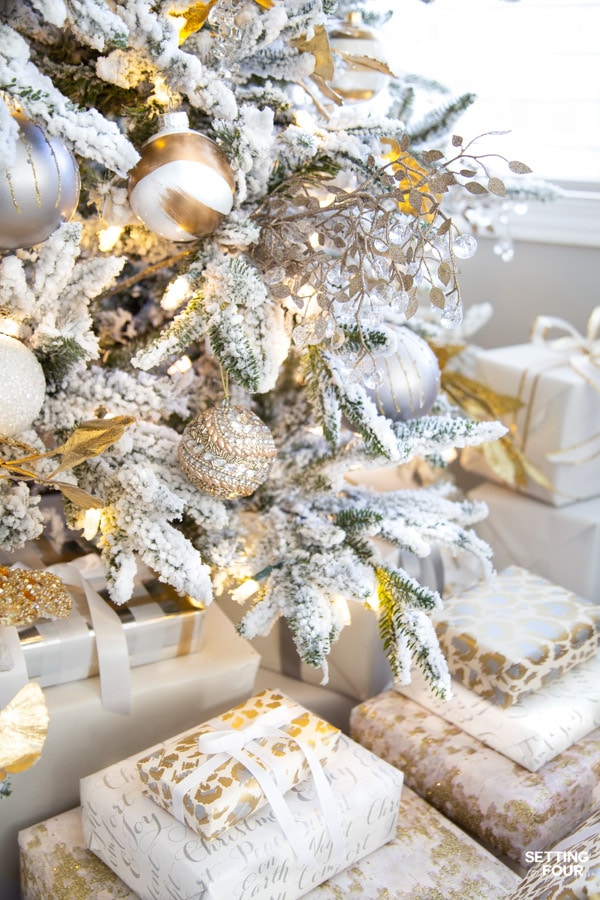 Add Christmas Stems, Sprays and Picks to the Body Of The Tree
Use at least 3 different styles of decorative sprays and tuck them in throughout the body of the tree.
I use about 8-10 Christmas sprays of each style.
You can lay the sprays right on top of the Christmas tree branches or tuck them into the tree to fill in the gaps between the branches.
Make sure you cover the tree from the bottom all the way to the top.
I am especially loving the sprays of crystal berries that I picked up at Pier One last year (I'm so sad the store has closed!)
This year I bought several of these gold crystal gingko leaf stems that I bought at HomeSense.
They are so gorgeous! They have the most stunning crystal gemstones and gold glitter on top of a gold finish!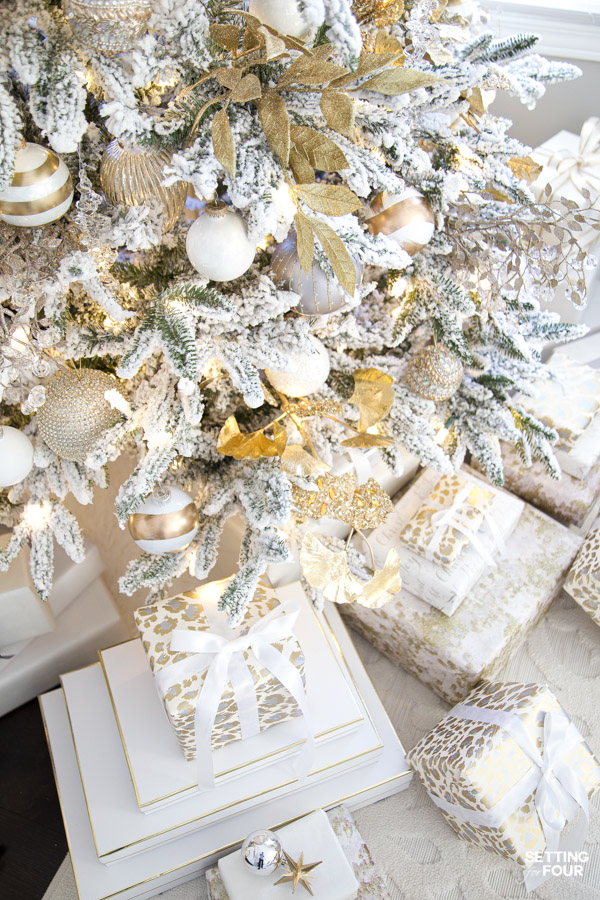 Metallic Gold, Silver and Pewter Christmas Ball Ornaments
My holiday color scheme is gold, silver champagne and pewter.
Next I added lots of gold, pewter and silver ornaments
I like to tuck some deep into the tree and some about3-4 inches from the tip of the branches for a layered look!
I just love mixing metallics in my home and on my holiday tree! Mixing matte with shiny ornaments gives another layer of interest!
And they make the Christmas lights extra twinkly!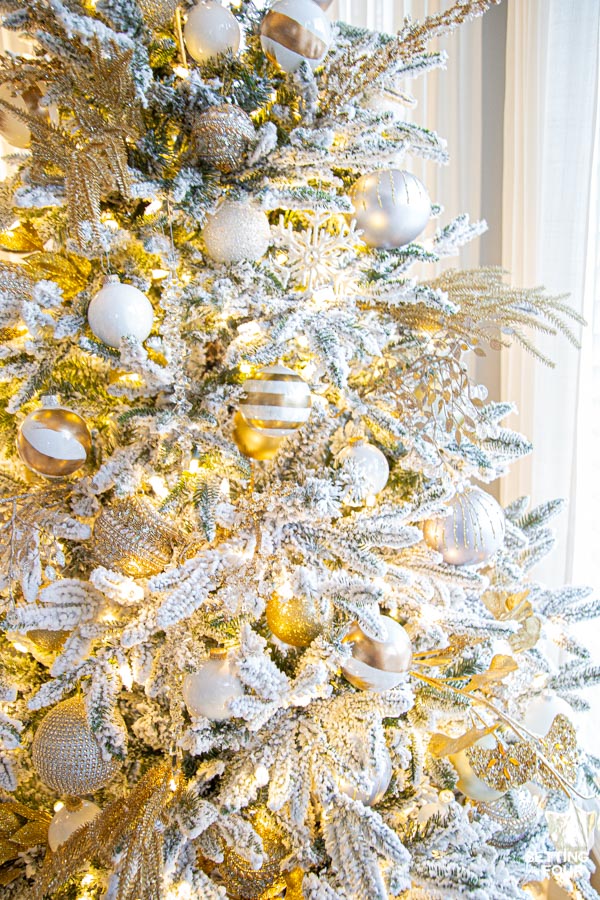 White Christmas Ball Ornaments
I really love adding white Christmas ball ornaments to my Christmas trees.
They are so classic, timeless and chic.
They really brighten the tree and make the tree lights extra twinkly!
The white color really adds beauty to any accent color used on a tree.
Pair these white ornaments with blush pink, blue, red, green, teal, aqua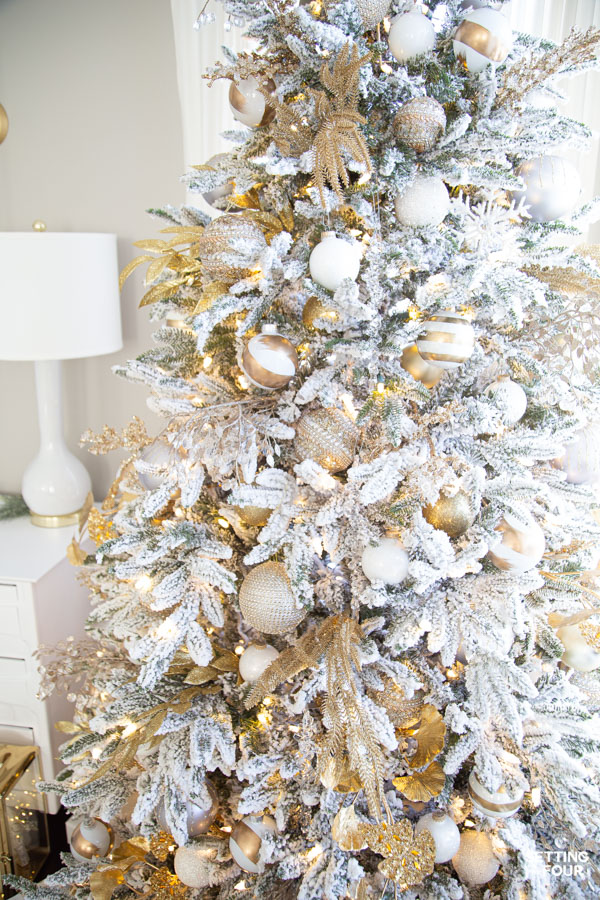 Icicle Ornament Christmas Tree Decoration Ideas
Clear icicle ornaments adds a layer of winter wonderland style to the tree!
These icy baubles add gorgeous texture and shine!
They also add another crystal element to the tree for more elegance and glamour!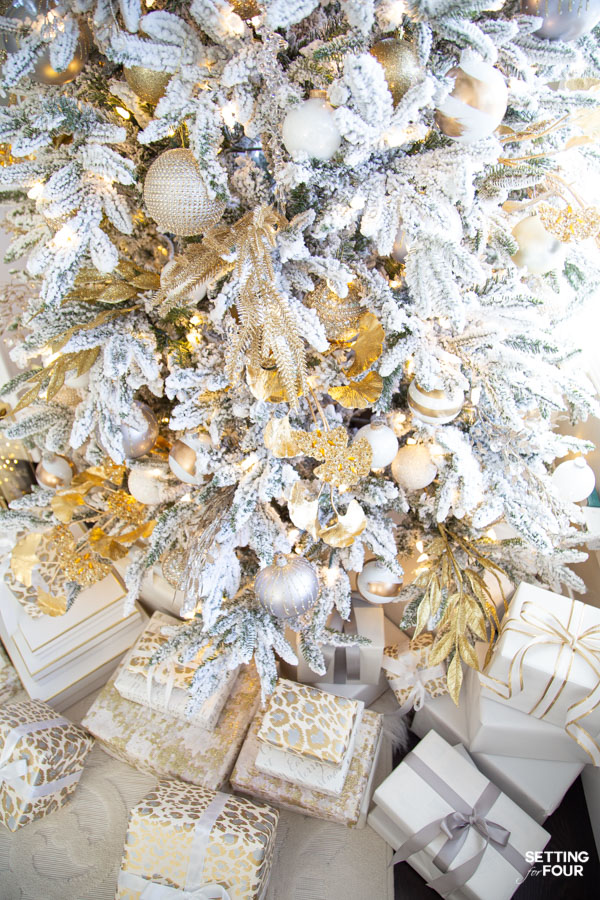 Snowflake Ornaments
A few pretty snowflake ornaments fill in the gaps between the branches and add another glam wintery element.
Iconic snowflake decor is timeless.
Elegant Tree Skirt
I love my faux fur tree skirt! It adds more texture, elegance and glamour!
See similar faux fur tree skirt.
DIY Decorative Wrapped Presents Under The Christmas Tree
Every year I pick up a roll or two of decorative wrapping paper that I use as inspiration for my tree theme.
Filling the bottom of the tree with these DIY wrapped presents ( empty cardboard cereal and cracker  boxes) is such an inexpensive way to decorate your tree!
Plus you can reuse them year after year!
They compliment the tree decorations so beautifully!
This cream, metallic gold and silver leopard print paper from HomeSense is so unbelievable gorgeous!
This year I bought more gold and white patterned paper to mix in more interest.
I also wrapped boxes in a gorgeous gold plaid wrapping paper!
Wrap a few boxes in white paper to repeat the white in the Christmas balls for a cohesive look!
Also adding luxurious ribbon to the presents, tying the boxes in soft bows, adds more interest and texture.
I used gray ribbon and white ribbon – both are a satin ribbon style.
.You could also add burlap ribbon to create a rustic luxe mood.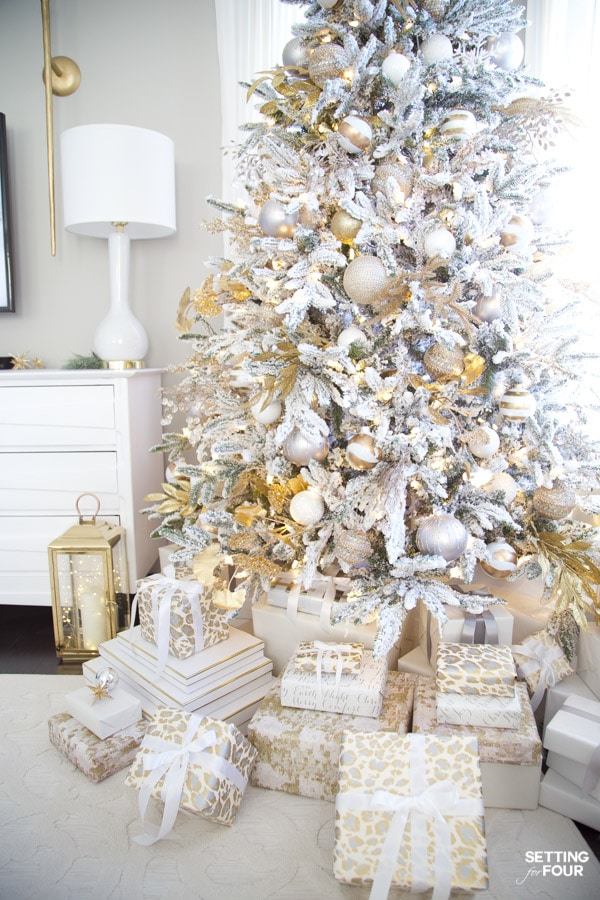 Click on the images below to shop my Christmas tree look!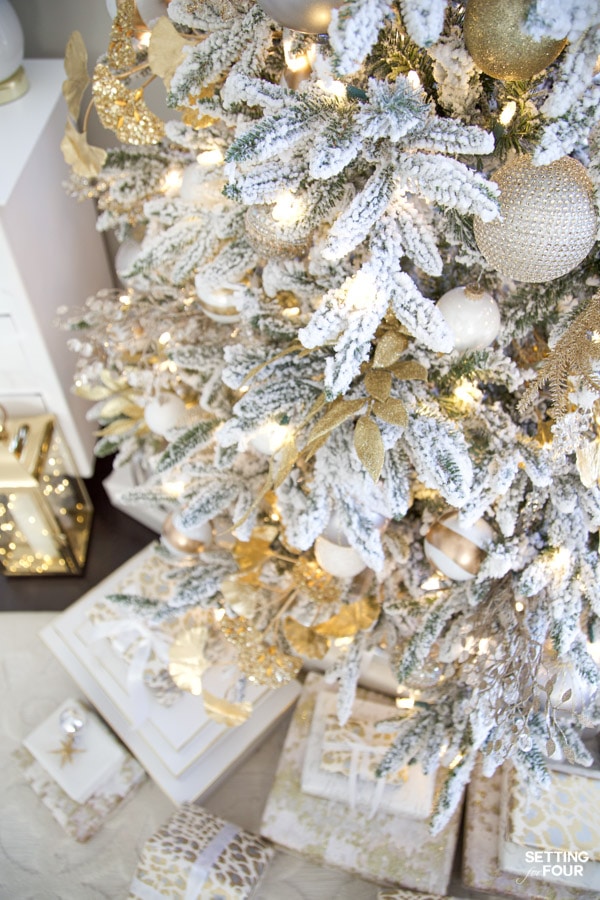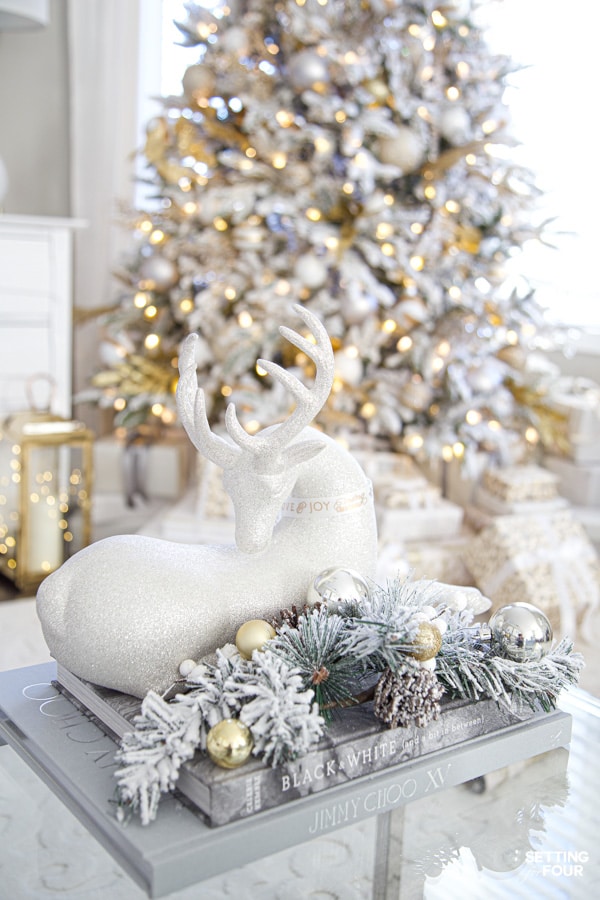 Click on the images below to shop my living room!


A beautiful tree is a must for the holidays! Adults and kids love to look at and gather around the tree!
I hope you enjoyed seeing my elegant Christmas tree decorating ideas!
Happy Holidays friends!
Follow me on Instagram for more design and decor ideas!
More Christmas Decor Ideas: