Festive, elegant & neutral Christmas porch decor ideas to adorn your home for the holidays!
How to add holiday curb appeal to your home with beautiful color, texture and pattern!
Plus see 30 gorgeous Christmas home tours filled with amazing holiday interior design ideas.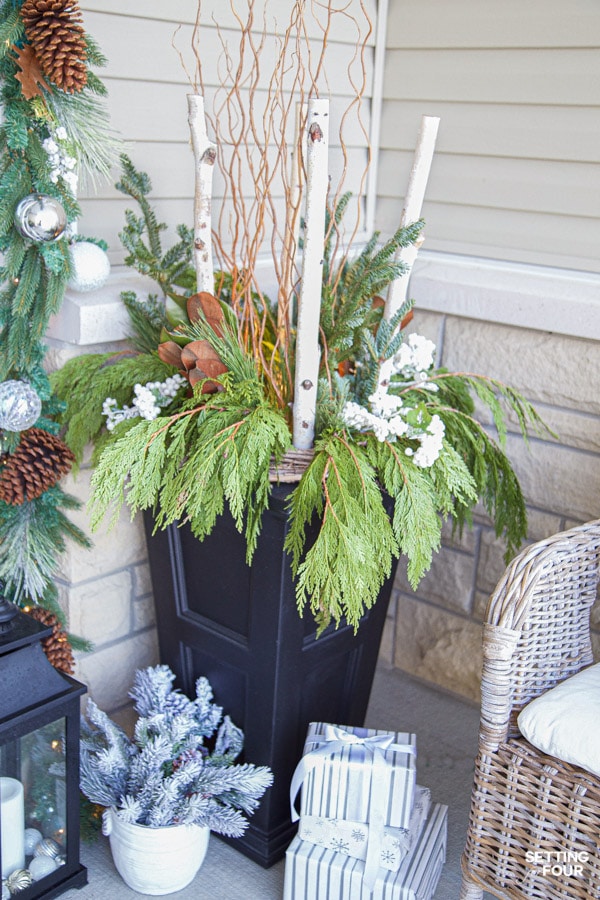 PIN THIS AND SAVE IT FOR LATER!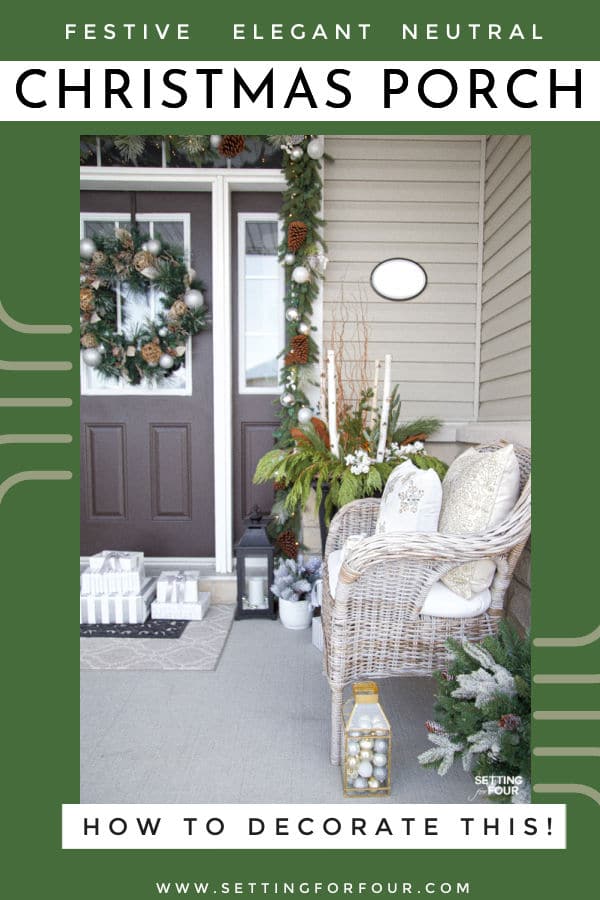 Thank you to my sweet friends Amy & Christy at 11 Magnolia Lane and Jenny at Evolution of Style for hosting this exciting Holiday Homes Tour!
You'll find lots of gorgeous holiday decorating ideas for your home inside and out.
If you're coming here from Rhoda at Southern Hospitality, welcome! Isn't Rhoda's porch stunning?!!
I'm so glad you're here and I hope you'll enjoy my  my Festive, Elegant & Neutral Christmas Porch Decor Ideas using fresh greenery, garland and gold, white and silver accents that I'm sharing today!
If you're brand new to my blog, would like to get to know more about me, our military family life you can read about that here!
I also offer online design services so if you'd like some help with your home, furniture layout or paint color – check out the information here.

This post contains some affiliate links for your convenience.  Click here to read my full disclosure policy.
Festive, Elegant & Neutral Christmas Porch Decor Ideas
Here's a look at our snowy front porch! We just had a big dusting of snow a few days ago and everything looks so magical outside with the sparkle of snowflakes blanketing the trees and ground!
It looks like a winter wonderland and I'm so excited that we can have a white Christmas!
Christmas Lights and Garland Around The Lamp Post
Christmas is the season of lights so I wound a pre-lit pine garland around our lamp post to add some twinkle to the front yard.
This is the first spot I love to add holiday cheer to our home's exterior!
Next I hung some chartreuse green and silver Christmas balls and decorative sprays in a bundle right under the light.
I am obsessed with this beautiful chartreuse, lime green accent color – it really is a gorgeous holiday color to use on the front of your home!
This gorgeous chartreuse green color really stands out especially against the black metal lamp post pole and snowy backdrop!
This spring I will be replacing the lamp post light because the finish is starting to look lackluster.
I'm looking at this one which comes with matching wall lights. We need to replace those as well!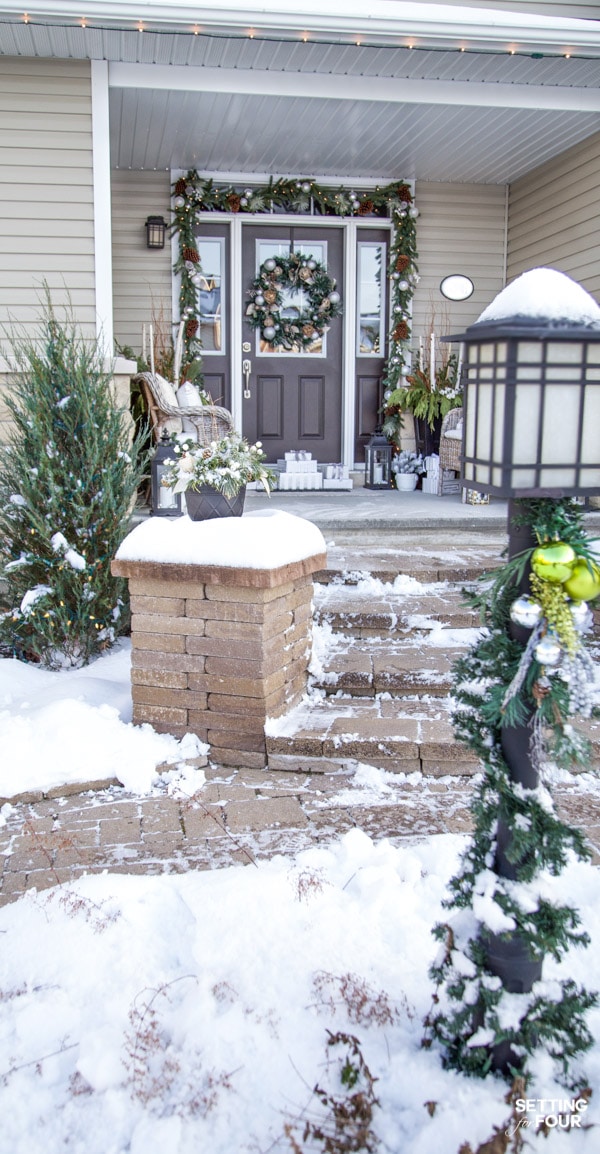 Shop Christmas lamp post decor! Click on the images below!

Shop Christmas garlands! Click on the images below!

Decorated Wreaths Flanking The Garage Doors
These pine wreaths are an easy DIY – I layered a strand of pine garland with white berries and pinecones onto a plain wreath and added a few silver shatterproof Christmas balls.
They flank our garage doors.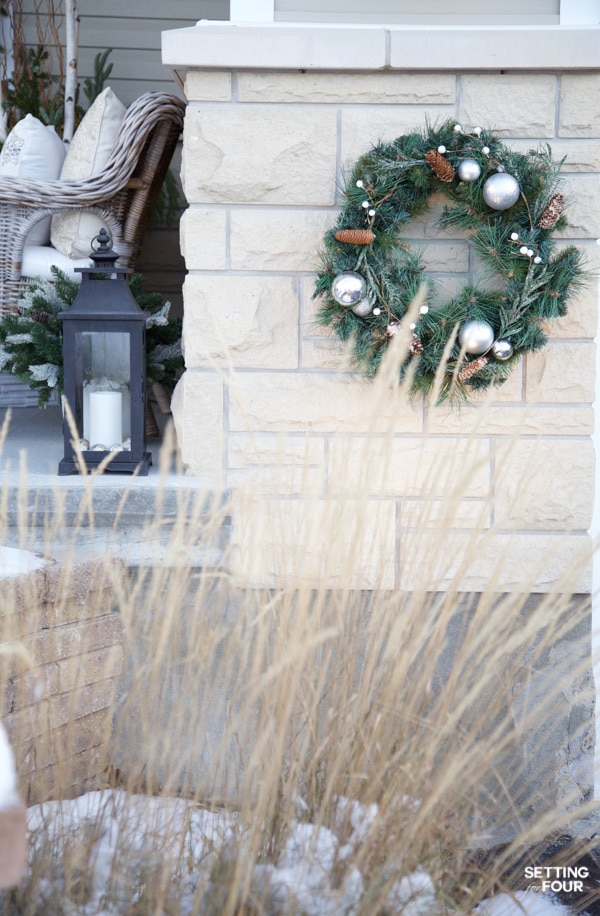 Shop Christmas wreaths! Click on the images below!


Pine, Cedar and White Berry Planters With Ribbon
I love added fresh pine, cedar & berry planters to the pillars outside our home! The scent is amazing and I love the texture and natural look!
The gold ribbon picks add a bit of holiday sparkle too!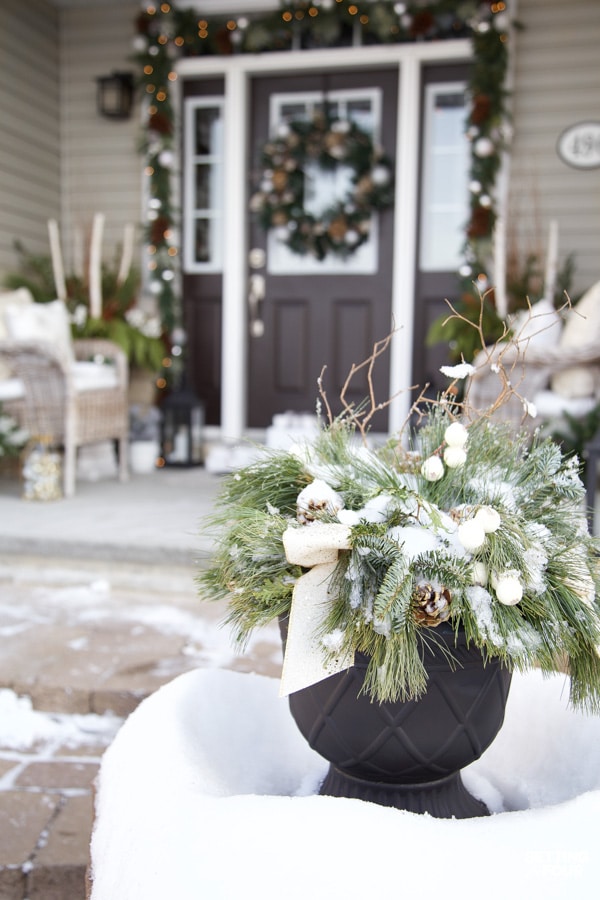 Shop Christmas planters! Click on the images below!

Shop Christmas ribbon! Click on the images below!

Pre-Lit Garlands Hung Around The Front Door & Door Wreath
This is the part I love the most when it comes to decorating our porch!
I hung three beautiful pre-lit garlands around our front door – using small metal eye screw hooks that are screwed into the outer door frame)
Then I added pine sprays to beef up the plain garland. Next I added big pine cones and silver and white chritmas balls!
Design tip: Cluster two or three Christmas balls with a Christmas pick and a pine cone and add them along the garland as groupings, instead of scattering them all individually. This will give your outdoor door garland a designer layered look!
I love the twinkle at night!
I kept the oversized Christmas wreath which I've had for a few years because I honestly adore it so much!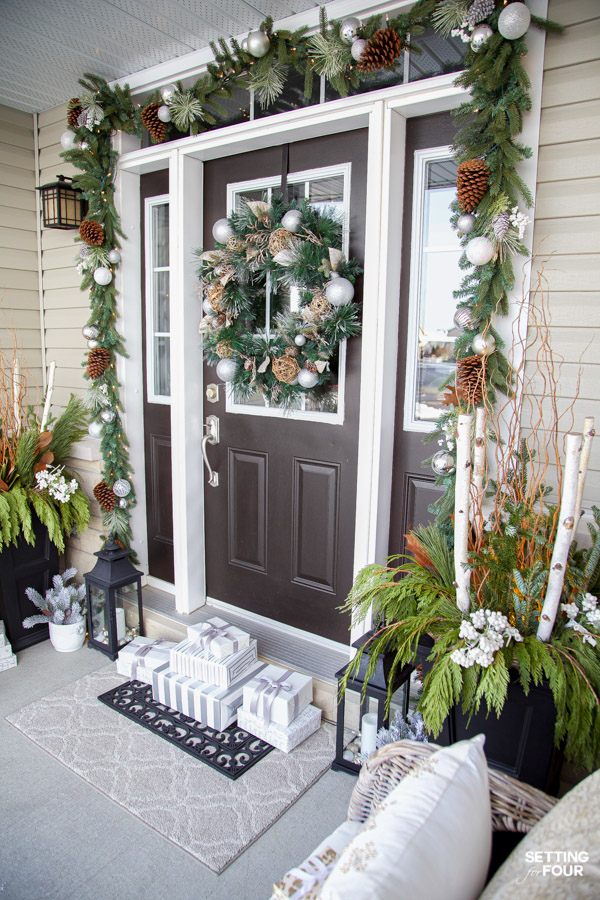 Shop Christmas wreaths – click on the images below!

Shop Christmas ornaments! Click on the images below!

Shop layered door mats! Click on the images below!

Holiday Pillows Added To Porch Chairs, Lanterns and Artificial Pine Arrangements In Pots
Gorgeous gold and silver holiday pillows added to our chairs give our Christmas porch another layer of holi-yay factor!
I love to sit out here in the evenings with a cup of hot cocoa to watch the sunset!
These gold and black lanterns filled with and gold, silver and white Christmas balls is another quick and easy way to decorate the porch!
This year I added another layer of twinkle lights with these two artificial pre-lit pine arrangements in pots by the chairs.
They are actually artificial pine hanging baskets that are battery operated and popped them into two white planters already I had!
I love that I can use them year after year!
They add such a gorgeous elegant, neutral and natural look to our porch.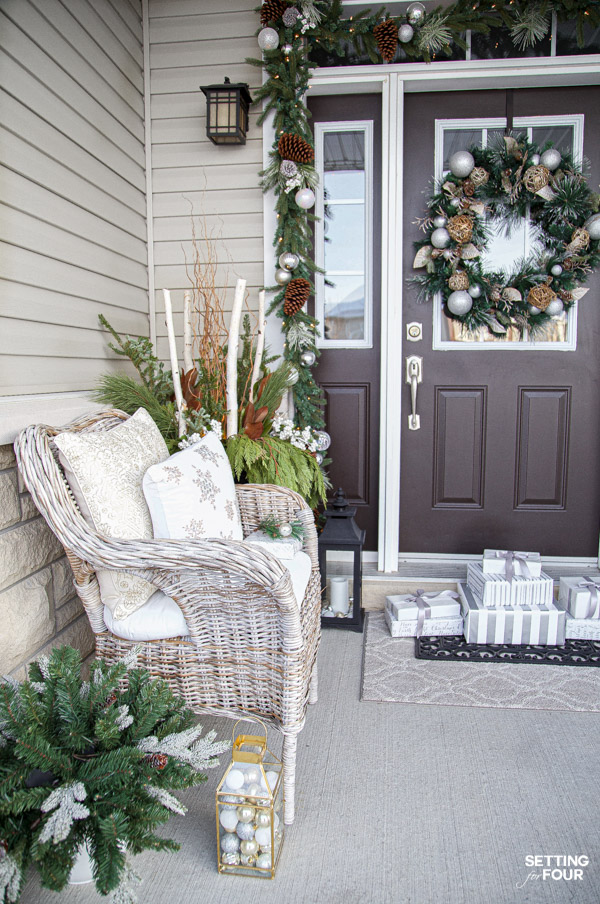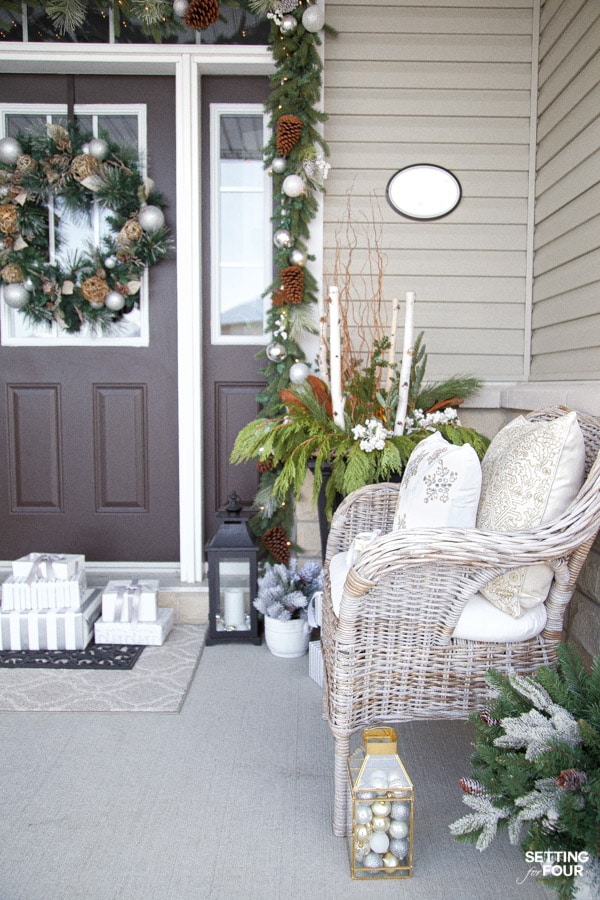 Shop Holiday Accent Pillows! Click on the images below!

Shop Wicker Chairs – click on the images below!

Shop Lanterns! Click on the images below!

Tall Planters Filled With Magnolia Leaves, Birch, Fresh Pine, Spruce and Cedar
I love adding fresh greenery as well as Christmas picks and sprays to my tall black planters!
I used fresh cedar, spruce and white pine boughs mixed with birch poles and curly willow.
The scent is so beautiful!
This year I added fresh magnolia branches to my planters for another festive holiday layer.
(I added two magnolia branches for each planter)
I love how the amber color on the back of the magnolia leaves repeats the same color in the garland pine cones and curly willow!
Design tip: Add your accent color in at least 3 different places in a space to create a cohesive, pulled together designer look!
I also added a couple of white plant pots filled with artificial flocked pine sprays for more festive holiday cheer!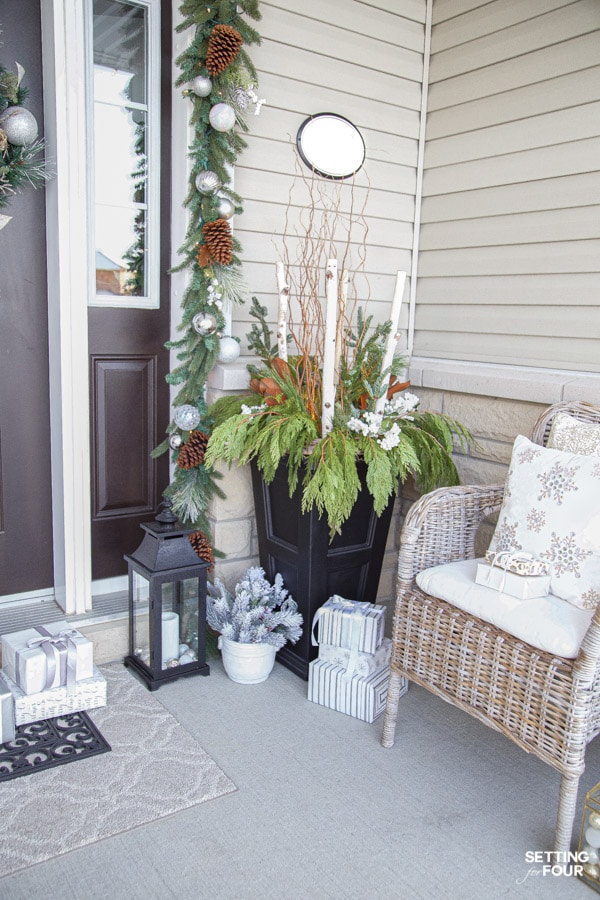 Shop planters! Click on the images below!

Shop Christmas planter fillers! Click on the images below!

I hope you enjoyed my festive, elegant & neutral Christmas porch decor ideas!
If you're inspired to recreate this holiday porch look, use the hashtag #settingforfourchristmas and tag me on Instagram @settingforfour!
I'd love to see your Christmas decorations!
If you have any questions about how to get this look please ask in the comments below!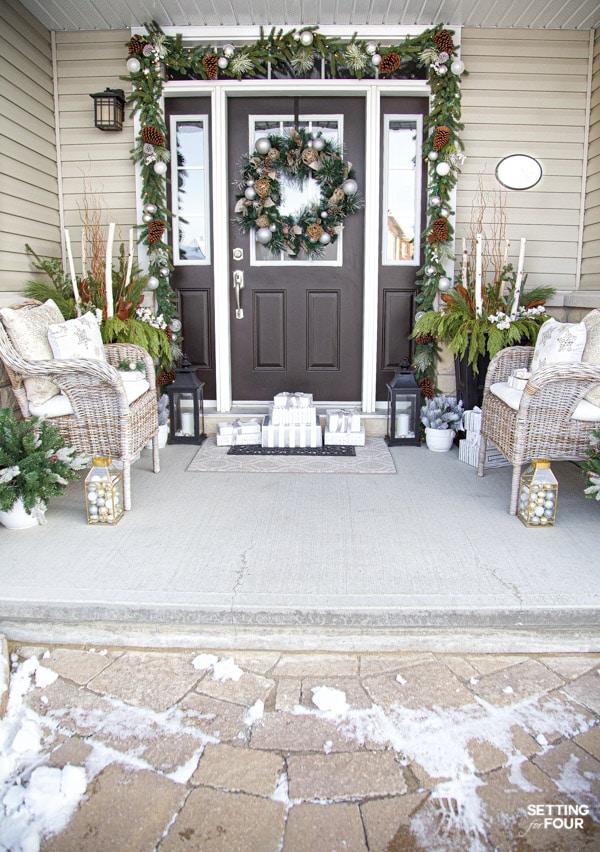 More Christmas Design, Decor & Gift Ideas Ideas: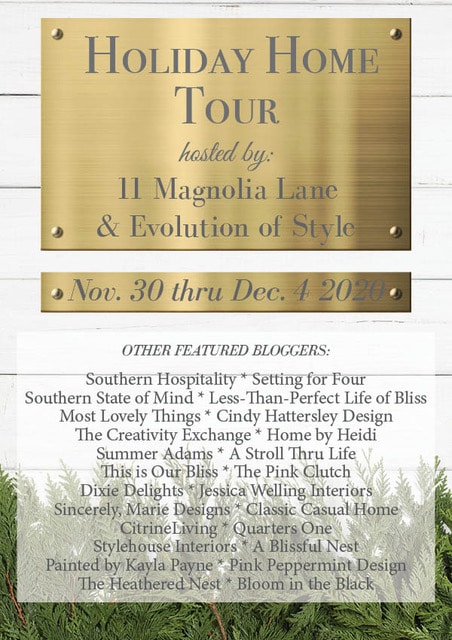 Now grab a cup of hot chocolate and head over to Southern State of Mind to see Heather's gorgeous Christmas tour!
Ready for some beautiful Christmas holiday decorating inspo?  Here is the entire Holiday Homes Tour lineup this week! There is so much festive decorating ideas for you here!:
Monday, November 30th (Front Porch/Outdoor Spaces)
Southern Hospitality | Setting for Four | Southern State of Mind | Less Than Perfect Life of Bliss | Most Lovely Things | Cindy Hattersley Design | The Creativity Exchange
Tuesday, December 1st (Entries/Dining Rooms)
11 Magnolia Lane | Home by Heidi | A Stroll Thru Life | This is Our Bliss | Summer Adams

Wednesday, December 2nd (Living Rooms/Dens)
11 Magnolia Lane | Evolution of Style | Dixie Delights | Jessica Welling Interiors | Sincerely, Marie Designs | Classic Casual Home
Thursday, December 3rd (Kitchens/Laundry Rooms/Misc.)
Citrine Living | Quarters One | Style House Interiors | A Blissful Nest | Painted by Kayla Payne | A Stroll Thru Life
Friday, December 4th (Master Bedroom/Kid's Rooms)
Sincerely, Marie Designs | Pink Peppermint Designs | The Heathered Nest | Bloom in the Black | Evolution of Style | Dixie Delights