Healthy Apple Cranberry Make-Ahead Icebox Cookies: an easy recipe with tasty dried apple & cranberries. This is a yummy cookie recipe for the kids after school snack and school lunches!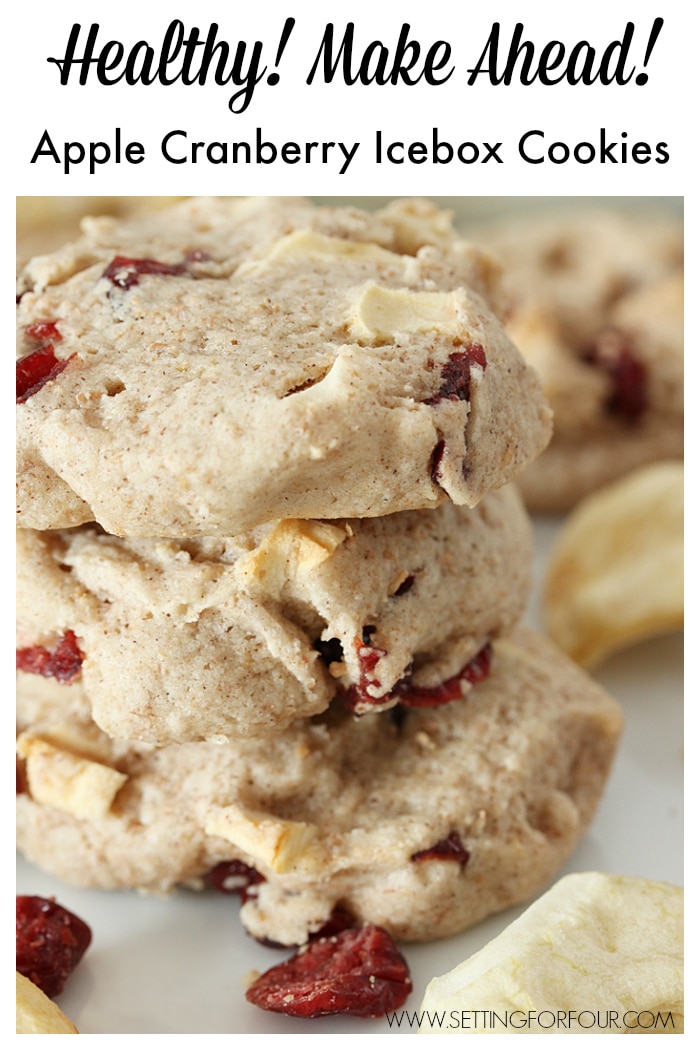 Craving sweets but trying to lose weight? Snack healthy and satisfy your sweet tooth at the same time with this delicious cookie recipe!
The past few weeks I've been on a mission to eat healthier to manage my weight and lose a few pounds!
Yep – no more excuses, I'm getting serious! I overate during the holidays and wasn't very active….. and boom! Several pounds crept up on me!
So I've been riding our stationary bike, doing planks and lunges and making better food choices for my meals… but one thing I really struggle with is my sweet tooth! This girl here has a big one and it's so hard for me to pass on dessert or the odd afternoon snack!
Do you find it hard too?
Here is a delicious and healthy cookie recipe your family will love!
Healthy Make-Ahead Apple Cranberry Icebox Cookies:
This is why I love these cookies:
– They are healthy: made with Liquid egg whites and whole wheat flour
– They are delicious with naturally sweet chopped dried apple and dried cranberries
– They can be made ahead and frozen so I can whip up a batch even when I'm short on time! Which is always- ha!!
This truly is a cookie you can enjoy without the guilt!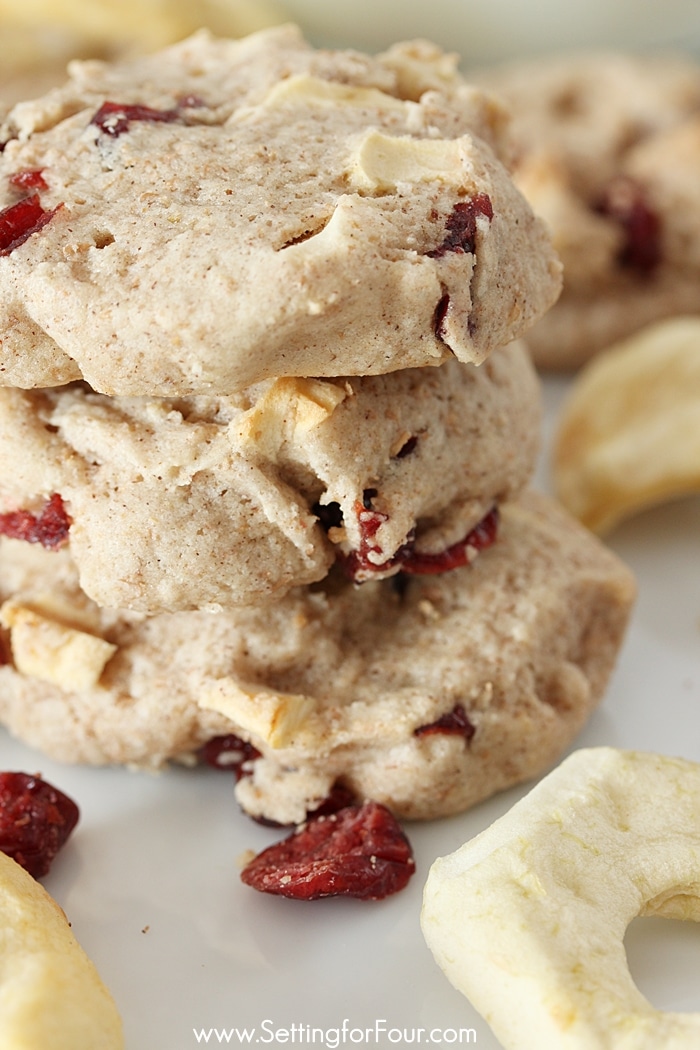 100% liquid egg whites is a convenient, fat-free, cholesterol-free and low-calorie alternative to regular eggs!
They can be used in any recipe that calls for eggs.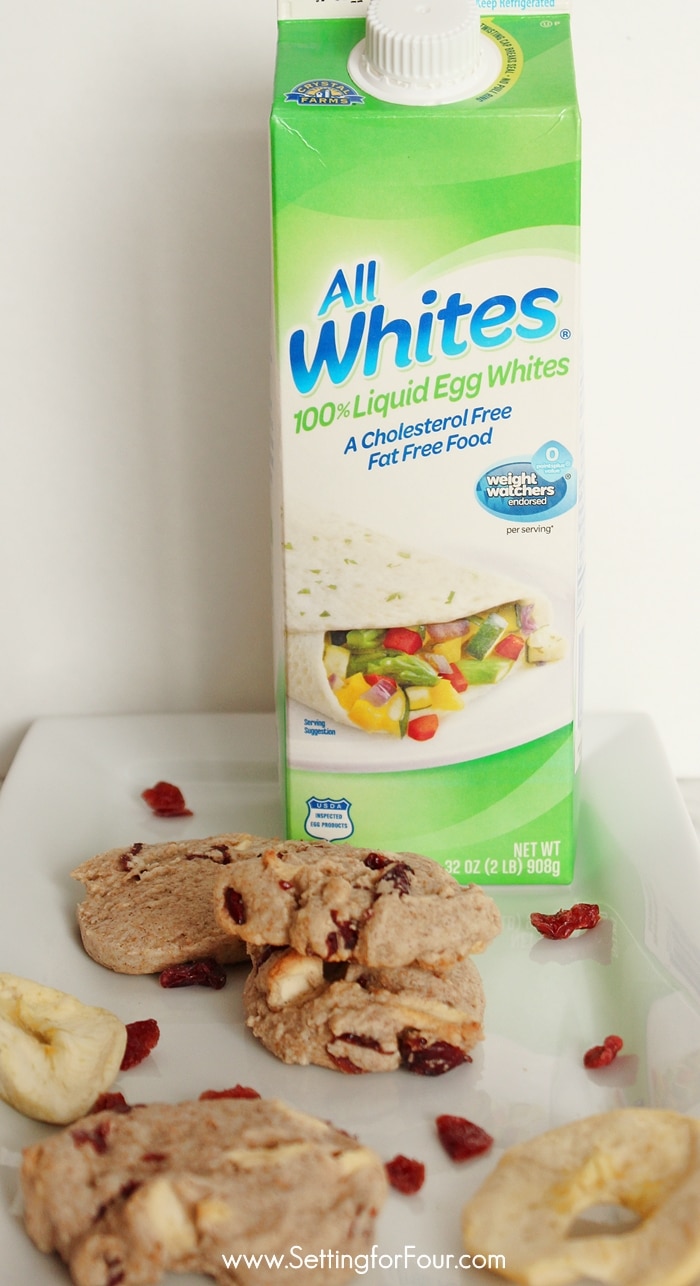 Cookies will never be diet food, but they can be relatively healthy…especially when using whole-grain flour, cutting back on the sugar and adding fiber-rich dried fruit.
This cookie is so tasty no one will guess that they're also better for you!
So go ahead – get healthy and satisfy your sweet tooth at the same time!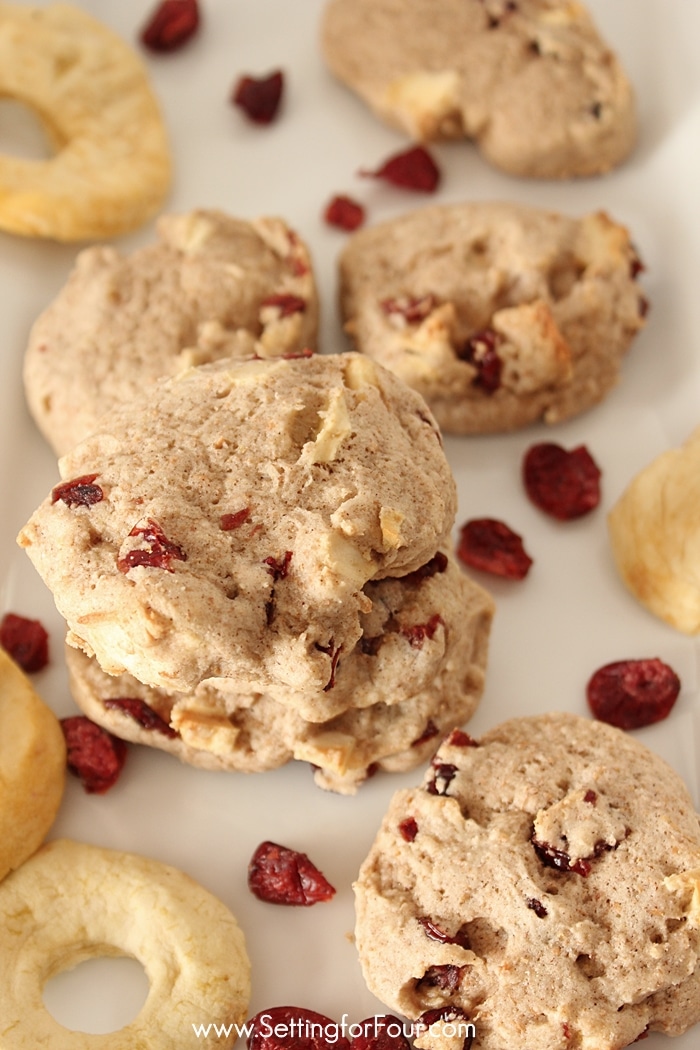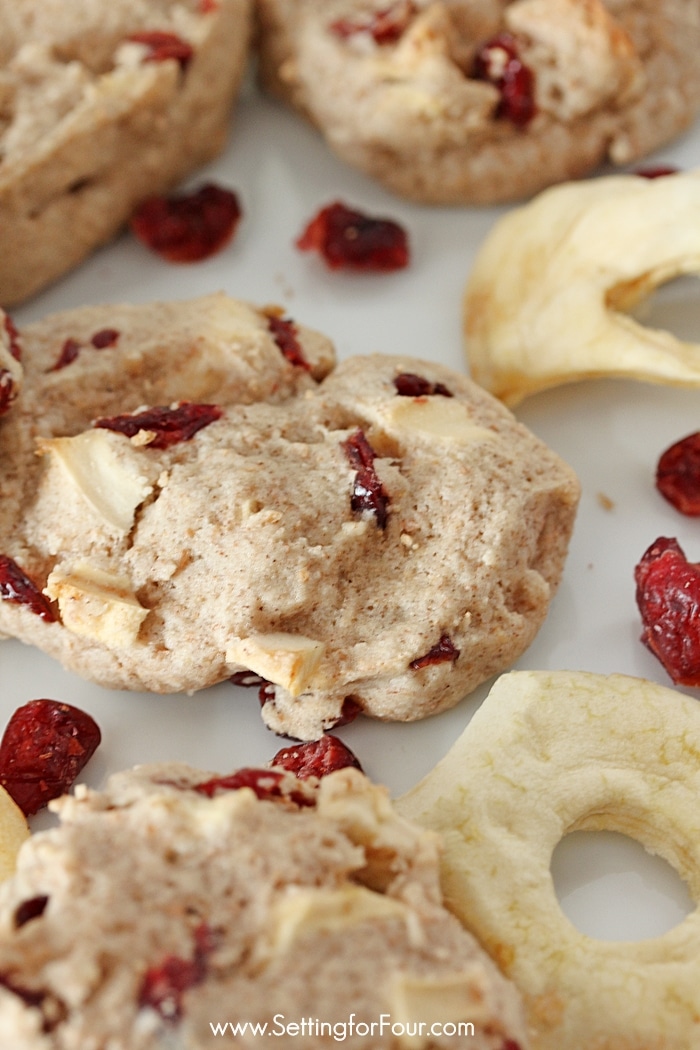 This post contains some affiliate links for your convenience (which means if you make a purchase after clicking a link I will earn a small commission which helps keep my blog up and running but it won't cost you a penny more)! Click here to read my full disclosure policy.
Recipe for Healthy Make-Ahead Apple Cranberry Icebox Cookies
Baking Supplies and Equipment:
Make a batch of these cookies for food gifts (teacher gift, hostess gift, neighbor gift):
Healthy Apple Cranberry Make-Ahead Icebox Cookies
Ingredients
1/4

cup

50/50 butter blend

softened

2/3

cup

sugar

1

tsp.

vanilla

1/4

cup

liquid egg whites

1 1/4

cup

whole wheat flour

3/4

tsp

ground cinnamon

1/4

tsp

baking soda

1/3

cup

dried apples finely chopped

1/3

cup

dried cranberries
Instructions
- In a mixer beat together butter, sugar and vanilla until creamy. Beat in AllWhites®. Add flour, cinnamon and baking soda. Beat until well mixed. Add apples and cranberries.

- On waxed paper, shape dough into a 10-inch log. Wrap tightly in paper and freeze at least 3 hours or until firm.

- Heat oven to 350°F. With sharp knife cut log into 36 (1/4-inch) slices. Place 1-inch apart on ungreased cookie sheet. Bake 10 minutes or until cookies are a light golden brown. Remove from cookie sheet immediately; cool completely on wire rack.
You may also like: