Check out this Ultimate Gifts Under 25 $ Gift Guide! The BEST affordable presents that people on your gift list actually want! All under $25.
Including 35 +beauty, fashion, candles and lifestyle items.
These are inexpensive and gorgeous gifts to show how much you care!
They have smaller price points that bring BIG holiday cheer!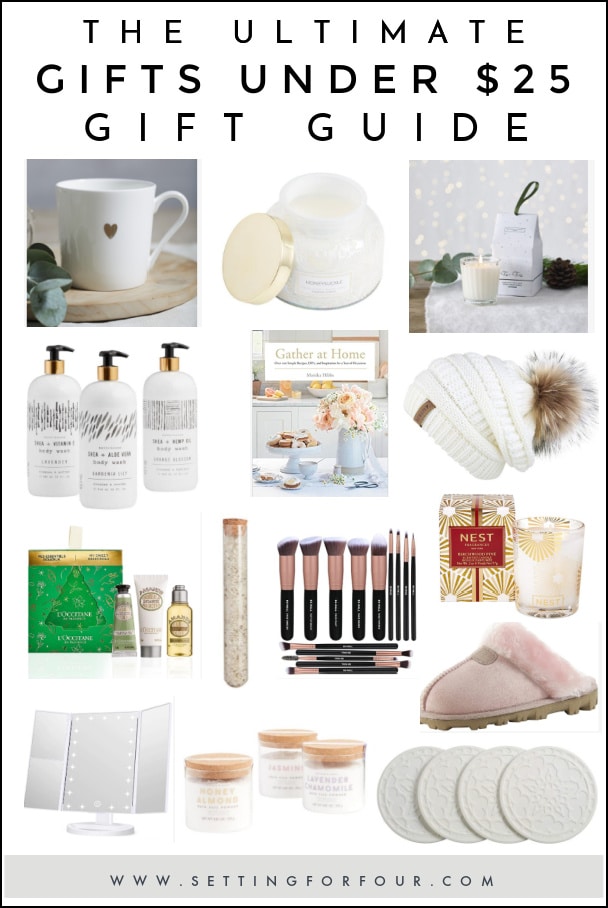 Did you know?
Consumers will be shopping earlier than ever for holiday this year due to the projected shipping delays and stock issues.
In fact, 60% of shoppers will have started and or finished their holiday shopping by November 1st!!
This year has reminded us that there is no time like the present.
And that means there is no such thing as "too early" to get in the holiday spirit: deck those halls, bake those cookies and fill those Christmas stockings!
With the shipping season predicted to be one of the busiest ever I encourage you to check off your list early and order as soon as you can.
So you'll be sure to give your loved ones the gifts they love!
Wishing you and yours a safe and happy holiday!
Ultimate Gifts Under 25 $ Gift Guide
Many of these are in the stocking stuffer category too.  Fun treats to fit into a Christmas stocking!
Click on the images below to shop fabulous these fun and fabulous Gifts Under 25 $!

More gift ideas:
Follow me on Instagram for more holiday gift ideas and Christmas decor tips!