This Ultimate Holiday Gift Guide – Gifts For Him has 22 amazing gift ideas for the special man on your list!
Lots of price points for any budget!  For Dad, husband, boyfriend, grandfather,  brother, cousin, coach and teacher.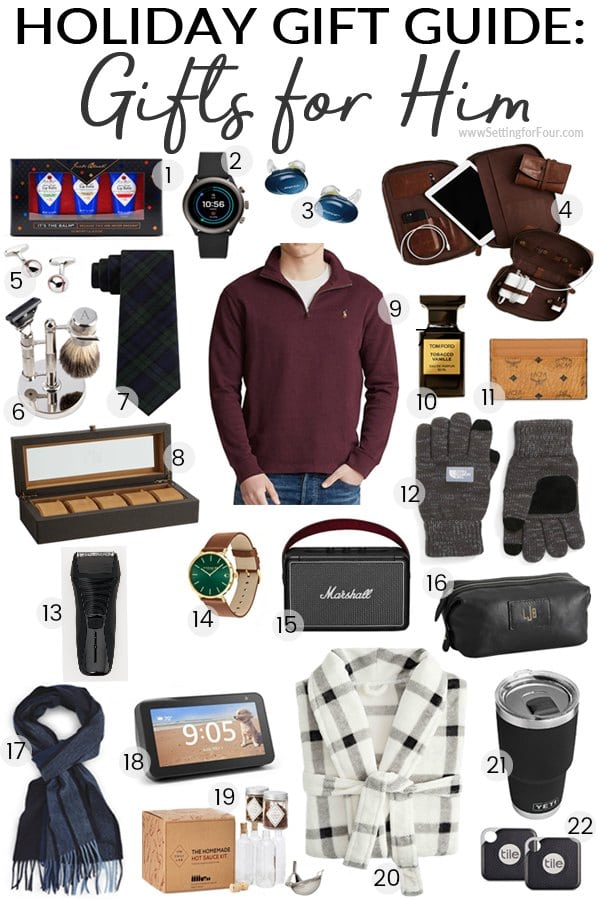 Click on the numbers below to see each gift for him idea!
Mark your calendar! Father's Day is on June 20th!
The Ultimate Holiday Gift Guide – Gifts for Him
This post contains affiliate links for your shopping convenience. Click here to read my full disclosure policy.
1. Full Size Intense Therapy Lip Balm SPF 25 Set: these lip balms are great for him to keep in his car, especially during the cold weather months. This would be a fabulous stocking stuffer gift! Or break the set up and add to a cellophane bag with ribbon to give to 3 friends, teachers, sports coaches.
2. Fossil Smart Watch: The voice-activated Google Assistant feature responds to instructions through the integrated microphone!  This one is can be dressed up or down. It also has a touchscreen and is waterproof. You can choose between different band colors as well.
3. Bose SoundSport® Free Wireless Earbuds: 25% off! Under 150$! Bose is such a quality brand! Includes charging storage case, USB charging cable, three sizes of StayHear+ Sport tips.
4. Tech Accessories Portfolio Collection: On clearance for 20$ This leather collection is perfect for the man who travels a lot – it has every pocket and compartment necessary for keeping electronics and cords organized. And wait until you see how affordable it is!
5. Baseball Cufflinks: a must-have for the sports fan in your life!
6. Men's Monogrammed Razor & Brush Set: Sometimes 'old school' is best! This razor and brush set comes with a monogrammed razor and razor brush on the most sleek, chrome stand that can sit on a bathroom countertop. Perfect gift for every man!
7. Plaid Slim Tie: So affordable at $26.99 right now! I'm loving the colors in this tie – a perfect gift for the businessman or for his holiday party outfit! Comes in different tartan styles and colors!
8. Leather Watch Box: this is such a classy gift idea! The pebbled leather is ruggedly handsome. Holds 5 watches and can be monogrammed if you like! I gave this watch box to my hubby last Christmas – he loves it!
9. Half-Zip Pullover: another great gift that no man can have too many of. This one comes in a bunch of color choices and is so affordable, too.
10. Tom Ford Tobacco Vanille Eu De Parfume: Tobacco Vanille is reminiscent of an English gentlemen's club, understated with a touch of spice. Tom Ford comes through again!
11. Leather Card Case: crafted from richly grained leather and a perfect alternative to a wallet! Comes in cognac and black!
12. Knit Tech Gloves: so useful with all of his tech devices! The tech fingertips lets him text and answer calls! Has a suede palm for good grip. Machine washable too!
13. Wet/Dry Shaver: On Clearance for less than $45! This Ultra-Precise shaver will keep his face baby soft smooth!
14. Coach Leather Watch: How beautiful is this watch? The face color is SO different – love the emerald green, so classy! You  won't believe the fabulous price this designer watch is! What a gorgeous gift!
15. Portable Bluetooth Speaker: This handsome bluetooth speaker has fabulous ratings! Comes in black, brown and white!
16. Leather Toiletry Case: monogrammed/personalized gift ideas are the best and this leather toiletry case is no different!
17. Striped Cashmere Scarf:  Give the gift of classic cashmere! Comes in other colors too. Buttery soft cashmere is never prickly on the skin and is always cozy warm. A wonderful gift that can be dressed up or down.
18. Amazon Echo Show: On sale! This is a must have in today's times with how big a part technology plays in our lives – stay connected with friends and family!
19. Homemade Hot Sauce Kit: a fun, inventive way to spice up his next meal or drink. A fabulous gift idea that he'll enjoy!
20. Plush Plaid Robe: a super soft robe like this – nothing better to keep cozy warm by the fire!
21. YETI Tumbler: this is great for keeping a drink cold OR hot, so it's great for the man who works early mornings and wants to take his coffee on-the-go.
22. Bluetooth Keys Trackers: these are genius for someone who loses their key's a lot! 😉 They're a must have and make the best gift for everyone, not just men!
Click on the images below to shop each gift item!

Here are some more fabulous gift and holiday ideas!
Follow me on Instagram for holiday decor inspiration!