In today's post I'm sharing Stylish Teen Holiday Bedroom Ideas from Walmart!
Create a tasteful, stylish teen bedroom with these gorgeous furniture and decor finds from Walmart Home – so affordable and available online now!
Many of these pieces are also perfect for an adult bedroom!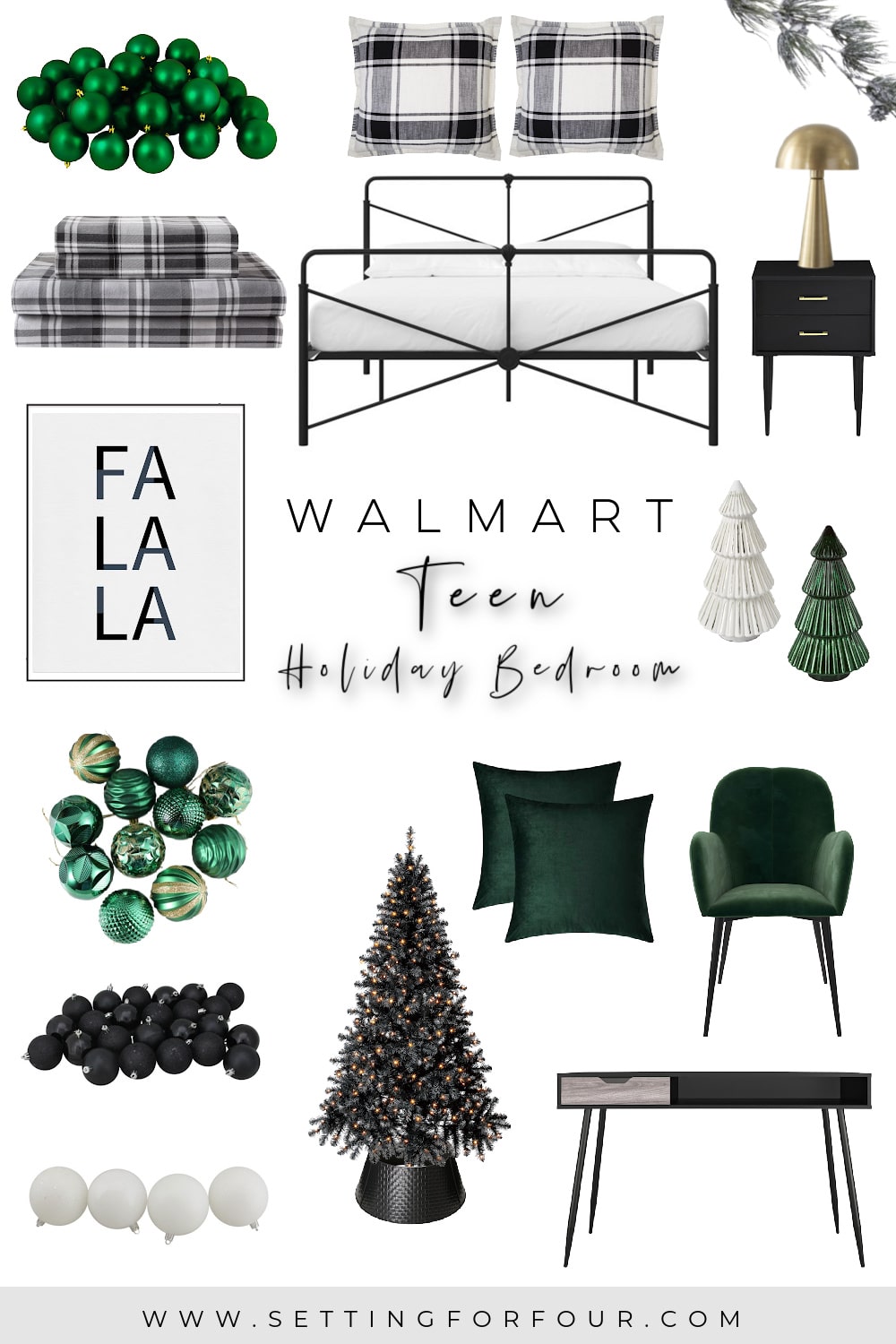 This post is sponsored by  Walmart and contains affiliate links for your shopping convenience. Click here to read my full disclosure policy.
Stylish Teen Holiday Bedroom Ideas
Walmart's holiday home look book is live and filled with so many gorgeous ways to decorate for Christmas!
I thought it would be fun to showcase their affordable and gorgeous holiday trends in a teen bedroom design.
This bedroom design is also perfect for kids and adults alike!
Walmart carries all of the furniture and lighting pieces in this teen bedroom design ( all linked below) – so you can refresh their room from top to bottom and on a budget!
Here are the 5 steps to create a stylish & updated teen bedroom with festive Christmas style:
1. Bedroom Color Scheme
I've been crushing hard on green this year – it's so on trend right now for wall colors and also in decor, especially this year's Christmas decor!
I paired green with black and white for contrast and to create a chic look overall.
This is such a beautiful holiday color scheme and is perfect all year long!
2.  The Bed
The focal point of any bedroom is the bed – so make it one that's jaw dropping beautiful!
This gorgeous Leopold bed with geometric lines is a showstopper and just $180 for a queen! Wow!
It also doesn't require a box spring or foundation mattress which is a big money saver!
This memory foam mattress ships straight to your door. I have this mattress and it's so comfy!

3. The Desk and Chair
Of course every teen bedroom needs a desk and chair! Getting good grades makes Santa happy! 😉
This beautiful black oak desk has on-trend Mid Century Modern lines and a drawer to keep study supplies organized.
The stunning green velvet chair adds a pop of green – I love this shade of dark green!
The shape of this chair is so gorgeous and the soft velvet adds beautiful texture!

4. Nightstand and Table Lamp
Add one of these chic MCM black nightstands to each side of the bed for storage and to display these gorgeous contemporary brass dome top table lamps for night time reading.
This brass table lamp will also elevate the desk and is perfect for task lighting!
5. Bedding and Accent Pillows
Complete the bed with this gorgeous plaid sheets. This black and white plaid pattern compliments the black and white color scheme making the room look cohesive and pulled together.
Plaid is very much on trend right now too!
Add a white quilt to layer in more white and give the bed a finished look.
If your teen want's more warmth add a duvet and duvet cover to keep folded at the end of the bed.
Next add these black and white plaid accent pillows to the bed for another layer of beautiful pattern and style. They are reversible for 2 different looks!
I love the whipstitch flange detail.
These dark green accent pillows can be added to the bed for another layer of gorgeous green.
6. Area rug
This timeless cable area rug is so stunning and is stain resistant too!
I'm obsessed with the texture and pattern.

7. Wall Art For A Festive Holiday Bedroom
This Fa-La-La typography wall art is so fun and fabulous! It's a wink to the holidays without being too 'Christmasy'.
Holiday bedroom ideas should be affordable – this art definitely is at just $21
Hang it above the bed to create a beautiful focal point.
This art's modern style and monochromatic black and white color ties in perfectly with this bedroom's color scheme!
8. Christmas Tree and Tree Collar
My jaw dropped when I saw this gorgeous 6.5′  black Christmas tree! And it's only $39!!!
Perfect for teen holiday bedroom ideas!
I've always wanted a black tree – they are so stylish!
This one is pre-lit and easy to set up!
Cover the stand with this beautiful tree collar that has a beautiful woven look.
It breaks down into 3 pieces for easy storage. It also comes in white.
I also found this rotating Christmas tree stand – how amazing and fun! It rotates the Christmas tree 360 degrees, how magical!

9. Christmas tree ornaments
Decorate the tree with these stunning green , white, black Christmas ornaments for a festive look.
Click on the images below to shop ornaments:


10. Garland
Drape this beautiful green spruce garland on the top of the bed frame for another layer of green and festive cheer!
It gives the bedroom that gorgeous winter woodland look!
Click on the images below to shop this teen holiday bedroom look!

I really hope you like these stylish teen holiday bedroom ideas!!
Follow me on Instagram for more Holiday decor ideas, design trends and more!
You may also like these Holiday decor and design ideas: