Neutral and Elegant Christmas Porch Decor Ideas! 10 Ideas for adding easy touches of Christmas to welcome your family and friends to your home.
Your Christmas porch decor sets the tone for your home. Use festive greenery, lighting, pops of metallics and natural elements to bring the holiday cheer!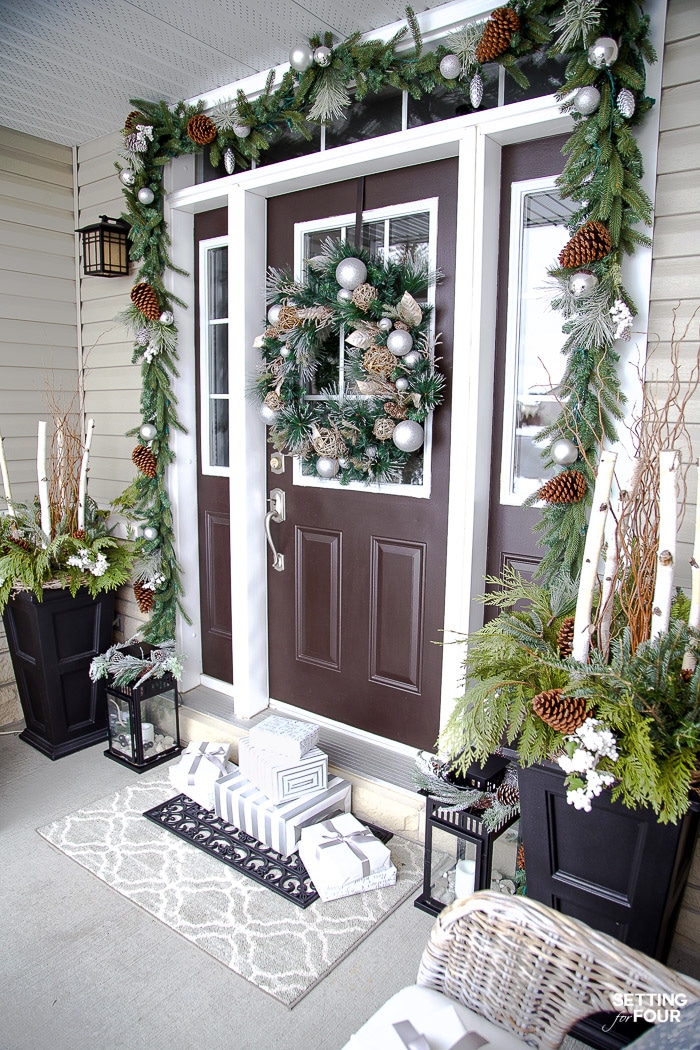 These front porch decor ideas are sure to get you in the holiday spirit!
Learn how to decorate your porch with a festive, welcoming look that embraces the holiday season.
This post contains affiliate links. Read my disclosure policy here.
PLEASE PIN THIS AND SAVE IT FOR LATER!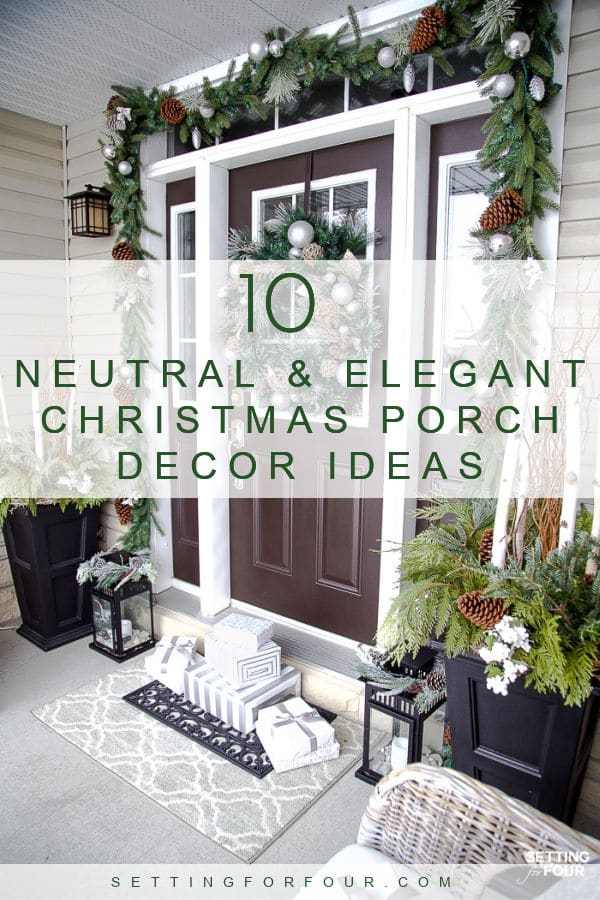 Neutral and Elegant Christmas Porch Decor Ideas
Celebrate the most wonderful time of the year with planters filled with fresh greenery, holiday garland,  glowing lights, ornaments and so much more!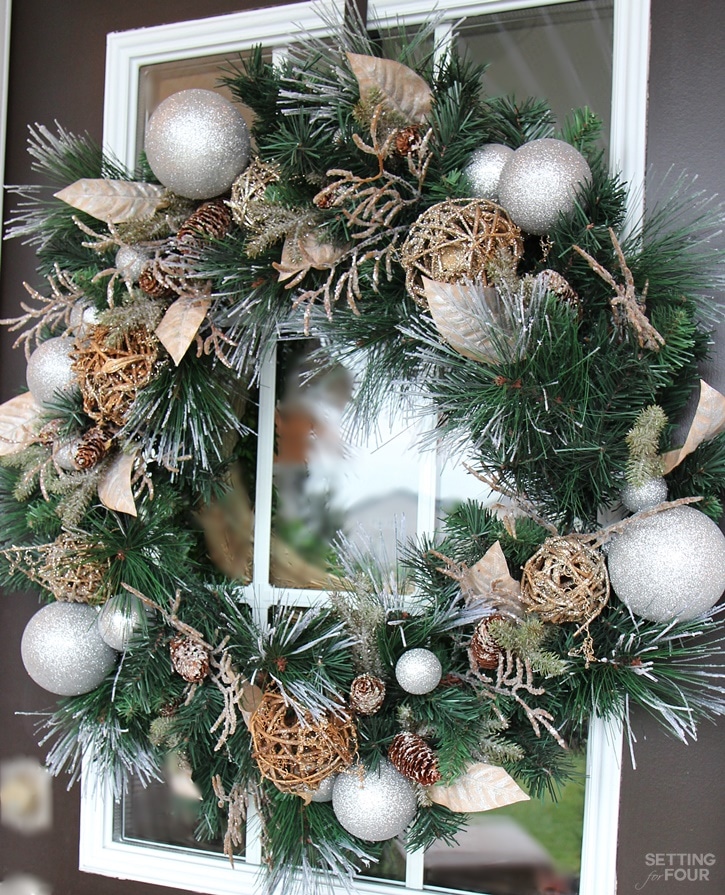 DIY Ice Skate Wreath Decor – Quick and Easy!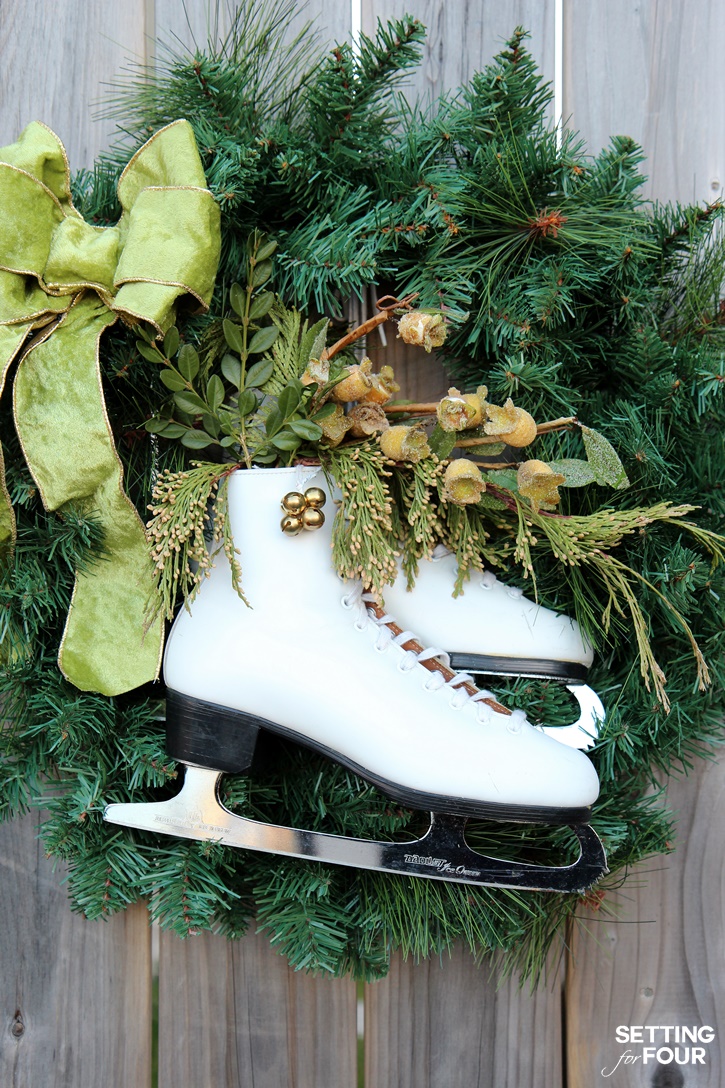 1. A Gorgeous Christmas Wreath
Nothing says welcome home like a big beautiful Christmas wreath! I picked this one up at HomeSense a few years ago and still love it today!
The front door wreath is the 'ta-da' moment for your porch look so pick one that's really special, has lots of texture and style.
My opinion is the bigger the wreath the better!
Pick a wreath in color that will go with your other holiday porch decor and planters. A neutral wreath like mine is flexible and timeless because it will coordinate with any other color!
I also made this easy DIY Ice Skate Wreath that would look gorgeous on a front door! I added mine to our side gate door for a little splash of holiday cheer!
Wether you love fresh or faux, there are so many gorgeous wreaths today, here are a few online wreaths I'm loving right now:
Click on the images below to shop Christmas wreaths!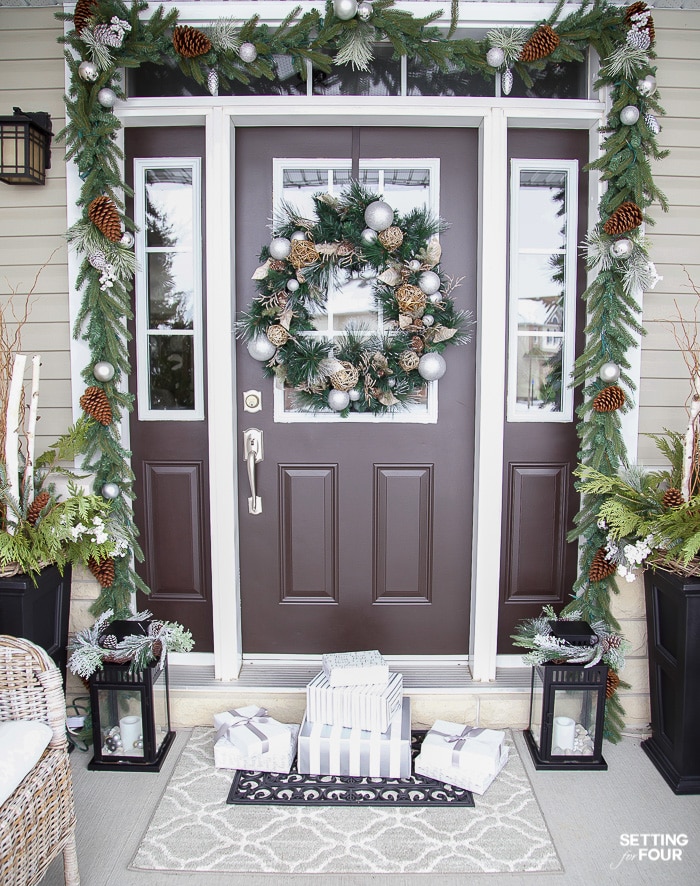 2. Pre-lit Outdoor Garland For The Front Door or Railings
This is where you can really add gorgeous, elegant holiday style to your porch!
Adding a lush pre-lit pine garland around your doorway or railings adds a gorgeous pop of green and a beautiful holiday look.
Measure your doorway and buy enough garland to wrap around it.
As well measure any railings and buy enough garland to gently loop it in the middle or in 2 places.
I love to add decorative Christmas pine sprays to my garland to make it even fuller!
Add at least 10 greenery picks, berry sprays or sparkly picks and tuck them into the garland here and there.
Click on the images below to shop Christmas garland!

---
Do you need help with your furniture layout, picking out the perfect furniture or paint colors?
See my online design & paint color services!  Plus my client reviews! 
Email me at [email protected] for more info!

---
3. Christmas Ornaments
An elegant, neutral Christmas porch needs beautiful ornaments!
Next add some Christmas balls to your garland. I love metallics so I added some matte and sparkly silver balls to my garland.
Then I added some big pinecones that I hung on the garland with ornament hangers.
Adding Christmas ornaments to the garland adds so much holiday style!
Click on the images below to shop Christmas ornaments!

4. Layered Door Mats
Layered door mats are so on trend right now!
Add a 3′ x 5′ or larger area rug under a rubber or sisal door mat to add more pattern, color and texture.
It also amps up the inviting look of your holiday porch!
Coordinate your door mats with each other and with the rest of your porch for a cohesive look.
My door mats don't scream holiday, but I love how the gray trellis pattern pairs with the gray wicker chairs and gray porch floor color as well as the pop of black from our rubber door mat.
The black door mat also coordinates with my black lanterns and black planters.
Click on the images below to shop Door Mats!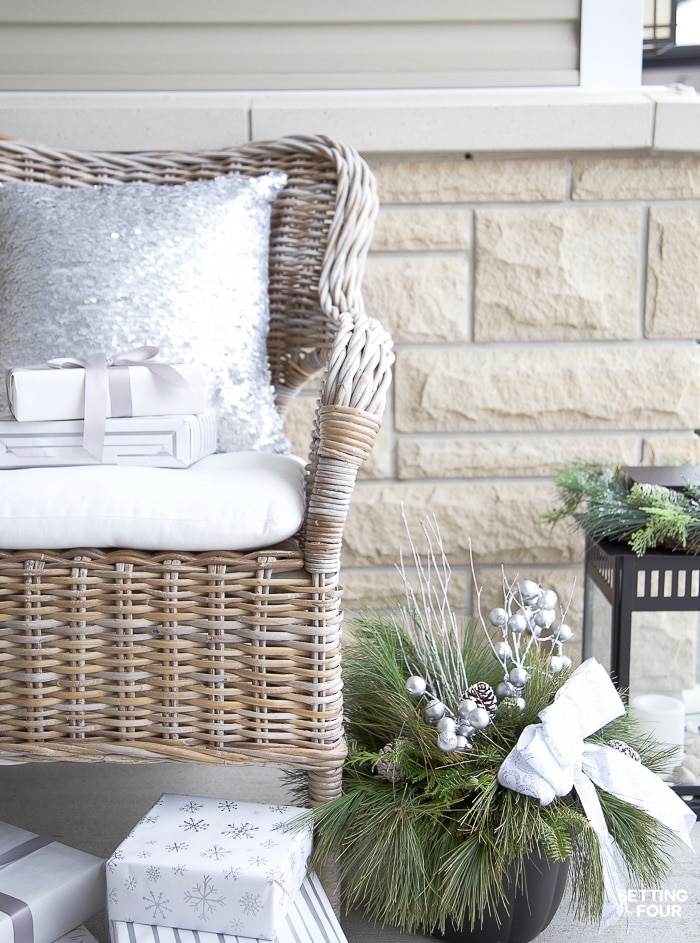 5. Holiday Pillows for Your Porch Seating
I'm obsessed with pillows and love the fact that the porch is another place to decorate with them!
Holiday pillows will add beautiful pattern and coziness to your porch.
Select a couple of beaded, embroidered, buffalo check or faux fur pillows to add to your porch chairs or swing for a welcoming touch.
Click on the images below to shop Holiday Pillows!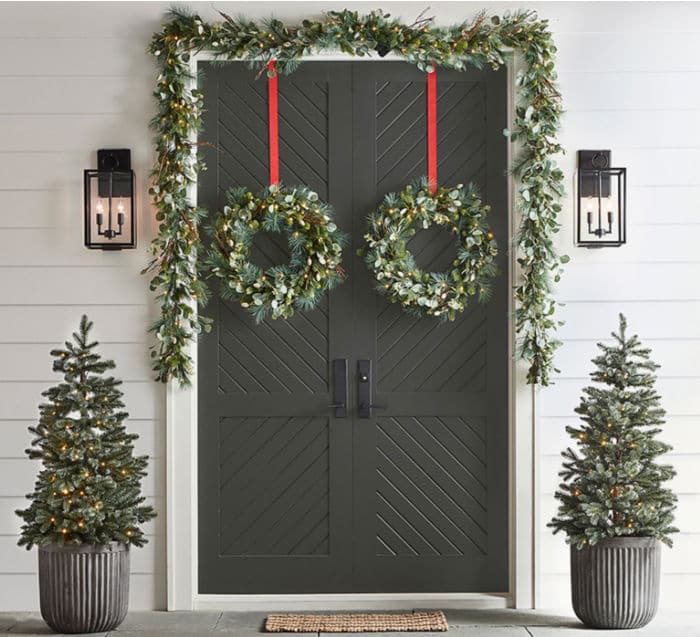 6. Potted Christmas Trees
I absolutely love two potted Christmas trees by the front door.
These artificial pre-lit miniature pine trees in beautiful pots make such a welcoming statement!
You can leave them bare for a natural look or hang ornaments on them.
You can also use miniature white trees for a frosty forest look or flocked trees for a winter wonderland look!
Click on the images below to shop Potted Christmas Trees!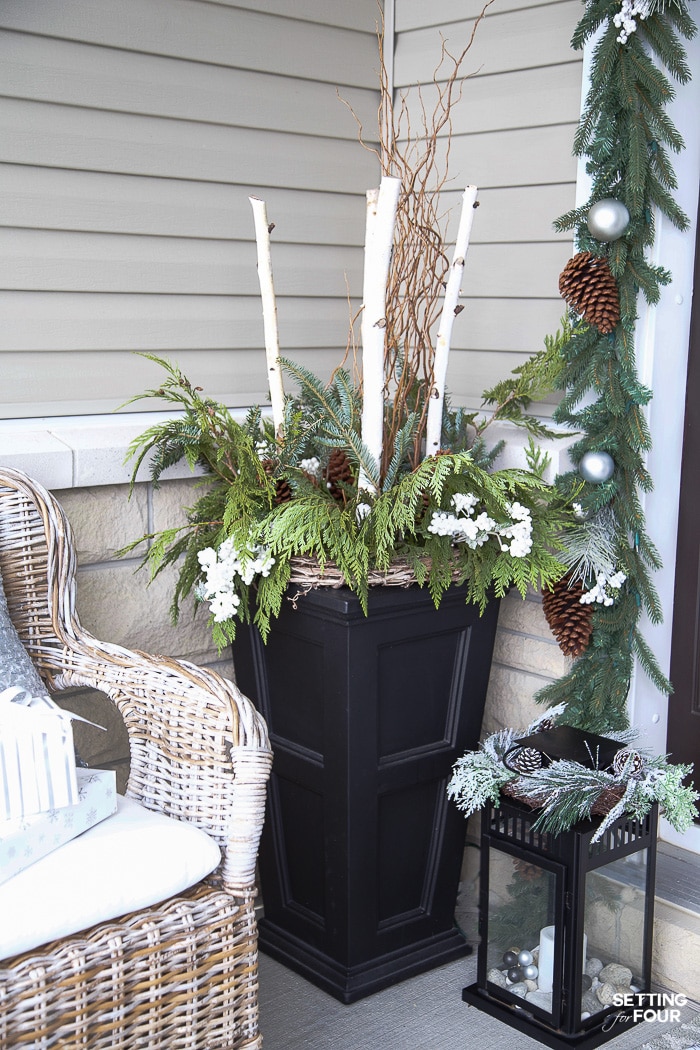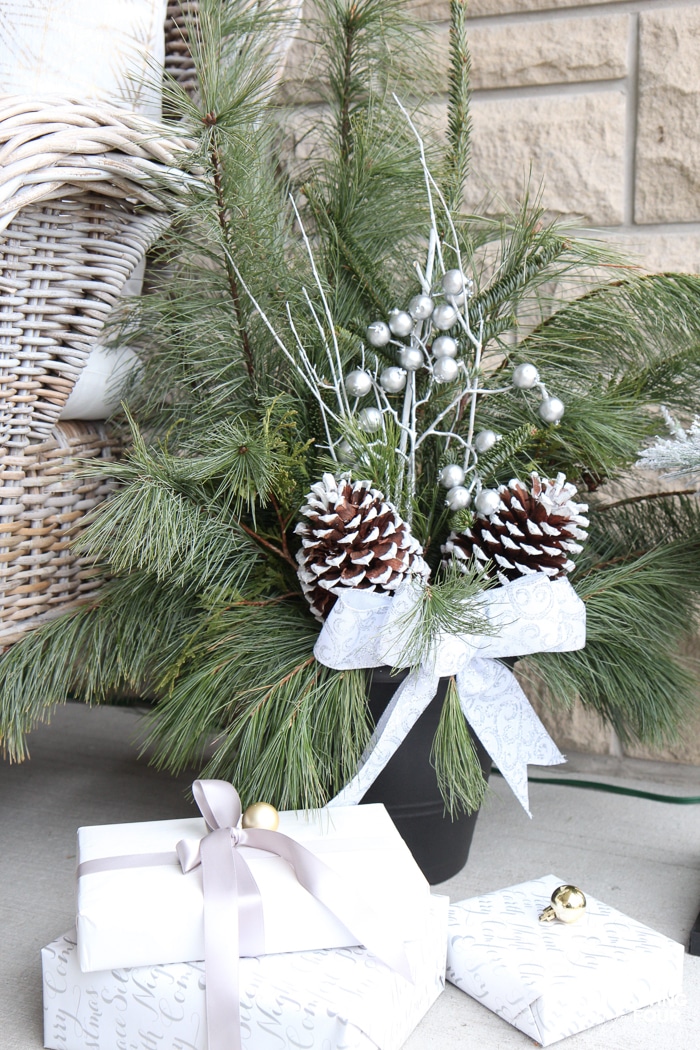 7.  Planters Filled with Fresh Holiday Greenery and Berry Sprays
I love adding planters of fresh greenery to my porch to layer in more fresh cedar, pine and fir!
The scent is truly incredible!
I layer in two bunches each of white pine, cedar and spruce to my tall black planters that are filled with birch branches and curly willow.
Then I add white berry sprays for more fullness.
I also add two smaller fresh greenery planters to my porch and two on the pillars at the start of our front steps.
I love planters with added decorative twigs and berry sprays to add more texture and wintery style! They really add elegant holiday personality to your neutral Christmas porch.
Click on the images below to shop Planters and Pots!

Click on the images below to shop Christmas Greenery and Decorative Sprays!

Quick and Easy Outdoor Christmas Planter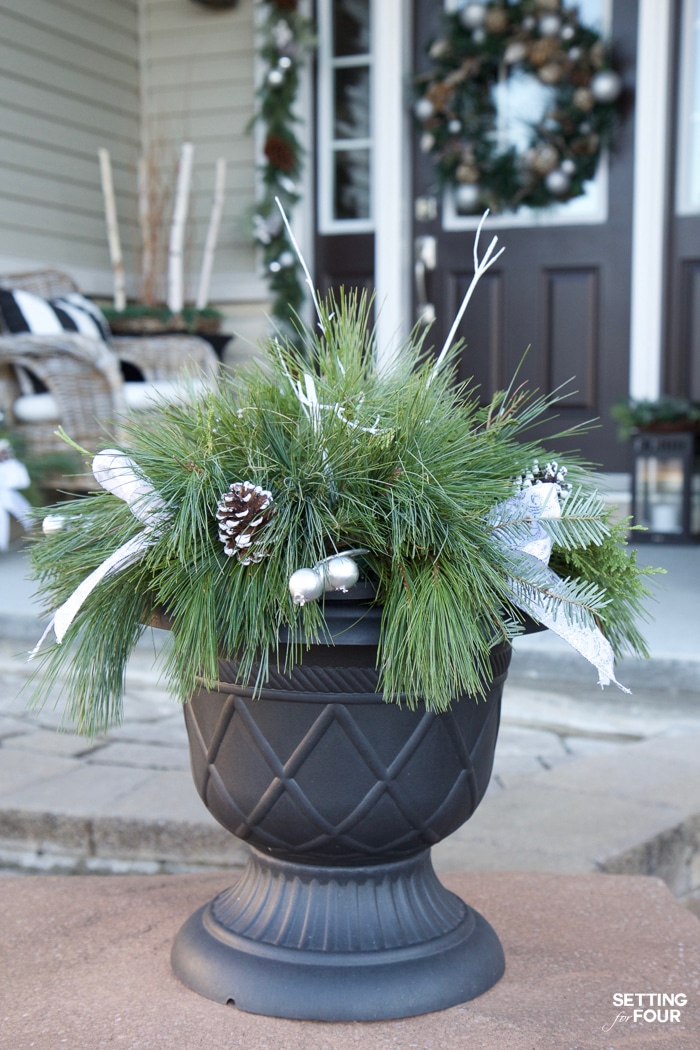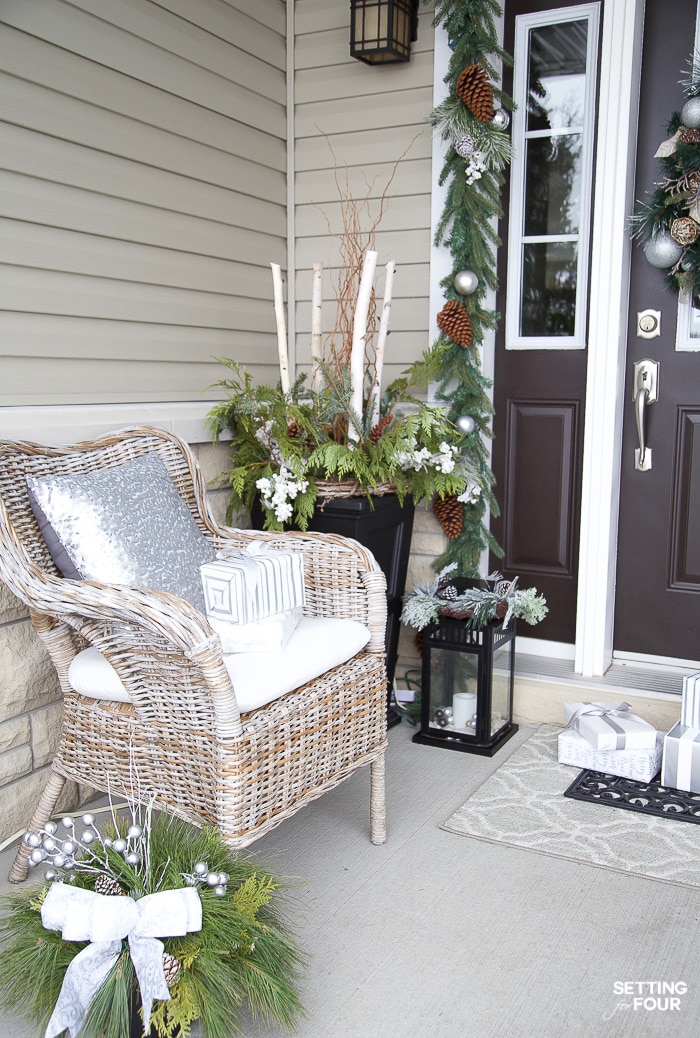 8. Lanterns
To me a porch is naked without lanterns!
Lanterns add a pop of gorgeous color and contrast to your holiday porch .
Pick at least two in black, silver, white or red.
I have 4 on our porch – 2 by the front door and 2 by our front steps.
You could also add more lanterns down each step for an extra holiday glow!
Lanterns can also be placed in planters filled with greenery, nestled in at the top for a cheery touch.
Click on the images below to shop Christmas Lanterns!

9. Battery Operated Candles
Holiday happiness is candlelight!
Add battery operated candles to lanterns and have them set on their timers to turn on at dusk.
Your porch will be the envy of the neighborhood!
My favorite battery operated candles right now are the flickering flame style – they are so realistic and stylish!
Click on the images below to shop Battery Operated Candles!

10. Twinkle Lights
Christmas is the season of lights so bring on the glow and twinkle!
I have a soft spot for battery operated twinkle lights! I'm really obsessed with them.
They can be tucked into planters, lanterns, the garland around your door and in your wreath for a beautiful holiday glow!
Click on the images below to shop Twinkle Lights!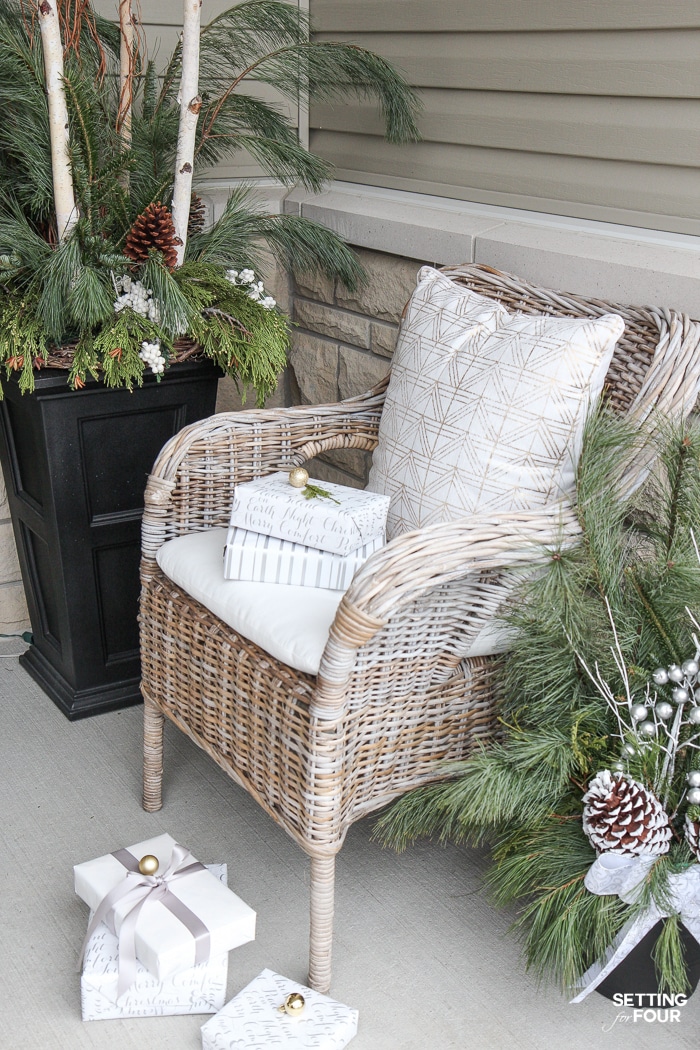 I hope you enjoyed these Neutral and Elegant Christmas Porch Decor Ideas! Happy porch decorating!
More Christmas Decor Ideas:
Follow me on Instagram for more Christmas design inspiration and sales alerts!