See how I decorated my Winter Woodland Glam White Christmas Tree for the holidays! Woodland animals, metallics and shine with pops of blue!
See the resource list at the end of the post to get the same look!
"Oh Christmas Tree! Oh Christmas Tree! How often has the Christmas Tree afforded me the greatest glee!" Those lyrics from the festive holiday song sum it up for how much I love my Winter Woodland Glam White Christmas Tree! Want to see how I decorated it? I'll show you how!
This is the first white Christmas Tree I've owned and I must say I LOVE IT!!! Wow – it's stunning!! When I turn on the lights it has the most beautiful glow!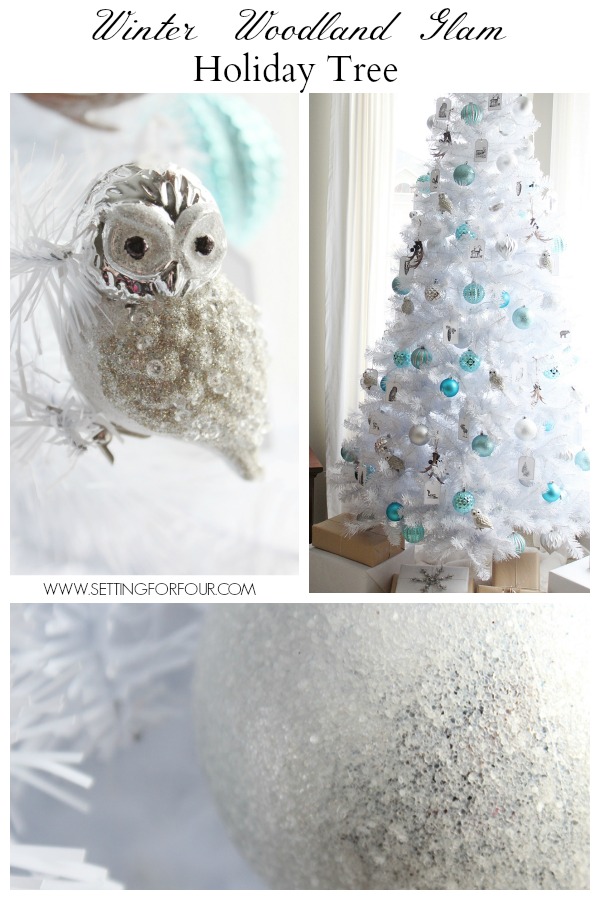 This post contains some affiliate links for your convenience. Click here to read my full disclosure policy.
---
Before I talk about these decor ideas – check out how you can get completely organized for the holidays with this gorgeous Ultimate Holiday Planner!
You won't forget a place to be at, a card to send, a gift to get or groceries to buy with these 27 printable pages including:
Dated calendars, menu planners, gift tracker and Christmas organization! It's saving my sanity this year prepping for the holidays!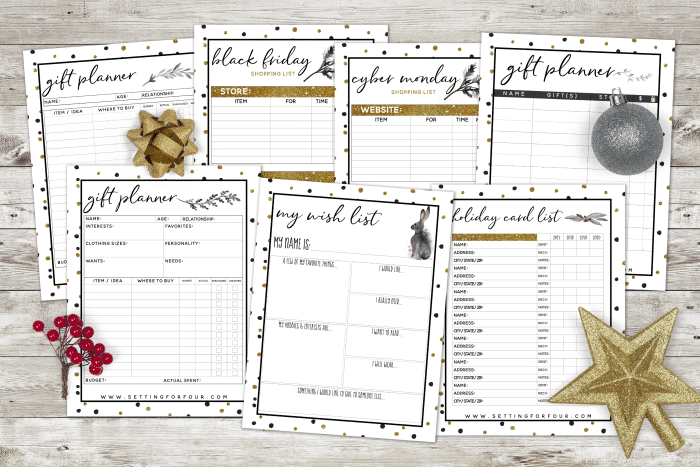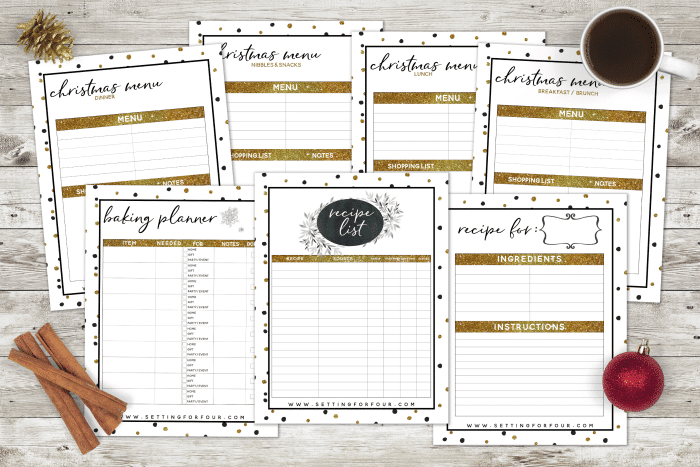 ---
Now onto my winter wonderland glam white Christmas tree!
I've shared the past 2 weeks how I came up with this holiday Winter Woodland Glam decor style and decorated my Entryway, Foyer, Dining room and Home for my Christmas Home Tour with this pretty look!
Winter Woodland Glam is all about blending glamour and shine with rustic nature. Bringing the forests and woods indoors and mixing metallics with natural elements.
My interpretation of winter woodland glam includes lots of white, lots of aqua blue like the color of ice on glaciers, the silver of moonlight, woodland animals and sparkle, bling and shine!
My Winter Woodland Glam Christmas Tree all started with this 7.5 foot white Christmas tree…ga-orgeous!! I'm smitten.
This tree is so pretty and I know I'm going to have so much fun decorating it every year!
Get this Printable Woodland Tag Set with 18 different designs of forest animals and trees!
They are beautiful Christmas ornaments and gift tags!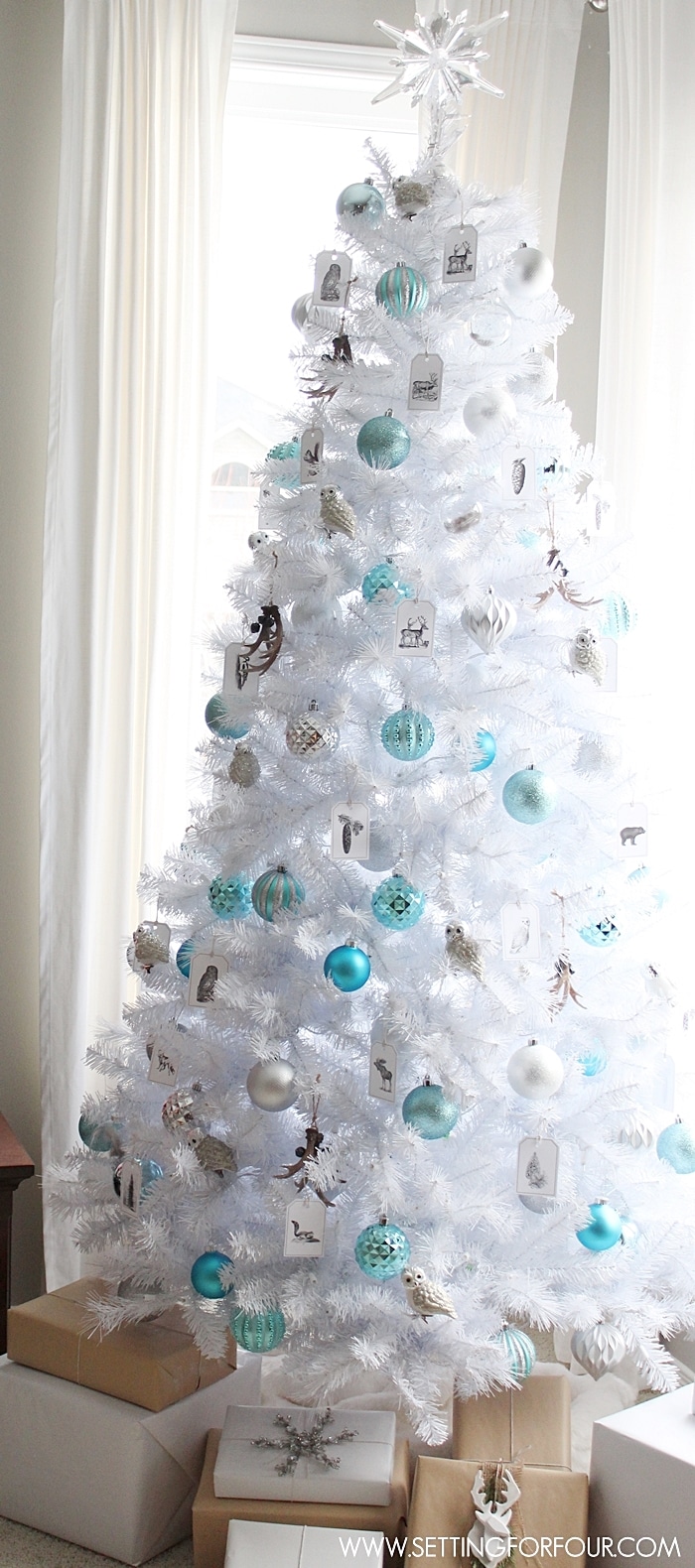 The colors of the ornaments just pop right off of it! It's so full and lush and has lots of lights – 1200 Tips and 600 Clear Lights! No skimping here!
There is a convenient foot pedal button to turn it off and on too – so convenient. When I light our tree at night it has this stunningly peaceful glow. It makes all the ornaments shimmer and softly sparkle.

I decorated the tree with these gorgeous printable woodland animal and tree tags.
These tags are such a quick and affordable way to decorate your tree – use any kind of ribbon or white bakers string to hang them.
These printable tags are perfect for a child's Christmas tree in their bedroom too!
I also added these dazzling blue and white Christmas ornaments.
They come in mixture of shiny, matte, and glitter designed finishes!
This one looks like it's covered in snowy ice crystals: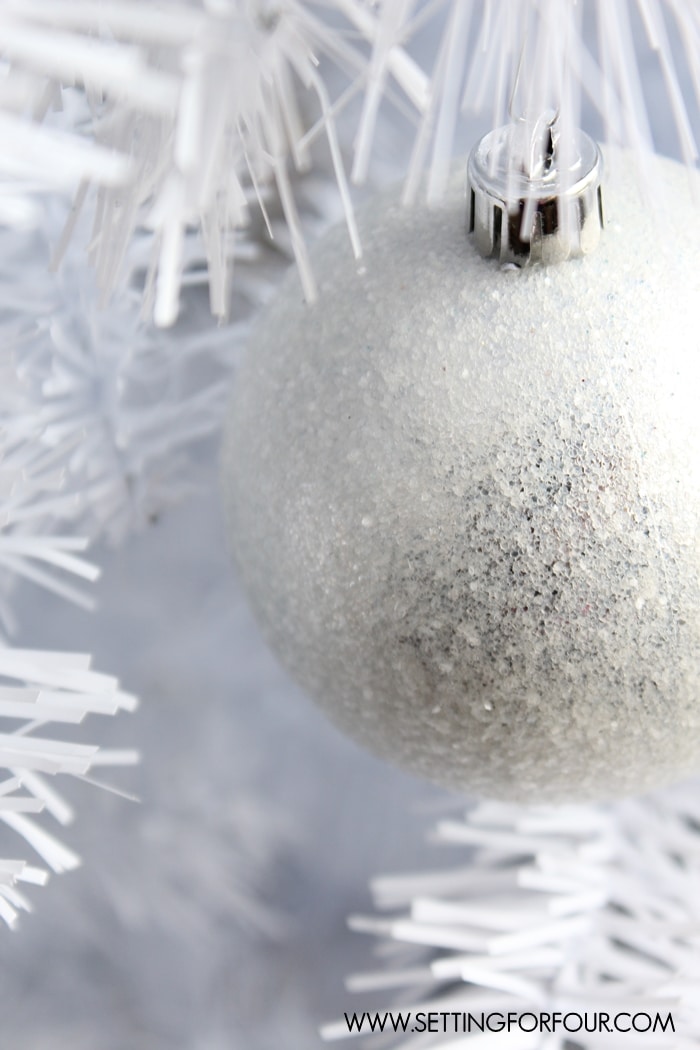 Aqua blue and silver glitter: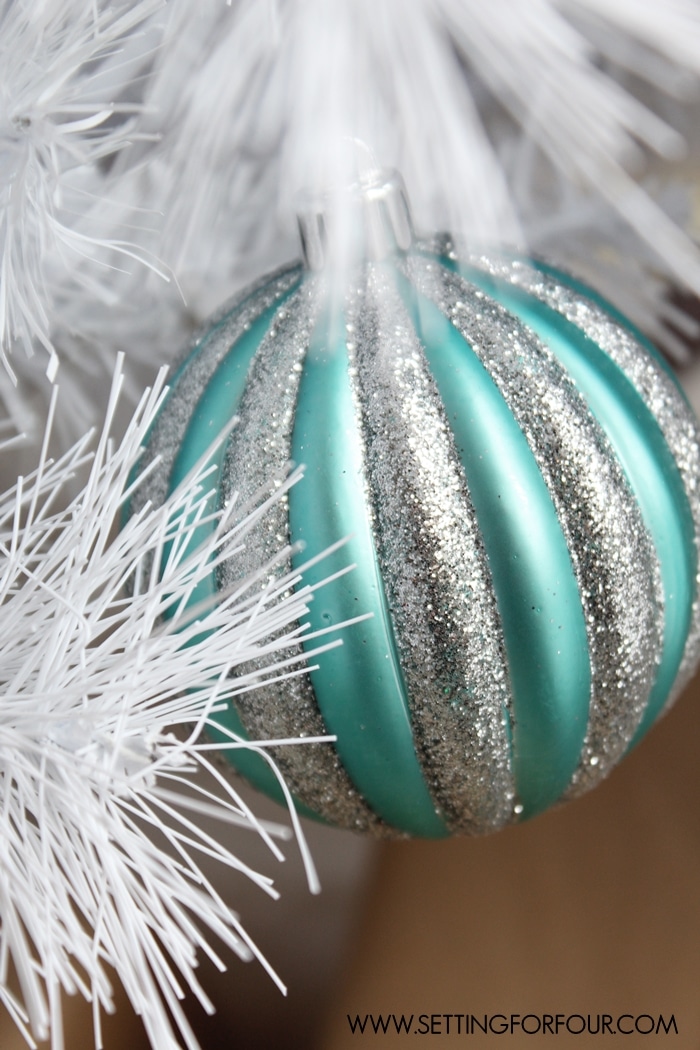 Shine and sparkle! My favorite two things!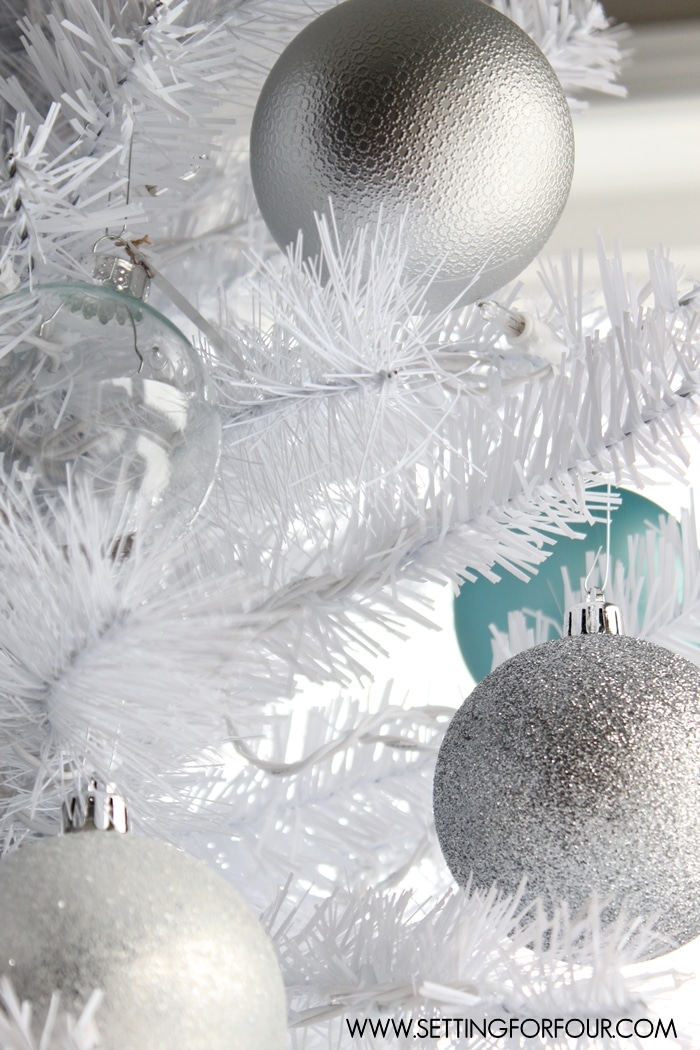 These glitter laden white and silver metallic owl ornaments are so adorable and tie right in to the woodland look I'm creating! They clip onto the branches and look like they just flew in to sit a while! Hoot! Hoot!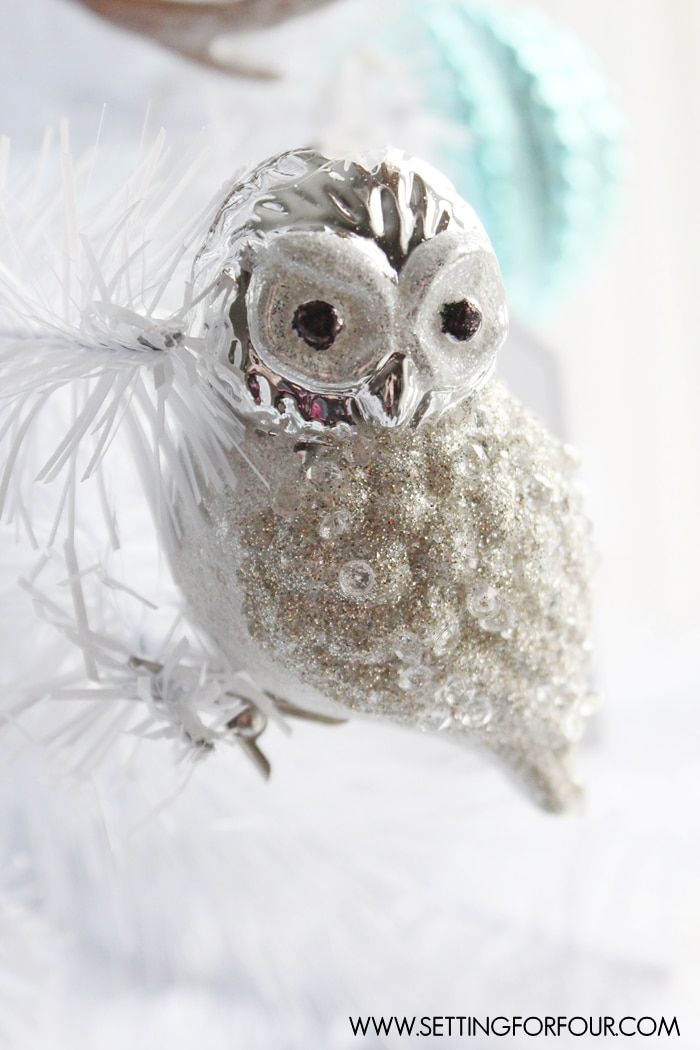 The last step in decorating my Winter Woodland Glam tree is adding a tree topper…..but not just any tree topper! A beautiful crystal looking snowflake! So glam!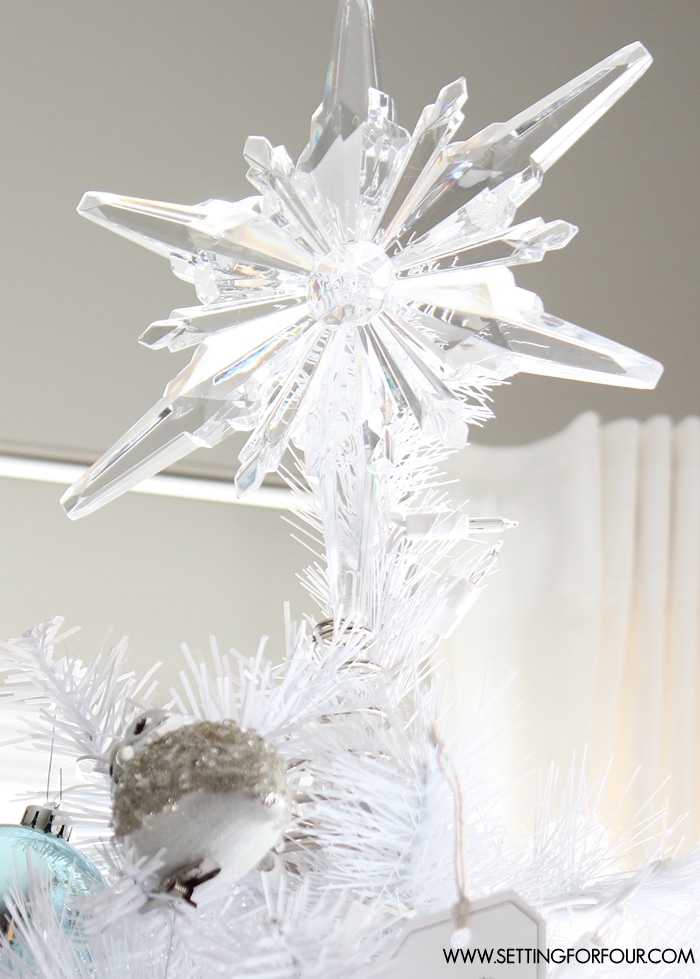 After I decorated it and turned it on to show my hubby and our boys – their mouths completely dropped open! All they could say at first was WOW!!!! It was so fun to see their big smiles!
"O Christmas Tree! O Christmas Tree! From base to summit, gay and bright, There's only splendor for the sight."
I hope you enjoyed seeing my holiday tree and Winter Woodland Glam decor ideas! Happy holiday decorating!
Resource list
Printable woodland animal and Tree Tag Set – 18 designs
owl ornaments (similar)
Blue and white Christmas ornaments (similar)
Tree Star (similar)
White faux fur tree skirt
I hope you enjoyed seeing my Winter Woodland Glam White Christmas Tree!