Sharing my Elegant Gold and White Christmas Living Room Decor Ideas to make an inviting, serene and cozy space!
See the new Christmas accents I added to our living room this year! Plus see 30 Design Bloggers beautiful holiday rooms.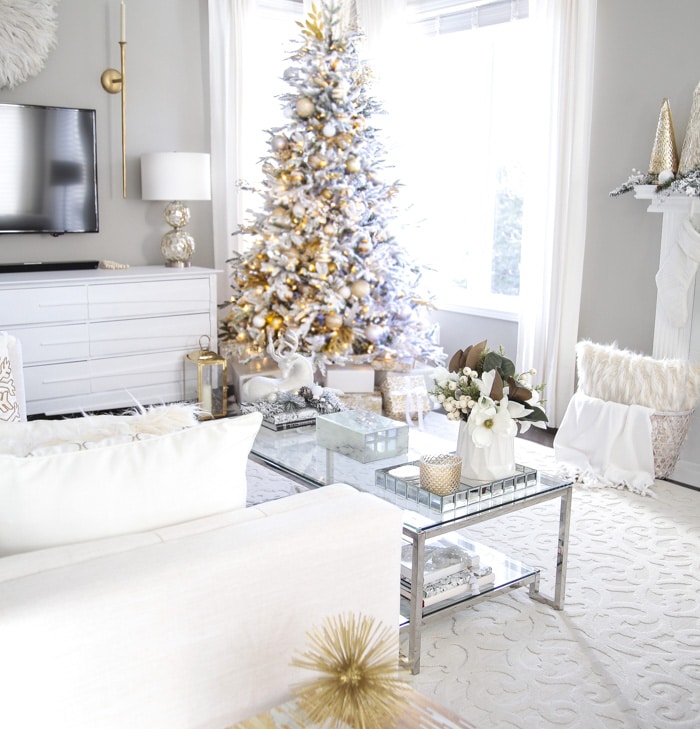 Thank you to Christy and Amy at 11 Magnolia Lane for hosting this gorgeous holiday tour of homes including 30 beautifully decorated homes!
If you're coming from Marty at A Stroll Thru Life – welcome! I'm so glad you're here!
If you're new here, please hop over to read all about me, my previous career as a Microbiologist, and my life as a proud military wife and Mom of two loving boys!
And if you like my blog please subscribe so you never miss a post! I have lots of helpful interior design posts coming in the new year and room updates!
Every Christmas I like to tweak my holiday colors to keep things fresh and interesting.
This year my living room holiday decor is all about gold and white!
As many of you know I am a big lover of metallics and gold is one of my favorites. Paired with white and with the backdrop of my gray paint color, its a sophisticated color palette that's understated, elegant and so relaxing!
I used a lot of my decor from previous years and freshened it up with a few new pieces!
Here's the breakdown!
Elegant Gold and White Christmas Tree:
My entire holiday living room look starts with my Gold and White flocked Christmas tree!
My flocked tree is discontinued but this one is similar and on closeout sale!
You can read all about my Gold and White Flocked Christmas tree decor here.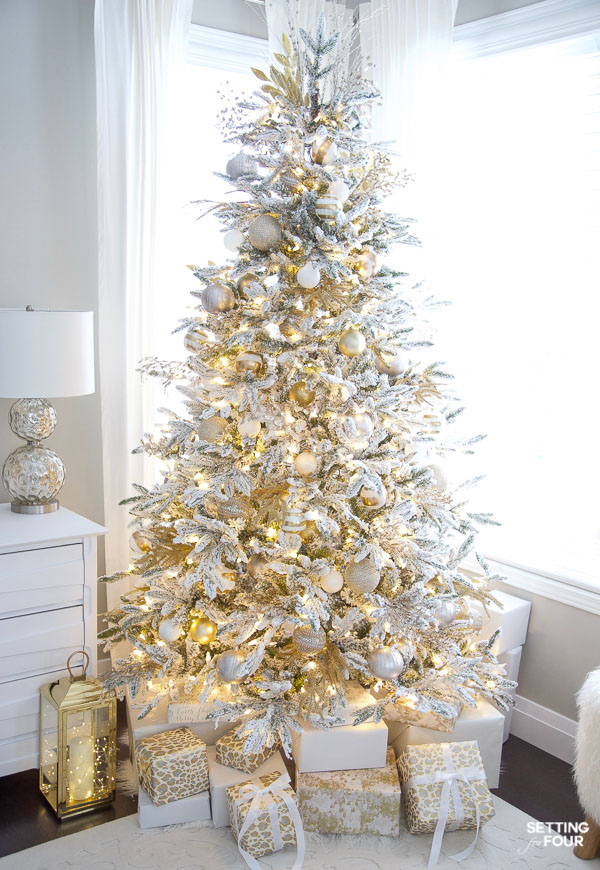 Shop my gold and white flocked Christmas tree! Click on the images below! Scroll to see all the decor!

---
Do you need help decorating your home or picking paint colors? See my online decorating & paint color services and client reviews! Email me at [email protected] for more info!

---
Creating A Holiday Look On The Sofa:
Adding Christmas style and holiday colors to your sofa with pillows and throws is the easiest way to decorate for the holidays!
I brought out my feather fur pillows and gold and white trellis pillows and refreshed my sofa with these gorgeous snowflake pillows with gold and ivory beading that I bought recently! I am in love with the pom pom detail and beaded snowflake design! These pillows have such a gorgeous shimmer!
I also added this stunning beaded snowflake and tassel lumbar pillow I bought. It has beautiful silver, white and gold beads on it and elegant tassels – so gorgeous!
I love to mix up the sizes of my pillows to add interest! And it has shimmery gold beading!
This is one of my favorite throws -I just love the big pom poms on it! Unfortunately it's not available anymore but this one is similar and will give you the same look!
My Go-To Gray Paint Color and All Paint Colors In My Home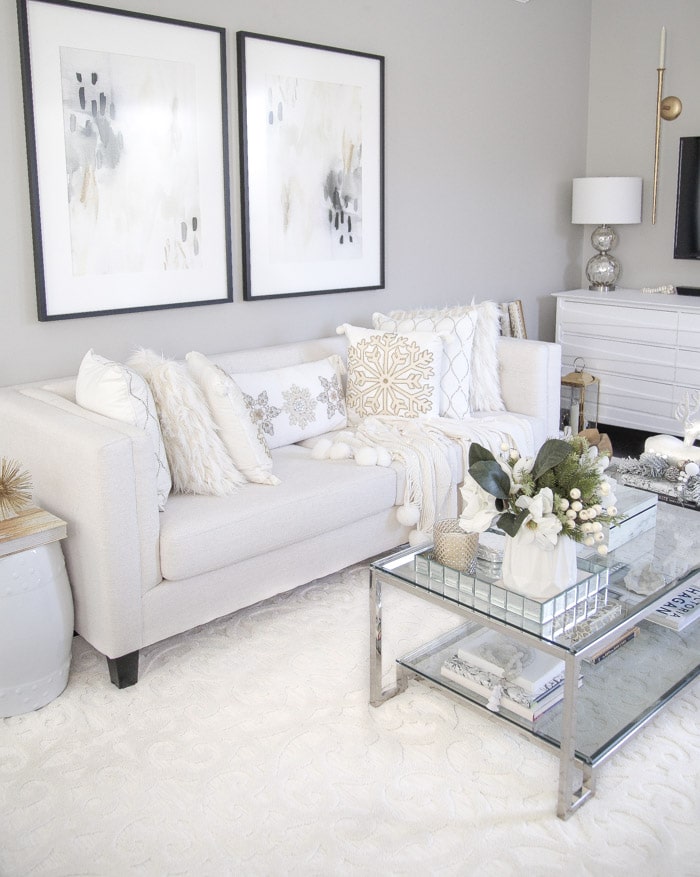 Shop my Christmas living room! Click on the images below and scroll using the arrows to see all the product links!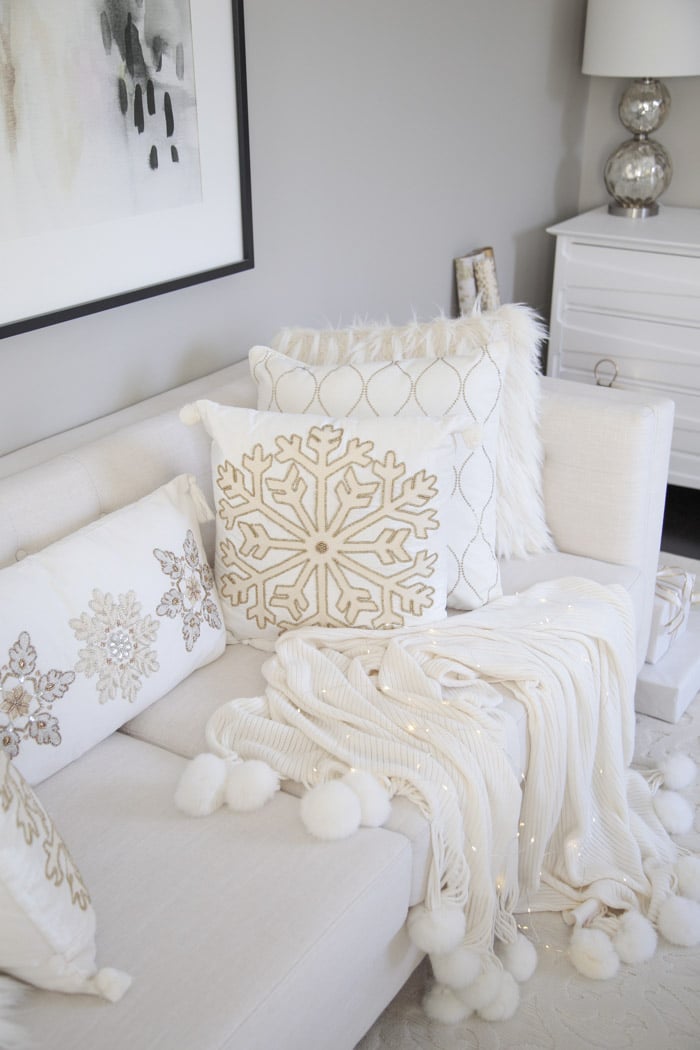 Coffee Table Decor Ideas:
I brought back the silvery glittery Christmas deer decor that I bought last year at Michaels. I placed it on some coffee table decor books and added two flocked pine stems.
Christmas deer are sooooo gorgeous!! I love decorating my home with Christmas deer to create a winter forest wonderland feeling that I find is so peaceful and inviting!
This holiday deer set is similar in gold, this Christmas deer set is similar in silver, and this deer figure set is similar in white glitter.
On the other side of my coffee table I added this white vase (this white vase is similar) of faux white magnolia flowers, white glitter berry stems and faux pine branches! I love the timeless look of white magnolia flowers and pine!
I really miss the magnolia tree we had in our backyard in Virginia.
The soft gold glass votive holder adds a splash of gold to our coffee table to create a cohesive look.
On the bottom tier of the coffee table I added a faux present wrapped in the gold and silver leopard wrapping paper I found at HomeSense!
(Check HomeGoods for it you may find it there since they are sister stores.)
These are all quick and easy ways to decorate a coffee table for the holidays.
These coffee table books I keep out all year round, I love flipping through them and they are fabulous gift ideas!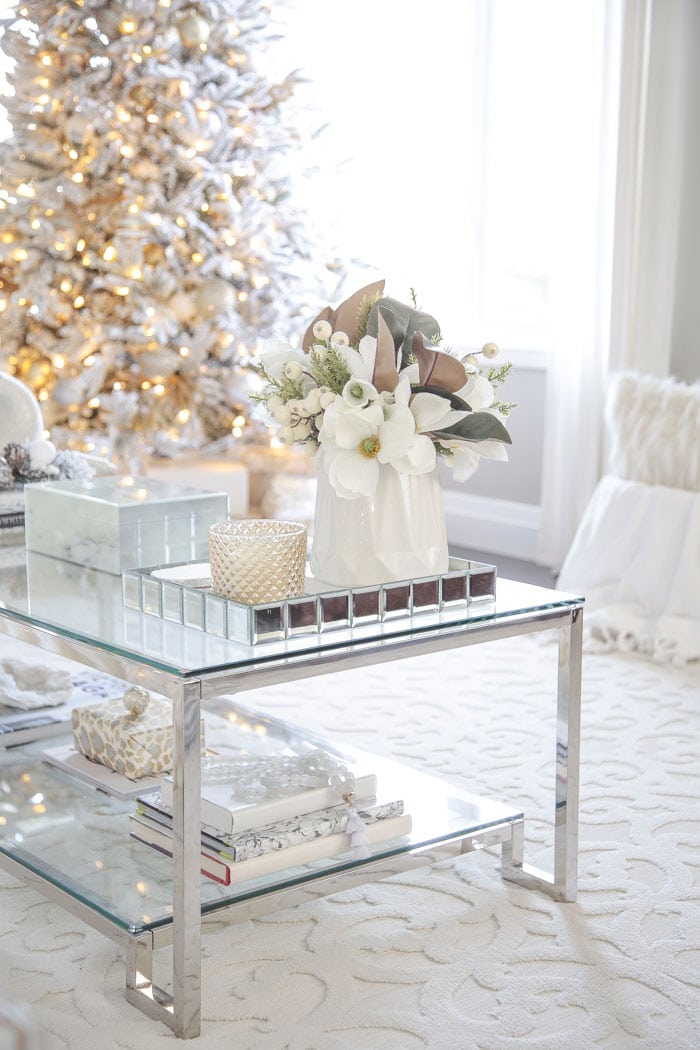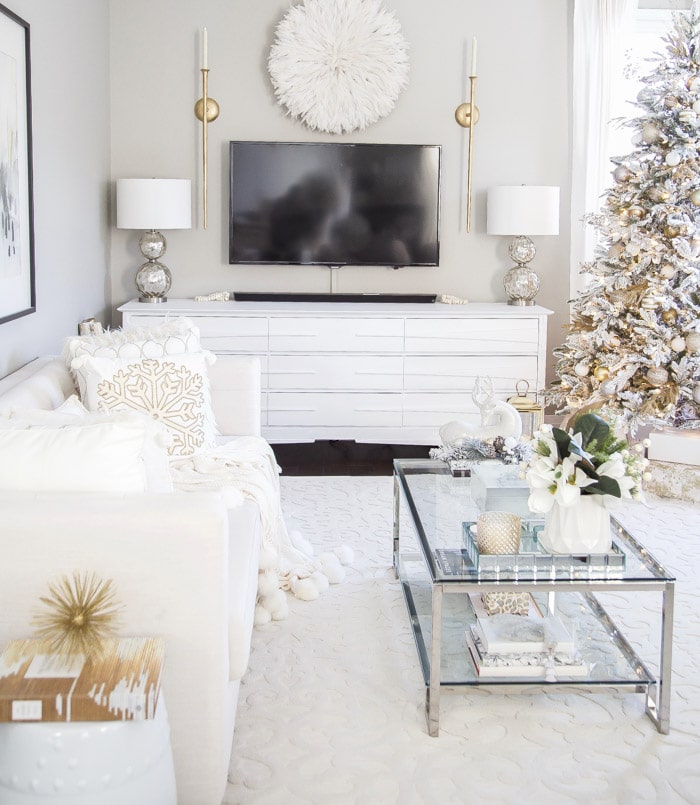 Shop my Christmas living room! Click on the images below and scroll using the arrows to see all the product links!

Gold and White Christmas Fireplace Decor
I had so much fun decorating my fireplace mantel this year!
I brought out my white glitter deer from last year's Christmas Mantel Decorating Ideas With Deer, Stockings & Decorative Christmas Picks & Sprays post!
I bought 2 gold tinsel Christmas trees (these are similar) and 4 gold glass Christmas trees (from HomeSense) to create a golden wintery forest look! I love this golden shimmer mixed with the pine sprays and white deer!
Decor tip: Vary the heights of the decor on your mantel creates beautiful interest!
I tucked in some flocked pine sprays and a few gold and white Christmas balls to add more texture and shimmer.
I hung my stockings with care and tucked in some gold and white holiday sprays into them.
I am a firm believer in adding candles in the living room to create an inviting glow and cozy ambiance.
These flickering flame battery operated candles are my hands down favorite candles! They really are so beautiful!
The flame moves so it looks like a real flame, but it's completely safe! Plus they have a timer on them so I have them set to automatically turn on at dusk! So easy and gorgeous!
I'm always buying them in different sizes to give as gifts (they make beautiful hostess gifts or gifts for the decor lover, paired with some pillar candle holders like these gorgeous gold pillar candle holders or these timeless mercury glass candle holders!).
A basket of faux fur pillows and gold lanterns filled with twinkle lights on the hearth finish off my holiday fireplace area!
I love to toss our pillows in front of the fireplace and sit in front of the fire with a cup of tea or hot chocolate (see my delicious Snowflake Hot Chocolate recipe and gift idea!) when I'm cold! This past week the temperature has really dropped here! Brrrr!!
How to Paint Tile – Easy Fireplace Paint Makeover
My Fireplace Mantel – A Makeover with Paint!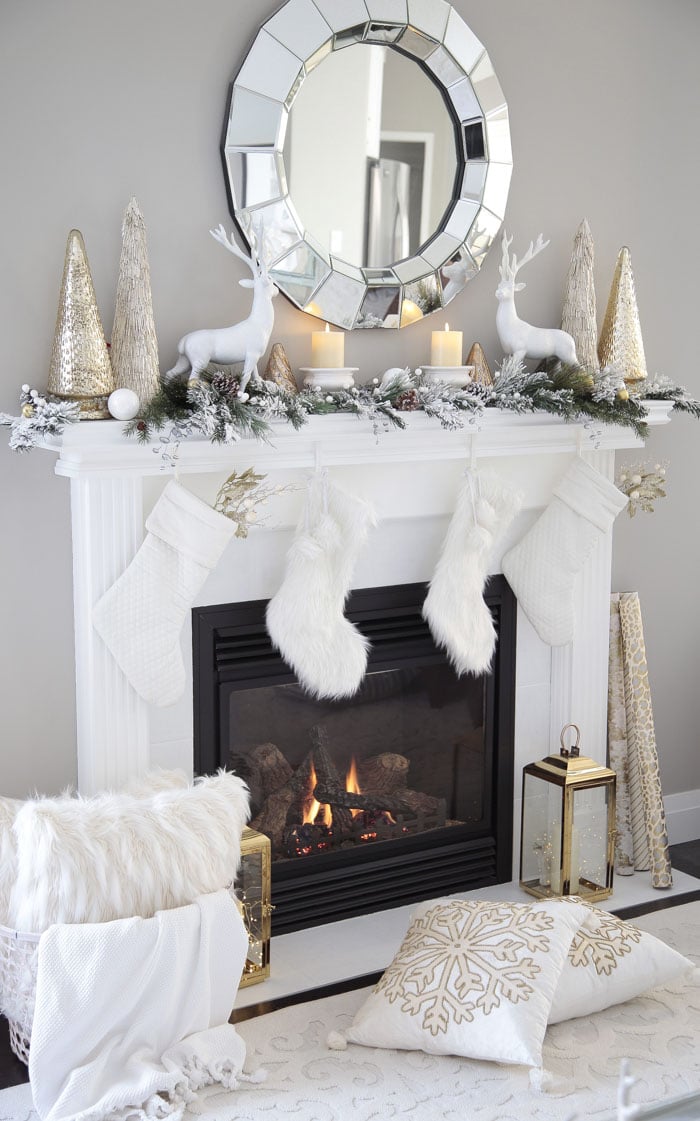 Shop my Christmas mantel look! Click on the images below and scroll using the arrows to see all the product links!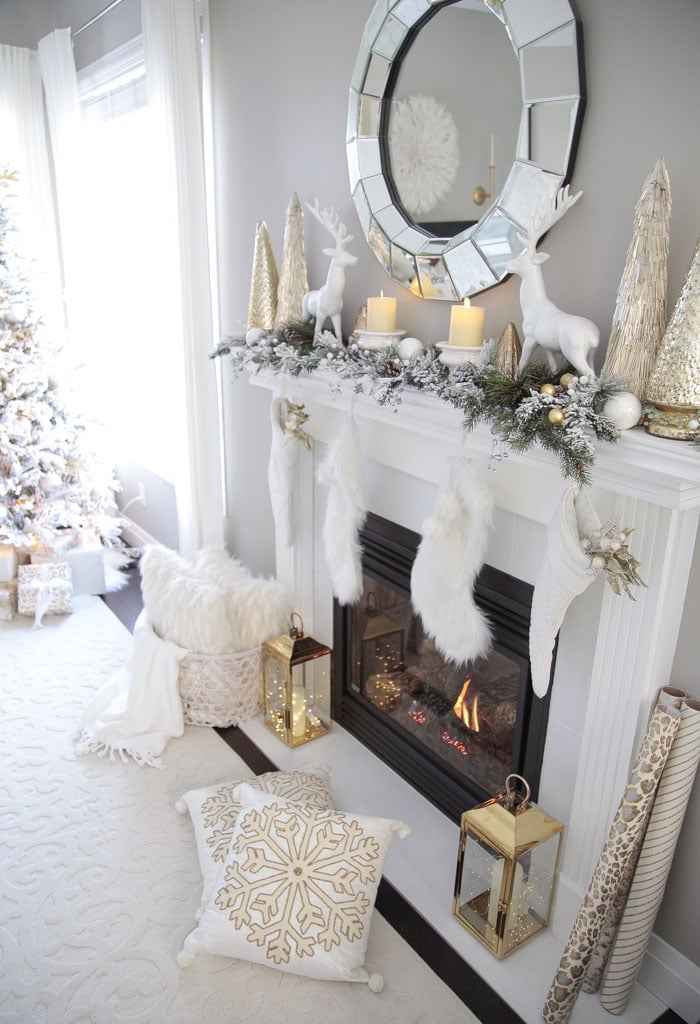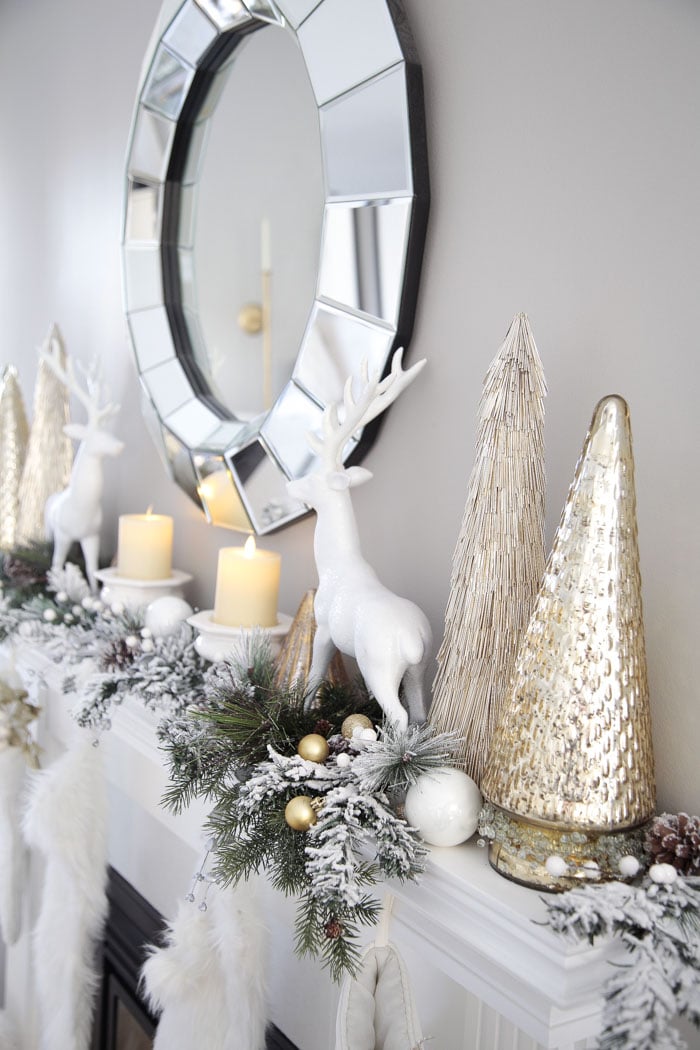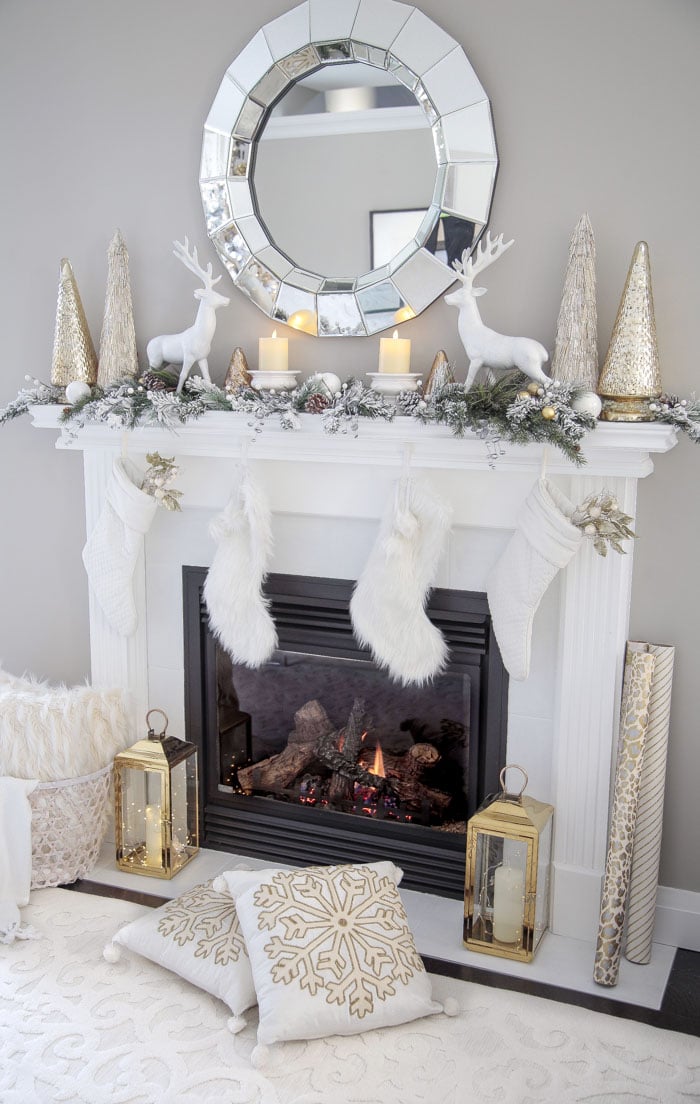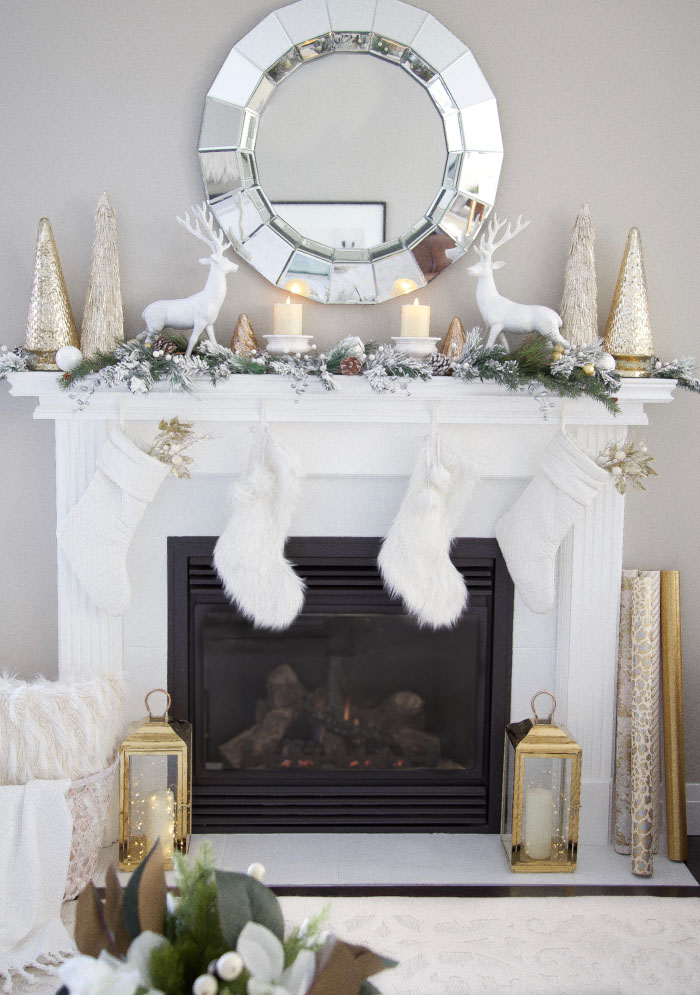 I hope you enjoyed seeing my Elegant Gold and White Christmas Living Room Decor Ideas!
If you have any questions about my decor or furniture leave a comment below and I'll get back to you!
Next up on this room blog tour is Jen at Stylehouse Interiors, be sure to visit to see her gorgeous Christmas living room!
See more holiday decor and entertaining ideas:
Grab a cup of hot chocolate and have a look at these gorgeous Christmas spaces – lots of new ideas on how to decorate your home for the holidays!
Monday, December 2nd (Front Porch/Outdoor Spaces)
Cyndy at The Creativity Exchange | Julie at Less-Than-Perfect Life of Bliss | Annie at Most Lovely Things | Heather at Southern State of Mind | Sara at Sincerely Sara D | Rhoda at Southern Hospitality
Tuesday, December 3rd (Entries/Dining Rooms)
Amy at 11 Magnolia Lane | Tammy at Pink Peppermint Design | Tam at Citrine Living | Cindy at Rough Luxe Lifestyle | Heidi at Home by Heidi | Deb at Seeking Lavender Lane
Wednesday, December 4th (Living Rooms/Dens)
Marty at A Stroll Thru Life | Heather at Setting for Four | Jen at Stylehouse Interiors | Rachael at This is Our Bliss | Amanda at Dixie Delights | Paige at The Pink Clutch
Thursday, December 5th (Kitchens, Laundry Rooms, Misc Spaces)
Summer at Summer Adams | Heather at Setting for Four | Andrea at Life on Cedar Lane | Emily at Eleven Gables | Laura at Duke Manor Farm | Amy at 11 Magnolia Lane
Friday, December 6th (Bedrooms)
Christy at 11 Magnolia Lane | Jenny at Evolution of Style | Heather at The Heathered Nest | Shand at Quarters One | Amanda at Sincerely Marie Designs | Christy at Our Southern Home