A Silver & Gold Flocked Christmas Tree decorated with ribbon, silver and gold Christmas balls, owl ornaments, gold deer antlers and icicles!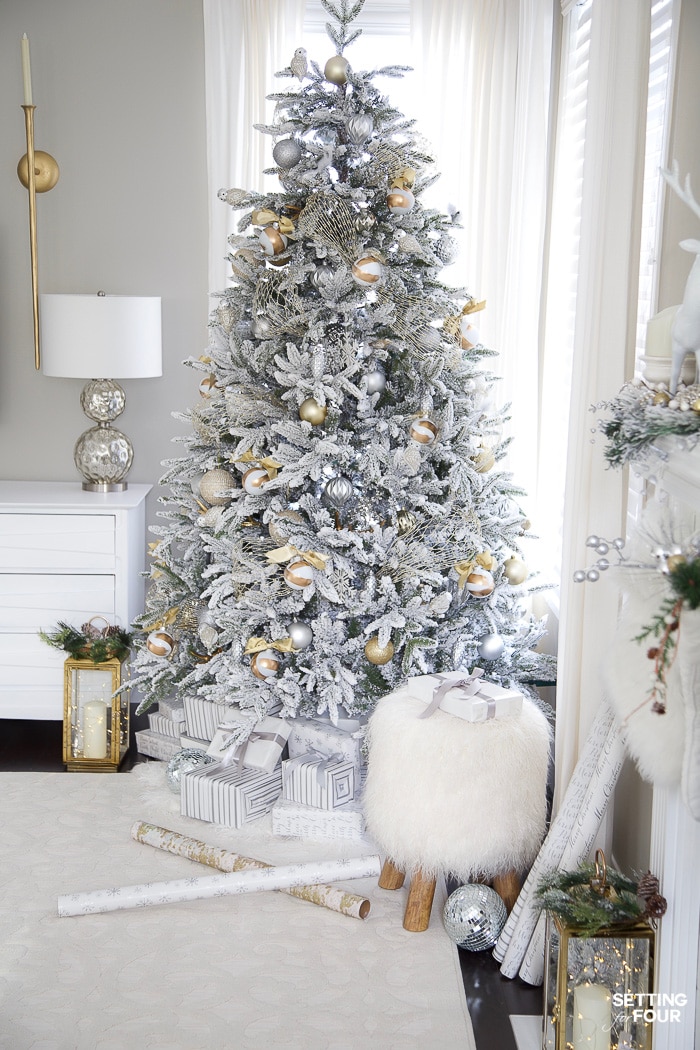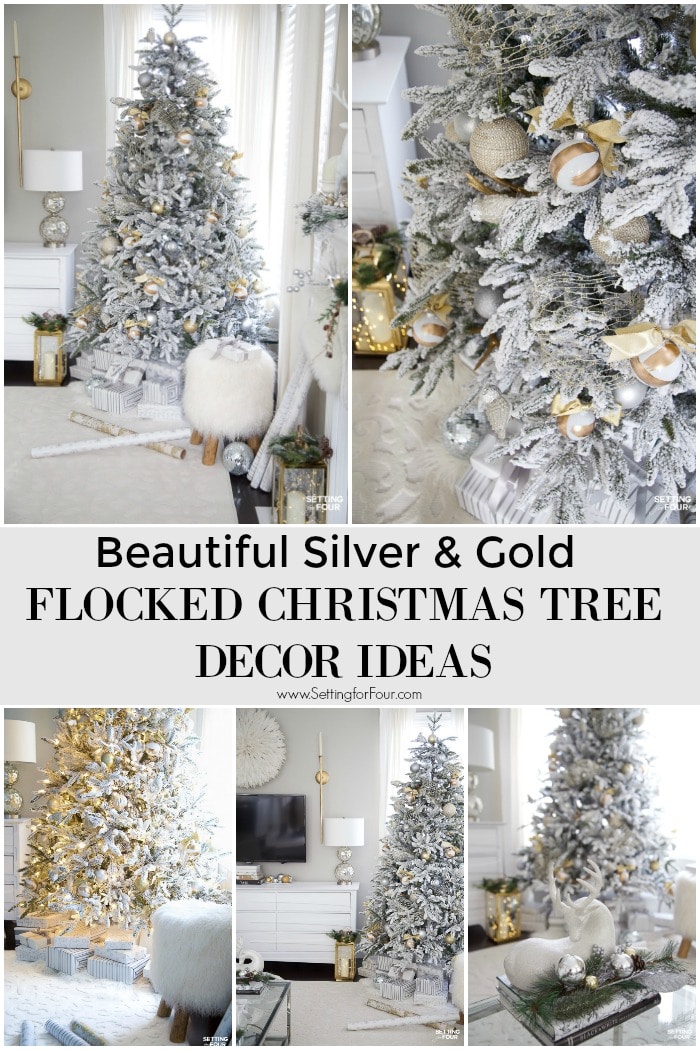 Christmas is only 2.5 weeks away and I'm so excited to show you this year's Christmas tree decor! Have you put up your tree yet? Hopefully this post will give you some tree decorating ideas for this year or next!
---
Before I talk about these decor ideas – check out how you can get completely organized for the holidays with this gorgeous Ultimate Holiday Planner !
You won't forget a place you should be at, a card to send, a gift to get or groceries to buy with these 27 printable pages including:
Dated calendars, menu planners, gift tracker and Christmas organization! It's saving my sanity this year prepping for the holidays!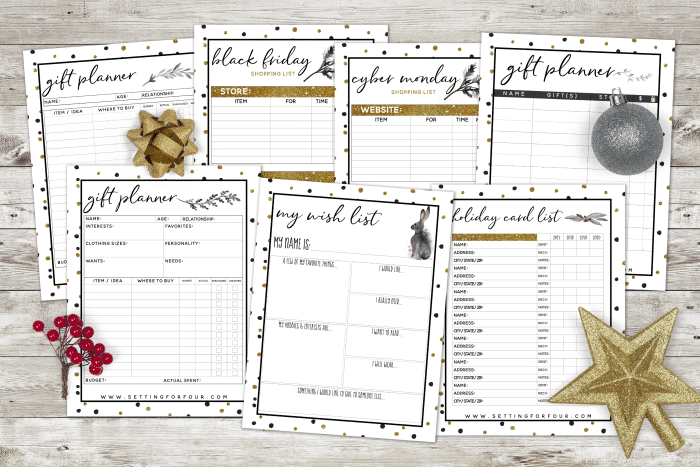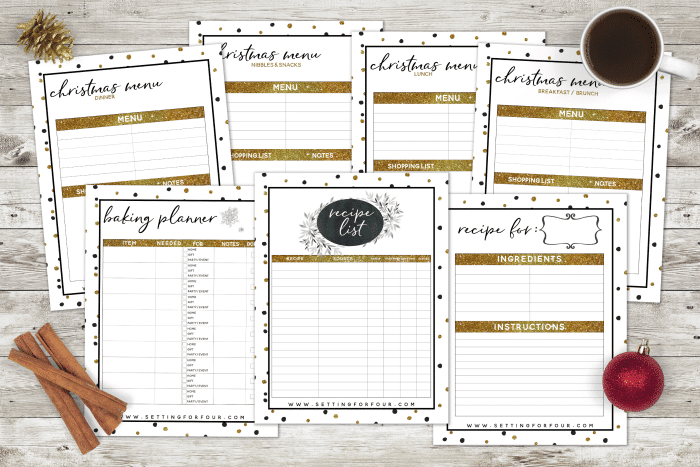 ---
This post contains affiliate links. Click here to read my full disclosure policy.
A Flocked Christmas Tree
I love our flocked tree sooooo much! I bought it last year at Lowes (it's discontinued sadly!).
I really love this pre lit flocked tree that's really popular if you are still looking to pick up one. You can also see here a selection of other gorgeous flocked Christmas trees!
This is my first flocked tree and now I'm obsessed with them! I love the winter wonderland tree look!
We always put our main tree up in our living room.
(this year I added this gorgeous 7 ' slim flocked tree to our dining room, you can see it here, and this flocked 4 ' tabletop tree in our family room.)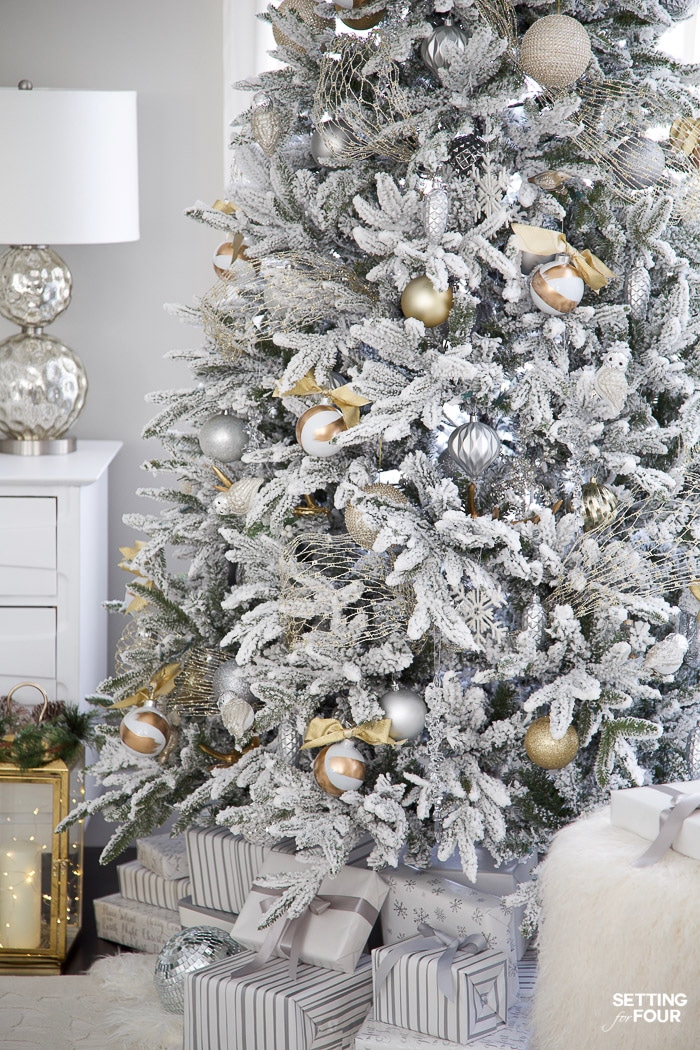 Shop these gorgeous Christmas trees! Click on the images below to shop and scroll using the arrows to see them all!


Flocked Christmas Tree Decor Theme
As you know I love metallics so this year my flocked tree decor theme this year is silver and gold!
I chose this mixed metallics color palette to decorate my Christmas dining room, Christmas entryway and family room (coming soon!) for the holidays to make our rooms flow and coordinate.
( see my recent living room makeover here and TV wall decor makeover here! )
I absolutely love my gold wall sconces!!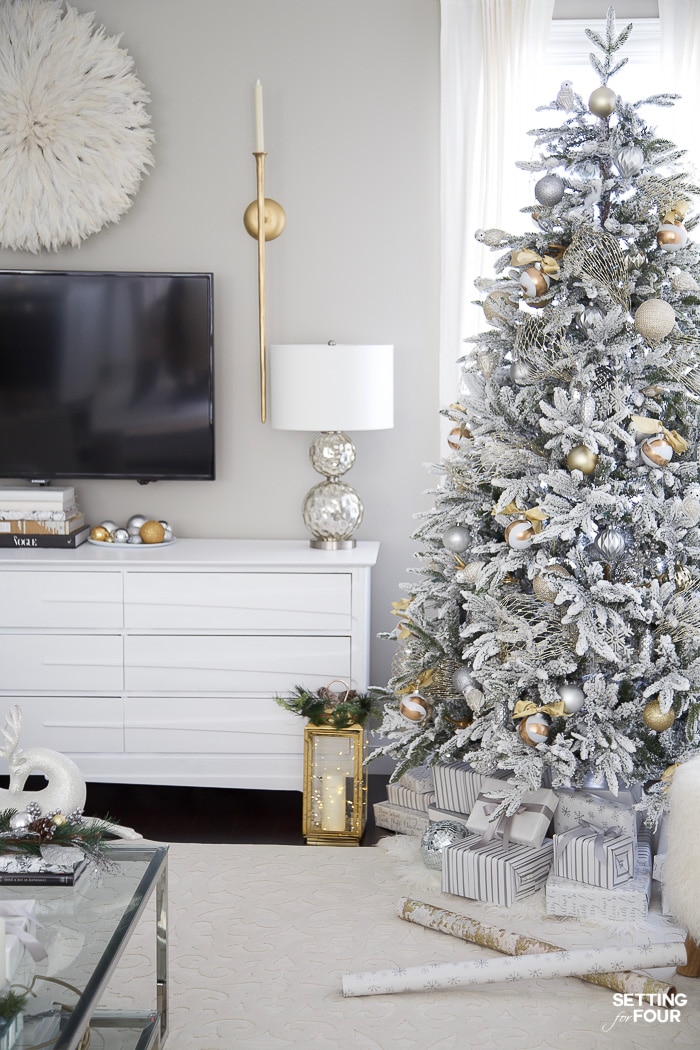 Shop the look! Click on the images below to shop and scroll using the arrows to see them all!

Flocked Christmas Tree With Ribbon
I love adding ribbon to a holiday tree and this year I added this stunning shimmery metallic gold mesh ribbon. I only used one roll of it.
I don't cut my ribbon into lengths – I just start at the top of the tree and loop and wind it around. I pinch the ribbon together when i tuck it deep into the branches and usually bend a tree branch around it to hold it in.
Using ribbon that's wired makes it so easy to decorate a tree because it bends and holds a loop shape.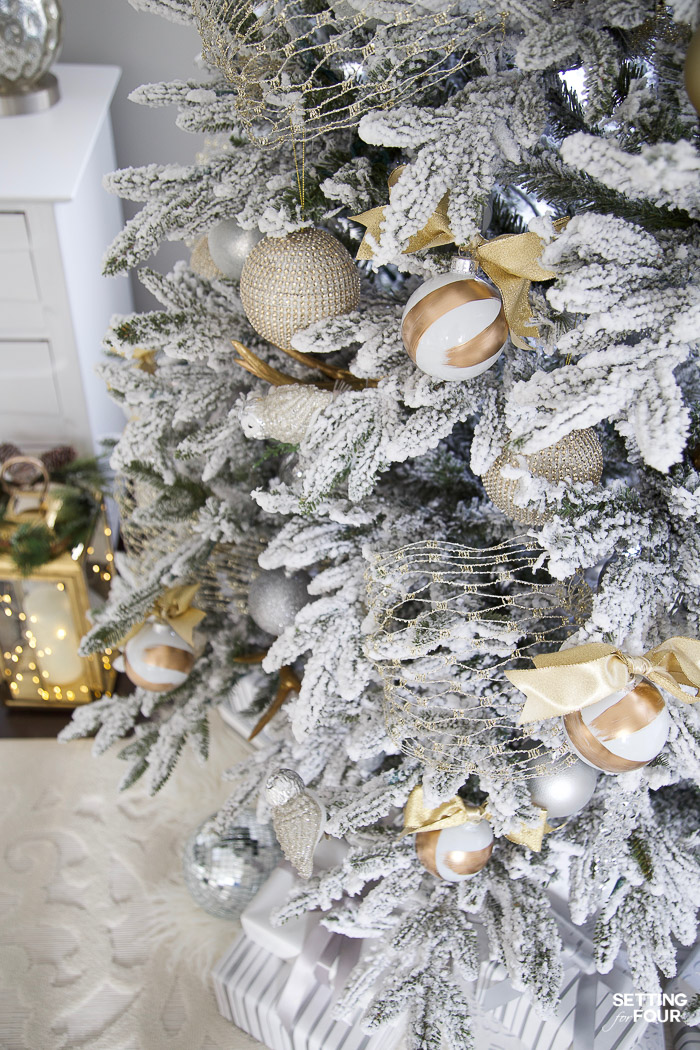 Shop the look! Click on the images below to shop and scroll using the arrows to see them all!

White & Gold Painted Christmas Ornaments
I'm obsessed with these hand painted white and gold leaf Christmas balls
Aren't they stunning?
They really put a WOW! factor into my tree.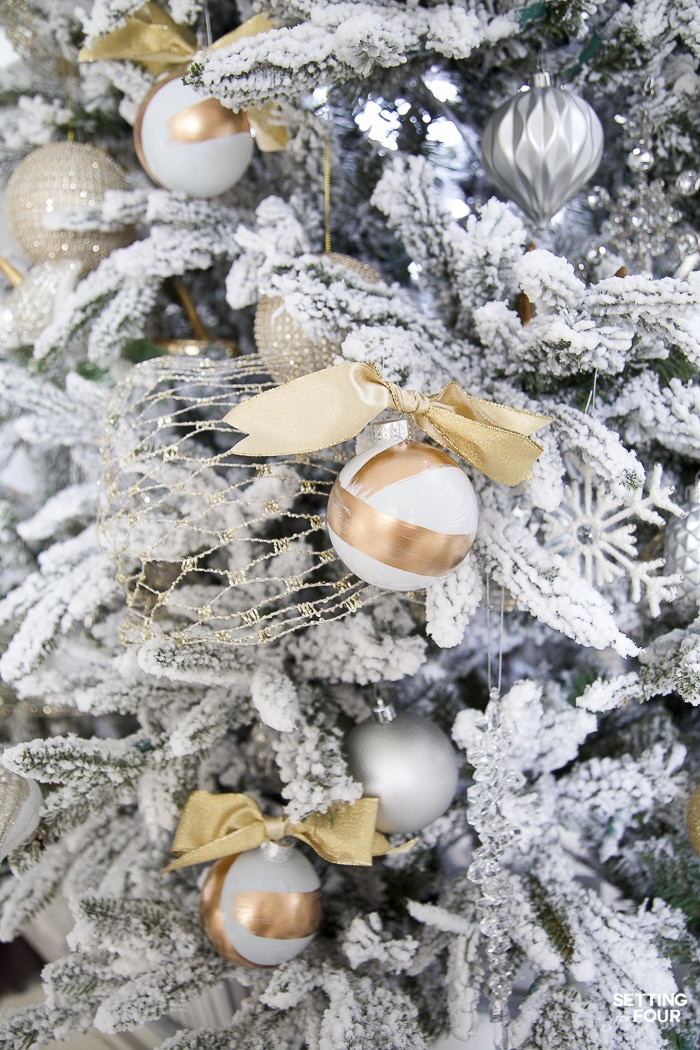 Silver & Gold Flocked Christmas Tree Decorations
I added lots of silver, gold, pewter and champagne colored Christmas balls and ornaments to our tree and mixed the finishes for a beautiful layered look.
Some Christmas balls are shiny, some are matte and some are glittered….it makes a more interesting tree to vary the finishes of your ornaments.
I also added these long icicle ornaments that I bought at HomeGoods and some adorable crystal owl ornaments that I've had for a long time – you can also see them on this Winter Woodland White Christmas tree too!
Here's a fun Christmas hack idea: wrap cereal boxes and shoe boxes with wrapping paper to decorate the bottom of your tree until you put the real presents under it…it fills in the bottom beautifully and I treat it as another layer of tree decor! Coordinate the wrapping paper with the colors of your ornaments!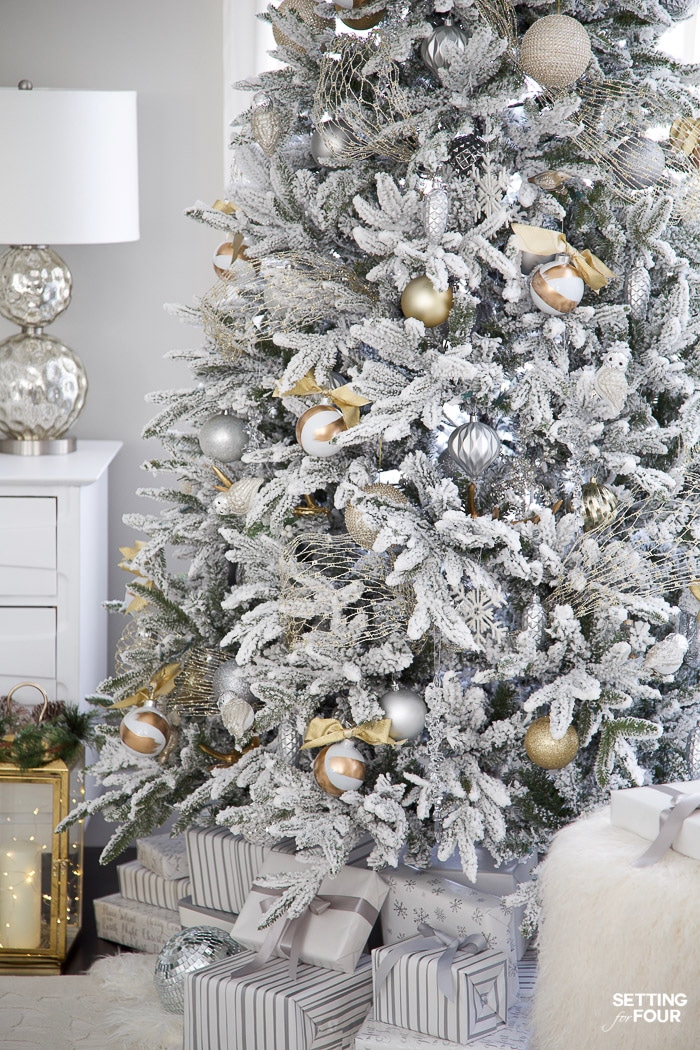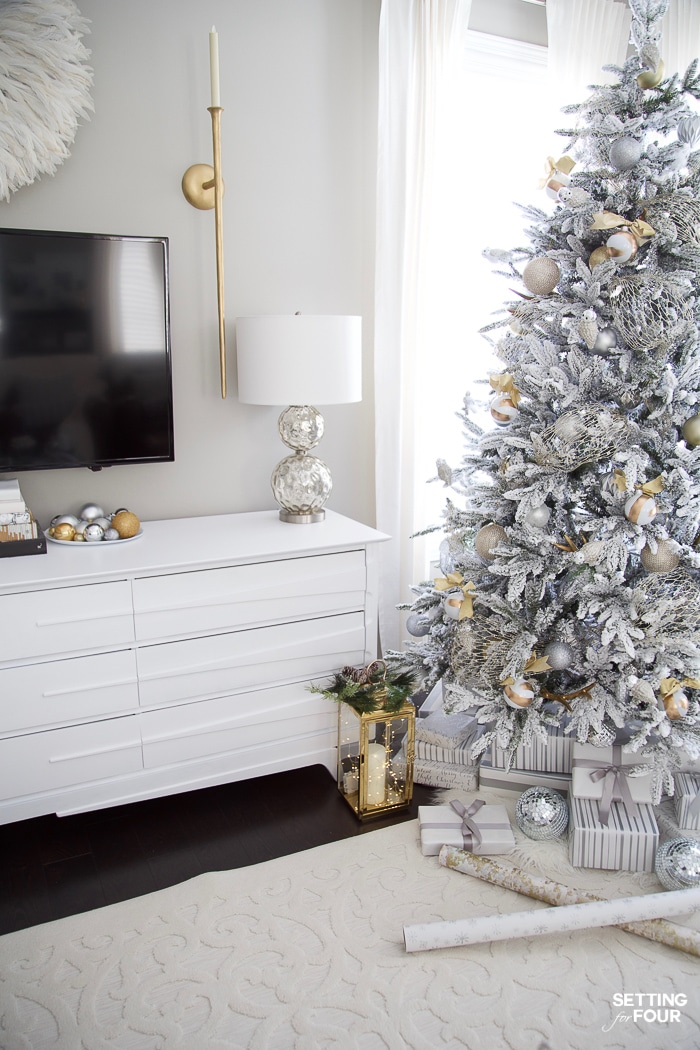 Shop the look! Click on the images below to shop and scroll using the arrows to see them all!

Here is our flocked Christmas tree with the lights on – I love the pretty glow!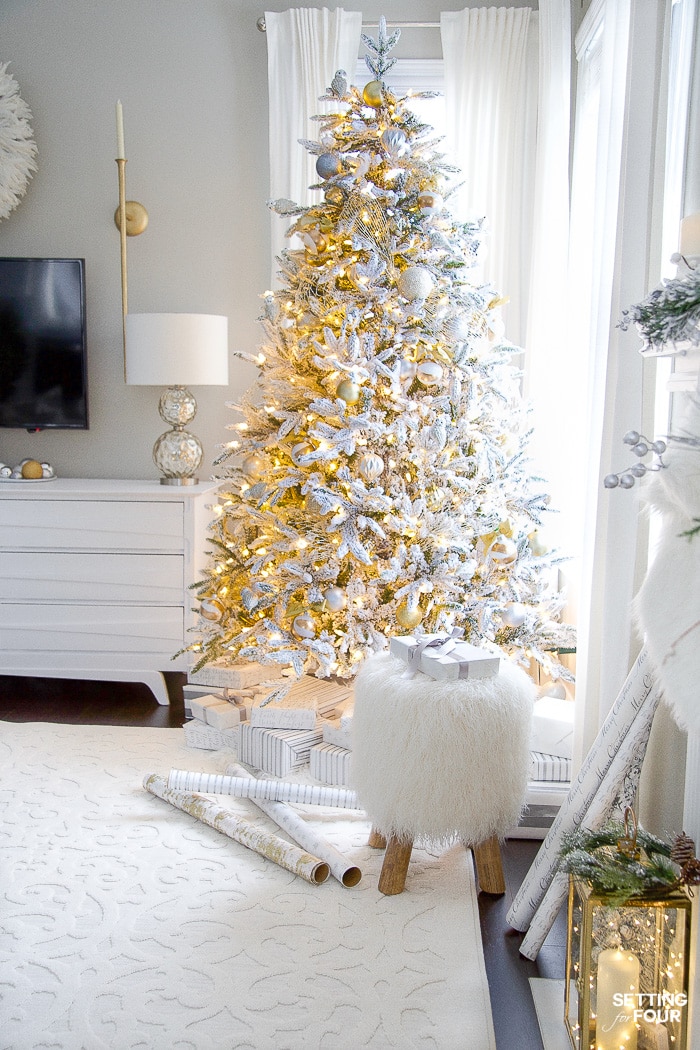 Woodland Flocked Christmas Tree Decor
I love to give my Christmas tree a beautiful winter woodland look with my owl ornaments and gold antler picks.
Of course a winter woodland theme means reindeer must appear somewhere!
I love bringing out my glittery reindeer at Christmastime! He always makes an appearance in our Christmas living room!
I added my glam reindeer to a stack of coffee table books and laid a faux pine pick beside it then laid some silver and gold ornaments on it!
You can see my favorite coffee table books here – they make beautiful Christmas presents!
I always ask my hubby to buy me a coffee table book each Christmas to grow my collection. This is the one I want this year!
I hope you enjoyed seeing my Silver and Gold Flocked Christmas decorations! Have a very Merry Christmas with your loved ones this year!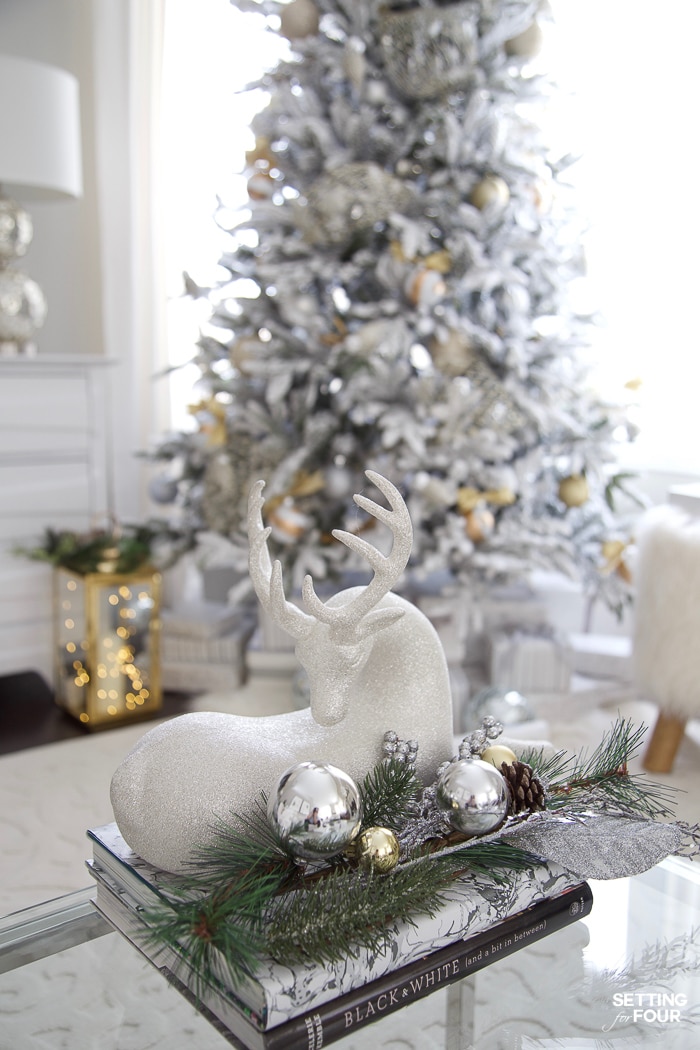 Shop the look! Click on the images below to shop and scroll using the arrows to see them all!

You may also like: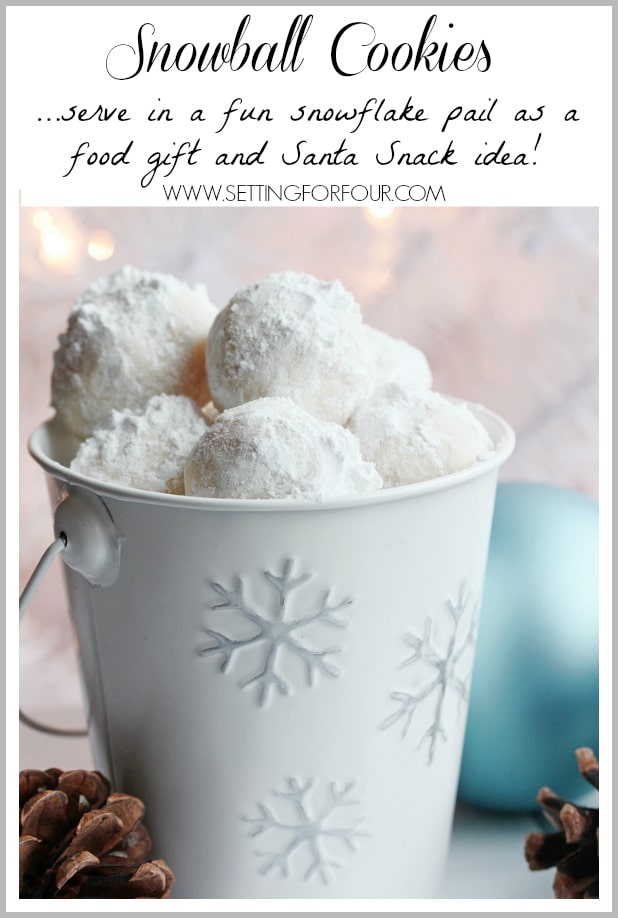 Flocked Christmas Tree – White and Gold Glam Style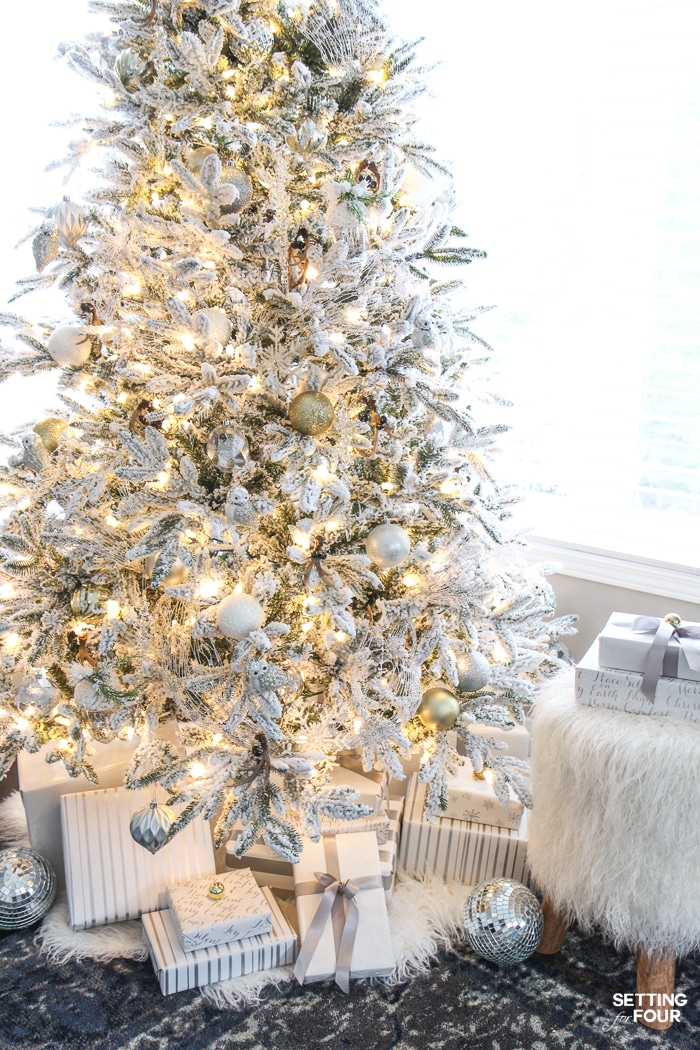 Beautiful & Neutral Christmas Decor Ideas For The Home

Thoughtful Host & Hostess Gift Ideas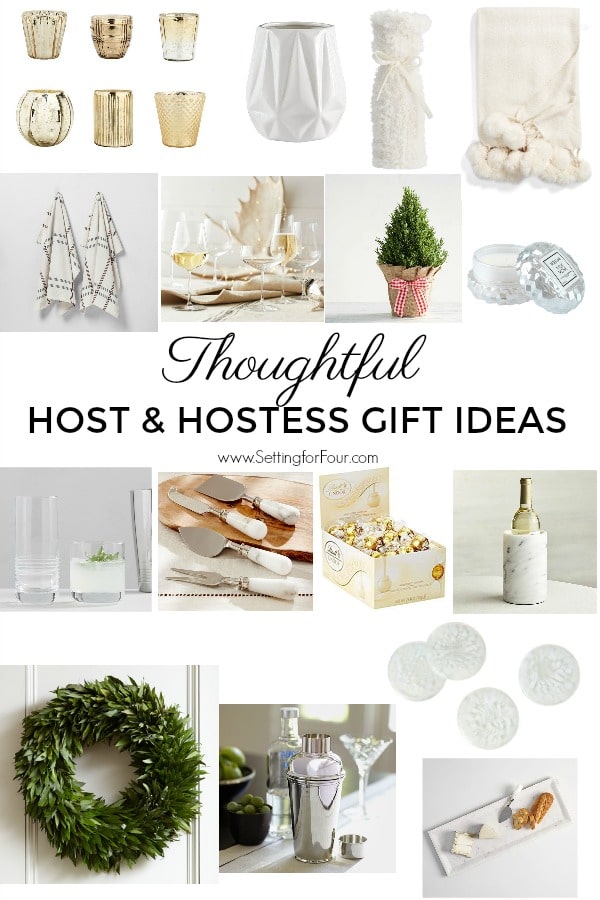 Living Room Makeover & New TV Stand, Wall Art, Rug & Pillows!