These thoughtful host & hostess gift ideas are perfect for your to pick up for your party invite!
Check out these beautiful gift ideas that anyone hosting a party would love to receive.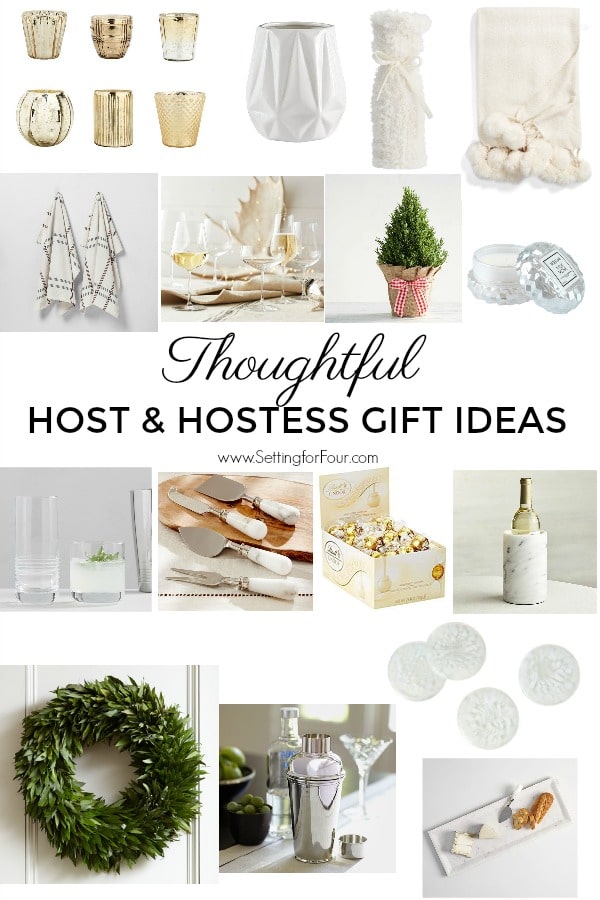 Thoughtful Host & Hostess Gift Ideas
This post has been updated with current links.
These gift ideas are perfect for upcoming holiday parties including Thanksgiving & Christmas.
Because a lot of these gift ideas are home decor related they're also perfect for adding to your holiday wish list or to pick up now if YOU are entertaining!
Some of these also make great stocking stuffer ideas and gift ideas for friends and family, so pick up a few for the holidays and stash away to gift later.
These are my top hostess gift ideas this year!
I've selected them with you in mind-  to shine as the perfect guest!
Click the items below to shop each item!

Many of these gift ideas can be easily mixed and matched to create the perfect custom gift! 
See How To Make A Gift Basket and Personalize It  to create a gorgeous gift basket for your host or hostess!
The wine glasses will go beautifully with a bottle of wine in the furry wine bag or with the marble wine cooler.
The bar glasses will pair really well with the barware set or the coasters.
The chocolates and votive candles also go well together.
I would LOVE to receive this fresh rosemary tree to keep on my kitchen countertop! The scent would be amazing!
I hope you enjoyed my thoughtful host & hostess gift ideas! 
Check out my instagram page where I share all my latest decor ideas and decorating videos!
You may also like these gift and entertaining ideas:
Get completely organized for the holidays with this gorgeous Ultimate Holiday Planner!
You won't forget a place to be at, a card to send, a gift to get or groceries to buy with these 27 printable pages including:
Dated calendars, menu planners, gift tracker and Christmas organization! It's saving my sanity this year prepping for the holidays!