In this post: TV Wall Decor Idea – Decorate With A Juju Hat! Wondering how to decorate your living room TV wall?
Here's a beautiful way to decorate a stylish wall mounted TV wall!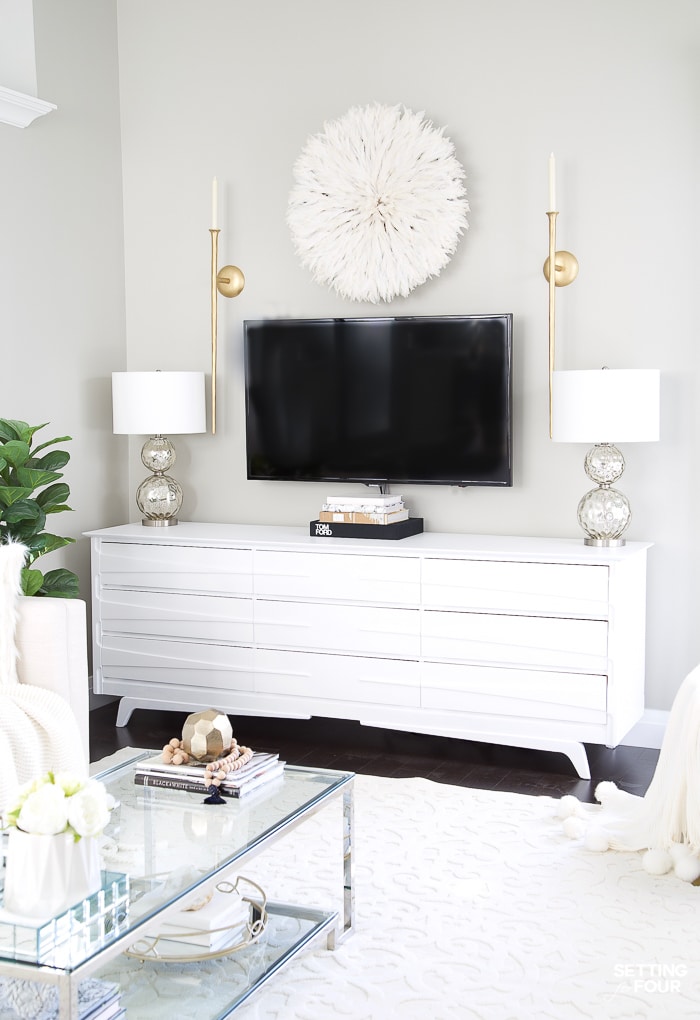 I'm also sharing a peak at my new living room makeover! More on that to come, I'll publish a blog post on my living room makeover next week!
TV Wall Decor Idea – Decorate With A Juju Hat!
Decorating around a TV can be so difficult! That big black box is such a big focal point in a room.
To make a living room cozy and inviting it's important to decorate around a TV to make it feel like it's part of the room, not the focus of the room.
It's important to figure out how to balance it in a room without making a room feel cluttered.
This post contains affiliate links. Thanks for your support! Click here to read my full disclosure policy.
The Juju Hat
I LOVE the juju hat I have hung over our guest bedroom bed so I added one above our TV!
When I received this gorgeous juju hat I fell head over heals with it! It's beautiful color, texture and size.
It's a breathtaking work of art handmade by artisans – so each piece is unique.
These stunning juju hats are authentic African traditional feathered headdresses made by  artisans – it takes 2-3 days to make one!
They are truly works of art and full of personality!
It's the one thing to add to a room to give it that designer look, that finished look and will give a room a real 'WOW!' feeling!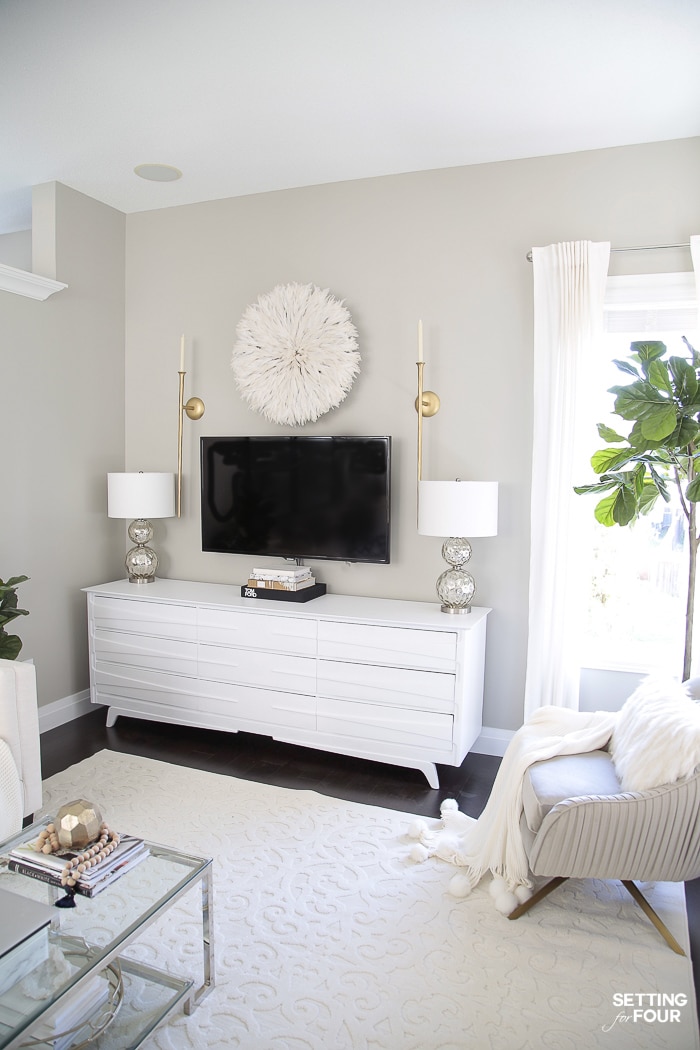 Click on the images below to shop my living room!

Our TV Unit Dresser Hack
Our TV unit is a vintage Mid Century Modern dresser that I turned into a TV unit!
I painted it white and put our TV media components in it.
I love the storage that the drawers provide! I store magazines, throw blankets and extra pillows in the drawers!
I also added a table lamp to each side of the TV to help balance it.
Read below how we can easily operate the media units in the closed drawers!
Wall Sconces TV Wall Decor Idea
 To make it look more balanced I added these two stunning gold wall sconces, which I am obsessed with!
These sconces are so beautiful and would be perfect in a dining room too.
These wall sconces also come in a gorgeous silver color!
I popped in two battery operated flickering flameless taper candles that have a 'dancing' flame.
They flicker like real candles!
I love the soft flickering glow at night!
They have a timer on them  so I set them to automatically come on at dusk – they add such a huge amount of coziness and ambiance to our living room!
How To Hang A TV With A Paintable TV Cord Cover Kit
No drilling into the walls and no mess!
We hung our TV with a mounting bracket, then we hung the large white juju hat centered above the TV.
We placed the candle sconces on each side of the juju hat.
We've covered the TV cords with this TV cord cover kit that's paintable and easy to install.
We added this IR Repeater (Infrared Remote) to the TV and the media components so that our TV remote can operate the media components behind the closed drawers!
We point our TV remote to the IR repeater to turn them on and off, change channels ect.
The IR Repeater on the TV operates the media components!
Click on the images below to shop TV IR repeater, mounting hardware and the paintable cord cover kit!

The juju hat is such a pretty TV wall decor idea and adds such style to our TV wall!
It gives our living room the wow factor I was looking for and really balances the whole TV wall.
Here are other rooms that a Juju hat is perfect for:
Over a bed – like I did in our guest bedroom.
Hung over a mantel.
Over a console table.
On a sofa wall.
Over a home office desk.
I'm so in love with this juju hat – I seriously want one in every room!
flameless flickering taper candles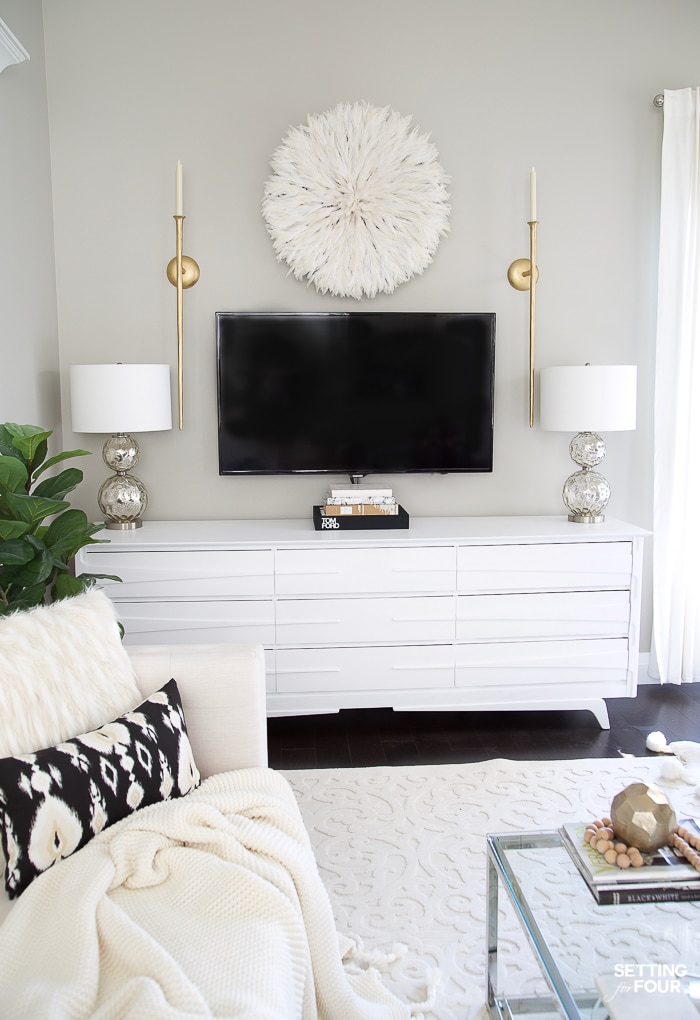 Click on the images below to shop my living room!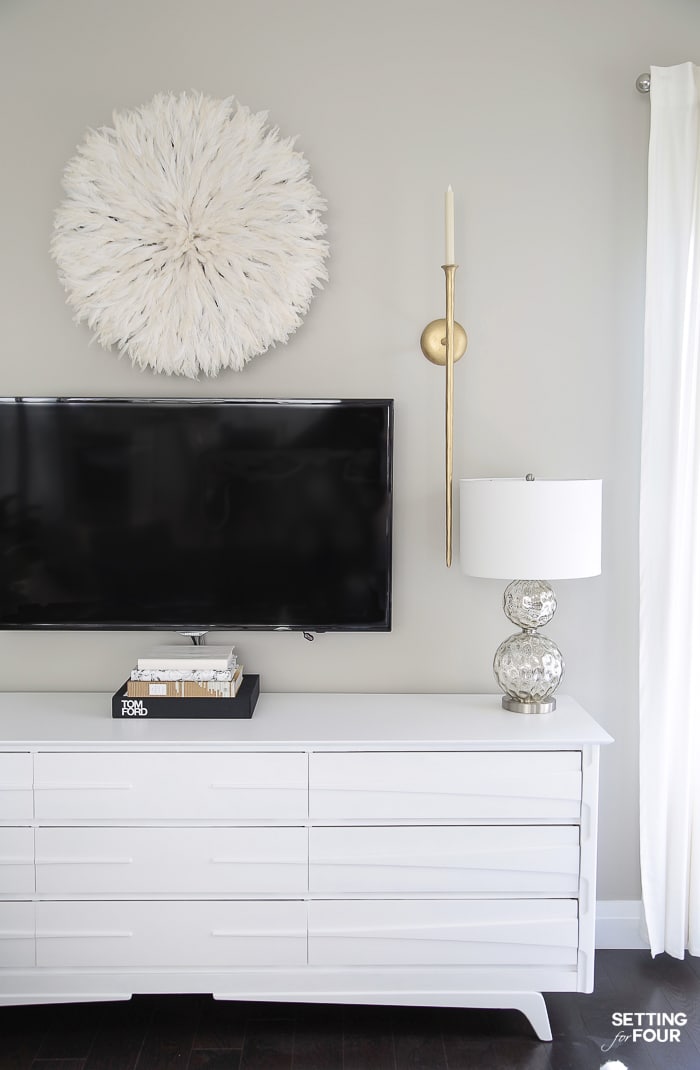 Click on the images below to shop this look!

Do you like it?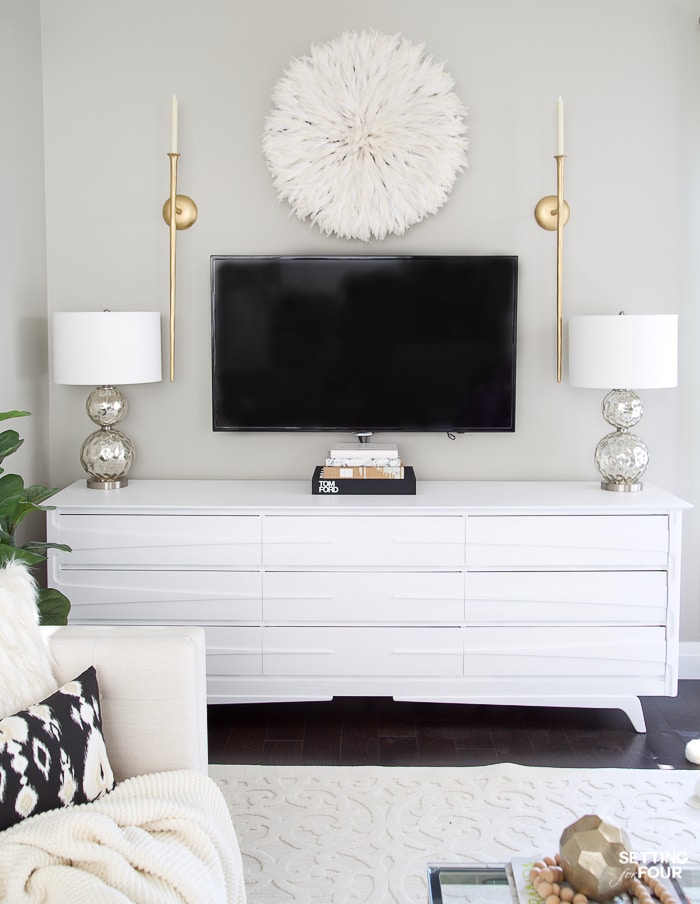 More Design Ideas: