Stuck on how to decorate your TV wall? See this fun and fabulous TV Wall Decor Idea – Decorate With A Juju Hat!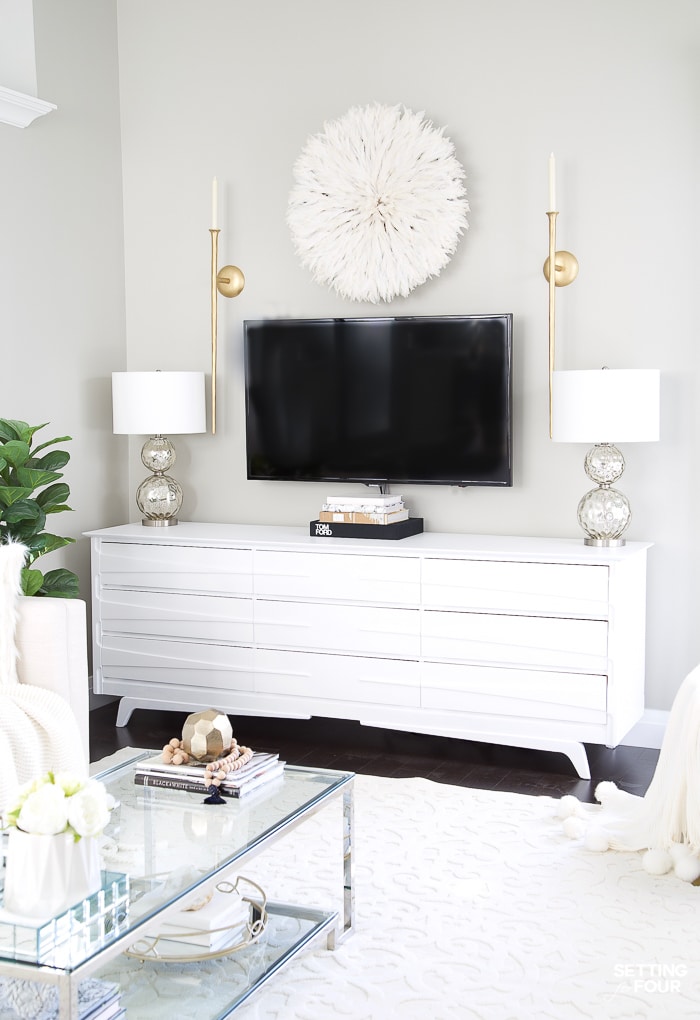 I'm also sharing a peak at my new living room makeover! More on that to come, I'll publish a blog post on my living room makeover next week!
TV Wall Decor Idea – Decorate With A Juju Hat!
Decorating around a TV can be so difficult! That big black box is such a big focal point in a room.
To make a living room cozy and inviting it's important to decorate around a TV to make it feel like it's part of the room, not the focus of the room.
It's important to figure out how to balance it in a room without making a room feel cluttered.
Today I'm sharing with you how I decorated our TV wall and I'm in LOVE with how it turned out!
This post is in partnership with Old World Shoppe – all opinions are my own.
When I received this gorgeous juju hat from Old World Shoppe I fell head over heals with it! It's beautiful color, texture and size.
It's a breathtaking work of art handmade by artisans – so each piece is unique.
Old World Shoppe's stunning juju hats are authentic African traditional feathered headdresses made by their artisans for 30 years!
They are truly works of art and full of personality!
It's the one thing to add to a room to give it that designer look, that finished look and will give a room a real 'WOW!' feeling!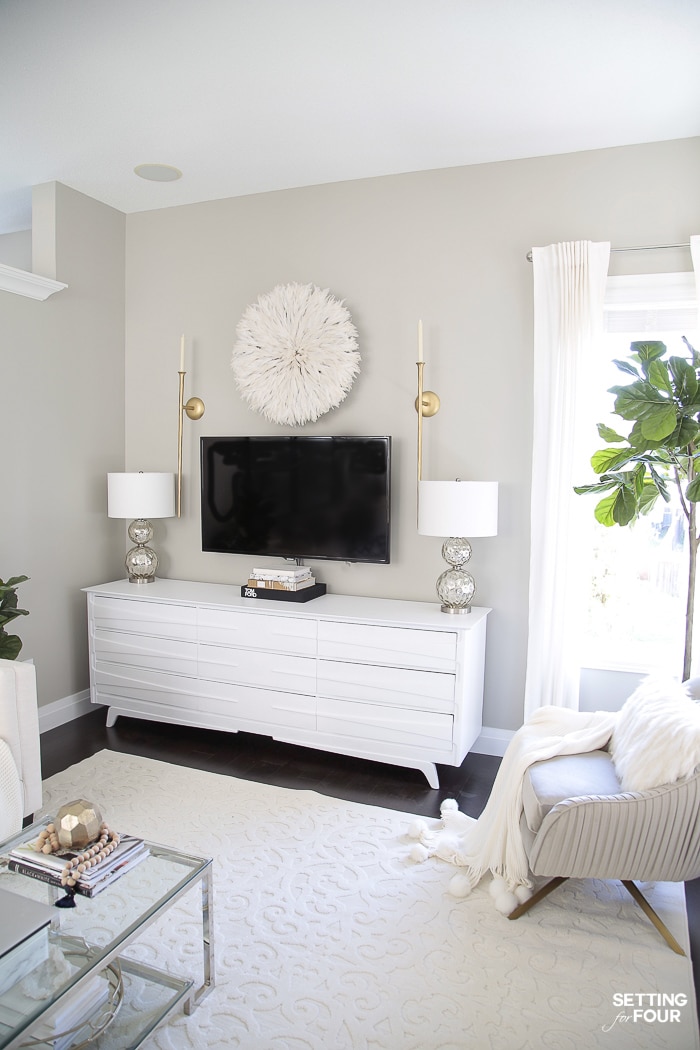 Shop my living room – click on the images below!

Our TV was originally sitting on our DIY Mid Century Modern dresser-turned-into-a-TV unit that I painted (tutorial coming soon on how found this gorgeous MCM piece, how I painted it and added the TV media components to it!)
I also added a table lamp to each side of the TV to help balance it…. but that blank wall just had to go!
I did some research on TV gallery walls with art and TV wall decorating ideas using shelves but none of those ideas were what I wanted.
I LOVE the juju hat I have hung over our guest bedroom headboard so I added one above our TV! To make it look more balanced I added these two stunning gold wall sconces, which I am obsessed with!
These sconces are so beautiful and would be perfect in a dining room too.
They also come in a gorgeous silver color!
I popped in two battery operated taper candles that have a 'dancing' flame -they look like real candles and I love the soft flickering glow at night!
They have a timer on them too so I set them to automatically come on at dusk – they add such a huge amount of coziness and ambiance to our living room!
I decided to hang our TV with a mounting bracket, then we hung the large white juju hat centered above the TV and then hung the candle sconces on each side of the juju hat.
We haven't hidden the TV cables yet – I'm researching wether we should cut the wall and thread them through or we may cover the cords with this cord cover kit that's paintable and easy to install – I've heard a lot of great things about it!

It's the perfect look for our living room!
The juju hat is so pretty and adds such style to our TV wall!
It gives our living room a big 'punch' and really balances the whole TV wall.
Here are other rooms that a Juju hat is perfect for:
Over a bed – like I did in our guest bedroom.
Hung over a mantel.
Over a console table.
On a sofa wall.
Over a home office desk.
I'm so in love with this juju hat – I seriously want one in every room!
flameless flickering taper candles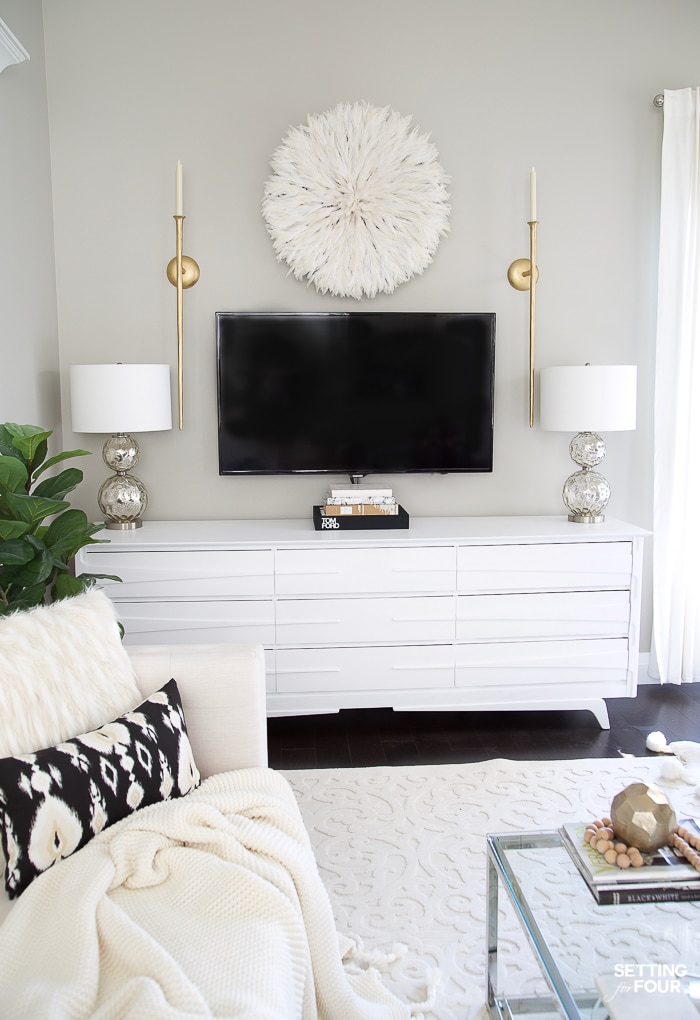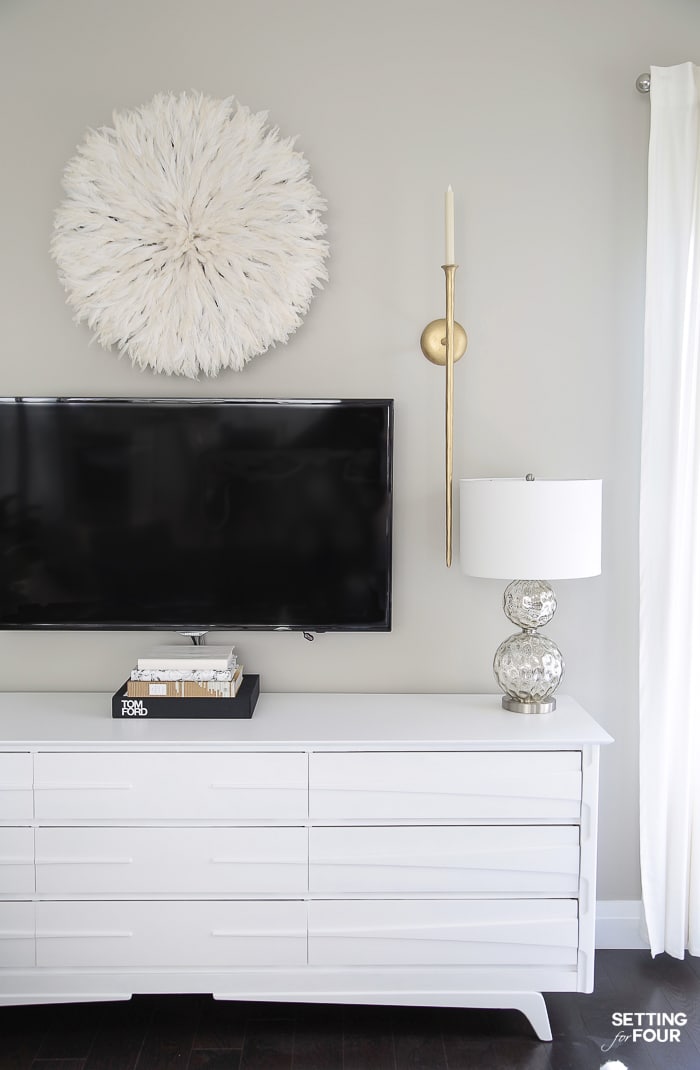 See these stunning candle sconces here!
flameless flickering taper candles
Do you like it?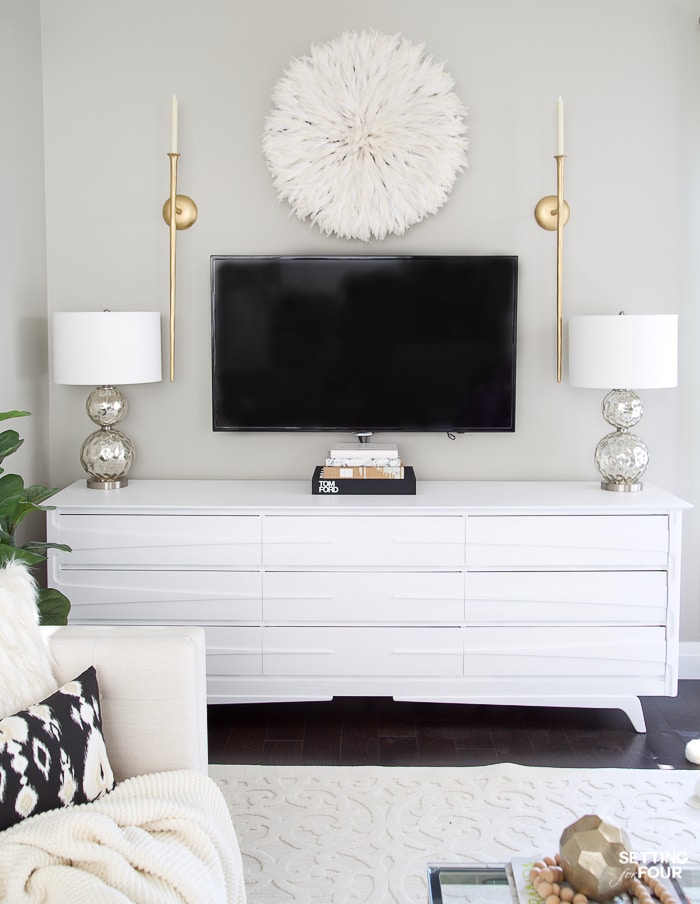 Gift idea: These juju hats make gorgeous gift ideas for the holidays, a birthday, and make amazing house warming gifts too! They are shipped folded in a small box so they are really easy to wrap!
If you have any questions – leave me a comment below!
This post contains affiliate links. Funds from affiliates help pay for web hosting, domain registration, email delivery, and other fees to keep settingforfour.com up and running. Thanks for your support! Click here to read my full disclosure policy.
You may also like:
How to Prepare a Room For Painting
65 plus Photo Gallery Wall Layout Ideas
Gallery Wall Of Botanical Prints
Easy Way to Touch Up Wall Paint!