Sharing my Elegant White & Gold Christmas Kitchen Decor Ideas for an inviting, serene and cozy look!
See beautiful Christmas decor ideas for your kitchen island, countertops, sink area and twinkly slim birch trees!
Plus see 29 Design bloggers beautiful holiday spaces for even more inspo!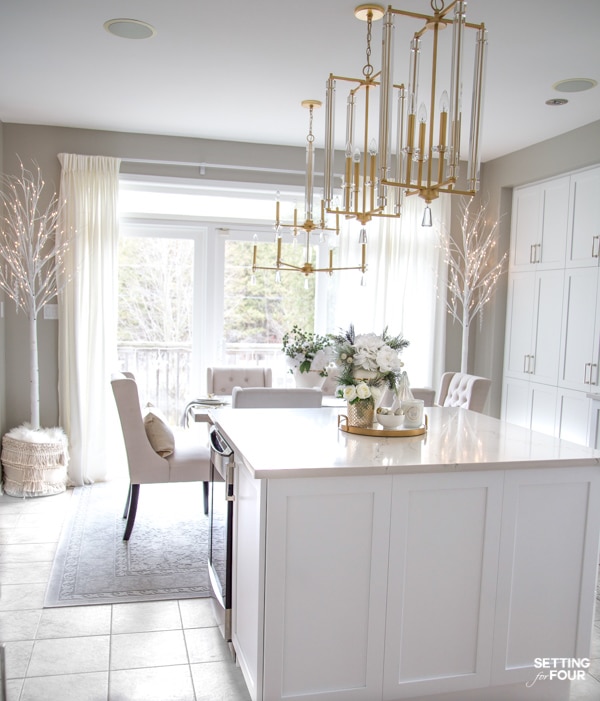 Thank you to  Christy and Amy at 11 Magnolia Lane for hosting this gorgeous holiday tour!
If you're coming from Pink Peppermint Design  – welcome! I'm so glad you're here!
This Christmas I'm expanding on my gold and white holiday color scheme and added lots of fresh and faux greenery too!
I just love the look of white, gold and dark green for the holidays (and all year long!)
If you follow me on Instagram, you'll see live holiday decorating tips and tricks that I share on Instagram Stories!
I also decorated my kitchen with lots of metallics – for me the holidays is all about shimmer and shine!
Christmas Birch Trees In 'Snow filled' Baskets
I absolutely love these birch trees in my kitchen breakfast nook area and by my kitchen pantry!
They are perfect for the kitchen because they are slim and don't take up much room.
I hung icicle ornaments on the branches for a winter forest wonderland vibe – so beautiful at night!
To cover the base of the birch trees I placed them in a basket.
Then I added a white faux fur rug around the base of the tree to fill in the basket – it looks like the tree is sitting in snow! It's so beautiful!
I just folded the faux fur rug in half lengthwise and tucked it into the basket and arranged it so it looks like a snow drift!
I put the birch trees on timers so they automatically turn on at 4:30 pm – when it starts getting dark here.
These gorgeous trees add such a pretty glow to my kitchen and the icicle ornaments and 'snowy' faux fur rugs add to the winter wonderland ambiance I was going for!
These pre-lit birch trees also look beautiful in a bedroom!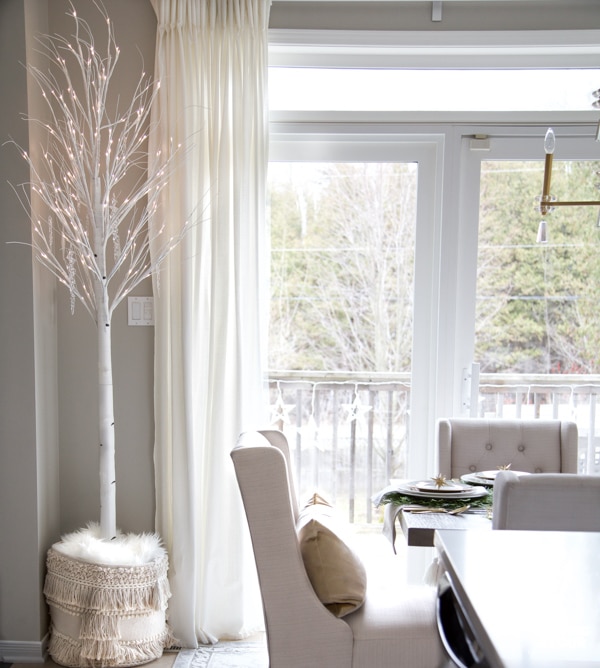 ---
Do you need help with furniture layout, room design, selecting furniture or choosing paint colors?
I'm a Designer and True Color Expert® – I can help!
See my Online Interior Design & Paint Color Services info, designs – and client reviews! 

---
Christmas Kitchen Island Tray
I love to decorate my kitchen island for the seasons and holidays with a tray!
This gold and marble tray is one of my all time favorite trays. It's so stunning!
You can check it out here.
It has handles on it which makes it easy to move if I need more counter space to prep meals.
And it's a great size – not too big, but big enough to decorate with some holiday accents.
I added this medium gold and white ginger jar to the tray and filled it with faux white peony flowers and faux pine and evergreen sprays and stems.
Then I added a gold votive filled with faux white roses and faux pine stems.
I added a stunning glass tabletop tree, candle and a small bowl of mini gold ornaments to complete it!
I just love the elegant look of these holiday elements paired together!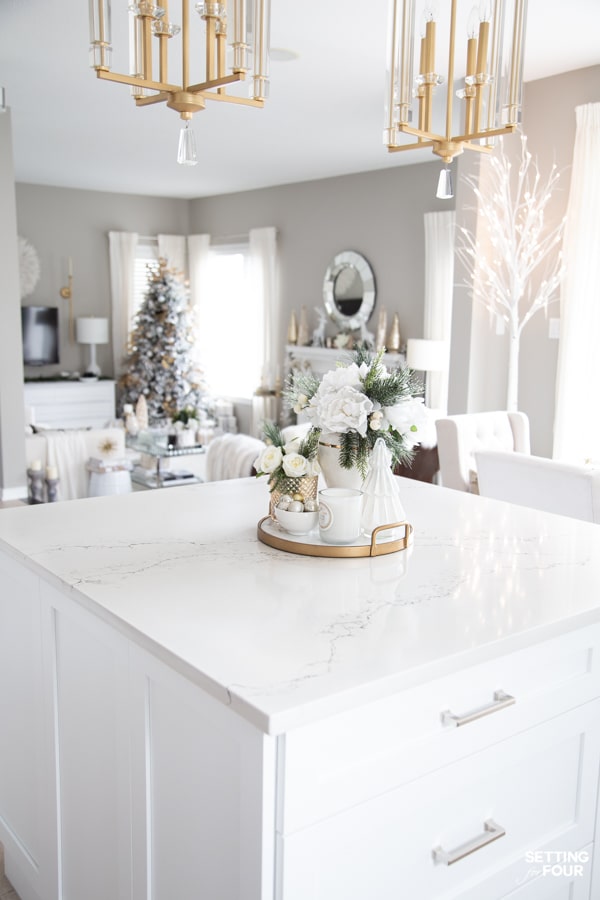 Elegant Christmas kitchen island tray
gold and white ginger jar – size medium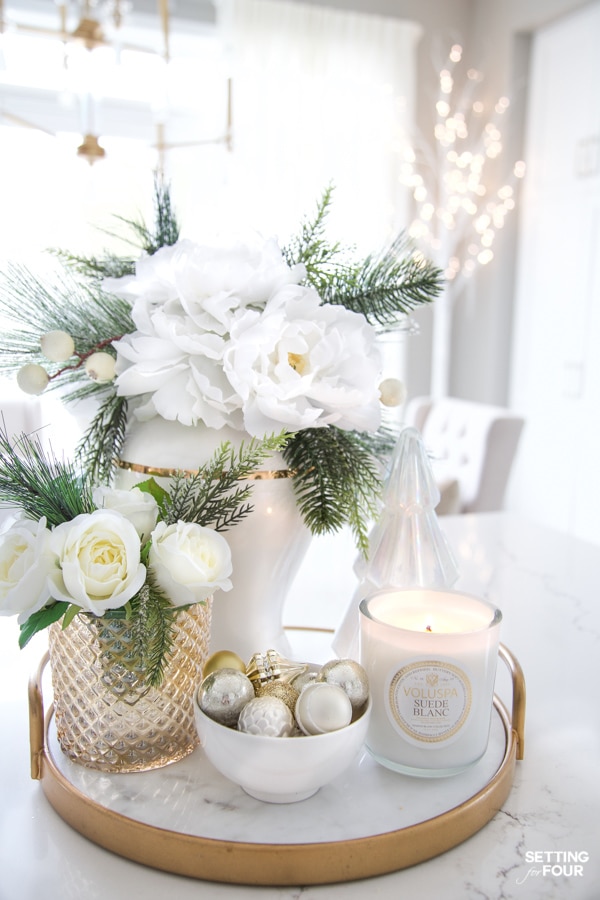 ---
Need help with furniture layout, choosing paint colors, kitchen/bathroom design, selecting furniture & decor or updating your home? I can help!
See my online design & paint color services!  Plus my client reviews!
Email me at [email protected] for more info!

---
Holiday Kitchen Cake Stand Displays
AN easy way to decorate your kitchen counter for Christmas is with small cake stands with domes !
They are a fabulous way to display holiday candles and ornaments.
You could also display white miniature village houses that are so popular this year,  or beautiful bottlebrush trees or small glass holiday trees.
Displaying a holiday candle with Christmas ornaments in a dessert stand like this adds shimmer and sparkle to your kitchen and doesn't take up much room!
I added a few mini ball ornaments around the candle to add some more twinkle.
In the smaller cake stand I added a couple of ribbon tied star ornaments with some mini ball ornaments. So quick and easy!
Having a set of gorgeous holiday napkins and beautiful appetizer forks and spoons on hand for the holidays is a beautiful way to decorate for the holidays too!
These gorgeous gold appetizer forks and spoons are so affordable, from Amazon, and have a pretty leaf detail on the end.
I use the miniature spoons for my dessert and cheese charcuterie boards – they are the perfect size for serving jams and olives!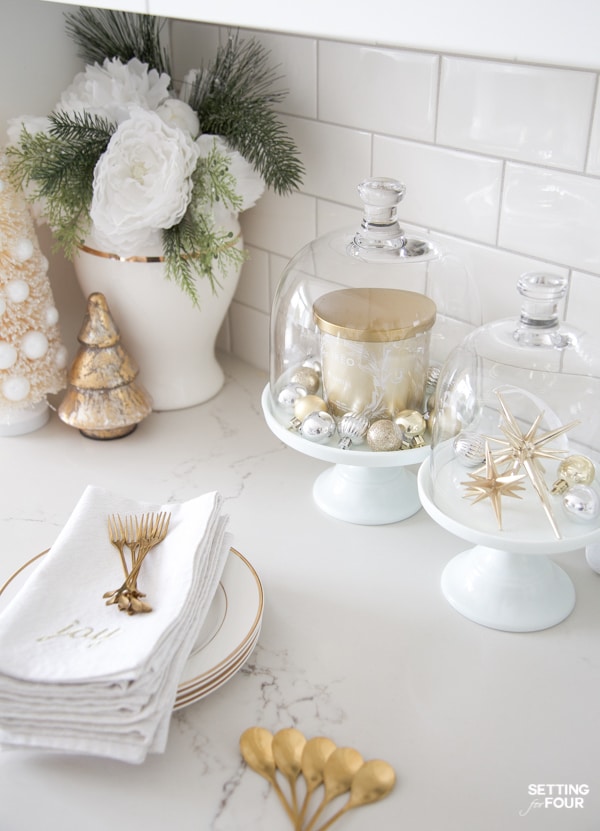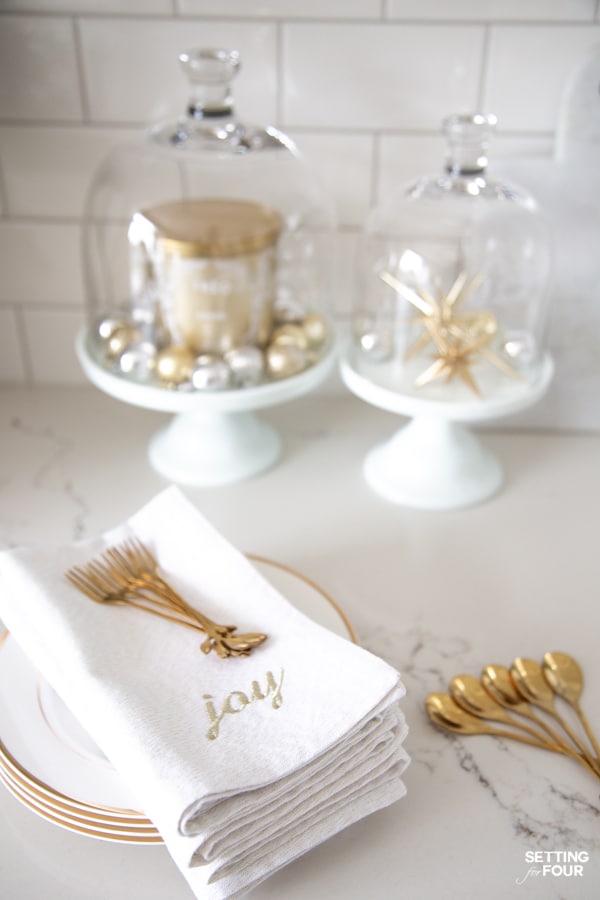 Tabletop Christmas Trees
I'm obsessed with tabletop Christmas trees! I pick up several every year – I'm always finding places to display them!
They are perfect for kitchen countertop accessories because they will fit under kitchen cabinets and are a great way to decorate those empty corners!
These gold tinsel tabletop Christmas trees are my favorite -they are so chic!
Tabletop Christmas trees add beautiful texture and holiday ambiance to my kitchen!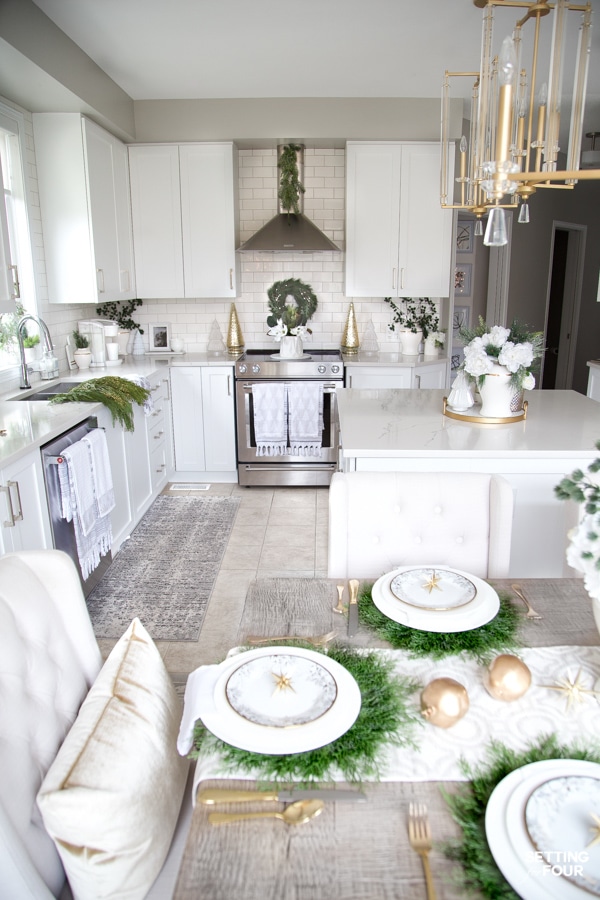 Christmas Vases with Holiday Greenery and Flowers
These gorgeous white and gold ginger jars are a beautiful way to display holiday greenery and flowers – fresh or faux!
I added one to each corner of my countertop and filled them with more faux white peony flowers and faux pine greenery!
I love to tuck one or two tabletop Christmas trees the ginger jar too.
Creating an elegant Christmas kitchen is all about layers and texture!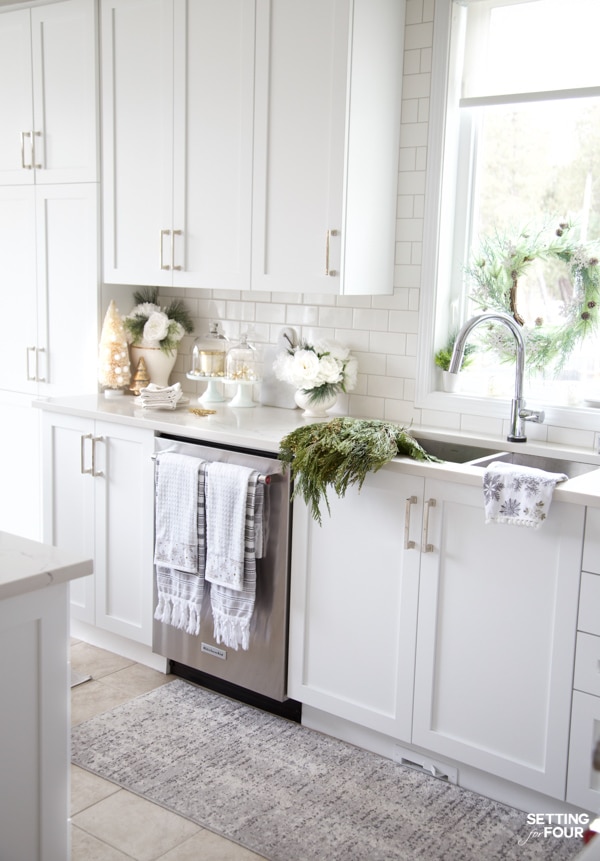 Kitchen Sink and Window Decorations
I hung a faux pine wreath on my kitchen window with this mini 3M Command hook (these are life savers for me – I love that they are clear and small!)
I love the pop of green and texture this wreath adds to my kitchen!
Mini pine tree accents, votive candles and a holiday soap set complete the festive feel!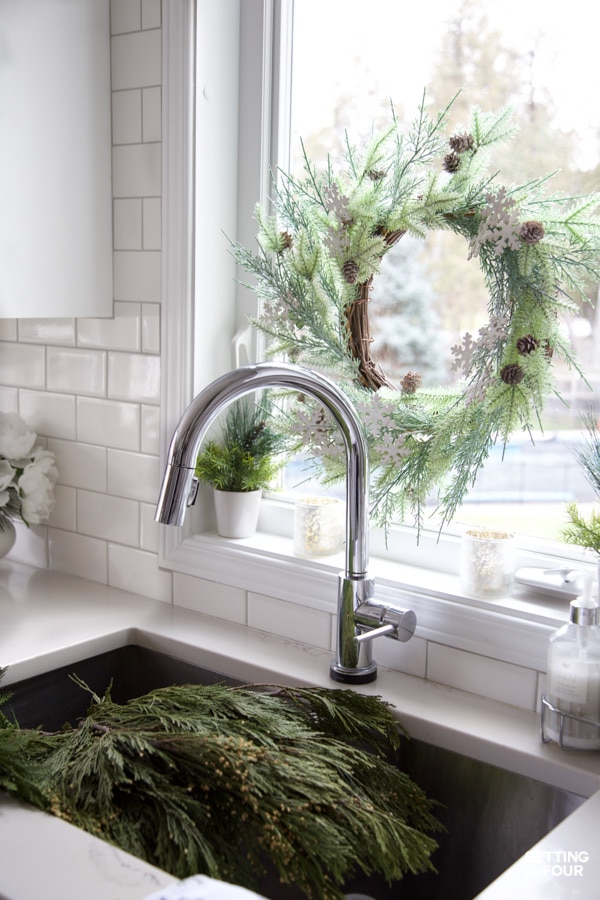 Stove Decorating Ideas For The Holidays
Decorating the stove area took no time at all!
I hung a small pine and berry wreath to the tile behind the stove – again with this 3M Command hook!
I arranged some more glass tabletop trees beside each side of the stove for more sparkle.
Faux greenery garland (I cut one long garland into 3 pieces and used one here) displayed on the range hood (with a command hook!) adds another pop of green to my kitchen.
I love to display a vase of faux magnolia flowers and pine on the stovetop to decorate it when I'm not using it.
It's easy to pickup and move to the side when I'm cooking.
I also buy a new set of holiday tea towels each Christmas to hang on my stove and dishwasher.
I love these neutral tea towels below, with the Christmas trees embroidered on them.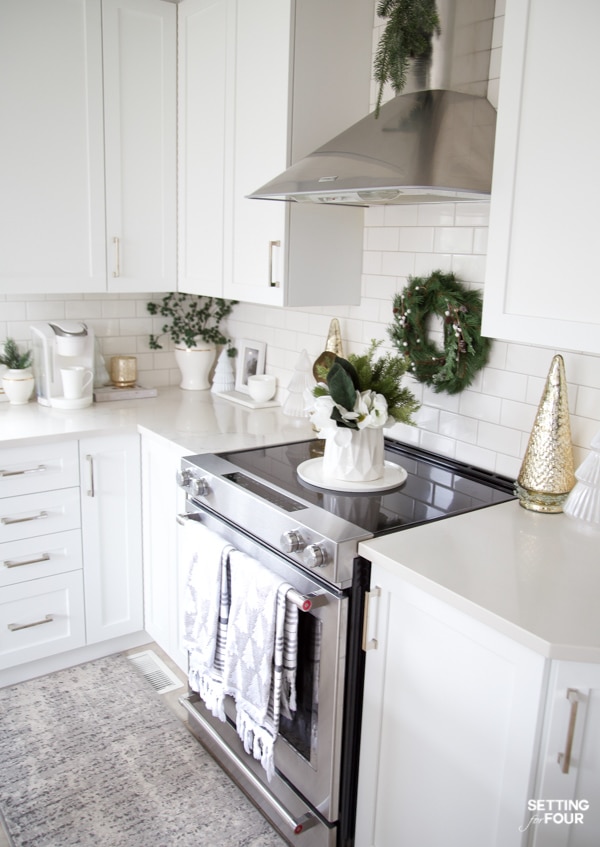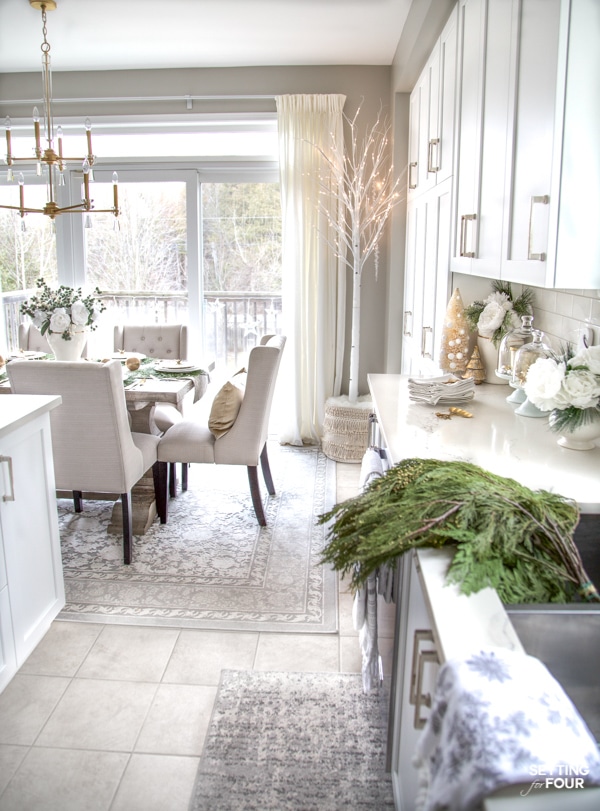 I hope you enjoyed my Elegant White & Gold Christmas Kitchen Decor Ideas!
Next up on this room blog tour is Citrine Living – be sure to visit to see her gorgeous Christmas kitchen!
Grab a cup of hot chocolate and tour these gorgeous Christmas spaces listed below.
Lots of new ideas on how to decorate your home for the holidays!
Monday, November 29th (Front Porch/Outdoor Spaces)
Southern Hospitality | A Blissful Nest | Most Lovely Things | Cindy Hattersley Design | Shine Your Light
Tuesday, November 30th (Entries/Dining Rooms)
11 Magnolia Lane | Sincerely Marie Designs | The Pink Clutch Blog | Summer Adams | Home by Heidi | Classic Casual Home
Wednesday, December 1st (Living Rooms/Dens)
Sincerely Marie Designs | 11 Magnolia Lane | Sincerely Sara D | This is Our Bliss | Thrifty Decor Chick | Dimples and Tangles
Thursday, December 2nd (Kitchens/Laundry Rooms/Misc.)
Evolution of Style | Sincerely Marie Designs | A Stroll Thru Life | Pink Peppermint Design | Setting for Four | Citrine Living
Friday, December 3rd (Master Bedroom/Kid's Rooms)
Quarters One | Just a Girl | Postcards from the Ridge | Decor Adventures | A Stroll Thru Life | County Road
You may also like these Design Ideas!
Beautiful & Neutral Christmas Decor Ideas For The Home