Adding affordable home office furniture ideas with storage and designing a new room layout brings order to my cluttered office and work space! See the transformation and helpful tips for quality office organization.
My home office has finally had a furniture and organization makeover! I'm so excited to share with you today the furniture updates and new organization and storage I've added to my space!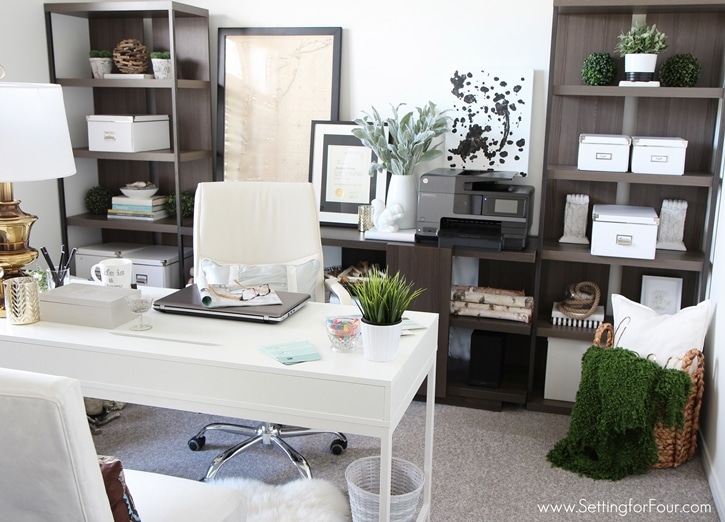 Let's get right to it! One thing my home office was lacking before the makeover was proper storage, display and furniture that not only is beautiful but is functional too. I need it to be a space to allow me to create and be creative, to be inspirational and hold our vacation collectibles, artwork I've collected, decor accents and storage, storage, storage!
I showed you the before and after room makeover and 2016 color of the year paint color I chose…remember the office 'before' shot?
I know….. it's very 'cringy' (as our sons would say)! Gloomy green paint, little vertical storage….and not one piece of furniture matches in style or finish!
A hodge-podge of bookcases and a mammoth U shaped desk which just took up too much space: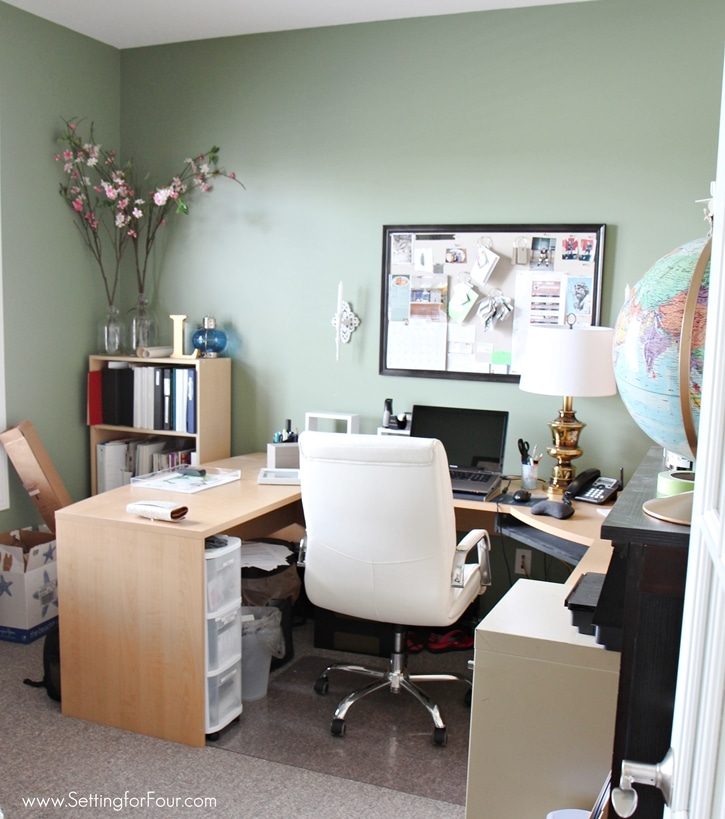 Now, thanks to the addition of some proper office furniture my home office is so incredibly functional and beautiful too!
I knew immediately that this 5 shelf bookcase in a gorgeous brown-gray Diamond Ash finish would be the perfect way for me to get the rustic glam style I wanted as well as the vertical storage I desperately needed to meet the needs of my home office!
Office 'After' shot: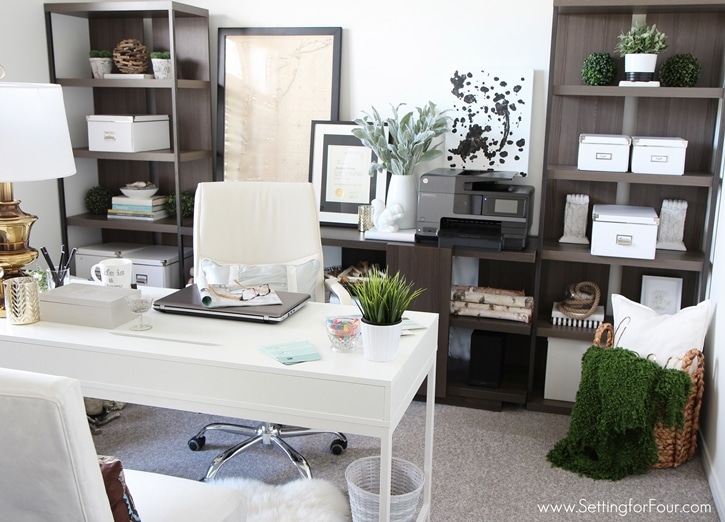 The console unit in the same Diamond Ash finish is such a versatile piece of furniture – it can also be used as a media console to store and display a TV and media components!
I'm using it in my home office as an console table to to store our printer, my office phone and mini stereo, display leaning art like a vintage map of Virginia (where we used to live!) and hold some of the shells we've collected at our beach vacations.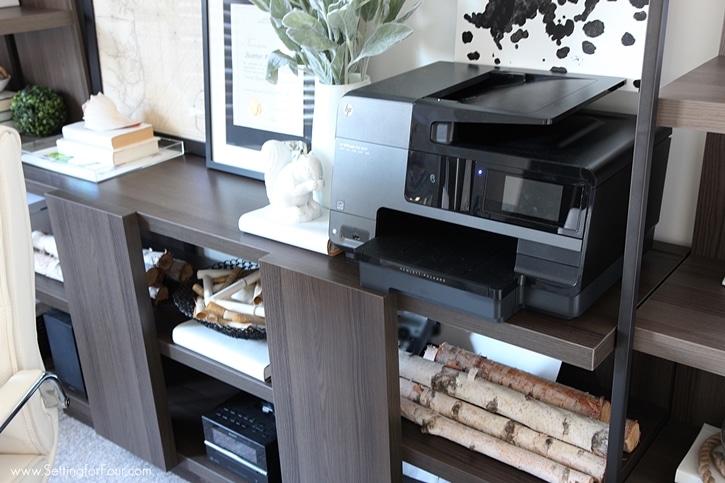 This post contains some affiliate links for your convenience. Click here to read my full disclosure policy.
These pieces are perfect for us as a military family too- we can repurpose these bookcases and console for different rooms and different uses! We have moved often and each of our homes has had different room layouts, so our furniture has had several 'merry-go-round' rides!
The bookcases help create amazing vertical storage… which I really needed! Each bookcase has 5 shelves so there is lots of storage and organization potential to hold various bins for computer cords, baskets for my paint decks and of course our books.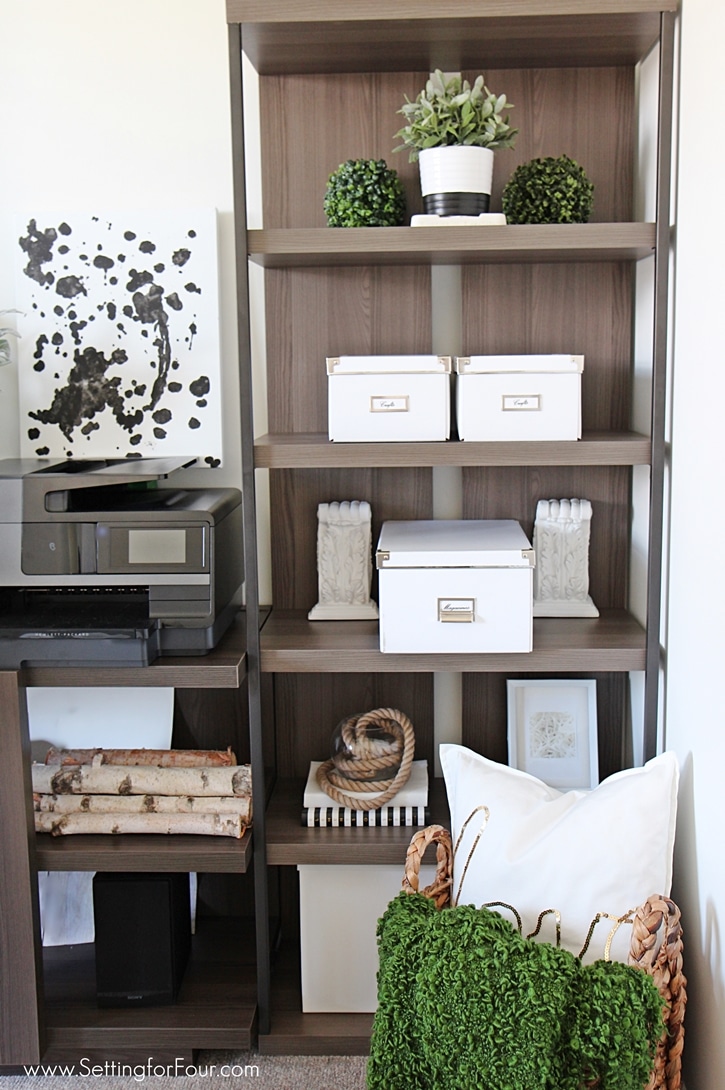 I arranged the bookcases to flank each side of the console to make it appear as a built in unit to make it look custom for the room. The 3 furniture pieces fit perfectly on the far wall!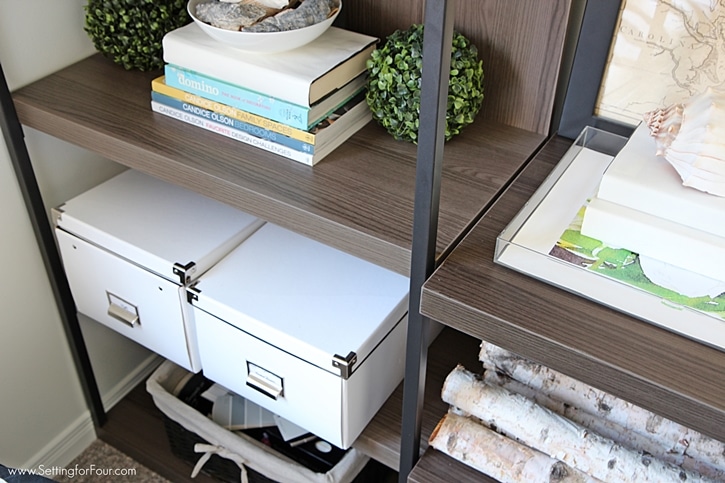 My white desk now floats in the middle of the room and faces the doorway – I really like having this view instead of staring at the wall! Plus floating my desk allows me to have a chair on the other side of the desk for visitors to sit and chat!
My home office wears many hats; it's where I operate my blog business, where I do my interior design consults, where we store our family paperwork and files (financial/medical info, warranties ect) and where my friends, our boys and hubby drop in for a visit. So it's not only just a home office it's a place to hang and entertain!
To make my home office function as an entertaining space I placed a comfy chair on the opposite side of the desk for visitors to lounge at in my office…..as well as a candy bowl!! I'll be honest here, the candy bowl is just not for my office visitors, it's for me too! I love to nibble on the odd candy here and there! I'll state for the record that the candy helps my creativity! 😉
Office Decor and Furniture Sources:
office bookcase
office console unit
brass table lamp (similar)
office chair (similar)
parsons chair (similar)
white slipcover (similar)
white storage boxes with lids (similar)
white squirrel by printer
artificial lamb's ears stems in vase
white vase (similar)
driftwood sphere on bookcase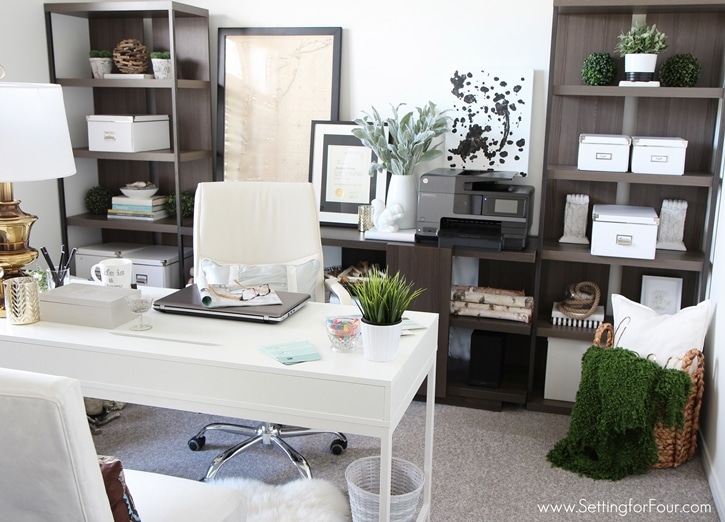 My new office design layout is much more functional and prettier to look at! It now has a beautiful sight line when looking in from the hallway.
What style idea would you like to steal from this project?