See my summer plants ideas in my landscape gardens and flower containers! These are no fail plants that are easy to grow and keep alive. Some are drought tolerant too!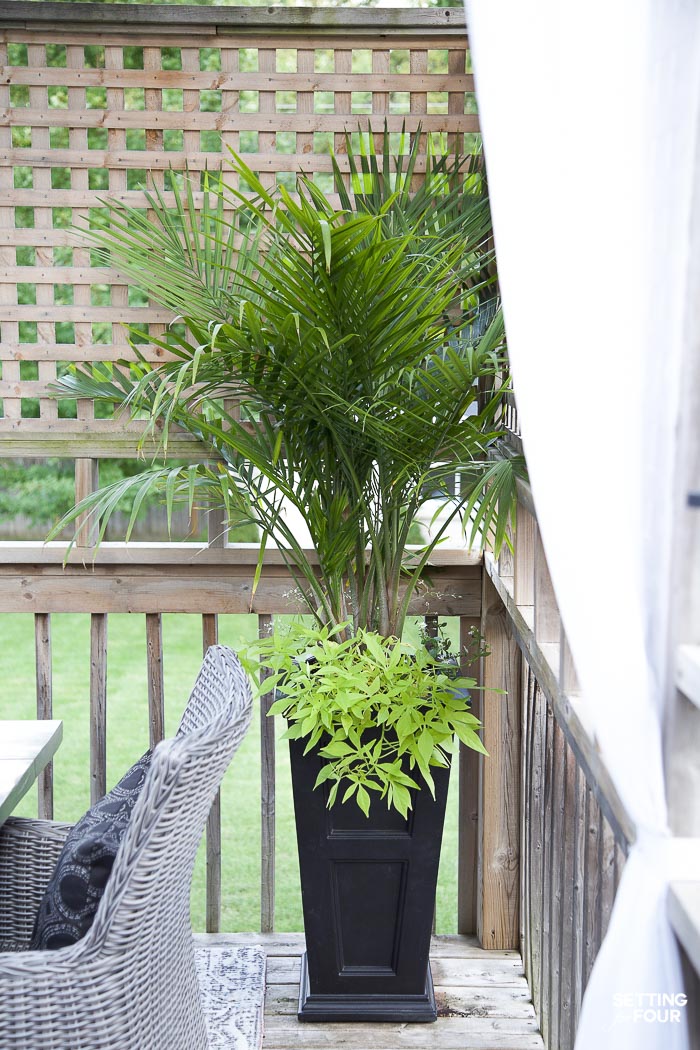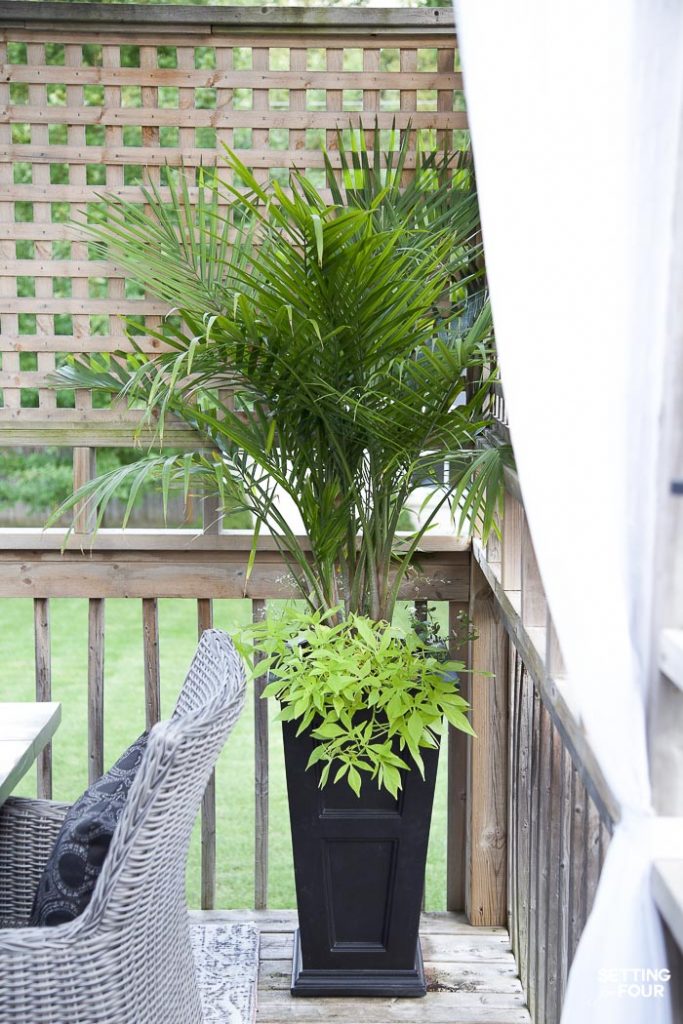 No Fail Plants – Landscape Gardens & Flower Containers
This post contains affiliate links. Funds from affiliates help pay for web hosting, domain registration, email delivery, and other fees to keep settingforfour.com up and running. Thanks for your support! Click here to read my full disclosure policy.
I love gardening, flowers and plants do you? Gardening is such a big passion of mine – I find it so relaxing and find it's the perfect way to decorate our patio and deck!
Every morning I go out with a cup of coffee in hand and check on all of my plant 'babies'! I love seeing how much they've grown, what's blooming, making sure that they are watered and pest free.
Speaking of pests – for the first time ever we had Japanese beetles! (They are a bright metallic green and bronze beetle that will strip the leaves and flowers of your plants – they are very invasive and destructive.)
I bought a couple of these Japanese beetle traps and they worked great! Just wanted to let you know that these traps work, in case you might be battling these pests too!
Anyway – I love adding planters filled with palm trees and annual flowers to our patio and deck.
Today I'm showing you what I planted this year and why I love them, plus our landscaped gardens that are filled with perennial plants!
This is a view of our back patio flower bed!
It's filled with no fail plants like hostas, holly shrub (drought tolerant), a dwarf Mugho pine (drought tolerant) and azalea …and that plant in the front is a peony I planted that didn't bloom this year! (Any tips on how to get them to bloom?)
Hostas are my favorite perrenial because they are so easy to grow and to divide (free plants!), have such gorgeous leaves and bloom too!
Hostas are perfect for shade gardens but ours are in full sun and they love it!
All of these plants are pretty much maintenance free – and we had an extreme 'heat dome' this summer and they still survived the high temperatures and scorching sun!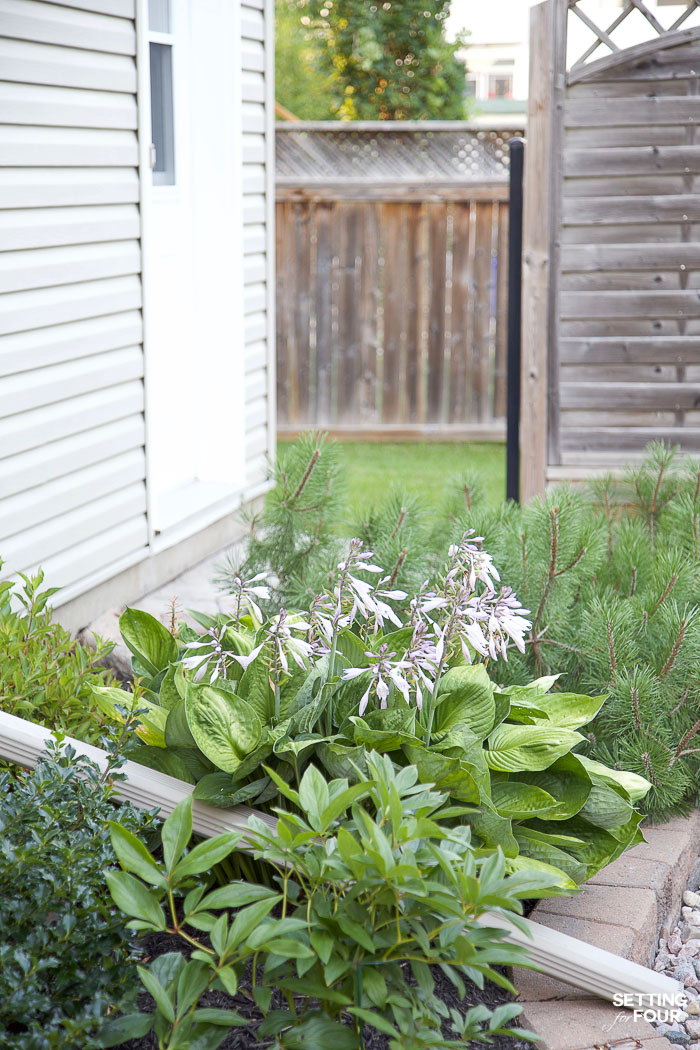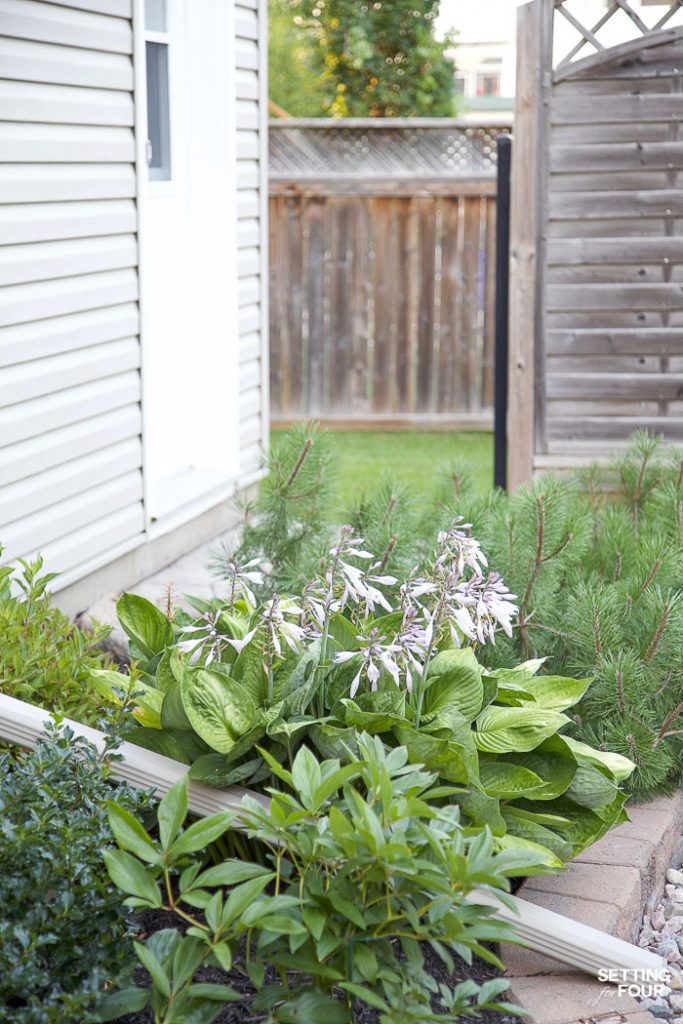 On this side of our patio we have more hostas. They grew so big this year! LOVE!!!! I'm not sure what variety they are – the previous home owners planted them.
If you're looking for a fuss free plant that will add loads of texture and color to your garden (they come in so many different leaf colors and shapes) the hosta is your answer!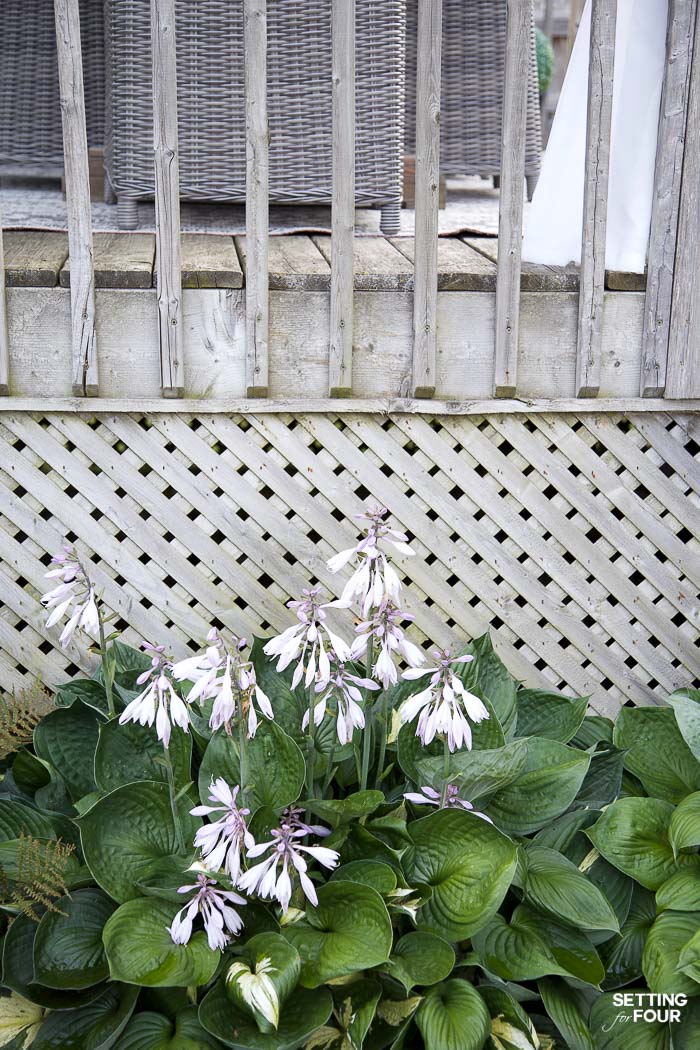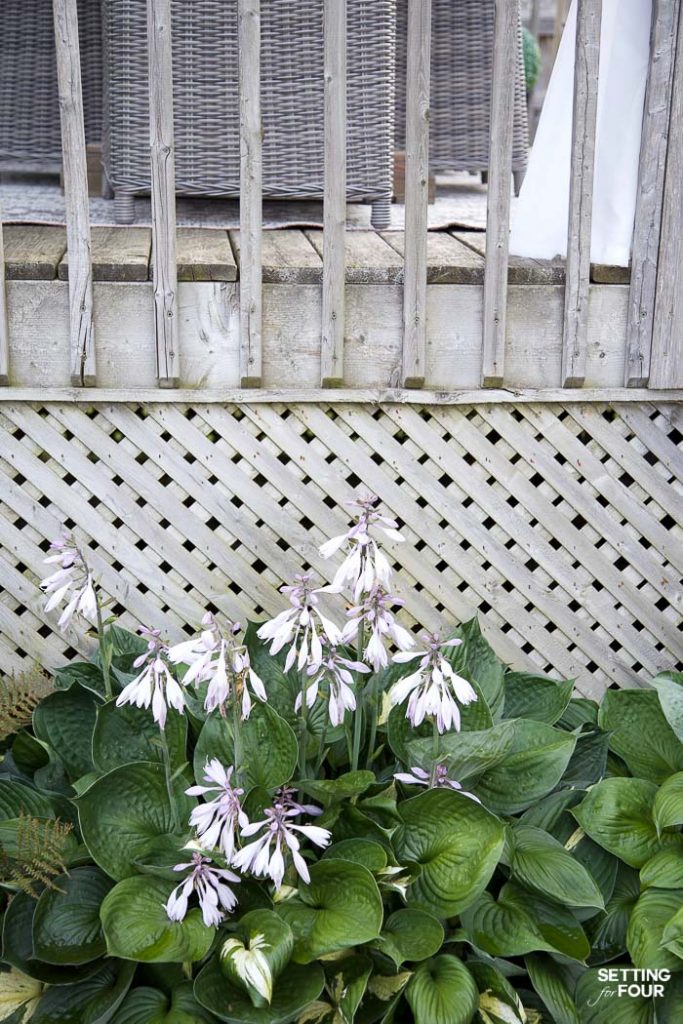 This year for the first time ever I planted Majesty palm trees in containers! They need a lot of watering but they are gorgeous!
I planted this black urn planter with green potato vine (This is FloraMia Limon Ipomoea) – it's a complete knockout with it's pop of lime green color for drama and is great for shady spots.
I also added this beautiful delicate looking white and green plant is 'Star Dust Super Flash Euphorbia'. This is the first year I trie this Euphorbia and it's one I'll use again next year. It's very fast growing and a beautiful filler and spiller plant.
This is a great example of a flowering container design I love to use: Thriller, Filler, Spiller.
The Thriller is the palm, the filler is the white Euphorbia (it's a spiller too!) and the Spiller is the potato vine.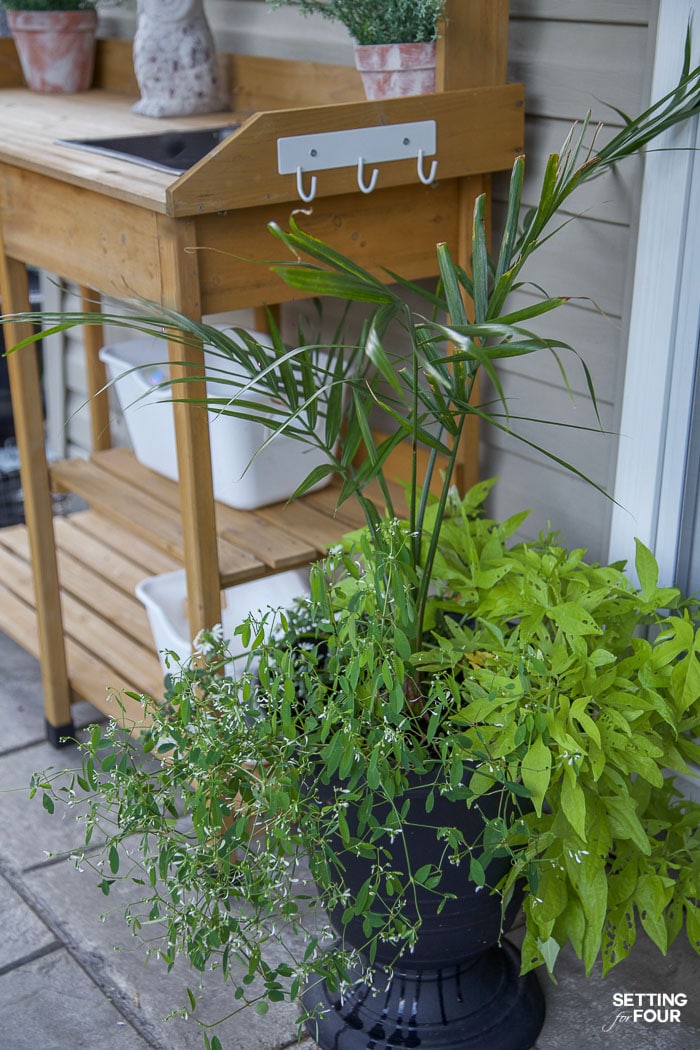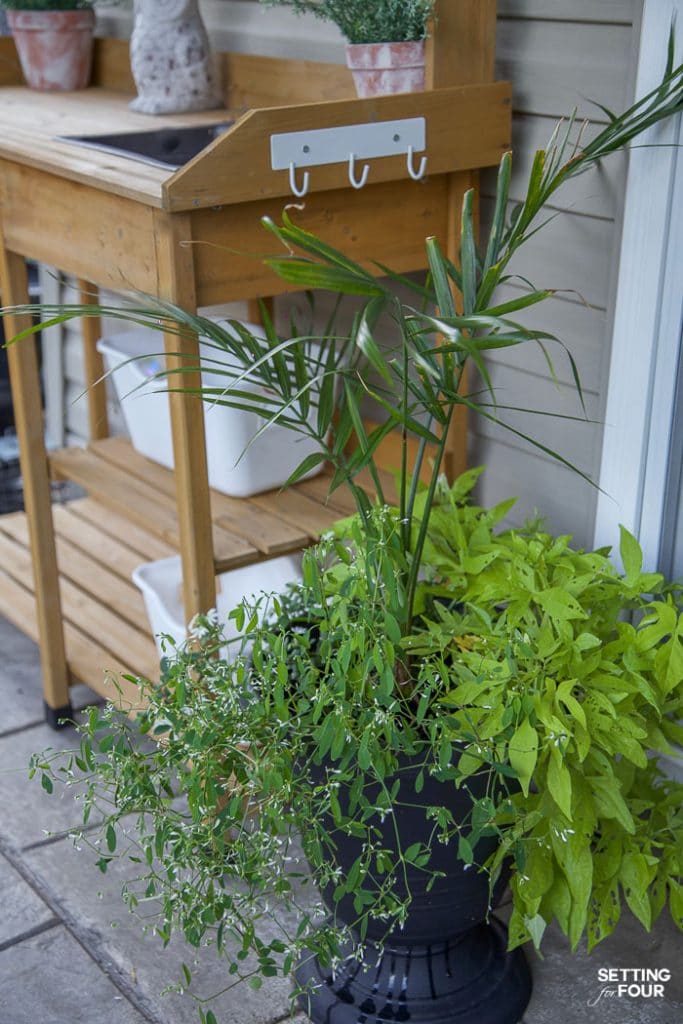 I filled two of these black urns with:
1 Callie White Calibrachoa (the small white flowers in front). They love full sun and have the prettiest yellow center. They bloom all summer long and are great for baskets, containers and window boxes.
1 potato vine: FloraMia Limon Ipomoea. This is a no fail plant! It explodes in growth in shade and sun!
1 white petunia: Easy Wave White Spreading Petunia. They love full sun too and are a gorgeous spreading, spilling plant.
1 euphorbia: Star Dust Super Flash Euphorbia. They like full sun (but I also have them in the shade too!) and are mounding and spilling.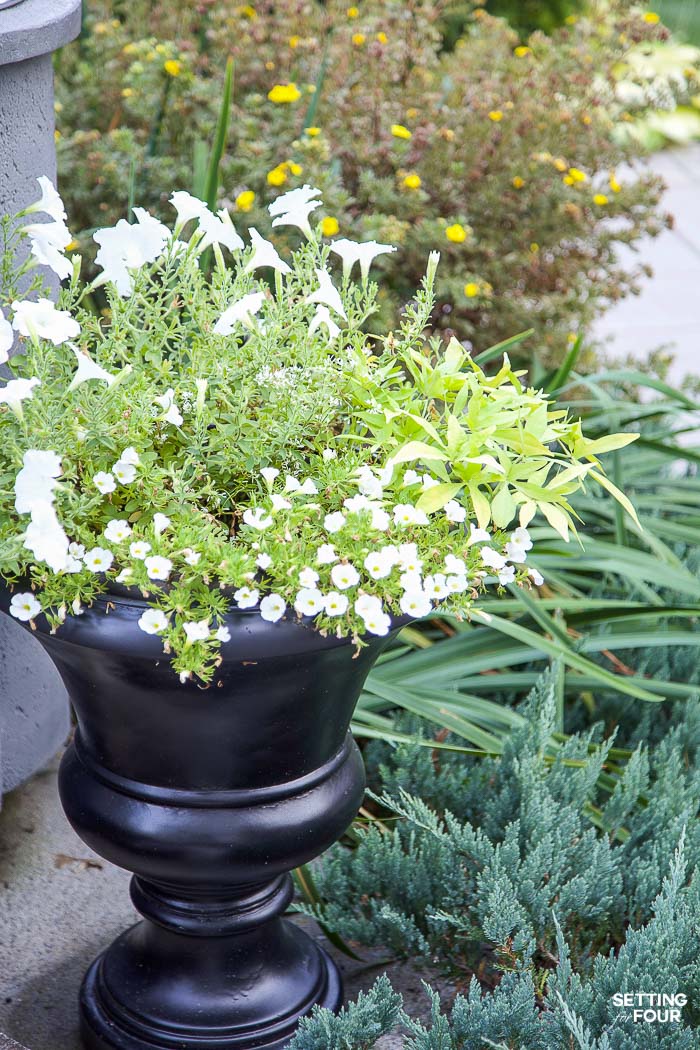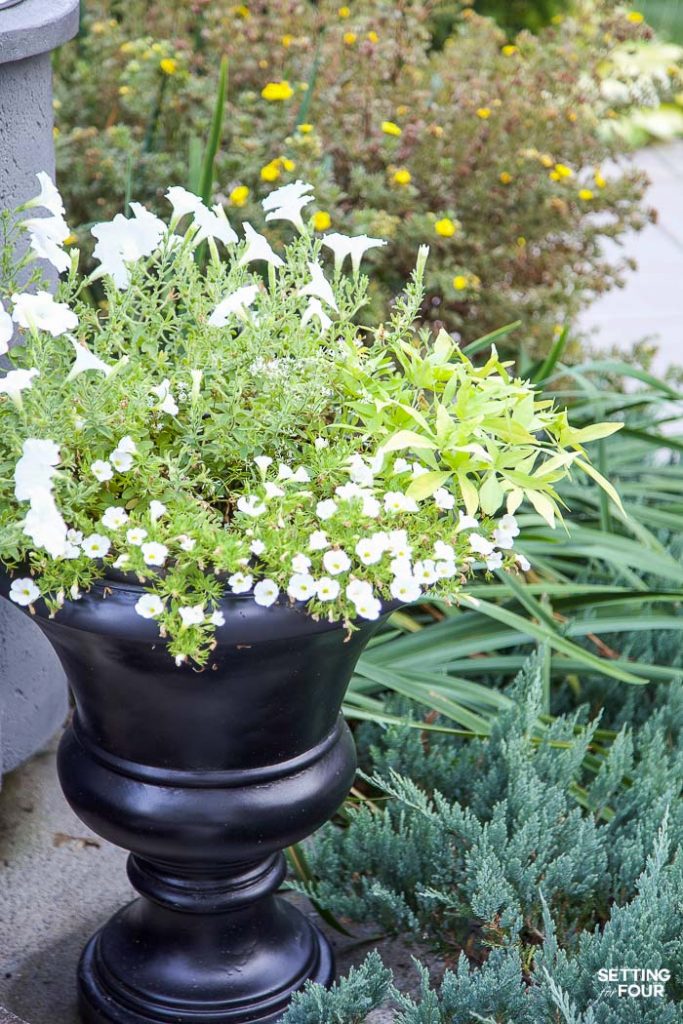 Throughout our garden beds I planted several of these Guacamole Hostas: They have gorgeous pale purple flowers that have a heavenly lilac scent! They thrive in shade but again – ours are in full sun.
We planted a row of these emerald cedars around our patio this year – they are so beautiful!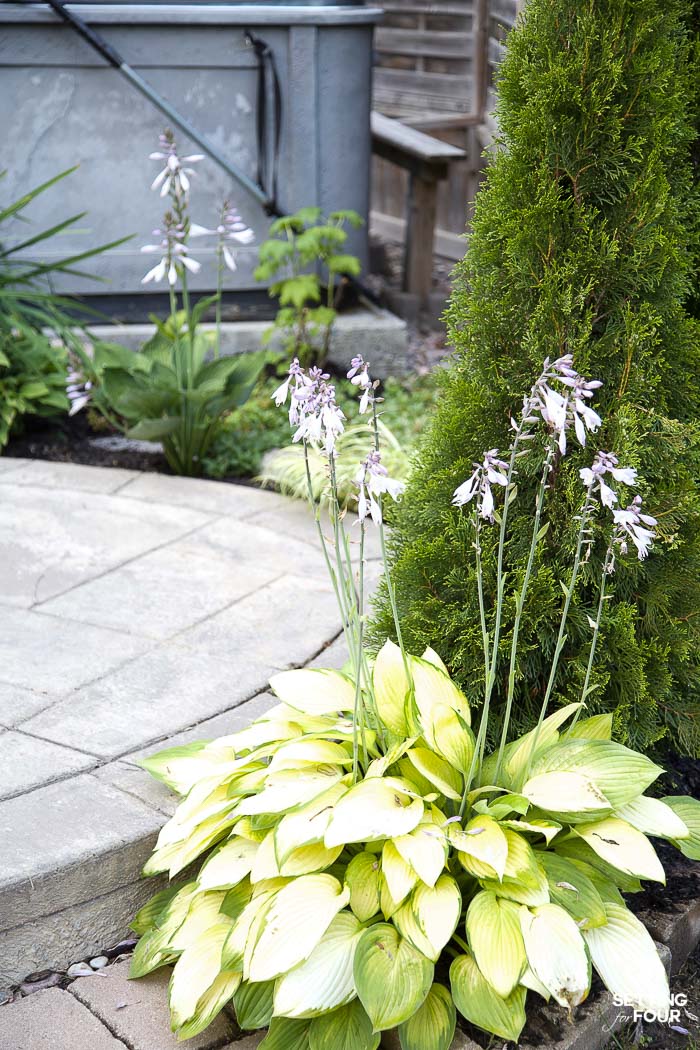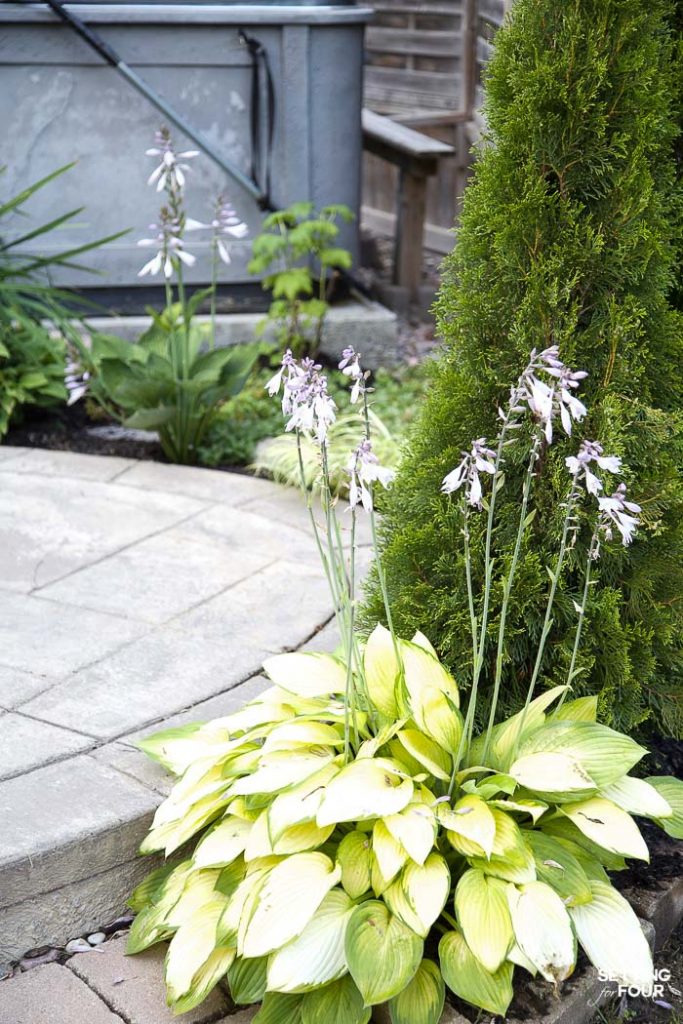 Along the back of our pergola we have more Guacamole Hostas and two white rose bushes.
Hubby made this flower bed for me last summer – I'll post soon on how he made it. It was all grass there and he created a beautiful mulched bed for me.
I love the bright green color of the hosta leaves against our gray colored deck!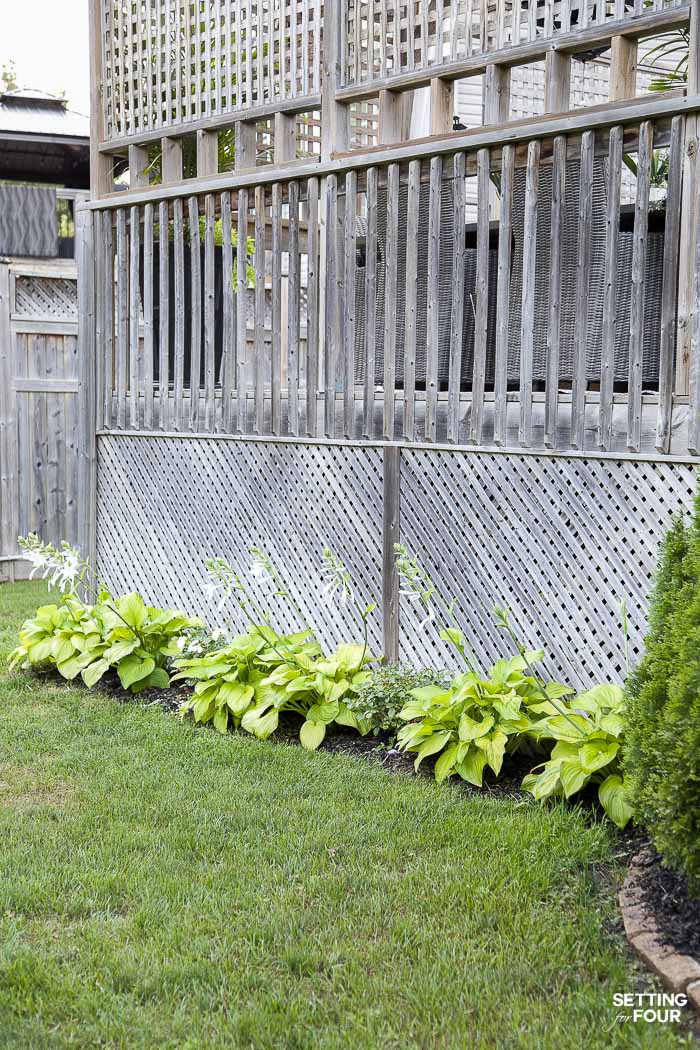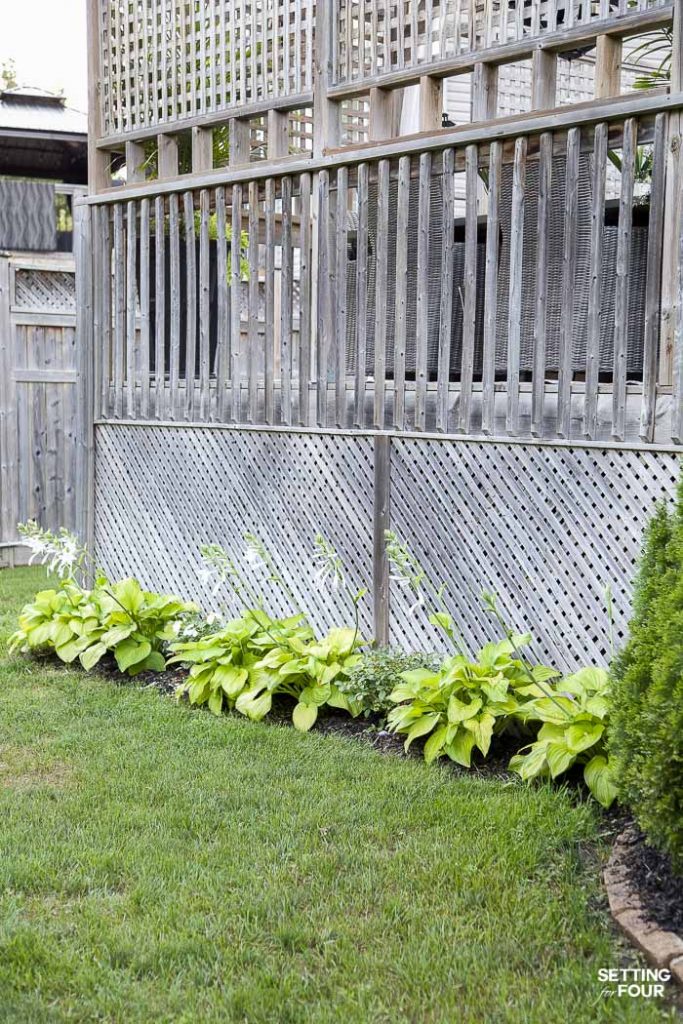 In our pergola I have two tall black planters (these planters are my all time favorite planters and I have two at my front door too! They have false bottoms which keeps them light and saves in potting soil costs!)
This is the potting soil I use for my container plants – it's amazing!! It feeds the plants all summer long making them grow quickly and blooming all summer!
I filled these planters with a Majesty palm tree, one star dust euphorbia plant and one potato vine (same varieties as the palm planter above).
Here's a peek of my new beautiful 8′ x 10′ gray and blue indoor outdoor rug which I'm ga-ga about!
It's so affordable and easily could be used in an entryway, dining area or living room – the pile on it is so soft! Even hubby said that it looks and feels like an indoor rug!
It's perfect for outdoors though since it's made from durable, easy to clean polypropylene and drys very quickly if rained on!
More on the rug coming soon!
Design Tip: How to Choose the Perfect Area Rug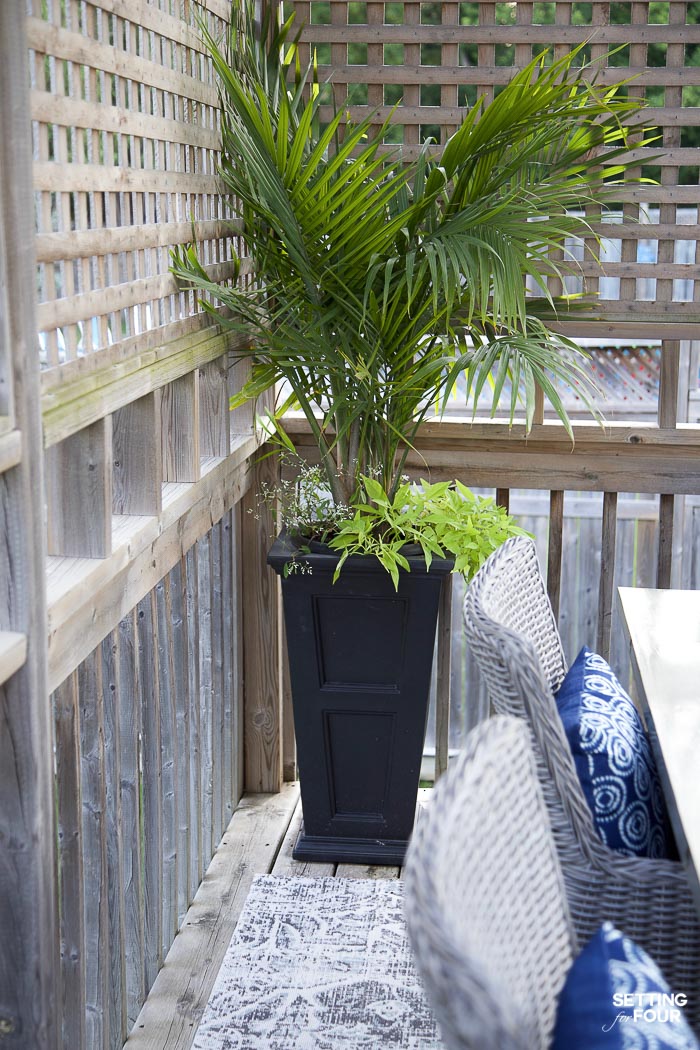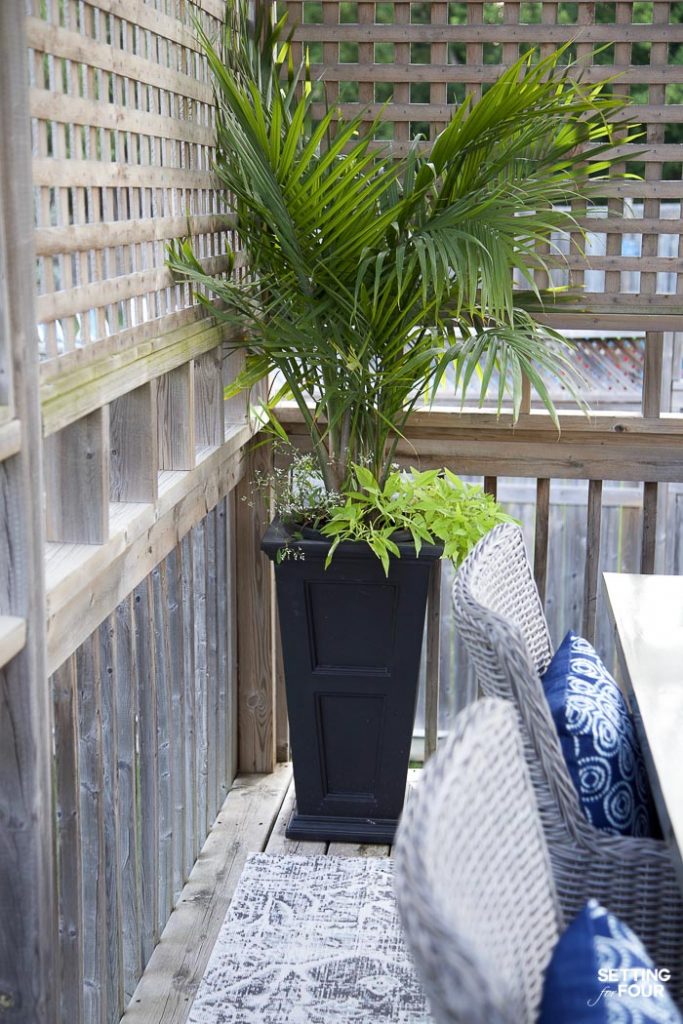 Here's the other palm tree planter in our pergola. I love the lush palm fronds!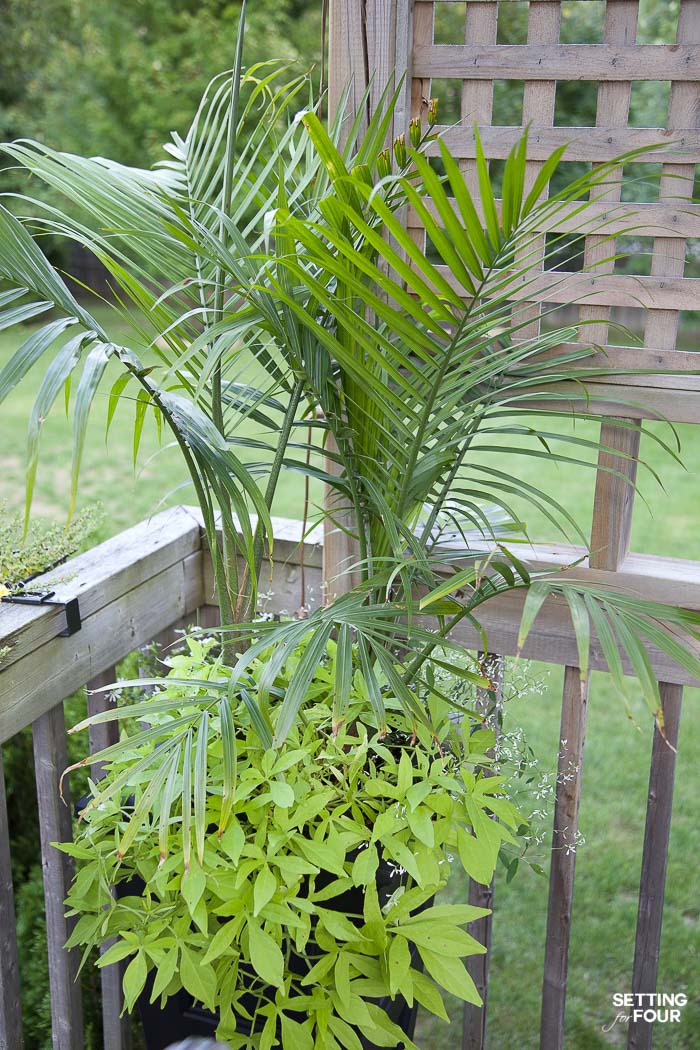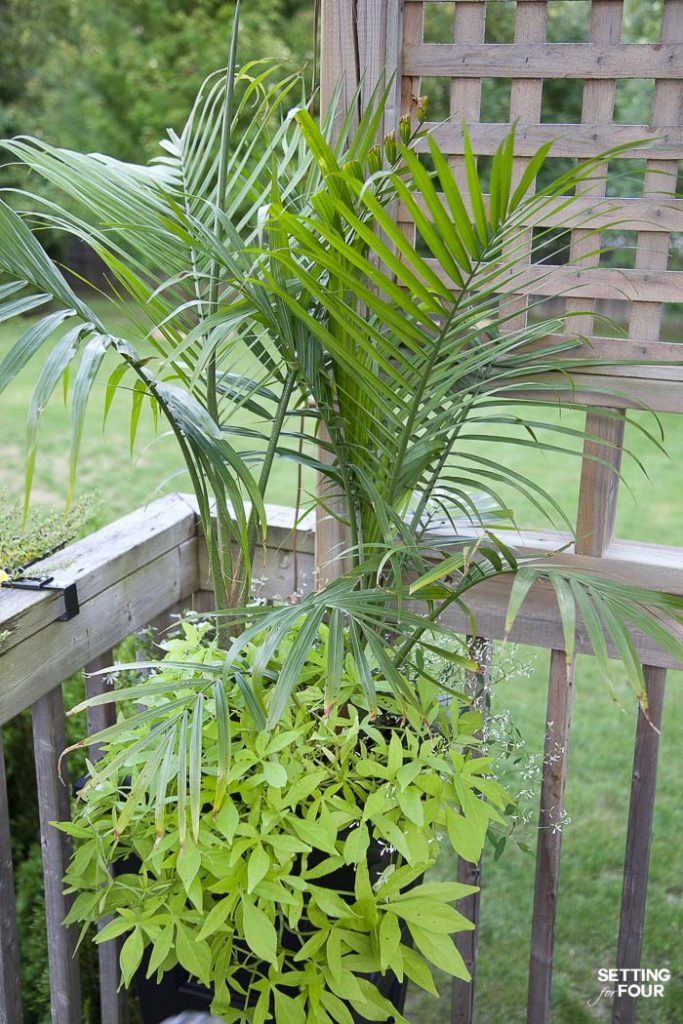 I really love these lush tropical planters – they have height and fluffiness!
If you have a small porch these containers would be perfect since they don't take up much of a footprint!
Easy DIY Outdoor Curtain Rods In 10 Minutes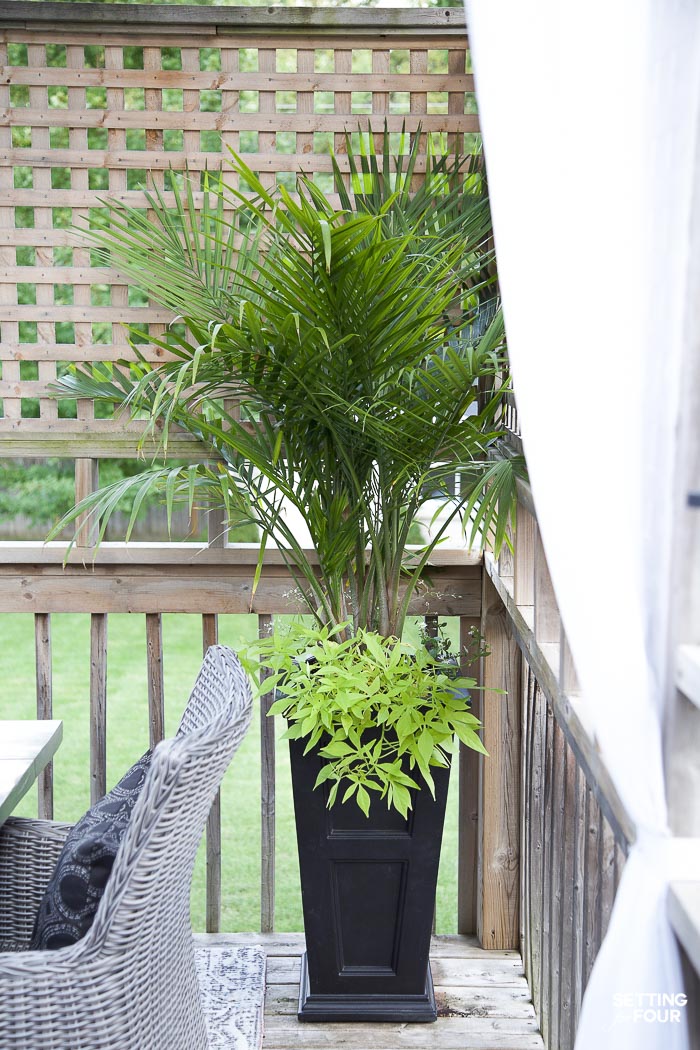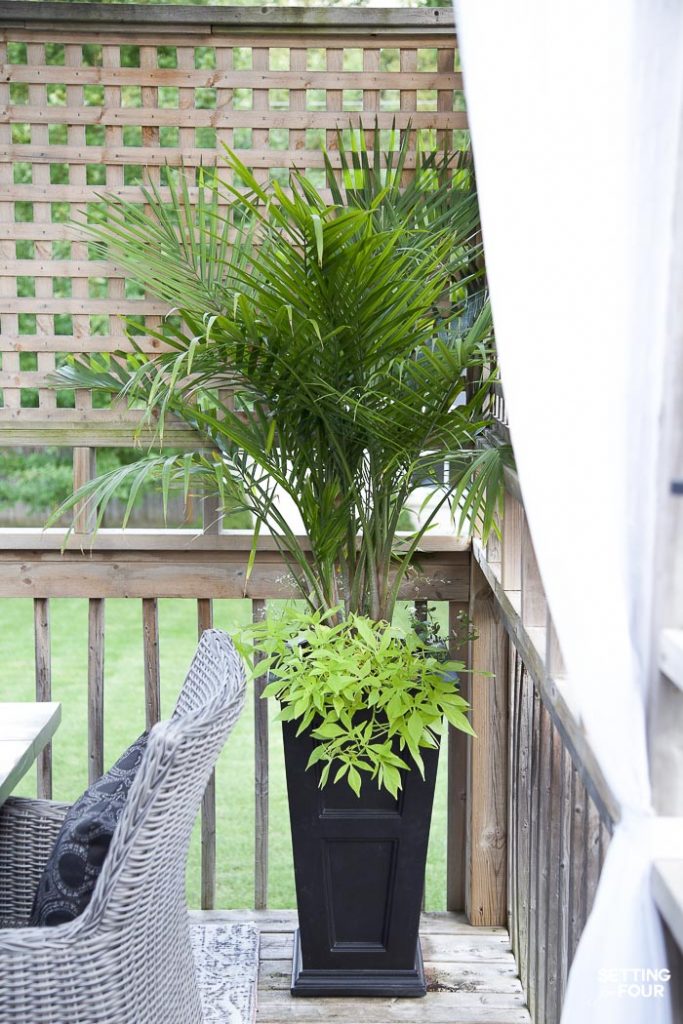 Here's a look at our Palm tree planters in our pergola dining space – aren't they pretty?
I designed this X based trestle wood table and myself and hubby made it – you can find the FREE plans for it here!
We eat out here as much as we can….spring, summer and fall! We love entertaining guests here too and having these beautiful planters creates such a beautiful ambiance.
I added two of these faux agave in marble pots to the table – I leave them out all summer and they don't disintegrate! Everything I have outdoors has to be durable and weatherproof, since I don't have time to put things away every day out here.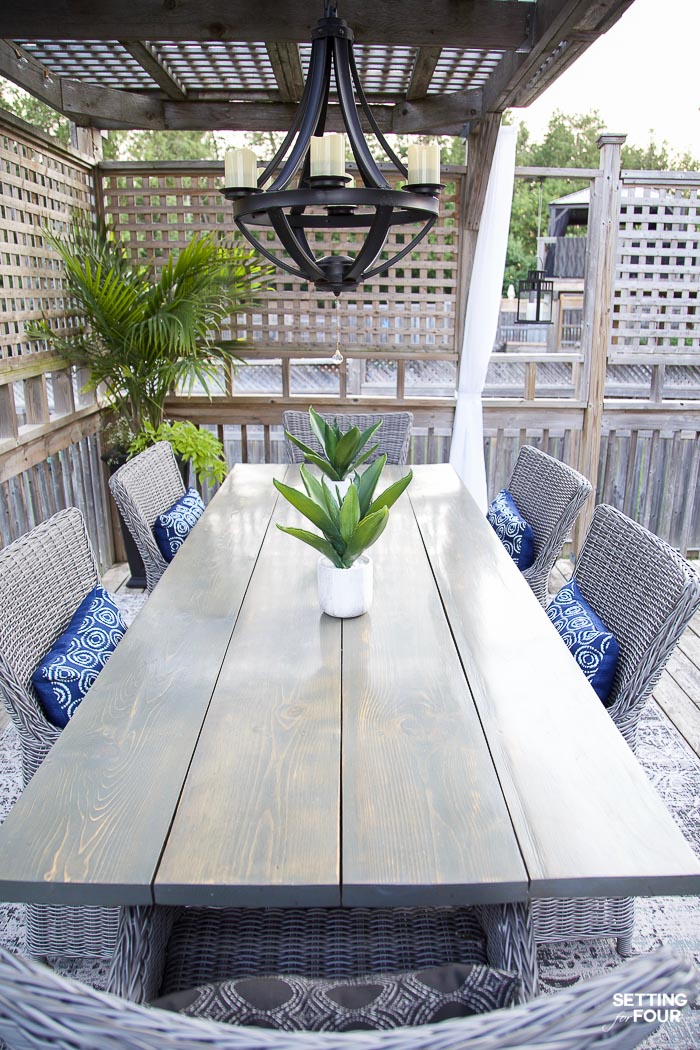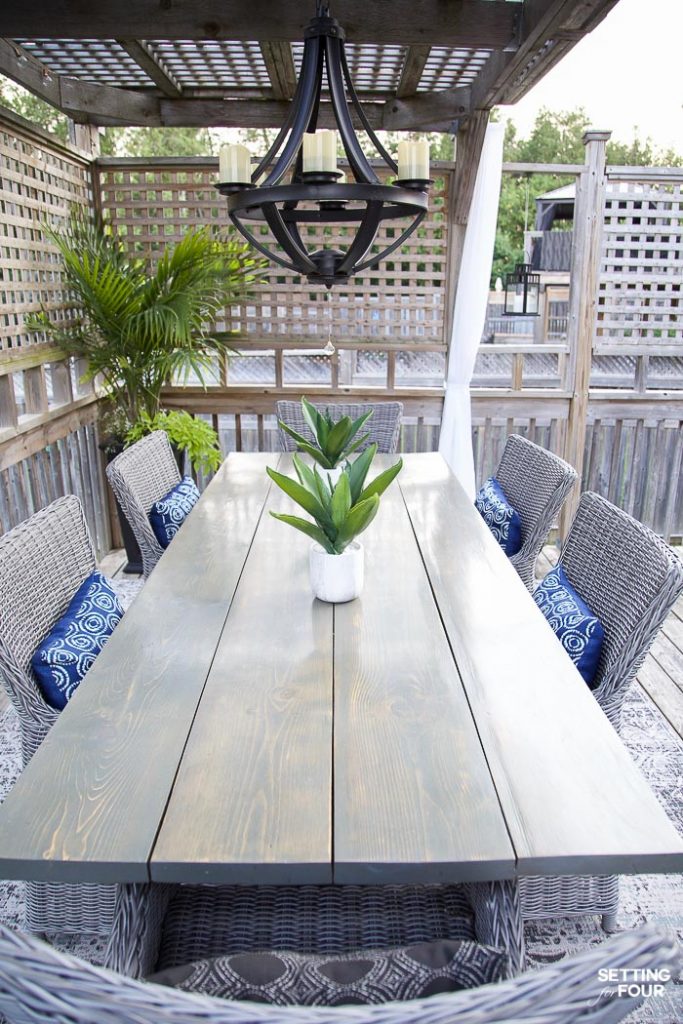 I hope you enjoyed seeing my No Fail Landscape and Container Plant Ideas!
Do you love to garden too?
PLEASE PIN THIS AND SHARE IT WITH YOUR FRIENDS!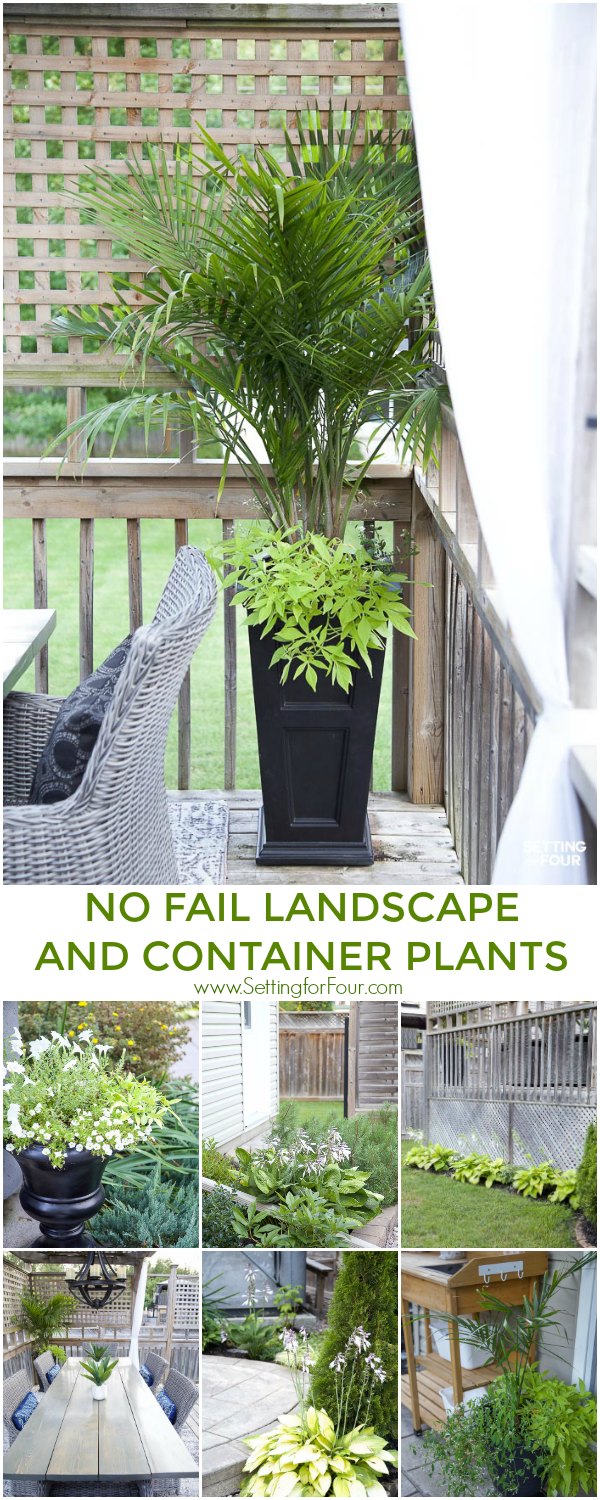 SHOP MY OUTDOOR RUG, THE CONTAINER IDEAS AND GARDENING SUPPLIES! CLICK ON THE LINK IN EACH PICTURE TO SEE MORE INFO ABOUT EACH ITEM!

You may also like:
12 Curb Appeal Design Elements & Porch Decor Tips
How to Make Your Small Outdoor Space Look Bigger