Learn how to make and hang these easy DIY outdoor curtain rods in just 10 minutes! Simple tutorial and supply list included. Bonus: these outdoor bamboo curtain rods won't rust or rot! Hang outdoor drapes in a jiffy with this clever outdoor curtain rod hack to decorate your gazebo or porch. Turn your home's exterior into a breezy, beautiful oasis!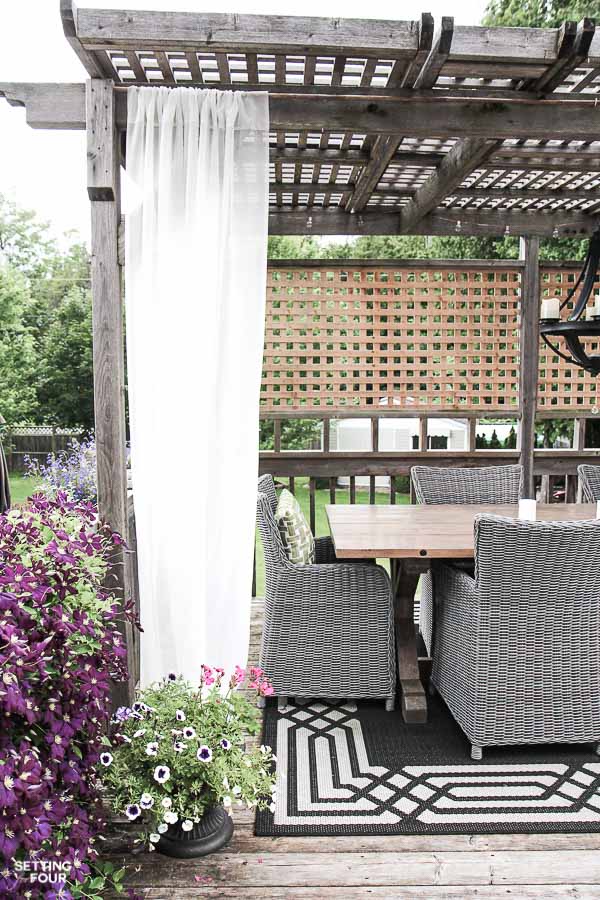 This post contains some affiliate links for your convenience (which means if you make a purchase after clicking a link I will earn a small commission which helps keep my blog up and running but it won't cost you a penny more)! Click here to read my full disclosure policy.
Make Easy DIY Outdoor Curtain Rods In Just 10 Minutes!
Ah summer! Summer is all about enjoying the outdoors, the sunshine and the summer breeze! Our summers are really short here in the north so we love to spend as much time as possible dining al fresco in our gazebo at our DIY wood trestle table or sitting on our porch with a glass of ice tea!
This summer I hung up some beautiful white flowey drapes to our gazebo to add some whimsey and bring the indoors outside! I LOVE LOVE LOVE them!
Today I want to share with you how I hung them in a jiffy with no power tools involved!
Outdoor drapes add such beautiful ambiance to outdoor spaces but hanging them can be tricky and time consuming! There are outdoor rods made from pipe or pvc that require a lot of time to put together and to mount too.
BUT: I have an easy and clever cheat way to hang outdoor curtains so you can enjoy them quicker!
In just 10 minutes you can hang outdoor drapes – like these – I'll show you how!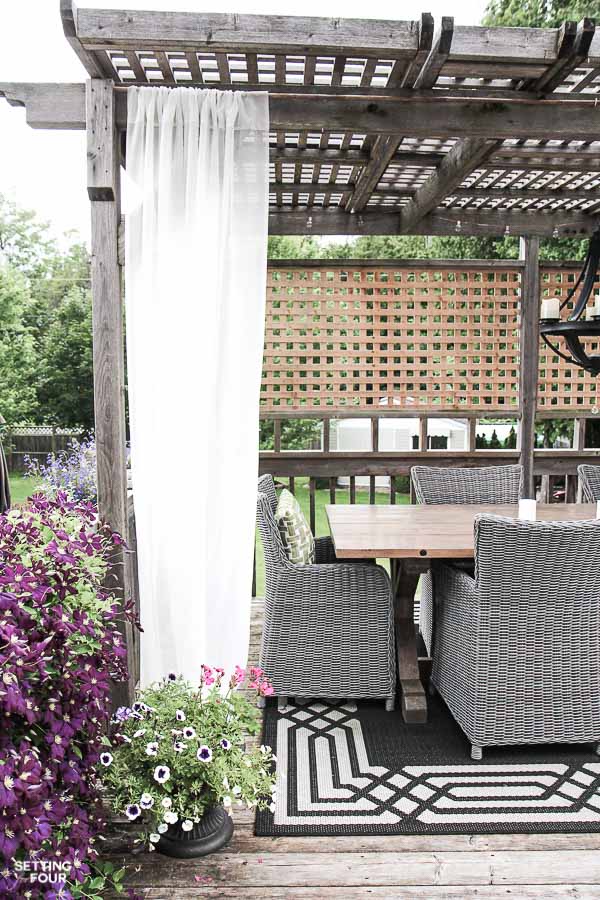 Supplies:
6 feet long natural bamboo poles
white curtain panels ( I used white sheer indoor curtains that you can find here. Sheers dry really fast when they get wet from the rain and are billowy in the breeze! Because they are polyester they are perfect for outdoors!)
Instructions to make easy DIY outdoor curtain rods:
I added these 2 curtain rods to our outdoor wood gazebo. You can add them to a porch, deck or patio if you have a wood frame to attach them to.
My DIY bamboo curtain rods hang from a wooden brace at the top of our gazebo as you can see in the photos. They have never fallen down in the wind because the cup hooks hold the rods in place.
1. Hang the curtains onto the bamboo poles.
2. Add one cup hook to the wood frame 2 inches from where you want the curtain to hang. Screw it into the wood frame of your gazebo or porch. For me this is two inches from the gazebo's vertical beam. Screw the cup hook into the wood so that the opening is facing up (not down). This will hold the pole into place.
3. Put one end of the bamboo pole into the cup hook and mark the other end of the bamboo pole.
4. Add the second cup hook to the wood frame and place it two inches from the place where you marked the end of the bamboo pole. See my pictures below as a guide.
5. Place the bamboo pole into the two cup hooks.
6. Fluff and spread out the curtains as much as you want. The curtains slide really easily on the bamboo pole – so I can open them all the way or push them back tight against the frame of the gazebo.
Sorry I couldn't get a better picture here – it started to rain and I had to take a quick picture then run inside!

I really love how quick and easy these gorgeous drapes are to hang!
These easy DIY outdoor curtain rods are also super easy to take down, to store the drapes over the winter.
Leave the cup hooks in place and just remove the bamboo poles from the cup hooks!
Then remove the drapes from the bamboo poles to wash and store over the winter months.
Store the bamboo poles in your garage, a shed or basement to use next year.
Next summer all I need to do is hang the rod and curtains back up! That won't take me any time at all!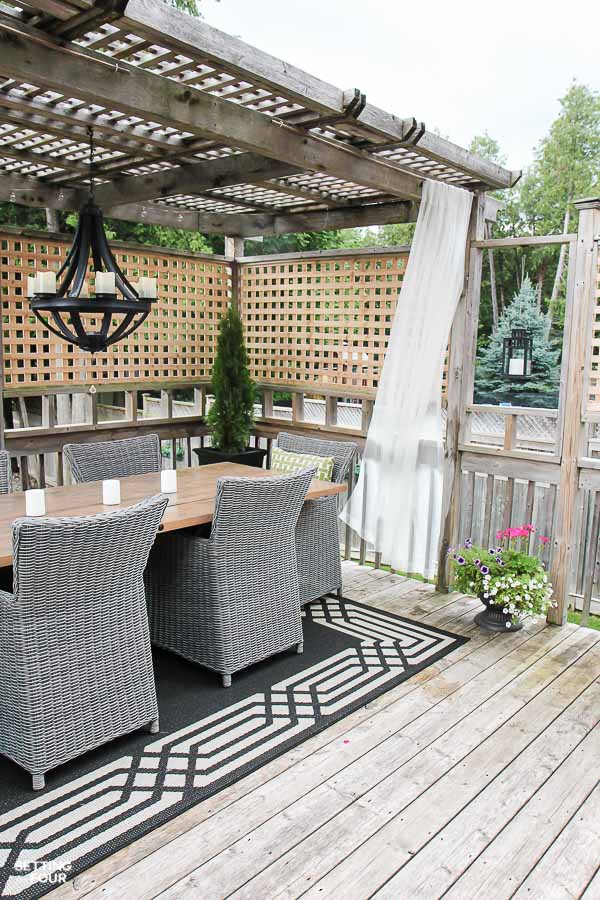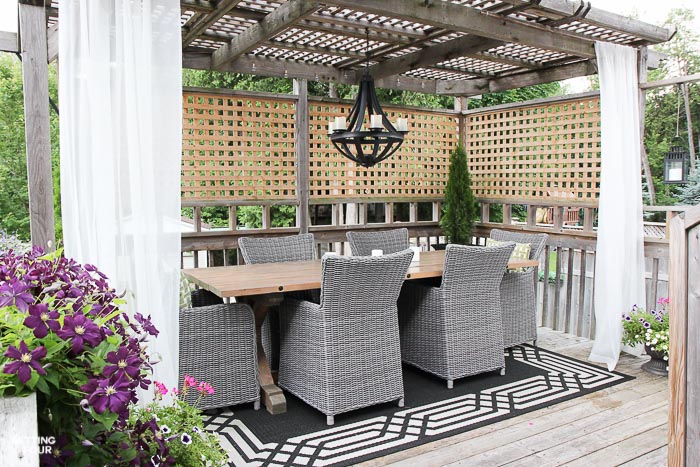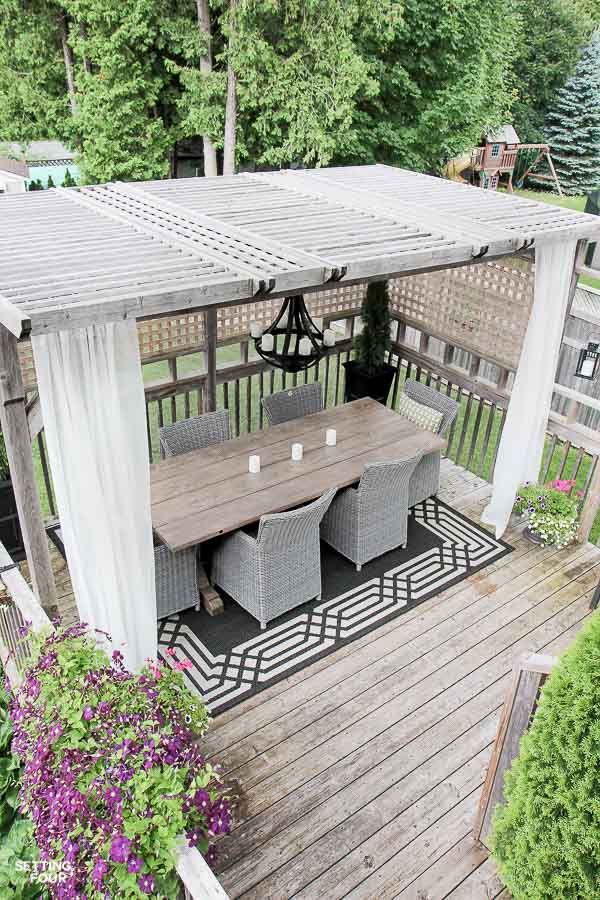 Gazebo Dining Area Resources – click on the links to see more about each item!
Outdoor battery operated chandelier – This is so pretty when turned on at night!
Wood trestle table – we built ours (instructions are here) but this rustic charcoal one is stunning and has a leaf in it to extend it!
Outdoor area rug (similar)
Grey resin wicker outdoor dining chairs (similar)
Outdoor flameless pillar candles battery operated (these won't melt on hot days and have timers that you can set so they turn on at dusk!! I have TONS of these on our back deck and in the lanterns on our front porch!)
Tall black resin planters (we LOVE these! They have a false bottom inside of them so you don't have to use tons of soil to fill them and they are GORGEOUS!!!)
~
Want to know where I've bought all my furniture and home decor in our home – so you can get ideas for your place? You can see it all on my SHOP MY HOME page here!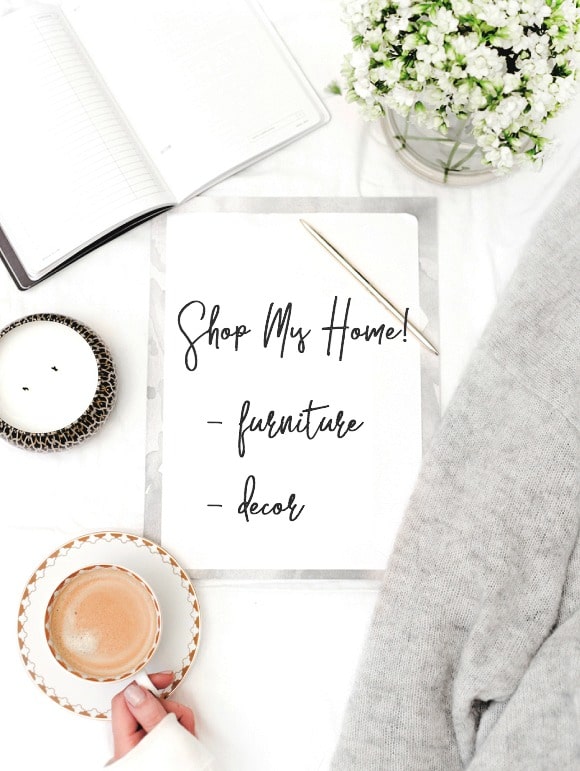 PIN THIS AND SHARE IT WITH YOUR FRIENDS!

Do you love outdoor drapes? Do you think you'll give this tutorial a try? Let me know in the comments below!
Here are other great 10 Minute decorating ideas…
Farmhouse Summer Porch at MAKING IT IN THE MOUNTAINS
HOW TO PAINT A LAMP at REFRESH RESTYLE
ROPE KNOT NAPKIN RINGS at STONE GABLE
Summer Tablescape at CLEAN AND SCENTSIBLE
Easy DIY Outdoor Curtain Rods at SETTING FOR FOUR
You may also like:
7 Ways To Make A Small Room Feel Larger Instantly!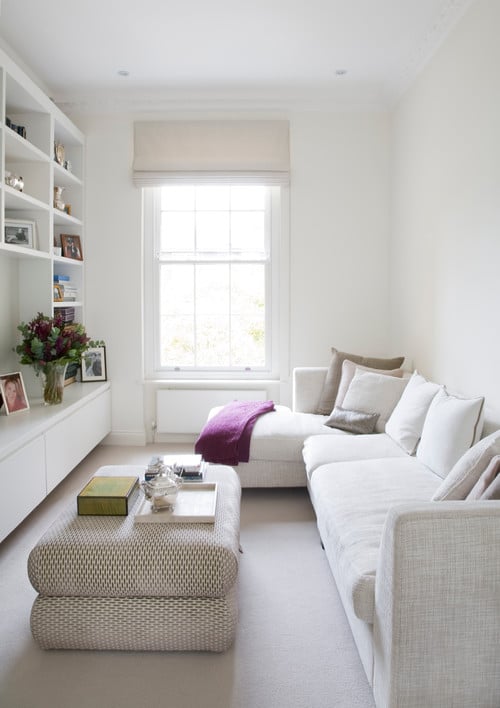 How to Make Outdoor Waterproof Cushions – DIY Hack

Sensational Summer Outdoor Spaces