Looking for a distinctive, one-of-a-kind wood table with loads of farmhouse style and a small price tag? See my latest build: a DIY Restoration Hardware Inspired Farmhouse Table with Salvage Grey Wash Finish and Bolted Plank Top! It cost less than $200.00 to make!
I'm so excited to let you know that this wood table is my own custom design …and I'm sharing the instructions on how it's made with you today!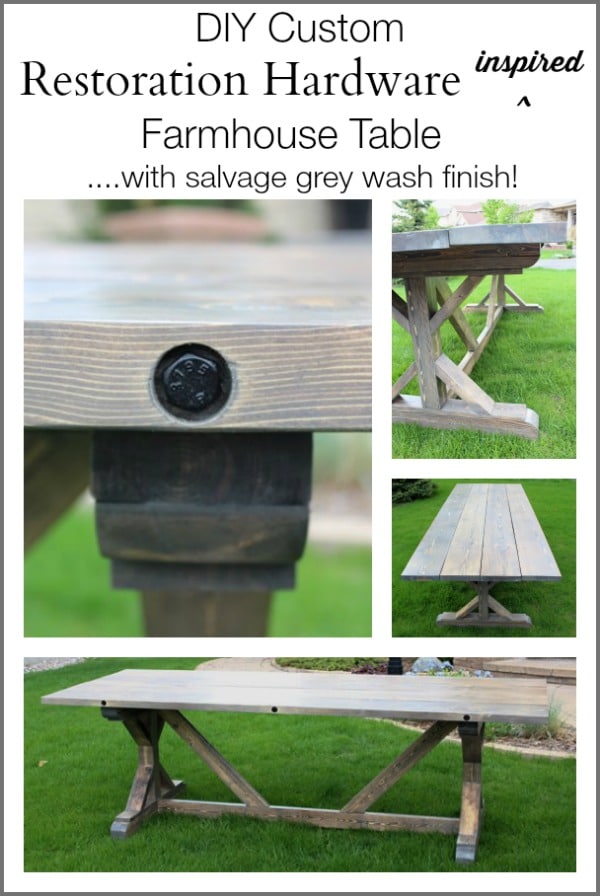 I combined two popular RH table styles, the rectangular X-base Table and the Brickmaker's Table, to come up with this distinctive innovative design: an X-base bottom with an industrial bolted plank table top!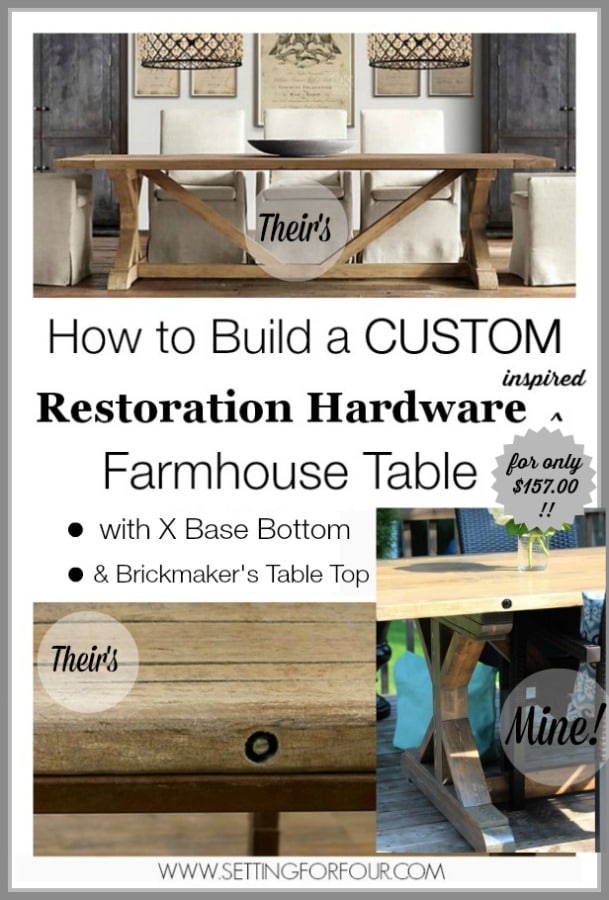 The Cost to Make this DIY Wood Trestle Table:
Awesome part? It cost just $157.00 total!!!! WOW!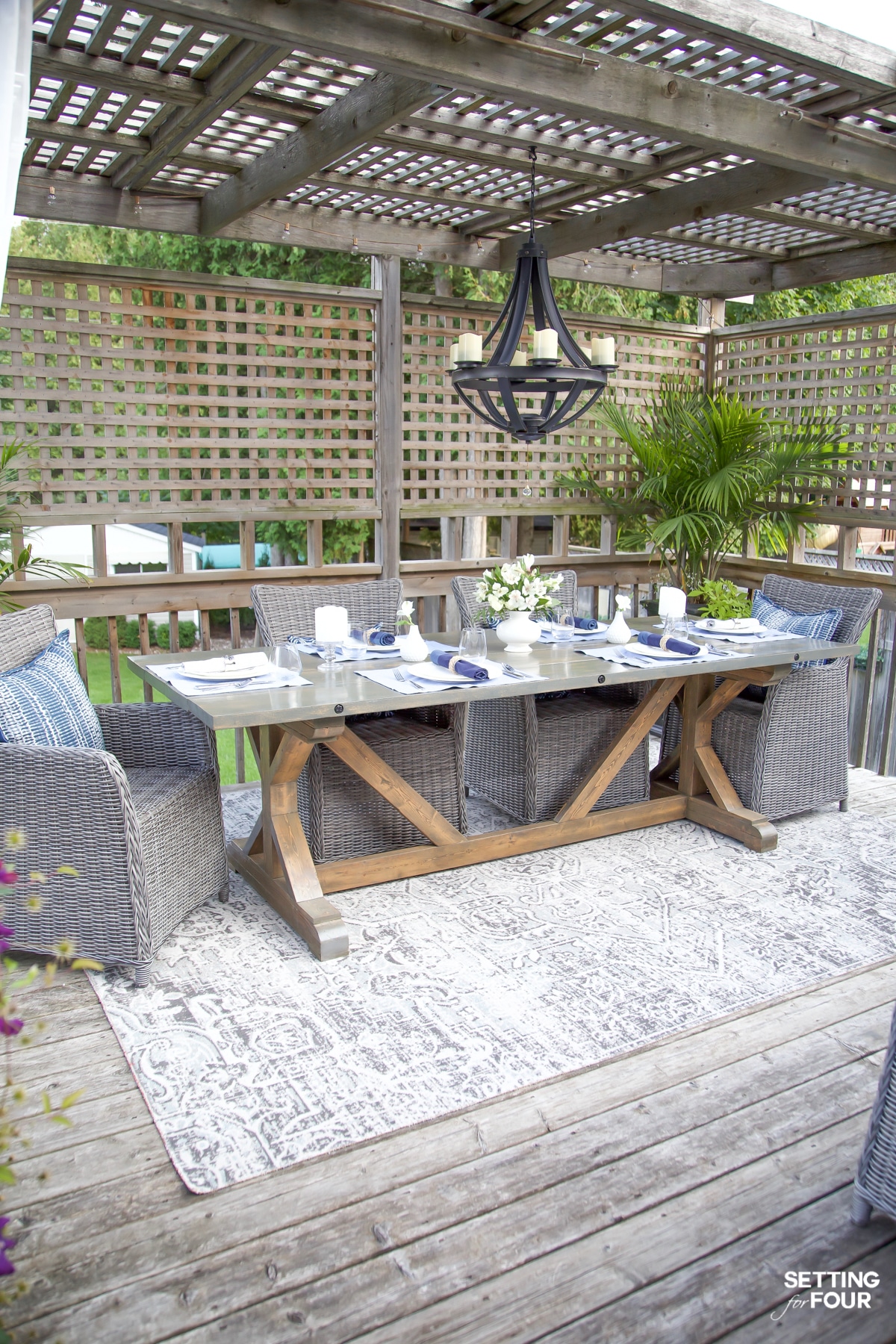 This is my absolutely, most favorite DIY build I have made!
I'm honestly in love with everything about this gorgeous dining table!
Including:
the customized design style (x- base farmhouse style with bolted planks on top)
the size (8 feet long!)
the wood finish (trendy sun-bleached grey wash)
the combination of two popular RH looks (X Based Wood Table and the Brickmaker's Table)
and the best part: the price tag to make it!
Restoration Hardware X base Table Price: $3595.00 ( plus tax and shipping)
Restoration Hardware Brickmaker's table Price: $1095 ( plus tax and shipping)
____________________________
RH Total = $4690.00
But Our price is only $157.00 Total!!!! Isn't that amazing savings? Plus you can make this table as long or as short as you want!
DIY Dining Table Material's and Supply List:
This post contains some affiliate links for your convenience. Click here to read my full disclosure policy.
SPF Select (spruce-pine-fir) wood. 'Select' means that it's 80% free of knots or defects. Use the following three sizes:
Directions to Make a Farmhouse Dining Table:
We used these these plans to assemble the table (with the addition of our own design touch: adding hex head lag bolts to the table top planks!
1. First step is to measure and cut the wood with the miter saw into the sizes outlined in the Plans. Use the square and pencil to draw out the miter lines to be cut.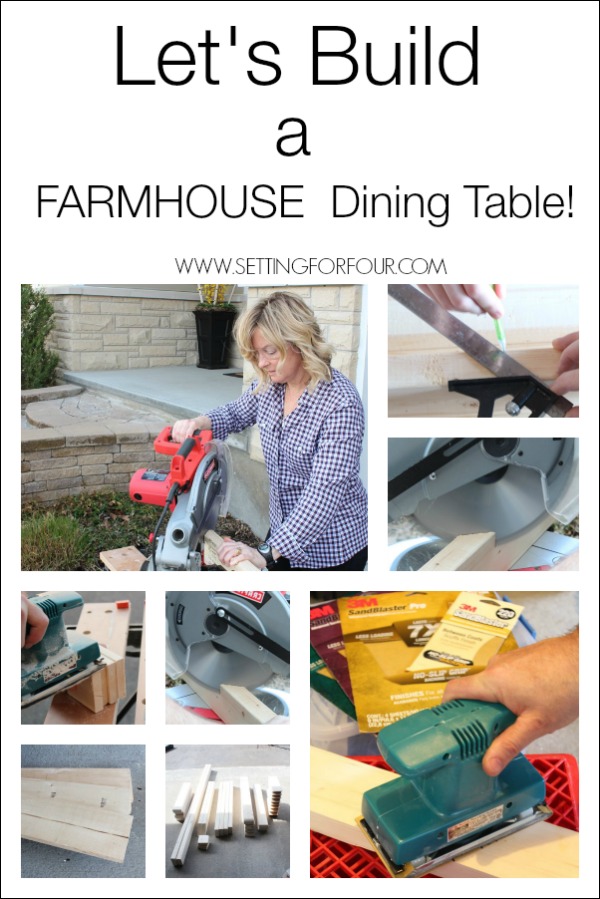 2. Sand each piece smooth using the sandpaper. Start with the belt sander and 80 Grit sandpaper for the 'rough' initial sanding. Use 120 Grit to removes scratches in the wood. End with the orbital sander and 220 Grit sandpaper for the final 'fine finish' sanding. This sandpaper is so effective, it sanded the wood beautifully and has a longer sheet life than conventional sandpaper!
3. Tip: How to Fill in Cracks and Holes in Wood with Stainable Wood Filler – Fill in all holes, knots and cracks with Wood Filler – this wood filler applies easily and is stainable so it will blend in with the wood after staining! Use a putty knife to apply wood filler to large, shallow holes and cracks or a screwdriver for smaller holes. Use a knife to apply the wood filler into deep cracks.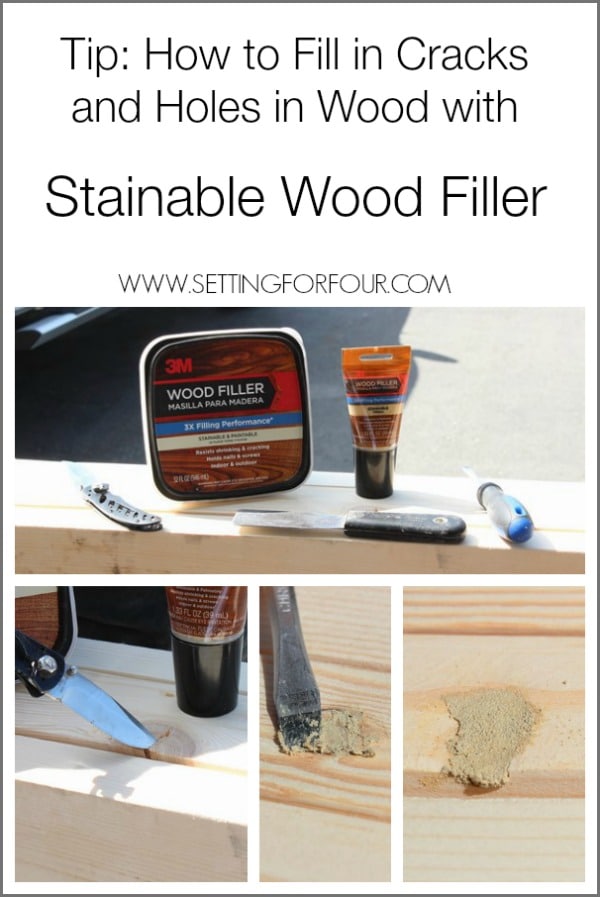 4. Sand all of these wood filled areas smooth using 220 Grit sandpaper.
5. Assemble pieces according to the Ana White Plans.
6. Use wood clamps and exterior wood glue when attaching wood pieces together.
7. Drilling Tip: When drilling, use the Painter's Tape to mark holes to be drilled and reduce splintering from drilling. This painters tape worked great for this wood finishing trick and it left no adhesive on the wood when we removed the tape!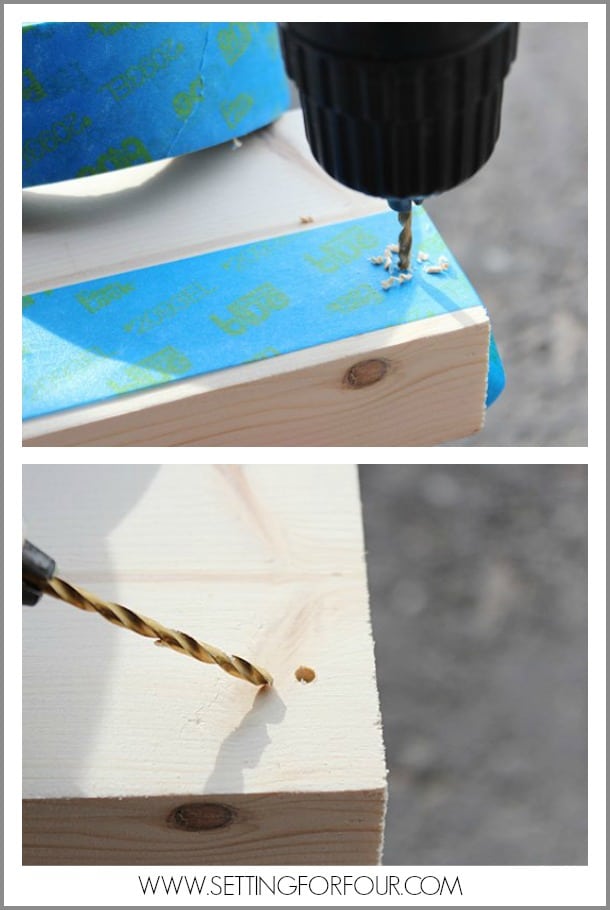 8. Use the Cordless Drill to pre-drill screw holes. Use the Electric Drill and the 5/32 drill bit to drive in screws. Tighten screws if necessary with the Robertson screwdriver.
9. Using 1″ Hole bit: drill 3 holes in each side of the table top (the long side) to resemble the Restoration Hardware Brickmakers Table: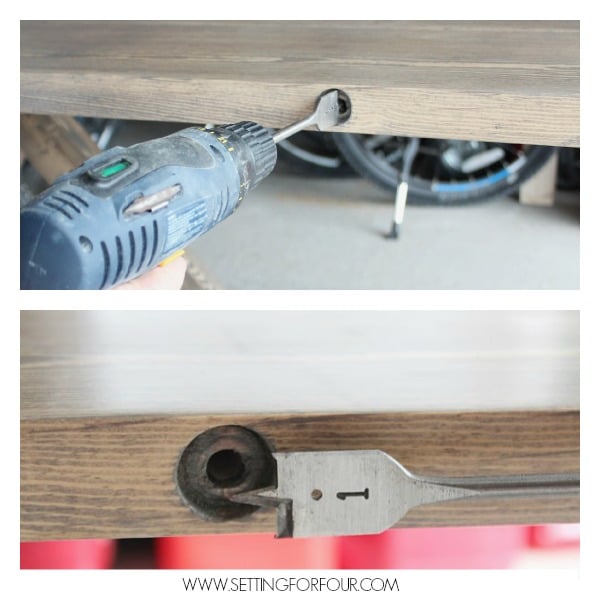 10. After table is assembled apply stain and wood conditioner as follows: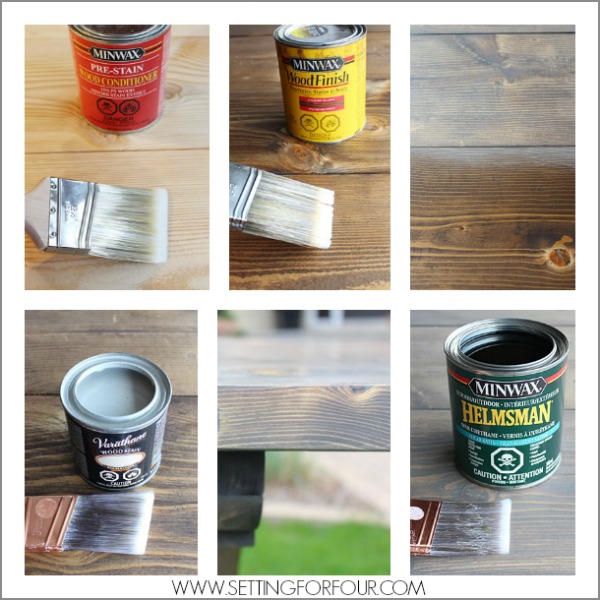 11. Apply one coat of Pre-Stain Wood Conditioner according to instructions listed on can. Let Dry.
12. Apply one coat of Dark Walnut Wood Finish Stain according to instructions listed on can. Let Dry.
13. Apply one coat of Fast Dry Sunbleached Wood Stain according to instructions listed on can. Let final coat dry.
14. Apply 3 coats of Helmsman Spar Urethane Exterior Clear Satin Protective Finish according to instructions on can. Let fully dry.
15. Spray paint hex head lug nuts flat black. (You only have to paint the heads). Let dry.
16. Screw in the hex head Lag Bolts into sides of table top using the 3/4″ Socket + Wrench.
And this is the finished built X farmhouse table! I'm in love with how handsome and distinctive it is with it's artisan look!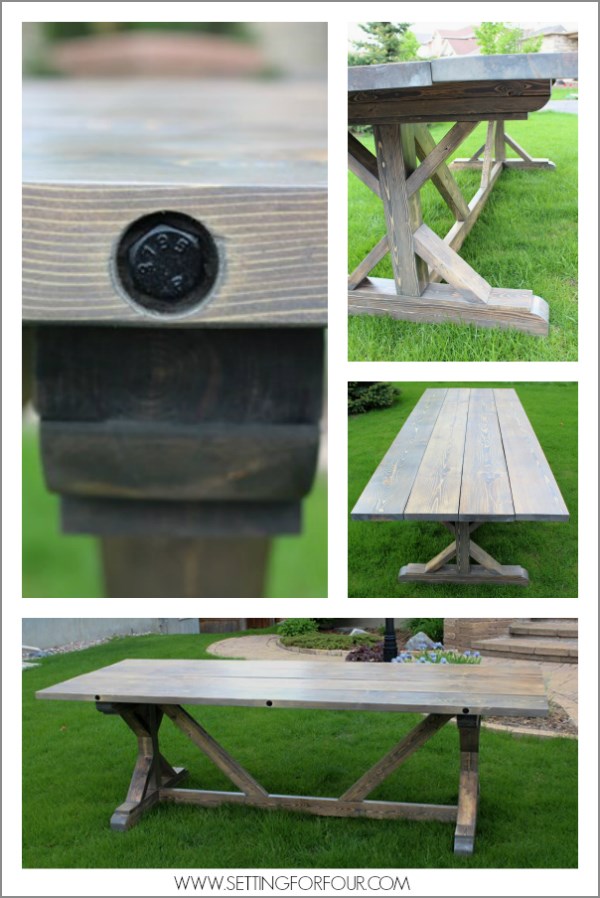 I love the extra industrial detail that the hex head lag bolts add!
It's generous size will allow us to hold some large outdoor dinner parties this summer!
…and of course I love the price to make, only $157.00 ! It's so rewarding to make your own furniture for so little cost!
I can't wait to enjoy summer meals and refreshing drinks, al fresco, on our deck with our salvage grey wash Farmhouse Table!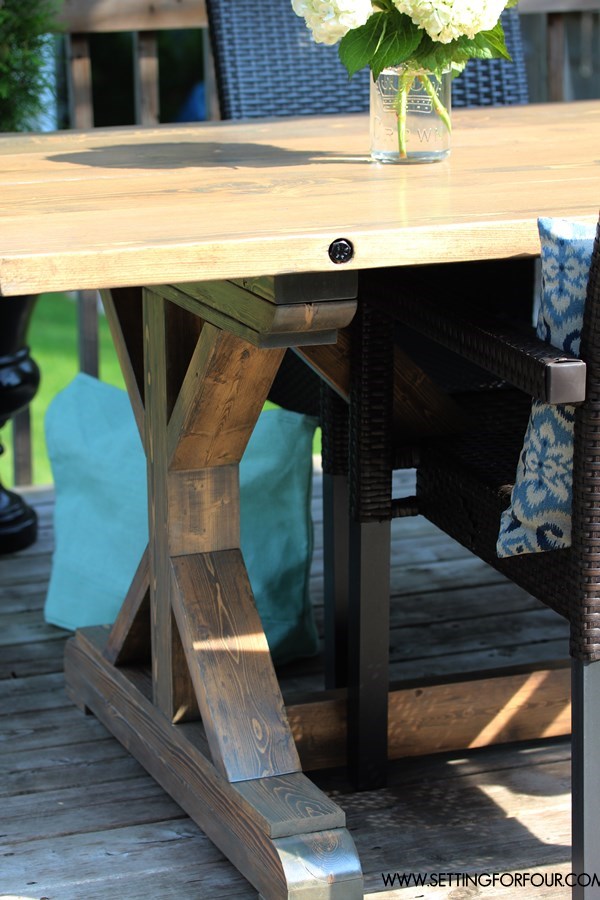 Have you ever made a table for your home? If not, let me encourage you to do it!!! If I can do it – so can you!!!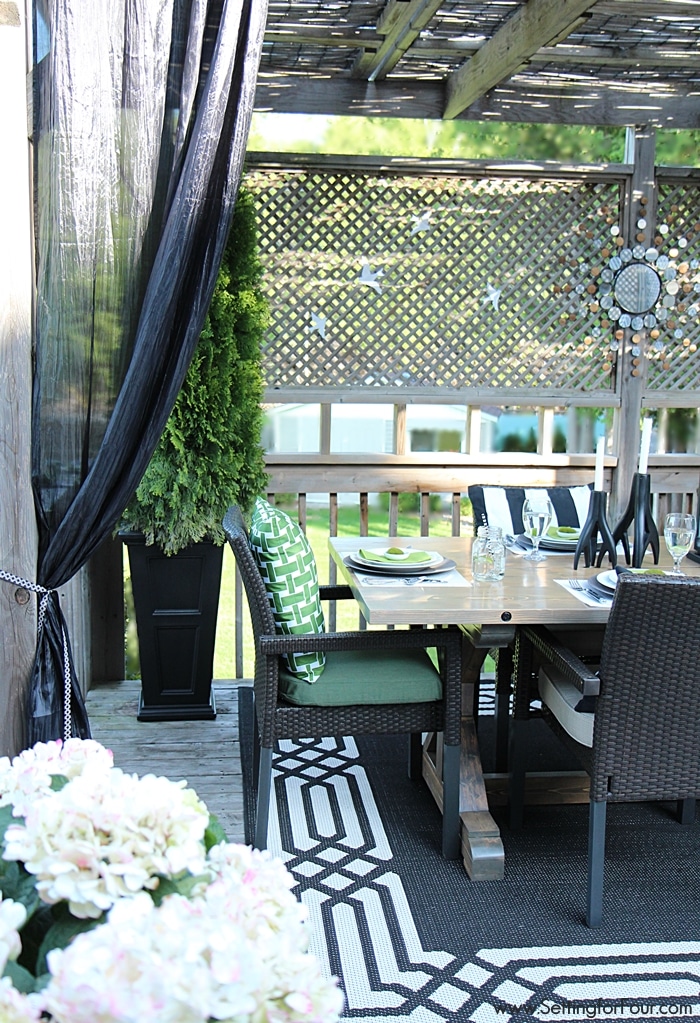 ~ ~ ~
Like this project? Check out my:
Summer Deck Decor Resource List to get the look!
Summer Magic with a deck conversation set