Hello friends! I'm back today with loads of late summer curb appeal decor ideas and pictures of our front porch, our beautiful front flower gardens and our home as you see it from the street! I'm giving you a bird's eye view of our gorgeous stone walkway, stone steps, our covered porch and our beautiful flower beds in late summer bloom! I'll be talking about our siding and exterior finishes too – two questions I get asked a lot!
Before I decorate for fall I wanted to capture our home in full late summer splendor – our flower beds right now look the best they have all summer!
I hope this post gives you some ideas if you are thinking of adding an inlaid stone pathway and steps to your home.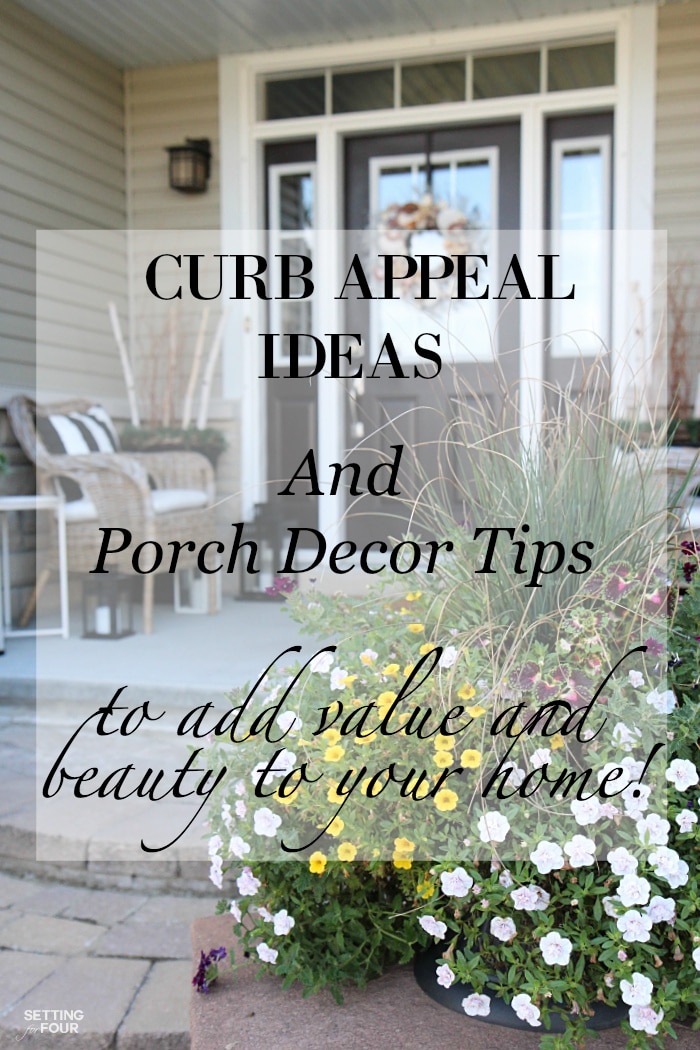 Curb Appeal Ideas and Porch Decor Tips
This is our abode! It's a two story home with an inlaid stone path that runs along the front and beautiful stone front steps with stone columns. I love the curb appeal of our home – it's one of the reasons that we bought it 4 years ago!
Ou roof color is a midtoned brown. You can see a peek of it here. There is gorgeous scallopped trim at the front peak of our home, big windows that let in lots and lots of bright light.
Of all of our military postings and homes that we've lived in – this home has by far the best curb appeal we've ever had.
The front of our home just makes me smile every time I pull into the driveway!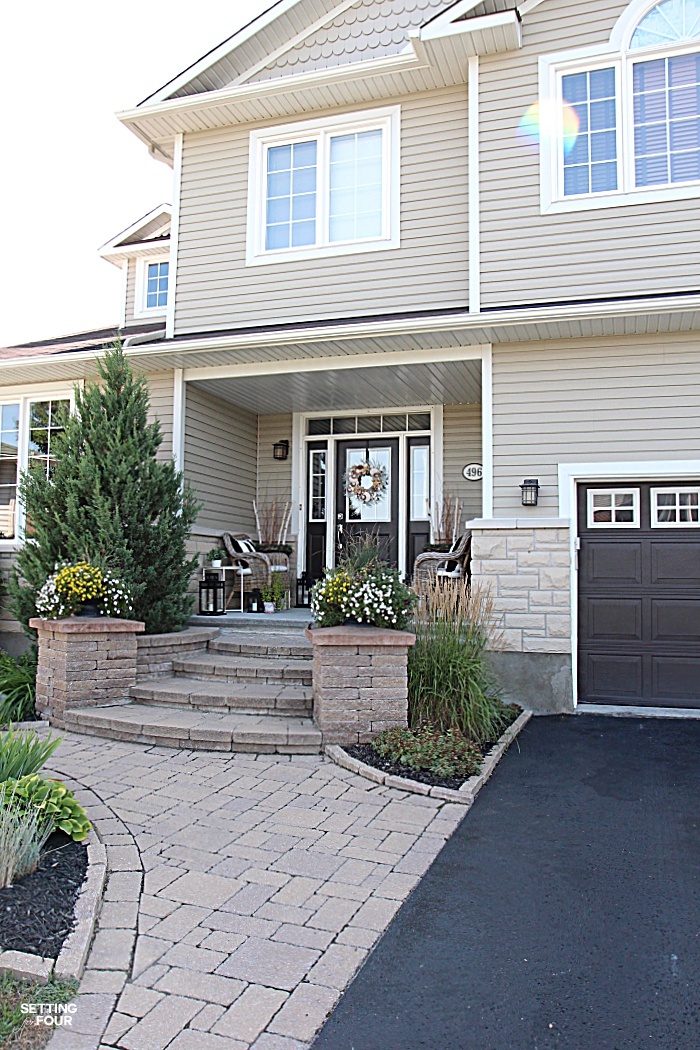 The siding is a beige color with a sage green undertone – it's a beautiful neutral and looks gorgeous with all of the greenery around our home. The lower level of our home is stone – a beige color – so pretty!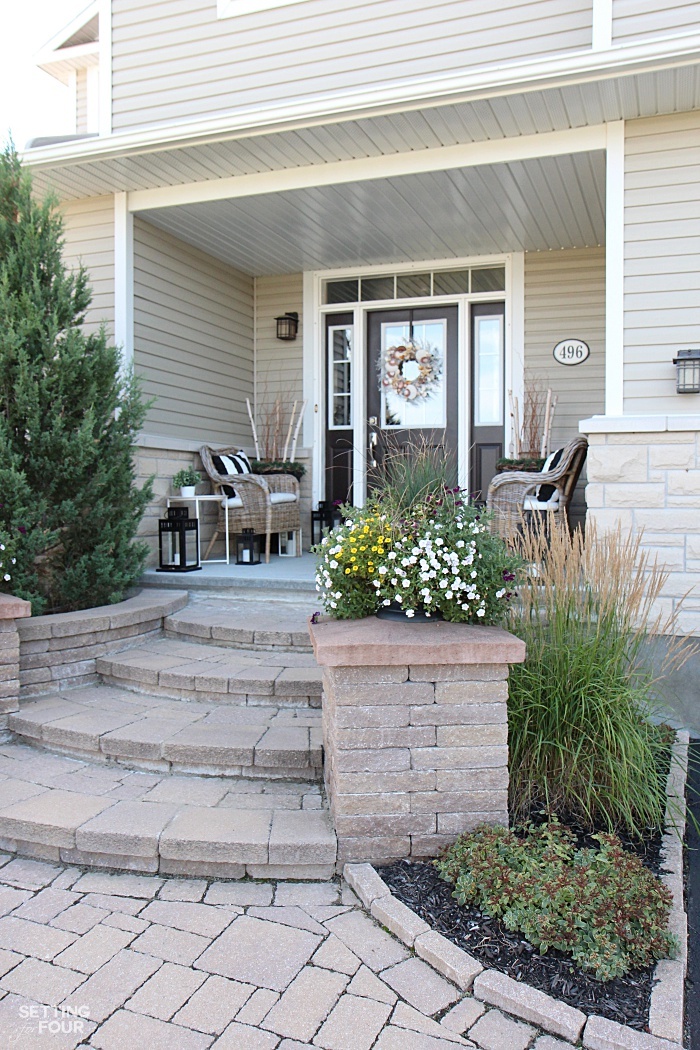 The flower beds and trees were all designed by a landscape designer that the previous owners hired…. and wow – they did an amazing job!
I love this beautiful ornamental grass – it looks so pretty when the wind is blowing, waving back and forth!
There are also two yellow flowered sedums in this bed as well – all of these plants are very drought tolerant.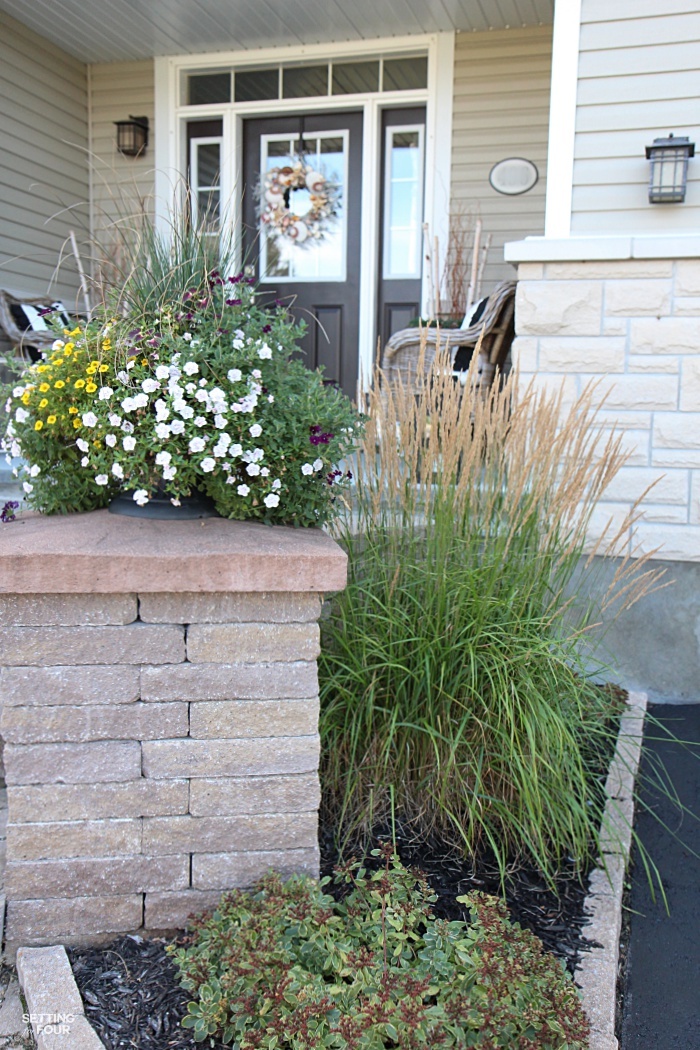 For summer I added a sprawling flowering urn on top of the two stone pillars. I'll switch them out to mums or purple fountain grass next month to decorate for fall.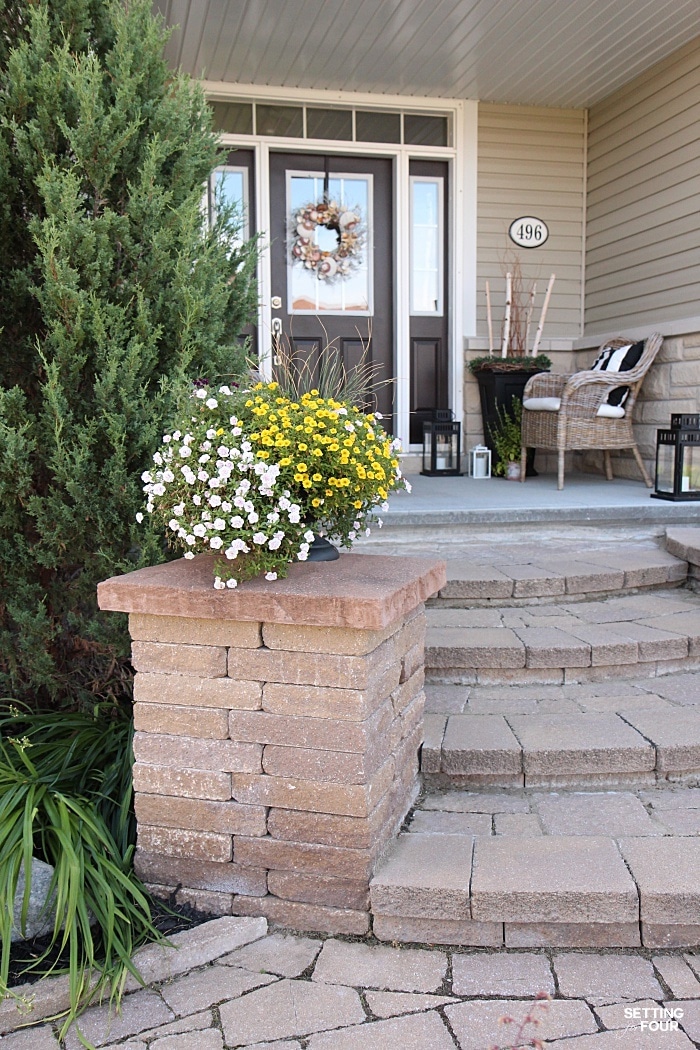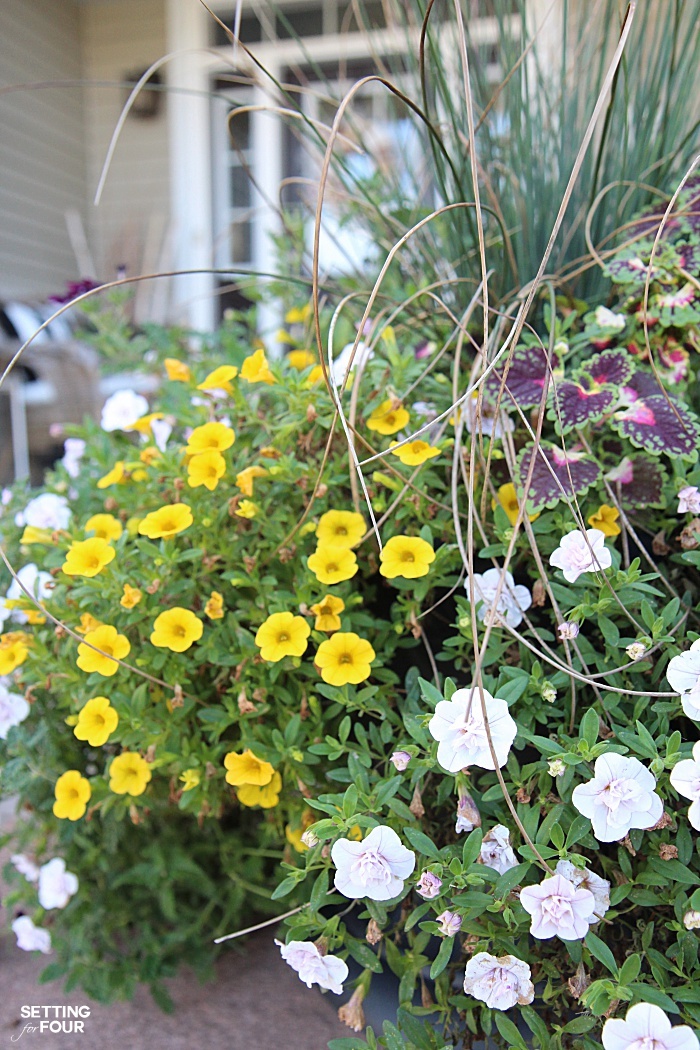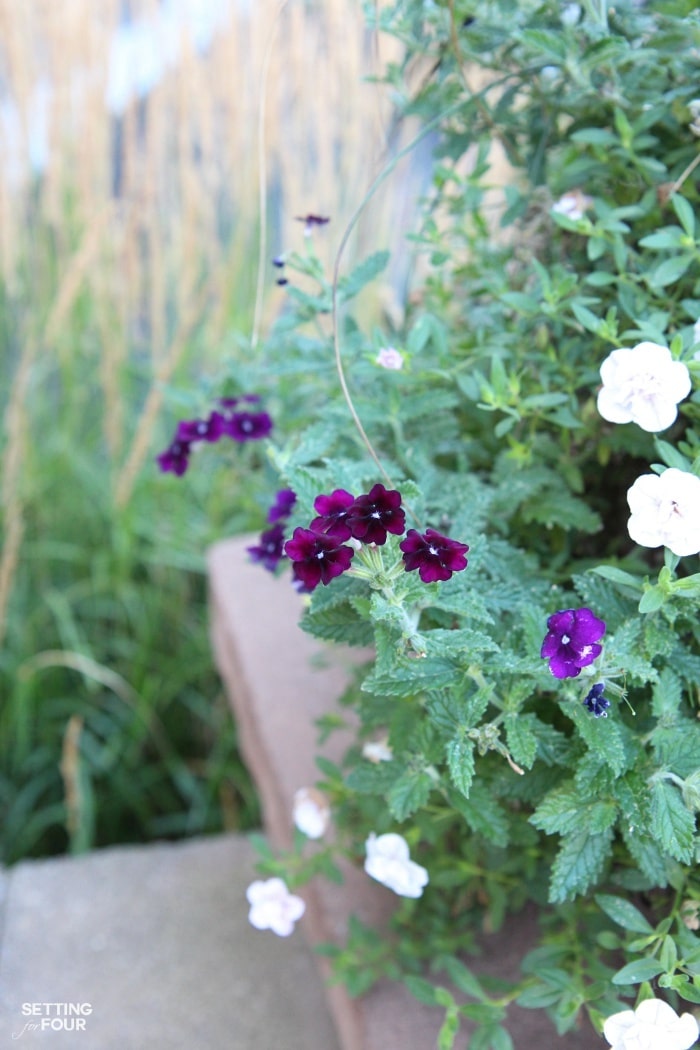 This is the front of our house! Door color SW Weathervane. It's a beautiful, rich chocolate brown – almost black! I chose this color with a lot of thought in mind. Our roof is brown, our siding is beige-green, our stone steps and walkway are beige. This Weathervane color goes with all of these hard finishes and ties them all together. It lets all of the green plants pop and looks amazing with our tall black urns. Every wreath I own looks great with this door color too!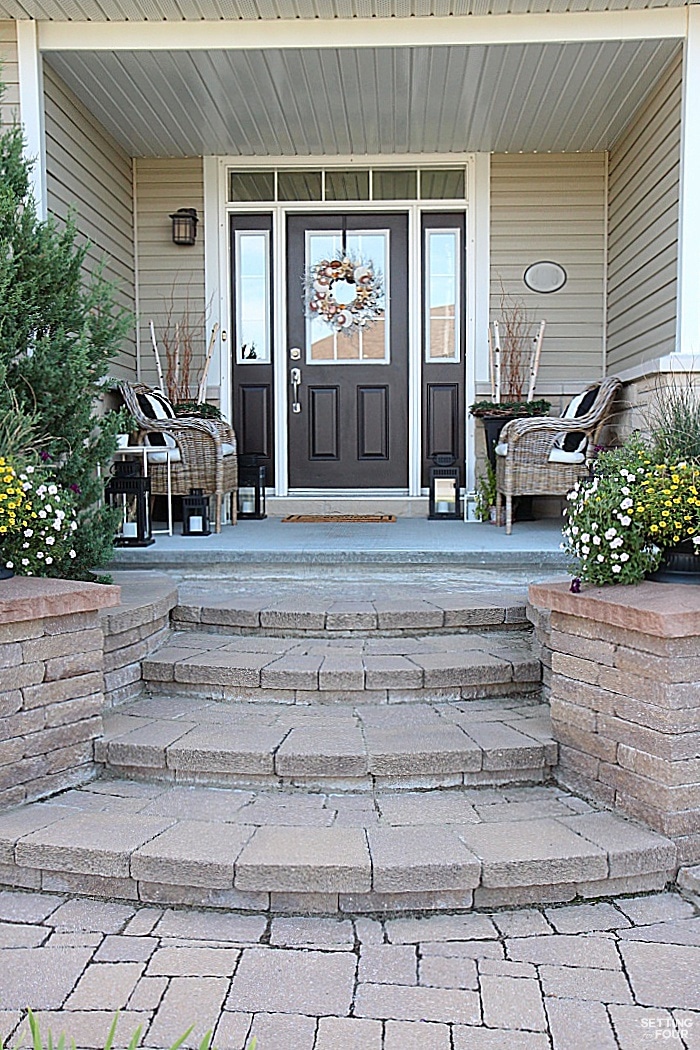 The curved inlaid stone steps give us lots of room to walk up to the door – it certainly came in handy on moving-in day!
I love all the irregular shapes in the stone and it's a pretty beige-gray color.
The stone walkway, steps and stone pillars add so much appreciated value to our home.
The stone and the design add much more value compared to cement steps or plain brick steps – both of which I've had in the past!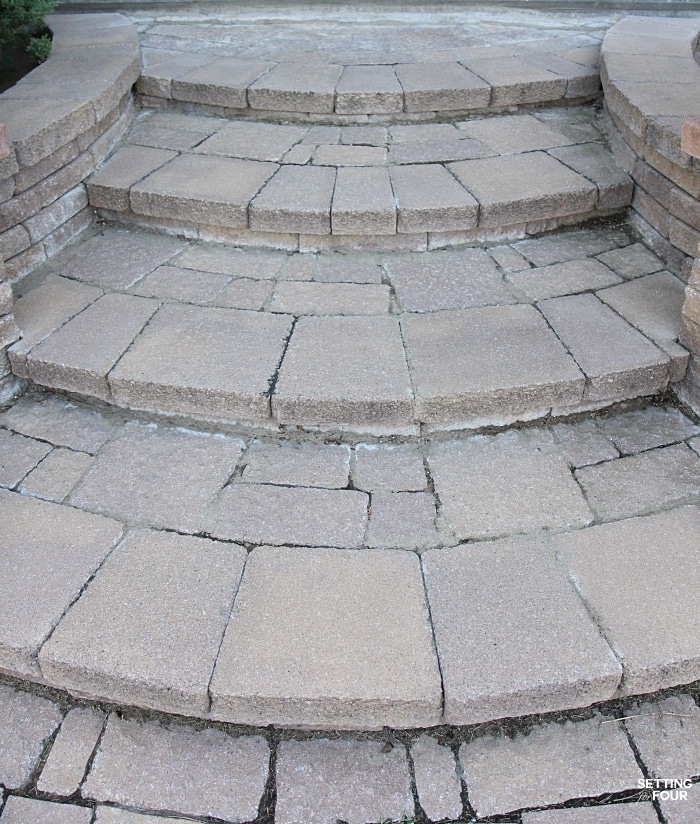 This is another flower bed at the front…with a black lamp post. I really love seeing the lamp light glowing at night – it's so welcoming!
All of the flower beds have a stone border that matches the steps and pathway.
This was all installed by the previous owners! I can't take credit for ANY of it! They certainly did a magnificent job planning and designing the steps, path and plants for the beds.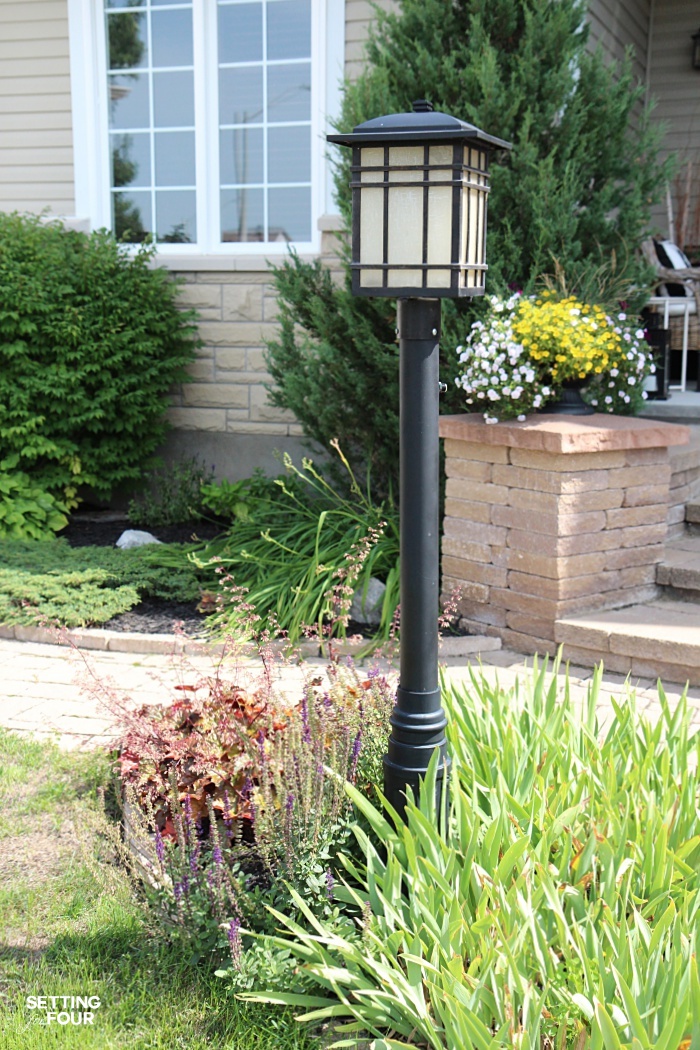 White Coneflower – a sun loving, drought tolerant plant. The bees and butterflies love it!
The plant with the green spikey leaves is Purple Iris – the flowers are done blooming but the foliage is pretty!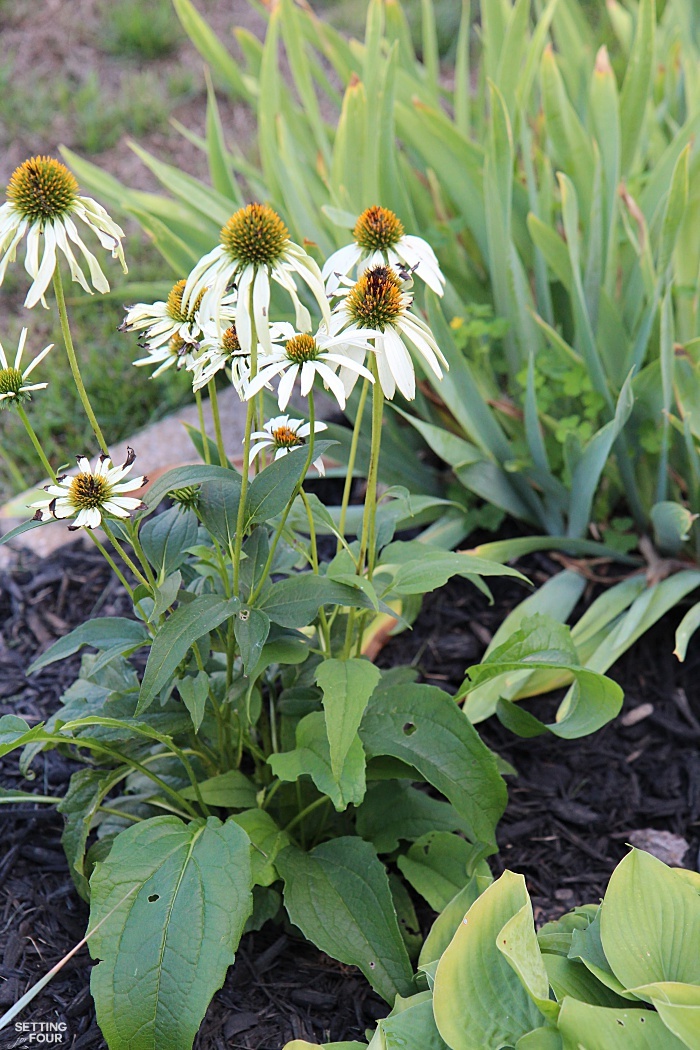 Coral Bells – the bees and butterflies love this plant too!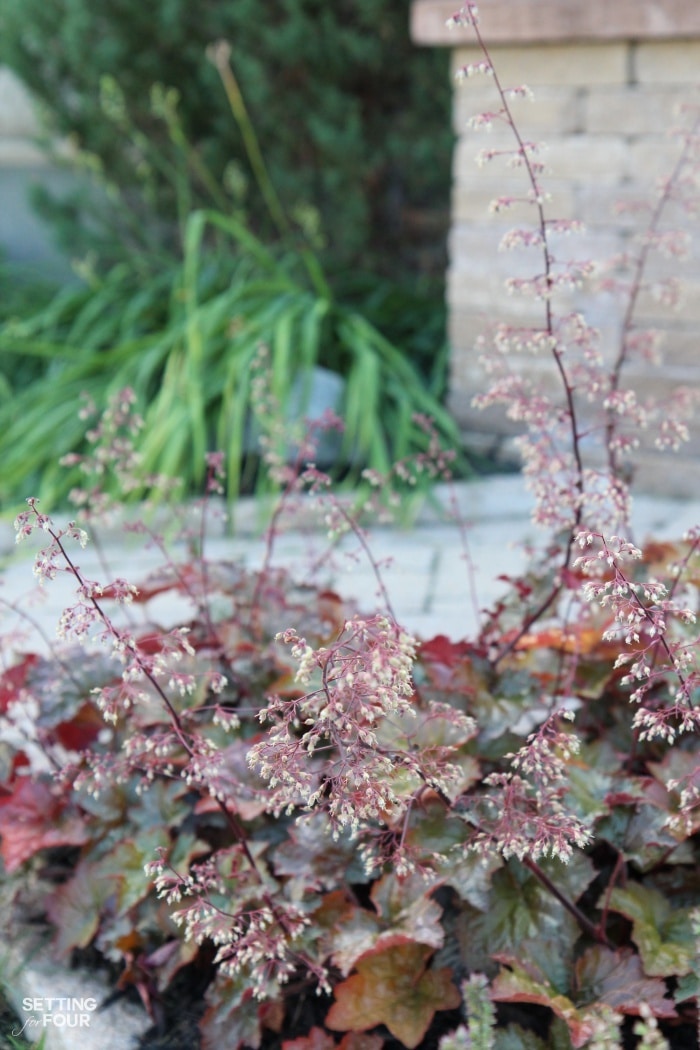 May Night Salvia: I planted two of these in this bed to cover the base of the black lamp post – it's bushy and loaded with flowers!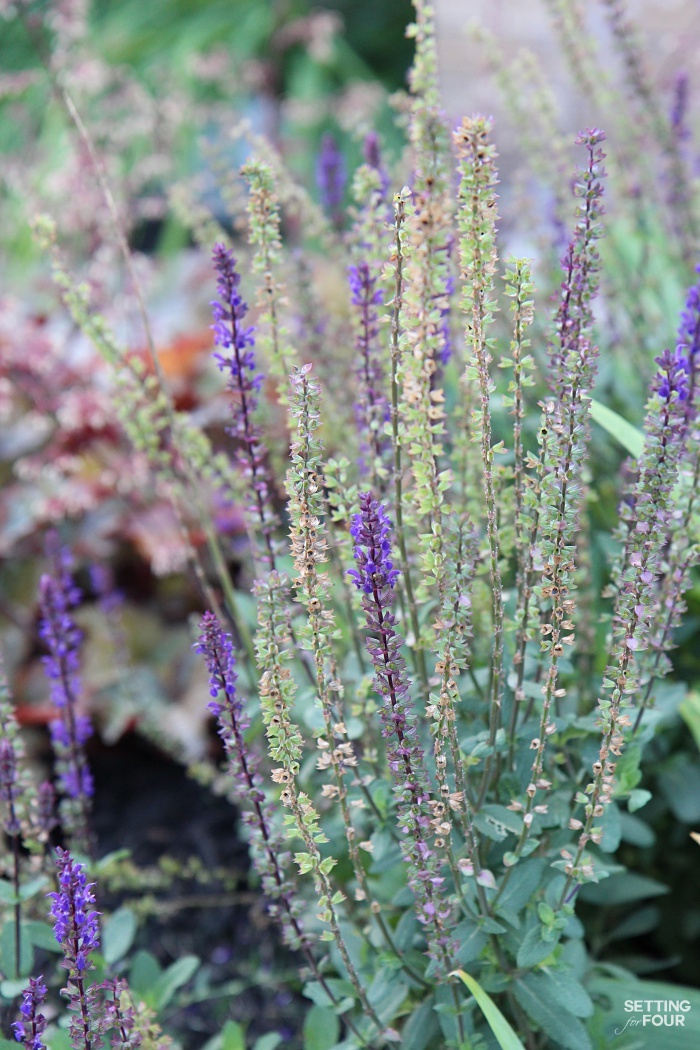 This bumblebee loves this plant! Somehow I lucked out taking the shot – you can see it's wings moving in a blur!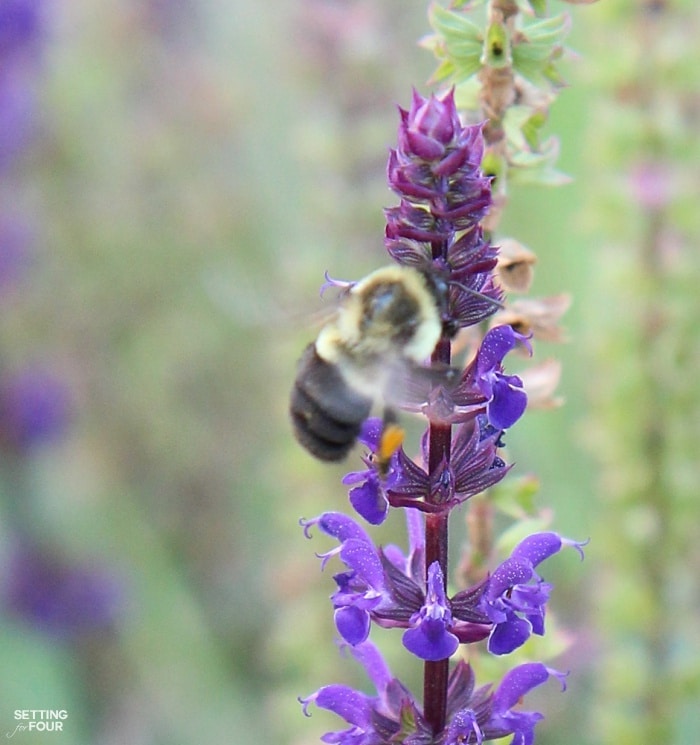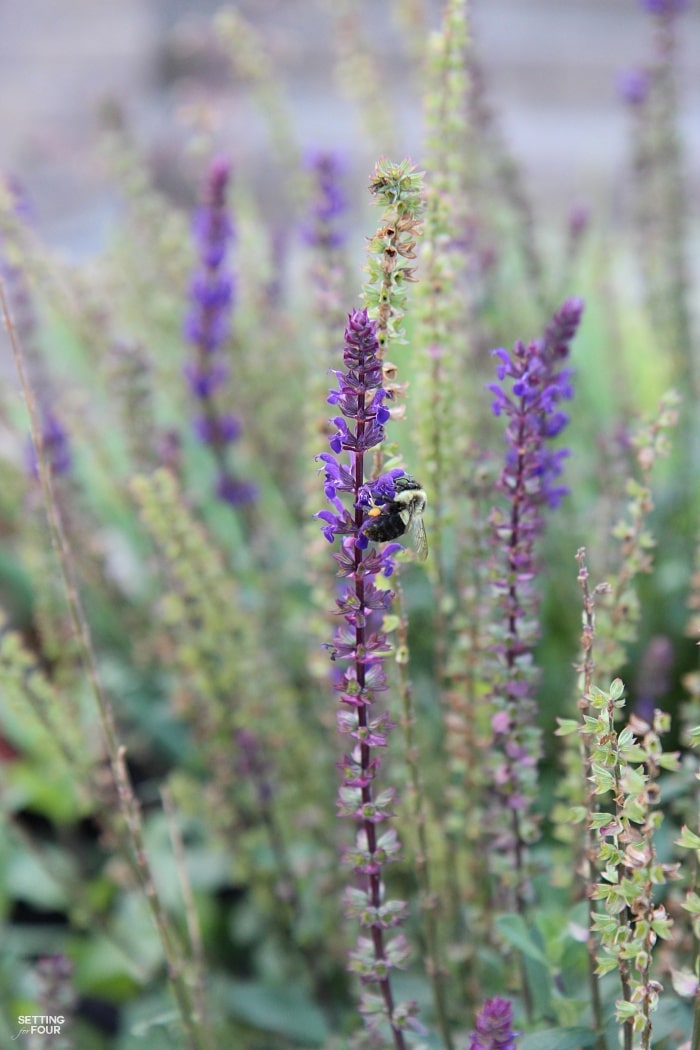 All of these plants are super l0w maintenance and easy to care for!
Here's our inlaid stone pathway – I love the design – it has a very organic, winding shape. It's made from square and rectangular shapes laid horizontally and vertically to give it lots of interest!
There is an inlaid stone border on each side and a raised stone brick border for the flower beds.
This is the flower bed right in front of the house – juniper groundcover, hostas, salvia and the big green bush at the back is a burning bush! It turns a gorgeous bright red in the fall.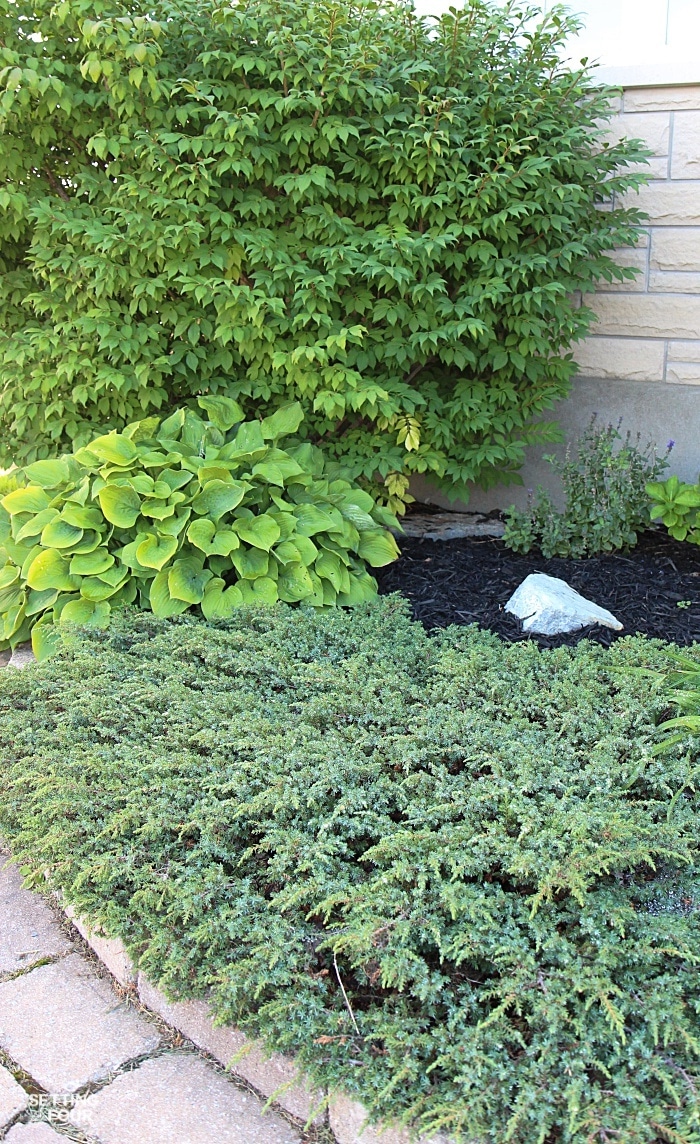 Juniper groundcover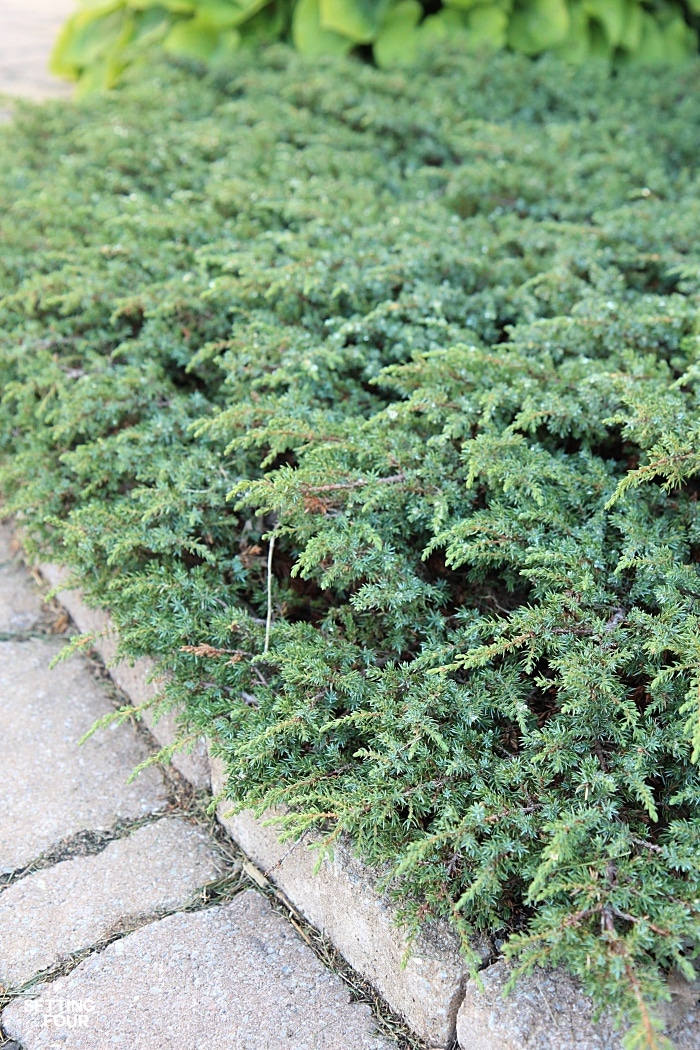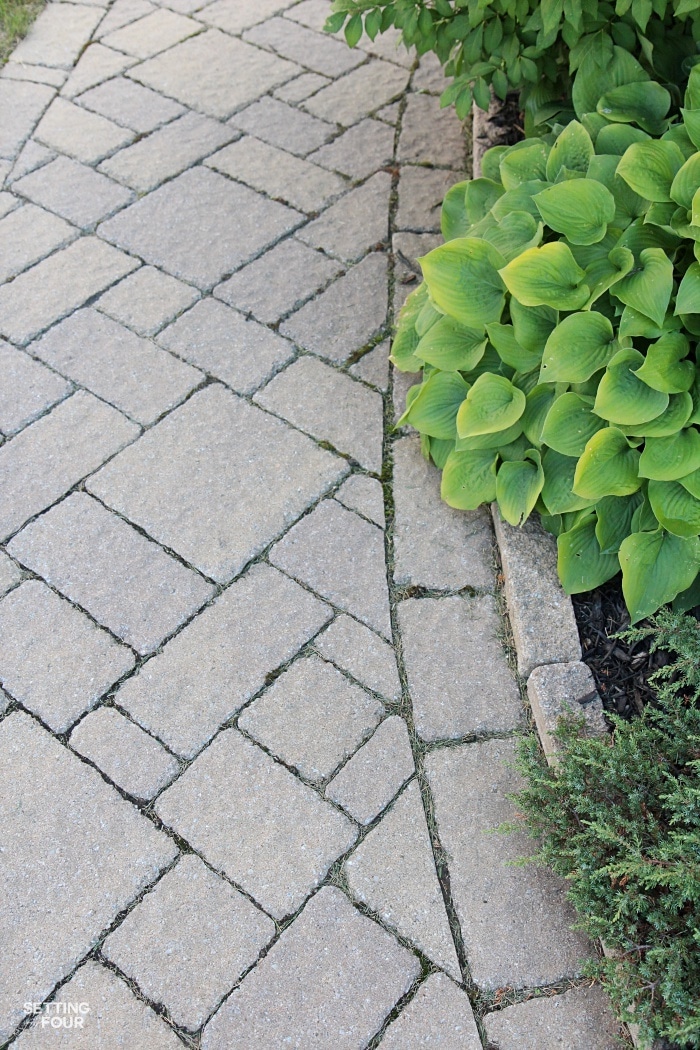 I've divided this hosta up many times and it always grows back so big and lush! I love getting free plants from dividing the ones I have!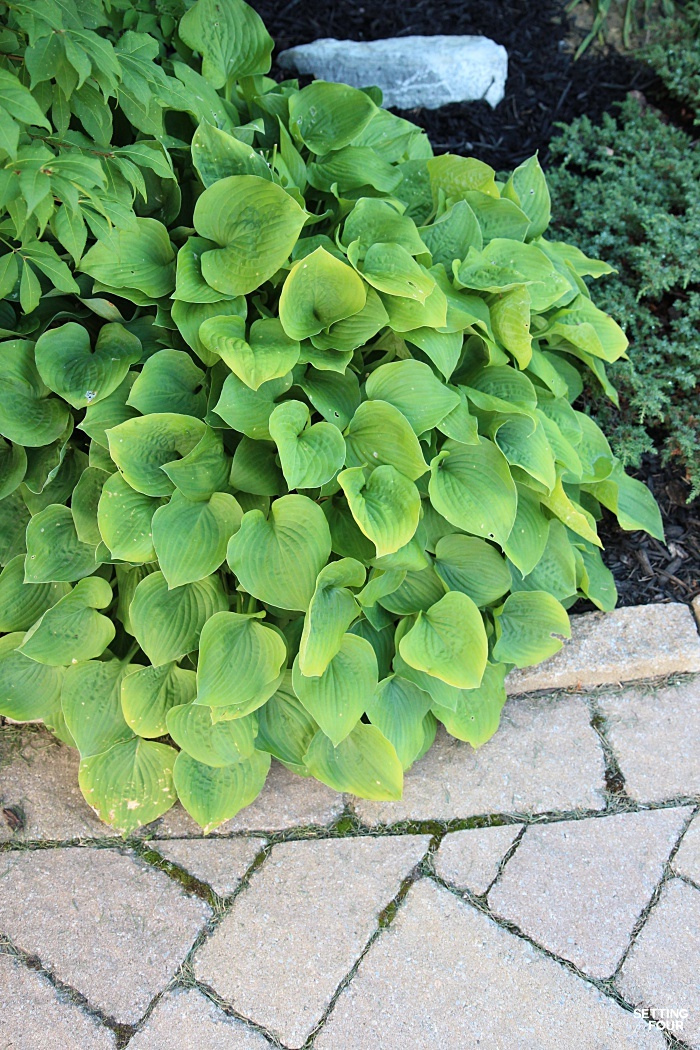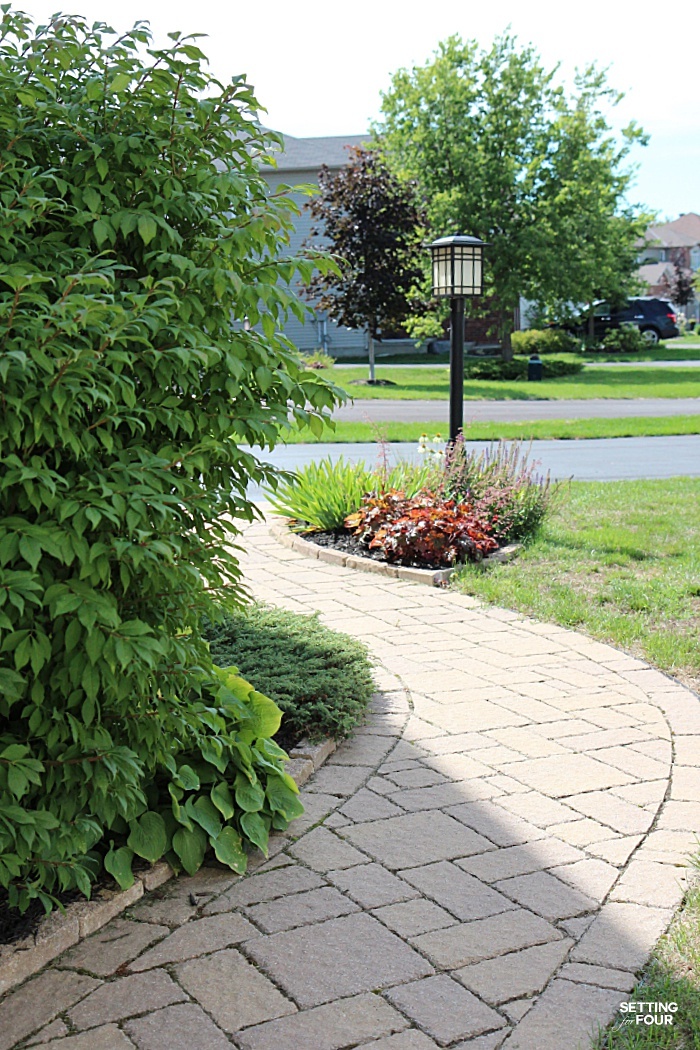 …and here's our home lit up at night! Don't forget about adding night time curb appeal to your home!
I put a floodlight on timers in each of the black urns. When it turns dusk the floodlights turn on and shine upwards into the curly willow and birch branches – it's such a pretty glow at night!
I also have outdoor flameless candles on timers in the lanterns that twinkle at night.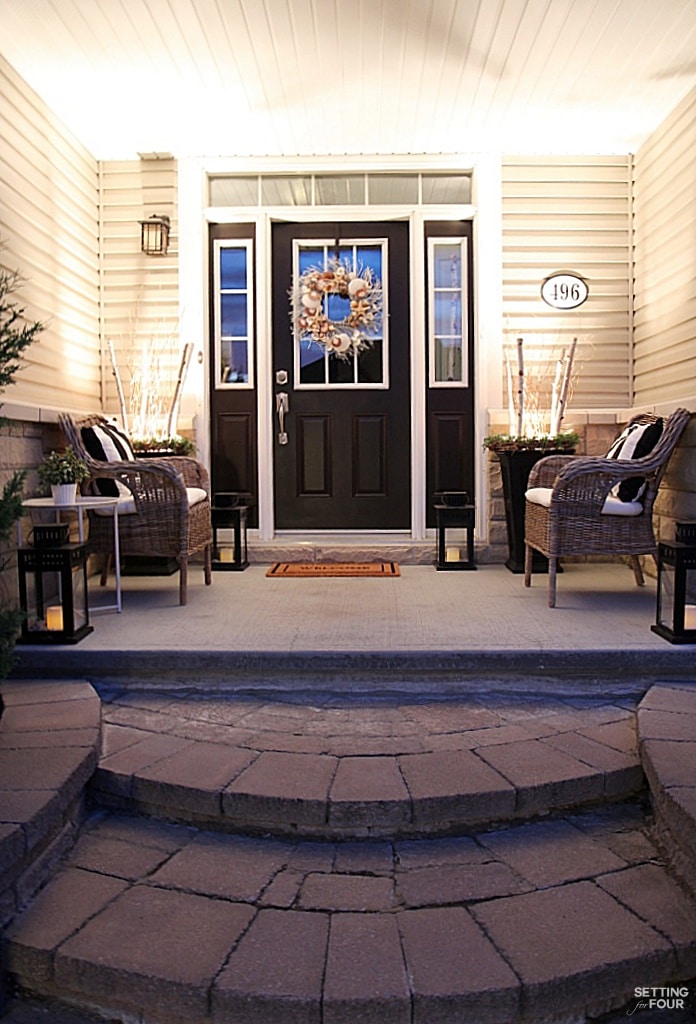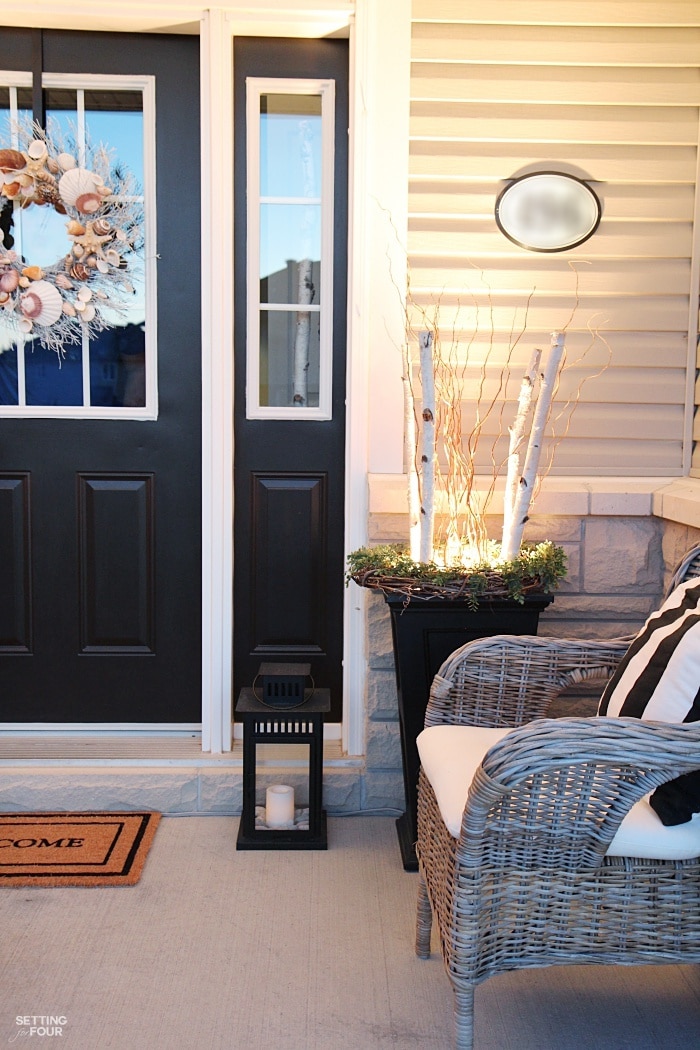 See Part 2 of my Front Porch Tour – I'm sharing details on our porch decor, porch furniture, urns, wreath and our front door color!
I hope you enjoyed seeing our front porch and gardens!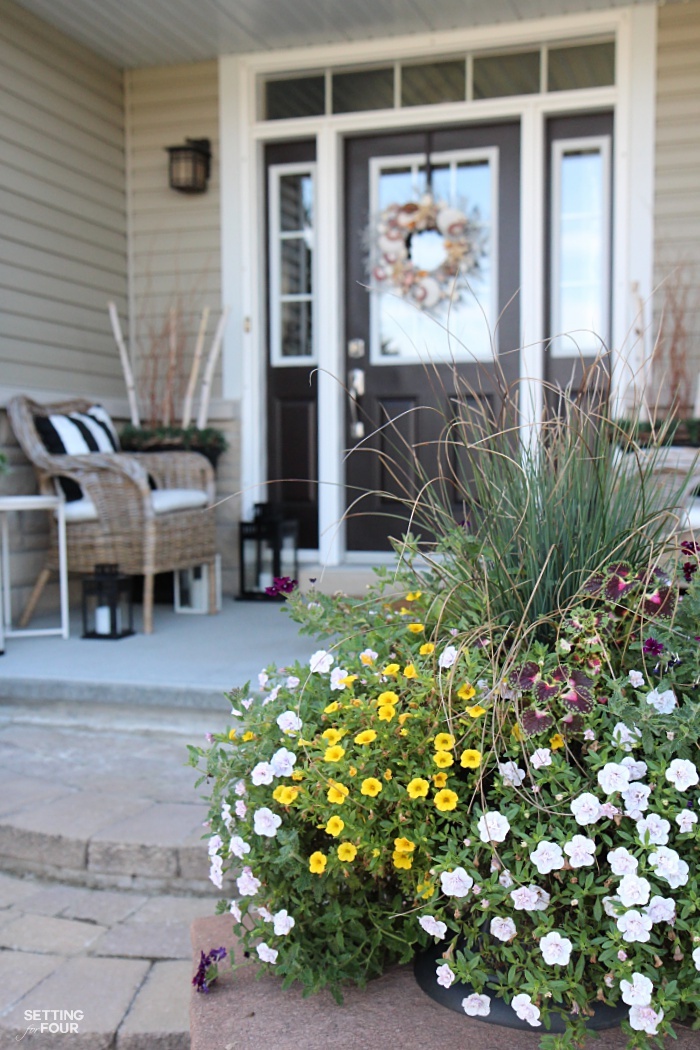 Plants: May Nite Salvia, Hosta, Juniper, Coral Bells, White Coneflower, Purple Iris, Burning Bush, Mixed Flowering Containers
This post contains some affiliate links for your convenience. Click here to read my full disclosure policy.
Bring it home: Curb Appeal and Porch Decor Sources
White side table with removable tray (similar)
Shell Wreath (similar)
Outdoor, weatherproof flood lights – in urns to light them up at night
Light Bulbs for Flood Lights in urns
Outdoor Timer for lights in urns
Outdoor Extension Cord for lights in urns
Birch Branches (similar)
Faux Boxwood Garland on urn
Outdoor Flameless Candles with Timers
DIY Whitewashed Terra Cotta Plant Pots
Great books to read – or gift! – all about curb appeal:
Creating Paths and Walkways – DIY path and walkway designs, with gorgeous inspiration photos, supplies and details on the how-to process of creating your own!
Porch Living – a stunning book on porch decor ideas, planters, hanging baskets, outdoor fabrics and furnishings!