The kids are heading back to school! Here's a great way to make the back to school routine exciting and fun: organize their desk space and bookshelves with these easy DIY $3.00 Monogram Ends! This Industrial Zinc look is so in style right now and you can customize this craft project with your kids initial and favorite color. Great inexpensive gift ideas too!
Plus I'm sharing 20 plus BEST Back to School DIY projects, decor ideas, crafts and recipes to save you time and make the back to school routine FUN for the kids!
Get your kiddos ready for back to school with some fun room decor! These easy $3.00 ( yes $3,00!! ) Monogram Industrial Zinc Bookends are so quick, easy and stylish. Not just for kids – make some for your bookcase too! I'll show you how!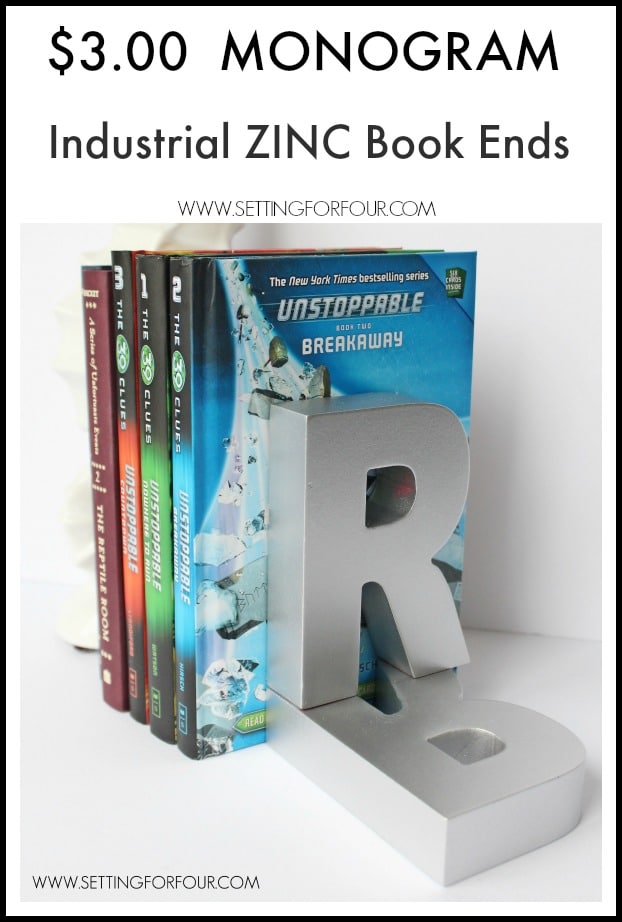 I love to nest during this time of year when the kids head back to school! Part of my 'love language' for our family is to make this time as easy as possible for them and make handmade DIY items that they'll love. Today I want to share something I think is helpful and fun for YOU! I am beginning a new series called "THROWBACK MONDAY".
Did you know that I have well over 800 posts in my blog archives? I get thousands of new followers each month that probably have never seen them. So, every Monday I'll be sharing the best of the best seasonal posts from my archives.
And if you are one of my most treasured friends that have been with me for a long time, you just might like to see my best posts over again!
These DIY bookends are also great DIY gift ideas – teacher gifts, coach gifts, stocking stuffers, grad gifts, gifts for the dorm room, playroom, kids bedroom, kids party favors and birthday gifts! Wouldn't these be fun to add to a birthday party table to decorate it?
Our youngest son Rowan heads back to school in a few short weeks – where oh where did the summer go? We have prepped his room and his study space with new school supplies and added some fun new decor accessories too!
We added these fun DIY Monogram Bookends to his bookcases to organize all of the 39 Clues books he loves to read: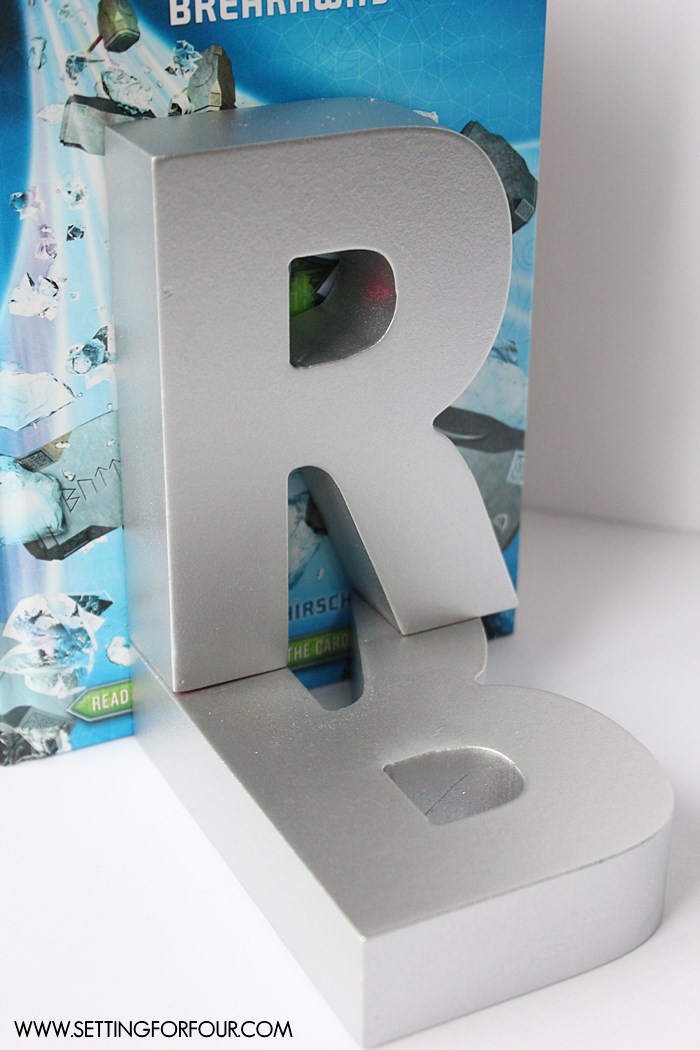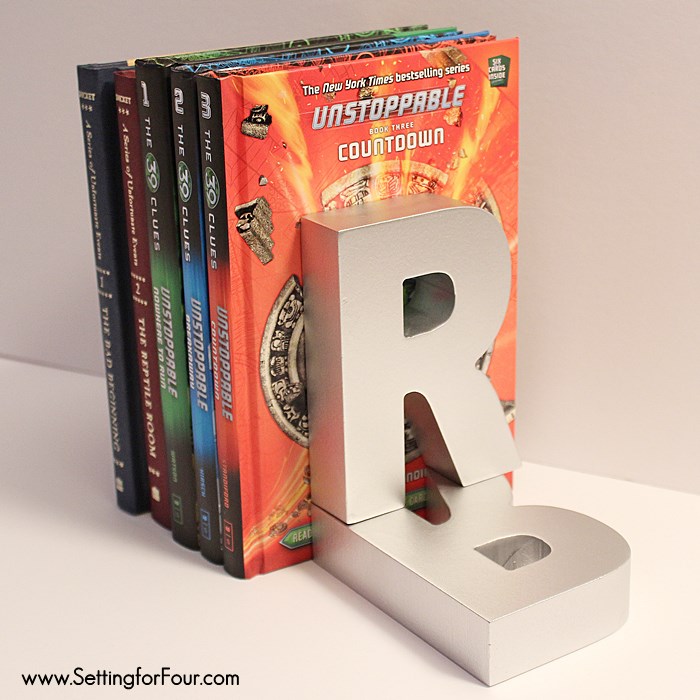 This post contains some affiliate links for your convenience. Click here to read my full disclosure policy.
Supplies to make DIY monogram bookends: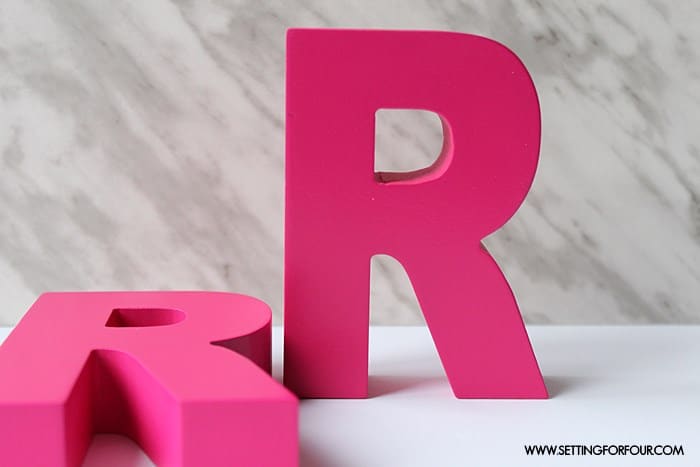 2 Block Letters – the ones I bought were pink so I simply changed the color with spray paint! They were only $3.00 too – so budget friendly!
Krazy Glue
Tutorial:
1. Using Krazy Glue attach the two letter blocks in an L shape.
2. Spray paint silver and let dry. It may need two coats of spray paint.
Aren't these fun?
These are so incredibly quick to make and hold my son's 39 Clues books perfectly! I love the shiny zinc industrial look – so great for a kids room!
I think I'll make some for my own office bookcases too!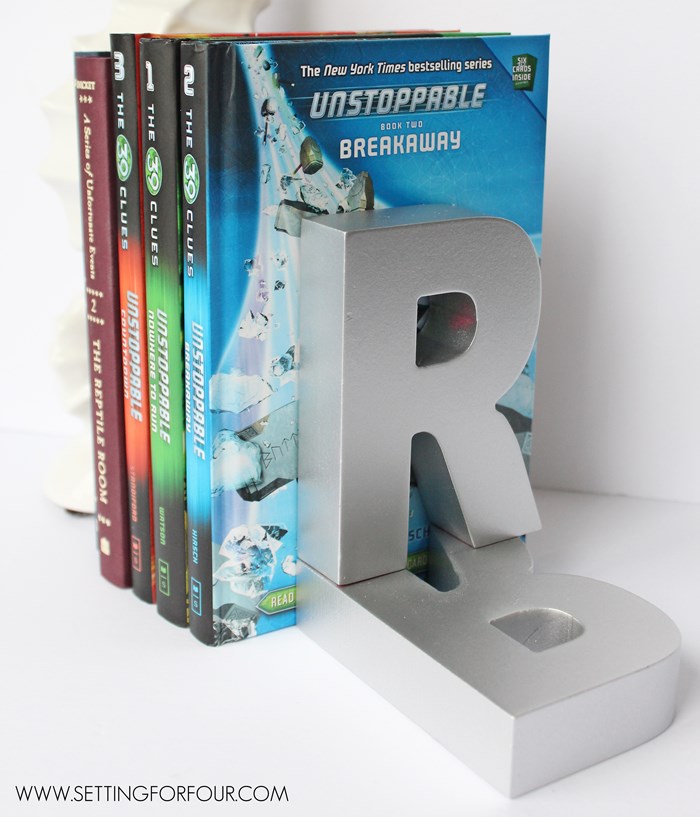 Will you be making these fun bookends for your kiddo?
Check out all of these 20 + Helpful Back to School DIY"s, decor, crafts and recipes!