See these easy, affordable home refresh ideas! Update your home with quality home essentials by shopping the amazing sales at Kohl's White Sale. This white sale is full of great savings, see all the sale details here!
PIN THIS AND SHARE IT WITH YOUR FRIENDS!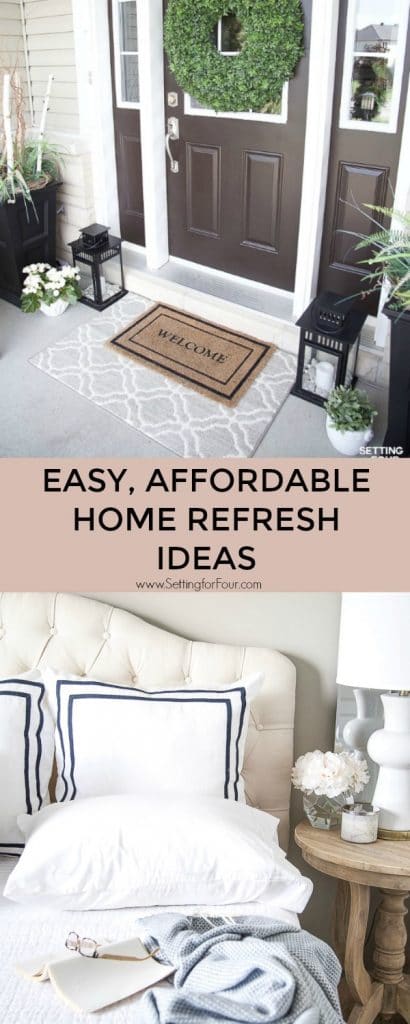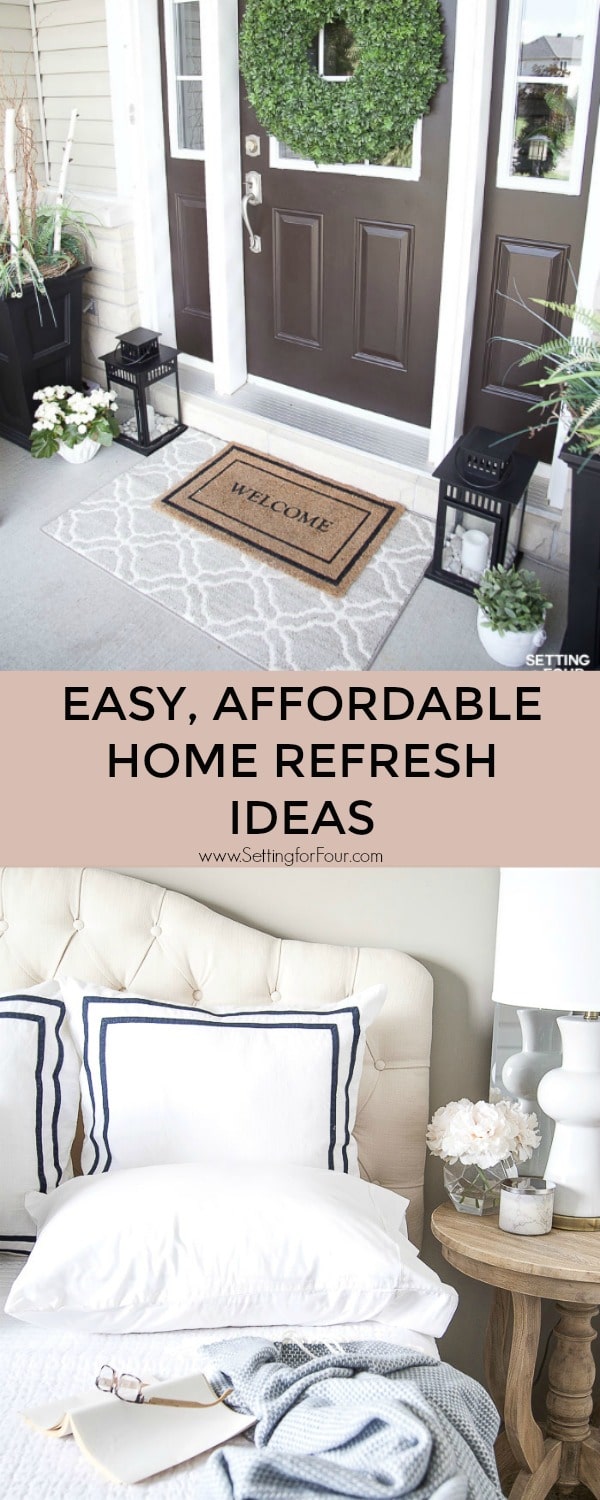 This post is sponsored by Kohl's. I was paid for this post and received the included home goods as compensation.Easy Affordable Home Refresh Ideas & Kohl's White Sale!
With fall around the corner, I love refreshing my home with new sheets, bed pillows and rugs! This is the time of year where we spend more time indoors – these easy updates make our home feel updated in a jiffy!
I scooped up these quality basics while saving money at Kohl's amazing White Sale! See all the sale details at the end of the post!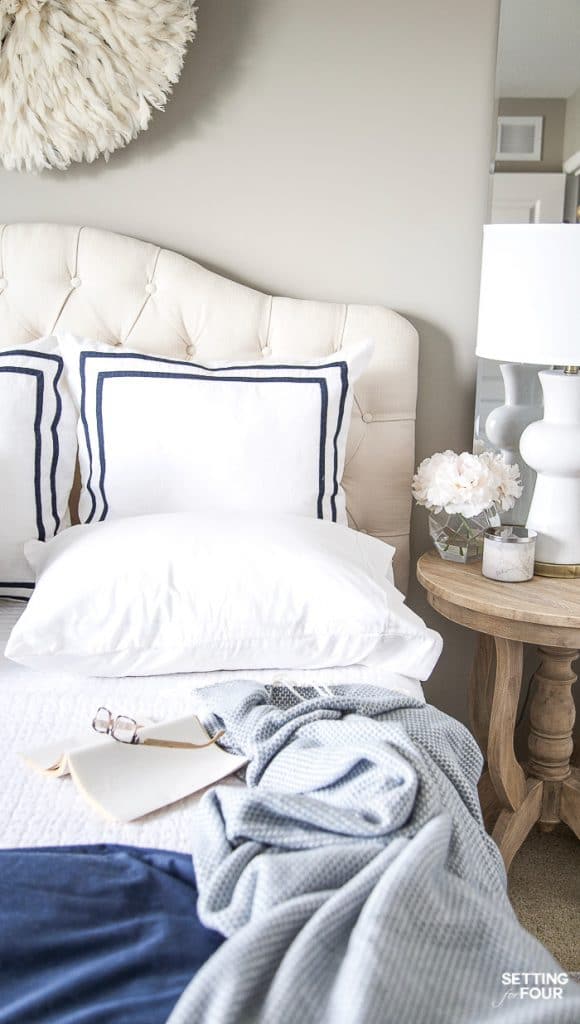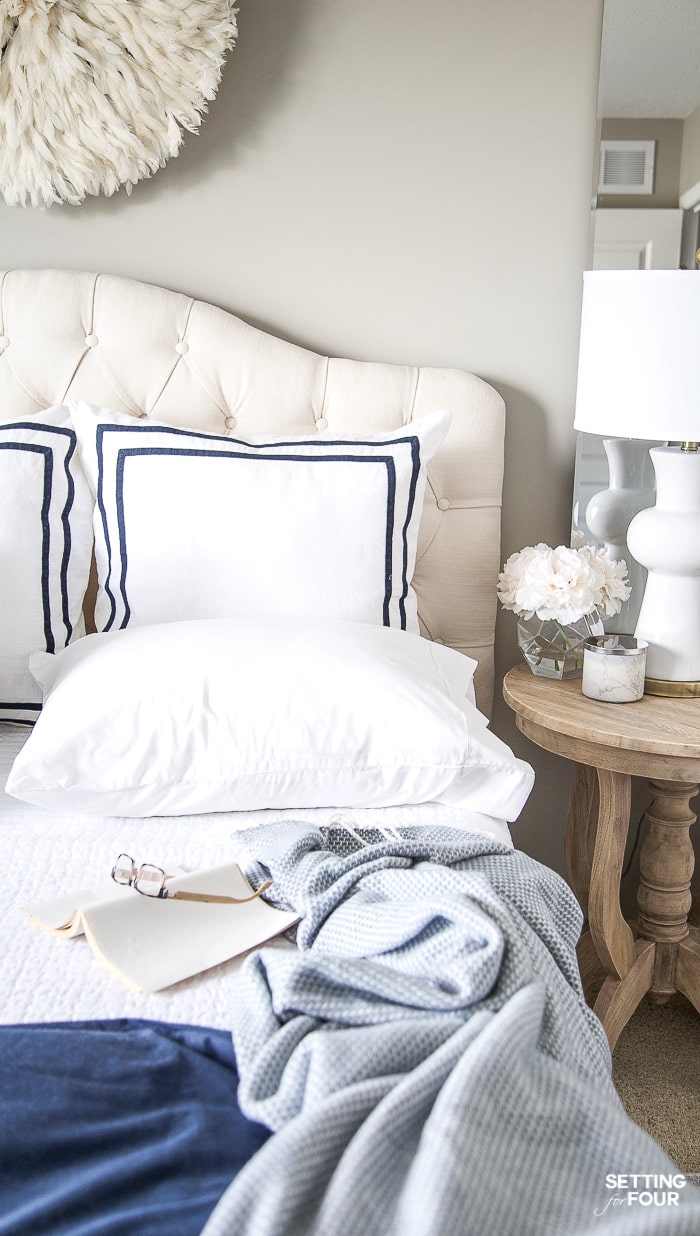 I picked up some of these fabulous The Big One Euro pillows that are washable and hypoallergenic! I love having Euro pillows on our beds to add extra comfort and coziness when we are sitting and reading.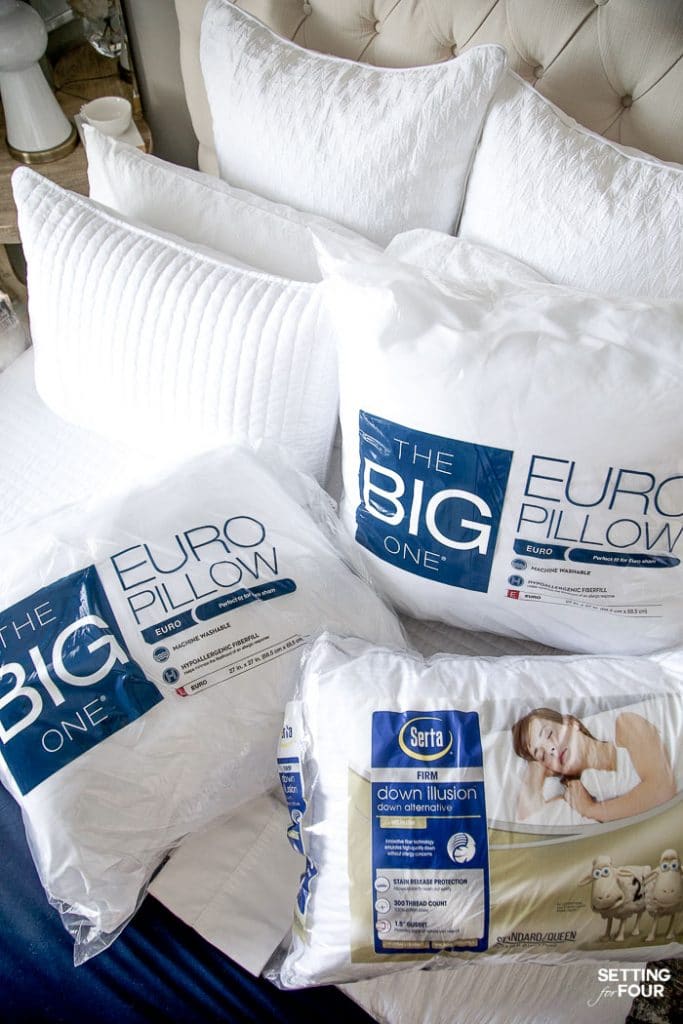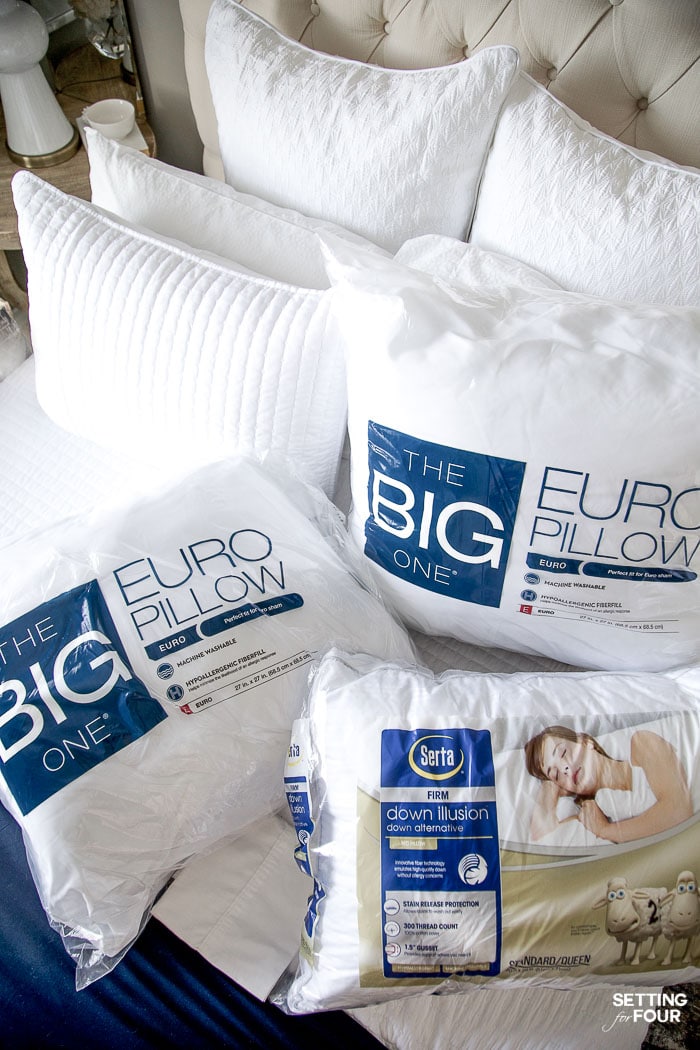 I also picked up some of these dreamy Serta Down Illusion bed pillows! There is nothing worse than sleeping on a flat hard pillow!
These Down Illusion pillows are so lofty – they really feel like down, but they are are filled with a hypoallergenic down alternative. Down alternative pillows won't flare up our allergies!
To make our bed update complete I scooped up several of these gorgeous Columbia cooling sheet sets! I love the fact that they wick away moisture so you sleep better.
These sheet sets come in crisp white and 7 other gorgeous colors including pink, blues, lavender and several gray tones.
Kohl's also has a great sale selection of mattress toppers and memory foam to ensure quality sleep as well.
So now we'll have the perfect night's sleep with these affordably priced bedding essentials!
Next up – I wanted to refresh our front porch!
I really love my boxwood wreath, planters and lanterns but my door mat situation needed to be perked up! So I added this gorgeous new indoor/outdoor gray and ivory Tamara trellis accent rug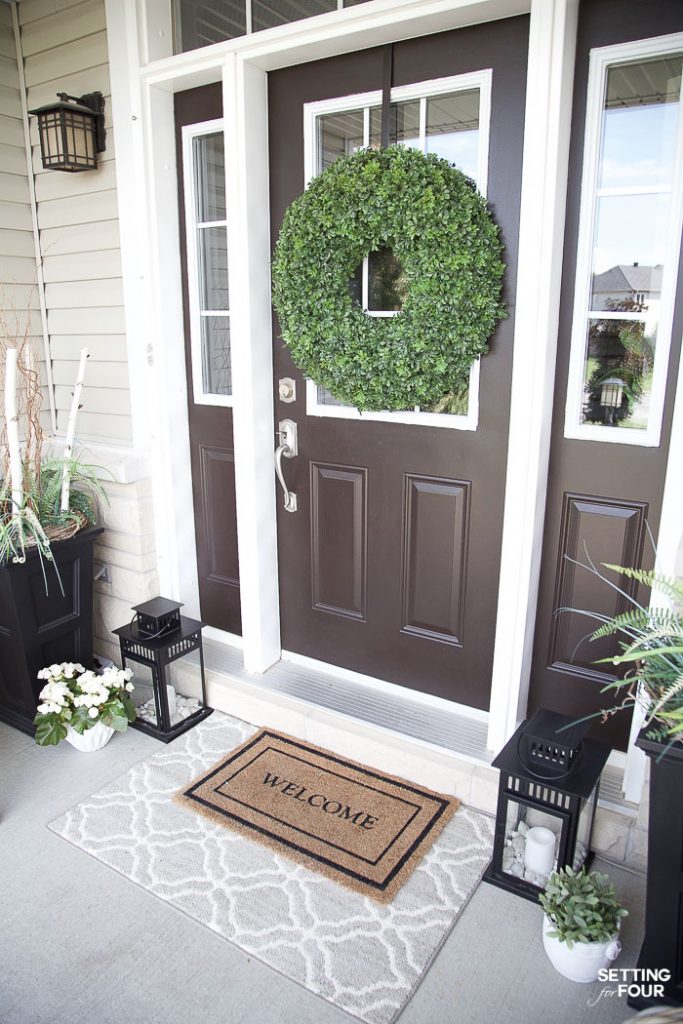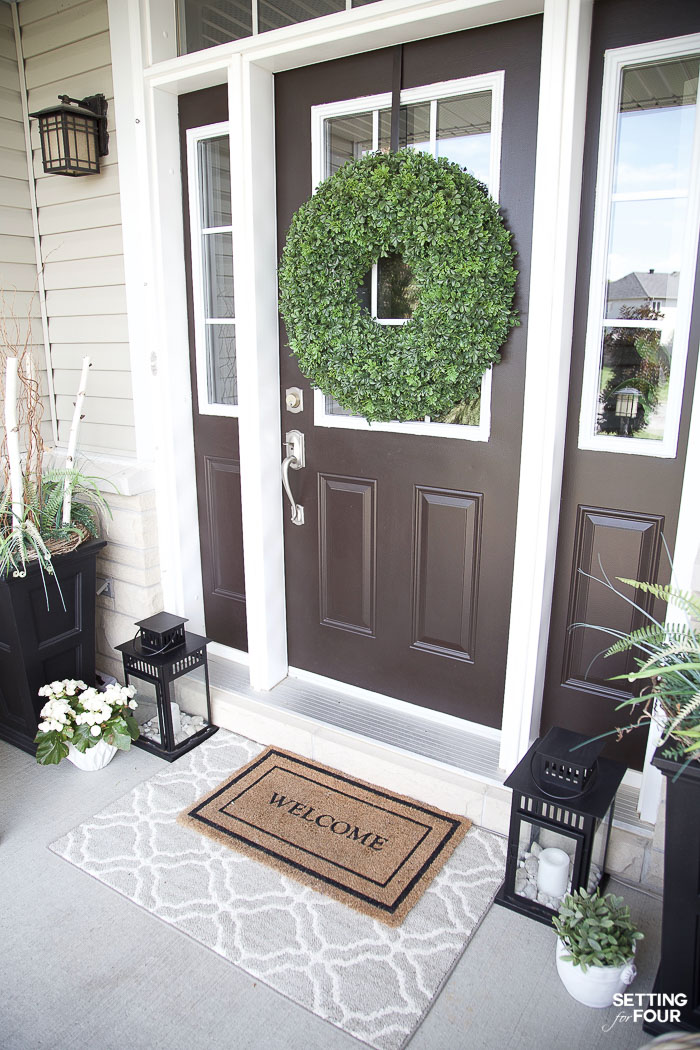 I also refreshed our front porch with this beautiful 30 x 45 inch Tamara trellis accent rug in gorgeous grey and cream by Mohawk Home.
I love the timeless elegant color. Plus this trellis pattern is one of my favorite design patterns! (it comes in many sizes up to 7′ x 10′ for your living room or bedroom)
I layered it under our outdoor door mat.
Design tip: Layering your outdoor rugs is a decor trend that increases your home's exterior beauty and curb appeal.
---
Do you need help picking paint colors, help with your furniture layout or decorating your home?
See my online design & paint color services – plus client reviews! Email me at [email protected] for more info!

---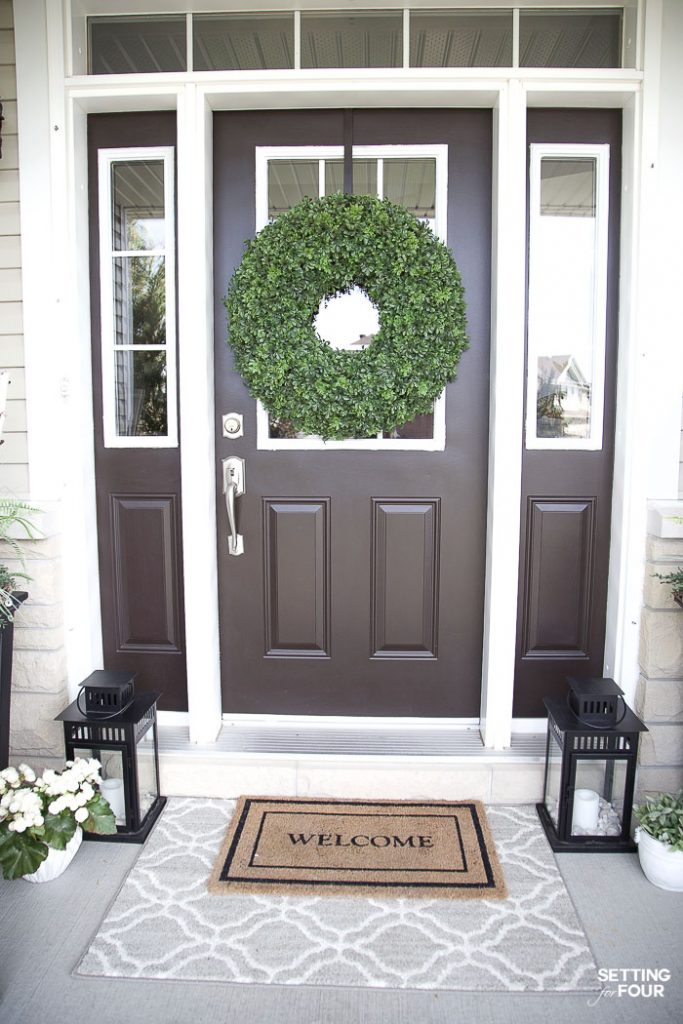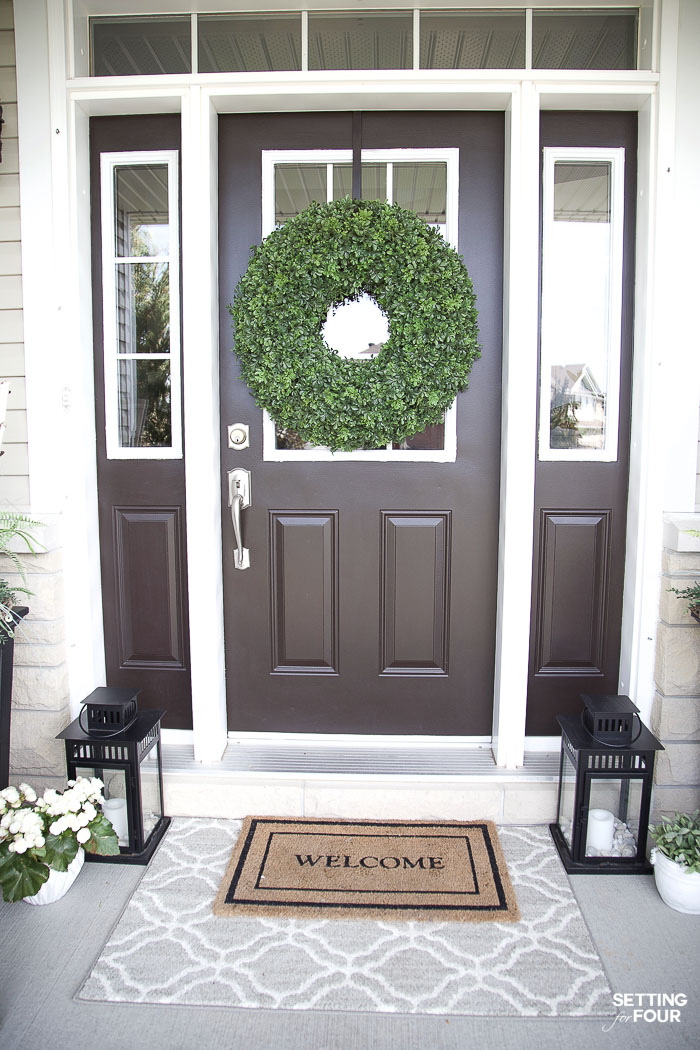 I'm so thrilled with these all of these new additions to our home from Kohl's! They add so much comfort and beauty to our day!
White Sale Details:
1. When:
Runs from August 22nd to September 3rd, 2018
2. What:
11.99 Mohawk Home 20×30 Kitchen Print or 18×30 Solid Kitchen Rug. (Reg 19.99)
Standard pillow will be $3.99 from 8/22-8/27, $4.99 8/28-9/1 (reg 9.99- 11.99)
2 pack memory foam and 2 pack feather pillows $27.99 from 8/22-8/27 and $29.99 8/28-9/1 (reg 69.99)
Memory foam side sleeper $19.99 and $24.99 8/28-9/1( reg 49.99)
TWIN gel memory foam mattress topper $34.99 8/22-8/27 and $39.99 8/28-9/1 (reg 79.99)
Big One 2 pack Pillows $19.99
49.99 Performance Cotton Sheet Set (Queen)(reg 99.99)
19.99 Allergen Barrier pillow (reg 39.99)
39.99 Ice Fiber pillow (reg 79.99)
44.99 2 in 1 Hybrid Pillow (reg 99.99)
49.99 Three Layer Comfort memory foam pillow (reg 99.99)
99.99 Twin 2.5″ memory foam mattress topper (reg 199.99)
159.99 Twin 5″ memory foam mattress topper (reg 319.99)
Enjoy all the savings at Kohl's White Sale!
You may also like:
12 Ways To Create A Cozy Guest Bedroom Your Company Will Love
A Dreamy Neutral Bedroom Design – Gray, White and Blush Pink Color Palette
My blog may contain links to other websites. I am not responsible for the privacy policies of those other websites. When you click on a link, your information may be collected by those websites so I encourage you to read their privacy policies.