Does your home's curb appeal need improvement? As a home owner and Interior Decorator I'll explain the importance of a home's character on the exterior and how to enhance your home's curb appeal and home value. See these 12 curb appeal design elements and porch decor tips to have the best looking house on the block!
*** I'd like to extend a huge thank you to James Hardie for partnering with me in this sponsored post. All of the opinions expressed and the entryway design board are 100% my own. ***
12 Curb Appeal Design Elements & Porch Decor Tips
Today I'm so excited to talk all about curb appeal, why it's important and how to increase it in your own home.
I've also created a design board of a dreamy home exterior and porch to give you some visual inspiration!
Improving your home's curb appeal is so important in practical ways and also aesthetic ways.
Having great character on the outside increases your enjoyment of your home and lifestyle when you pull into your driveway and your home has an inviting welcoming look!
With James Hardie® siding it's easy to get gorgeous curb appeal: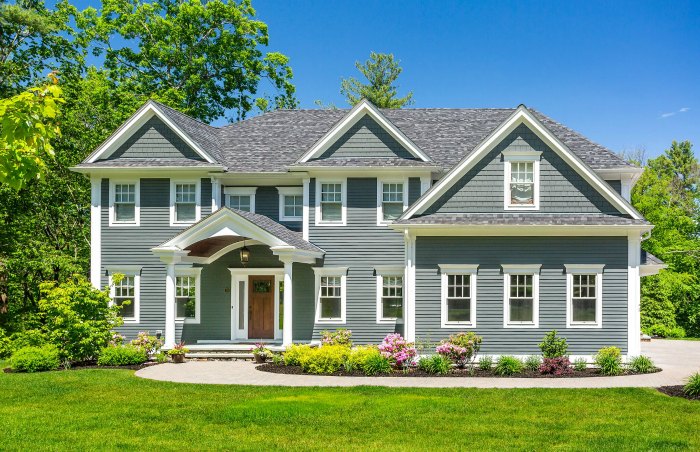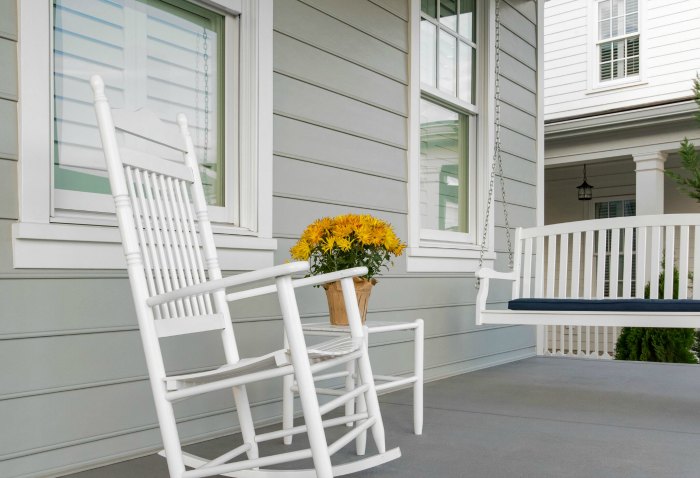 A beautiful curb appeal design also increases the value of your home!
James Hardie siding is the perfect choice to keep your home in great shape, protect the interior and your home's contents!
Their siding stands up to storms, harsh weather, is fire resistant and is water resistant to protect against swelling, warping and cracking; also resists mold.
James Hardie uses ColorPlus® Technology for superior color consistency and less fade over time.
I LOVE their gray colored siding shown here:
Color: Gray Slate
Profile: HardiePlank® Beaded Smooth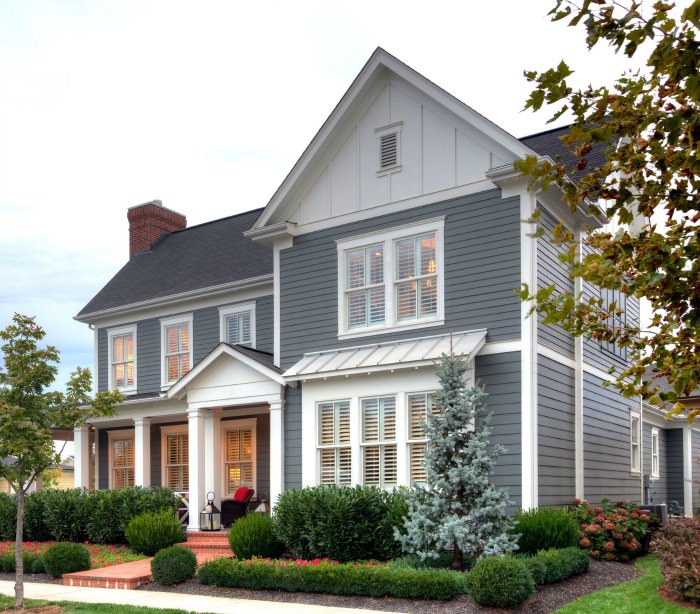 Of course it also gives a great first impression to friends, family, your neighbors and potential buyers if you're looking to sell!
With HardiePlank® lap siding, HardieShingle® siding and HardiePanel® vertical siding, you have the design versatility to achieve a look that's distinctly your own — like this house!
Consider mixing profiles to add visual interest and accentuate your home's most inviting features.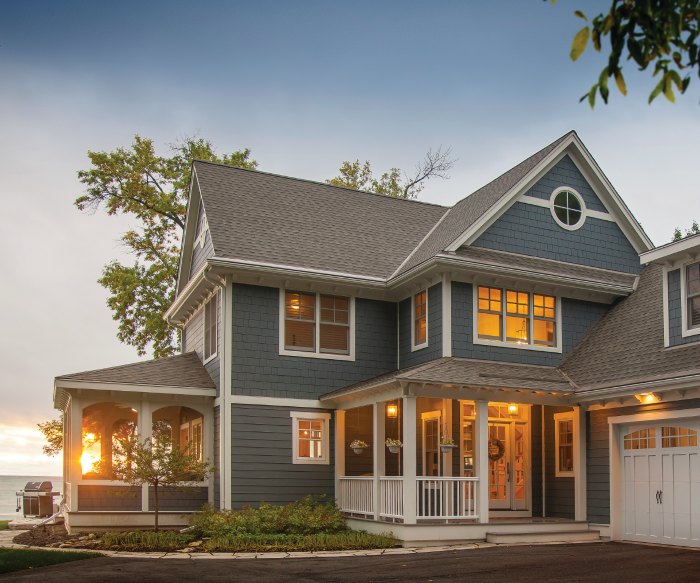 …and talk about a FABULOUS warranty! James Hardie stands behind its siding 100% for 30 years and behind its trim 100% for 15 years. What great peace of mind!
What a great way to plan your curb appeal improvement project!
To give you inspiration and pointers on how to increase your home's curb appeal I created this home exterior and porch design board incorporating James Hardie siding and 12 Curb Appeal Design Elements!: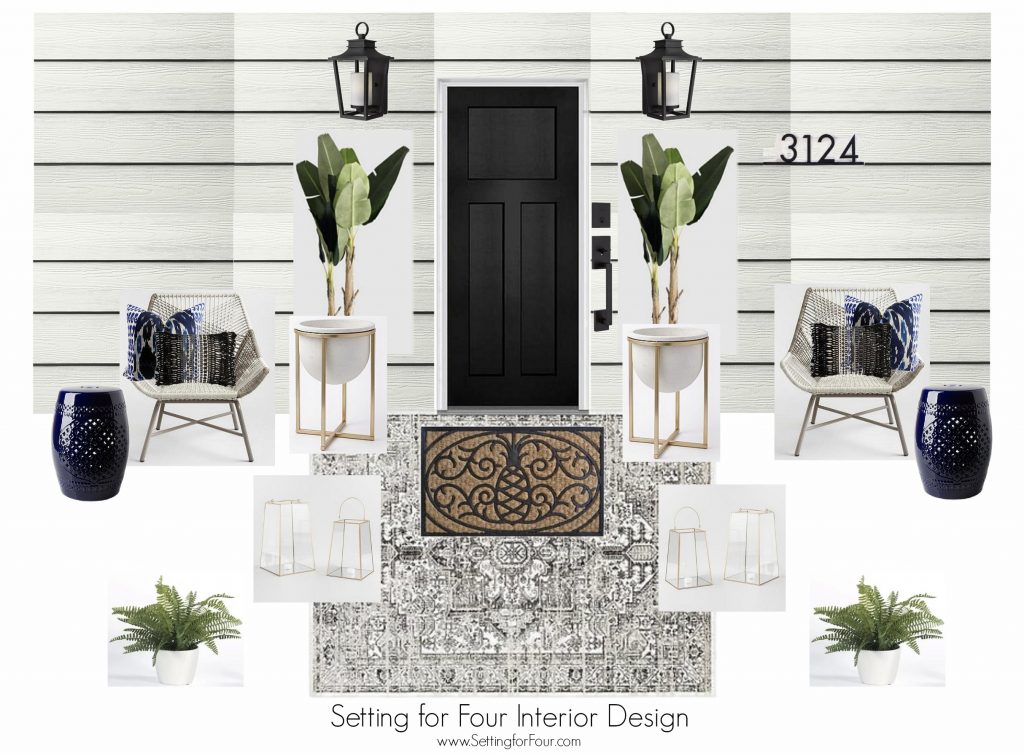 Amazing Curb Appeal includes these 12 Design Elements:
1. Gorgeous Siding In A Color You Love
The hottest trends in siding are white and gray but James Hardie also makes all beautiful neutral colors including tans as well as gorgeous greens and blues! James Hardie has got you covered!
Design Tip: Choose a siding color that coordinates with your roof color, home's brick color and stone color.
White homes are all the rage right now – so my entryway design shows how you can create a timeless, stylish entryway with James Hardie Arctic White siding!
2. Front Door Color That Wows
Paint your front door color classic, sophisticated black (which will go with any color siding you pick) or go with a gorgeous blue or green.
You can see my front door color here – it's a gorgeous rich brown-black that I get so many compliments on!
If you are on the bold side choose a front door color in a vibrant color or a rich jewel tone!
3. New Door Handle Set
Increase your home's curb appeal in a jiffy by replacing dated hardware with a new door handle set!
This beautiful black one (comes in 4 other finishes!) with SmartKey® protection looks so elegant on the black door.
4. Lighting
Lantern wall lights hung on both sides of the front door gives lighting for safety – and when put on timers – gives a gorgeous glow to your home at night!
I love these black lanterns! They are elegant and really pop against the white siding!
5. House Address Numbers
Update your home's curb appeal with a new house address wall plaque like this one. It's sleek lines and classic style will make your address easy to read both day and night!
6. Planters
Add a tall planter to each side of the door to increase your curb appeal and create vertical height!
Make your front door a stylish statement with beautiful white and gold planters like these!
7. Plants, Greenery and Flowers
Adding real or faux plants to your porch adds color and life to the front of your home.
I'm seeing these faux banana trees in interior design everywhere lately – they are a big trend right now and I think they look just stunning by the front door in the gold planters! Total wow factor!
Plus they draw the eye up and give vertical visual interest!
Also add a couple of smaller planters if you have the space! The more greenery and flowers the better when it comes to curb appeal!
Potted ferns like these are always in style and are real beauties!
8. Door Mat & Rug
Toss out your faded, worn door mat with a new one like this sisal pineapple door mat! Isn't it chic?
Did you know that the pineapple is a sign of hospitality and welcome? Perfect for the front door area!
Why not layer your door mat with an outdoor rug for more texture, pattern and color? Layering front door rugs like this is a big trend – I personally love it!
9. Seating
If you have the space adding 2 outdoor chairs will increase the curb appeal of a home – it just makes a home look inviting and welcoming! Plus they provide a great spot to sit with a drink and watch the sunset!
I love the striking woven construction of these all weather wicker chairs and their neutral two-tone palette of gray and ivory. The comfortable reclined seats makes these chairs extra special!
10. Throw Pillows
Add a throw pillow to your entryway seating to add texture, color and comfort! I'm obsessed with these blue and white print ikat print pillows and the black and white fringe lumbar pillows!
11. Side Tables
Add a garden stool to sit drinks on! They have a small footprint and are so versatile. These navy blue beauties add a sophisticated pop of color! Of course you can go for gorgeous white garden stools too!
12. Candle Lanterns
I love adding candle lanterns to a front porch! Candles with timers that automatically turn on at dusk create such a beautiful glow at night!
*** Don't forget to get your FREE Siding Inspiration Guide to make your dream home a reality! ***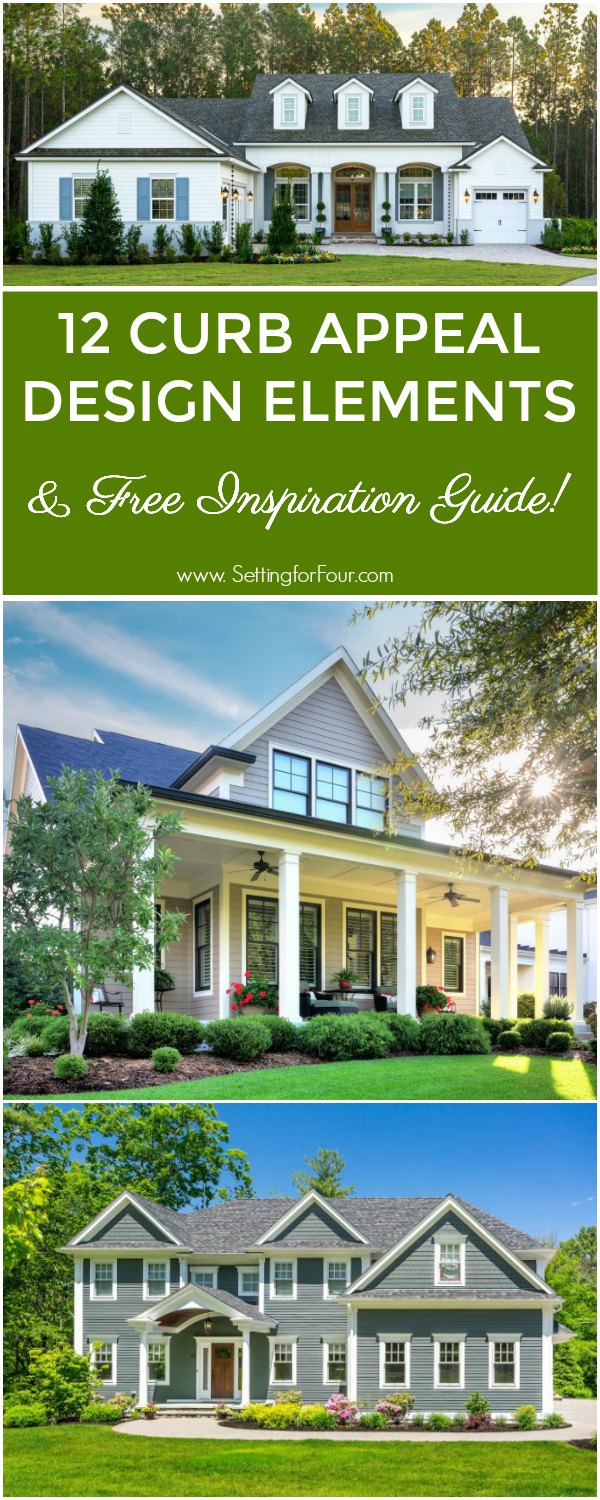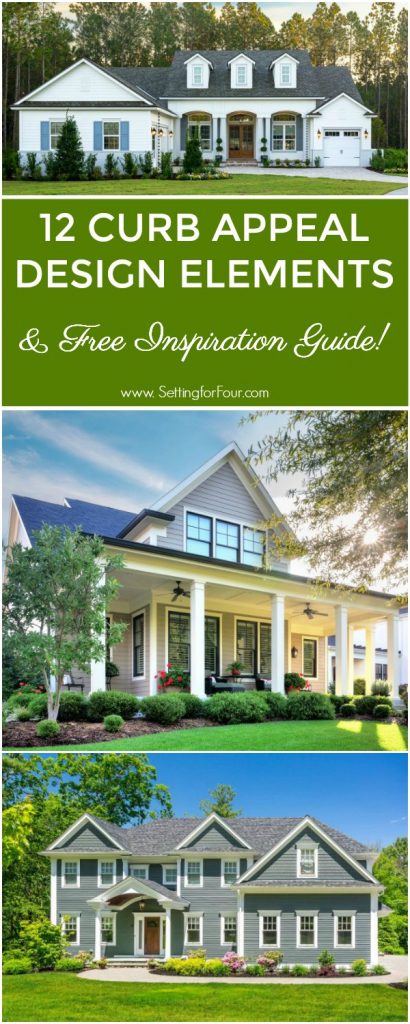 Shop the look! Click on the images below to shop and see more about each item!

PLEASE PIN THIS AND SHARE IT WITH YOUR FRIENDS!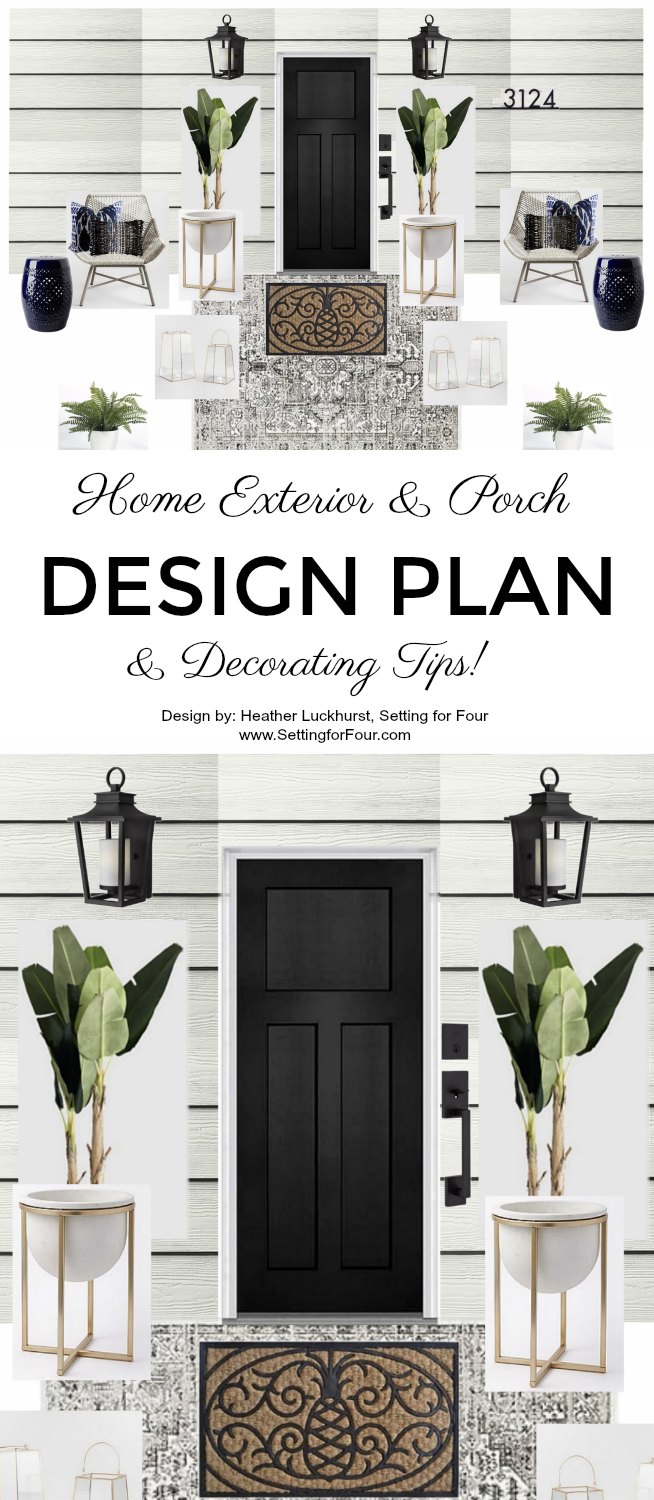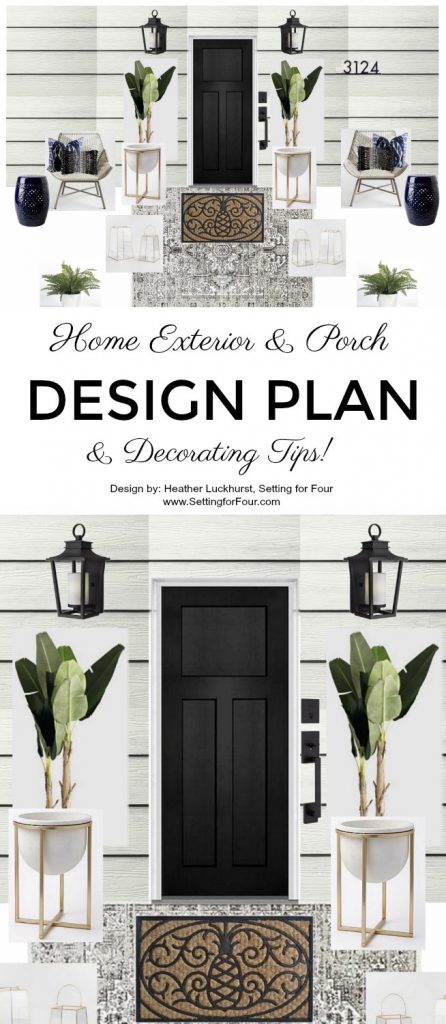 And if you're looking for design help – I offer online decor services! Send your photos to [email protected] and I can help you select siding, lighting and decor for your porch and home exterior!
I hope you love reading all about James Hardie's gorgeous siding and my 12 Amazing Curb Appeal Design Elements & Porch Decor Tips!
What do you think of my home exterior and porch design plan?
You may also like:
10 Front Porch Decor Ideas To Add Beauty To Your Home
5 Tips on Adding Curb Appeal with Plants