See these amazing cleaning tips to discover the 10 sneaky places viruses hide in your house! Some will really surprise you! Once you know where viruses love to hide in your home you can stop them from spreading and stay healthy.
From the flu virus, to Norovirus, to the virus that causes the common cold, one thing we know for sure is that viruses spread like wildfire. Many viruses can live on a surface for a length of time which means that when an infected person touches something and walks away, a healthy person can catch it without ever having been near the sick person.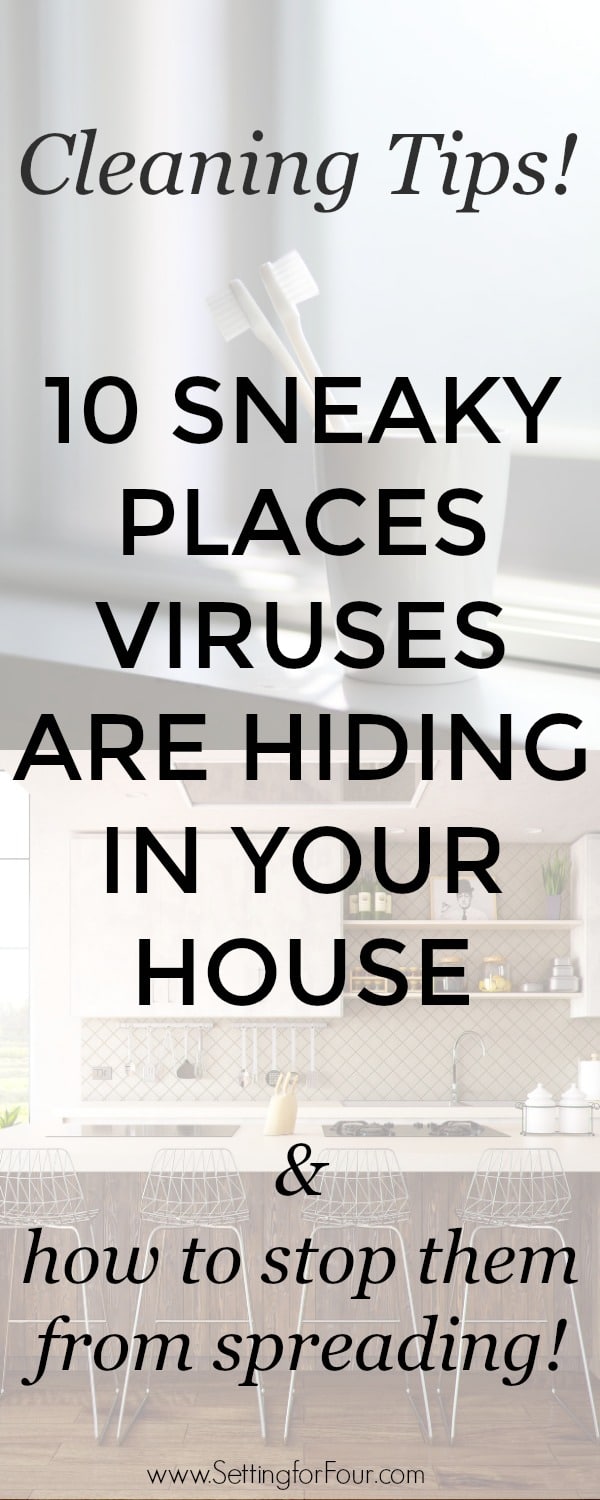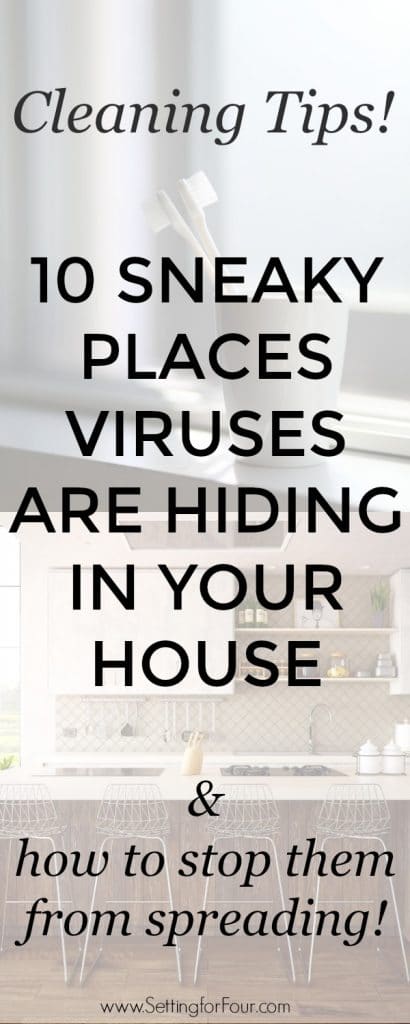 Cleaning Tips – 10 Sneaky Places Viruses Hide In Your House
A University of Arizona study by Charles Gerba, PhD placed a tracer virus on a surface in an office building. Within four hours they found the virus on 50% of the office workers' hands!
Whether it's through coughing, sneezing, or simply touching something a sick person has touched, it takes real determination to stop the spread of a virus.
Today I'm going to share 10 sneaky places viruses are hiding in your house, and what you should do right now to stop them from spreading.
Here are some essential cleaning supplies that will protect you and your family from getting sick from viruses and keep your home clean.
1. Your kitchen sponge is the sickest place in your whole house.
Research has shown that kitchen sponges are about 200,000 times dirtier than a toilet seat.
We use sponges for washing dishes, cleaning counters, wiping up spills, and more. And every time we do that? We're spreading germs and all kinds of bacteria.
The USDA says you should microwave your sponges for one minute at full power to clean them. Try to make that a routine practice in your home.
Instead of using sponges use these eco-friendly washable and reusable bamboo towels that you can throw in the washing machine to clean.
2. Your purse is gorgeous, but it might make you sick.
About ⅓ of purses have fecal matter on them, either on the bottom or on the handle, or both. If you carry a purse you probably aren't that surprised to that viruses hide here. I mean, they go in public bathrooms with us. They sit in shopping carts. They rest on empty chairs in restaurants.
In short, they're teeming with viruses.
Try to keep your purse off the floor and on a hook when you're using the restroom. Regularly use a sanitizing wipe to clean it or spray it with disinfectant. Make it a habit that when you walk in the door from an outing, you clean your purse.
3. Hand towels are basically hotels for viruses.
Common towels in a bathroom for drying hands may as well have a sign above them that reads, "Want to get sick? Use me!"
If you can, use disposable hand towels for the bathroom. If not, change the hand towel every single day, or more frequently if needed.
4. People with viruses open refrigerator and microwave doors just like the rest of us.
If you had to guess, how many times do people in your home open and close these? Probably too many to count.
Do they always wash their hands thoroughly before and after? Definitely not.
Wipe them down frequently with disinfecting wipes until they appear wet and then allow them to air dry.
5. You know what else sick people open? Drawers.
The drawers from your bathroom to bedroom and beyond have pulls or knobs that are so covered in germs, you wouldn't want to look at them in a microscope.
Disinfect them routinely with disinfecting spray or wipes, especially when someone is sick.
6. Armrests are definitely a sneaky place for a virus to hide.
I'm sick. I've rubbed my nose and eyes, and relaxed in my favorite chair. Maybe I have a sneezing or coughing fit while watching TV.
No matter how it happens, now the armrest of the recliner is covered in my virus ready to infect the next person who sits down.
Disinfect armrests after a sick person has been sitting there, and routinely every few days. If you're not sure whether your upholstery can withstand a disinfecting spray, contact the manufacturer.
7. It's hard to believe something made to wash things is a virus hotspot.
While it may sound nutty, your washing machine is actually super germy. When you do a load of laundry filled with underwear, you have put roughly 100 million E. coli in the wash that's going right into the next load.
Let that sink in a minute.
When it's appropriate or safe, wash things like underwear and towels using the hottest water setting and add a little chlorine bleach.
Be sure to clean your washer once a week by running it through a full cycle with nothing but hot water and bleach to help kill the germs that build up inside.
And be sure to clean the rubber part in the door of your front loading washing machine with disinfecting wipes.
8. Don't forget the pet bowls, toys and beds that are great places viruses hide!
Your dogs and cats love you and you love them. You know what else they love? Licking things they shouldn't and rolling around in places you don't approve of.
The National Safety Federation says that pet bowls are one of the dirtiest things in homes. (Tip: they should actually be washed in hot, soapy water every day.)
Your pet's items need to be washed and/or disinfected routinely, and always be sure that when someone handles something that belongs to a pet that they wash their hands after.
9. Have you heard the one about the reusable grocery bags?
In 2010, an entire youth soccer team came down with the dreaded norovirus. After some sleuthing it was found that the outbreak could be traced back to some reusable grocery bags.
A girl got sick with norovirus and there happened to be a reusable grocery bag in the bathroom. Of course the virus particles spread through the air and contaminated the bag.
Time Magazine reported, "when the bag was swabbed for microbes two weeks after the girl's episode, researchers found the same virus that had sickened the student."
Two weeks!
Wash your reusable bags and/or spray them with disinfectant each time you use them. They can pick up all sorts of awful things in shopping carts.
10. You're going to hate what I'm about to tell you regarding your toothbrush.
You don't have to use a sick person's toothbrush to get sick. When toothbrushes are stored next to each other in a holder, their bristles can come in contact and pass viruses from one to the other.
Additionally, a toothbrush can pass germs to the tip of the toothpaste container, and then on to the next person who uses it. That means you can get sick by using the same toothpaste tube as someone who has a virus.
And worst of all? If your toothbrush is within 6 feet of your toilet, the droplets of spray created each time you flush are definitely reaching your toothbrush.
Norovirus, for example, is easily spread this way. (How can you avoid that disgusting, invisible spray? Always close the lid on the toilet before you flush.)
Buy a plastic cap for your toothbrush to cover the bristles if you leave it in a toothbrush holder or store your toothbrush in a vanity drawer.
Buy new toothbrushes every 4 months, or when someone in the house has been sick. If possible, don't share toothpaste tubes at the height of a virus outbreak. Let everyone have their own.
Those are the 10 sneakiest places I know viruses like to hide in a house. Are there any I'm missing? Where is the weirdest place you know that germs and bacteria can live?
My Favorite Stick Vacuum and Steam Cleaner:
Dyson V7 Motorhead Cordless Stick Vacuum Cleaner
I LOVE this cord free vacuum! It's so incredibly lightweight and perfect to use everywhere including vacuuming stairs!
I love the wall mounted charger station that also conveniently holds the attachments.
Hoover Carpet Cleaner Steam Machine –
We use this amazing steam cleaner on our wall-to-wall carpeting and on our area rugs!
We bought this steam cleaner when our youngest son got the stomach flu when he was little and he vomited on his bedroom carpet – poor little guy!
It worked like a charm to remove everything really quickly!
This steam cleaner has a really fast dry time too.I hope you like these Cleaning Tips and 10 Sneaky Places Viruses Hide In Your House! Do you have any fabulous cleaning tips you'd like to share?
This post contains affiliate links. Funds from affiliates help pay for web hosting, domain registration, email delivery, and other fees to keep settingforfour.com up and running. Thanks for your support! Click here to read my full disclosure policy.
You may also like:
7 Car Cleaning Tips To Prevent The Flu
Deep Cleaning Your Hardwood Floors
How To Deep Clean Your Bathroom in 5 Steps