Discover the best quick and easy car cleaning tips to prevent the flu and other illnesses!
One place you may be missing to clean during flu season is your car!
Your car is a germ factory – clean the places germs are hiding so you and your kids don't get sick!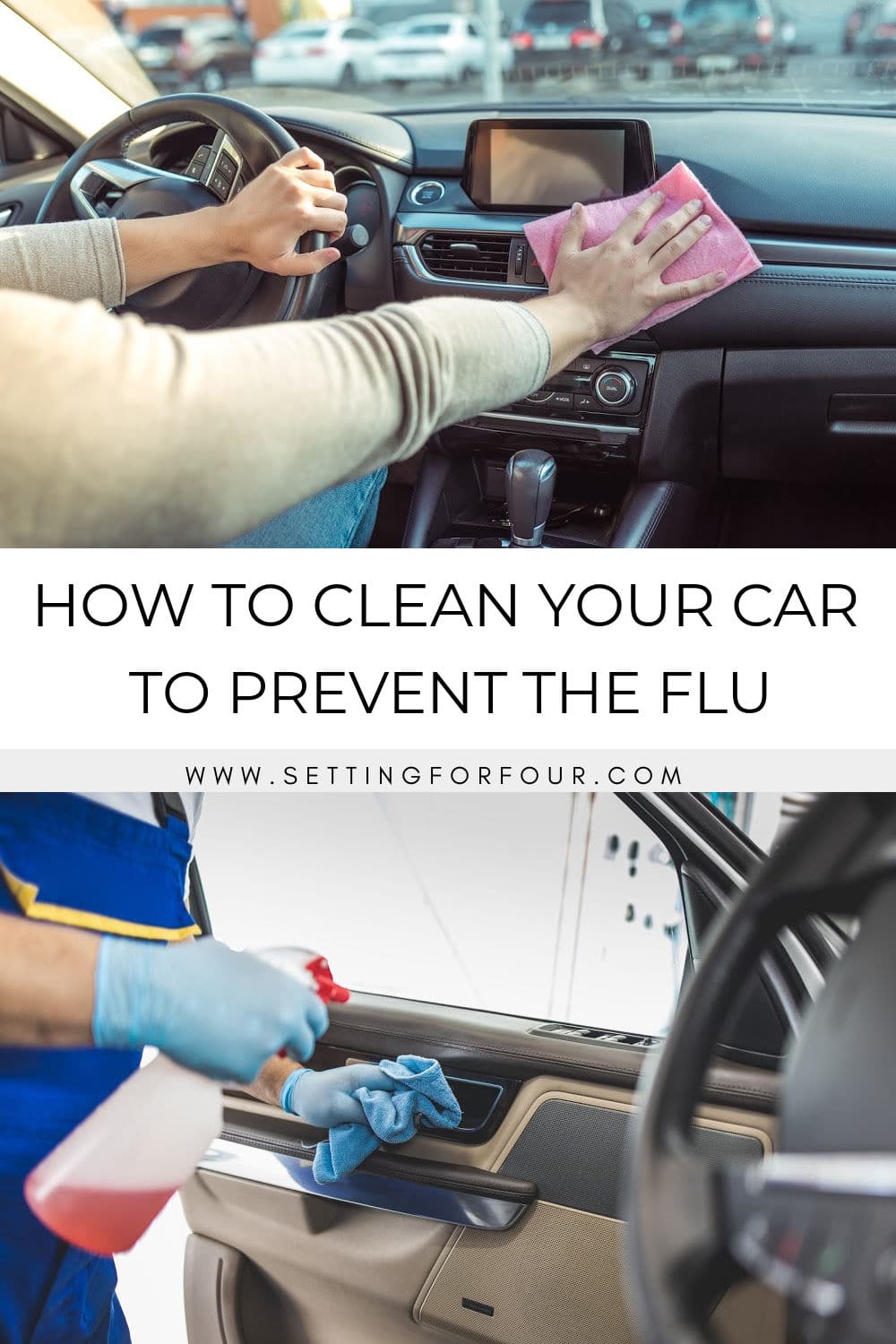 BEST CAR CLEANING TIPS TO PREVENT THE FLU
When illnesses and the flu are running rampant through our communities, we do everything we possibly can to minimize the likelihood of having them spread. We wash our hands, clean and disinfect our homes.
While that's all super important, it's easy to forget that our cars are another huge source of germs that we need to clean. It's one thing to have a bright, clean car with shiny wheels and a grill devoid of dead bugs.
It's another thing to make sure the car isn't a total germ factory on the inside.
Right now your car may well be harboring everything from staph bacteria to influenza to mold.
In this post I'm going to show you 7 best car cleaning tips to prevent the flu and other illnesses: where to find the germs in your car, and how to get rid of them so that your family doesn't run the risk of getting sick from the flu or other viruses and germs.
Your Car Is a Germ Factory. Here's How to Fix It.
1. The air in your car spreads nasty germs.
Is there trash on the floor of your car? I have bad news. Trash does more than just clutter the interior.
The trash is actually causing bacteria to grow on the floor and fungi to grow in your vents.
Every time you turn on your air conditioner or heater, you're not only blowing that fungi and bacteria straight into your face, you're sending it throughout the rest of the car and into the faces of your passengers.
It's not always easy to avoid eating in your car, especially if you're someone who drives a lot, or has kids who need snacks now and again. You should try, though.
If you do eat in the car, be sure that all trash and stray food is picked up and disposed of quickly, and any spills are wiped away.
If possible, I suggest putting a towel or blanket on top of the seats before you eat. It will help guard against spills and when you're done you can shake away the crumbs.
Dispose of things before they find their way to the floor or between the seats. Make it a habit to always throw trash away when you're gassing up or when you park the car at the end of the day.
2. Your cup holder is germier than you can even imagine.
The cup holder in a car has approximately 228% more bacteria than the average toilet seat! Think for a moment about why that is and how all those bacteria get there.
Not only do you put actual drinks in cup holders, but other stuff as well. They can sometimes be catch-alls for germy things like coins and keys, used napkins and empty fast food containers.
Not quite gross enough yet? Imagine popping your drink in the holder and turning on the air only to have the airborne bacteria we learned about earlier heading straight onto your straw.
Be sure to wipe out the cup holders frequently with disinfecting wipes.
3. Those pump handles at gas stations are out to get you.
That's why it's an absolute must that you clean your hands after you fill up. Fuel pumps are covered in illnesses waiting to find a new home.
Once your car is full of gas, but before you touch the steering wheel, use some hand sanitizer to make sure you aren't bringing those viruses into your car with you. If you have the opportunity to go in the restroom to wash up with soap and water, even better.
4. Your seat belts will keep you safe – except when it comes to germs.
Thankfully everyone wears a seatbelt. It's the law.
That means people sneeze on them, spill things on them, and yes, wear them across the coat they wore when they were visiting a sick friend. Whatever germs or bacteria was on their hands or clothes when they got in the car are now all over the seatbelt.
You can clean them using a cloth dipped in hot, soapy water or white vinegar. A quick spray with a good disinfectant will kill the germs.
5. It's all about where you've been.
Everywhere you and your passengers have walked comes right into the car with you on your shoes. Before you know it, it's all in your ventilation system.
No one wants to breathe in air particles filled with something your kids stepped in while going to the bathroom at school.
Vacuum regularly. Take the mats out, shake and vacuum them as well, and use a shampoo made for cleaning automobile mats when you have the time.
6. Fresh air is everything.
When you have the opportunity, roll down the windows and let some wonderful, fresh air circulate.
7. Always be prepared.
Keep disinfectant wipes in your car and try to wipe the interior down at least every other day.
If there is a spill, get to it right away. If someone in your car is sick, be sure to clean the interior with a wipe as soon as they get out.
Those are my 7 car cleaning tips to prevent the flu.
I hope they help a little bit to keep your family healthy.
What about you? How do you keep germs at bay in your car? Do you have any car cleaning tips?
More Cleaning Ideas: