Cutting and Watering Tips So Tulips Last Longer! Fresh cut tulips can wilt and die really fast.
Keep your tulips looking fresh and long lasting in your flower arrangements with these tips and tricks!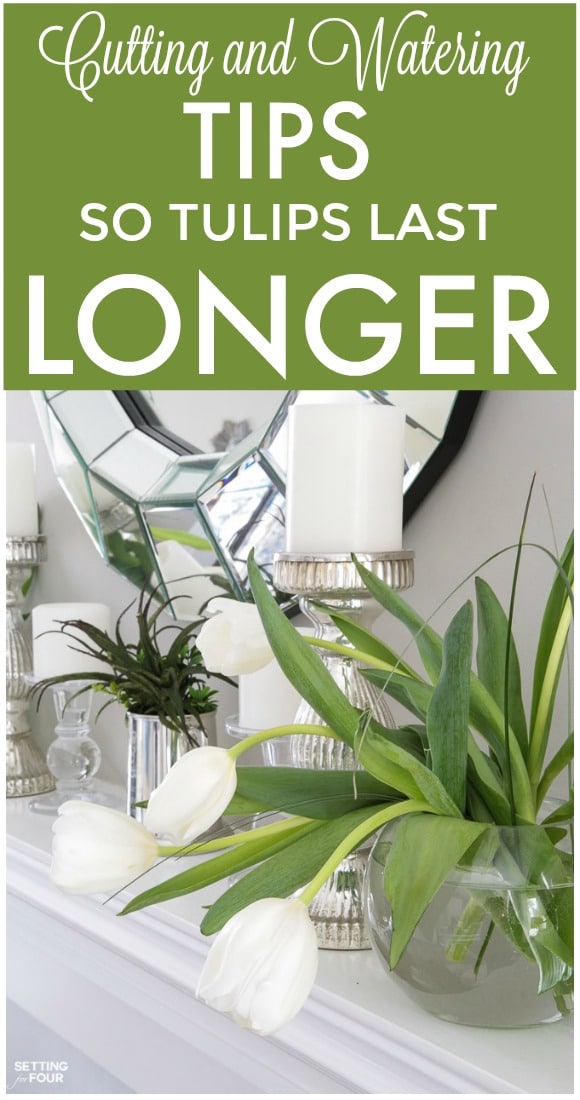 Cutting and Watering Tips So Tulips Last Longer
Is there anything lovelier in Springtime than a vase of pretty tulips?
They are one of my favorite ways to decorate for Spring!
I always pick up two or three bunches when I'm at the grocery store.
You can also buy fresh tulips online here and here.
My favorite tulip color is white, but sometimes I buy the light blush color!
I love arranging them in clear bubble vases.
I really love the curved shape of this type of vase combined with curved shape of the tulip flower!
My favorite places to display them are my fireplace mantel, my kitchen island and countertop area by the sink, in the foyer and my bedside table.
Spring decorating ideas:
Keeping fresh cut tulips from wilting quickly can be tricky though!
In this post I'm sharing cutting and watering tricks so you can enjoy them as much as possible.
How Long Do Fresh Cut Tulips Last?
With proper care they can last up to 7 days.
As Soon As You Get Home
Place the tulips in a jug of water, or sink full of water, as soon as you get home.
Then unpack the rest of your groceries.
Leaving tulips on the counter will speed up the wilting process.
Remove Packaging
As soon as you can, remove the plastic packaging, elastics and trim the stems.
Tulip Trimming Tips
Remove any damaged leaves.
I cut off a few of the leaves from the stem so that I can arrange them where I want in the vase.
Cut off at least 1/2 inch of the stems on an angle with a sharp knife or pruning shears and place the tulips in water immediately after trimming.
I always keep a set of garden pruning shears like these in one of my kitchen drawers for pruning flower stems.
I just find shears are easier to use than a knife. Shears make more of a clean cut in my opinion.
Watering Tips
You don't have to use floral preservative.
The key is to replace the water every day. Use cold water, not warm or hot.
Also, make a fresh cut at the base of the stem each day if you can.
This helps them draw up water.
Tulips are very thirsty flowers!
Why Do Tulips Flop?
Tulip flowers tend to flop over and droop when put in a vase because their heads are heavier than the light stems.
Why Do Tulip Flowers Bend?
Tulips continue to grow after being cut, up to an inch or more!
They are "phototropic" – bending towards the light source.
The combination of the stem growing and the bending movement will prevent tulips from standing up straight.
I actually LOVE the flopping and bending appearance! To me it looks more organic.
And I also love how every day the bouquet has a different look as they bend and twist!
How To Keep Tulips Upright and Straight
Use a tall vase that holds as much of the stem as possible.
Rotate the vase daily to keep stems more upright.
Keep out of direct sun.
Other Tips
Tulips prefer cool temperatures so keep them away from direct heat and sunlight.
Avoid combining tulips with paper white narcissus or daffodils. They exude a gummy sap that can shorten the life of tulips.
I hope you enjoyed these Cutting and Watering Tips To Make Tulips Stay Fresh!
Do you have any other tips that work for you?
Follow me on Instagram for design ideas and sale information!