See 5 simple spring entryway decor ideas using an elegant, casual tulip display, wreaths and beautiful pillows for a pop of Spring color. Plus design tricks to transition your home from winter to Spring easily!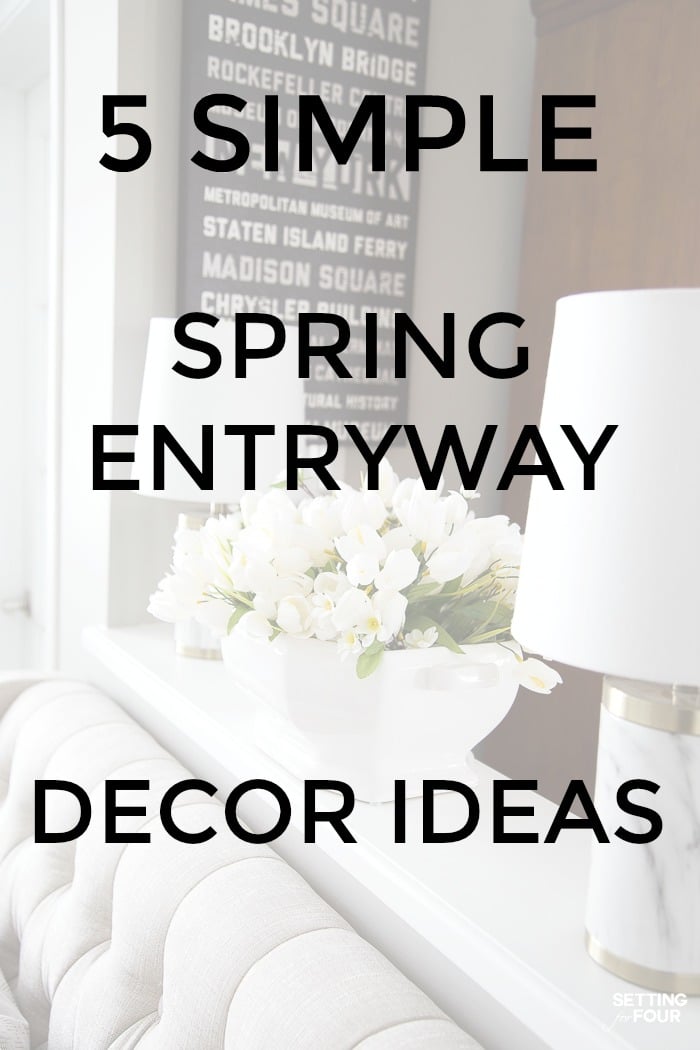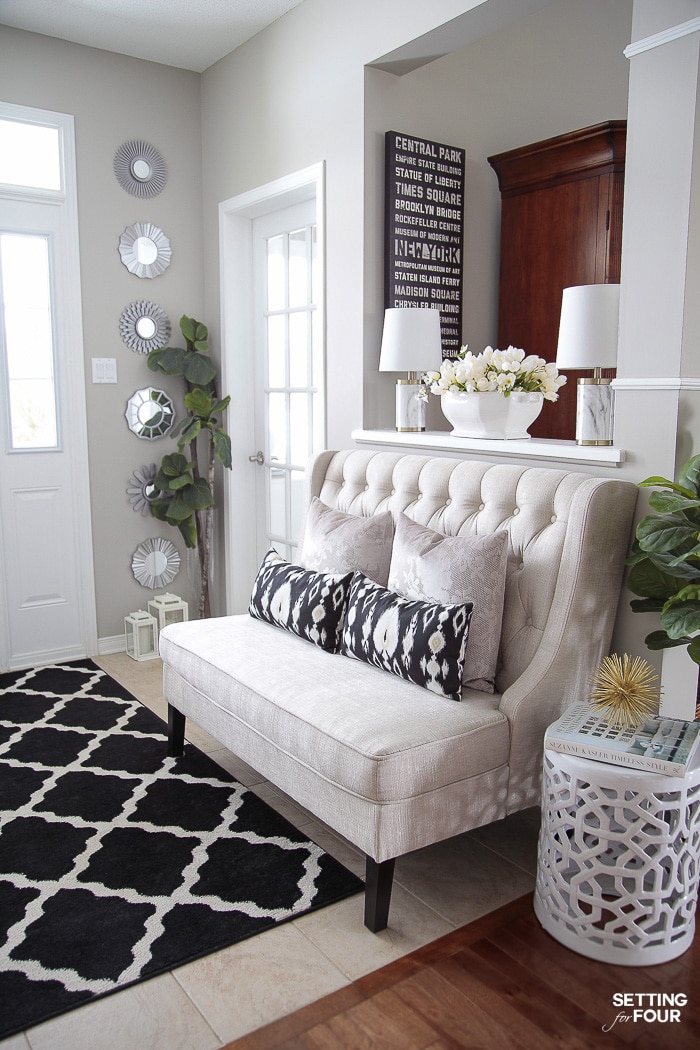 Shop the look of my foyer! Click on the images below and scroll using the arrows.



Even though we still have a TON of snow outside, I've been in major Spring decorating mode inside!
This is the time of year where I put away my winter textiles, including my faux fur pillows and throws, and bring in lighter fabrics and lighter colors!
Understand The Color Wheel & Color Schemes To Become A Better Decorator
I also love in layering in a bit more green (Spring means green grass!) and vases of Spring flowers like tulips, dogwood branches and cherry blossom branches!
In the next week I'll be sharing some easy and simple ways to transition your home to Spring and today I'm starting with my entryway!
If you saw my latest post, I updated the door hardware on our entryway closet bifold doors. What a HUGE difference it made, for just $16!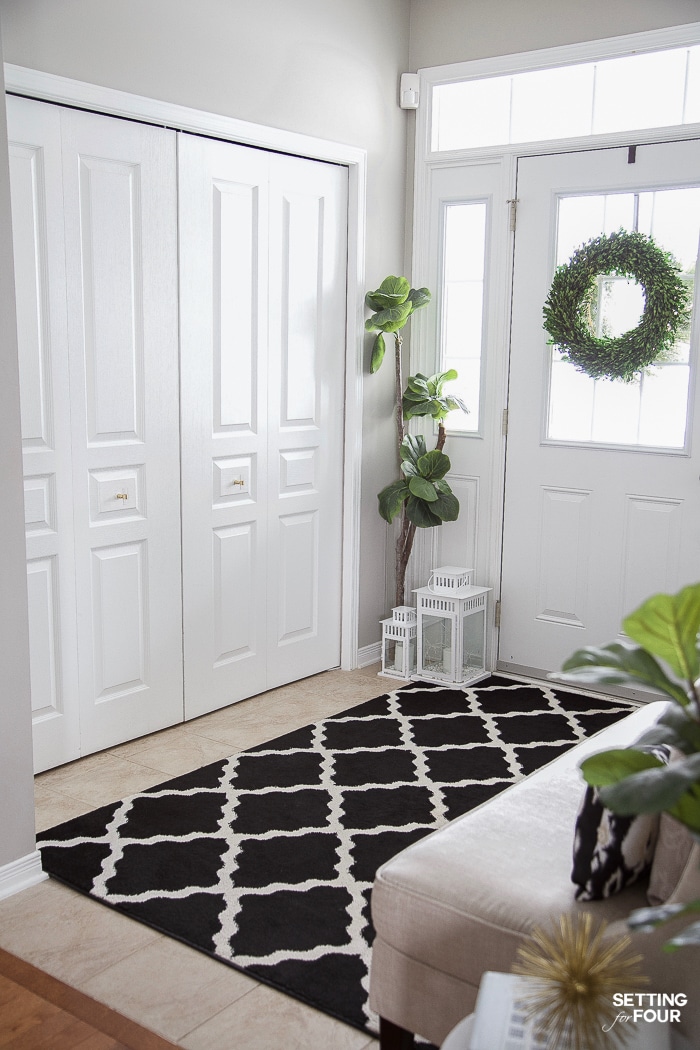 I'm loving these beautiful brass and lucite door knobs I added to our closet doors! They really have perked up this space and function so much better than the other wobbly knobs we had.
I love decorating my home for Spring with relaxing, subtle colors, florals, plants and pillow updates.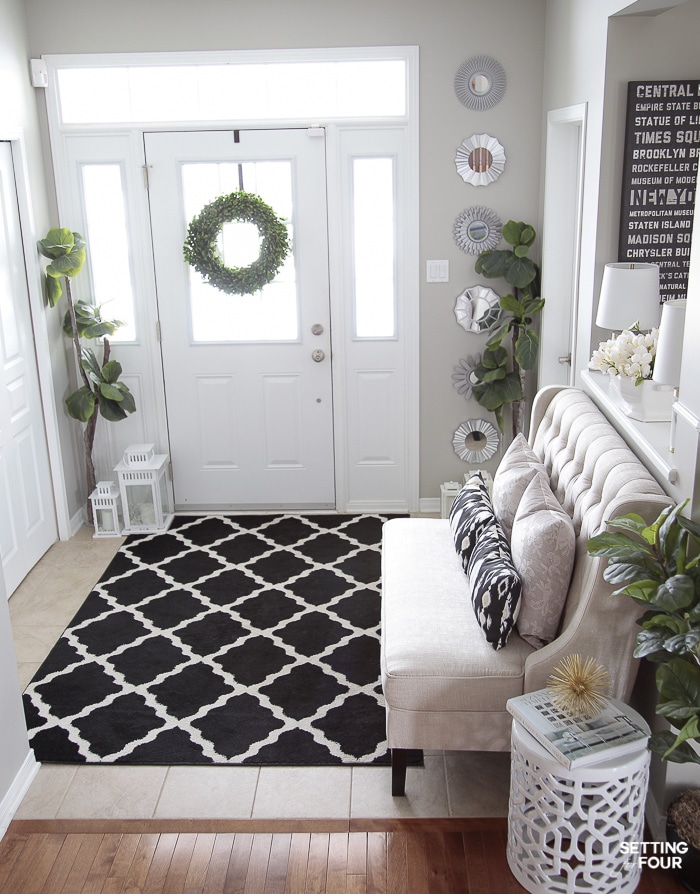 My Simple Spring Entryway Decor Ideas:
1. Spring Color Palette
My color palette this Spring consists of mixing in more whites, creams and an accent color of blush pink. These colors look beautiful with my day to day entryway color palette of gray, ivory, black and white. Once I chose my Spring color palette, I used that as a guide when choosing my Spring decorative accents.
See the Paint Colors In My Home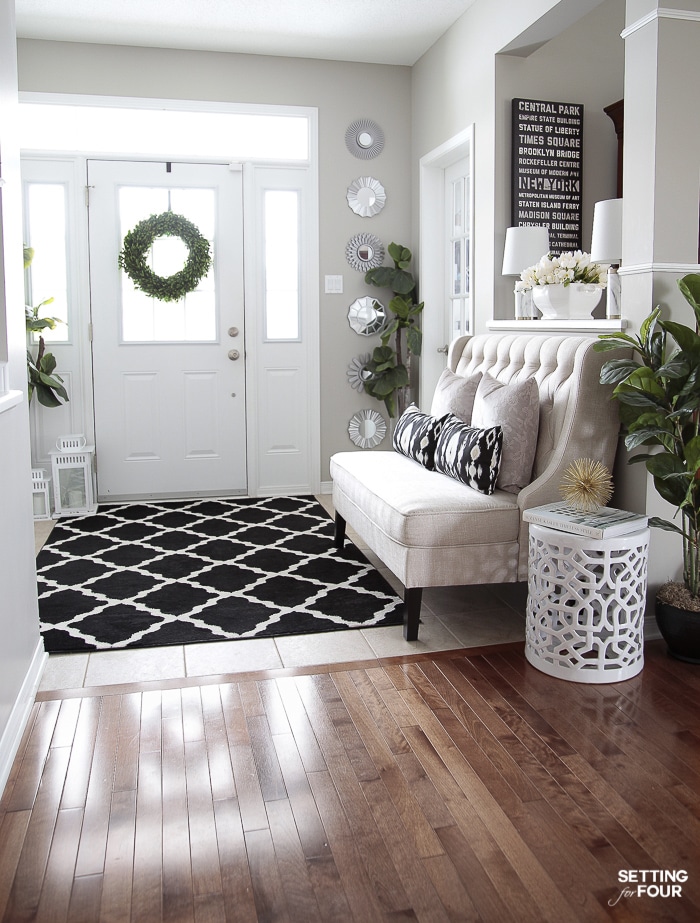 Shop the look of my foyer! Click on the images below and scroll using the arrows.


2. Florals For Spring Entryway Decor
Nothing says Spring like flowers! I love adding fresh and faux florals – especially tulips, dogwood and cherry blossom branches. I had these white faux tulips and white cherry blossom branches in my floral stash so I added them to a white soup tureen for a big scale arrangement! I love how it adds a touch of Spring and was so quick and easy to make! I just bent the stems, tucked and fluffed them until they filled the container nicely, making sure some of the stems and branches fall out over the side.
How to Style & Decorate With Artificial Flowers & Plants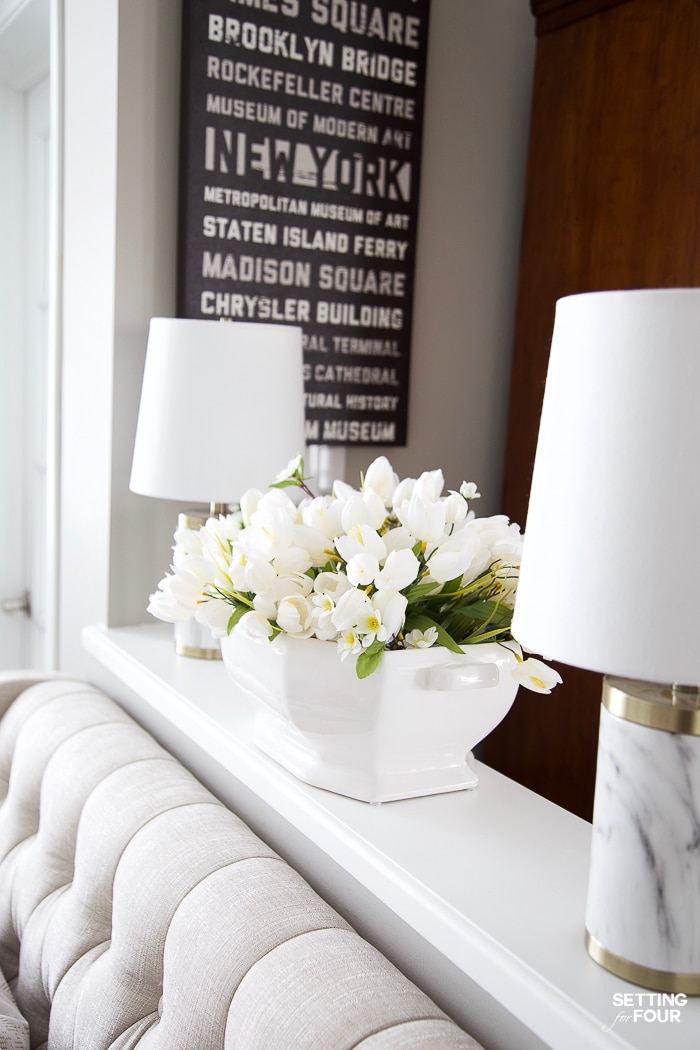 These Spring florals are gorgeous! Click on the images below to shop!

3. Greenery
Adding greenery to every room is a must – especially for Spring! Houseplants, faux or real add gorgeous color and texture to every room. My fiddle leaf fig stalks and fig tree are faux – I love how they add height and a pop of color to our entryway!
Beautiful Inexpensive Houseplants That Ship To Your Door!
Shop these real and faux fiddle leaf fig trees to add a pop of greenery to your home!

4. Wreath
A dried boxwood wreath is timeless and a classic piece of Spring decor! I love adding a wreath to the inside of my front door as well as the exterior!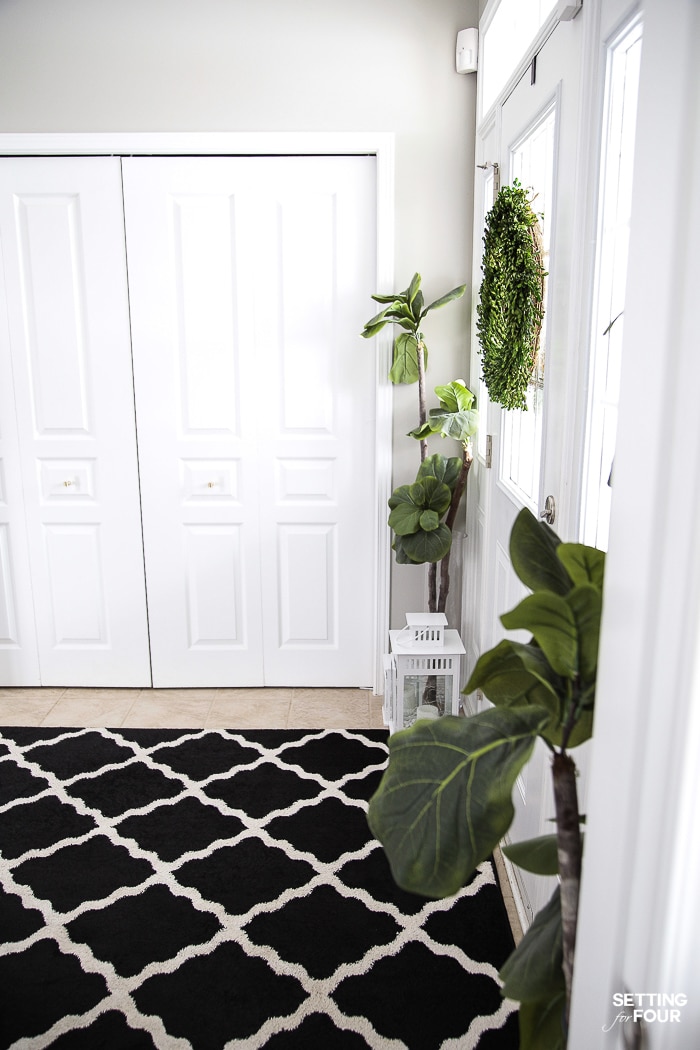 5. Pillows
These gorgeous blush pillows are where I added the touch of blush color to my foyer! I picked these up at HomeGoods. (The quickest way to update any space is with pillows! I'm sort of obsessed with them and use these bags to store them in, and keep them in our guest room closet!)
I love the subtle floral print on them too – another nod to Spring!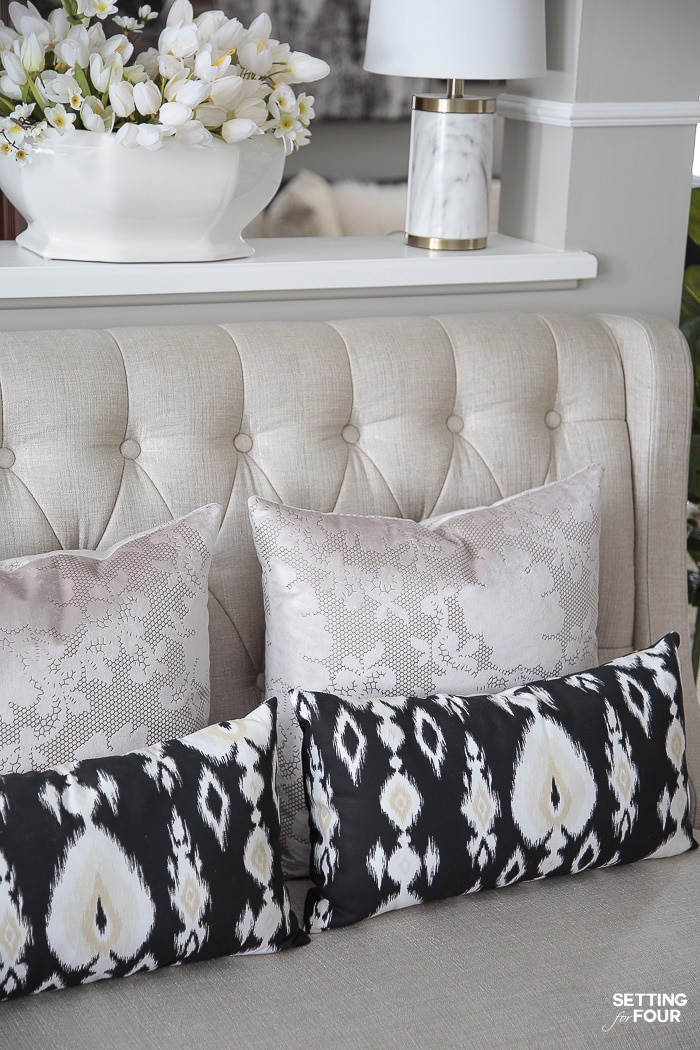 Shop these blush pink decor ideas! Click on the images below to shop!

All of these Spring touches were quick and easy to put together and didn't break the bank! I love the elegant, stylish look these florals and pillows bring to the overall feeling of our home! This space truly makes me smile every day!
This settee is one of THE BEST furniture pieces I've ever bought – it's so comfy and gorgeous! The tufting, nailhead and slight wingback sides just make me swoon.
It provides the perfect spot for us to put our shoes on, put our keys and mail on.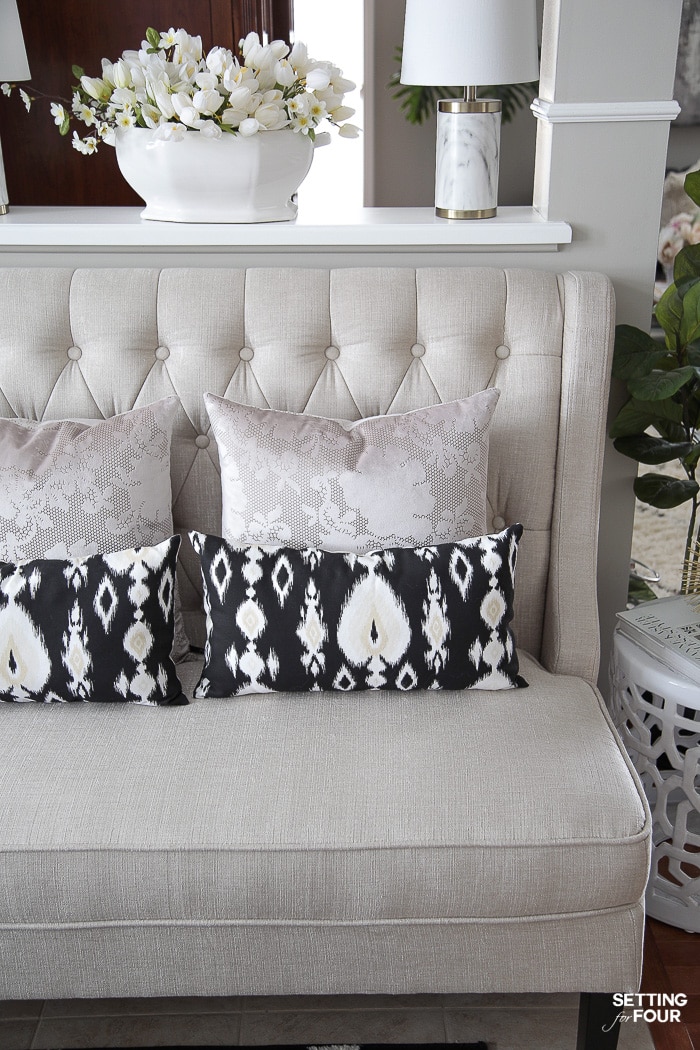 I hope you enjoyed seeing my simple Spring entryway decor ideas!
Tell me in the comments below what you think of it! I love reading your comments and hearing how you decorate for Spring!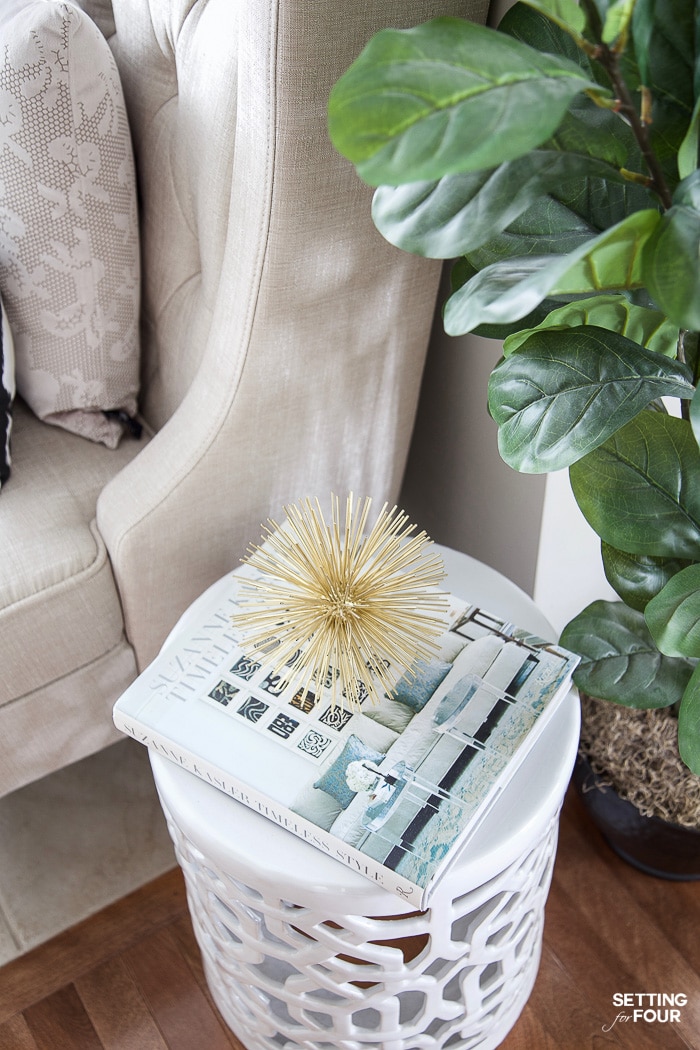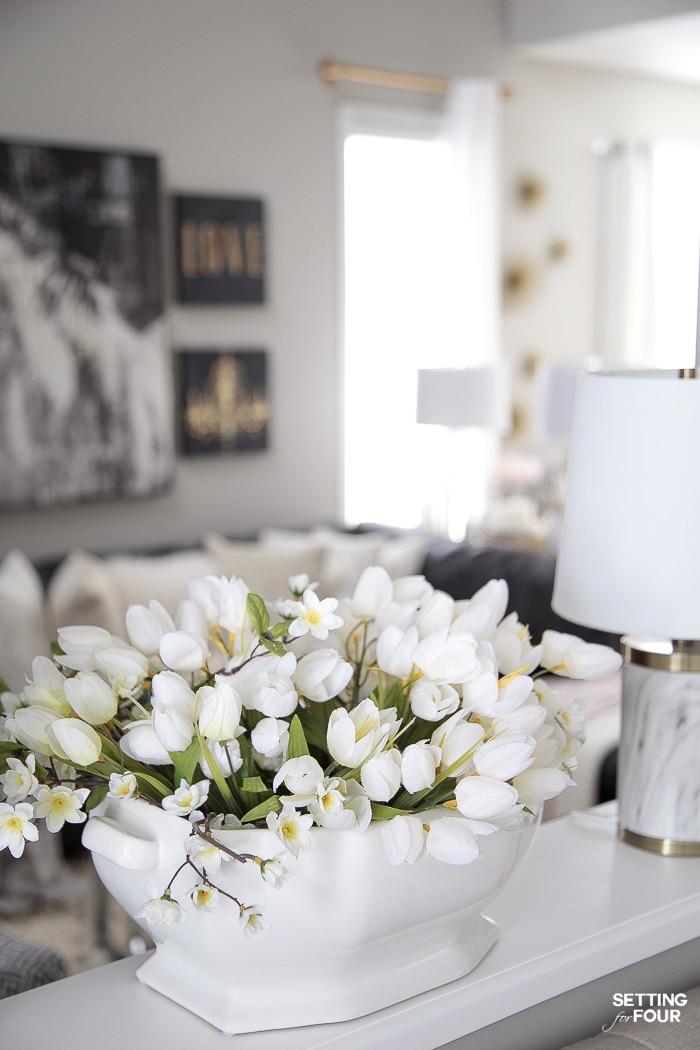 You may also like these other Spring ideas:
24 Fresh and Fabulous Spring Mantel Decor Ideas
The Easiest Way to Tint Mason Jars Blue
A Burst of Spring House Tour and Home Decor Ideas