Hello everyone! Today I'm so excited to show you my guest room refresh that's now complete with a new swoon worthy headboard, bedding, wall art and decor!
I'm sharing the design process and the items I chose for the space so you can see how I created this look and how layering is so important when styling a room.
I can't wait to tell you about all of the gorgeous furniture and decor I chose to add personality and style to this once blah room!
Our guest room is now officially ready to pamper our guests in style and has become a little oasis for our out of town friends and family to stay and relax in: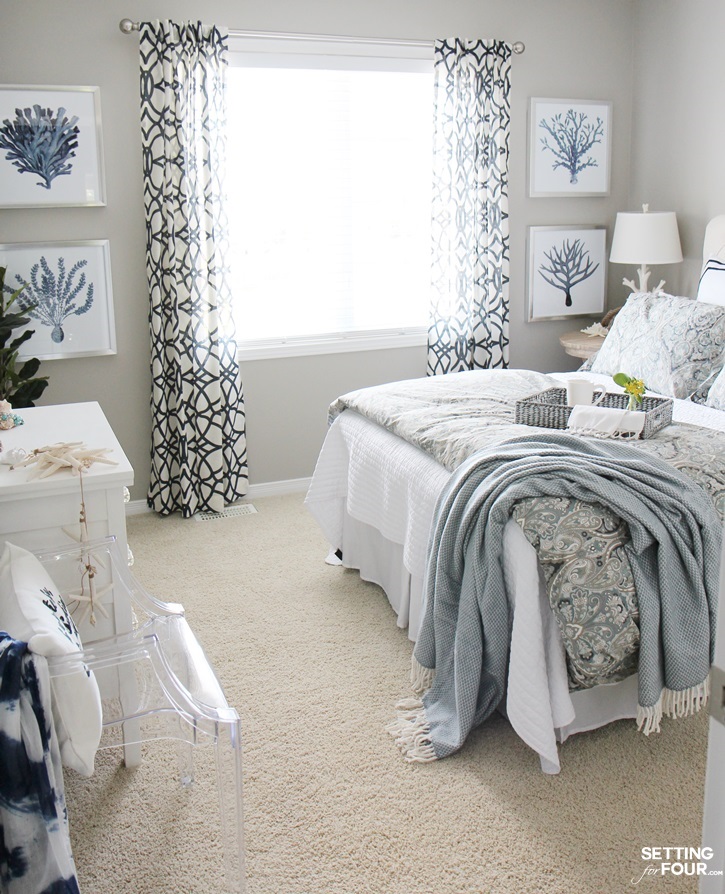 With out of town friends visiting us next month this makeover is finished in perfect time! I think they will really enjoy relaxing in our cozy guest bedroom.
CLICK ON THE PICTURES BELOW AND SCROLL USING THE ARROWS TO SHOP MY GUEST BEDROOM!
I've since added this gorgeous 30″ diameter antique white juju hat above the headboard- it's stunning!
Update: my headboard is currently not available but this headboard in beige is similar!




Last week I showed you my Summer Home Tour and my beach style decorating ideas – one room that I didn't show you was our guest room… but now it's finished! And here it is!
I'm so in LOVE with it and our guest swoon over it too! That makes me so happy!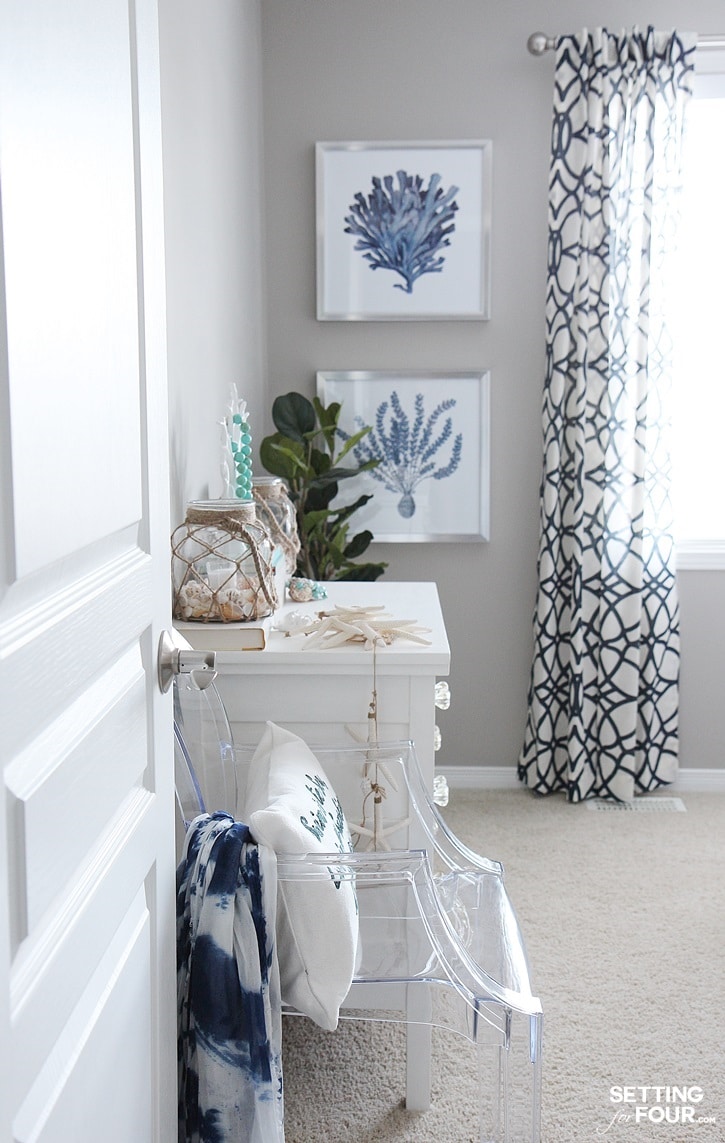 This post contains some affiliate links for your convenience. Click here to read my full disclosure policy.
---
Need help with furniture layout, decorating or help picking paint colors? I offer online interior design services and paint color advice! See the info, my designs & client reviews here!

---
Guest Room Refresh Plan and Ideas
Our guest room started out very basic and very boring: a mattress and box spring, a basic bed frame, a dresser, one night stand and white blinds on the window.  It was fine, but pretty lackluster and ho-hum.
The first decorating decision I made was to decide on the look and style I wanted this room to embrace: a cozy vacation getaway vibe with a light, bright coastal look.
I wanted neutral bones with pops of indigo and watery blue accent colors. Maybe our guests will feel like they've escaped to a Caribbean destination retreat!
Then I created a list of functions I wanted this space to have: comfortable sleeping, good lighting for reading in bed, storage for clothes and a spot to sit.
Next I started off making a list of what I needed to achieve that list of functions I just made and to match the feeling of the room: add an upholstered headboard, 2 night stands, table lamps, curtains, wall art and accessories to create a cozy space.
New paint was a top priority too – Sherwin Williams Mindful Gray is the color we choose for this room. It's my go to gray color – see all of our homes paint colors here.
Let's go through the furniture and decor that I added to our guest bedroom:
The Headboard: The first thing my guest room needed was a neutral colored headboard to create a focal point and add comfort. A mattress on a basic frame just doesn't scream 'Welcome to our home'!
This  Upholstered Headboard in beige is such a stunner!
It also fit three things I was looking for: a neutral color, upholstered and tufted.
It's curved shape and the button tufting add loads of elegant detail and personality.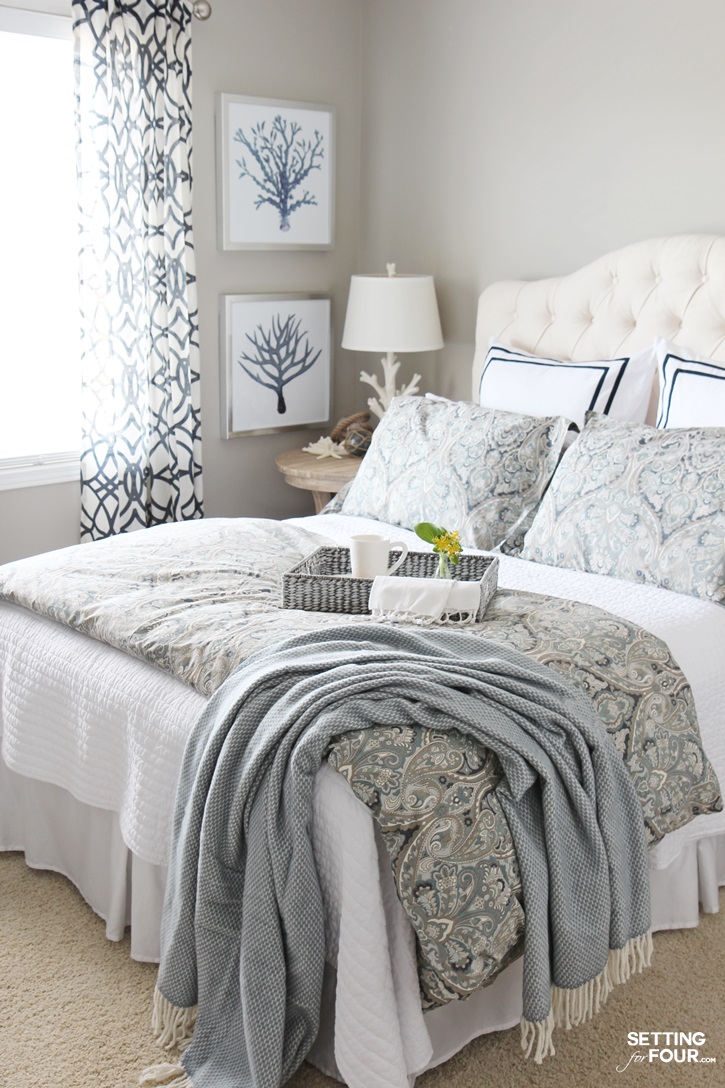 Nightstands: The second thing to check off the list – nightstands. I  fell immediately in love with these bleached wood pedestal tables !
These gorgeous gray wash nightstands are a similar look.
The curved legs mimics the curved headboard and I love the beautiful simple finish that shows the wood grain. The bleached wood look fits right into the vacation getaway vibe I'm after too!
As you can see you don't have to use standard night stands for your bedroom!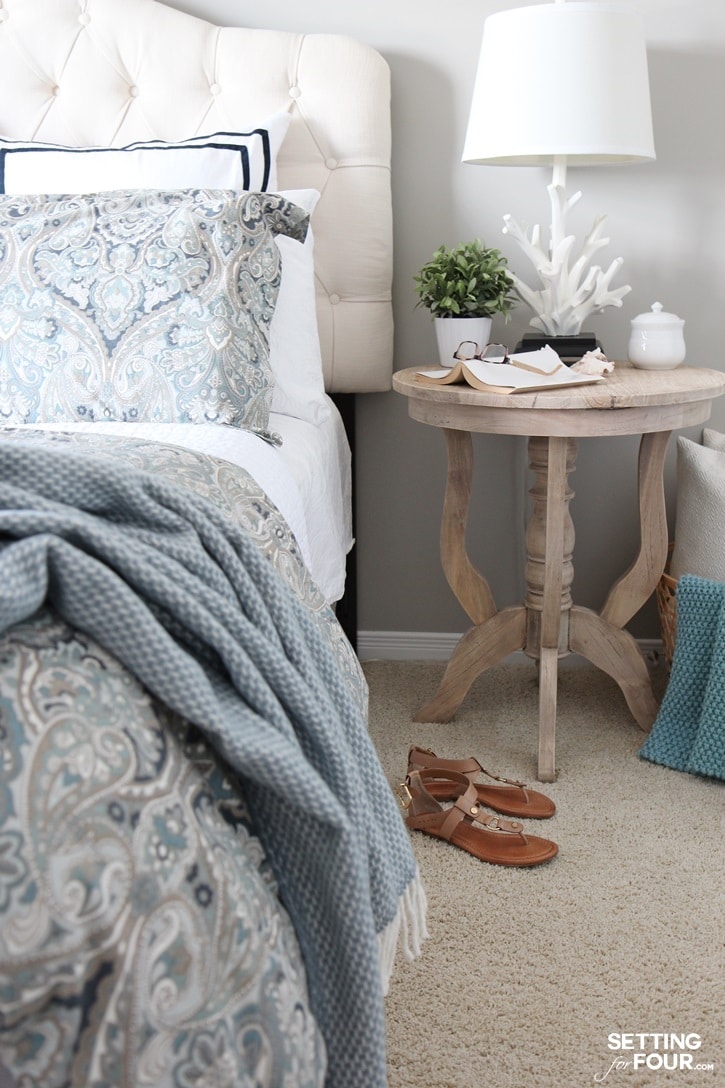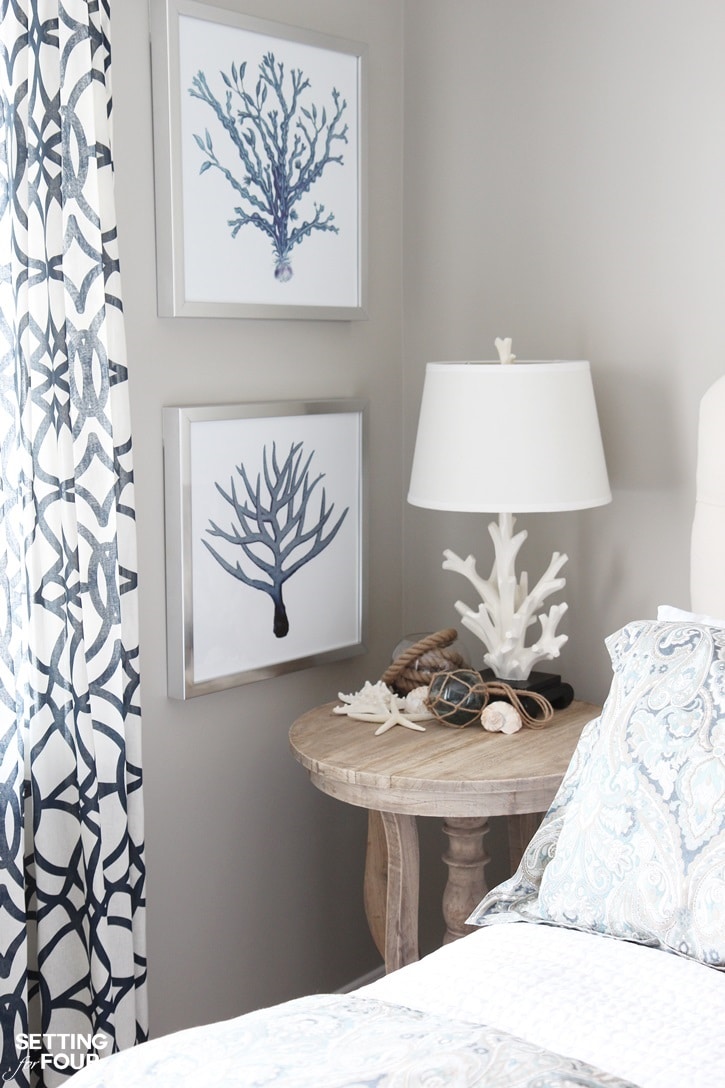 Guest Bedroom Refresh: Layers
Bedding: A bedroom refresh isn't complete without new bedding!
This duvet cover and sham set is absolutely breathtaking!
It has so many beautiful colors in it that you can pull from to use as accent colors: dark blue, light blue, ivory and taupe-beige.
This duvet cover and shams wash like a dream and are so soft!
This beautiful medallion print is so classic and timeless
I also love adding Euro shams to our beds – they add an extra layer of comfort and are a great way to add pattern and color to the room.
My Euro shams are not available anymore but these white with navy border euro shams are similar!
These gorgeous euro shams with a bold navy border add a shot of blue to the bed and tie into the blue and white wall art.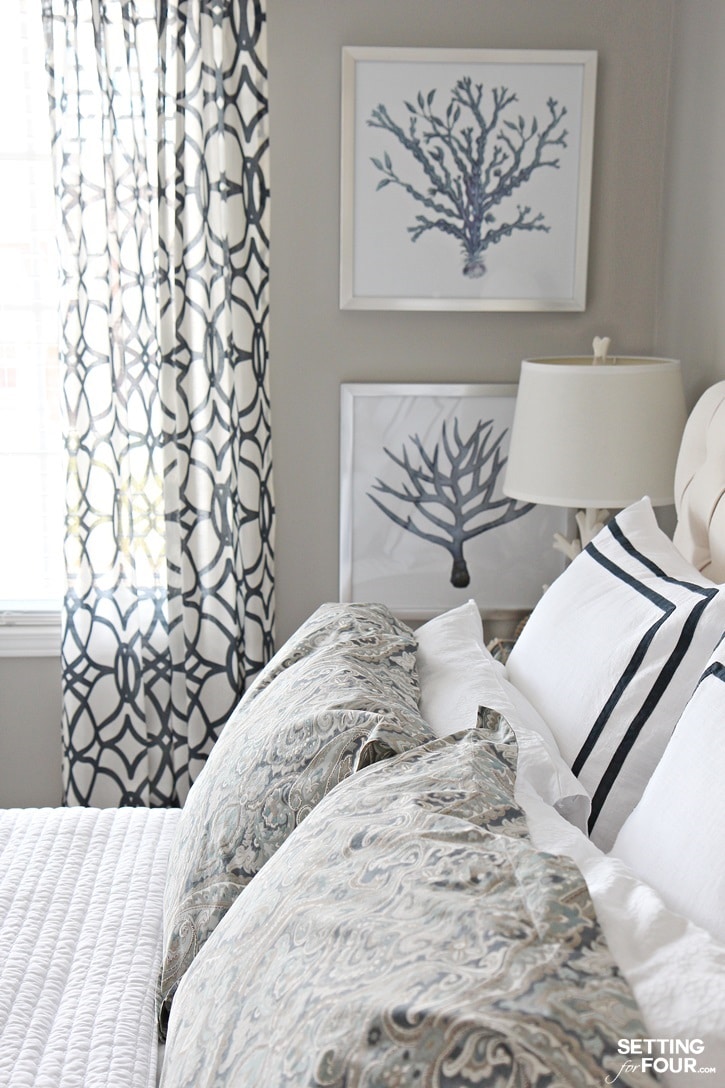 Wall Art: Fill up empty wall space and add style and color with art!
These Indigo Coral Shadowbox Prints are stunning!
They are called  Indigo Coral I  ,  Indigo Coral II  ,  Indigo Coral III , and  Indigo Coral IV
Indigo blue is such a gorgeous shade of blue. These prints add another layer of blue in my room and a relaxing look.
 Indigo Coral I  ,  Indigo Coral II  ,   Indigo Coral III  ,  and   Indigo Coral IV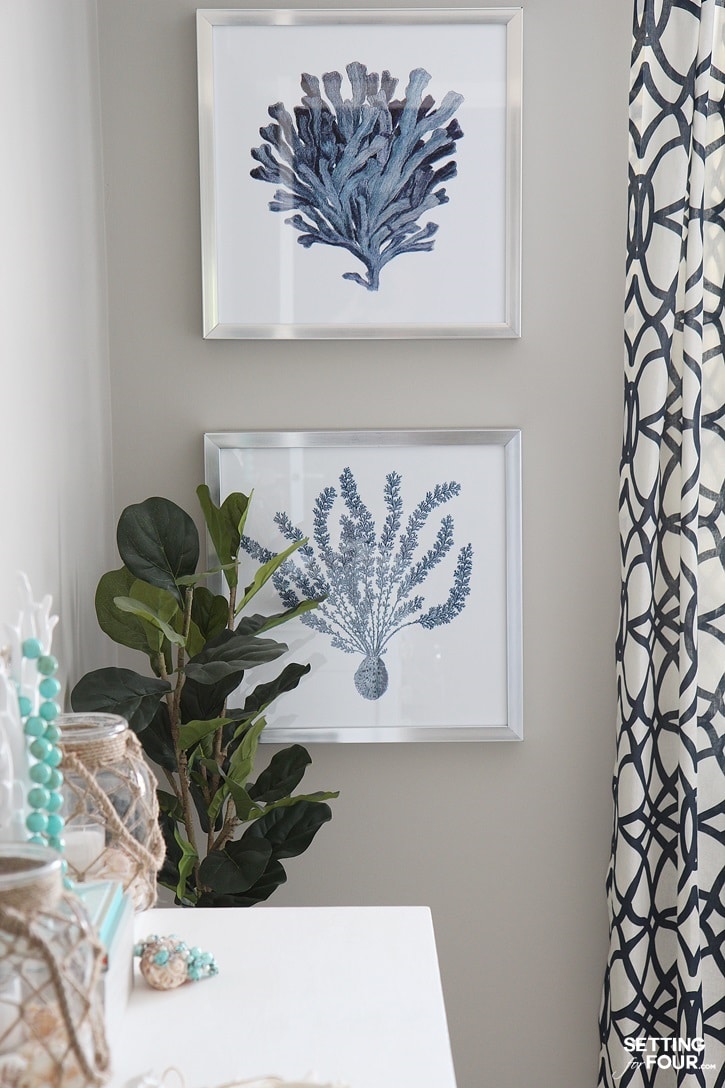 Decor Accents: It's time to accessorize! This is the final and a very important layer to add to a room!
Decorative accents fill in empty spaces and are a fabulous way to add more personality and coziness to a room.
These jute  & glass lanterns add gorgeous texture and a coastal feel to my DIY painted dresser.
I love the jute rope handles and jute wrapped sides.
Adding some sea shells and a candle to the lantern adds another layer of texture and vacation getaway style to this end of the room.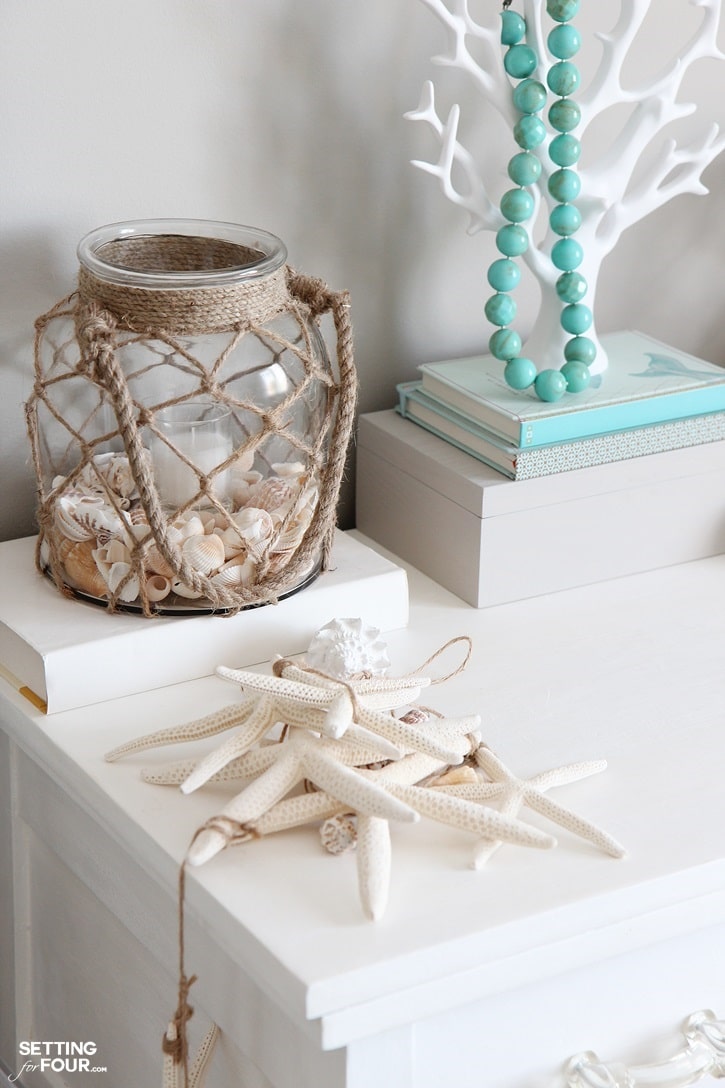 Our guests will love cuddling up with this gorgeous throw blanket in slate!
Even though it's called 'slate' its a stunning blue and ivory color.
It's so incredibly soft and I love the fringe accent! The elegant blue-grey color ties in beautifully with the gray colored walls and blue accents.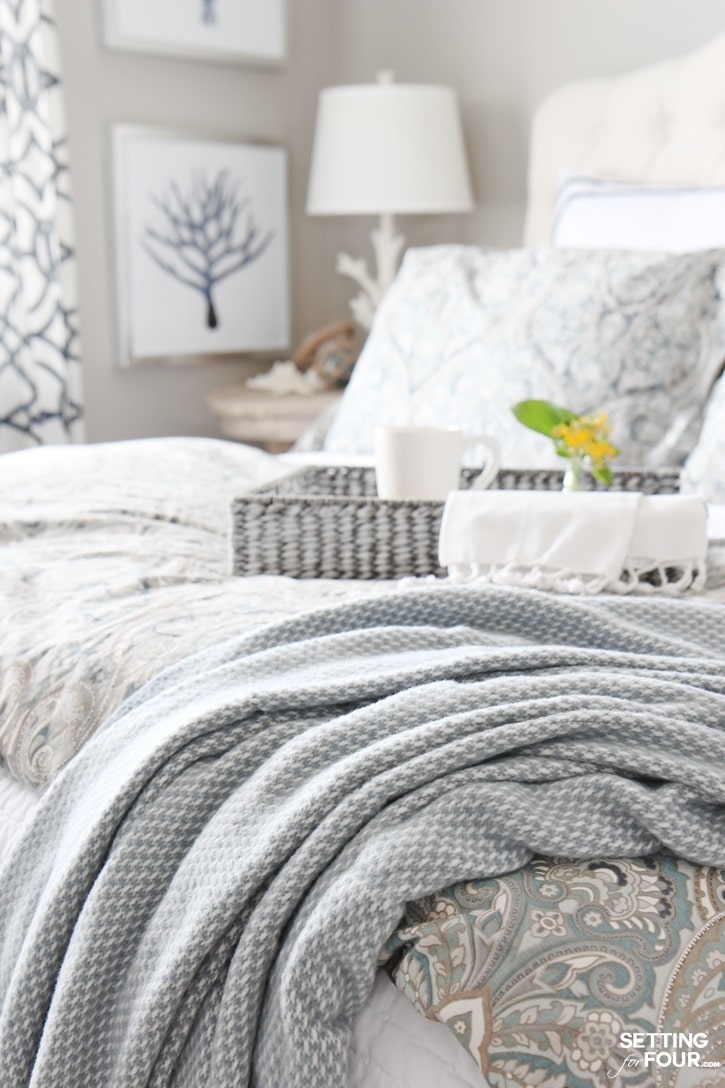 Guest Bedroom Sources:
Natural wood pedestal tables – these gorgeous gray wash nightstands have a similar look and have a drawer and shelves!
White with navy border euro shams
Indigo Coral Shadowbox prints:  
Throw blanket in slate
Wall color: Sherwin Williams Mindful Gray 7016. I LOVE this paint color!
It's a warm gray that goes well with other neutrals as well as accent colors.
See my tips and get your FREE checklist on How To Prepare a Room for Painting
What do you think? Do you like my guest room choices?
I can't wait for our guests to see it and spend time here!
Love decorating? Get your FREE Decorating Guide: How to Get the Designer Look on a Budget!
More Design and Decor ideas:
Dresser Makeover with Chalk Paint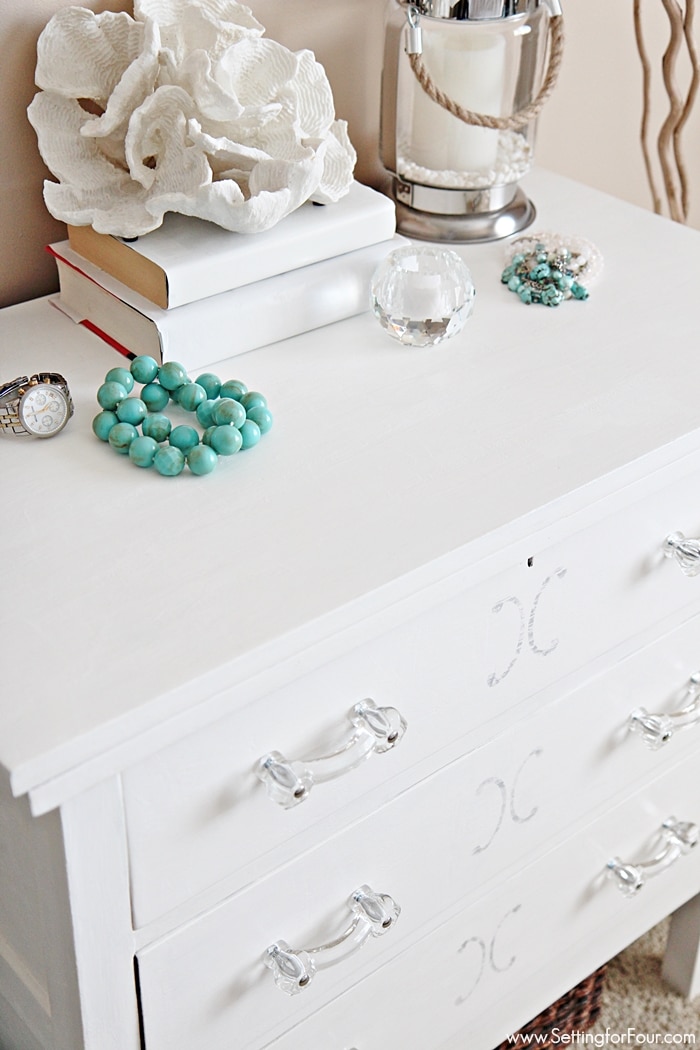 Interior Design Advice: Do's and Don'ts Every Beginner Should Know