See tons of DREAMY Beach Style Decorating Ideas for your home in my summer home tour. A coastal home tour with lots of rooms decorated in beautiful coastal palettes and beachy accents to grab ideas from!
Hello friends! I have a big treat for you today!
16 bloggers including myself are opening our homes in a mega waterside house tour – to share with you our beach style decorating ideas, coastal and lakeside living ideas!
We are sharing with you just how much waterside living is infused into our souls!
In these 16 gorgeous waterside home tours there is a TON of beautiful decorating inspiration for you – that you can duplicate and add to your own home!
Plus who doesn't love having a peek into cozy homes decorated for summer? 🙂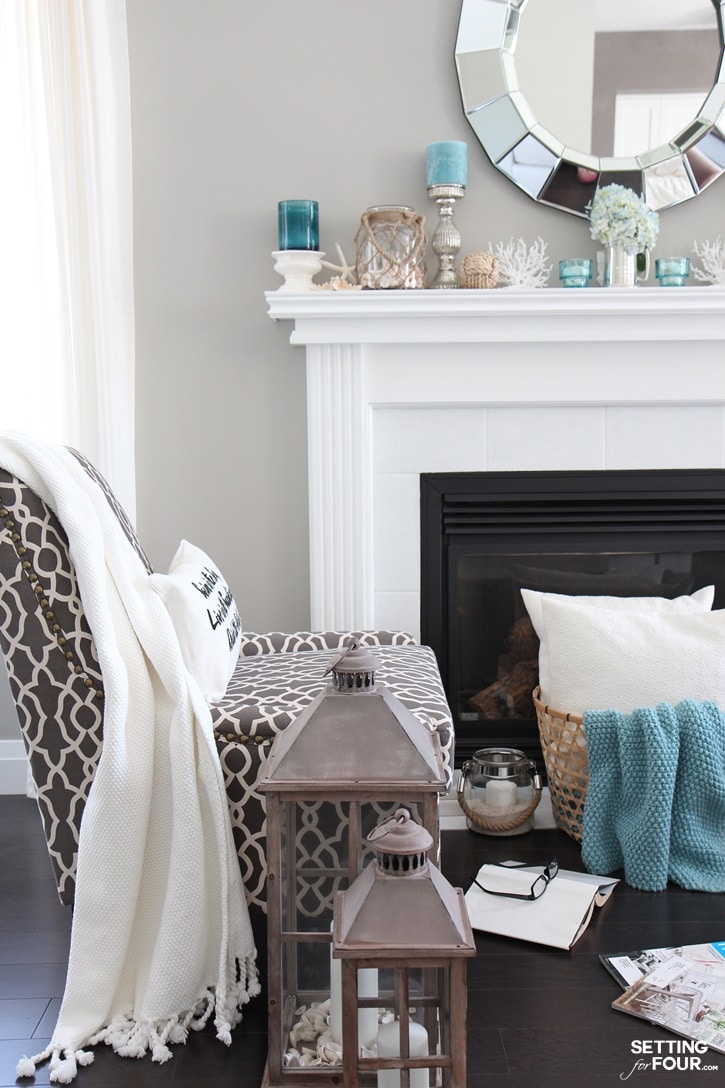 But first off I have to be completely honest here and fill you in….I currently don't live near the water!!!!
So why in the heck am I part of this waterside home tour?
I received an email from a new friend of mine and fellow blogger Emily at Table & Hearth and our conversation went something like this….
Emily: "I wanted to see if you may be interested in joining in on a home tour I am hosting…I've seen your beautiful coastal style but wasn't sure if you live on the coast or other water body or not….If this is something you may be interested in, let me know!"
It sounded exciting and I was flattered to be invited!
Me: "Your home tour sounds amazing and it's such a great idea! I wish I could join you but we don't live near a body of water right now…..we used to live near VA beach though and I grew up on a lake so that's where my love of coastal and beachy decor comes from!"
Then I told her we had something fun in common- our love for biology! I used to be a Research and Development microbiologist back in the day and Emily is a biologist! Instant kinship!
Emily invited me to join in anyway and share my love for the water and my beach styled home decor ideas- yay !
My love for living by the water started off very early…
I grew up on Lake Erie and spent every summer as a young girl playing on a beautiful white sandy beach, chasing minnows in the shallows and burying my body up to my neck in the blazing hot sand…then later as a teen working on the beach in my Mom's beach side restaurant, swimming every second I could and diving fearlessly off the fishing pier!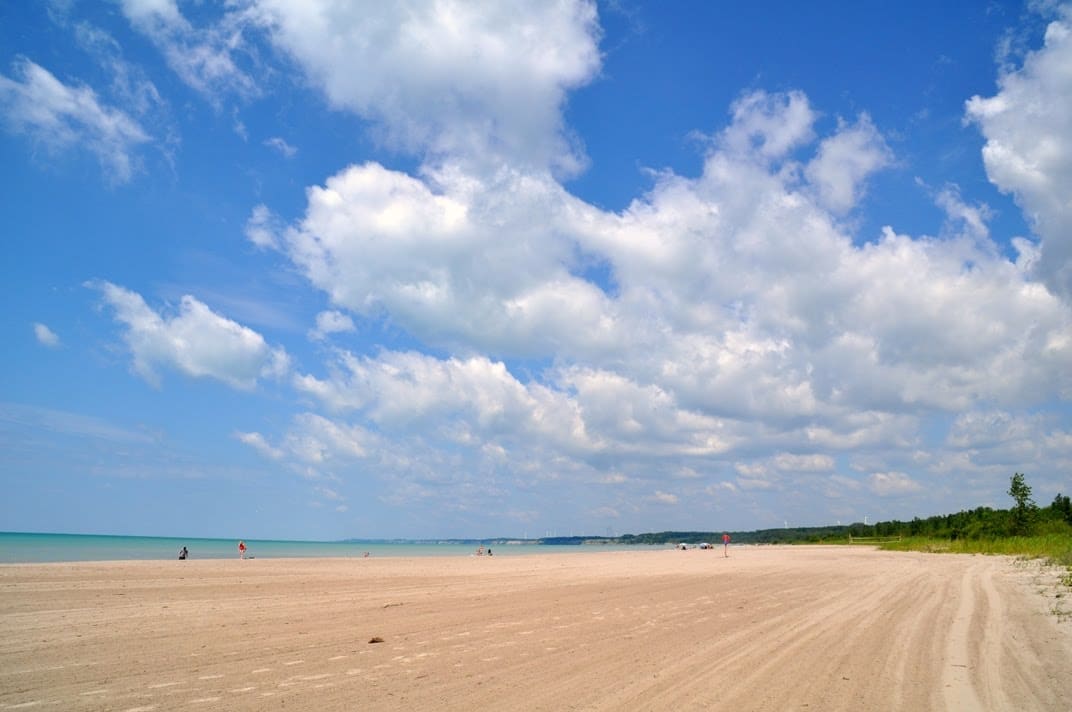 source
Later on I met the man of my dreams, an infantryman and our many military moves took us to adventures and postings where we lived near water – ironically my hubby is in the Army not Navy!
We lived in Virginia for 3 years during posting # 7 – where we were close to Virginia Beach and got to enjoy the coastal life:
Building sandcastles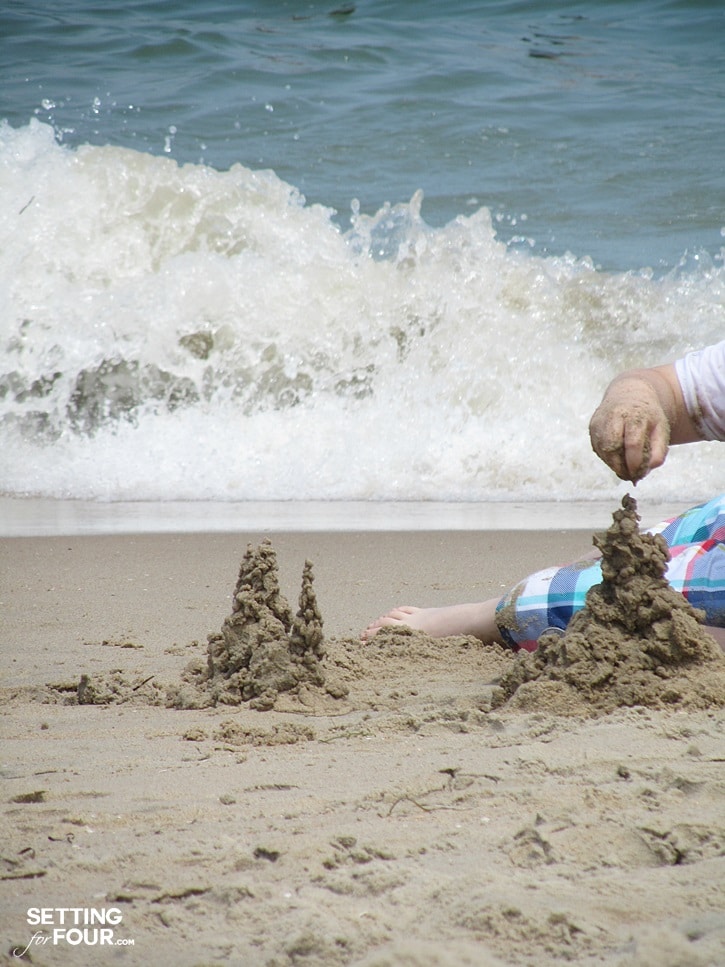 Body surfing in the ocean – that's my handsome hubby and our oldest boy!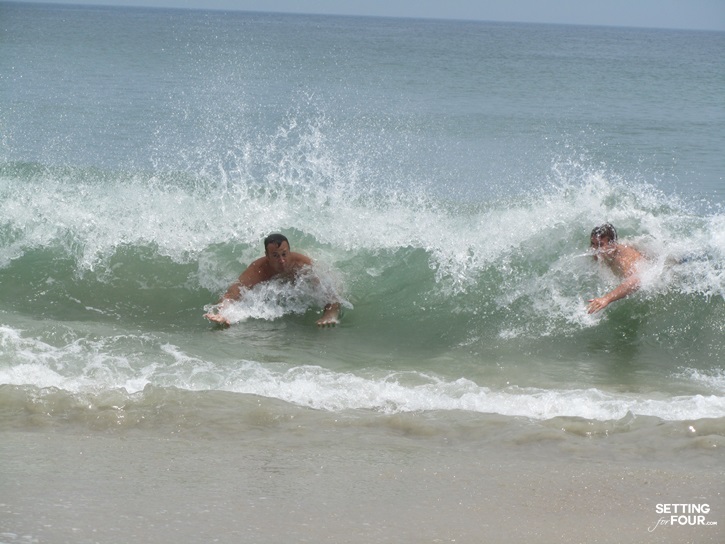 Playing in the Virginian Beach sand dunes: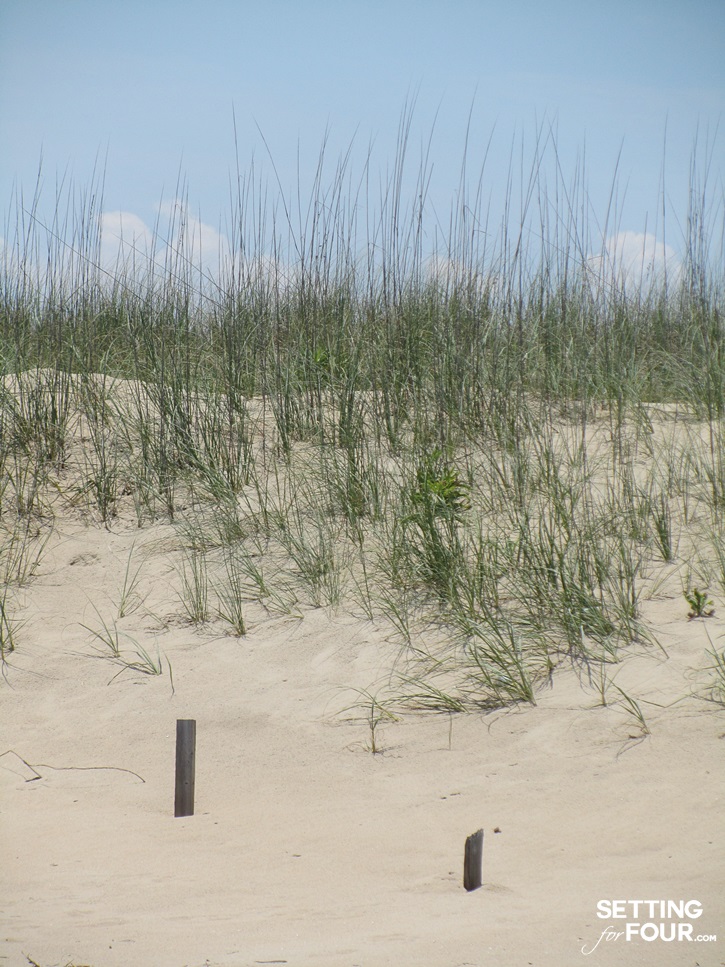 Strolling down the Virginia Beach boardwalk – this is the statue of King Neptune, the Roman god of the sea, with his trident at Virginia Beach: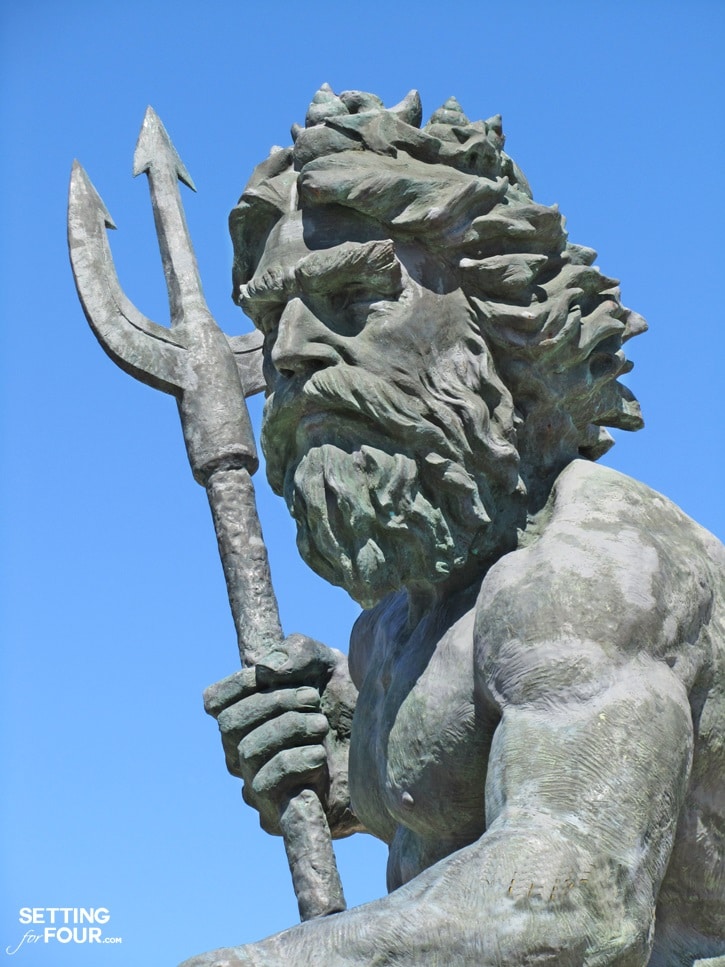 Posting # 2 took us to Lake Ontario and postings #4 and #6 took us to the banks of a huge northern fresh water river.
It was like a big lake, where we used to boat, water ski and tube – it was so much fun!
Wherever we live we always find the nearest beach!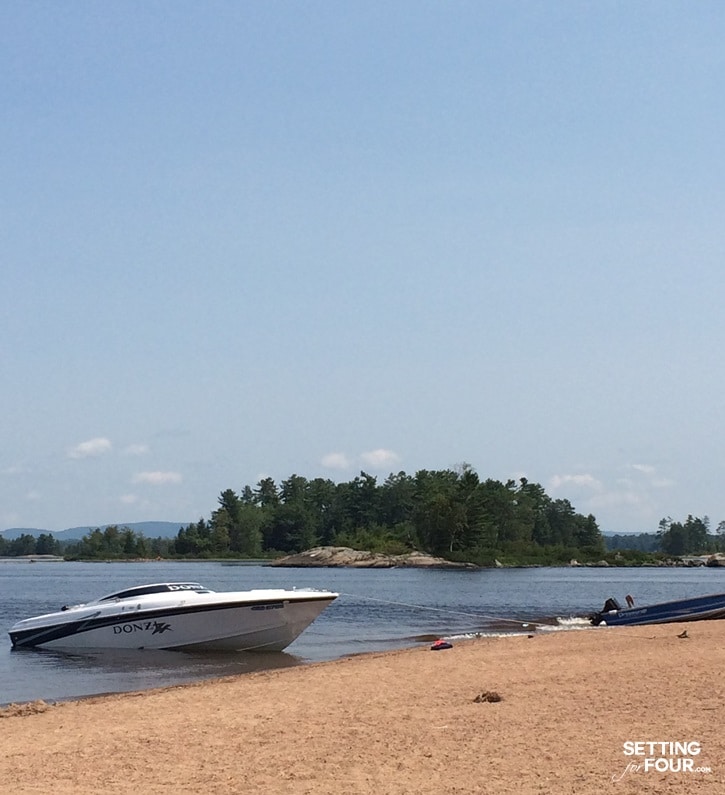 We love the water so much that my hubby and I are also PADI qualified scuba divers – here's a barrier reef in Belize that we've dove at!
Isn't it stunning?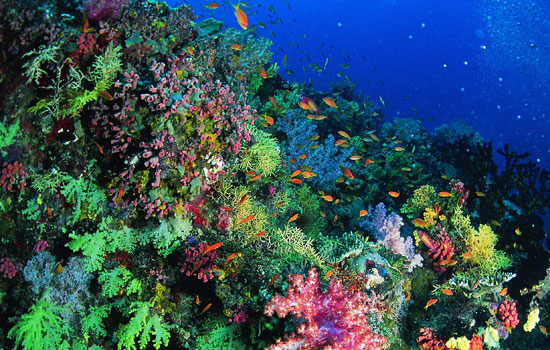 Scuba diving gives you a glimpse of a whole new stunning, watery world!
~
So there in a nutshell is how waterside living and waterside playing has captivated our family!
While we don't live near a body of water right now I love to surround myself with all the beautiful memories that water has given myself and our family.
….And here's my beachy, wish-I-was-still-living-by-the-water, summer home tour and beach style decorating ideas!
(posting #8!)
I love decorating our front porch for summer! Candle filled lanterns, big urns filled with curly willow and birch, a big shell wreath and driftwood colored wicker chairs to sit on and watch the sun set!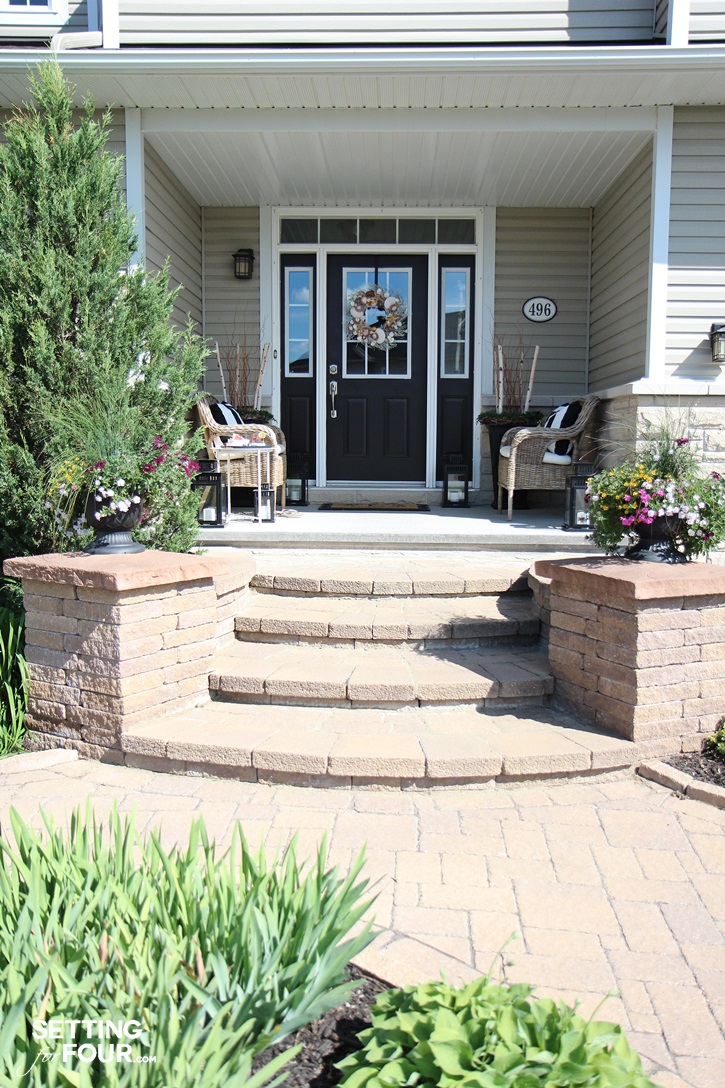 I have a huge shell collection and my front door is the first place I love to decorate with them!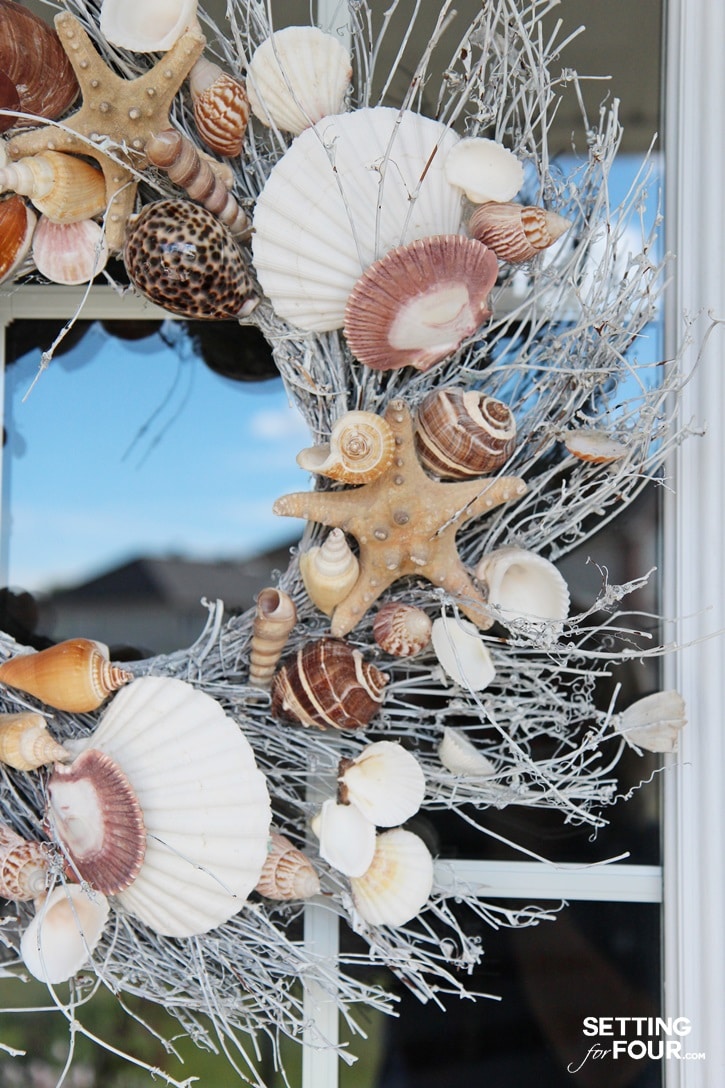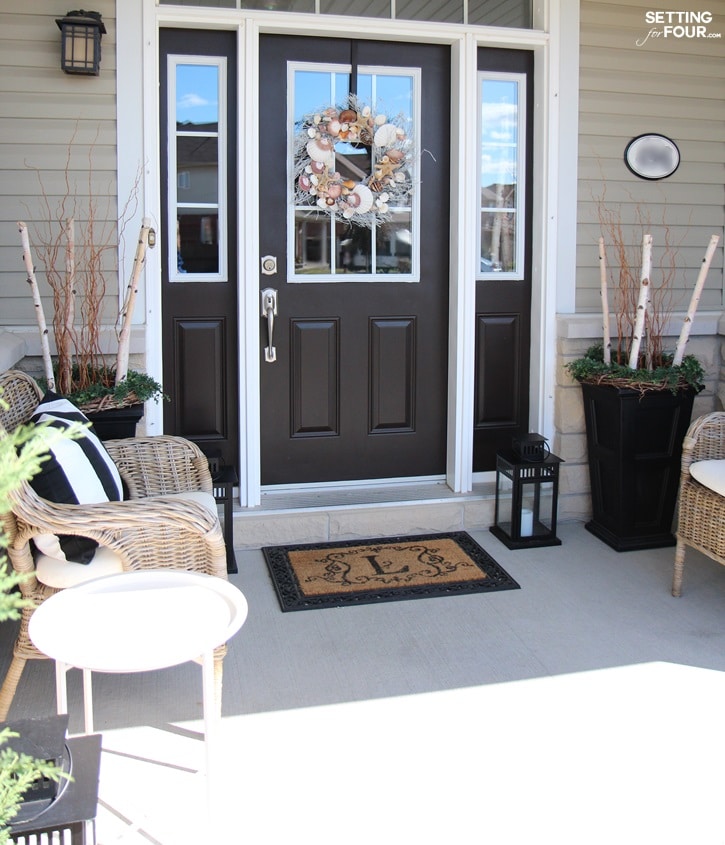 I added a big ironstone bowl filled with starfish, lanterns filled with shells from the gorgeous Murrells Inlet beaches in South Carolina…. and pillows in a ocean and sand hue tones.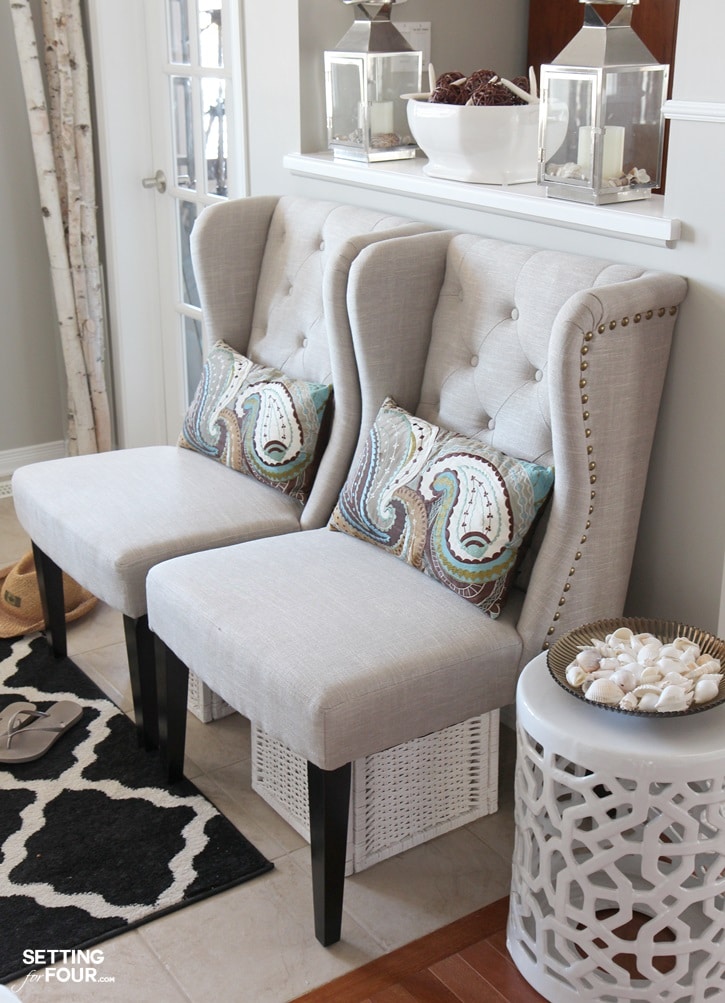 I love collecting ironstone do you?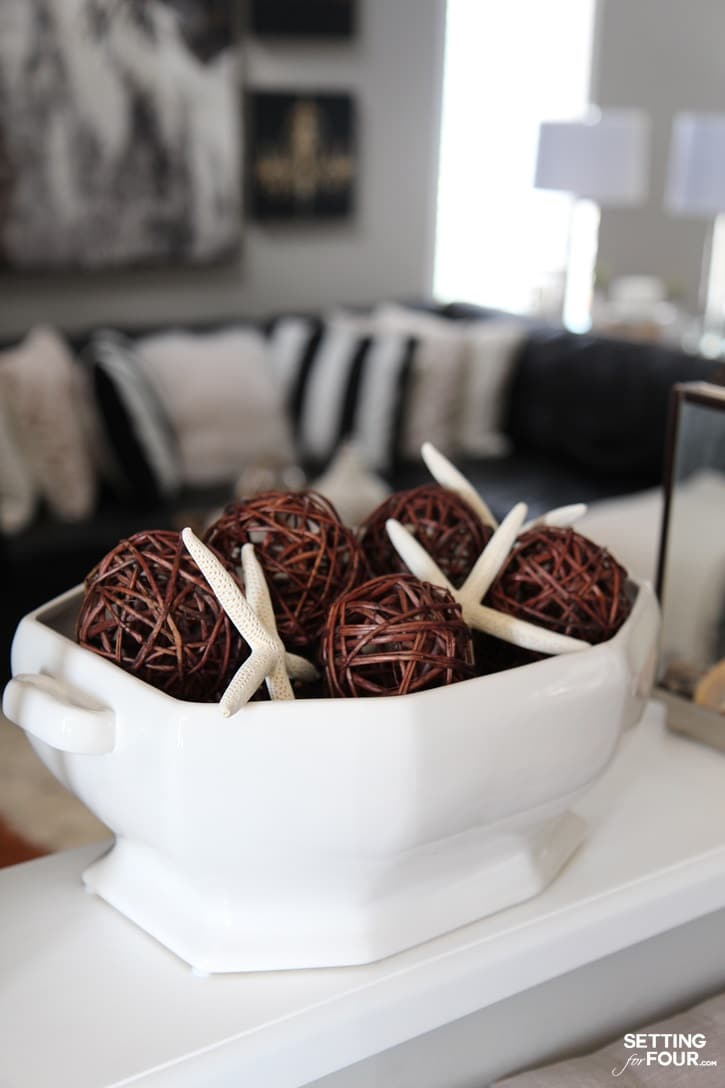 We have two wall niches and I have to admit – they aren't easy to decorate! I hung 3 narrow beachy pictures and added a big silver lantern filled with more shells, candlesticks and rope balls.
I love this pillow with one of my favorite quotes from Emerson:
Swim in the Sea,
Live in the Sunshine,
Drink the Wild Air.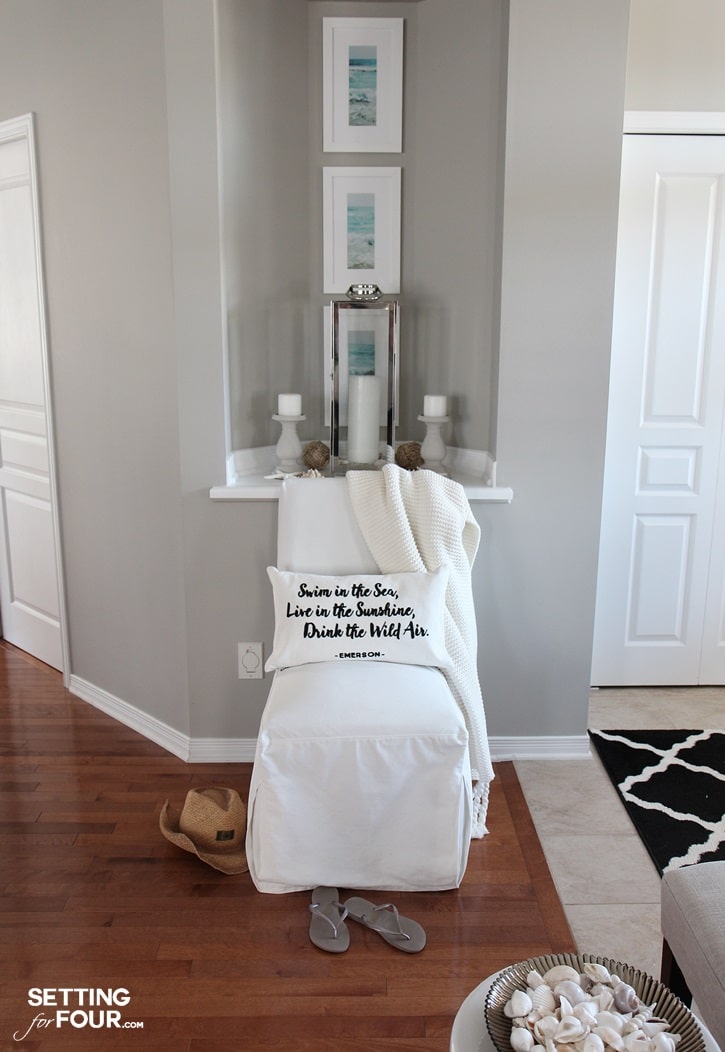 See all of my paint colors here!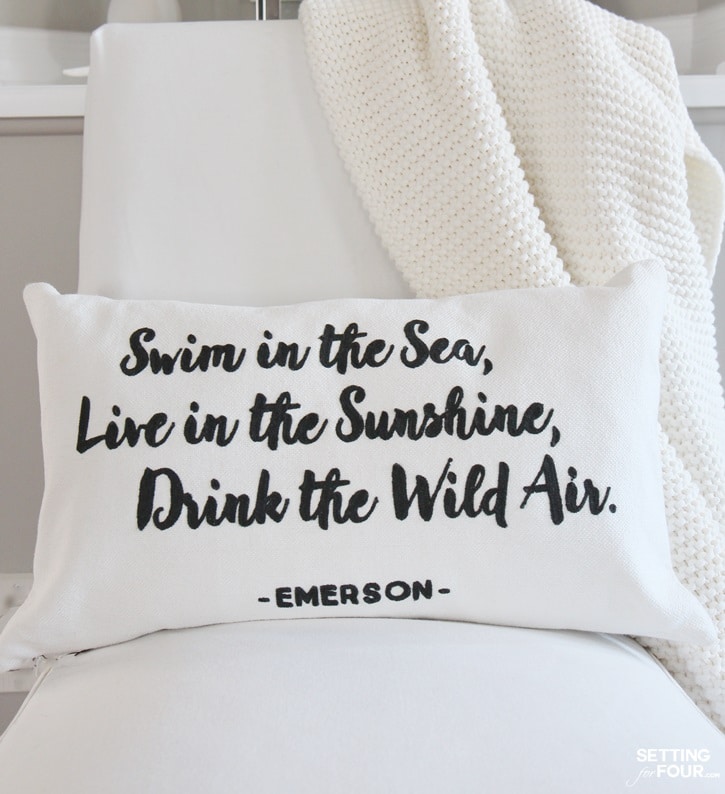 Here's our Living Room:
We've had this black sectional couch forever and it's so comfy! We love to pile on it for family movie nights.
Pillows with a nautical rope image, rope in vases and lots of creamy whites are the simple beachy ways I decorate this room for summer.
The star of our family room is our abstract horse art! I used to ride as a young girl and LOVE horses!
This white and grey horse reminds me of the trip we took to see the Corolla wild horses that live in the Outer Banks, North Carolina!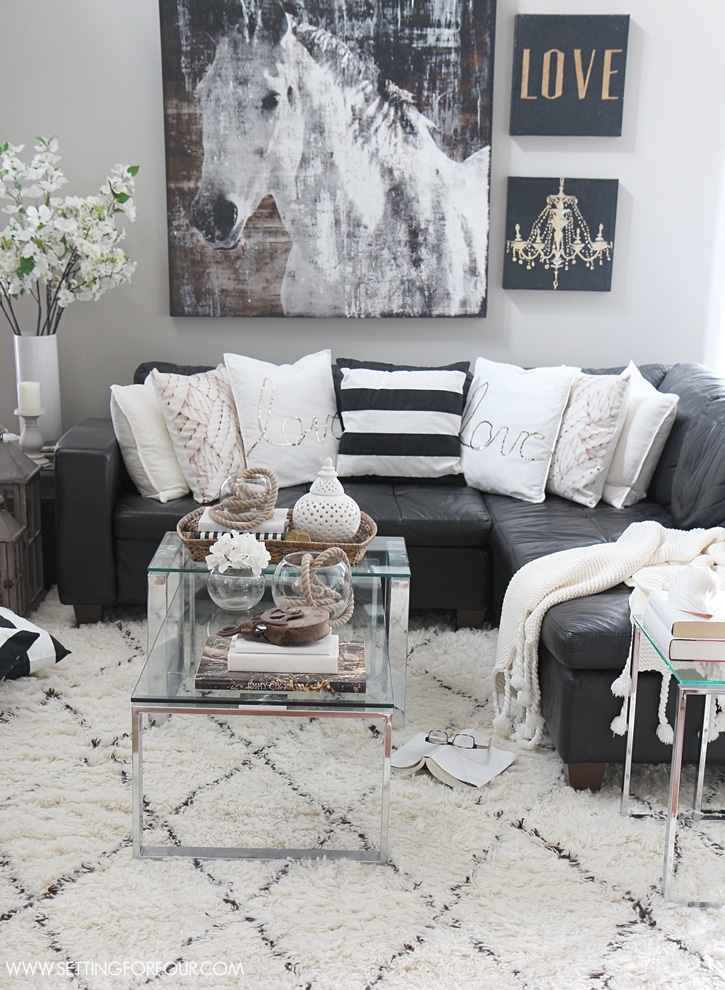 Have you seen these beautiful wild horses? They're descendants of Spanish mustangs that were brought to the US by European explorers…. and have been isolated from man for the most part for nearly 400 years.
They live right on the beach and roam 12,000 acres of protected Carolina coast.
We saw them a few years ago when we lived in Virginia and went on a fun Humvee wild horse beach tour to see them in their natural habitat. Our boys loved it!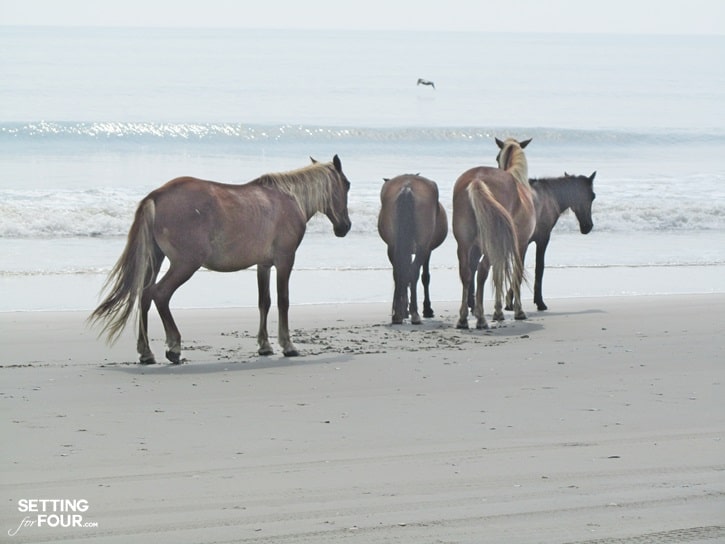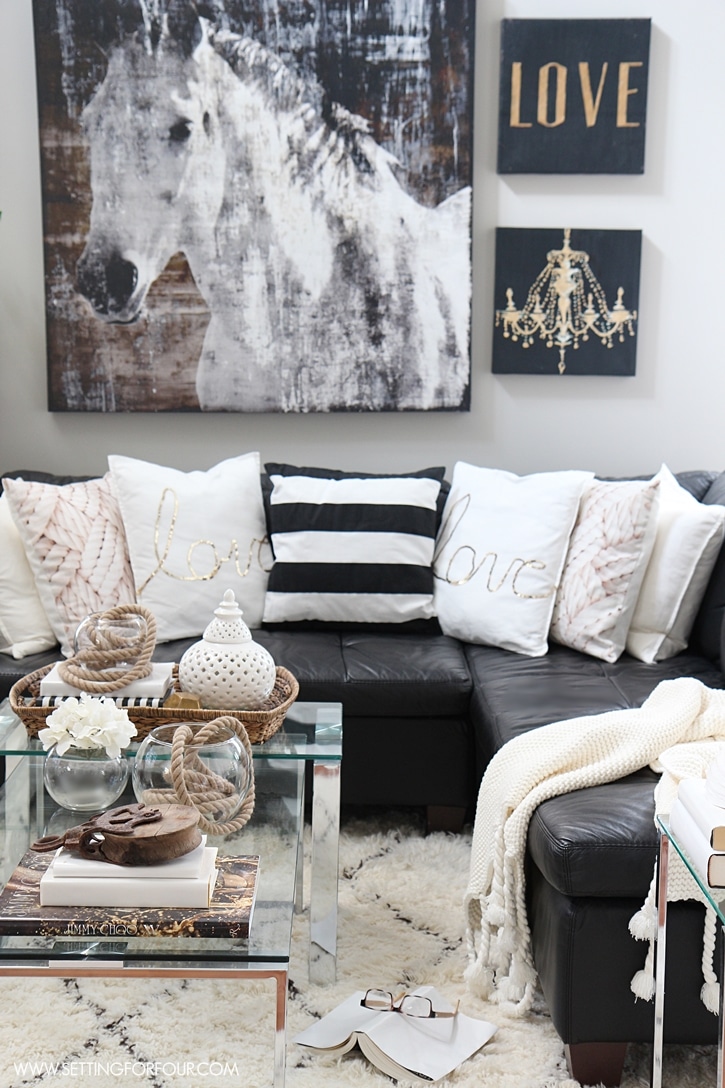 Here's a quick and easy Beach Style Decorating Idea – add some rope into a clear fishbowl style vase to decorate your coffee table.
This reminds me of the rope that fishermen used to tie down their big boats that fished perch, walleye and rainbow trout on the lake I grew up on.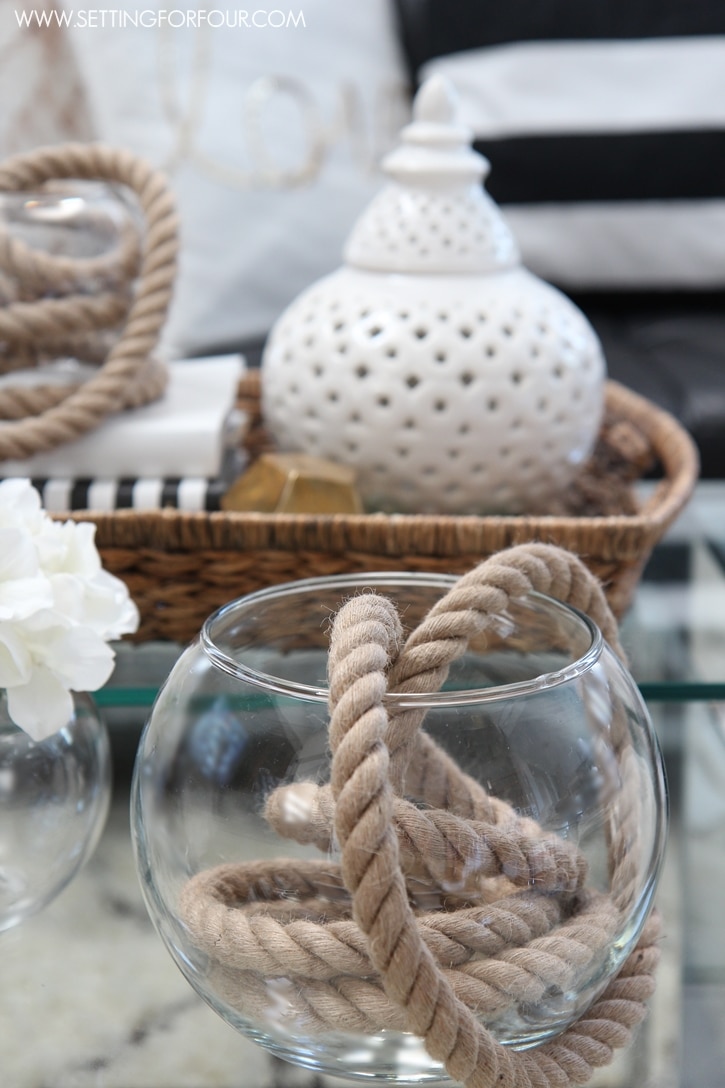 A simple shell on a stack of books is another easy coastal decorating idea.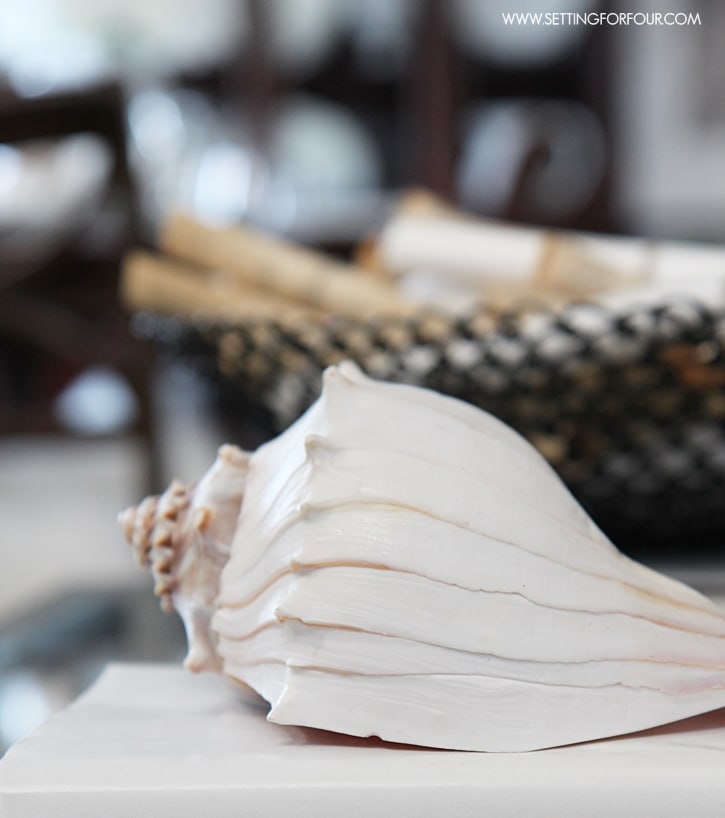 We love family movie nights! This is where we hang out watching movies on our big screen TV – popcorn is a must!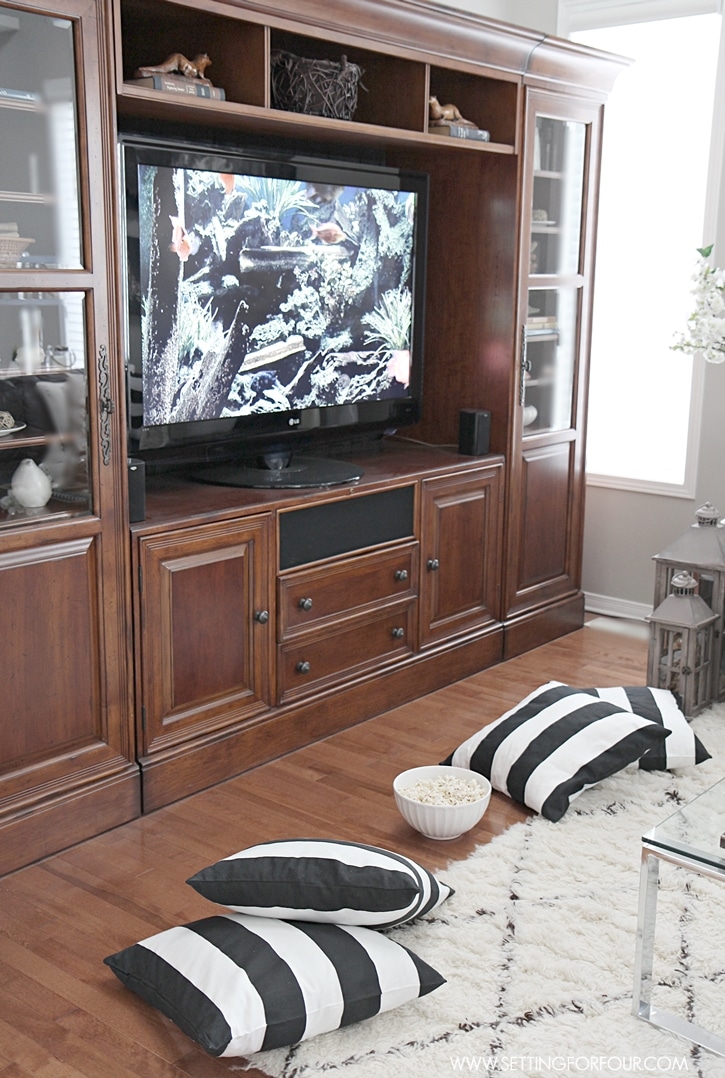 Our dining room: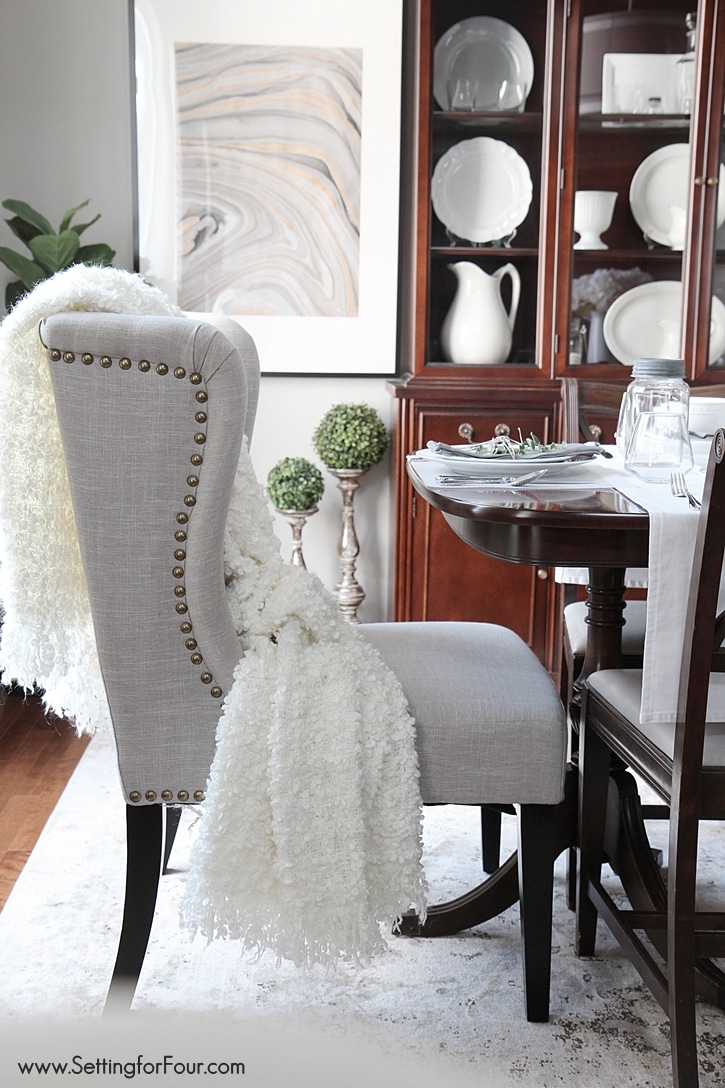 I made this easy summer centerpiece for our dining room table – some twigs from our back yard dipped in white paint and plopped in a glossy white vase…it reminds me of coral!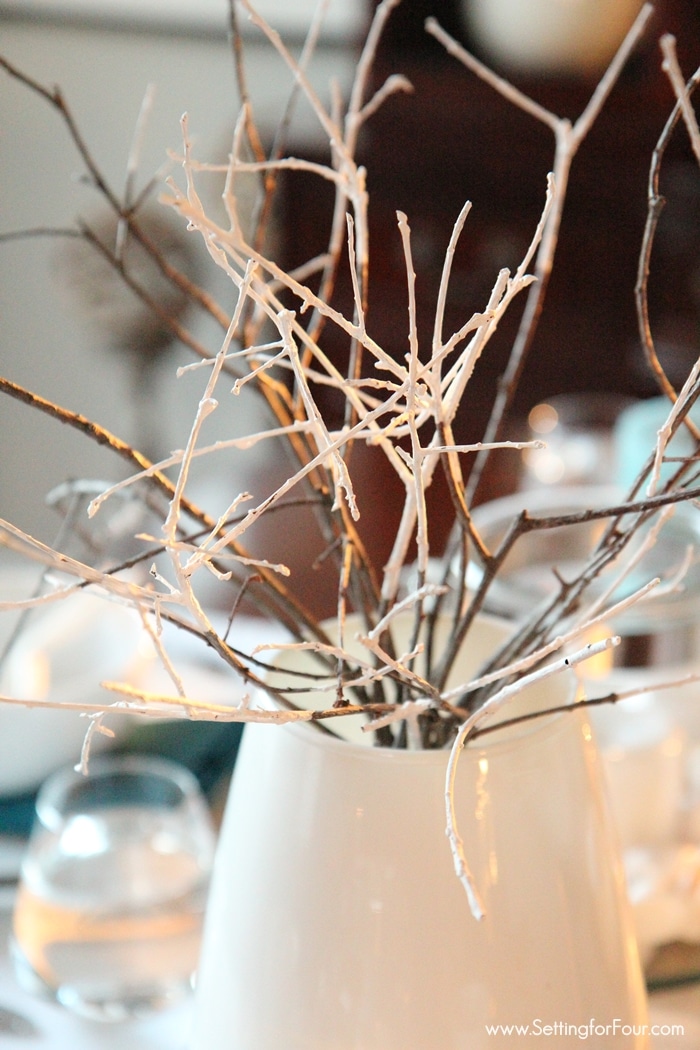 I added lots of grey white, cream and blue colored accents in our family room for the summer. The faux Pottery Barn inspired white coral is a 10 minute DIY project!
I made the watery blue Irish moss stitch blanket a million years ago during one of my hubby's long deployments overseas.
Making handmade things for our home has been a huge passion of mine forever and is a fun way to pass the time when my husband is deployed.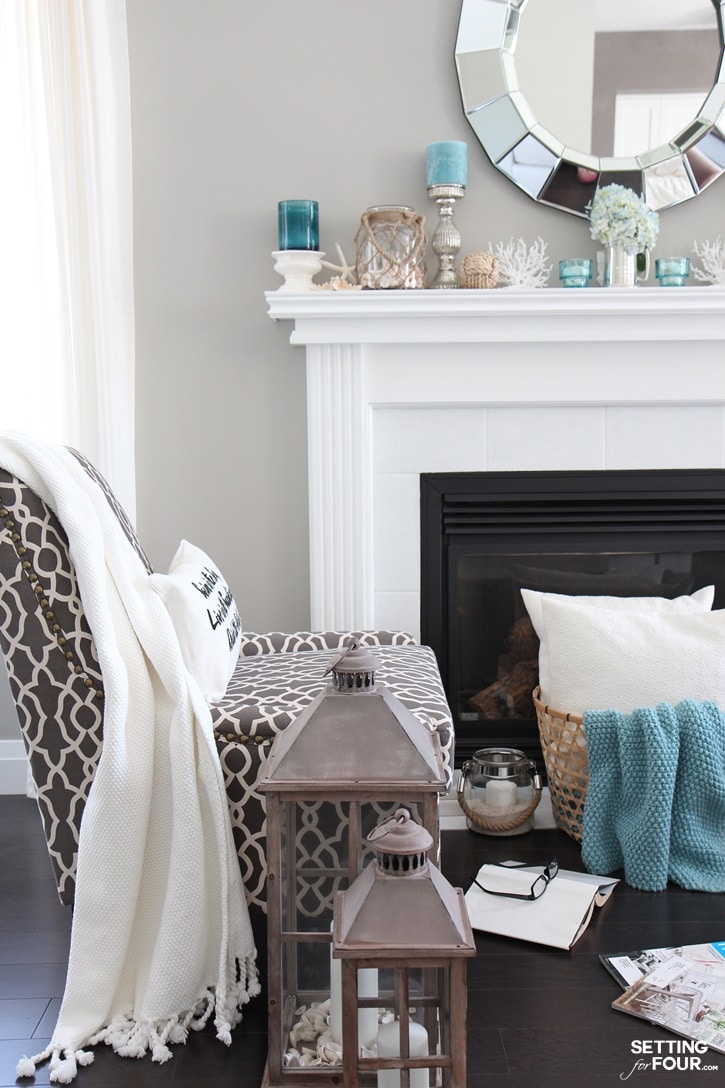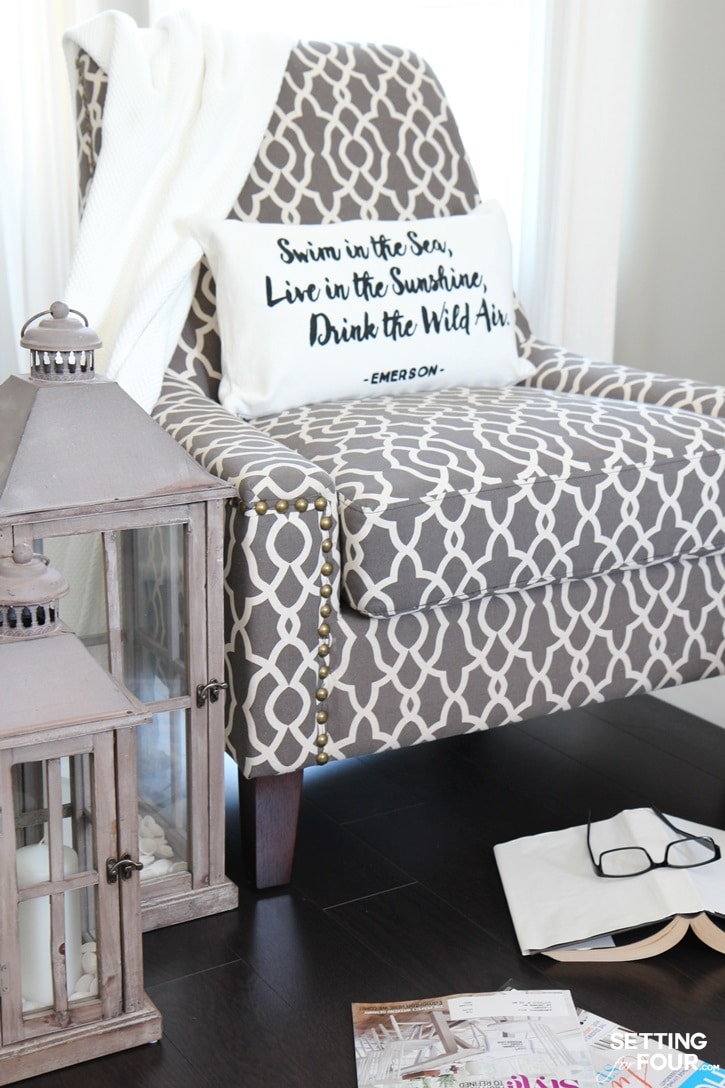 Here's a dresser top vignette in our bedroom – a big collage of family pictures of our Caribbean trips.
I LOVE these coral shaped lamps!
Wall Color: Sherwin Williams 6214 Underseas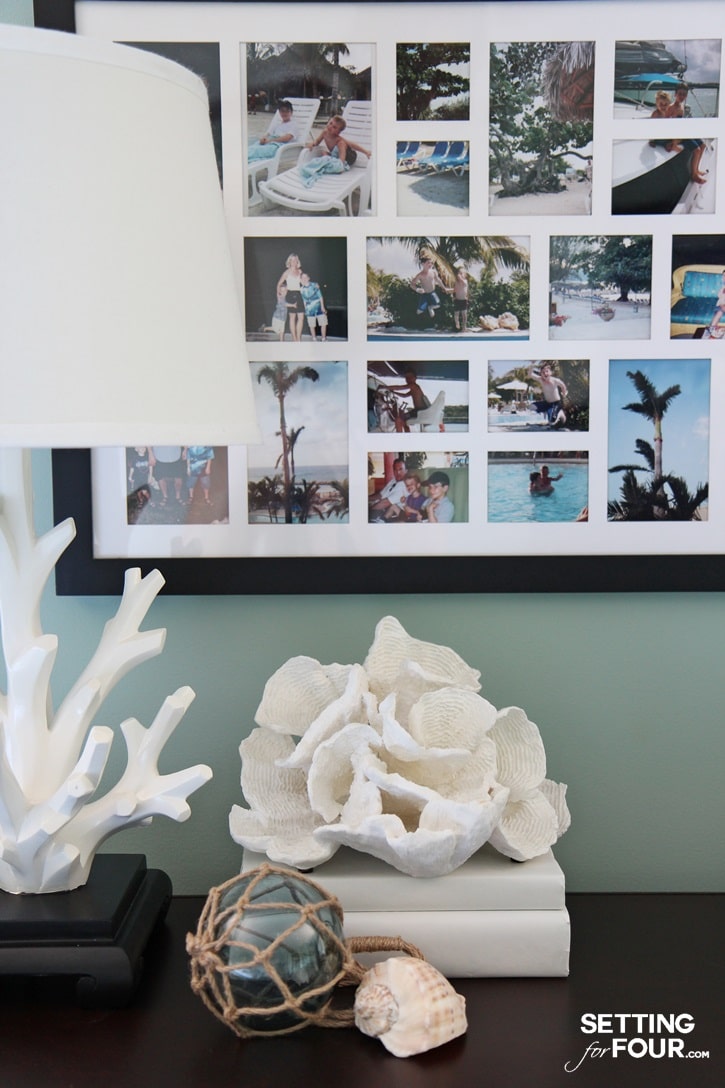 Now let's take a look at our back yard, deck and patio!
We love our gazebo dining area: I hung curtains, a mirror and planted big emerald cedars in black urns to make a cozy outdoor retreat for our family!
All of this is weather proof and hangs out all summer in the rain and sun!
Bringing the indoors outdoors is a great way to create a relaxing oasis. Adding this black and white outdoor area rug made all the difference!
We even made this gorgeous DIY Restoration Inspired Table– we have lots of fun summer meals here!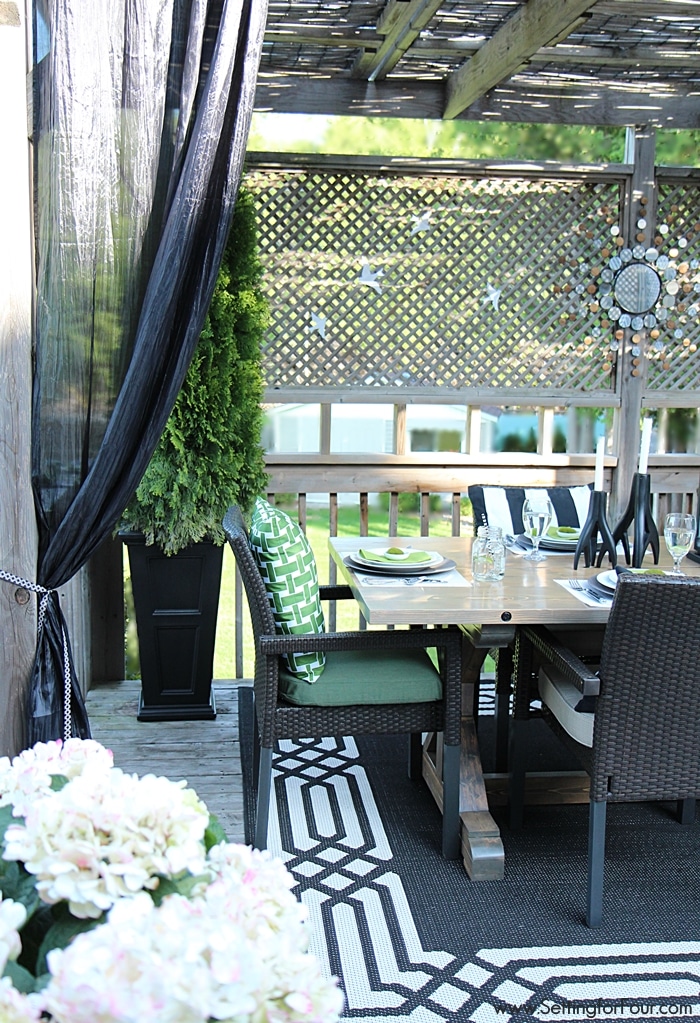 I love decorating with black and white mixed with metallics. For our summer fire pit seating area I paired 4 white Adirondack chairs (we made those too!) with modern tribal print pillows and shimmery copper lanterns.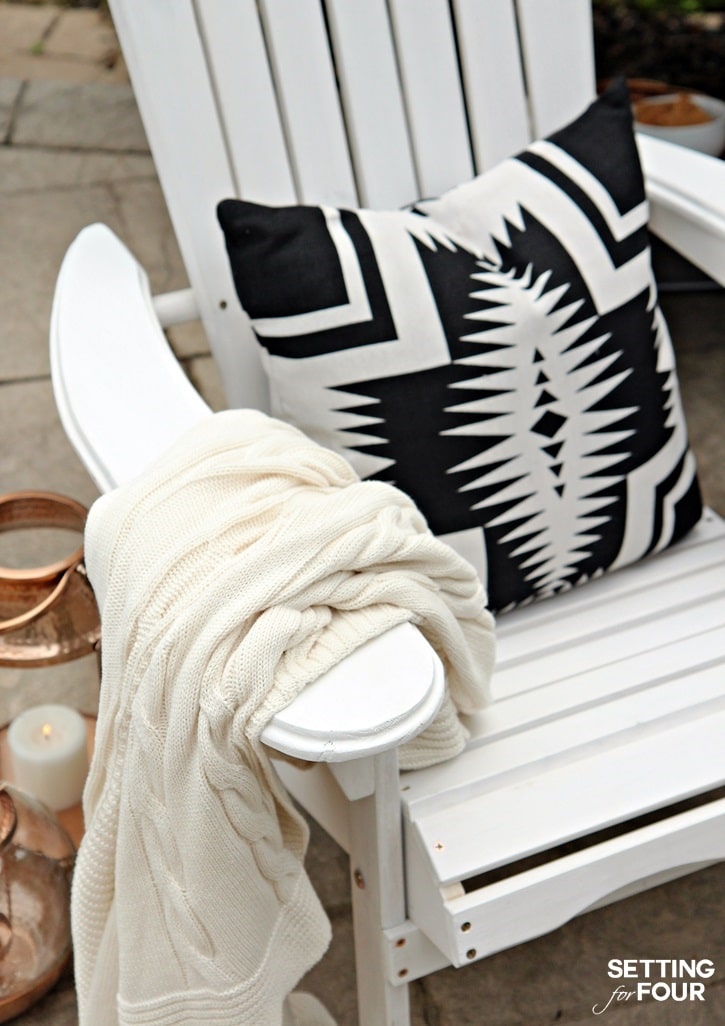 This a view of our forested back yard patio area, landscaped gardens and fire pit….and our comfy gazebo dining area on the raised deck.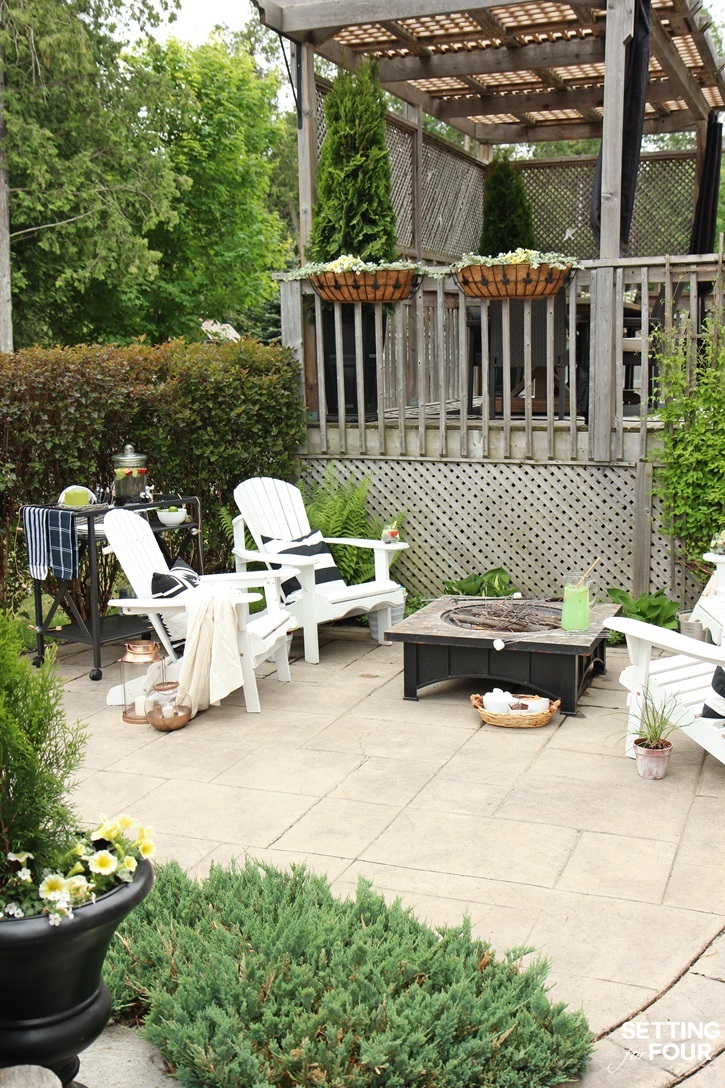 This is where we end the tour….at our watery back yard refuge!
We hang out in our hot tub on weekends and summer evenings as much as possible.
We hop in our hot tub all summer long, turning the heat off and cranking up the jets is a great way to spend the summer sipping on a bevvy.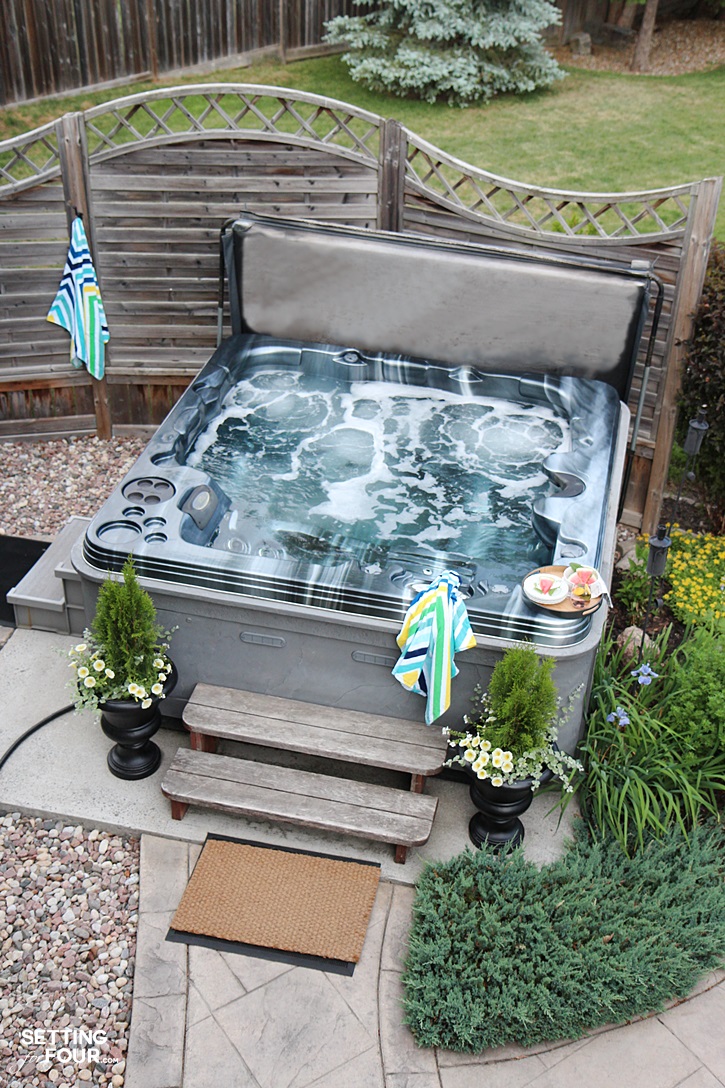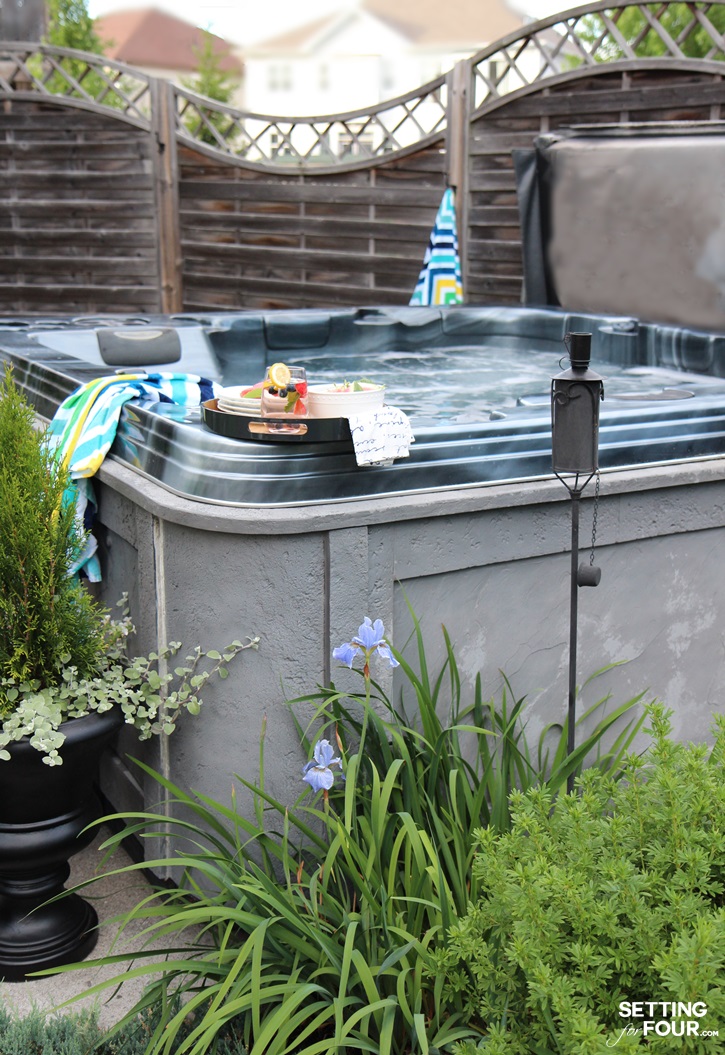 Come on over for a dip sometime!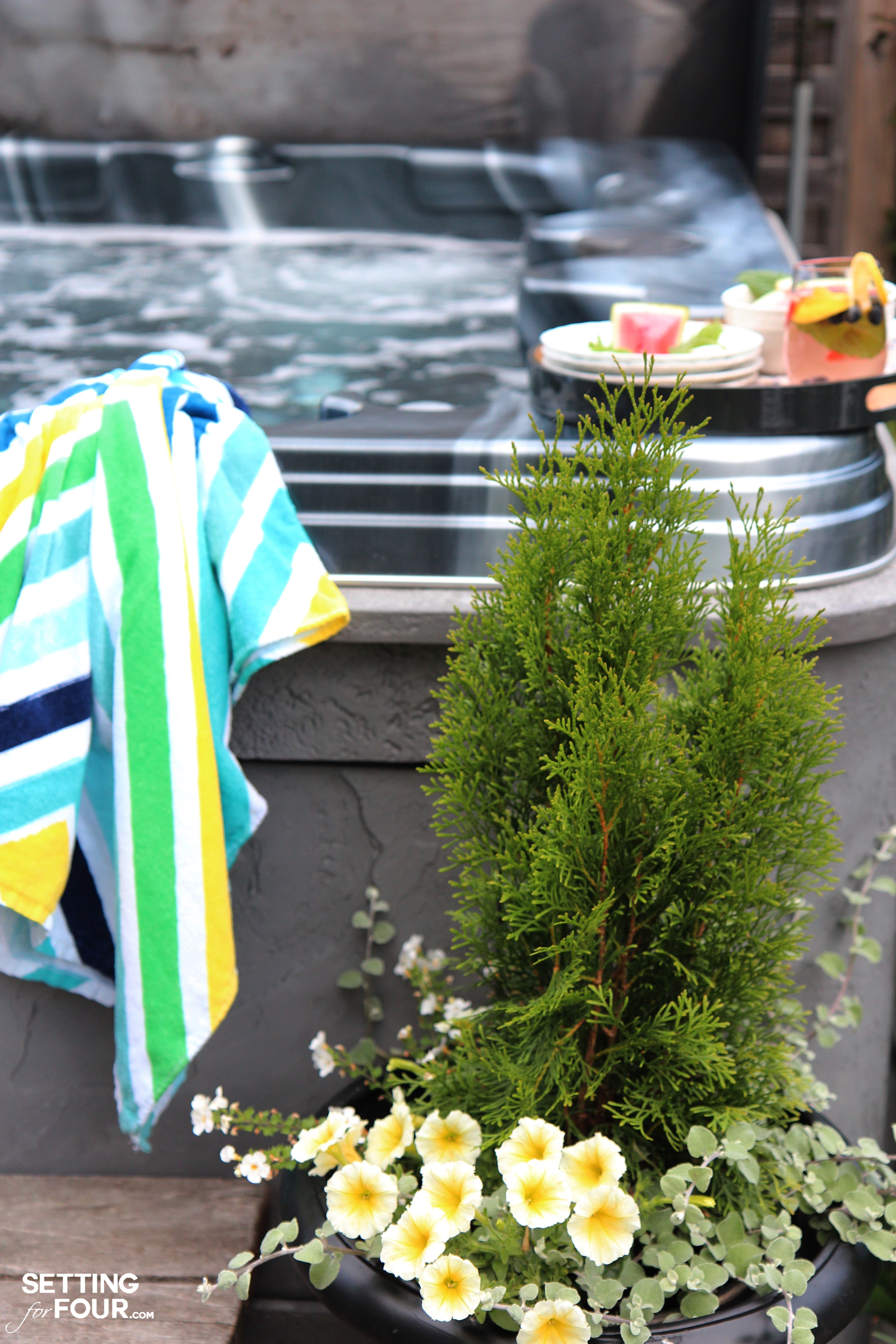 Although we don't live near a body of water right now, I'm hoping finger's crossed!!!! that our next military posting takes us back to water side living!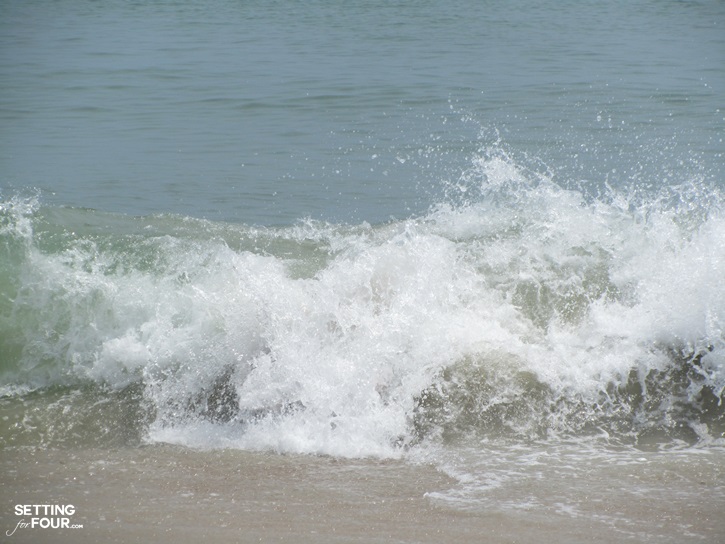 I hope you enjoyed my summer home and garden tour and found some new beach style decorating ideas for your home!
Shop our home: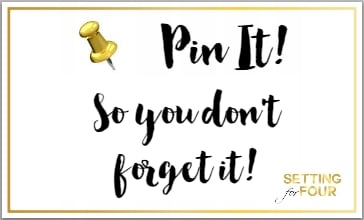 ~ ~ ~
Be sure to visit these 16 gorgeous waterside home tours to see homes from coast to coast spanning across North America to Aruba!
Monday, June 20
Table & Hearth
The Happy Housie
In My Own Style
The Space Between
DIY Passion
Brian & Kaylor
Wednesday, June 22
Starfish Cottage
Family and the Lake House
What Meegan Makes
Migonis Home
Up to Date Interiors
Friday, June 24
Nina Hendrick
Simple Nature Decor
Shabbyfufu
Slightly Coastal
Setting for Four
Happy Summer everyone!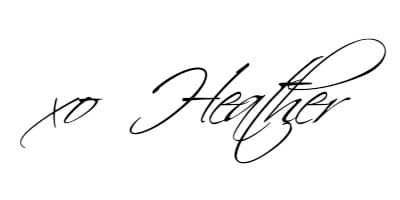 You may also like:
See all of my paint colors here!
Easy DIY Watercolor Coastal Art
This post contains some affiliate links for your convenience. Click here to read my full disclosure policy.