Today I'm sharing My Signature Style and how I discovered it!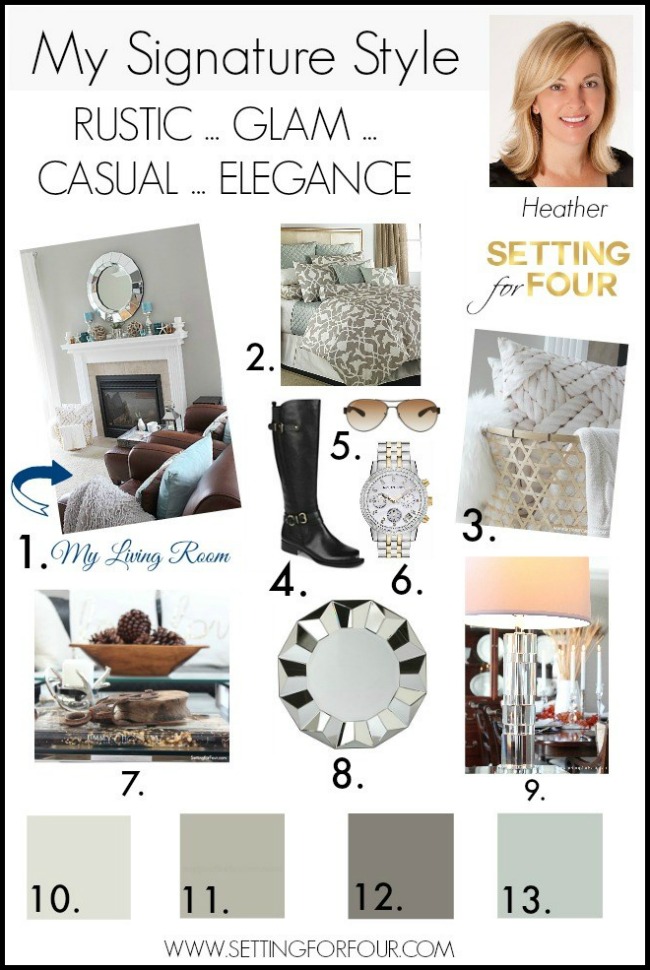 If you're searching for a style 'roadmap' to use as inspiration for your home decor, look no further!
My creative and talented friend Carrie at Making Lemonade is hosting a 'Signature Style' Design series this week showcasing the Signature Design Style of 22 talented Bloggers!
I'm so thrilled she asked me to join in and share my design style favorites and signature decor looks!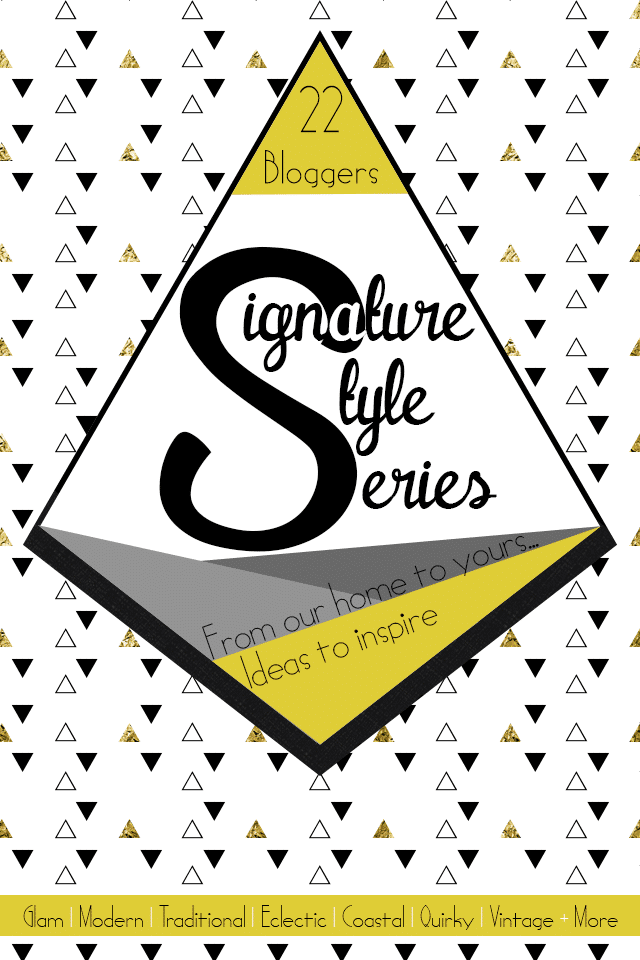 Today is day 2 in the series – if you've hopped over from my beautiful friend Darlene's blog at Fieldstone Hill Design – welcome to Setting for Four!!
Isn't Darlene's Glam Farmhouse Signature Style gorgeous??!!
My style has definitely changed over the years and has evolved to my current Signature Style: Rustic Glam Casual Elegance – a mixture of traditional, clean contemporary looks in a casual family friendly setting topped off with a touch of glamour and casual elegance!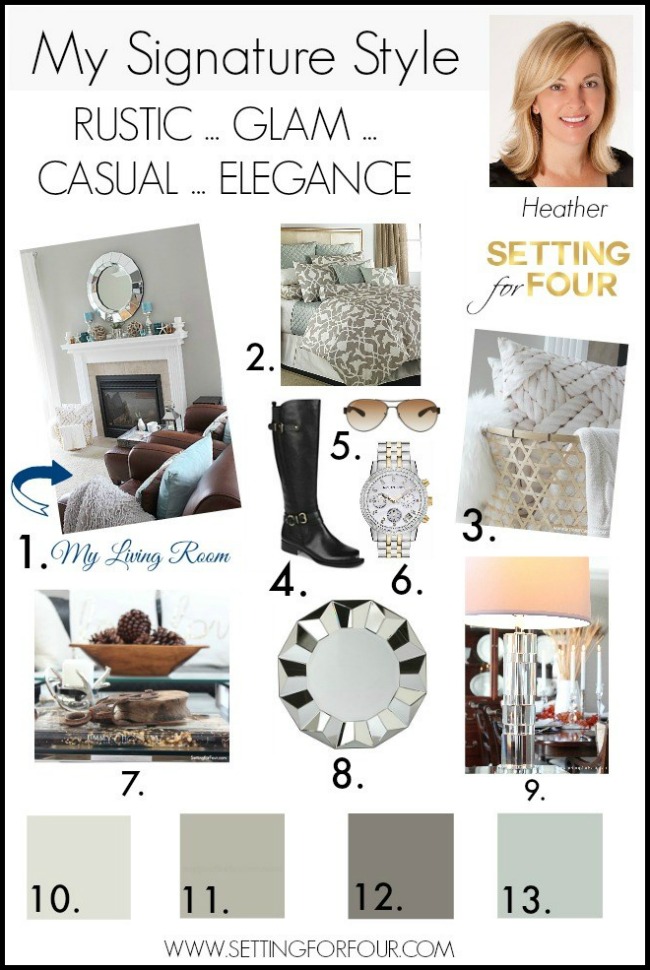 This post contains some affiliate links for your convenience.  Click here to read my full disclosure policy.
Some of my favorite signature looks:
1. My Living Room – casual living with a coastal color palette and a sparkly mirror!
2. Barbara Barry Poetical Bedding – this is my bedding….bedroom makeover to come, stay tuned!
3. Cozy accents – including a cutwork basket filled with a sheepskin throw, pillows and a throw.
4. Black Riding Boots – I live in these from fall to spring… so comfy!
5. Ray-Ban Aviators… um, need I say more?
6.  Michael Kors Watch….Dear MK: you make me swoon!
7. Rustic  and metallic looks – rustic coffee table decor including an antiqued dough bowl filled with Virginia pinecones and an antique pulley. Silver metallic horn candleholders.
8. Sparkle and Shine – My living room mirror….- an exact look-a-like to Z Gallerie's Portico Mirror without the  expensive price tag!
9. Glam decor – luxe Ralph Lauren Crystal table lamps that I scored for a great price at HomeSense.
My Paint Colors: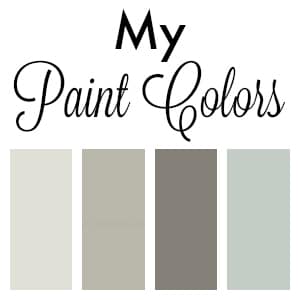 10. Sherwin Williams Eider White 7014 – our boys' bedrooms.
11. Sherwin Williams Mindful Gray 7016 – my living room, dining room, family room, foyer, guest bedroom,  one wall in our laundry room and guest bedroom.
12. Sherwin Williams Mink 6004  – in my kitchen.
13.  Sherwin Williams Rainwashed 6211 – what I have planned for my bedroom makeover.
14. Sherwin Williams Weathervane 2927 – my front door color.
15. Sherwin Williams Toque White 7003 – my laundry room color.
As a military wife – I've moved…. a lot. That means I've had to define my decor style over many moves and years to fit many different homes, room shapes and types of rooms without buying new furniture and accessories for each home we've lived in.
The constant throughout all of those military moves and homes that allowed me to create a decorated cohesive look is my design style: Rustic Glam and Casual Elegance.
My Signature Style has developed from growing up on a clear northern lake where my love of watery blues, driftwood greys and sandy taupes began.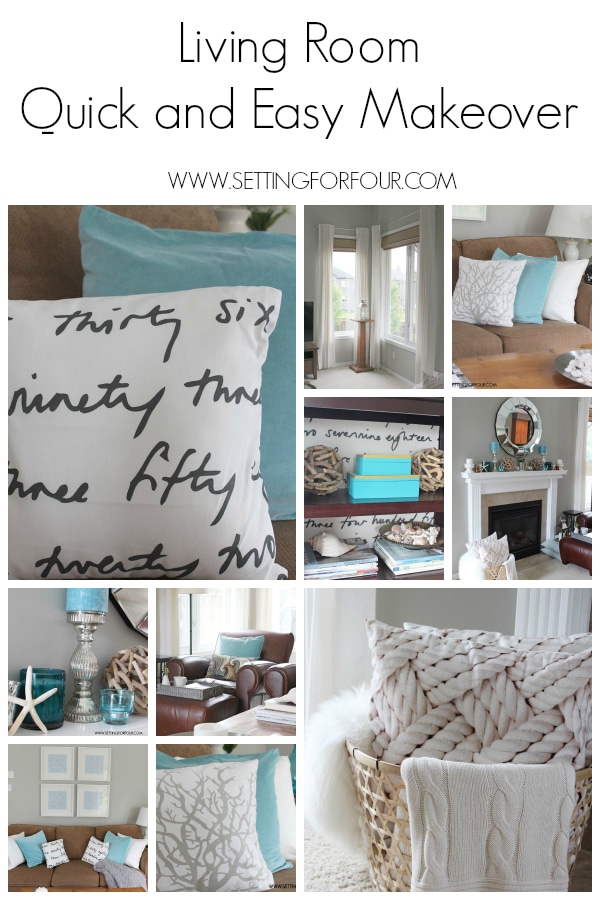 Our home is a loving collection of layers and meaningful memories of….
…Our heritage  including a few English antiques like our beautiful inherited mahogany dining room table, chairs and buffet:
Fall Dining Room and Tablescape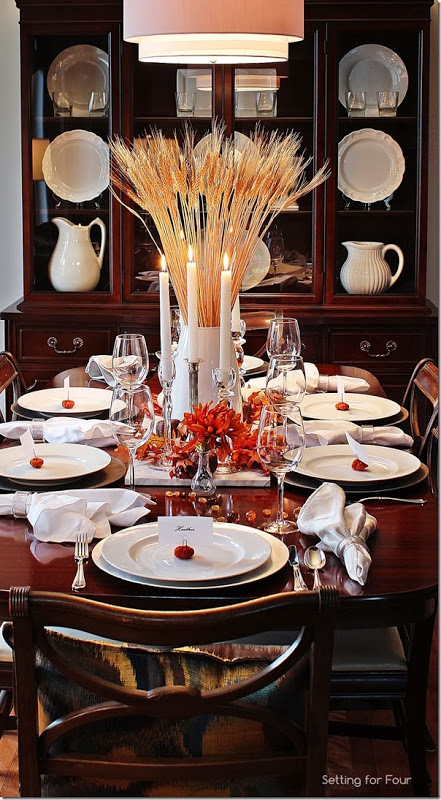 …..our military lifestyle – after every military deployment my husband has returned with something for our home to show his love for our family, our home and to thank us for holding down the fort for many months:
Handmade carpets from Afghanistan – Our Home in Virginia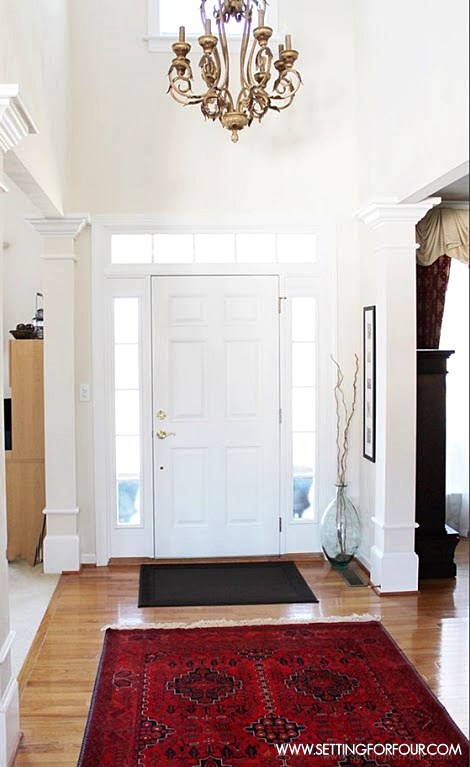 …..our travels and our vacation memories –  vacation mementos from a fun trip to Belize: a picture of our boys body surfing on the beach and a shell we found while scuba diving: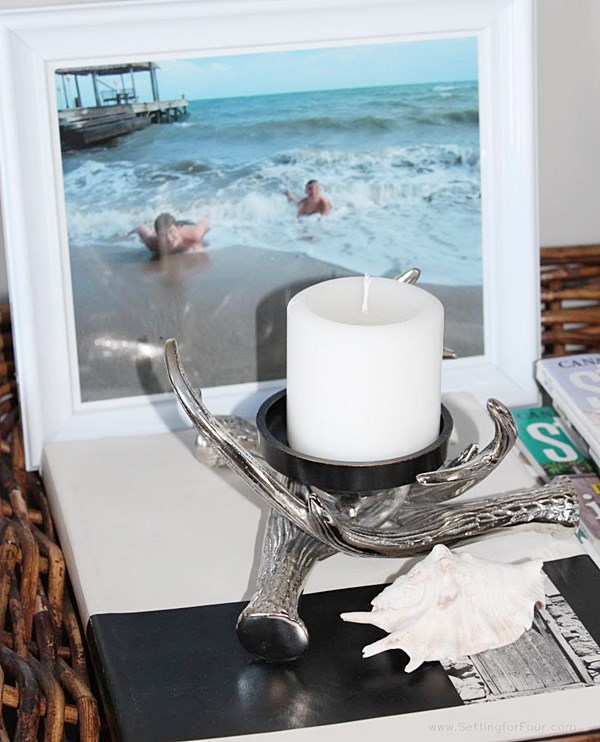 On top of all of that I love to sprinkle on some shimmer and shine! Like my Ralph Lauren Crystal Table Lamps I scored at HomeSense for a bargain!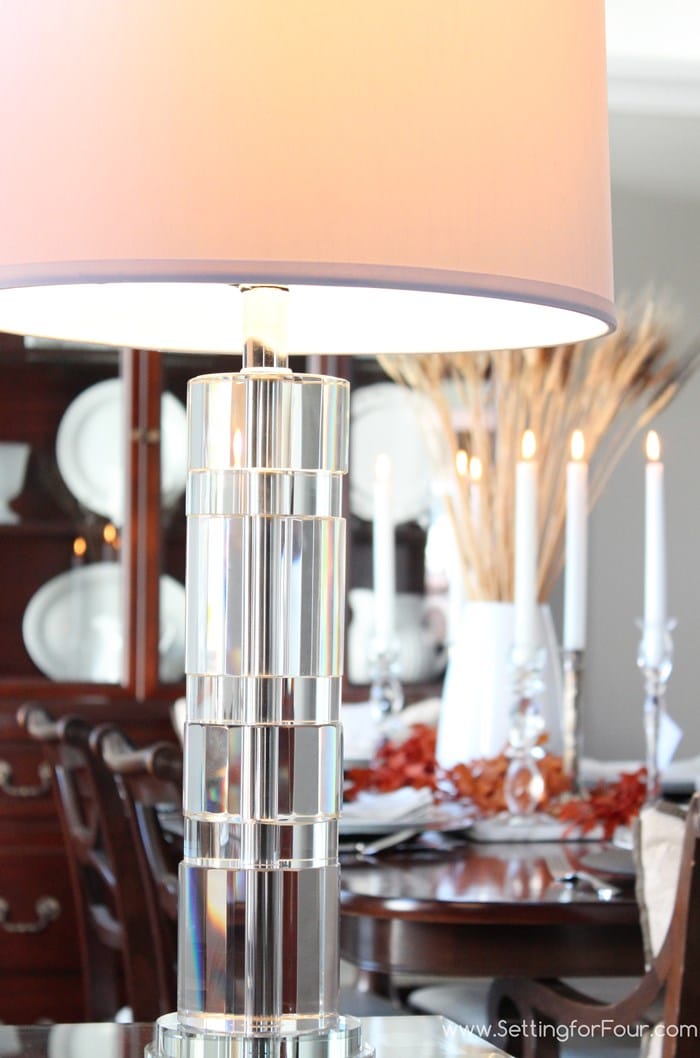 I also love to scour thrift store and antique stores for unique finds!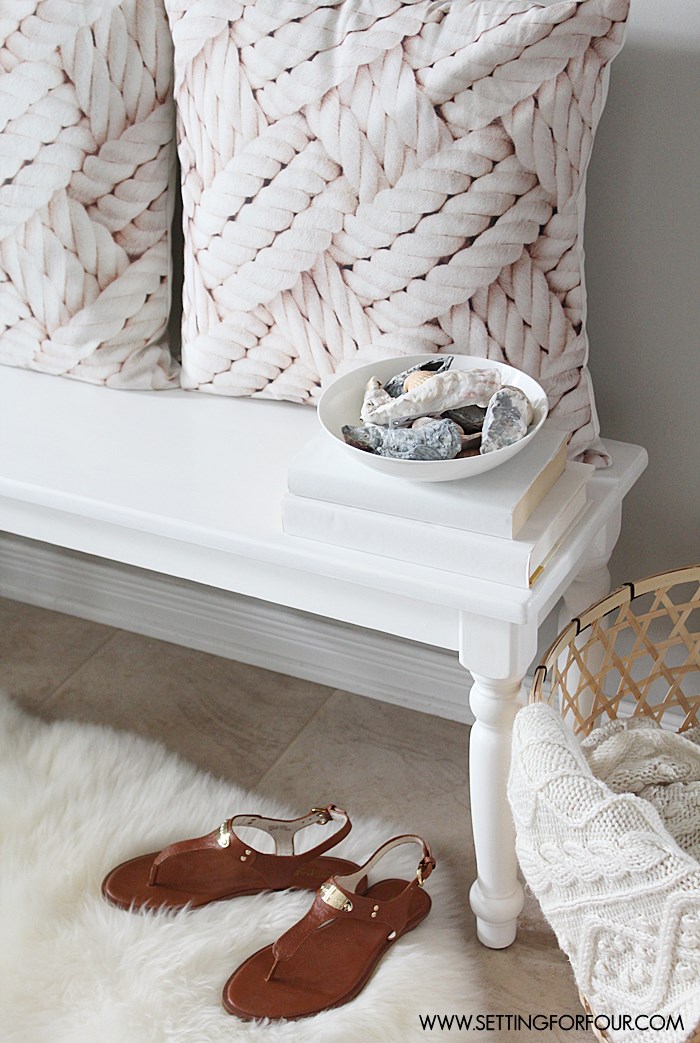 I love making our home cozy: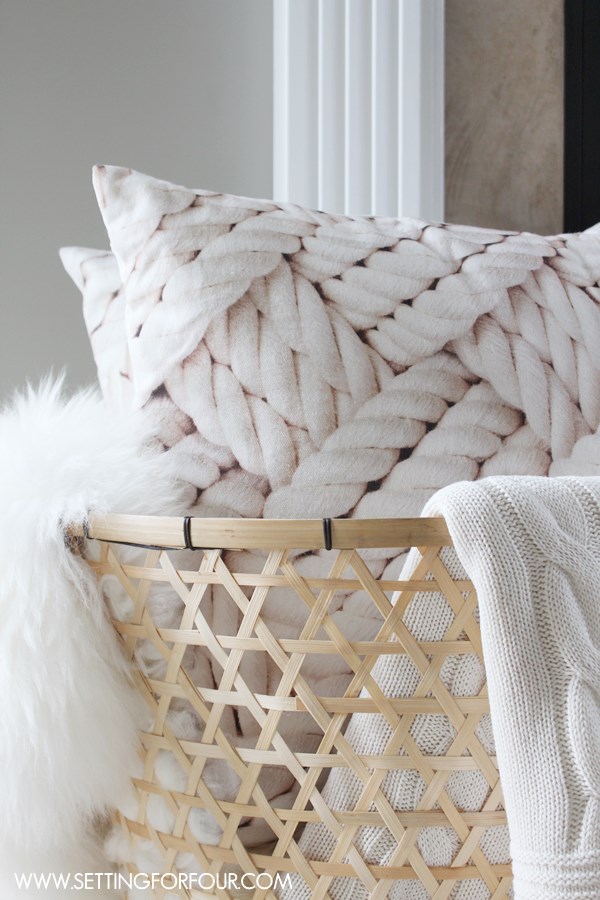 …I'm also passionate about DIY'ing!
No Painting Required – DIY Watercolor Graphic Art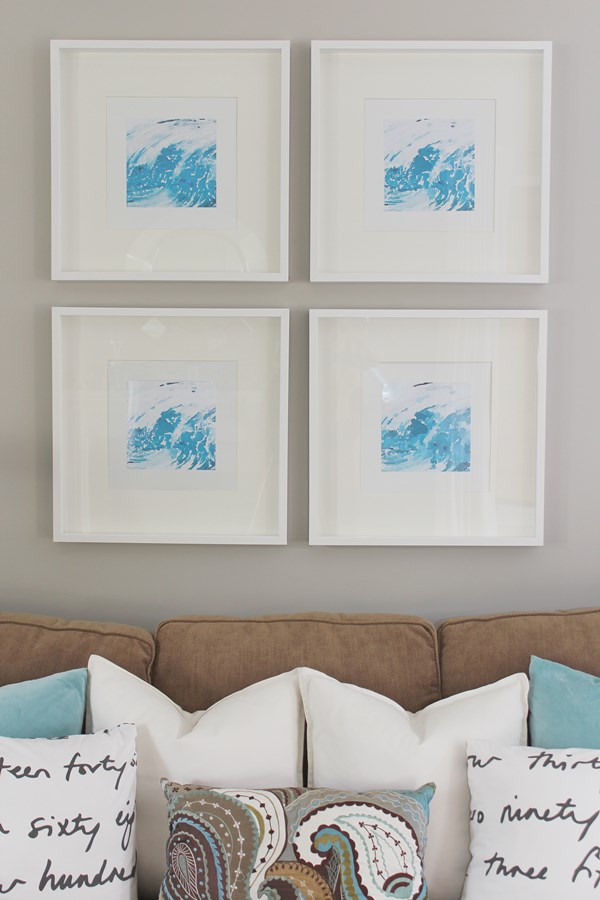 ….and creating custom builds:
DIY Restoration Hardware Inspired Custom Farmhouse Table with Bolted Plank Top and Salvage Grey Wash Finish – I custom designed this table combining two RH table styles for a one-of-a-kind look that only cost $157 to make compared to the $4690.00 RH price tag! Woot – love the $ savings!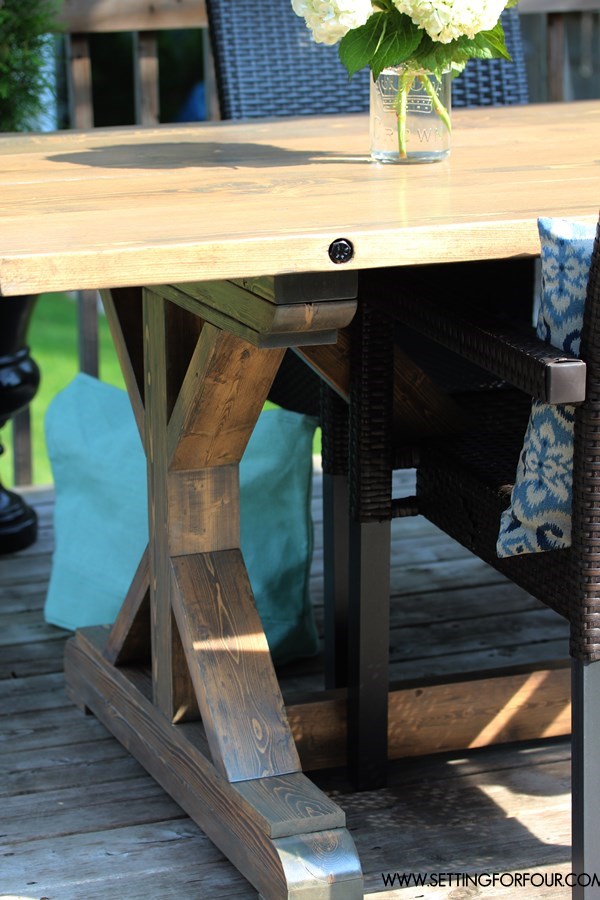 …..and as an Interior Decorator I love, love, love to create Mood Boards!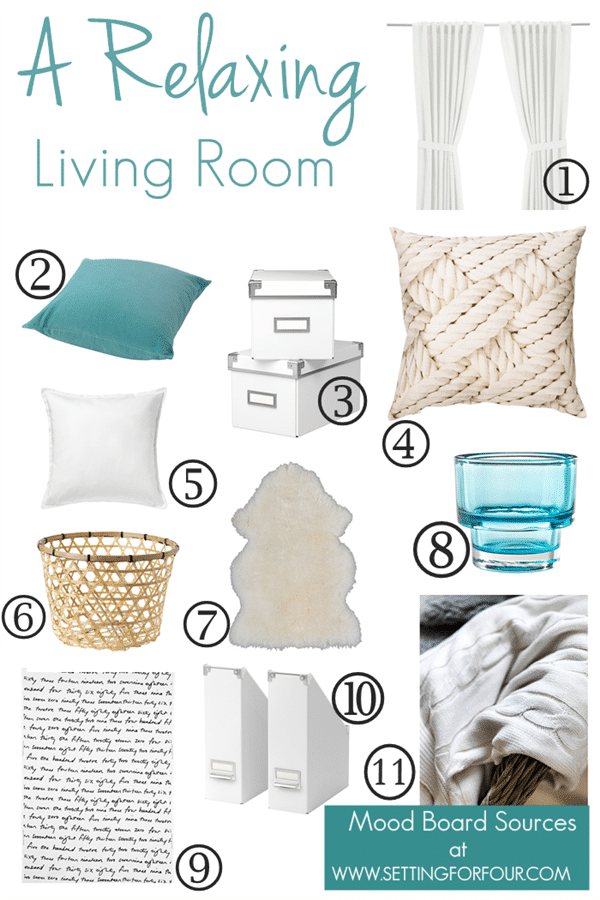 That wraps up my Signature Style – I hope you enjoyed getting a peek into my Decor and Design passions!
~ ~ ~
If you're here for the first time then check out my About Me page and read the story of why I started blogging (grab a cup of coffee for this one – it's quite a story, whew!)
To continue on the #SignatureStyle series tour click on over tomorrow to my sweet friend Jessica's blog at Decor Adventures!
Be sure to check out all of the amazing decor inspiration in this series including vintage, eclectic, cottage, modern, glam and more!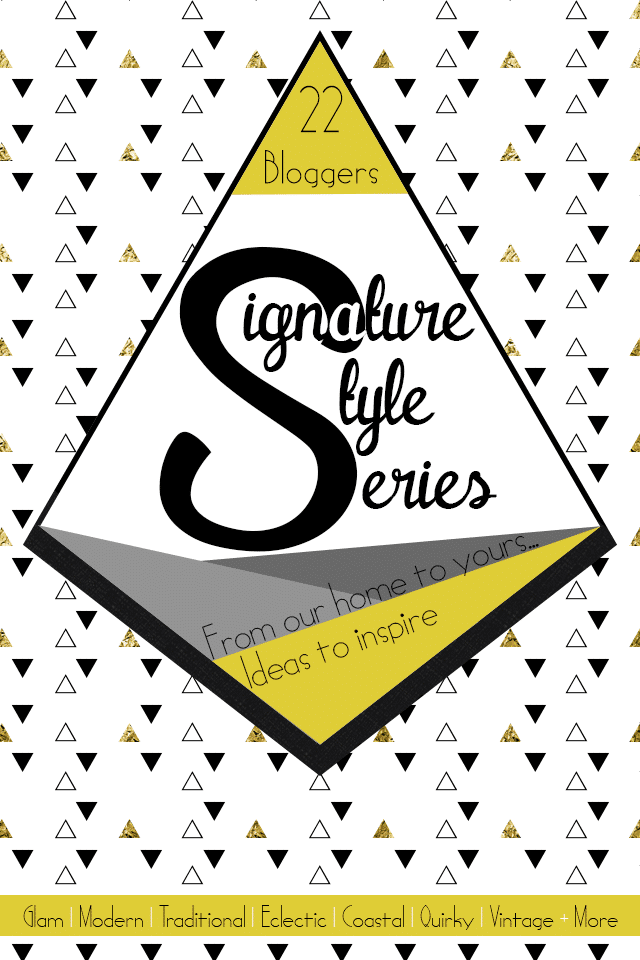 Involving Home
Migonis Home