Just adding an area rug to a room will give it a whole new look! See how my new indigo and gray area rug updated our living room instantly!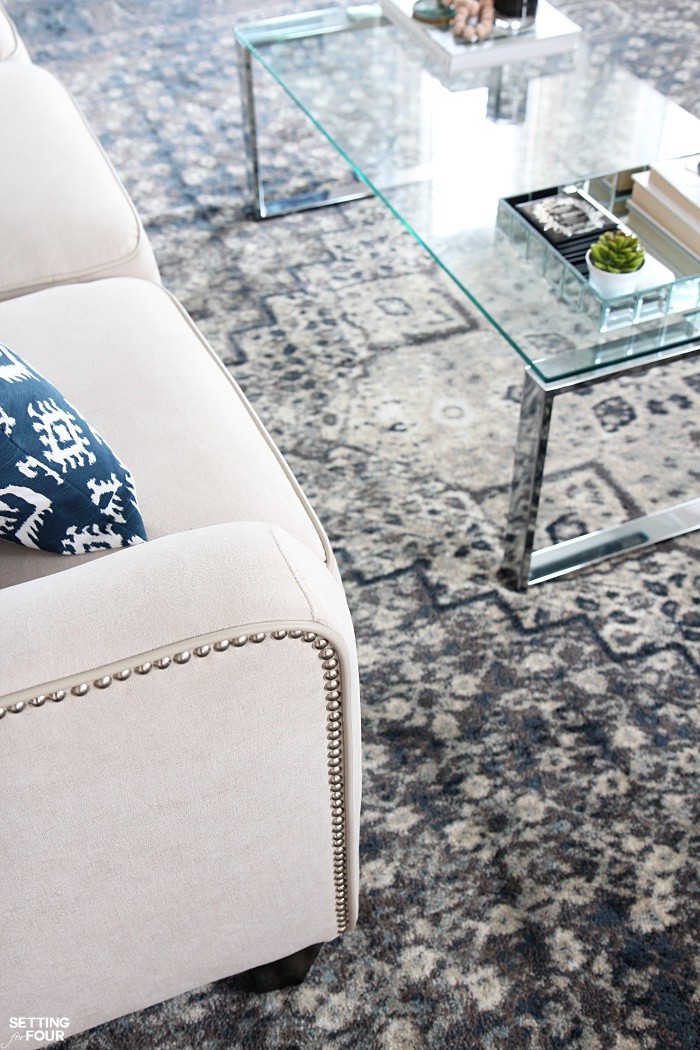 New Indigo Blue Rugs In Our Living Room and Kitchen
This post contains some affiliate links for your convenience. Click here to read my full disclosure policy.
My living room and kitchen eating area just received a completely new look by adding one thing – a new area rug!
It's amazing how adding an area rug to a space can completely give it an updated, inviting, stylish and comfortable look!
Adding  textiles to a room with area rugs takes the feel of the space to a whole other level – plus they are such a practical function too!
They add that warmth and coziness to our feet and a visual coziness too!
A Lasting Color Trend – Indigo Blue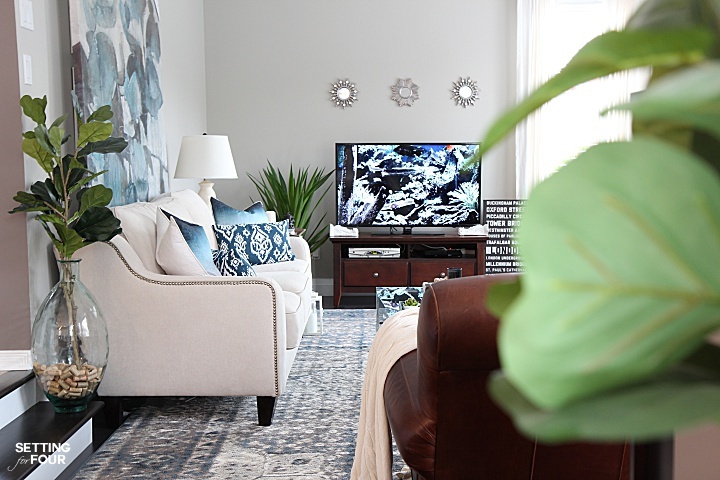 Look how fabulous this gorgeous  indigo blue, gray and ivory rug looks with our leather chairs!
If you have brown leather furniture indigo blue is a gorgeous color to pair with it.
I had so much fun designing and decorating our living room – see my online decorating service if you'd like some help decorating your space!
My most popular and affordable decor service is the one question consult!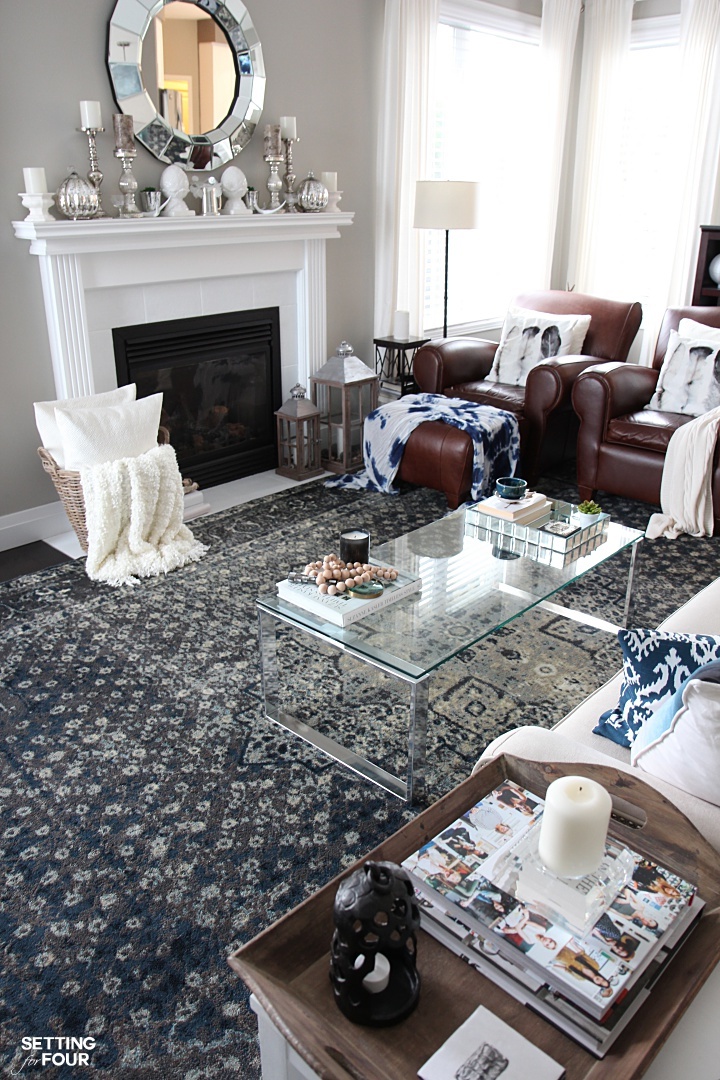 Aren't the colors and the pattern in this rug AH-mazing! I'm so in love with it!
Blue rugs are on trend right now! They give you an accent color to decorate with and give your room a relaxing feeling!
See my Design Tip // The 60-30-10 Color Rule  to learn how to create a color palette for your room from the colors in a rug!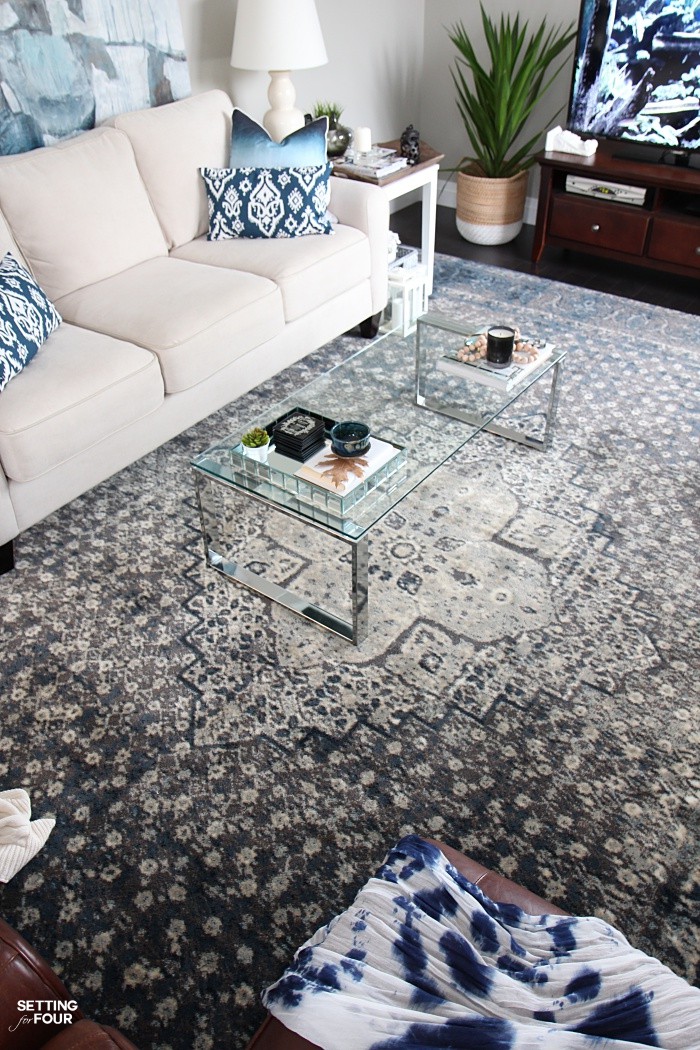 Here is stunning the runner rug that I added to our dining area sliding glass doors – see below.
I love how it pulls in the indigo color from our living room.
I'll be adding a bigger area rug to this space once I find a new dining table and then I'll probably move this runner over to our kitchen sink area.
With it being 100% propylene this rug is great for a kitchen and can be easily vacuumed and cleaned!
See this gorgeous runner rug here – size is 2'8″ x 7'11" (it comes in lots of other sizes!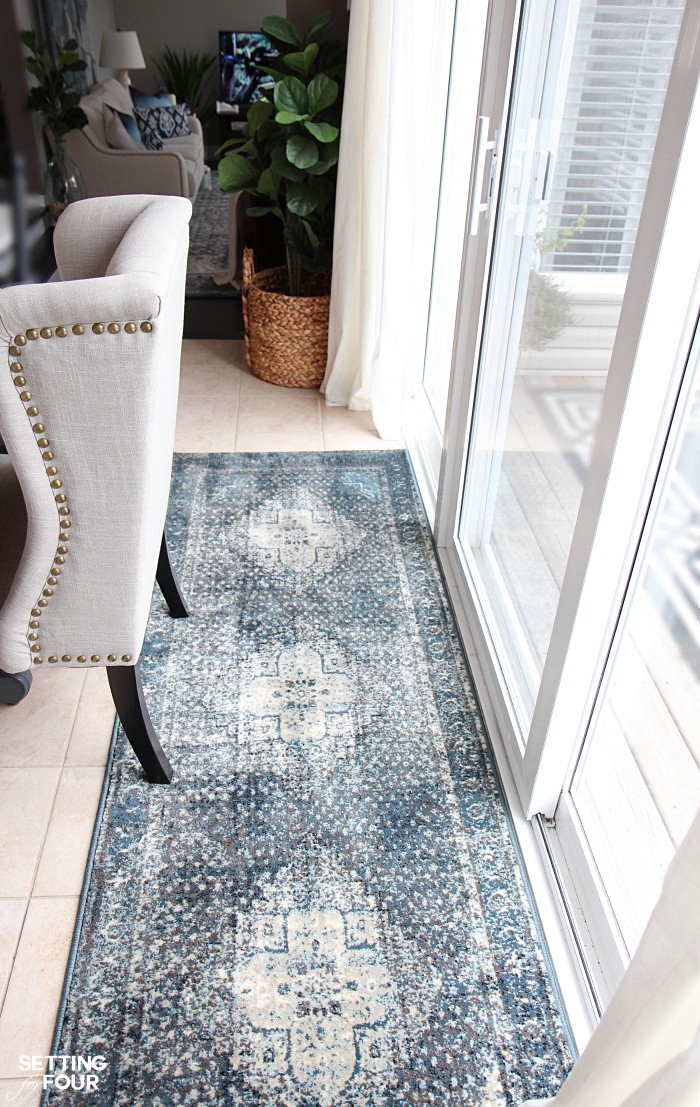 If you saw my Indigo Blue: 10 Amazing Ways to Add this Color to Your Room Decor post you know that this exact rug is the one I shared as a way to add gorgeous indigo blue color to a room.
This indigo blue color is a hot trend right now – but in my opinion its here to stay, very livable and really looks gorgeous with neutral walls and furniture!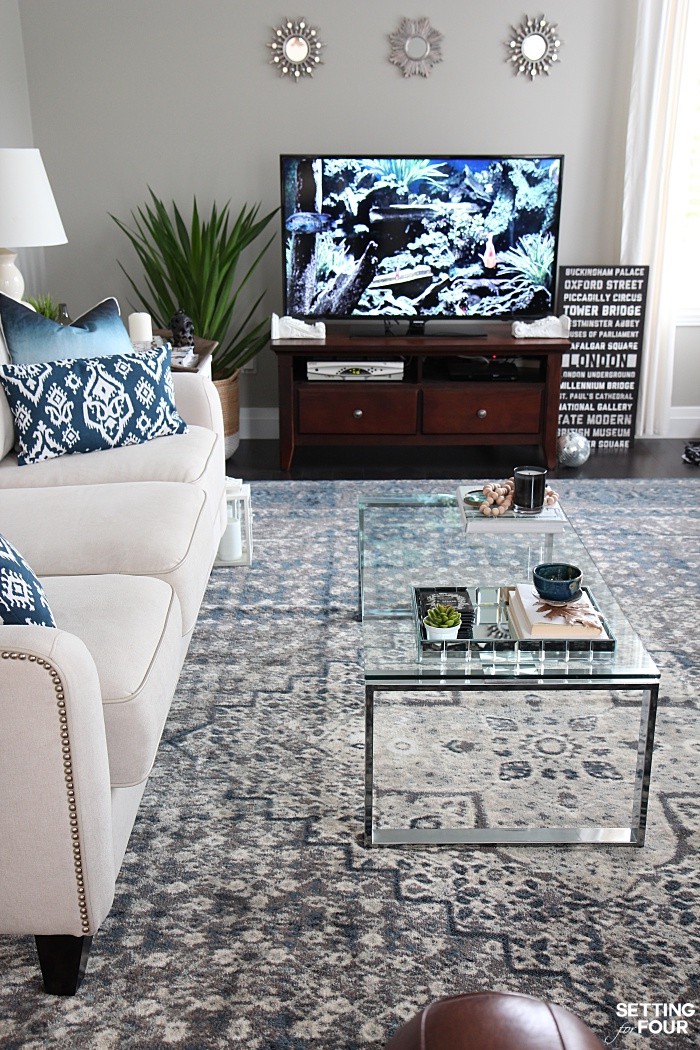 These Vintage Style Indigo Gray and Cream Area Rugs are simply stunning! I absolutely love the contemporary look of the pattern (these 'vintage' style area rugs are so hot right now!) – it's traditional with a fresh twist!
The colors are gorgeous in blue rugs too – love the light gray, dark gray, cream colors and the shades of indigo blue really bring life to our rooms!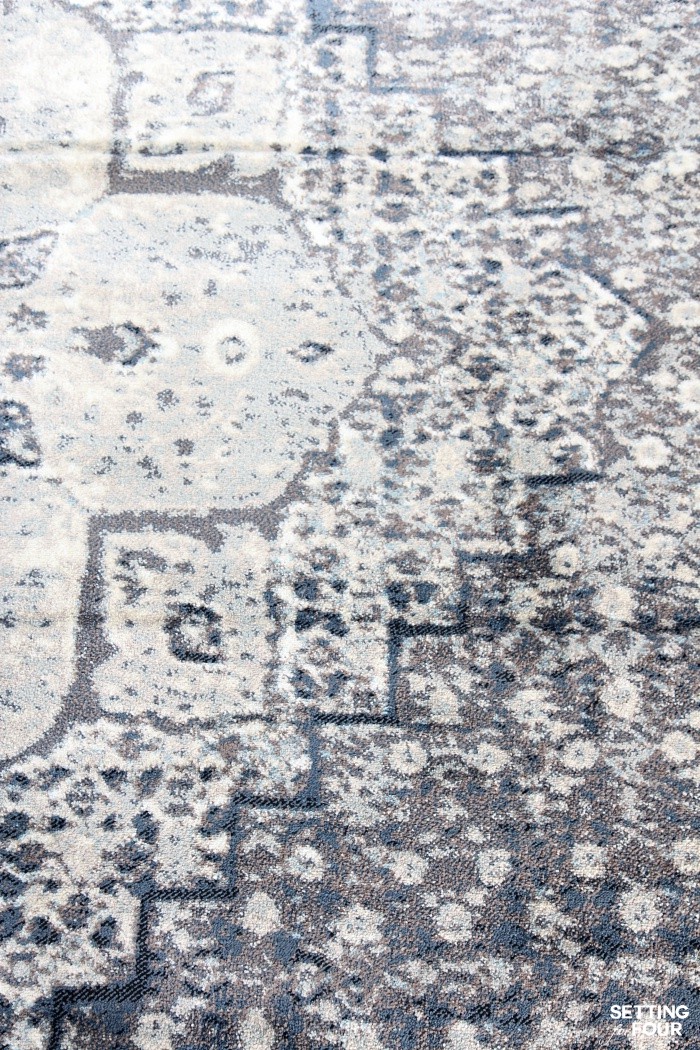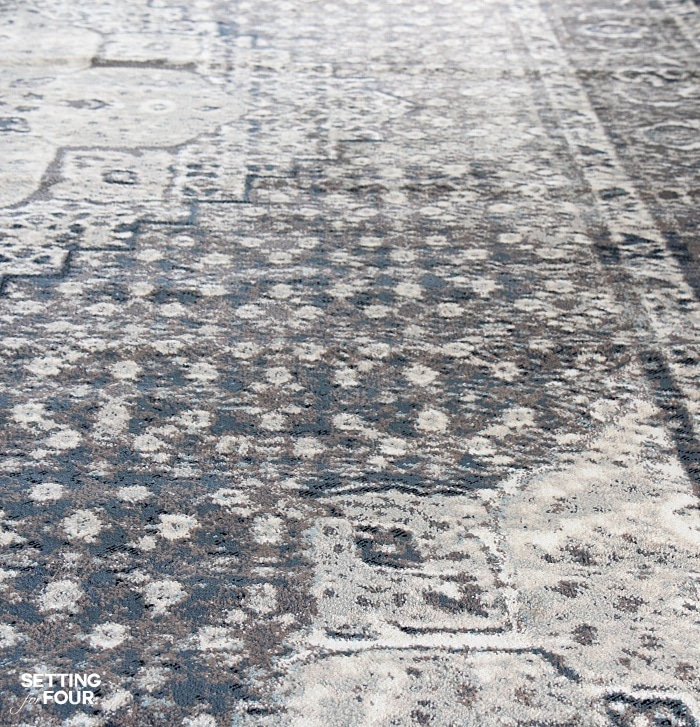 One of my favorite things about these rugs are that they are 100% Polypropylene: which means that they don't shed carpet fibers, are really hard wearing (great for kids and pets!) and can be cleaned easily! Spills? No problem!
And yet they are sooooooo soft!
New rug, new look, new feel:
Indigo Blue, Gray and Cream Area Rug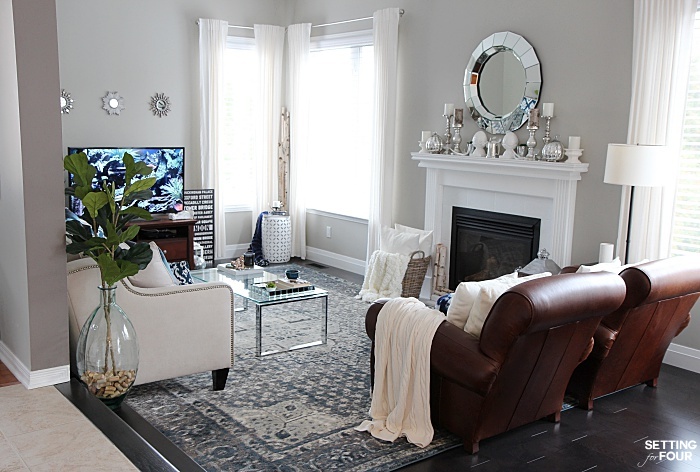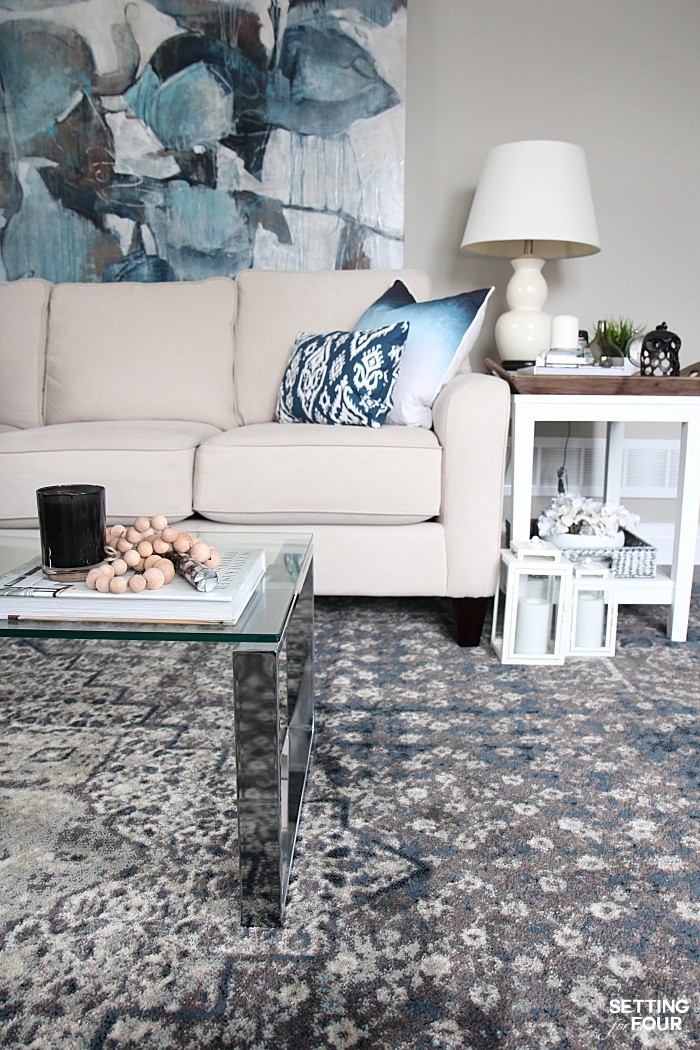 What do you think of our New Indigo Blue Rugs In Our Living Room and Kitchen?
More Design and Decor Ideas: