Summer Deck Decor Ideas to turn your deck into a beautiful, relaxing oasis! See these gorgeous outdoor living ideas that will get you spending more time outside!
Summer is here! Summer is here!! Whew! I wasn't sure it was actually going to arrive this year after the LONG winter we had and COLD Spring! But Summertime is finally here and I've been furiously getting my urns and planters done up and decorating our deck for some summer relaxation!
Here's our summer deck decor: Summer Lodge style!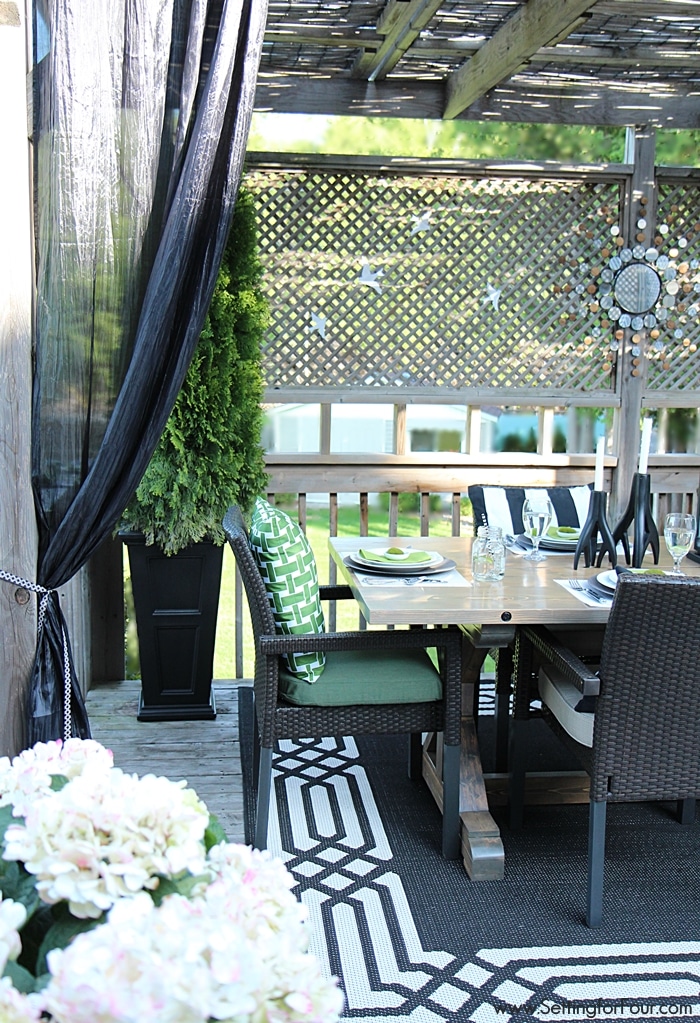 This year's 'Summer Lodge' look just sort of happened and fell into place as I was pulling out our outdoor furniture and decor….and it all started with two pairs of gorgeous antler candlesticks that I bought on clearance in January!
UPDATE! See my post Summer Deck Decor Source List for the sources of all of my deck and pergola decor!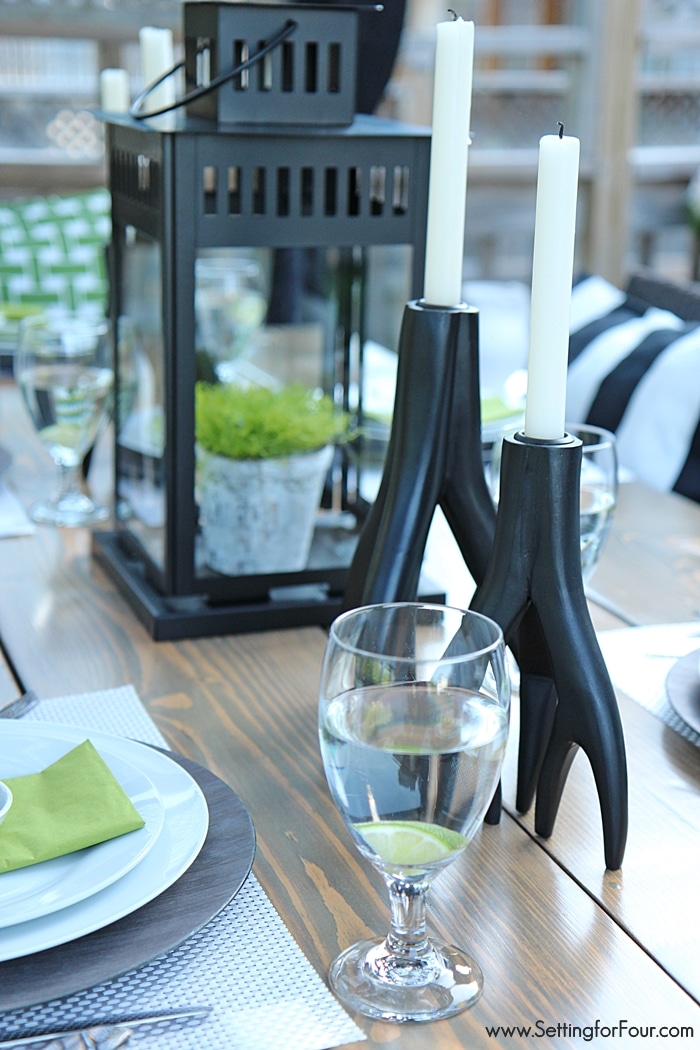 Our home in Deer Run is surrounded by forests of pine, cedar and birch and right now our forests have all exploded in every shade of vibrant rich green you can imagine. It's so lush and beautiful!
We also live close to a huge national park known for it's fabulous camping, canoeing, freshwater lake swimming, moose, deer and summer lodges.
So this year I wanted to bring all of that outdoorsy beauty onto my deck…but as you all know I always love to add a touch of glam to my decor too!
So I added a bit of drama with some sparkle and with the color black.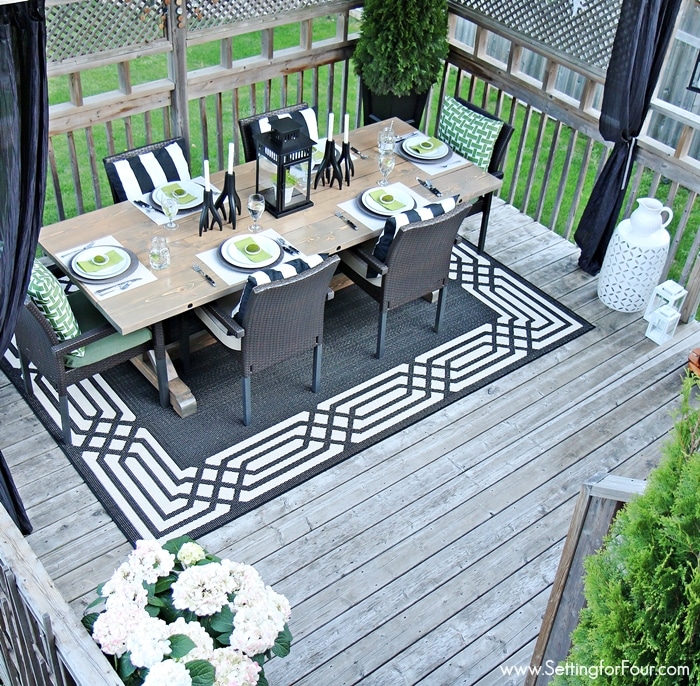 Rich dark green, moss green, summer white and ebony are my summer colors this year! It's a new color combo for me and my summer decor….and I l-o-v-e it!
I added shades of forest green in the beautiful basket weave print outdoor cushions and shades of woodsy moss green in the napkins and little moss accents.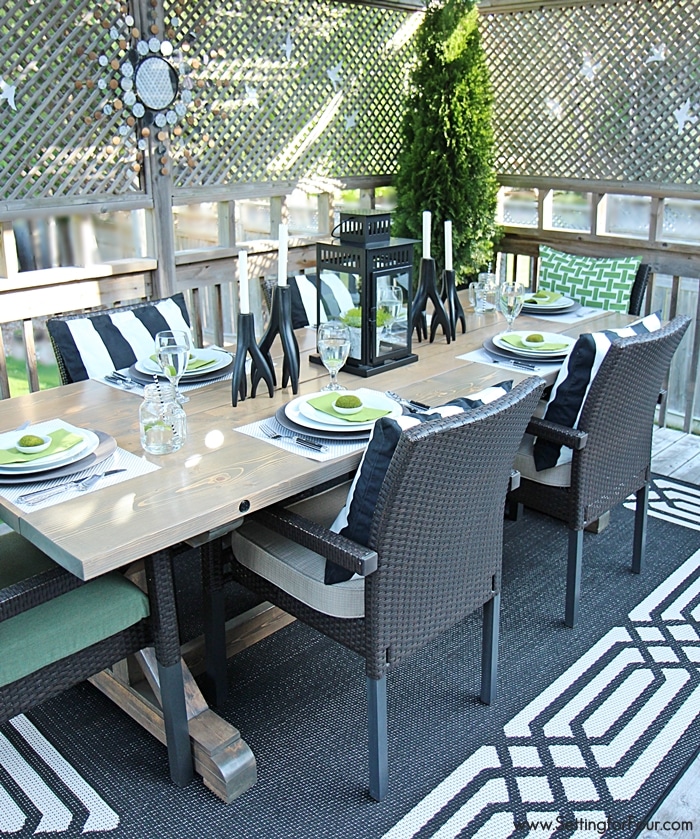 This gorgeous big black lantern (I am obsessed with lanterns!) holds real moss in a birch bark pot.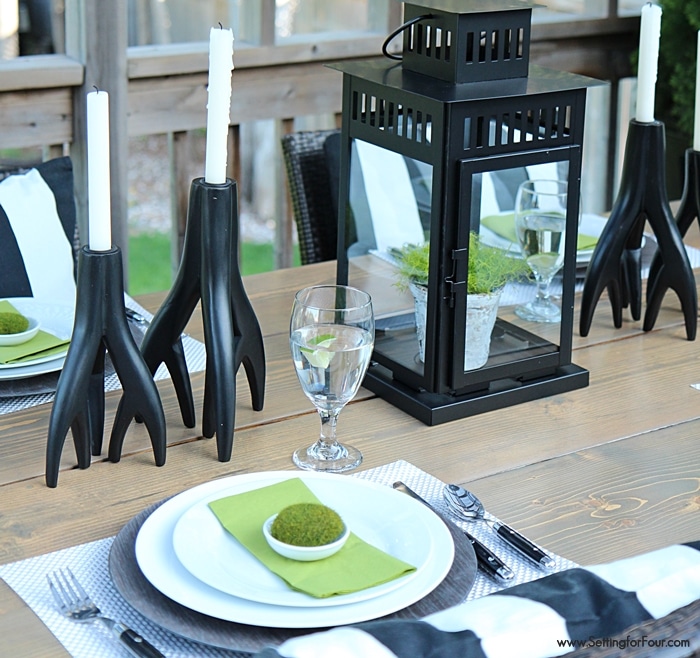 Lots of white dishes, white lanterns and a swoon-worthy white garden stool (love the size and pattern… and it's metal, made for outdoors!) add lots of summer white to our deck.
Black gauzy drapes add a bit of drama and bring the indoors out! I planted two big white hydrangeas in glossy black urns.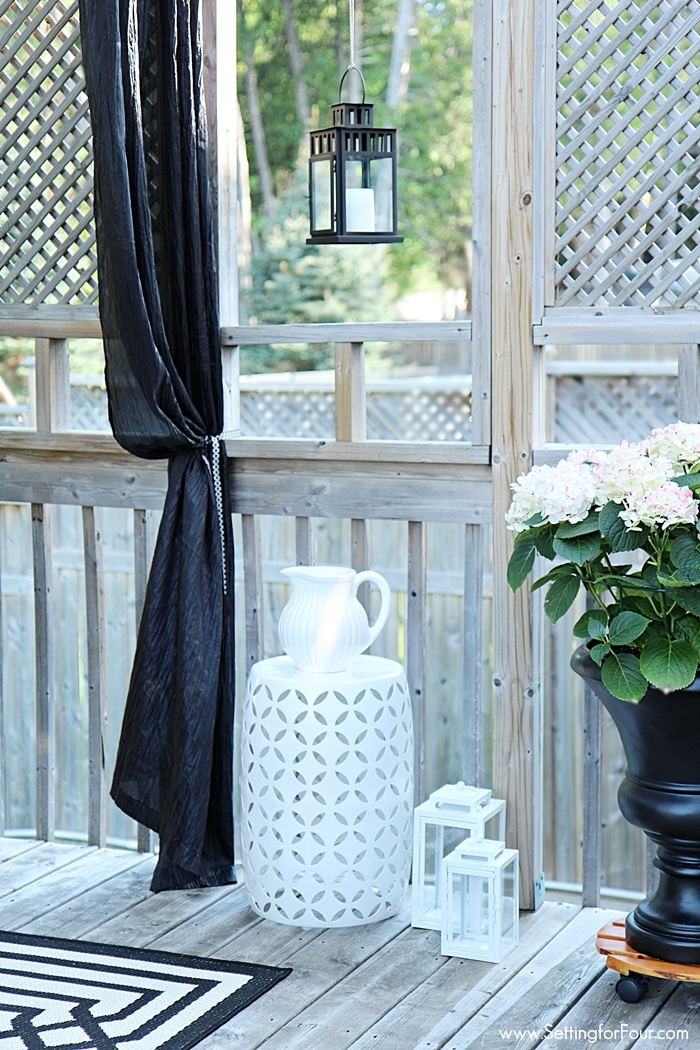 I also planted three 5 feet tall Emerald Cedars in tall black planters to bring in more greenery and nature.
I love the height and scale of these cedar filled urns! They make our deck so inviting and relaxing….are so easy to care for too.
Oh and my outdoor rug!! L-o-v-e the cream and black trellis border. I love geometric and trellis patterns! This rug is so my style!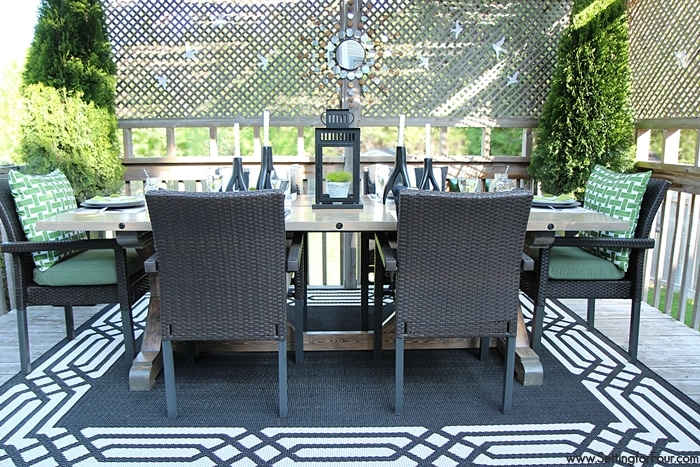 I'm still smitten with our DIY Restoration Hardware Knockoff Farmhouse Table (I custom designed this table from 2 RH Table styles – the x base and the bricklayers table.) Hubby and I made it last year for $157.00!!
Restoration Hardware's version is over $4,600.00!! Whattt??? I know!! It's amazing how inexpensive our table was to make!! What a huge savings to make it yourself!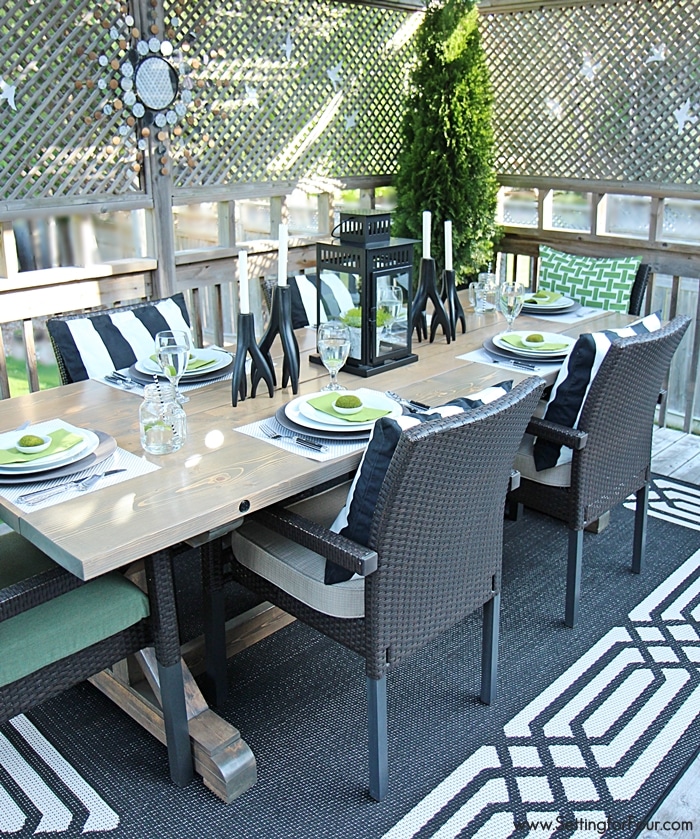 I'll be sharing later this week a resource list for our deck decor and I also have some fun lighting ideas to add to our gazebo so stay tuned to see that! I'll also be sharing the rest of our backyard gardens, patio and fire table sitting area too!
I hope you enjoyed my 'Summer Lodge' deck decor ideas! We'll be spending lots of time out here cooling off this summer with the odd Lemon Blueberry Pomegranate Iced Tea and Almond Banana Coconut Smoothie!!
I hope you and your family have a fabulous summer!
Check out the Outdoor Decor and DIY inspiration in the Sensational Summer Outdoor Spaces blog hop! See 15 blogger's beautiful outdoor living spaces, decor and DIY projects: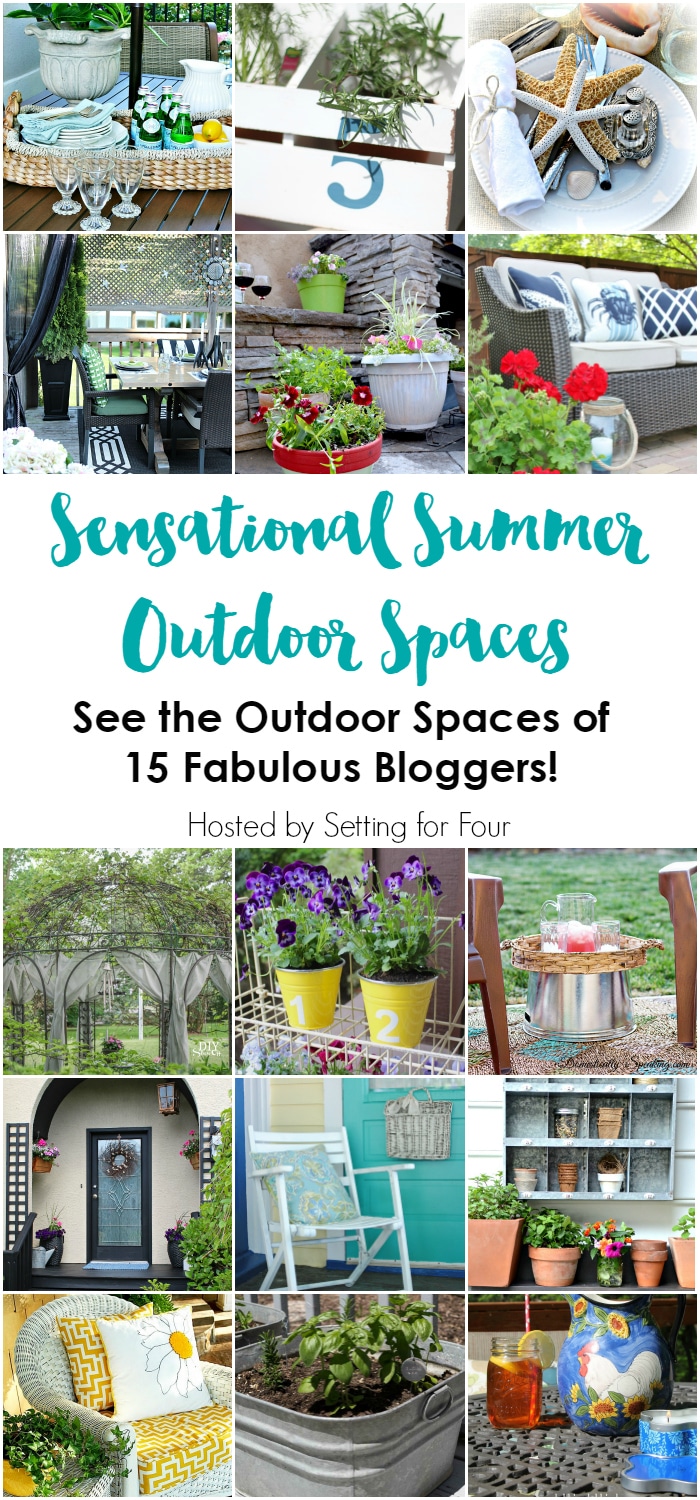 Visit:
Setting for Four (that's me!)
Top This Top That
Be sure to visit all of their posts to get the best tips and ideas to DIY and decorate your outdoor spaces!
Read these other home decor and DIY ideas!
How to Make Outdoor Waterproof Cushions – DIY Hack
How to Make Your Small Outdoor Space Look Bigger