DIY painted dresser makeover with white and gray paint plus new drawer handles! See the tutorial and the before and after! Easy DIY home decor idea.
My husband and I used to go to a lot of antique auctions when we were first married. We didn't have much furniture so it was a way for us to buy pieces inexpensively and we love mixing antiques with newer furniture pieces for a collected look! We once bought a huge antique armoire at an auction and we lived in an apartment….let me tell you it was quite the fiasco getting it into the elevator and into our tiny apartment!! But we did it!
We picked up this little vintage dresser back then too for our entryway. When we bought it, it had already been painted and then at some point I painted it forest green then white. It's been thru many military moves and has gotten pretty chipped up and dinged.
Last week I gave it a fresh, bright makeover with Decoart Chalky Finish Paint and some new glam handles. I love how gorgeous it turned out! Thank you DecoArt for partnering with me on this project!
Dresser Makeover with Chalky Finish Paint
(Here's a before shot)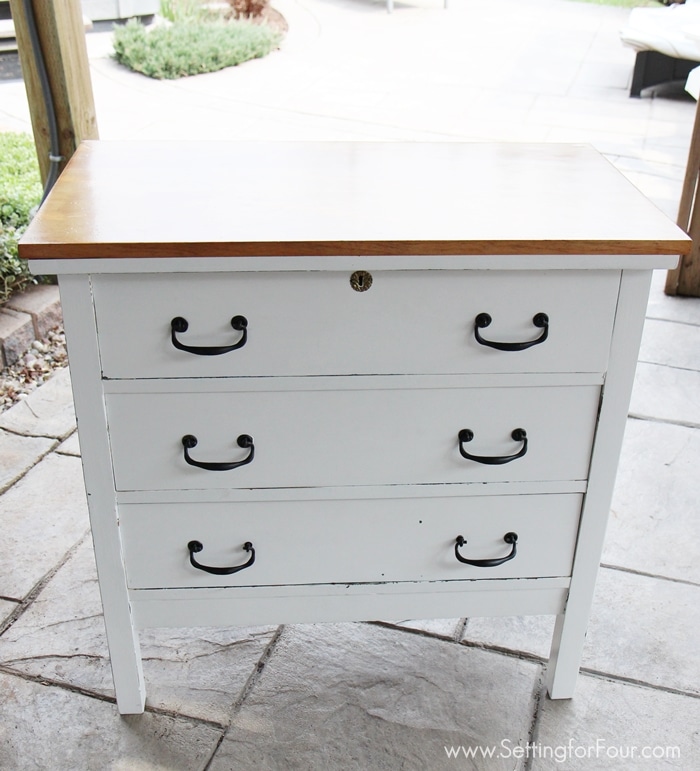 Supplies:
Chalky Finish Paint in Everlasting
Chalky Finish Paint in Yesteryear
Glass Handles – they are gorgeous!
Directions for Dresser Makeover:
First I removed all the handles from the drawers.
Then I painted on 2 coats of Everlasting (such a pretty white color!).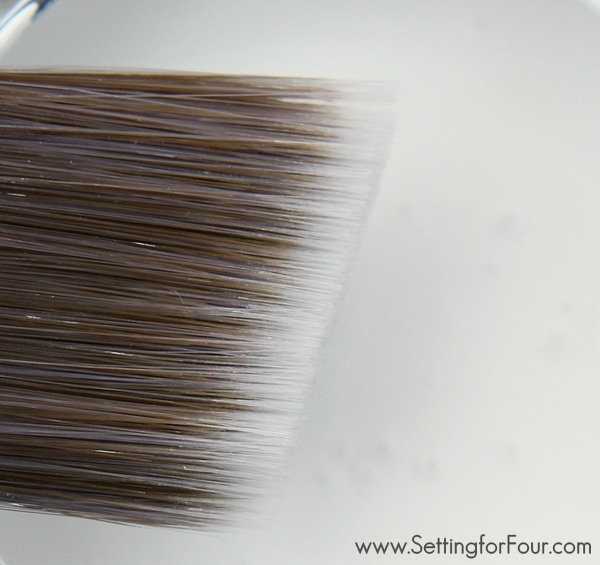 I added a stencil to the middle of each drawer using a 1 inch artist brush and Yesteryear.
Once the stencil was dry I lightly sanded it to give it a distressed faded look.
Next I added a coat of Cream Wax, let dry then buffed to a shine with a cloth.
Isn't this dresser gorgeous now? These glass handles are stunning and really fit the glam elegant look I was aiming for! I love the soft faded gray stencil design too!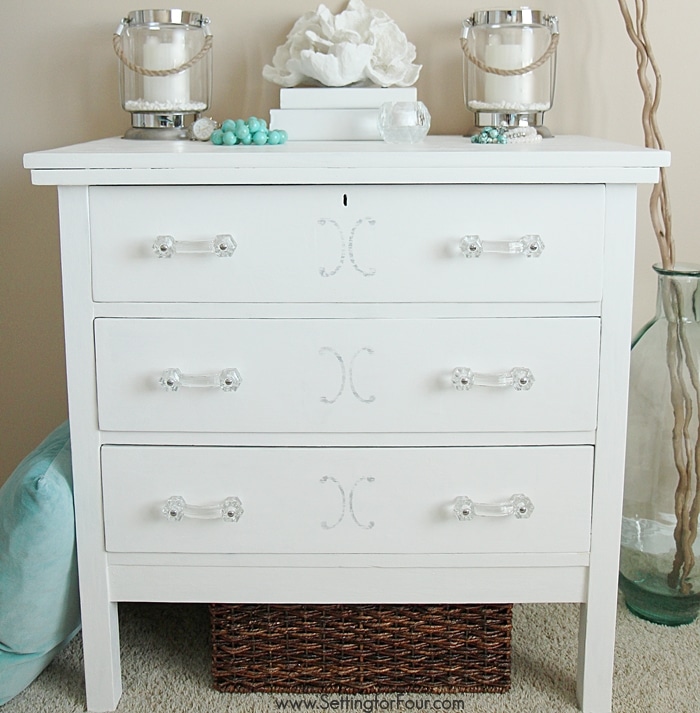 Isn't it amazing how a bit of paint and new hardware can update a piece of furniture?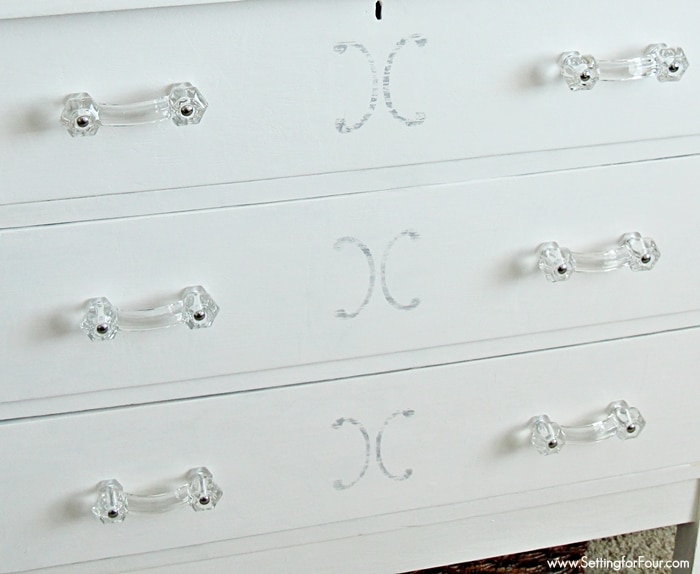 I've moved this dresser to our guest bedroom and styled it with a few coastal accessories!
I'm so glad we kept this dresser over the years! I think it will be the perfect spot for guests to keep their clothes.
It also gives me extra room for storing guest bedding sheet sets.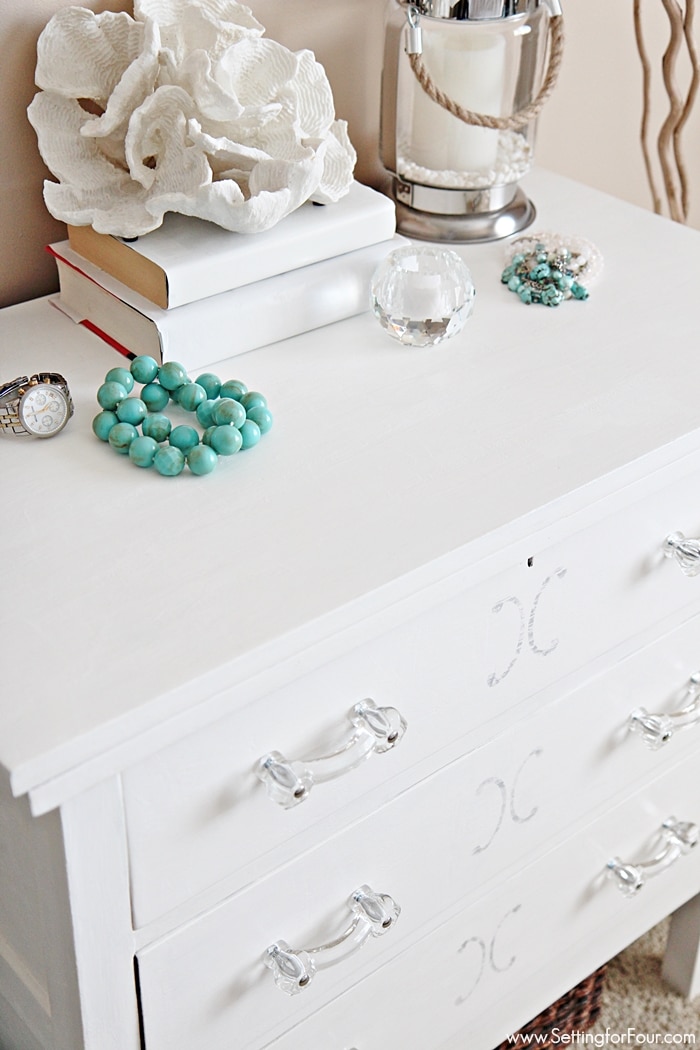 Have you painted any furniture lately or given an old piece a makeover with new handles? Let me know in the comments below!
You may also like:
12 Ways To Create A Cozy Guest Bedroom Your Company Will Love
7 Ways To Make A Small Room Feel Larger Instantly!
How to Paint Tile: Easy Fireplace Paint Makeover