Get the relaxing, serene look of a lake house bedroom – on a budget! See these beautiful lake house bedroom paint color ideas, rustic furniture and decor ideas that are sophisticated and fresh. Perfect for a master bedroom or boy's bedroom.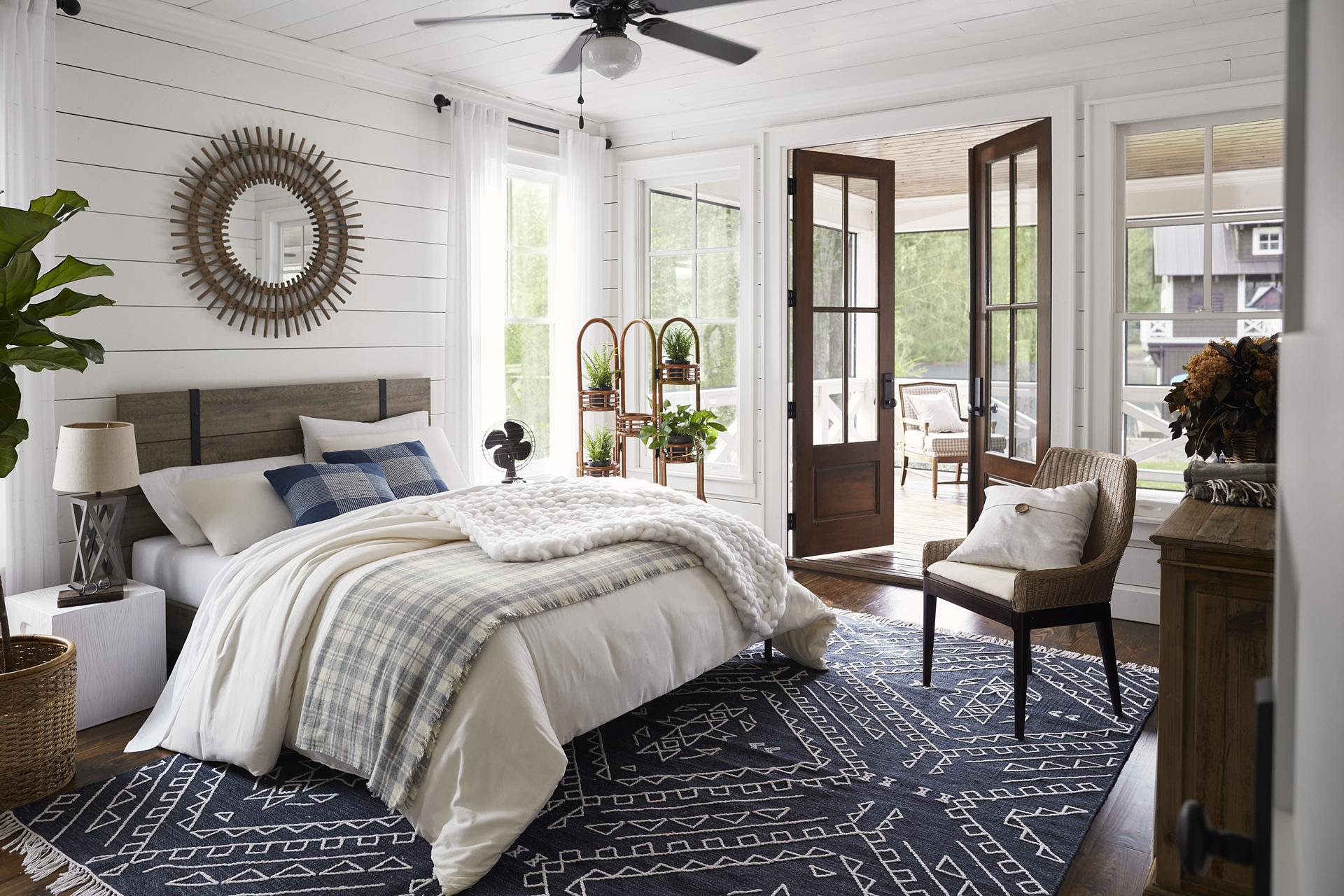 Lake House Bedroom Paint Color Ideas, Furniture and Decor Ideas
I grew up on a fresh water lake and have so many wonderful memories of endless days splashing in the water, skipping stones and building sand castles on the sandy beach.
Lake House style is all about these amazing feelings of tranquility, carefree freedom and relaxation. Which are perfect for a bedroom where you need to decompress, recharge your batteries and get great sleep!
This style guide can be used to refresh a young boys room, teen boys bedroom, or a master bedroom!
This bedroom look is sophisticated, interesting and light and bright!
Learn how to create this watery, lake house bedroom look with these tips!
A Lake House Bedroom Guide: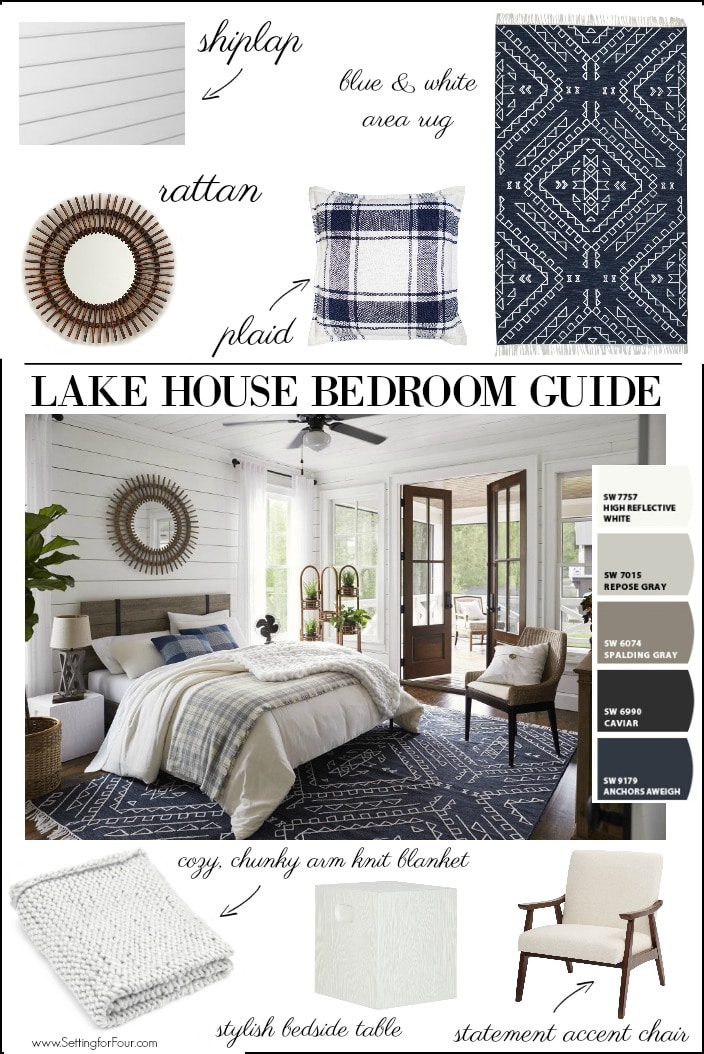 Click on the images below to shop the sources of this gorgeous Lake House bedroom!


---
Need help decorating or help picking paint colors? I offer online design services and paint color advice! See the info on my services, my client designs & client reviews here!

---
1. Lake House Bedroom Paint Colors and Color Palette
Let's start with a color palette!:
Fresh white, rich blue, black and gray are all colors you will see on the beach of a lake and in the hues of the water.
Bring these relaxing colors of mother nature into the bedroom as follows:
White shiplap wall: shiplap will automatically give the bedroom a nautical feeling and it makes the room look cozy too!
White drapes, white end tables and a white duvet set: add more layers of fresh bright white.
Gorgeous rich blue: add this color by laying a stunning patterned rug under the bed!
Add gray found in the pebbles on a lake beach: in the textiles by adding a gray plaid throw blanket and gray weathered wood tones in the lamp, headboard and bed frame!
Add black: for contrast in the drapery hardware.
Understand The Color Wheel & Color Schemes To Become A Better Decorator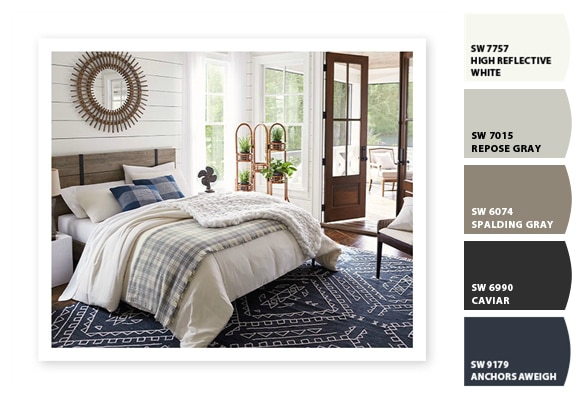 Click on the images below to purchase your own paint decks! These are amazing color resources to have on hand!

Paint color ideas:
Here are the paint colors pulled from this bedroom. Read this helpful article How to Pick Paint Colors With Confidence!
The paint color on the wall is Sherwin Williams High Reflective White – which gives a light, bright vibe to this dreamy bedroom.
Anchors Aweigh is a gorgeous dark blue that you could use to paint a dresser for the bedroom. It's the color of the rug.
Repose Gray is pulled from the gray throw blanket. Paint a vintage chair with this color to add as a place to sit and read.
Spalding Gray is pulled from the wood tones in the headboard. Paint a tray this color for breakfast in bed!
Caviar is a gorgeous black that is pulled from the curtain rods.
How To Identify Paint Color Undertones – To Choose The Right Color
2. Bedroom Furniture and Decor
Rattan accents and driftwood looking furniture add instant lake house appeal.
Here are the exact sources for the gorgeous furniture and decor pieces in this lake house bedroom – so you can copy the look!
Click on the pictures below to shop!

I hope you liked this lake house bedroom guide with paint color ideas, furniture and decor ideas!
You may also like:
Interior Design Advice: Do's and Don'ts Every Beginner Should Know
Paint Colors In My Home – Color Schemes