In interior design the ceiling is considered the 5th wall – so go ahead and paint it! See inspiration room photos and follow these 8 tips I've rounded up for choosing beautiful ceiling colors that will coordinate with the rest of your room. Avoid these color pitfalls and decor don'ts!
I often get decorating questions from readers who are looking for decorating advice and questions about where I get my furniture and decor.
Recently I received this decorating question from reader Debbie about the gorgeous bedroom in my Soothing Bedroom Color Schemes post:
I love the color of the blue on this bedroom ceiling. I think it was called Lagoon Blue. I have a large master bedroom and wondered if I could paint this on the ceiling. We do not have exposed beams or any beams. What would you suggest I paint the walls? The room is a very good size. Please let me know if you think the blue will be too much for a large room.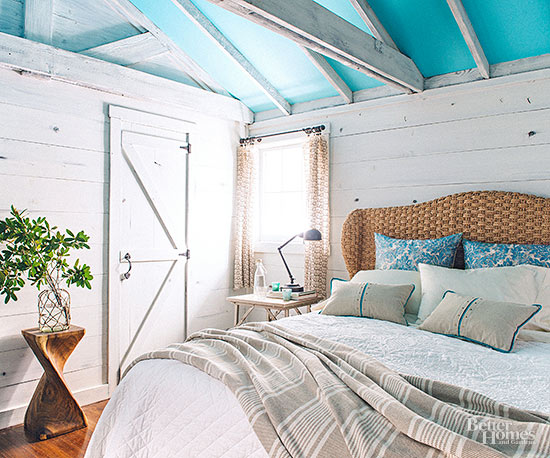 Here is my advice and 8 Tips on Choosing Beautiful Ceiling Colors:
Debbie you could paint the ceiling a similar color if you follow the tips below! The color will look more bold/strong in your room because you don't have the white beams to break the color up.
I've done a mock up to show you this ceiling color without the beams. Remember that this photo only shows you a peak of the entire ceiling so in your large bedroom this color will cover more area.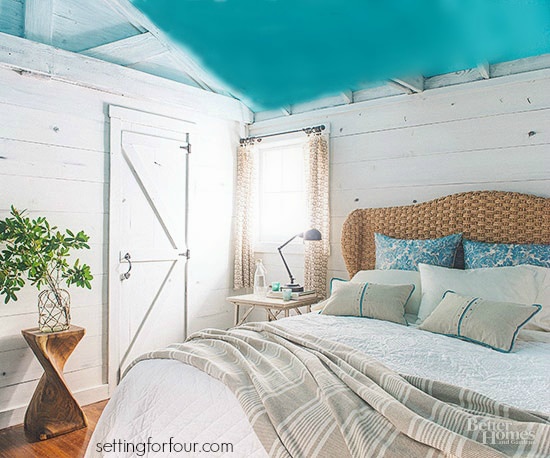 This color definitely is beautiful – See how the white beams tie this color into the room?
If this room had more of the blue color repeated in it (blue drapery, blue area rug, blue duvet cover ect) this would look fabulous!
See this mock-up with this shade of blue repeated in other areas of the room (rug, drapery, bedding):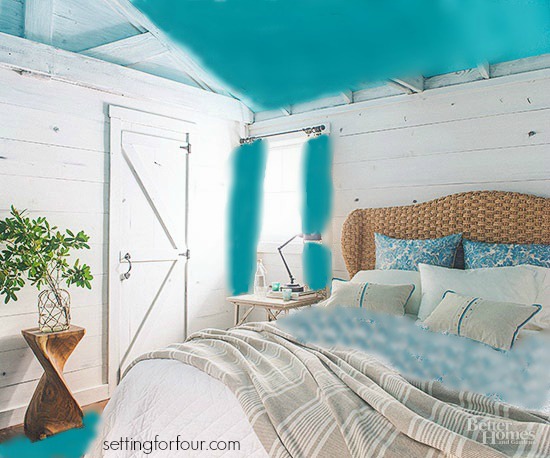 See how repeating the blue ceiling color ties it into the whole space?
This post contains some affiliate links for your convenience. Click here to read my full disclosure policy.
I hope these mock-ups allow Debbie to visualize this ceiling color better!
If Debbie feels this color is too bright perhaps using a lighter shade of blue will work better in the space – see Tip 4.
In the design world the ceiling is considered the 5th wall so painting it something other than white can give the room a beautiful look. However there are some do's and don'ts when it comes to choosing ceiling colors.
8 Tips on Choosing Ceiling Colors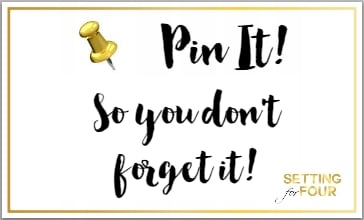 Tip 1: Remember that if you paint a ceiling in a room and you later change the color of the decor and furnishings the ceiling color may no longer coordinate….and it's a lot of work to repaint the ceiling!
Tip 2: Don't paint ceilings that are heavily stippled a color other than white or off-white. If your ceiling is highly vaulted this may work otherwise it will draw attention to the stipple.
Tip 3: Add crown molding around the room to soften the break where ceiling meets wall.
Tip 4: Painting a ceiling a light blue will give it the color of the sky!
Tip 5: Repeat the ceiling color on the ceiling in drapery, pillows, throws.
Tip 6: Color on the ceiling appears darker than on a wall so consider diluting the paint color you choose by 1/2. Ask your paint retailer to cut the color by 1/2 and you're set!
Tip 7: If choosing a colored ceiling don't paint the wall a color other than neutral taupe, white, cream or light gray.
Tip 8: The wall color should match the color of the flooring to make a colored ceiling look cohesive in the room.
Here are some inspirational rooms that beautifully showcase colored ceilings:
Bedrooms
Dining Rooms
Living Rooms
Kitchens
…. and some other ceiling colors:
Photo by BCBE Custom Homes