Color inspiration – 8 Tips For Choosing Beautiful Ceiling Colors.
In interior design the ceiling is considered the 5th wall.
So go ahead and paint it!
Follow these 8 tips I've rounded up for choosing beautiful ceiling colors that will coordinate with the rest of your room.
I'm also sharing how to avoid color pitfalls and color don'ts!
Ceiling Color Pitfall
Here is a lagoon blue ceiling with white walls.
This ceiling color will look works because of the white white beams that help to break the color up.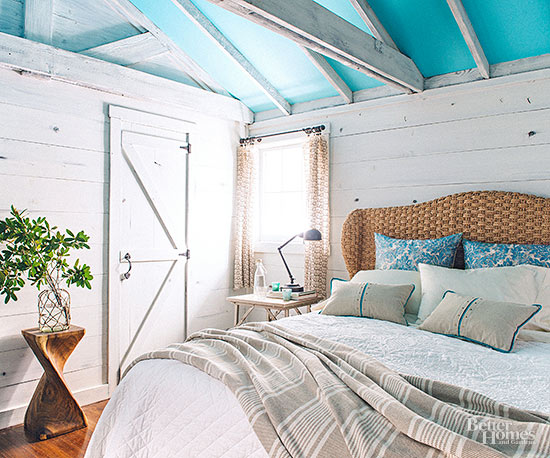 But here's a pitfall:
This bold blue ceiling color will look terrible without the white beams to break it up or without this color repeated in the space.
Here's a mock up to show you this ceiling color without the beams.
It looks too bossy and doesn't work.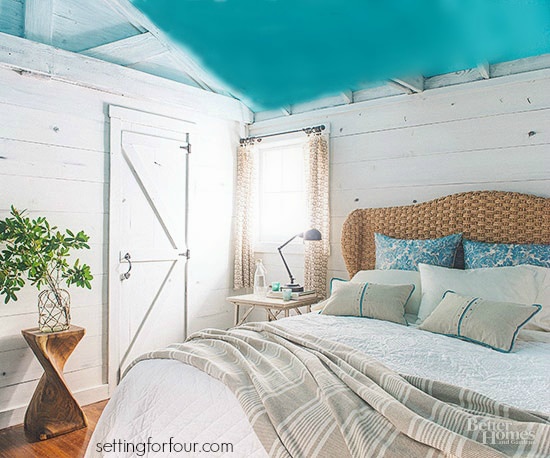 To make it work you have to repeat the color though out the space.
Adding this same color in the drapes, area rug and  duvet cover makes this room look fabulous!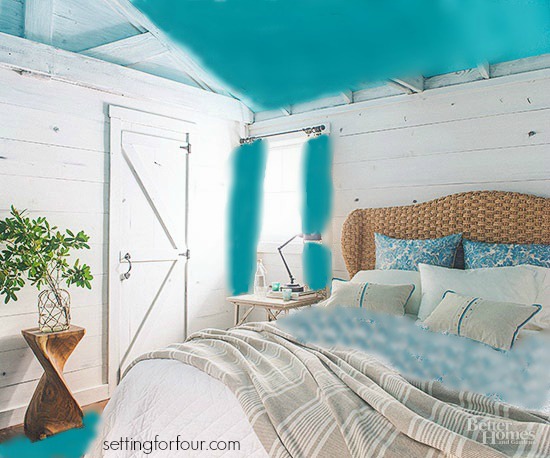 See how repeating the blue ceiling color ties it into the whole space?
Now it feels pulled together and cohesive.
Here are some do's and don'ts when it comes to choosing ceiling colors.
8 Tips For Choosing Beautiful Ceiling Colors
Tip 1: Remember that if you paint a ceiling in a room and you later change the color of the decor and furnishings the ceiling color may no longer coordinate….and it's a lot of work to repaint the ceiling!
Tip 2: Don't paint ceilings that are heavily stippled a color other than white or off-white. If your ceiling is highly vaulted this may work otherwise it will draw attention to the stipple.
Tip 3: Add crown molding around the room to soften the break where ceiling meets wall.
Tip 4: Painting a ceiling a light blue will give it the color of the sky!
Tip 5: Repeat the ceiling color on the ceiling in drapery, pillows, throws.
Tip 6: Color on the ceiling appears darker than on a wall so consider diluting the paint color you choose by 1/2. Ask your paint retailer to cut the color by 1/2 and you're set!
Tip 7: If choosing a colored ceiling don't paint the wall a color other than neutral taupe, white, cream or light gray.
Tip 8: The wall color should match the color of the flooring to make a colored ceiling look cohesive in the room.
Inspirational rooms with beautiful ceiling colors
Living Room
I love this soft gray-blue color on the ceiling.
Paired with white its so gorgeous!
Porch
Haint blue is a timeless classic color for the porch ceiling.
This sea-green blue looks stunning with the white siding and wicker chairs.
---
How to test paint colors in your home with zero mess and zero cleanup!
Samplize Peel & Stick Paint Samples are an easy, mess-free way to test paint colors.
Accurate colors – made with two coats of real paint, guaranteeing 100% color accuracy
Large 9″ x 14″ paint samples – easy way to view large swaths of color on your walls
Peel & Stick – and repositionable too! 
Quick – samples are delivered the next day!
Available in every Benjamin Moore | Sherwin Williams | PPG | Farrow & Ball paint color
Tips for Using Peel & Stick Color Samples
Move your sample around the room to see how the hue looks on each wall.
Wrap around edges to understand how the color looks in light and dark corners. This is a great way to view the color from multiple angles and in different lighting all at once.
---
Tray Ceiling Color
Picking the right color for a tray ceiling can be tricky.
You want it to be accented but still flow with the rest of the space.
This dark gray tray ceiling color is stunning!
Bedrooms
Dining Rooms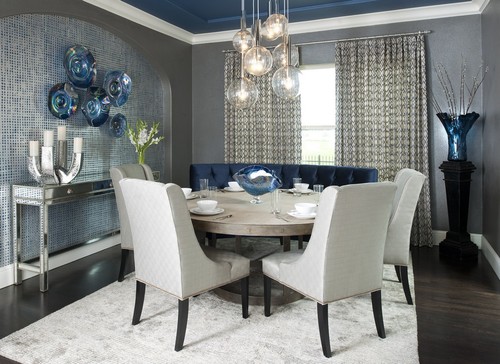 Kitchens
Bold colors 
I hope you like these 8 Tips For Choosing Beautiful Ceiling Colors!