See this quick and easy bifold doors makeover on a budget! Adding new door hardware gives instant results! Such a gorgeous, inexpensive way to add value to a home to enjoy yourself and for home resale!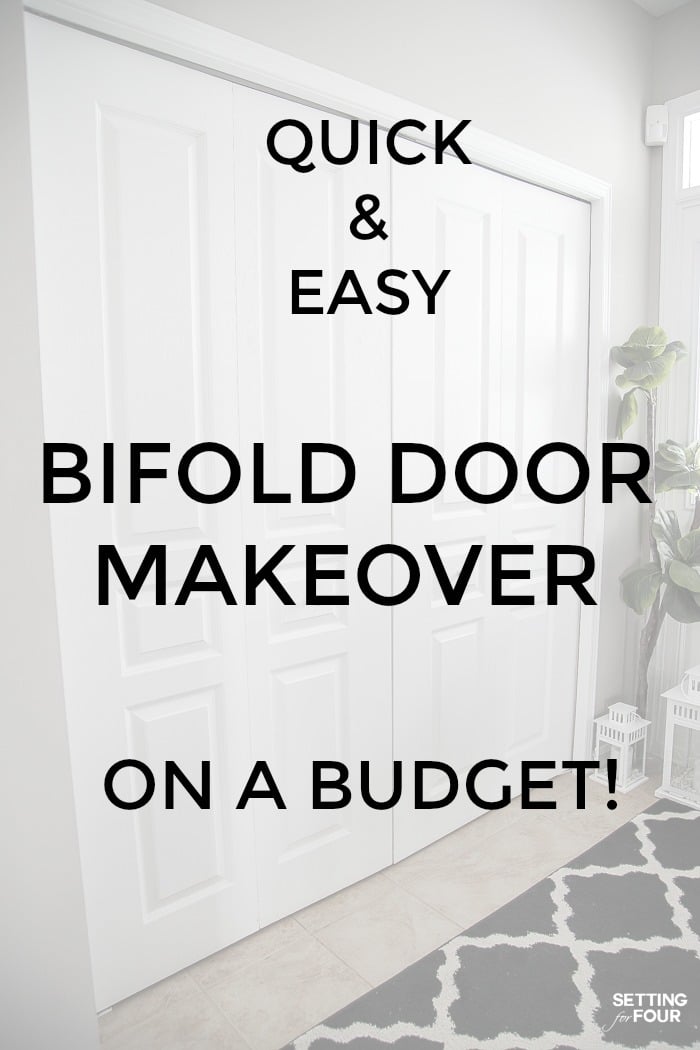 Why I Gave Our Entryway Closet Bifold Doors A Makeover
One of my favorite spaces in our home is our entryway – it's the largest foyer I've ever had in all the homes we've lived in as a military family!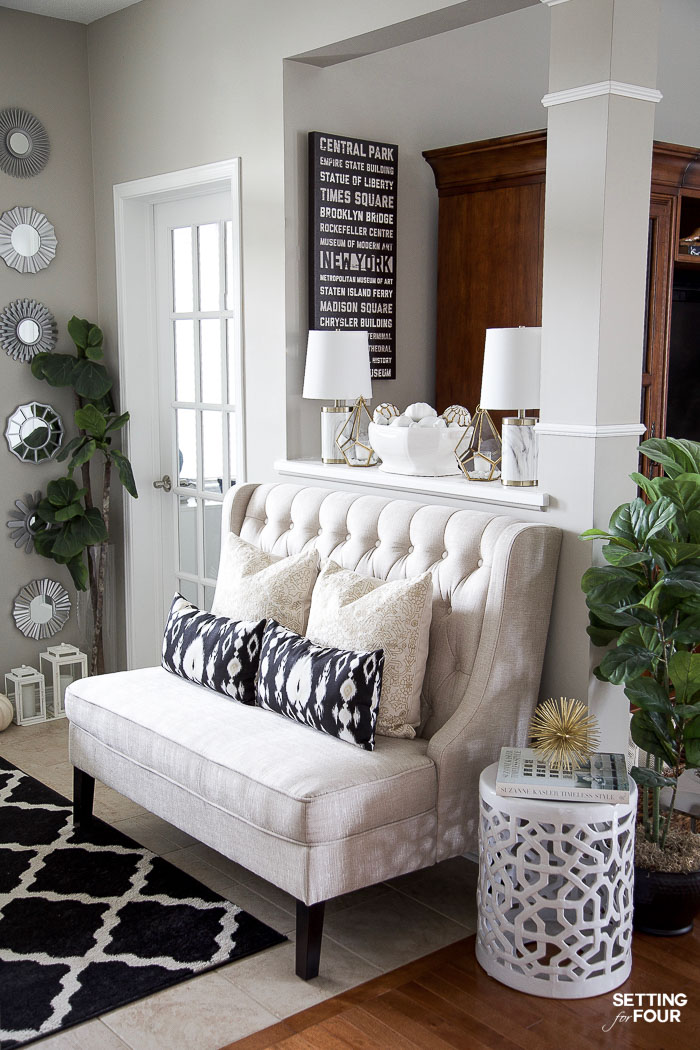 Shop the look! Click on the images below to shop my foyer!



It's bright and spacious with lots and lots of beautiful, bright light.
Our entryway closet is actually quite roomy too, which we really enjoy as a family of four! There is lots of rooms for our coats, shoes, scarves and all the 'stuff' that goes in a front closet!
Easy, Low-Cost Closet Storage and Organization Ideas
One thing that's been on my home makeover to-do list for a while, was to change the nickel closet door knobs since they have gotten quite worn.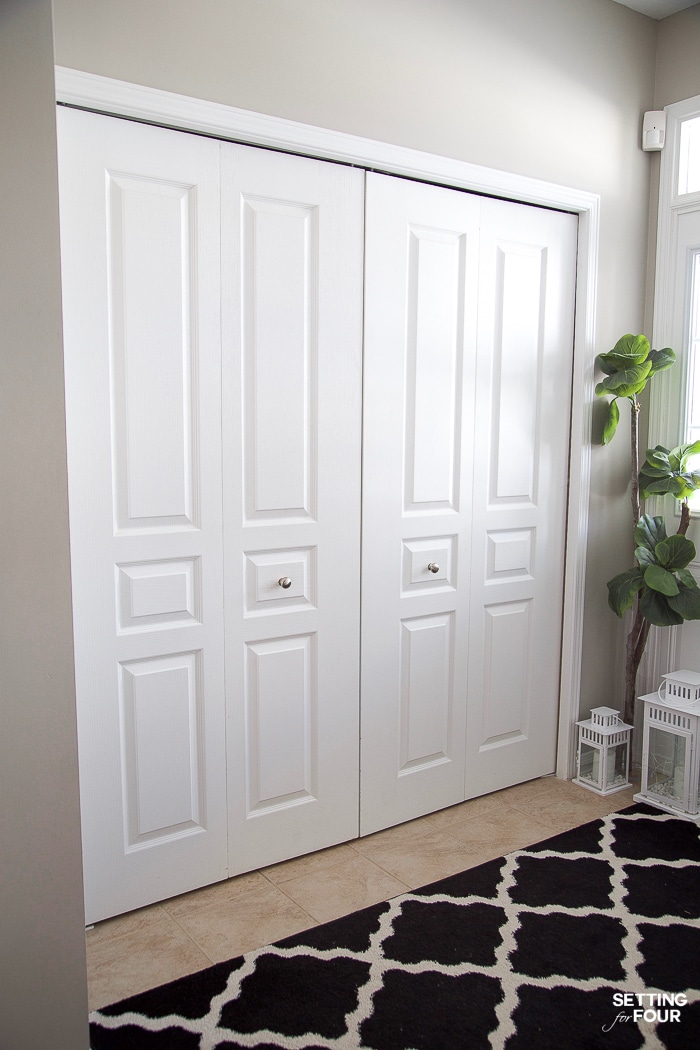 The finish on the knobs is scratched (these are builder basic knobs that are cheap quality). Also, the wood around the door knobs has gotten gouged and rubbed because the knobs sort of slide and wiggle when we open the doors.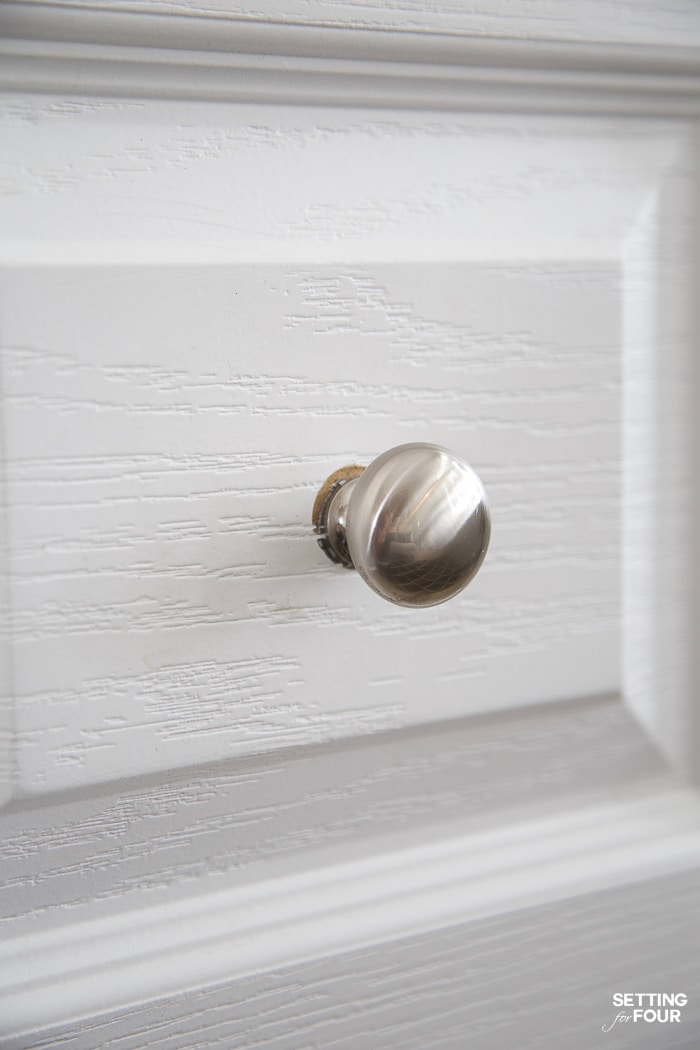 Selecting And Adding New Door Hardware:
So I recently replaced the closet door knobs with these inexpensive lucite and brushed brass knobs and I absolutely LOVE them! (these knobs also are available as cabinet pulls – they are stunning and I'm thinking of adding them to our kitchen cabinets!)
Since I have other brass and gold elements in my foyer decor, like the marble and brass lamps , I selected this brass and lucite finish.
Lucite is a big trend right now and I love it! It's so timeless, elegant and chic!
When selecting the color of your door and cabinet hardware make sure it coordinates and flows with other things in the space!
Understand The Color Wheel & Color Schemes To Become A Better Decorator
I love how the brushed brass finish also looks with my gray entryway wall paint color!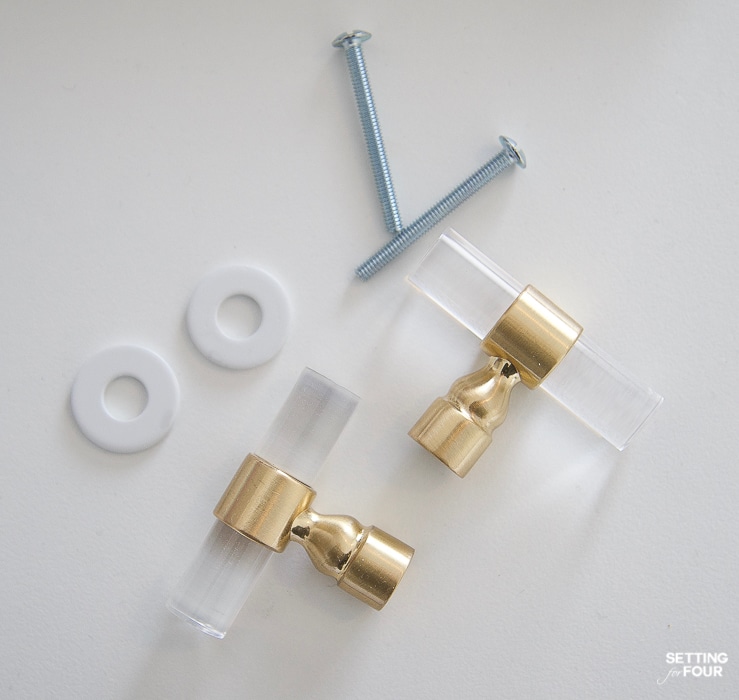 I also added large washers, that I scrounged from hubby's supplies in our garage. I spray painted the washers with this white satin spray paint, to cover up the marks on the wood and to add a decorative backplate element to the knobs.
Let me assure you that this is a quick and easy DIY home improvement project that gives big results that you can enjoy immediately! I just love those kinds of DIY decor projects, don't you??
The Bifold Doors Makeover Cost and Results:
I really love how this mini makeover turned out and it didn't break the bank! For just $16.00 our closet doors have a new and elegant look!
These new knobs give our foyer an instant update and quick refresh – and have made such a big change for the better.
Replacing cabinet and door hardware is a quick and easy way to upgrade your home for yourself and for resale.
In my opinion door hardware is the jewelry of a room! It's an opportunity to dress up a room with functional beauty.
Aren't they beautiful! So stylish and chic!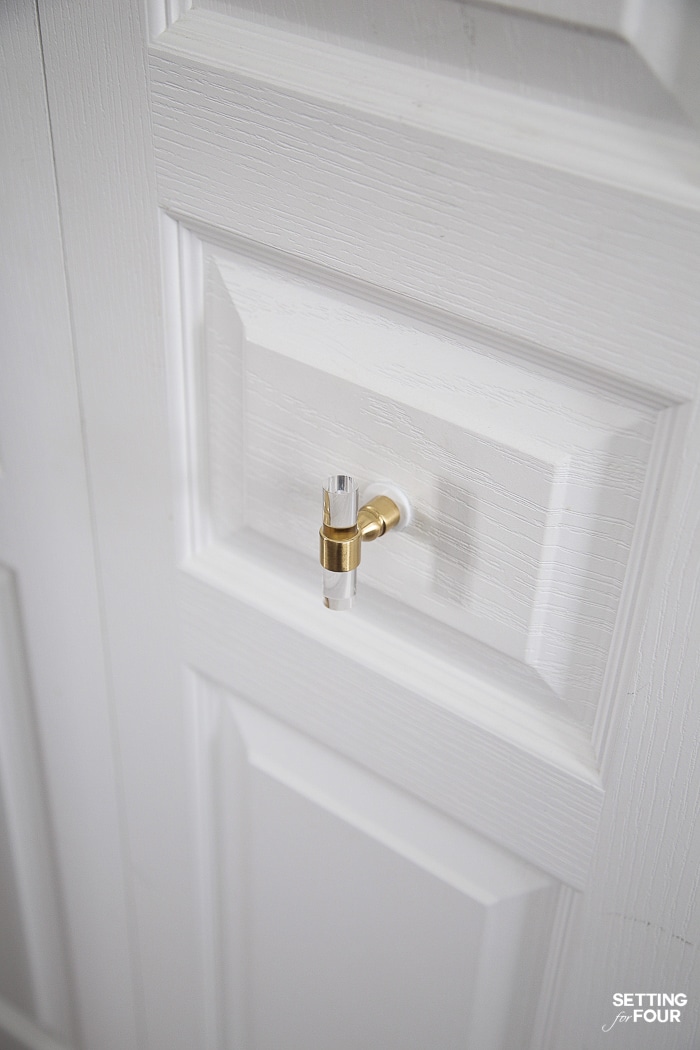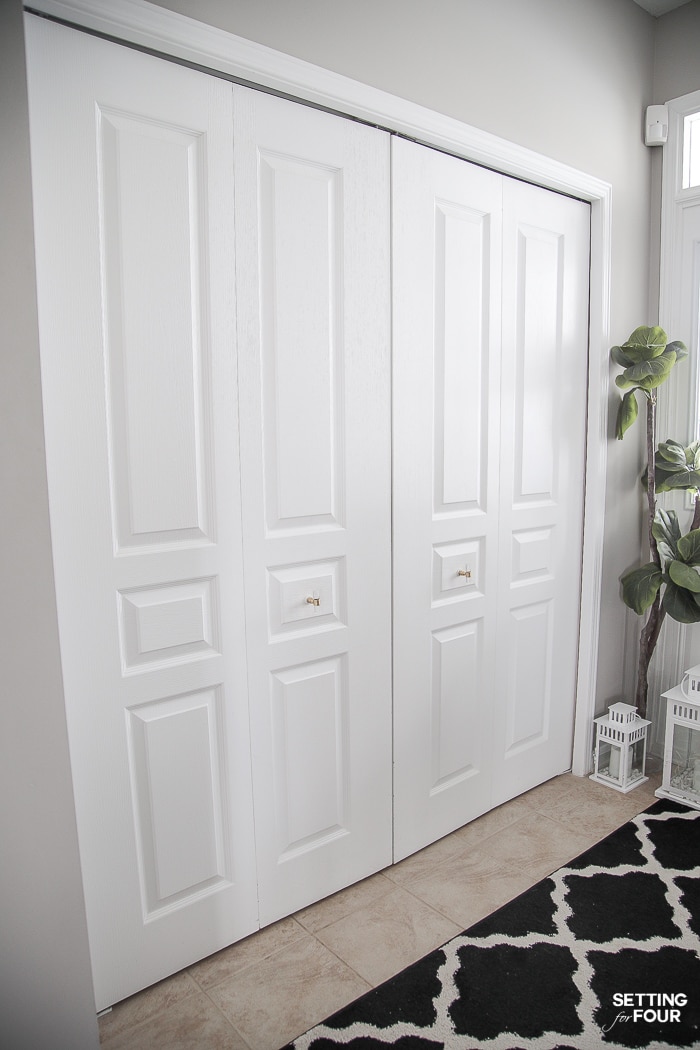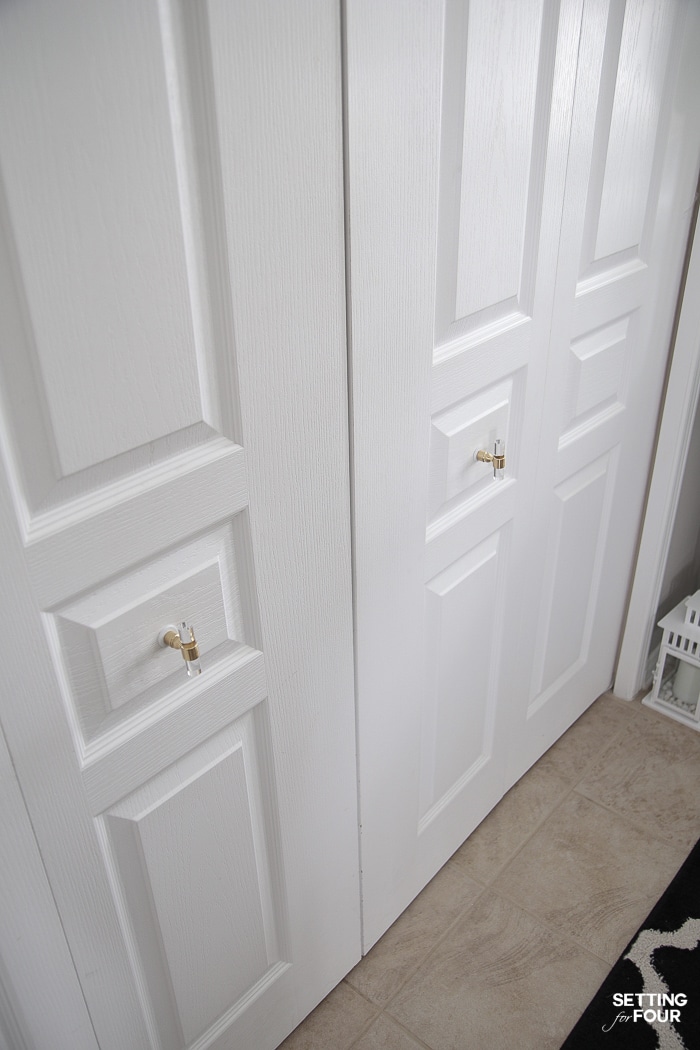 I'm a firm believer that it's absolutely possible to add beauty to your home, make it your's to love and to decorate without breaking the bank!
These 16 dollar knobs, plus a little elbow grease, is proof of that!
I hope you enjoyed this post on how new door hardware can make a room sparkle and be refreshed inexpensively!
Please let me know in the comments below what you think of my mini closet door makeover!
You may also like:
Your Guide to Choosing Cabinets For Your Kitchen & Bathroom

How to Create a Mirror Gallery Wall

Inexpensive, Beautiful Houseplants That Ship To Your Door!