See these decorator tricks for hanging the perfect mirror gallery wall! A simple gallery wall layout idea and the BEST way to hang mirrors without damaging your walls, no tools required!
Creating gallery walls can be intimidating but this design is simple and easy to make. I'm sharing two helpful design tricks to arranging and hanging mirrors in a beautiful gallery wall style!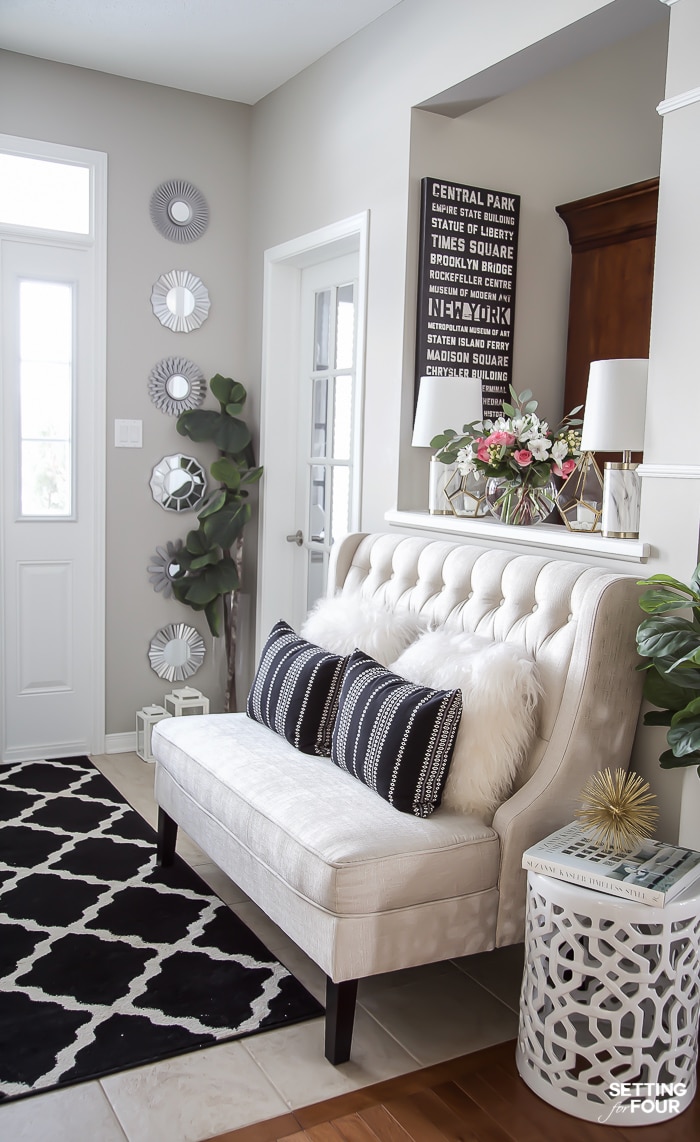 Pin this and share it with your friends!
HOW TO CREATE A MIRROR GALLERY WALL

This post contains some affiliate links for your shopping convenience. Click here to read my full disclosure policy.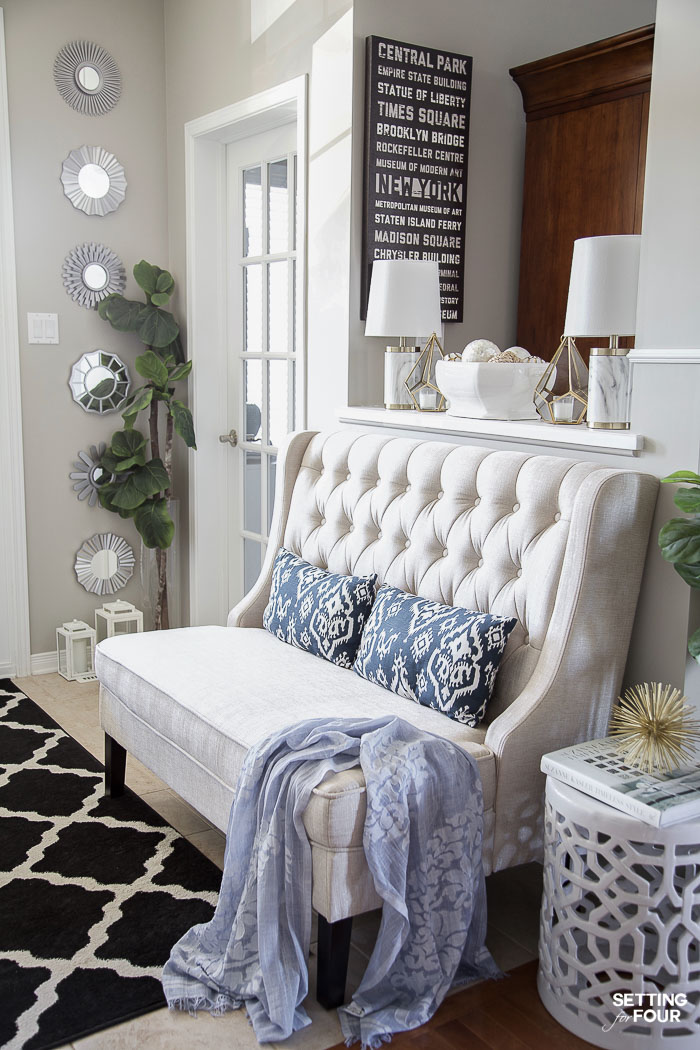 Click on the images below to shop the look! Scroll using the arrows to see all the items.


What Is A Mirror Gallery Wall?
A mirror gallery wall is an intentional, balanced arrangement of mirrors hung on a wall. By 'intentional', I mean that it's planned and measured…it's not mirrors hung willy nilly in a random fashion.
You can read all about these 65 plus Gallery Wall Layout Ideas for inspiration! My Gallery Wall Of Botanical Prints is another way I've decorated my home with a gallery wall.
The number and size of mirrors can vary and the arrangement style can vary too.
The mirror finishes can all be the same or be mixed. For example you can use all silver mirrors, black framed mirrors, gold mirrors or a mix of metallic finishes.
The mirrors can be the same shape or vary in shape. They can be all sunburst shape, all rectangle shapes or all round shaped or a mix of shapes if you are looking for an eclectic look.
They can be hung in a grid style or a loose, organic arrangement.
Why Create One?
I LOVE gallery walls! Do you? Wether they are art gallery walls or mirror gallery walls – they are all gorgeous!
So why would you create a mirror gallery wall?
They add lots of impact and drama to a room!
They're a great way to display a collection of mirrors.
They really can make a small room feel larger.
They add brightness in a dark room that gets little light.
What Rooms are Perfect for Gallery Walls with Mirrors?
A mirror gallery wall looks beautiful above a sofa in a living room, in a dining room above a buffet, in an entryway, on a blank wall in a hallway, in a dark basement or above a headboard or dresser in a bedroom!
Taking the Mystery out of Creating Mirror Gallery Walls
Mirror gallery walls can seem really complicated to arrange and hang but this one is so quick and easy to create!
Can you believe I created this beautiful mirror gallery wall in our entryway in just one afternoon?
(I love decorating ideas where you can enjoy the end result quickly and get instant gratification!)
I'm a firm believer that an entryway makes the first impression of a home and I also love our foyer to welcome myself and my family like a big hug!
I love having a mirror near the door so I can check my hair and makeup before I leave the house – do you?
I decided to hang a series of decorative mirrors, gallery wall style, in our entryway to add some interest, bounce the light into the space on gloomy days to make it feel brighter and so we can do that last minute check before we head out the door!
Supplies To Create a Mirror Gallery Wall
Several mirrors that will fit your wall space – I used 6 small mirrors that came in 2 packaged sets from HomeGoods but you can buy them online here, here and here!
Paper ( I like to use the white wrapping paper from the Dollar Store)
Painter's tape
These velcro Command strips
Directions To Create One and Hang Mirrors!
1. First I used this paper template method to figure out where to place each of my mirrors on the wall.
I spaced the 6 mirrors out so that they hung in the middle of this narrow wall width wise.
I hung the bottom one first – so that it hung just above my lanterns.
Then I hung the top one just about at the top of door frame.
Next I spaced the rest of the mirrors evenly down the wall in between the top and bottom mirrors.
2. I hung the mirrors with the awesome velcro Command strips! I use these Command strips all the time instead of nails. They hold really strongly and remove cleanly from the wall if you want to move the mirrors later on.
(this is a great idea to hang mirrors or art if you are renting your apartment or home, in a dorm room or you're staging a home to sell!)
I also used these velcro Command strips to hang the wall art in our guest bedroom! I just love them so much!
(Don't forget to use Command strips that are the correct size for the weight of your mirrors!)
I love how this mirror gallery wall looks in our foyer!
Check out all the views of my entryway with these gorgeous mirrors!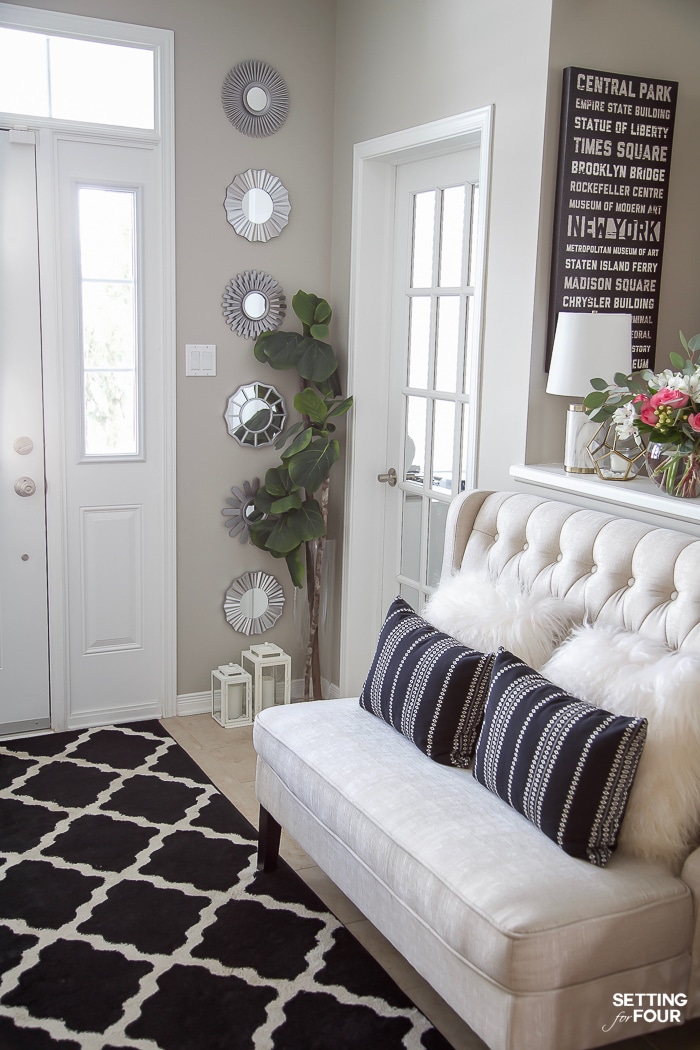 Click on the images below to shop the look! Scroll using the arrows to see all the items.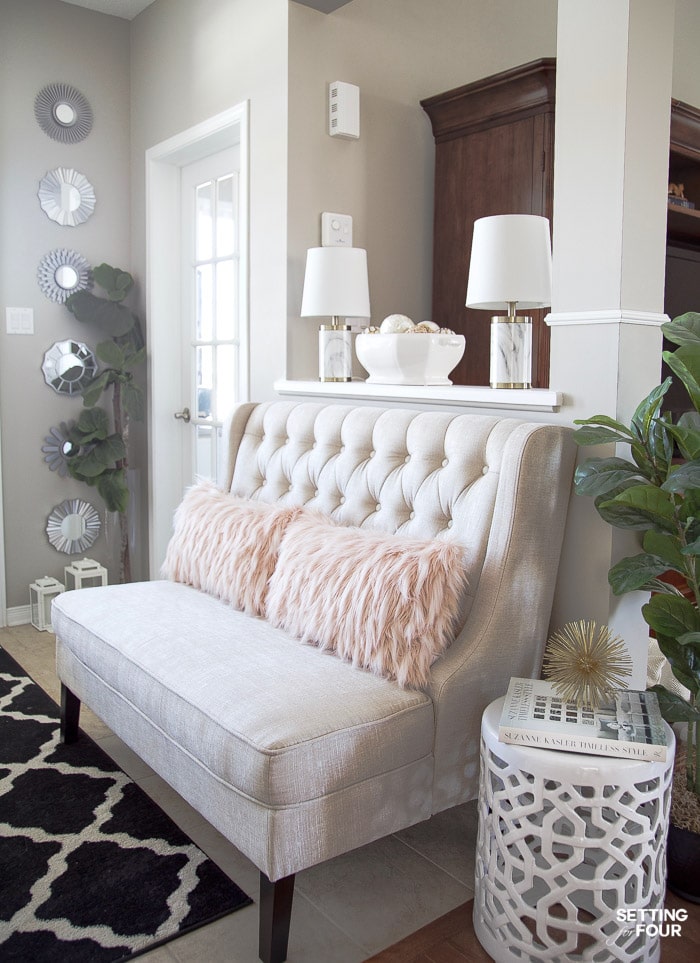 Click on the images below to shop the look! Scroll using the arrows to see all the items.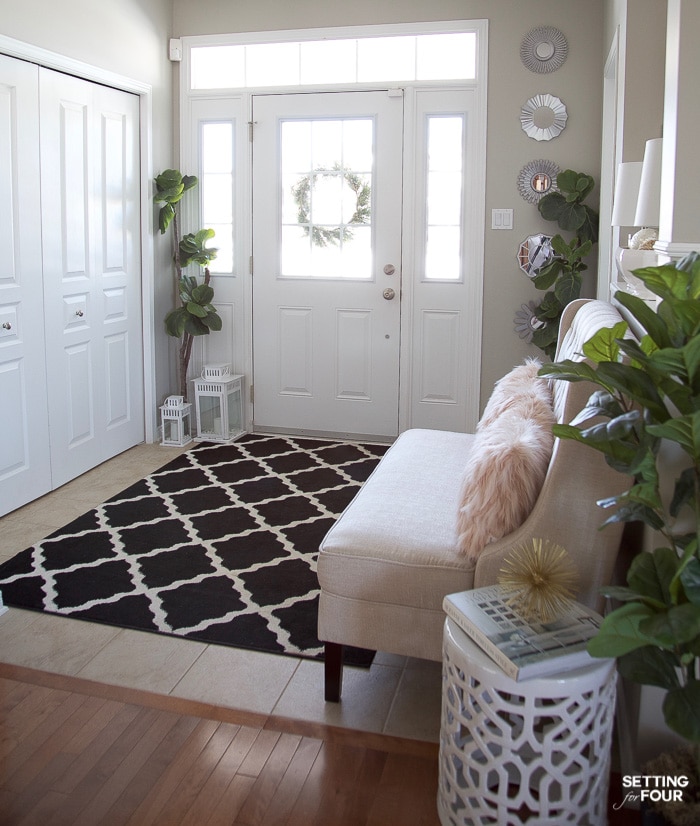 Click on the images below to shop the look! Scroll using the arrows to see all the items.

Elegant Silver and Gold Christmas Entryway Decor Ideas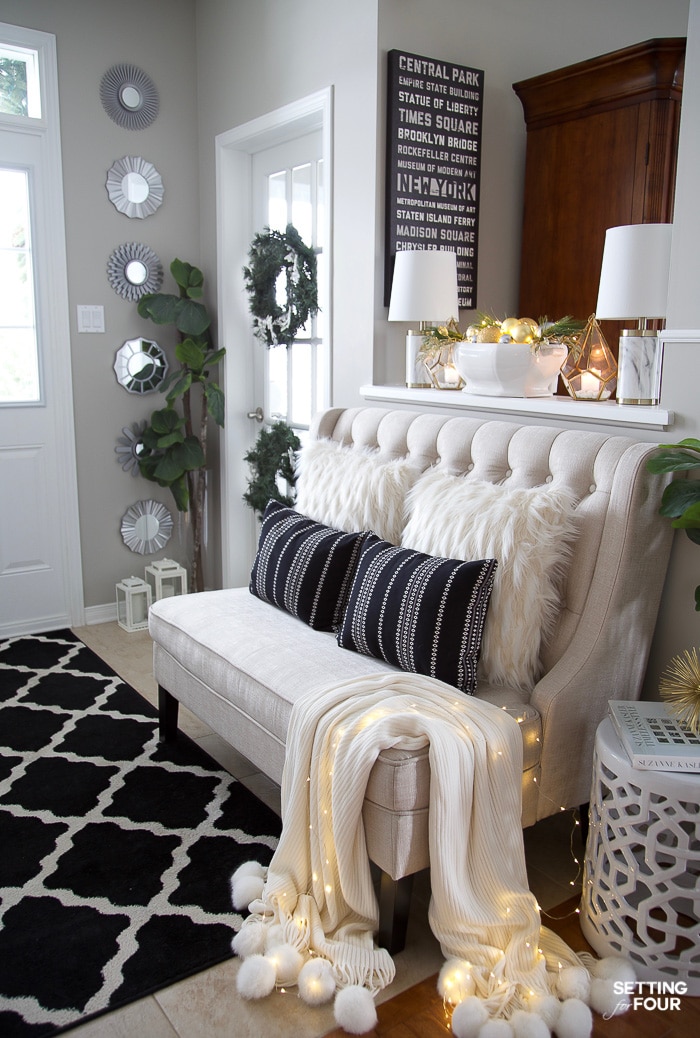 A Burst of Spring House Tour and Home Decor Ideas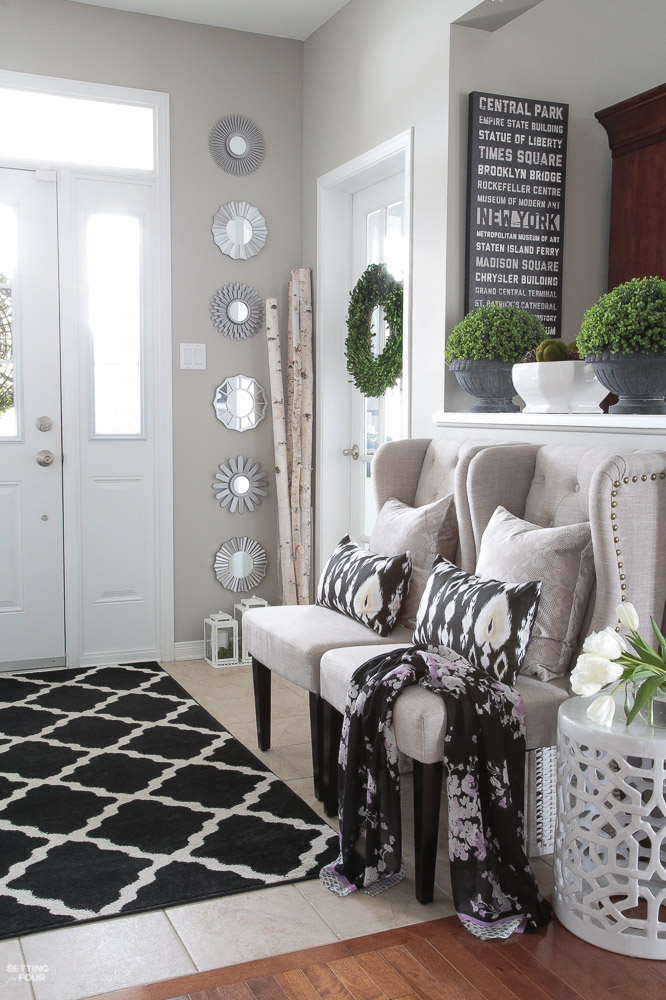 Pin this and share it with your friends!
HOW TO HANG MIRRORS – WITHOUT DAMAGING WALLS, NO TOOLS!

I hope you enjoyed this design lesson on creating Mirror Gallery Walls!
Where would you like to create one in your home?
You may also like:
Living Room Makeover – New TV Unit, Wall Art, Rug & Pillows!
My Home Tour – see all the rooms in our home!
Understand The Color Wheel & Color Schemes To Become A Better Decorator