Easy Closet Storage and Organization Ideas that are LOW COST – under $75! Declutter this frequently used part of your home!
Hello everyone! Do you need more storage and organization ideas for your home? Have you done any organizing around your home this month?
As I mentioned earlier I have been joining in on a fun organizing challenge called 'The January Cure' and so far it's going great!
One of the first to-do's on my organization list was to organize my front closet and I love the results!
I packed in all of these storage and organization ideas for under $75.00!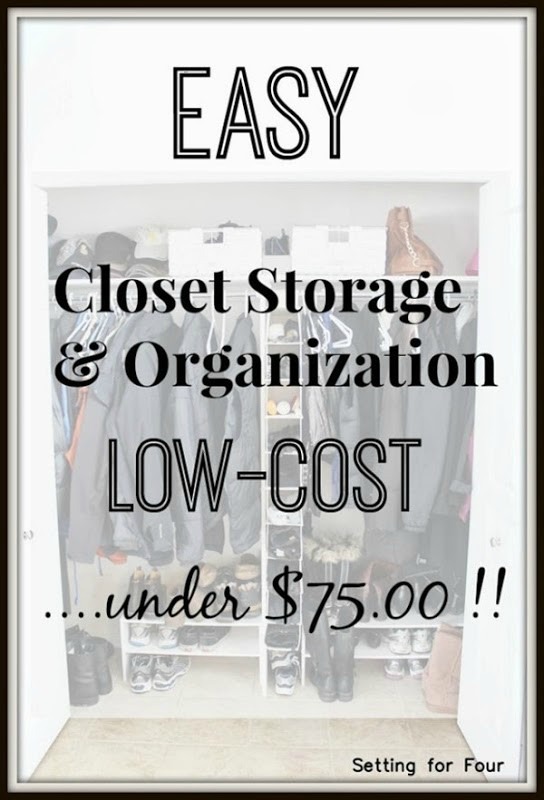 Easy, Low-Cost Closet Storage and Organization Ideas
This is how I whipped my closet into shape:
I removed all of the summer shoes that were in the closet! What can I say??…I had a hard time letting go of summer!! Now that we have several feet of snow outside I think I'd better put them away to make room for all of my boots!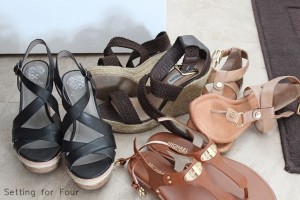 Next, I removed my summer totes: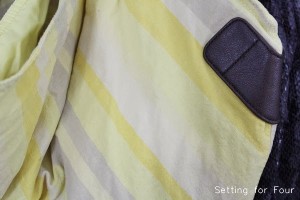 Then I brought out our winter scarves, mitts and hats – I use two plastic bins to contain them (that are in pretty sad shape!) and put them on the top shelf.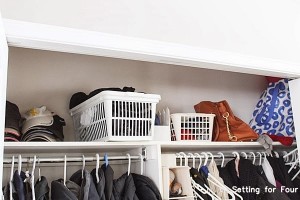 One of my most favorite ways I keep my closet organized is with this handy $10.00 10-Pocket Hanging Shoe Organizer, which I love!!! in the summer it holds flip flops and sunscreen, mini umbrellas ect and in the winter it holds gloves and winter hats.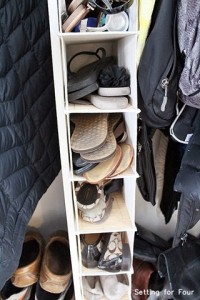 After emptying them out I vacuumed the inside of each compartment.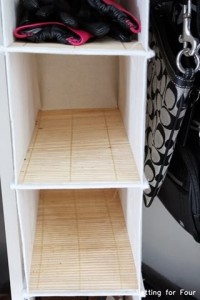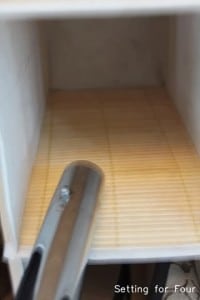 Then I filled the hanging organizer with our winter mitts, hats, sunscreen, lint brush and more mitts! With 10 pockets there is lots of vertical space for storage:
I also use these two white ClosetMaid Closet Organizers to store and organize our shoes and boots. I love that there are 3 levels of storage with each of these pieces!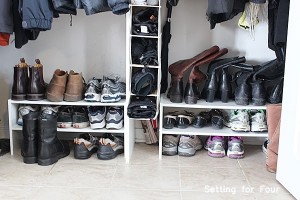 I purchased these large baskets with chrome handles last week on clearance for $19.99 each and added 'His' and 'Her's' tags. They are really roomy and store our winter mitts and hats. I love the white color too! They are much better than the small plastic bins I had!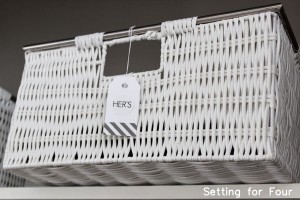 Here's our closet all organized and filled with lots of storage! Now that I have all the storage pieces it will be easy to switch out our winter and summer coats and shoes and still have all the storage we need!
We can easily find all of our winter gear now – Total cost: Under $75.00!!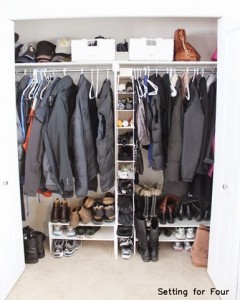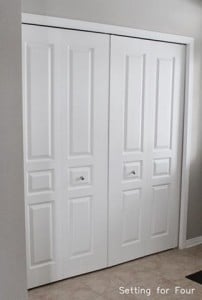 I hope you liked my closet storage and organization ideas!
You may also like:
Smart Kitchen Organization and Storage Tips
5 Easy Organization Ideas to Create the Chicest Desk Ever
10 Budget Friendly & Creative Kitchen Organization Ideas
DIY Pallet Potting Bench – Sneak Peek