Take control of your desk so you can be more productive! How to declutter and decorate your desk in just 10 MINUTES and 5 super easy organization ideas to create the chicest desk ever!
Hello friends! It's time for another segment of The 10 Minute Decorating Series – organization edition! I'm super excited about this one….I really need all the help in the organization department as I can get!
Today I'm sharing with you how I organized my desk in just 10 minutes with 5 super easy organization ideas that are pretty and chic too.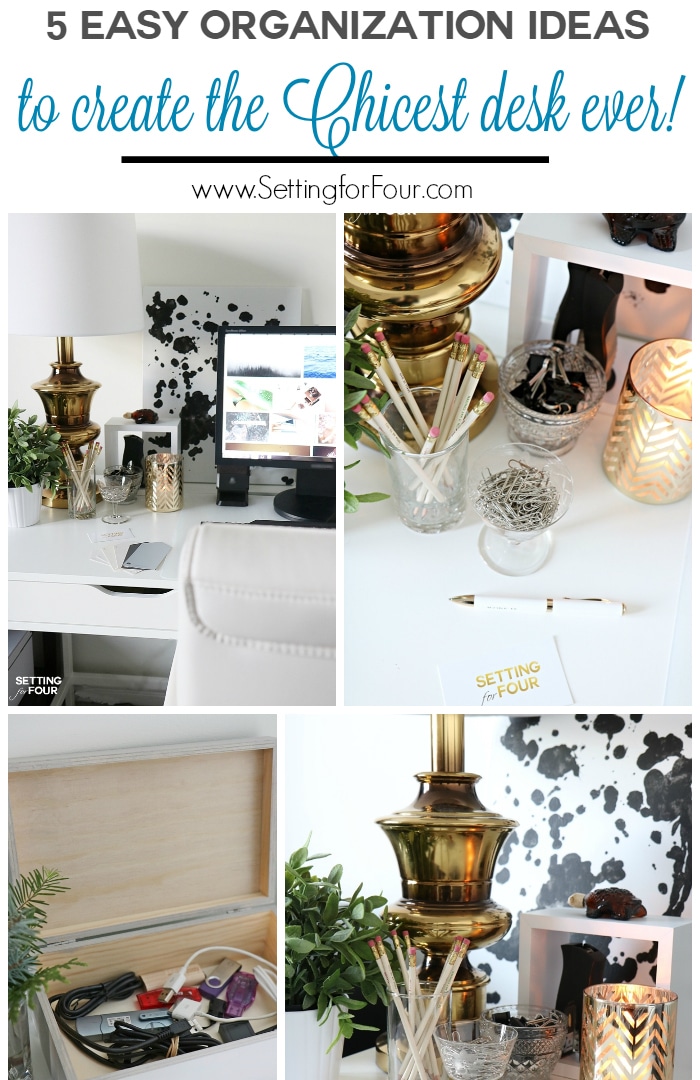 5 Easy Organization Ideas to Create the Chicest Desk Ever
…well it's the chicest desk I've ever had! 😉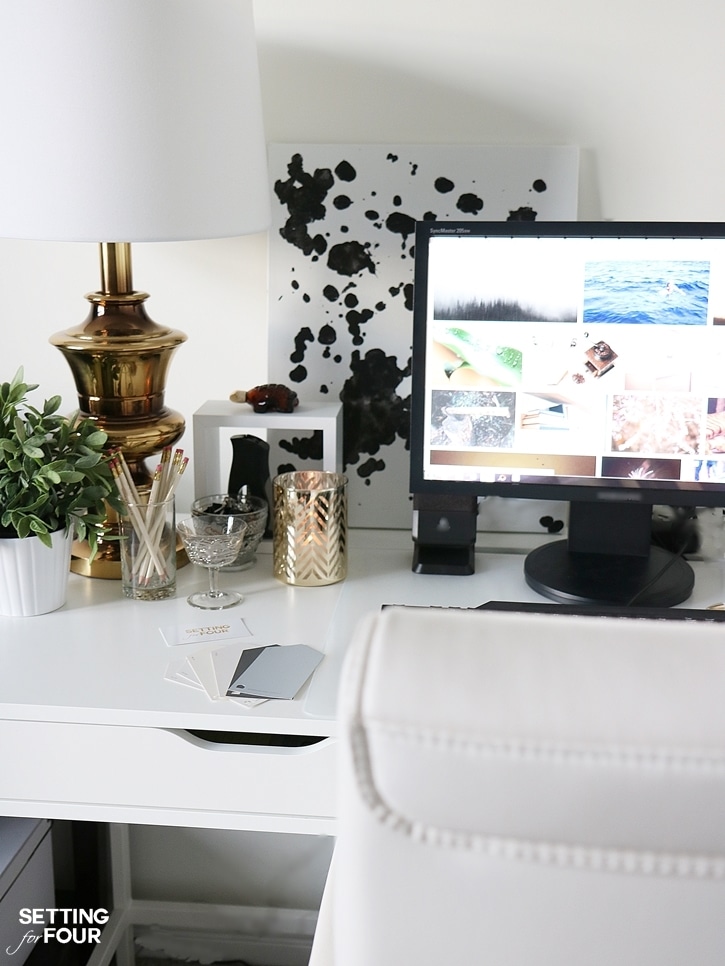 Let's go!
1. Use inexpensive vintage crystal compotes, bowls and glasses from the thrift store to hold paperclips and bulldog clips….and other office supplies! My local thrift store always has loads and loads of vintage crystal glasses – pick them up for a song and add a few to your desk. I chose two for my own desk – one has pretty etched leaves and flowers on it (that one holds my paper clips) and the other has a raised geometric pattern on it – so chic (that one holds the bulldog clips)! Not only are these vintage glasses the perfect size to hold office supplies but they also add a touch of elegance and glam to your workspace…and hey – who doesn't want some of that during the workday? This is my favorite desk organization tip of them all…since you know how much I love glam, crystal and shimmer!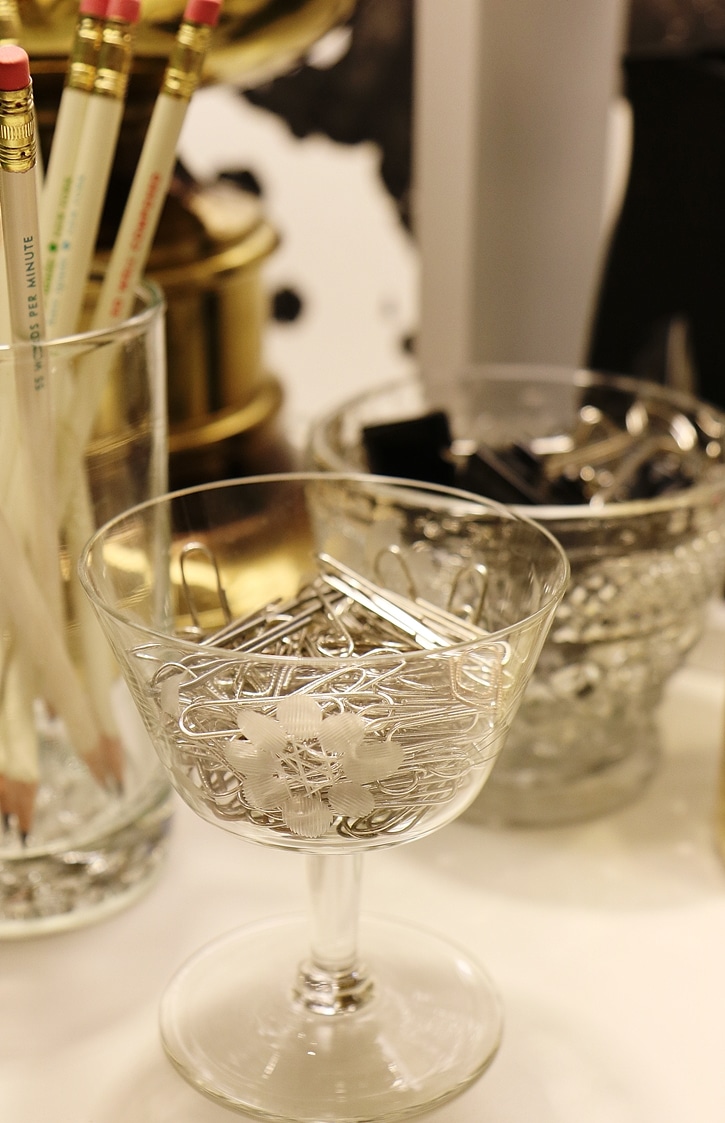 2. Use a clear water glass to organize and hold pencils and pens – so much prettier than those plastic pen holders! It's simple and it works!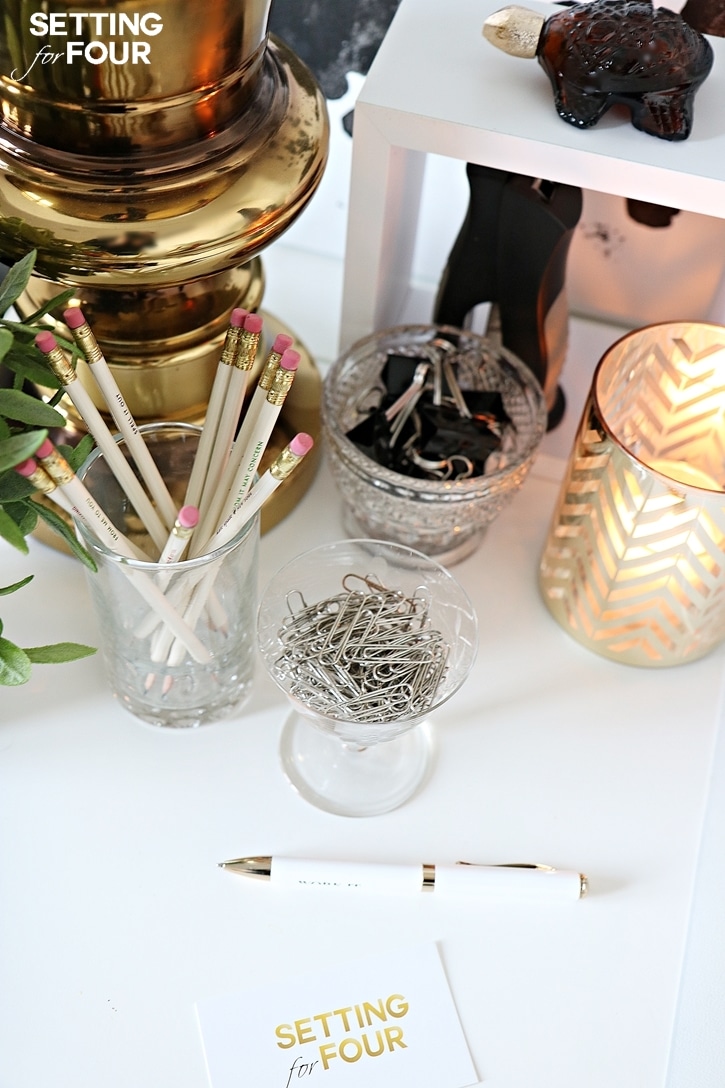 3. Use a square hanging cube shelf placed right on your desk to organize your desk supplies. This is a tip I use in decorating too – GO VERTICAL and use your verticle space! This white square shelf takes up a small footprint but is just the right size and shape to hold a stapler and my vintage glass sea turtle – it's a vintage Avon (did your Mom use Avon?) perfume bottle with an amber glass body and a shimmery gold head – its so so beautiful!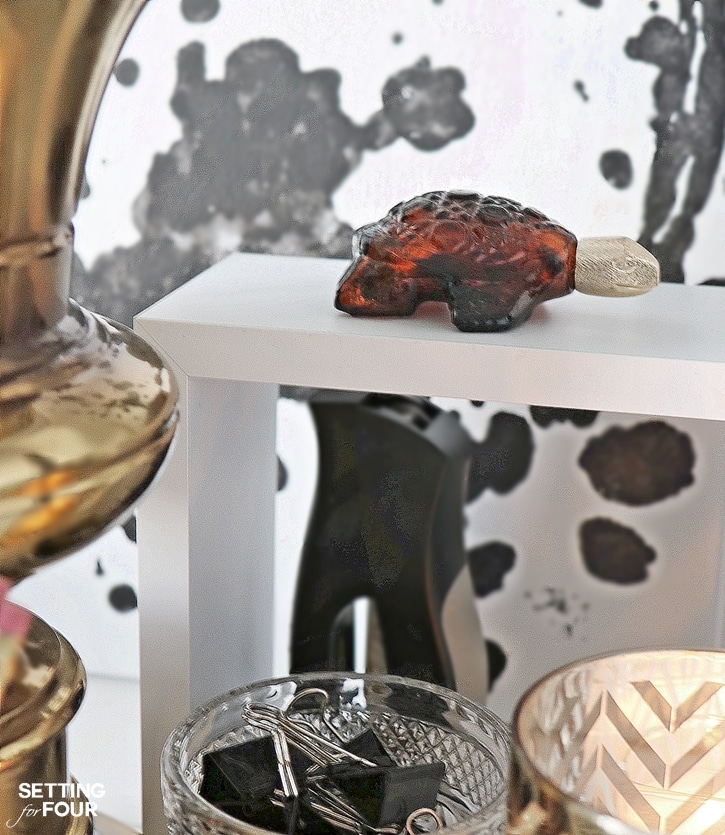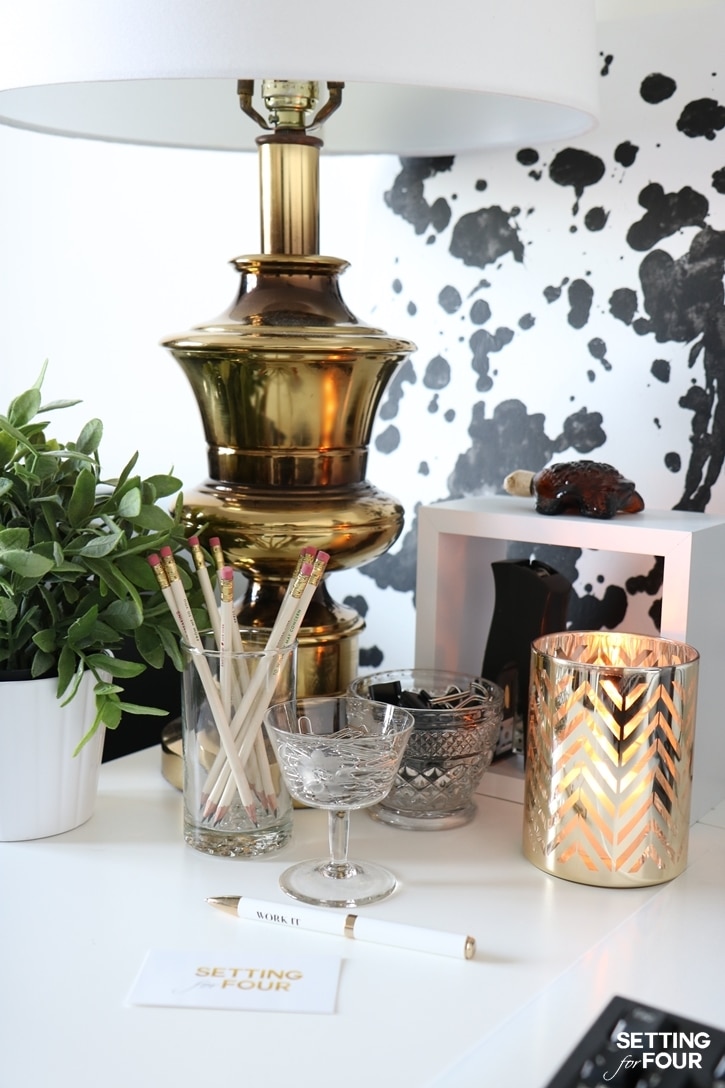 4. A decorative wooden box – see the DIY instructions to make! – is a fabulous way to organize your thumb drives, computer cords and charging cords. When the lid is closed all you see is the pretty Greek Key stenciled storage box – not a hot mess of tangled cords!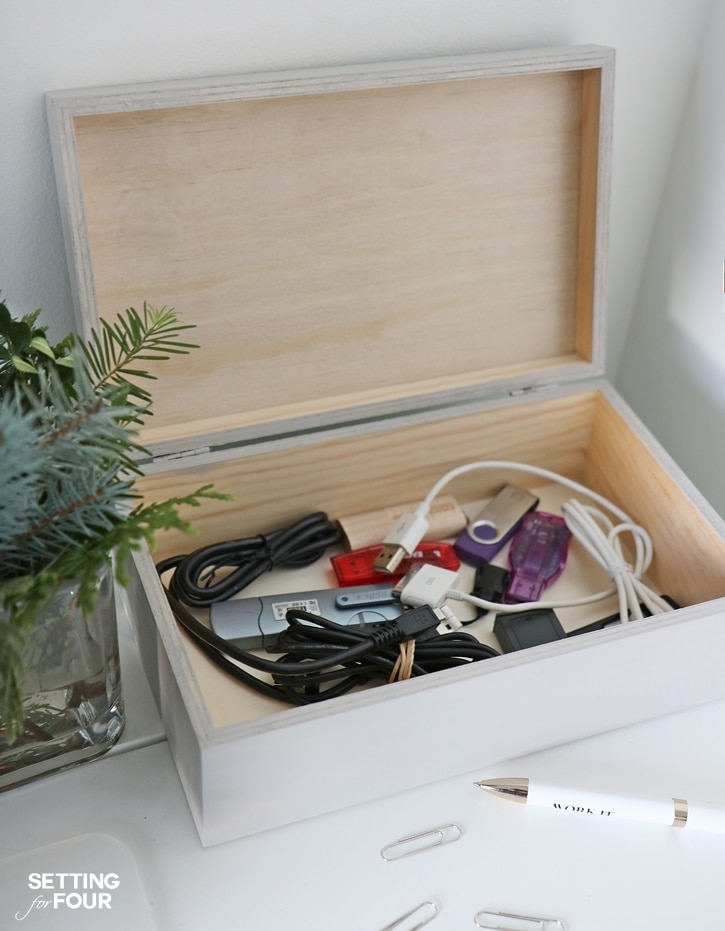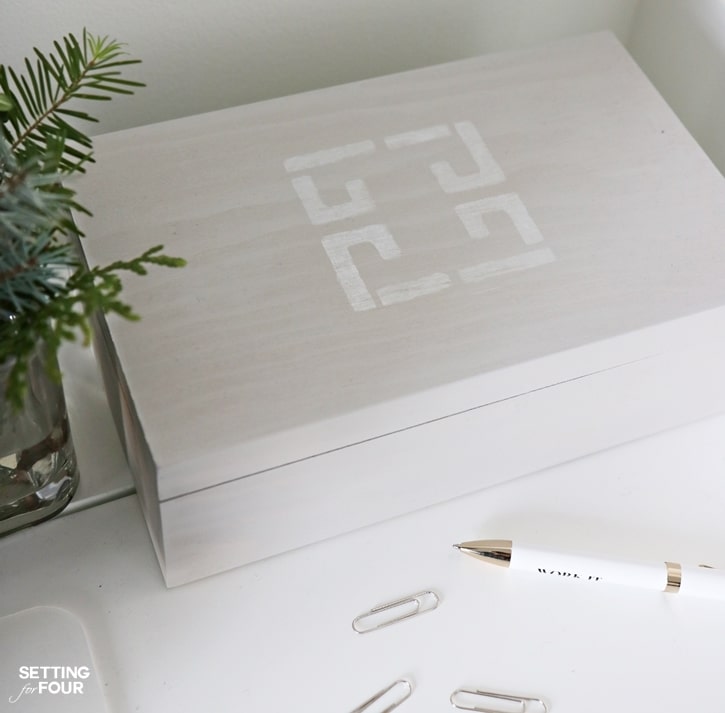 5. Use premade desk drawer organizers. I have the white Alex desk from IKEA – and I picked up an IKEA Kuggis desk organizer for $11.99 to compartmentalize my large desk drawers. It's big and holds lots of stuff, made from recycled plastic and I love all the compartments it offers! They are a new item at IKEA just arrived in the stores now! They just slip right into the drawer – you don't have to struggle with puzzling IKEA instructions!
My 'Good Morning Beautiful' coffee mug makes me feel beautiful even on an early morning with bedhead!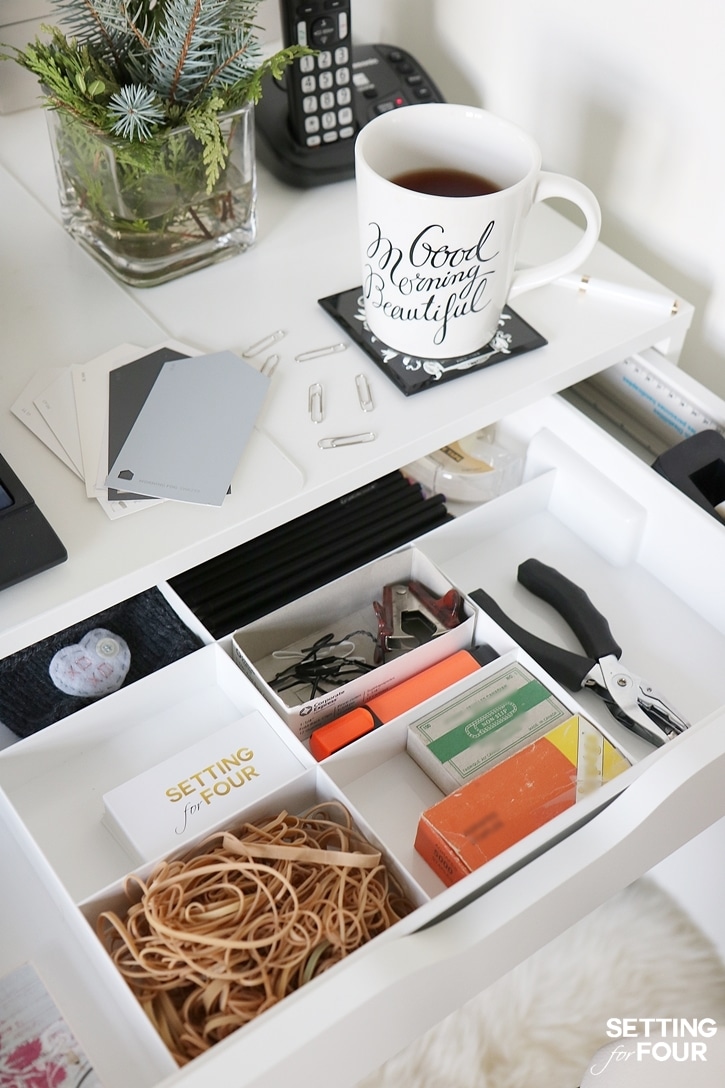 So what do you think about my desk organization tips?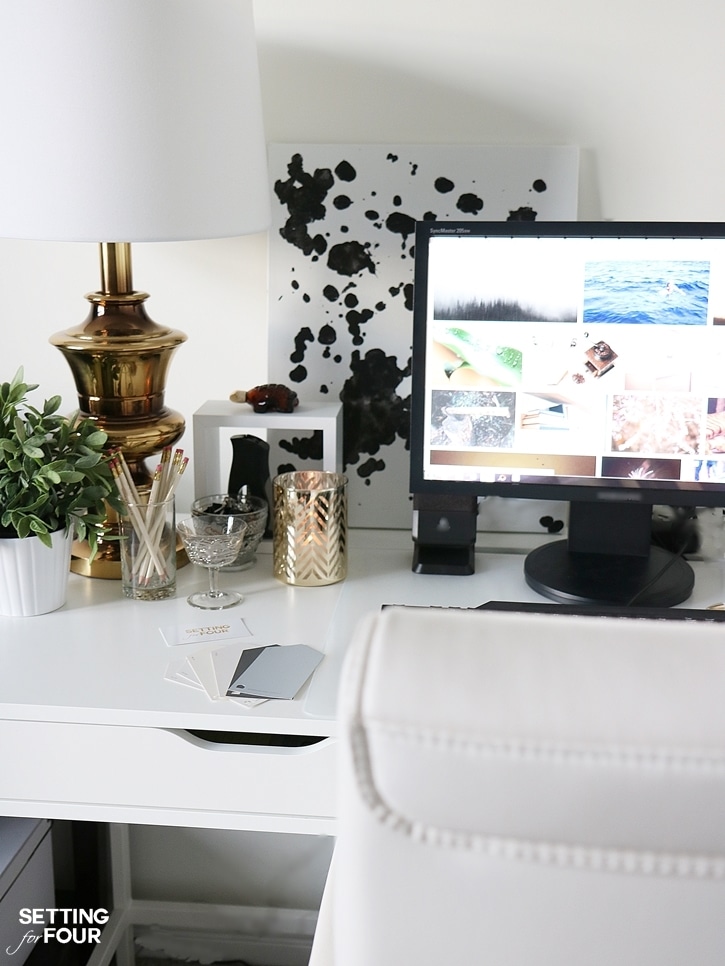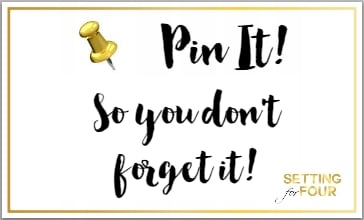 Don't forget to pin this to your Organization board and see all the amazing organization ideas I'm pinning!

This post contains some affiliate links for your convenience. Click here to read my full disclosure policy.
Sources:
Vintage brass lamp – thrift store
Crystal compotes and bowls – thrift store
Similar items are….

I hope you enjoyed my desk organization and chic-ification tips and find them helpful to organize your desk for 2016!
Please stop by my talented blogger buds and see their inspirational 10 MINUTE DECORATING IDEAS!:
Click on each picture in this collage to go straight to the blogger's post!
You may also like:
My Office Makeover and Simply White Wall Color

Easy Freezer Organization Ideas
Kitchen Storage and display bookcase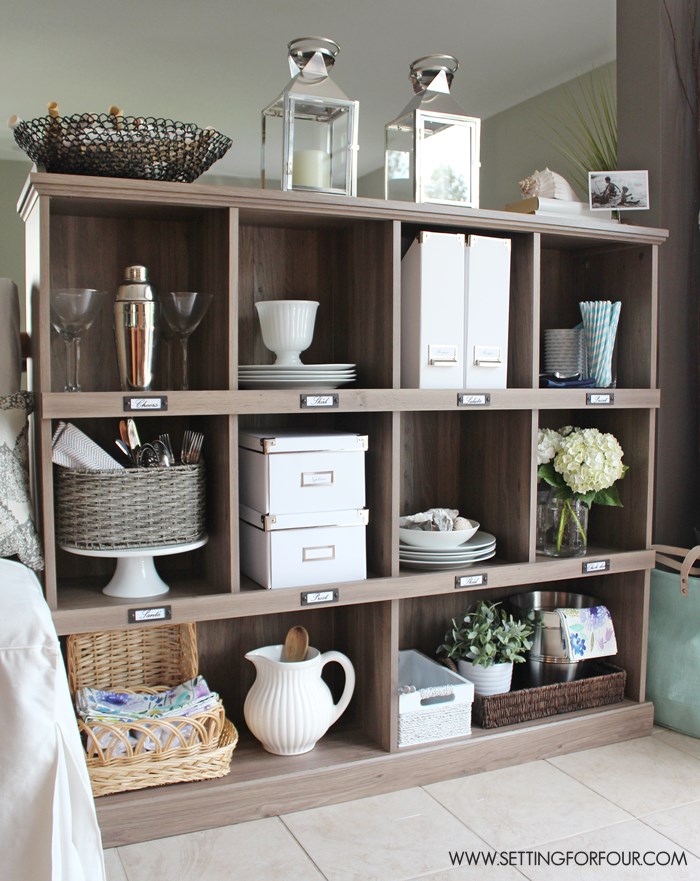 Recylced Craft: DIY Desk Organizer