See these ten clever Kitchen Organization and Storage Tips to simplify your life and meal preparation.
The Kitchen is the hub of the home! It's where we fuel our family, our kids do their homework and we entertain our friends so we all need smart kitchen organization and efficient storage!For our family, it's essential that our kitchen is organized to the max so we can run our day to day lives as smoothly as possible!
We have lots of pantry and cupboard space in our kitchen but I still needed to come up with some clever kitchen storage solutions to organize our food items, cooking utensils and cook books.
So I've gathered my 10 Best Kitchen Organization Tips to share!
The first place I organize is my refrigerator since this is where the bulk of our food is stored that we use daily.
Thankfully my new Frigidaire French Door Bottom Mount Refrigerator is so cleverly designed that it keeps my family super organized!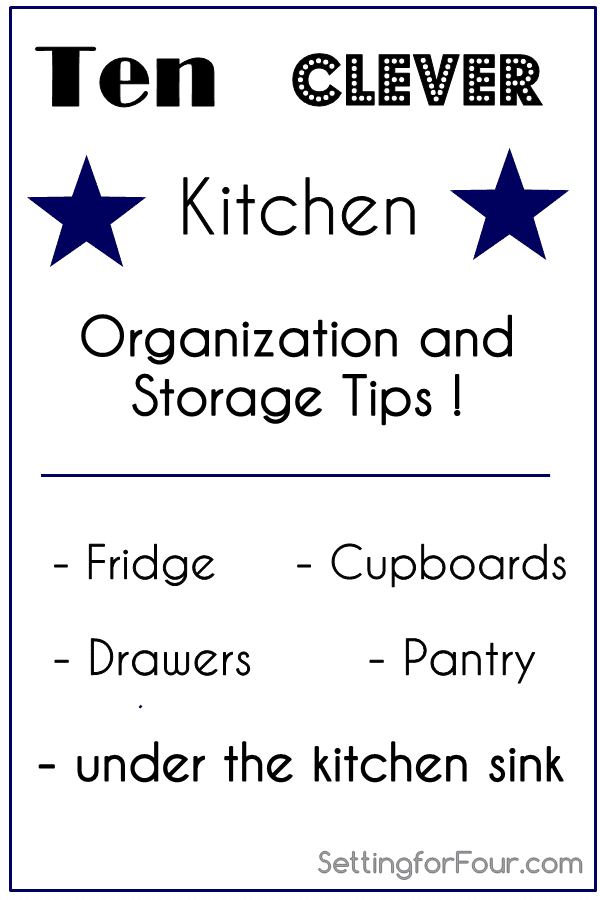 This post contains some affiliate links for your convenience. Click here to read my full disclosure policy.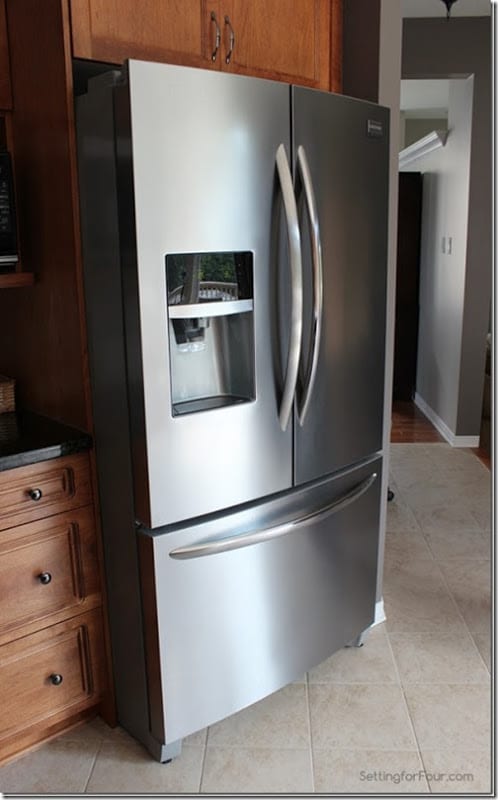 Our new stainless steel Frigidaire Gallery fridge is perfectly designed for organization – it has adjustable interior storage with over 100 ways to organize and customize this refrigerator! Look at all the space!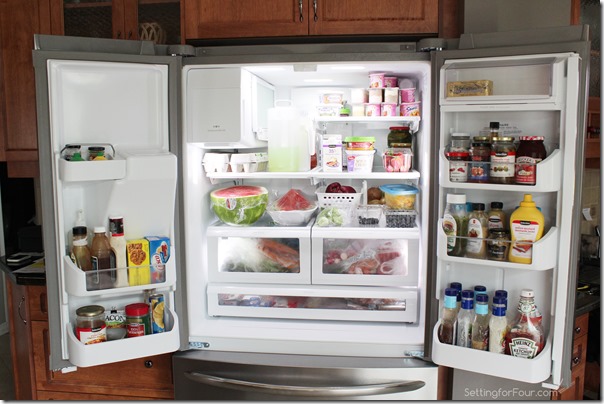 This fridge is the most organized and convenient fridge I've ever seen! The SpaceWise® Organization System with Flip-Up and Slide- Under shelves lets me adjust the height and make room for storing taller objects like large pictures of lemonade and milk. Very handy!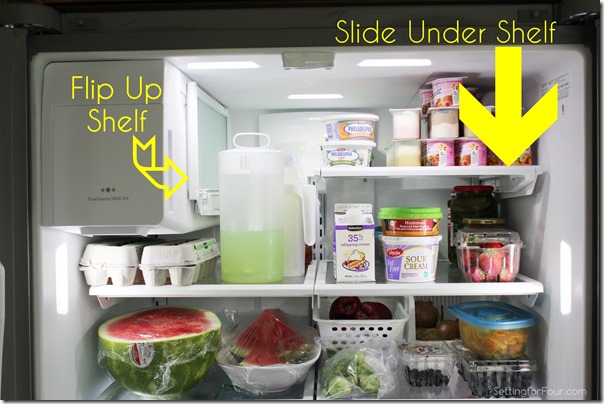 Slide-Under Shelves are so convenient for storing tall items like bottles of soda and juice: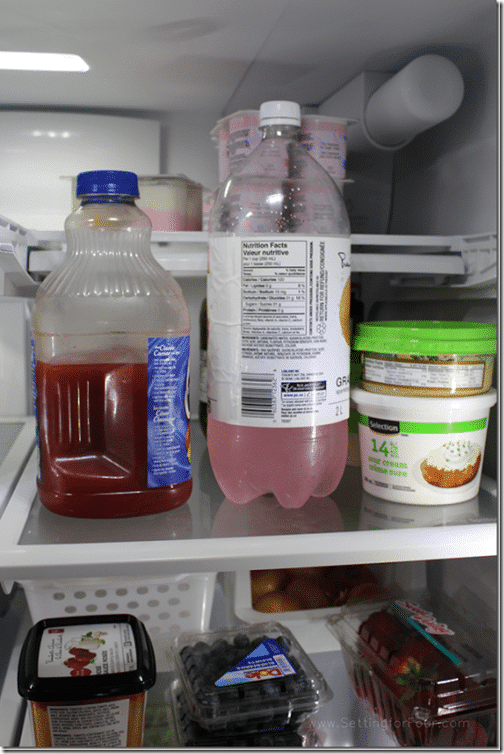 I organize our yogurt cups on the top shelf. Three rows high fit perfectly here.
Cartons of eggs are well organized under the ice maker component.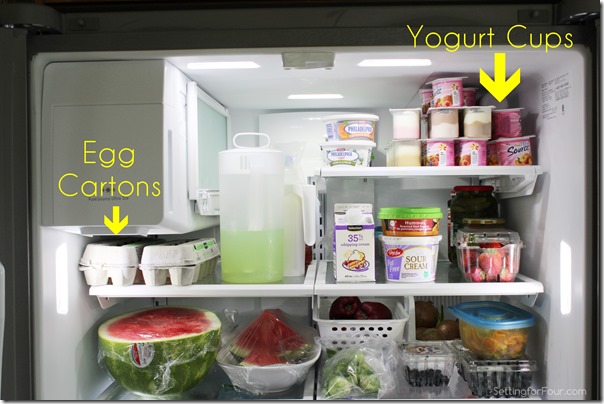 The the Store-More™ full-width drawer is great for organizing our cheese and cold meats: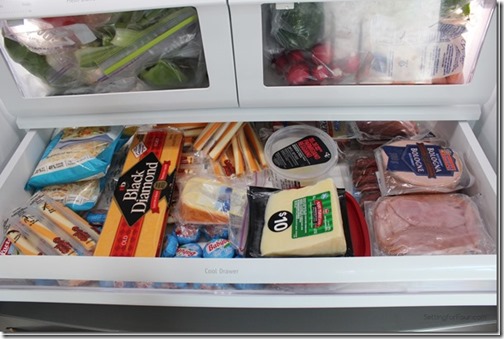 The Store-More™ drawers and bins and Effortless™ Glide Crisper Drawers are incredibly roomy, which means lots of space to organize veggies and fruit.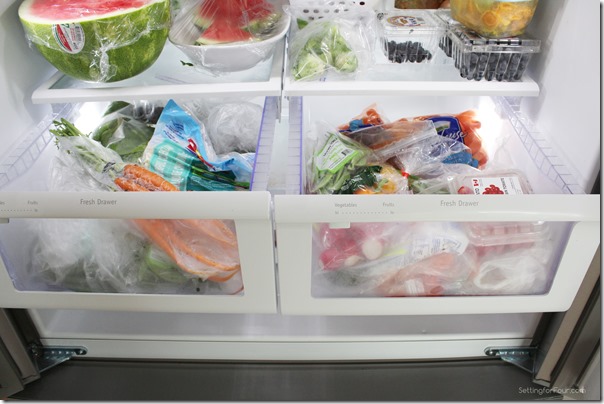 The Frigidaire Gallery refrigerator also offers lots of storage and organization ability with the French Door shelving. Our salad dressings are organized on one shelf, mustard and relish on another. Everything is within easy reach!
Effortless™ Glide Freezer Drawers glide out smoothly and fully extend, allowing easy access to what's inside and the various compartments will allow me to organize my various freezer items too!
The top freezer drawer has two sections! The left section organizes frozen juice, berries and ice cream (yes we love ice cream here!!). The right section organizes our bread, bagels, hot dog and hamburger buns.
Here's a look at the bottom freezer rack. The deep left section is perfect for organizing my frozen vegetables and the right compartment stores our frozen meat: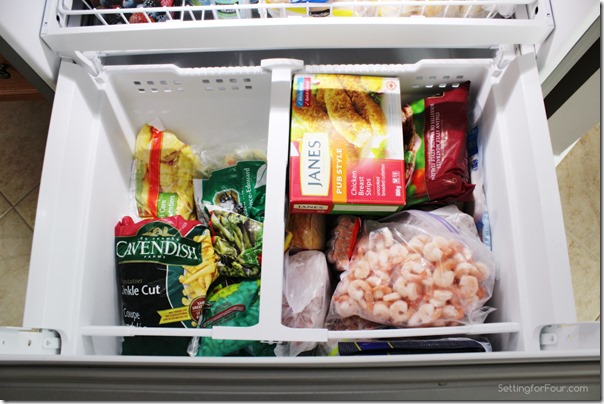 As you can see the Frigidaire Gallery French Door Bottom Mount refrigerator really keeps me organized!
Here are some other kitchen organizing tricks I love:
Kitchen Organization Tip #1: Use plastic containers to organize refrigerated apples and onions.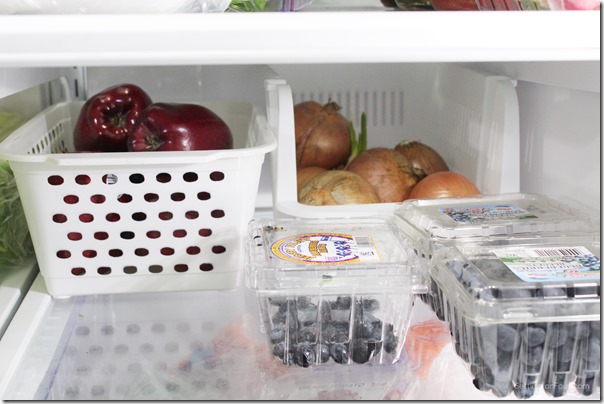 Kitchen Organization Tip #2: Kitchen Pantry and cabinet organizers are a great way to store baking sheets, baking pans and my pizza stone!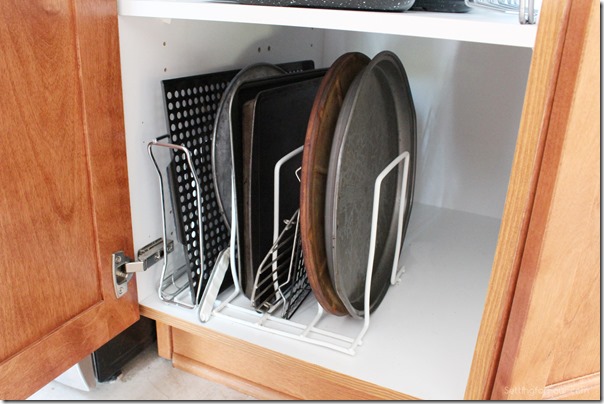 Kitchen Organization Tip #3: Use lidded glass canisters to organize tea bags and coffee Keurig cups: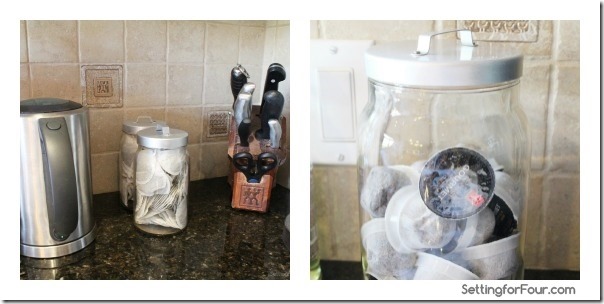 Kitchen Organization Tip #4: A large ceramic utensil holder organizes ladles, stir spoons and more.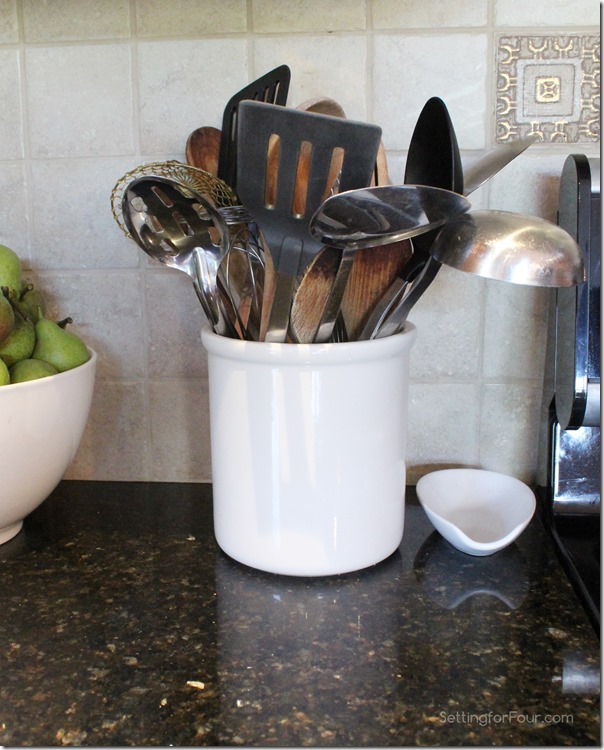 Kitchen Organization Tip #5: Small plastic containers of different sizes organizes pens, rulers, clips and pads in a kitchen drawer.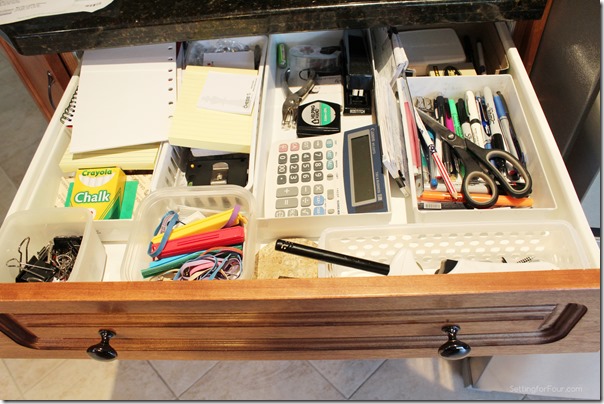 Kitchen Organization Tip #6: Use plastic baskets to organize nuts, seeds and baking supplies.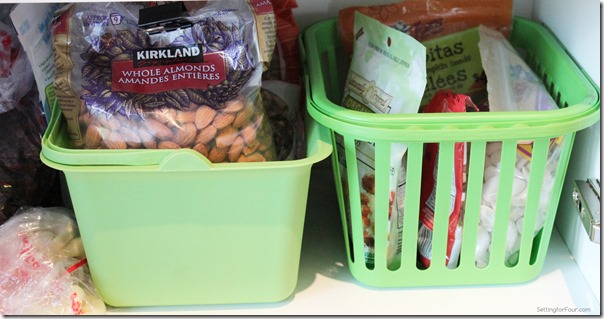 Kitchen Organization Tip #7: Magazine holders are a great way to organize food magazines and paperback recipe books in a cupboard.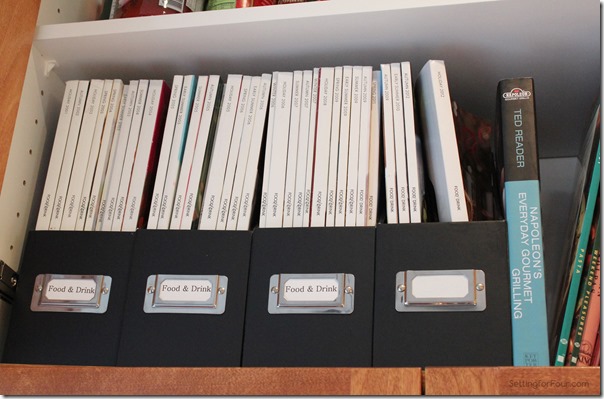 Kitchen Organization Tip #8: A two tiered stand organizes fresh fruit and keeps it handy for healthy snacks on the go!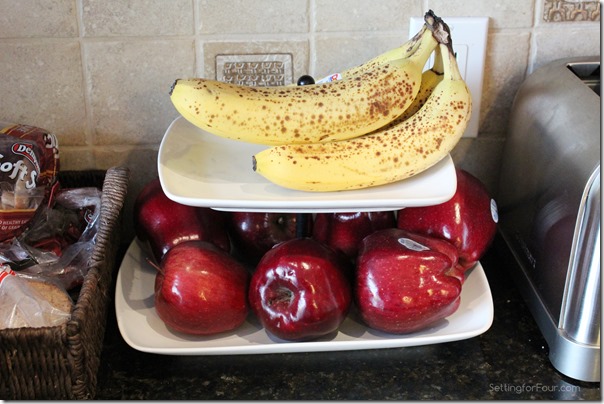 Kitchen Organization Tip #9: A shallow wicker basket is great for organizing bread, buns and pitas in one place on the kitchen counter.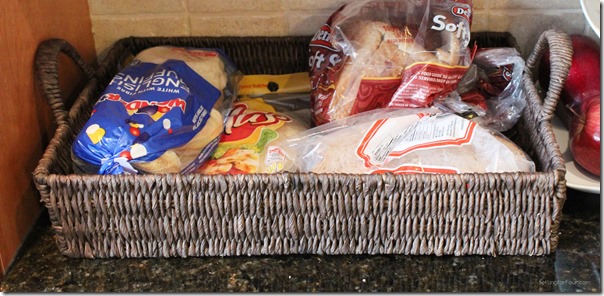 Kitchen Organization Tip #10: An expandable locker shelf organizes cleaning supplies under the sink.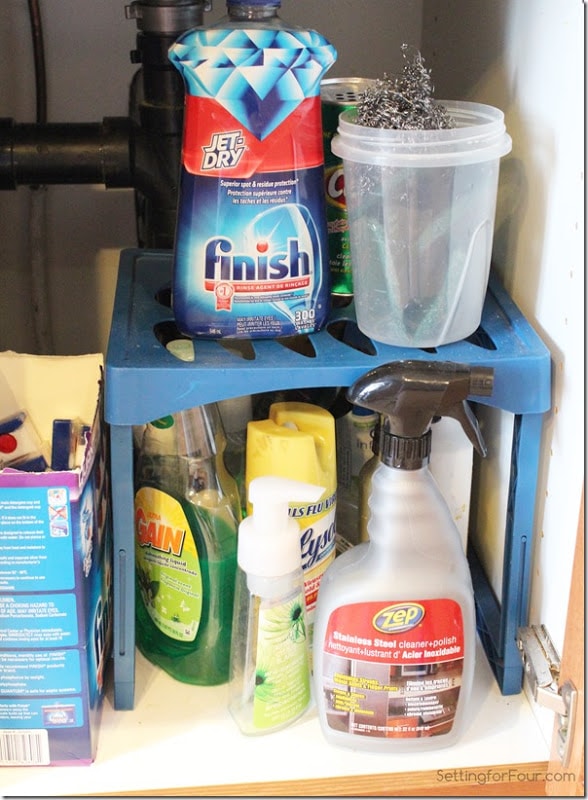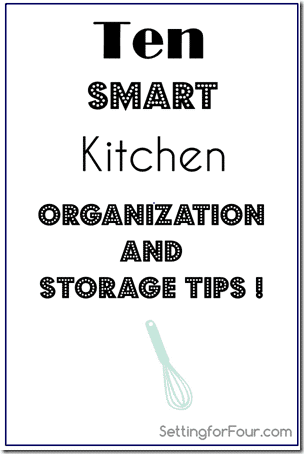 I hope you liked these smart kitchen storage and organization tips! Do you have any smart organization tips? Share in the comments below – I'd love to hear them!!
You may also like:
10 Budget Friendly & Creative Kitchen Organization Ideas