See my living room decor ideas for Spring! Elegant, contemporary ideas on how to style a coffee table and cozy accent pillow ideas!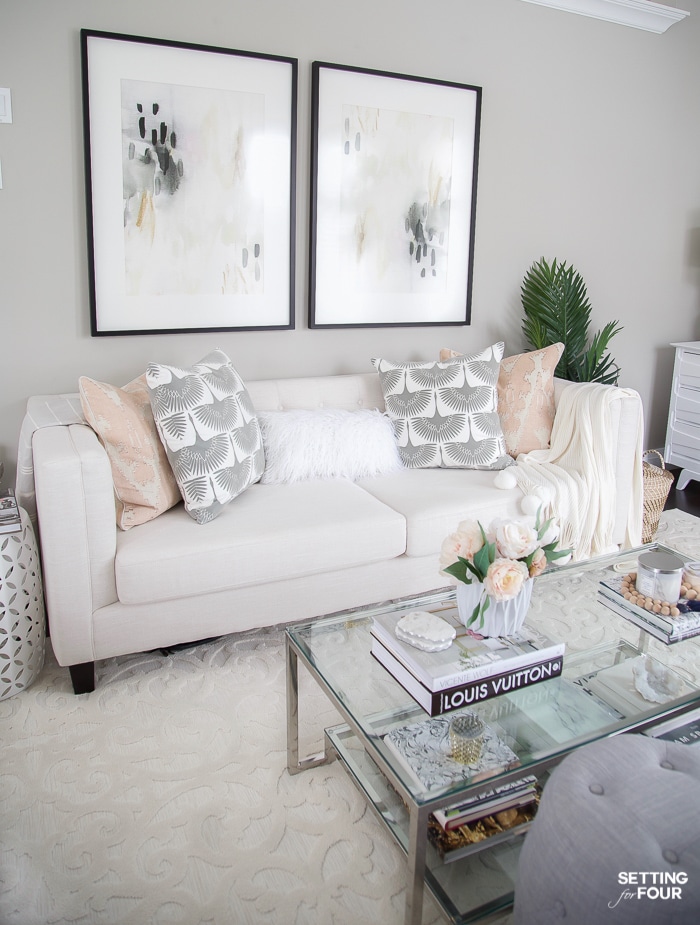 Spring Living Room Decor Ideas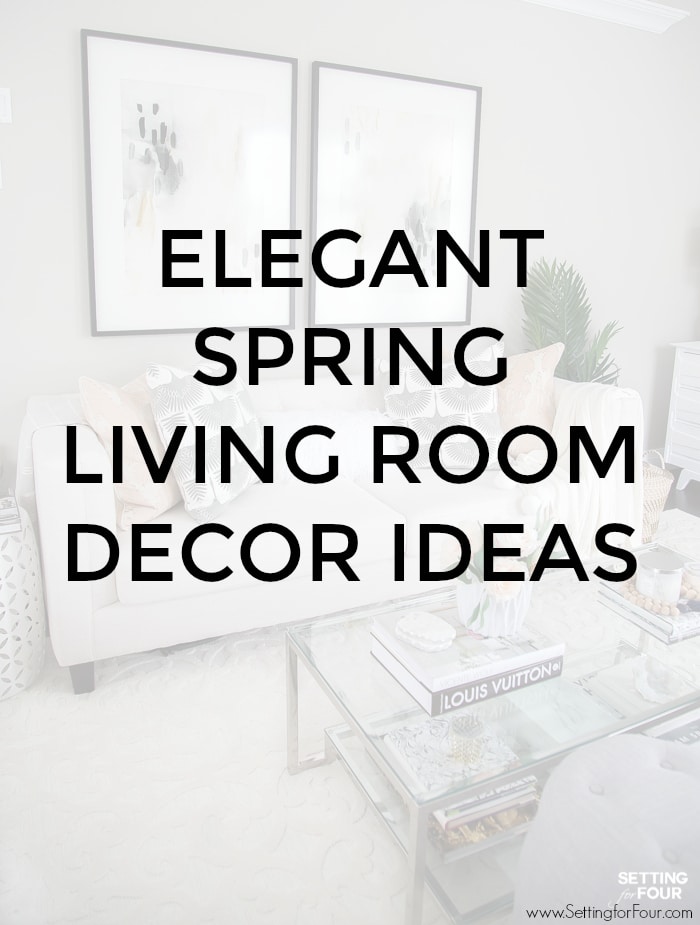 Spring living room decor is all about adding bouquets of flowers and layering light pastel colors with neutrals.
Just like dressing for Spring, spring decor is about layers, layers, layers!
I've put away my winter decor and heavier winter textiles like my velvets and replaced them with cottons and light knits.
Shop my Spring Living Room! Click on the images below to see more about each item!

I'm so excited today friends, to show you my living room decorated for Spring!
I infused my living room with loads of layers including accent pillows, cloud soft throws, Spring florals and an elegant Spring color palette!
See my paint colors here!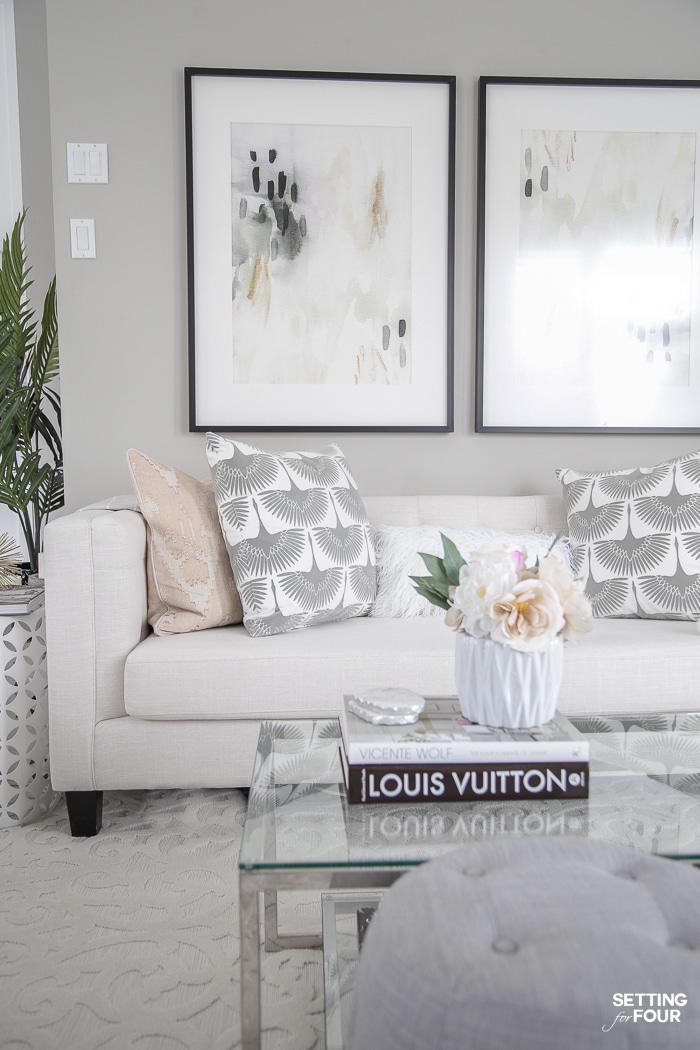 Spring Color Palette:
I love to switch up my accent colors for the seasons, do you?
This Spring I had the urge to decorate with blush….we had such an awful winter with tons of snow, I guess I felt the need to add some pretty blush to our living room to counteract the drab, cold weather we had!
So my overall color palette I decided on was gray (to repeat my gray paint color), white, ivory and blush.
It's such a soothing, relaxing color palette for this time of year.
I typically decorate with indigo blue during the summer, but I'm really loving blush right now and I know I'll add it back later in the year.
If you're wondering how to create a color palette for your home read this design tip about the 60-30-10 color rule!
---
Do you need help decorating your home? I offer online decorating and color consult services – email me at settingforfour.com for more info!

---
Coffee Table Decor For Spring
I had so much fun decorating my tiered coffee table!
You know how much I love coffee table decor and fashion books! Not only do they look good and are fun to read, but I use them as pedestals to elevate and arrange other decor items on.
Like my marble coasters, wood beads, candles, agate and a vase of pretty flowers.
I have a great collection of fashion, decor and gardening coffee table books here to look at to help you decorate your coffee table!
I even wrap some of my books ( that don't have pretty covers) with decorative wrapping paper or plain white paper to mix things up.
I like to stack my books in groups of two or three.
An essential item that is always on my coffee table is my marble decorative box where I store our remotes! ( It's on the bottom tier of the coffee table.)
I love using simple decor and pretty ways to organize, store all of our stuff and that look gorgeous at the same time!
glass coffee table / gray pouf / area rug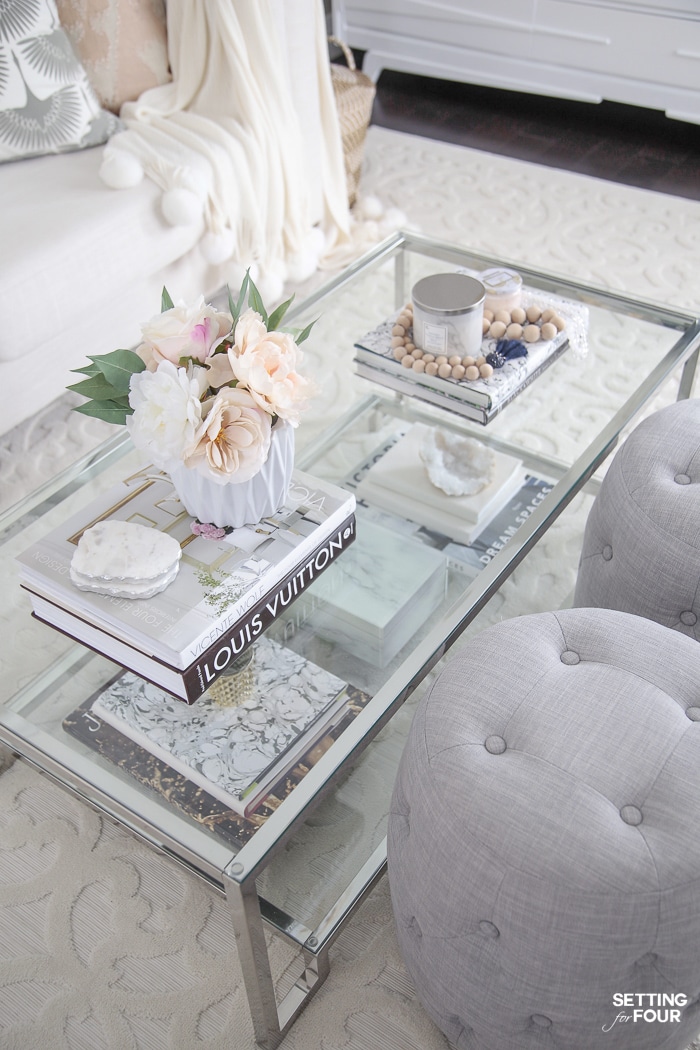 Living Room Decor Ideas with Spring Flowers
Of course Spring decorating is all about the flowers! I bought these beautiful cream and blush faux flowers at Michaels and popped it in a white geometric plant pot.
I love using interesting plant pots for vases!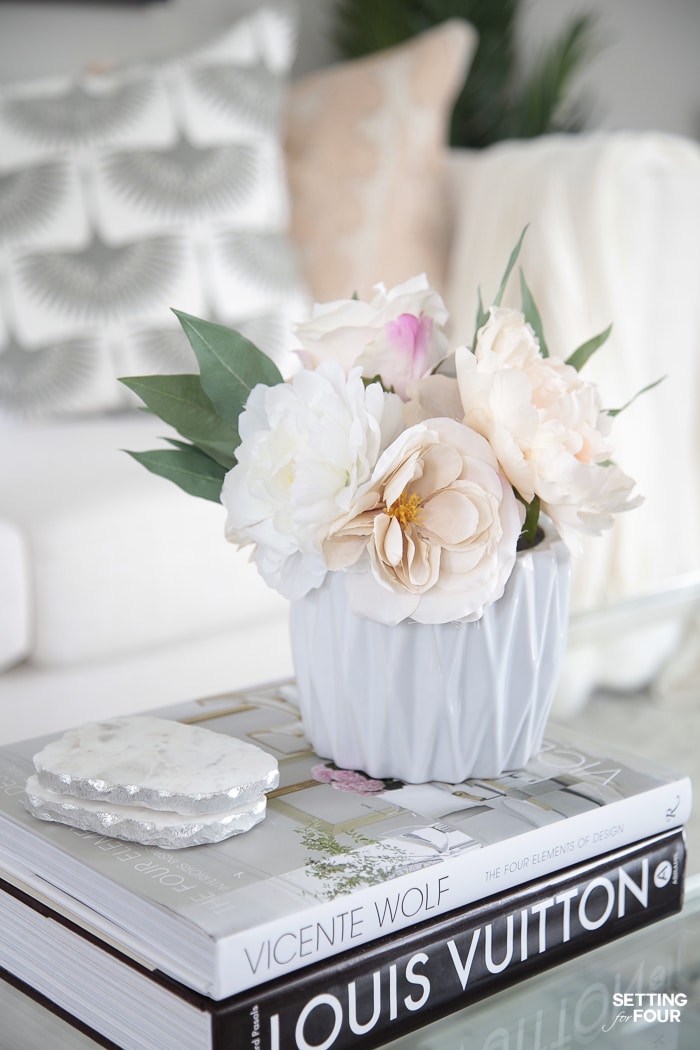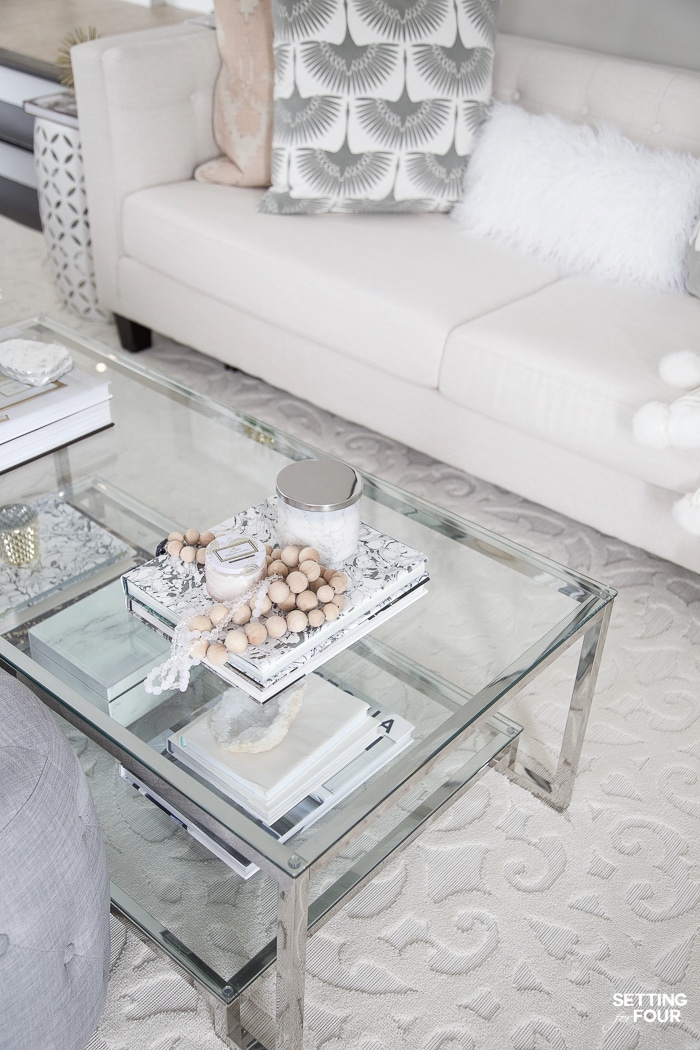 Louis Vuitton book / Vicente Wolf book / fiddle leaf fig tree / coffee table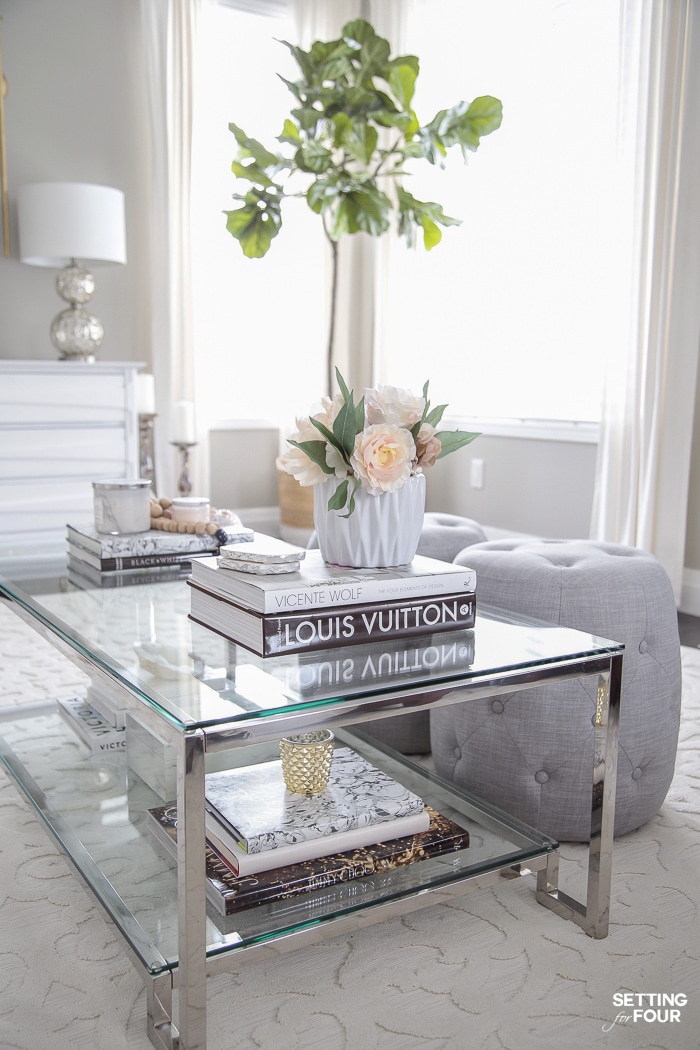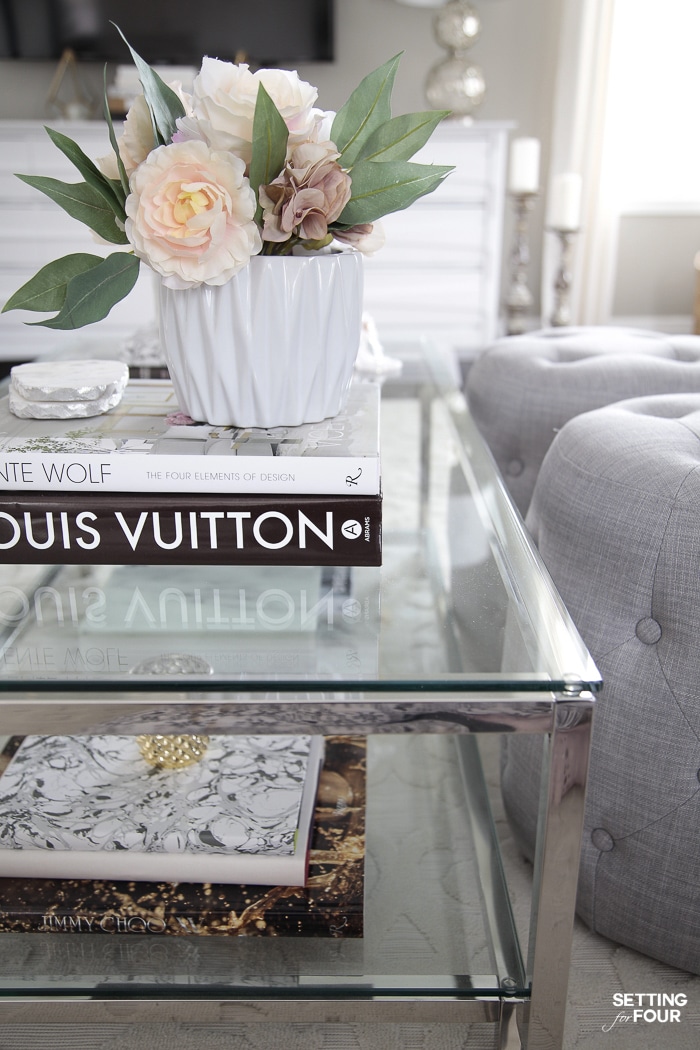 Spring throw blankets and pillows
I added some new blush and ivory pillows to my gray and white 'swans in flight' pillows.
I love that these new blush pillows are reversible and have a completely different print on the other side!
I also added a new white faux fur lumbar pillow for some extra softness to my Spring decor and add some fun and interest to our traditional meets contemporary living room.
The blush picks up the blush color in my framed prints – which I'm still obsessed with!
My pom pom throw is so soft and cozy! The patterns and textiles really add a lot of pretty interest and texture to our living room!
I really love how the blush accents play with the neutral backdrop of our furniture and wall color to create an elegant living room look.
So that wraps up my Spring modern living room decor tour – I hope you enjoyed seeing how I decorated our cozy living room space for the season!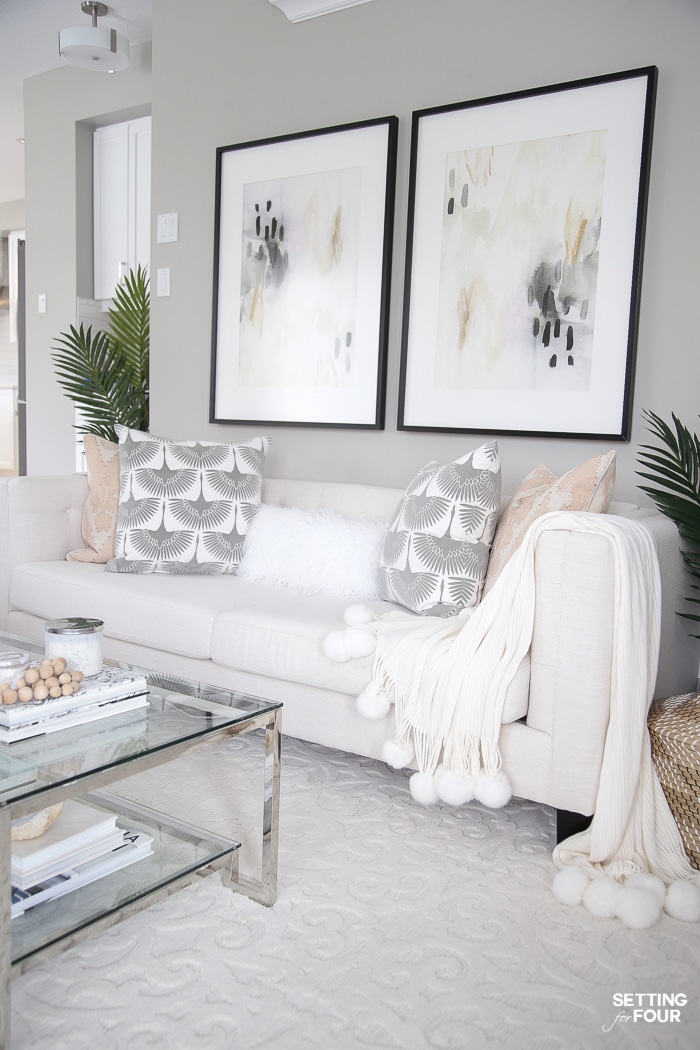 You may also like these design ideas: