See the BEST Transitional Glam Living Room Pieces! These furniture, lighting, rug and wall accent pieces will update your decor instantly. If you love traditional meets contemporary style, metallics, gold, white and blue then these decor ideas are for you!

The Best Transitional Glam Living Room Pieces
This post contains affiliate links. Click here to read my full disclosure policy.
Click on the links below to shop and see more details about each item!
White Sofa: one of the most popular, white sofas out there! Once you feel how comfortable it is and see how many color and fabric options there are, you'll fall in love, too! Get it in a Performance Fabric which is soil and stain repellant for easy clean-up!
Navy Patterned Area Rug: this fashion-forward patterned rug is gorgeous in color and a stunning mix of traditional and glam. It's easy to clean so its super practical too! It'll make a beautiful centerpiece in your living room!
White & Gold Table Lamps: these table lamps are best sellers! They are the perfect lighting additions to your space and have sophisticated gold detailing! They're quality lamps for a great price and will give any room a stylish update.
CHANEL Coffee Table Books: you can never have too many coffee table books or pieces of decor to fill a room with! There's so many fun ways to decorate shelves and tables and this set of books is one you'll always have and can move around your home, too.
Golden Globe Chandelier: talk about a statement chandelier! I am in love with this beautiful sphere pendant! It lights up your room in the most beautiful way! This chandelier looks gorgeous in a living room, for less.
Blue & White Sphere Sculptures: these patterned ceramic sphere sculptures are so beautiful and look hand-made; they are the most beautiful addition for a vase, box, or any sort of tray. They are a great conversation piece and only $42 for the entire set!
Gold Leaf Starburst Mirror: when you have a big, empty wall or need a true statement piece – this sunburst mirror is a must have! It is absolutely stunning and another one of those finds that you'll always have for many years to come. It's versatile and can be moved room to room and you will fall in love with how it helps brighten your living space. This similar looking mirror is a very high rated, look for less option!
White & Gold Serving Tray: this glam serving tray can do just that – be used for serving – but it's also a great piece of decor for your bar cart, living room table, etc. The possibilities are endless and you can move it around and use it as needed or for a bit of a room refresh!
Marble Topped Gold Box: whether you use this for jewelry, trinkets or just as decor, this will be the most beautiful decorative box you ever own! Everything about it is simply stunning – from the gold deco-design to the colored marble top.
Navy Lumbar Pillow: if you look closely at this pillow, you can see what a beautifully made velvet material it is! It adds the perfect touch of texture to your couch set-up.
Navy Shag Throw Pillow: adding a shag pillow into the mix looks beautiful AND feels great, because it's SO soft! 😉
Gold Velvet Throw Pillow: this pillow setup only gets prettier with a pop of gold to tie into the rest of this transitional glam living space.
Distressed Ivory Lumbar Pillow: another textured lumbar pillow, but this time it adds in another pop of color and it's a great price!
Agate Décor Set: this set of Agate decor stands would look beautiful anywhere in your living room! Plus, they're under $30 for the set.
Click on the images below to shop!

I hope you like these Transitional Glam Living Room Pieces!
You may also like:
New Bedroom Updates – Juju Hat Wall Decor, Duvet Cover and Lamps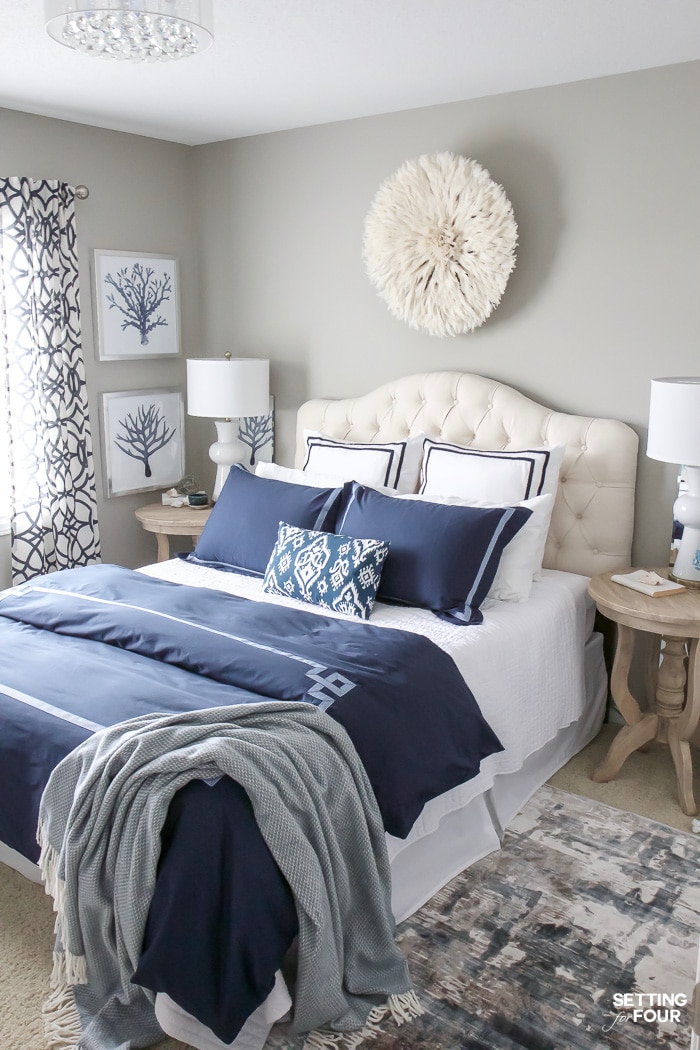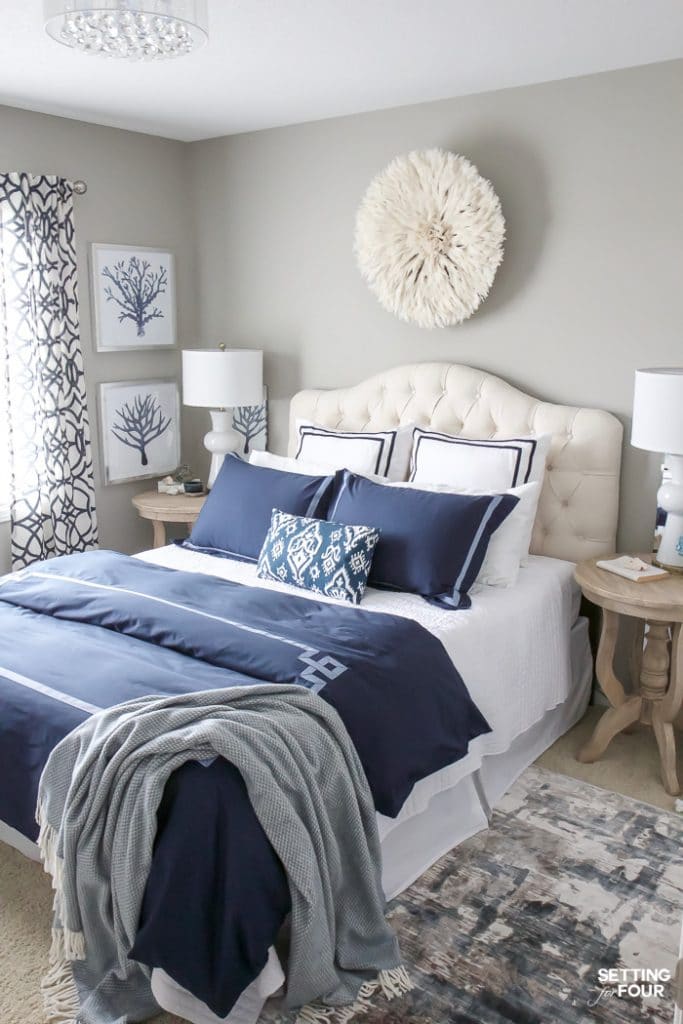 7 Ways To Make A Small Living Room Feel Larger Instantly!


Sherwin Williams Acacia Haze Paint Color