See these elegant Spring living room decorating ideas – 10 ways to give your living space a fresh, bright look for spring time!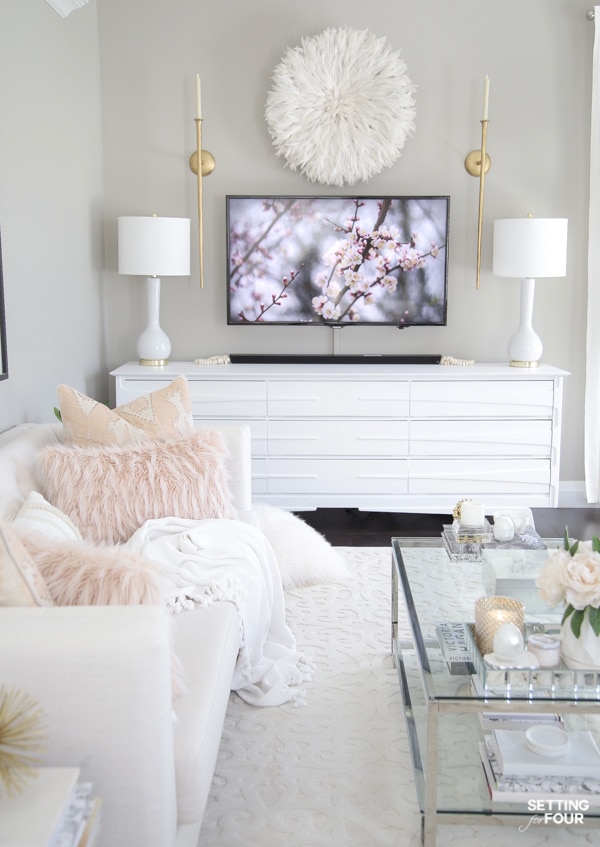 Elegant Spring Living Room Decorating Ideas
Back in January I talked about 5 Easy Winter Decorating Ideas After Christmas and now it's time to transition our home from winter to spring!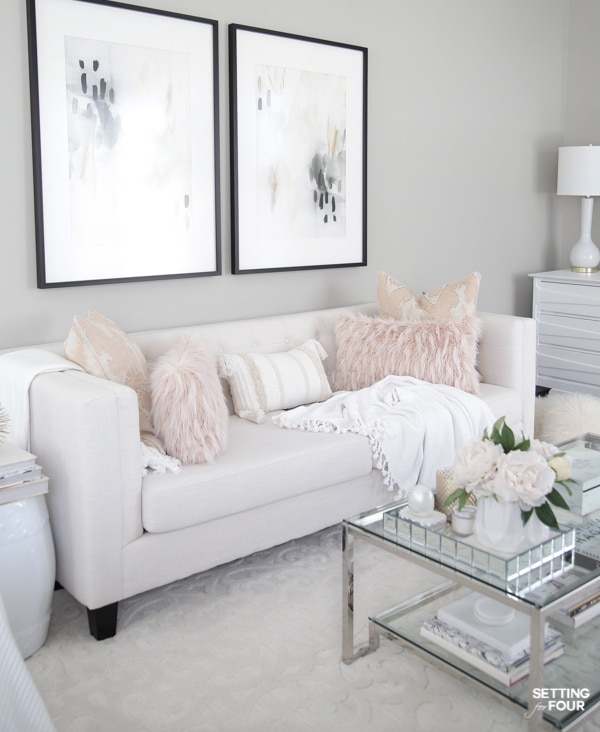 SHOP MY LIVING ROOM – CLICK ON THE IMAGES BELOW TO SHOP THE FURNITURE & DECOR


PIN THIS FOR LATER!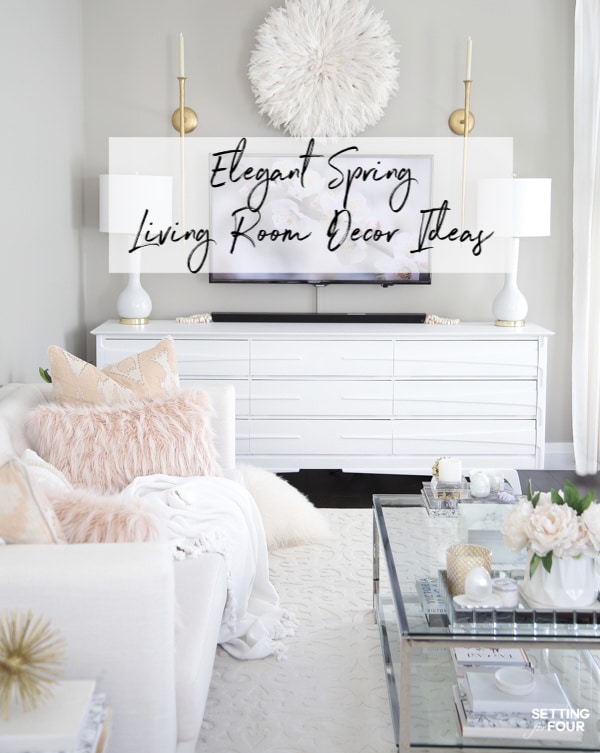 1. Thoughtful Color Coordination
Create a spring color scheme with a classic spring accent color such as blush pink, light blue, yellow, lavender or green!
Be sure your spring color scheme coordinates with your living room furniture, area rug, wall color and flooring colors.
For my Spring living room look I chose soft blush pink to mix with my neutral colored sofa, ivory rug, gray walls, white media unit and white table lamps.
Pastels and muted shades invoke the feeling of springtime, but you can also use bright lemony yellow or a more vibrant green like the color of sprouting greenery!
Think of the the following for your spring color inspiration: tulips, hyacinths, crocuses, forsythia, green grass.
Mix in relaxing neutrals with your decor such as light grays (think pussy willows!)
You can also use light beige-brown (the color of rabbit fur) in wicker trays, patterned pillows or a jute pouf.


Don't forget the color of metallics!
If you love silver/nickel or matte black metallics, be sure to add them into your decor for Spring!
Metallics bring another beautiful layer of color to your living room color scheme.
I added metallic gold to my living room recently with these new white and gold table lamps! They are stunning and so affordable! I love the gold trim on the base and gold finial. They are so chic, tasteful and timeless!
I also added a splash of gold in these stunning white and gold handblown glass eggs. They have small shimmery gold specks scattered about – so exquisite and sophisticated!
I'm obsessed with them, they are so elegant! I added two eggs to my coffee table, but you can also add them to a bookshelf, mantle, kitchen island tray.

2. Spring Blooms
Add vases (or ginger jars!) filled with tulips, dogwood, forsythia or cherry blossoms. There is nothing lovelier than spring flowers this time of year to perk up a room!
I created a soft off-white and blush faux peony vase arrangement and added it to my mirrored tray.



More Spring Decorating Ideas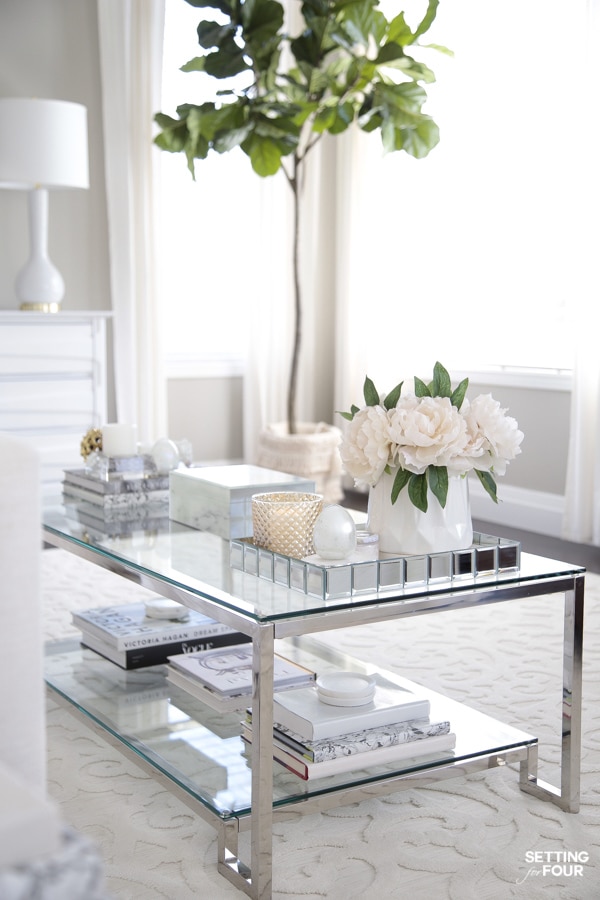 ---
Do you need help picking paint colors, help with furniture layout or decorating your home?
See my online design & paint color services – plus client reviews!  Email me at [email protected] for more info!

---
3. Accent Pillows
Now let's talk about spring textiles!
I switched out my winter pillows for ones with lighter weight fabrics. These gorgeous blush linen ikat inspired pillows are so soft to touch and add a visual softness to my living room as well. And blush faux fur? Yes please! My faux fur lumbar pillows really play up the blush and ivory linen pillows and are so cozy!

4. Throw Blankets
Replace wintery faux fur throws with lighter cotton and polyester blend throw blankets.
This soft linen throw is also a beautiful choice.
Spring time still brings with it cold nights and the odd snow flurry so it's important to have beautiful throw blankets to cuddle up with!
I love throw blankets with tassels and pom poms!
These details add texture and style!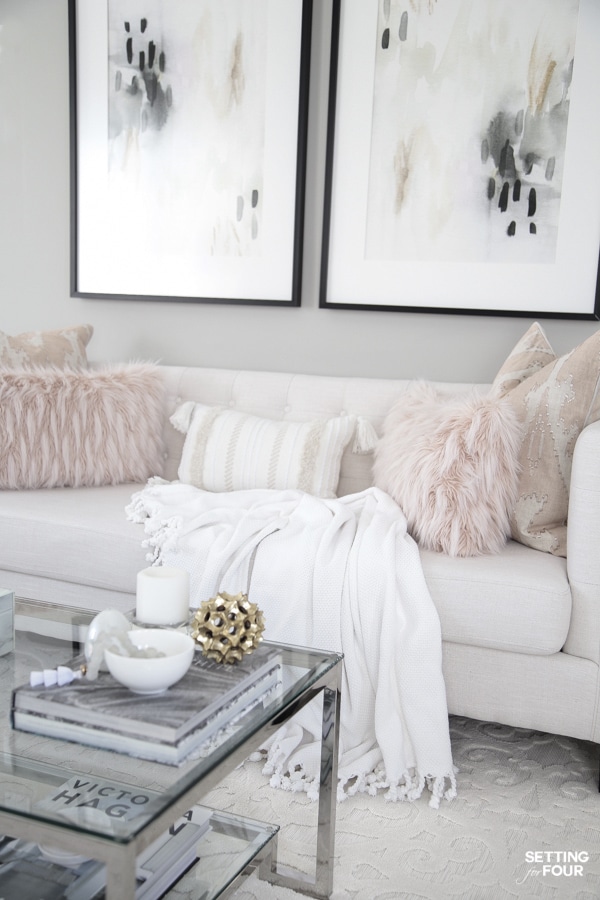 5. Decorative Spring Accents
Rabbits, eggs, nests. Add a few spring accents to your living room coffee table and end tables. My handblown glass eggs add a simple, chic Spring look. White or gold ceramic bunnies and little twiggy nests are also great options.
I think my feathery juju hat above our TV is also a perfect spring time look! Feathers and spring go hand in hand!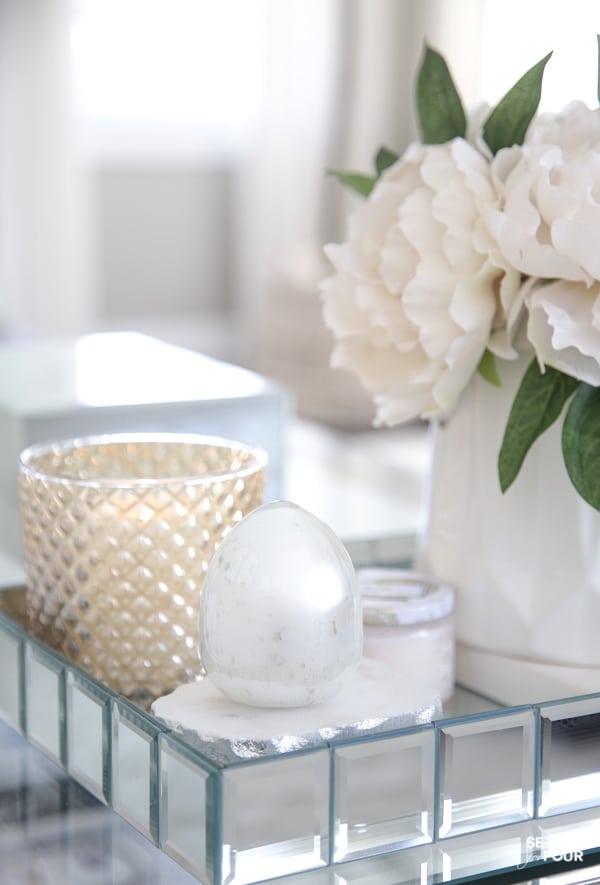 6. Lighting
If you need to update your living room lighting, Spring is a great time to do it!
A few weeks ago I added these two white and gold table lamps to our TV unit….I really love the ambient lighting they add to our living space! I have mine on a dimmer switch. This inexpensive touch to your lighting creates such a cozy, welcoming feel!
How to Pick the Perfect Chandelier Size Guide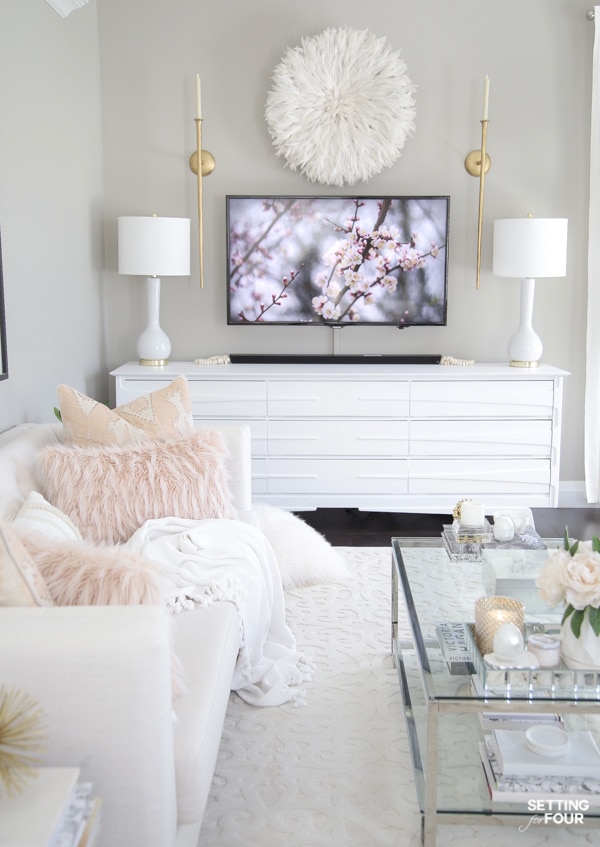 7. Candles and Candle Holders
I emphasize decorating with candles and candle light all the time. I find candles so relaxing and they add such a beautiful, affordable layer of comfort to a home!
The two candle sconces on our TV wall add such a gorgeous shimmer! I use battery operated taper candles in them that automatically turn on at dusk.
I added a simple white candle in a crystal pillar candle holder, that I bought at HomeGoods a long time ago, to our coffee table.
I also placed a pink scented candle to the tray on our coffee table. The fragrance is subtle and so incredibly relaxing and calming!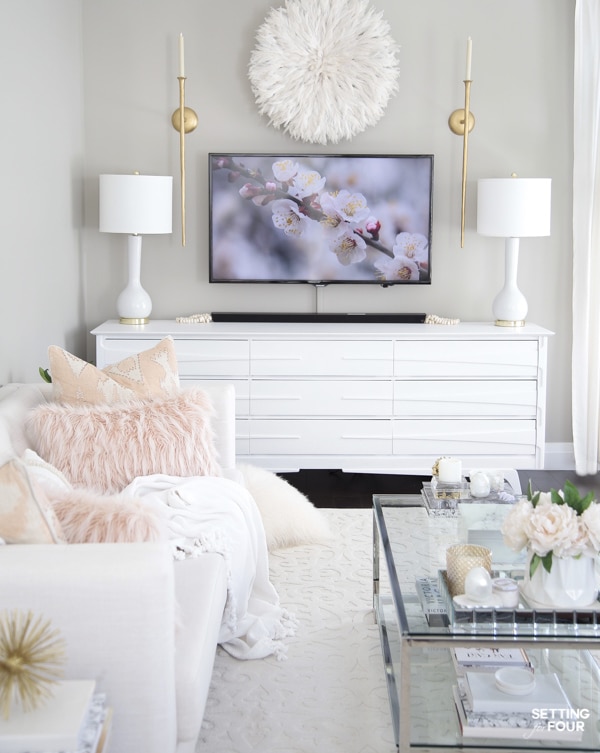 8. Coasters and Trays
Don't forget to decorate your spring living room with beautiful trays and coasters! I love marble coasters – there are beautiful ones here.
Adding a wicker tray like this one or a glam tray like mine will showcase your beautiful Spring decor and accents!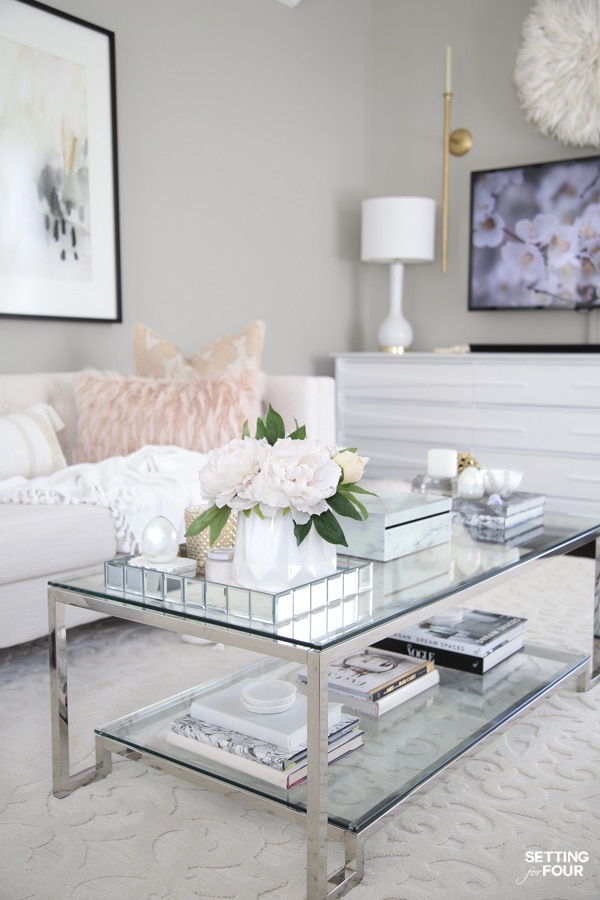 9. Potted Tree
Real or faux potted trees are a must have, that I add to every one of my client living room designs!
A tall tree (4-6 feet tall) will add texture, height and style to you living room!
I really, really love my faux fiddle leaf fig tree, the chic shape of the leaves and the pop of greenery!
The branches can be bent on this tree which makes it look more life like!
Don't forget to place your tree in a decorative basket to hide the pot.
You can browse beautiful tropical trees and plants shipped right to your door here!
Which is a must – now that we are sheltering in place!
Other tree options that are on trend are:
lemon trees (very spring-like!)
willow trees
palm trees


5 Creative Ways to Decorate With Fiddle Leaf Fig Trees
10. Wall Art
I believe that wall art is the jewelry of a room! Adding framed or canvas art completely pulls together a room and gives it that 'designer look'!
For Spring you could add some floral or botanical prints above your sofa.
My framed abstract prints work for all seasons – I'm so obsessed with them and get tons of compliments on them!
There is a small shade of blush pink and soft blue in them as well as beige, black and gray so they work with every accent color and every season!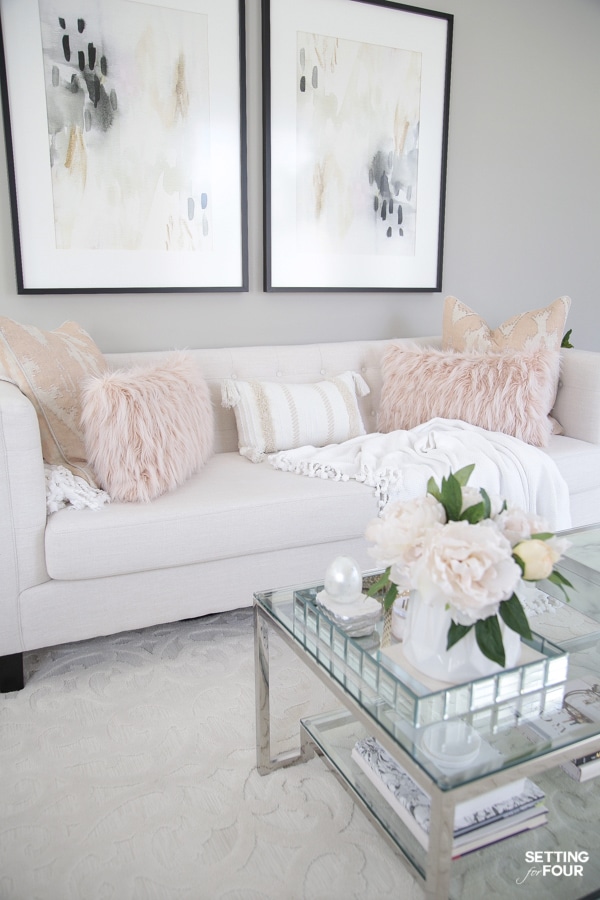 Spring Wall Art Ideas!

I hope you enjoyed my Elegant Spring Living Room Decorating Ideas!
Tell me in the comments below how you add Spring to your living room!
Follow me on Instagram for more design ideas, sale info and style finds!
More design ideas: