See my easy Spring bathroom refresh ideas & bath towel giveaway! Giveaway details are at the end of the post.
Spring is the perfect time to update our bathrooms! Just a few tweaks will make your bathroom look and feel brand new.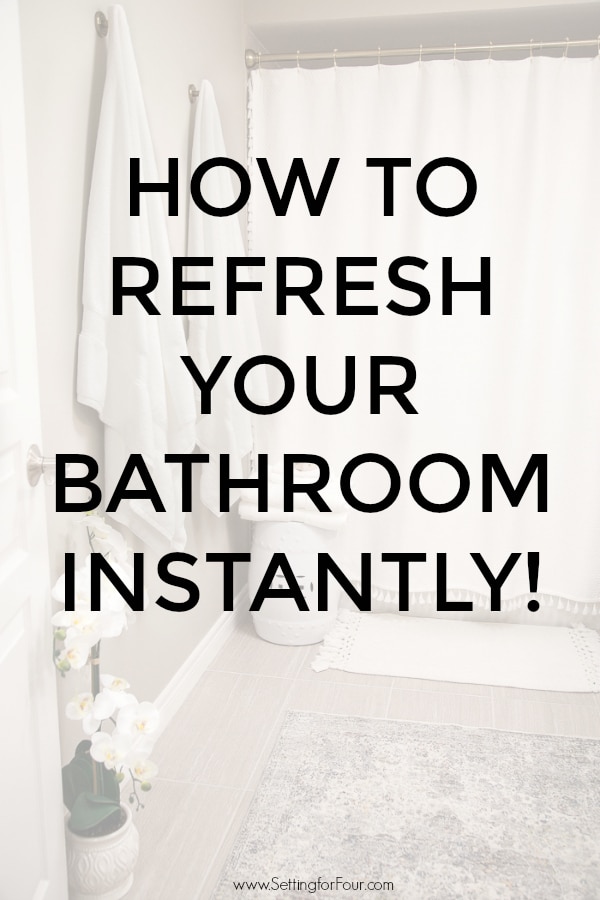 HOW TO – AN EASY SPRING BATHROOM REFRESH
The easiest and most enjoyable way to update a bathroom is by replacing your old towels with fluffy new bath sheets, bath towels and hand towels!
This is a sponsored post, as always all opinions are my own.
New bath towels hung on hooks, rolled in baskets and stacked in your vanity will give your bathroom a luxe, spa-like feeling!
My friends at Red Land Cotton sent me their gorgeous Leighton Bath Bundle and Bath Sheets in White to refresh our bathroom – I'm so IN LOVE with them!
(ALL OF THEIR TOWELS ARE ON SALE RIGHT NOW! 10- 20% OFF! PICK SOME UP FOR YOURSELF AND FOR GIFTS!)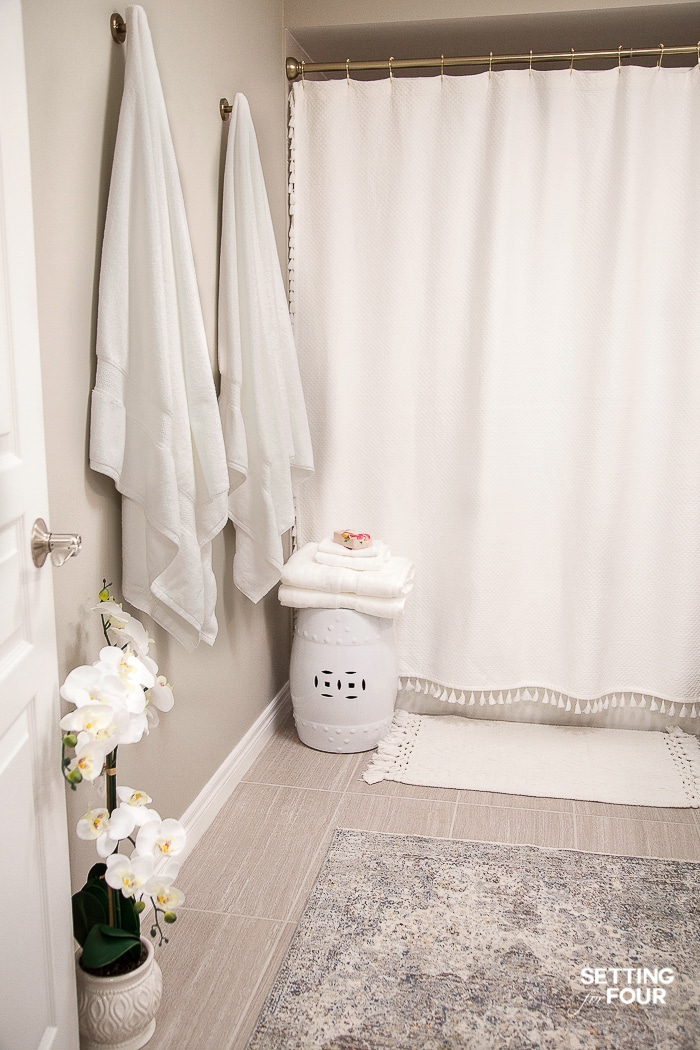 Shop the Look! Click on the images below and scroll using the arrows!

Red Land Cotton's beautiful towels are so lofty and soft! They really give our bathroom a relaxing, tranquil look and are absolutely beautiful to use at bath time.
Another reason I love them is that they are incredibly absorbent and soft on the skin.
As a designer I love that their towels are finished with a gorgeous dobby border design! It's created specifically for Red Land Cotton and features classic chevrons and decorative roping.
It's a classic, timeless design that will add big style to your bathroom!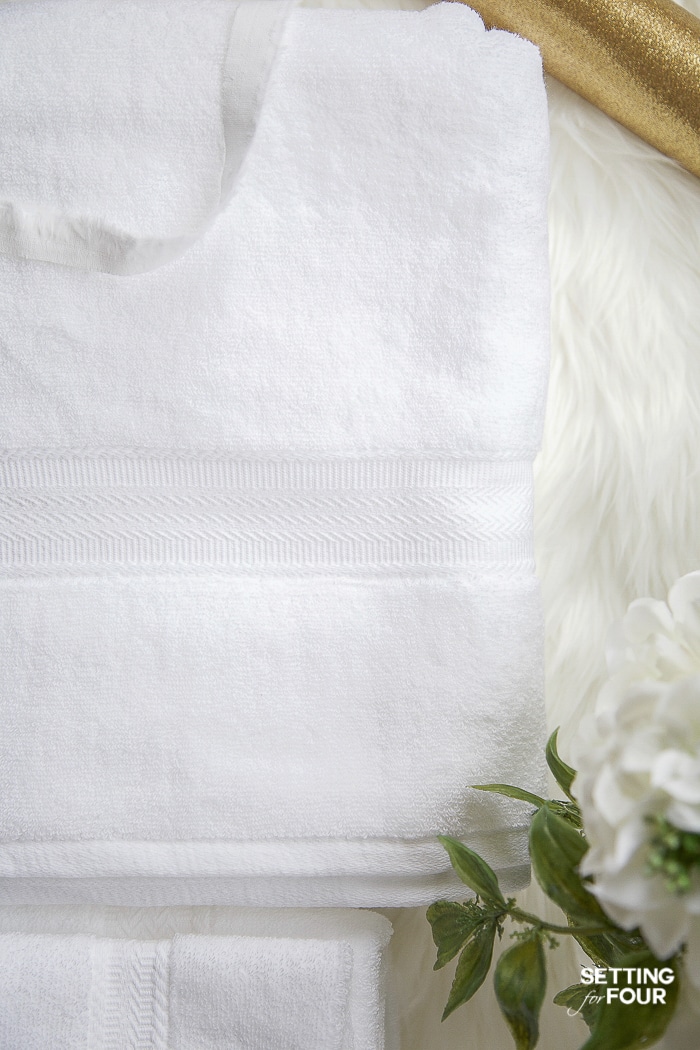 Red Land Cotton
bath towels are the only 2-ply
100% American Made
bath towels available.
A 2-ply towel means a more absorbent, softer and more durable towel.
Here's a little background about this amazing company:
All of Red Land Cotton's products are made in the USA, right in Alabama! That's a HUGE achievement to be proud of and to support, in my opinion.
Tradition runs deep at Red Land Cotton. This family owned company has 3 generations of cotton growing experience and it's easy to see how passionate they are about cotton farming and the quality of their cotton products!
They are the only cotton-farming family in America that grows their own cotton to manufacture directly into towels and sheets made entirely in the United States.
They select only the finest cotton their farm can produce to go into our sheets and towels.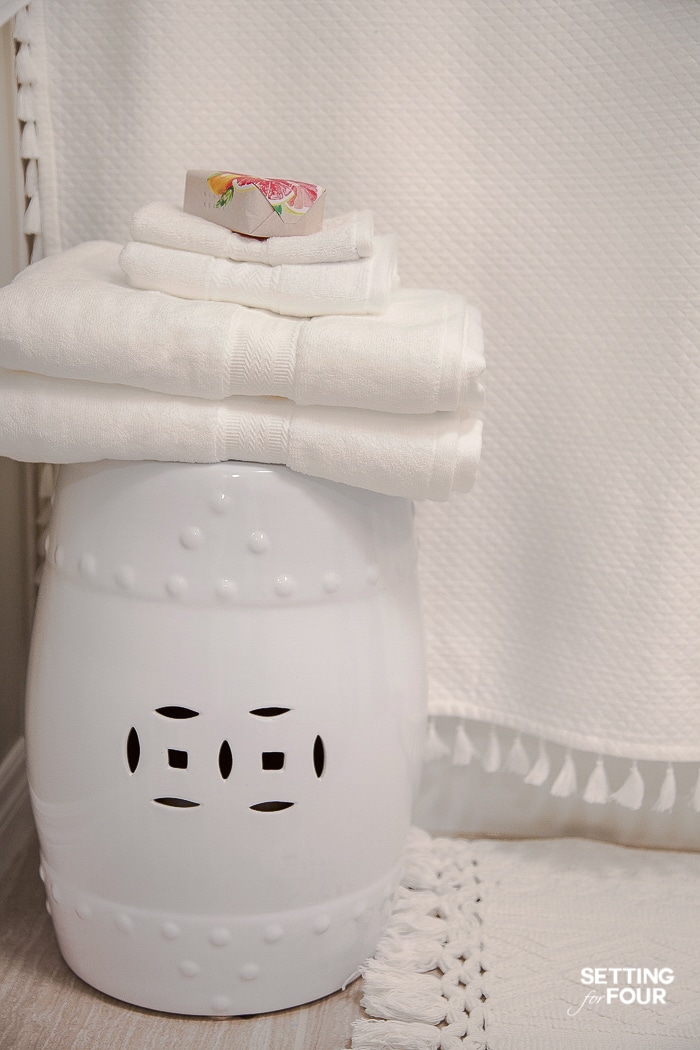 Shop the Look! Click on the images below and scroll using the arrows!

Another reason to love this company is that they offer a lifetime warranty on their bed and bath items; they have so much pride in the quality!
From heirloom-inspired bedding to luxe bath towels, and other home linens, everything Red Land Cotton makes uses the finest homegrown cotton.
STYLING TOWELS TIPS
Here are some ways I styled their bath sheets and bath bundle to make our bathroom a dreamy, spa like oasis!
1. Hang bath sheets on decorative wall hooks (mine are brass)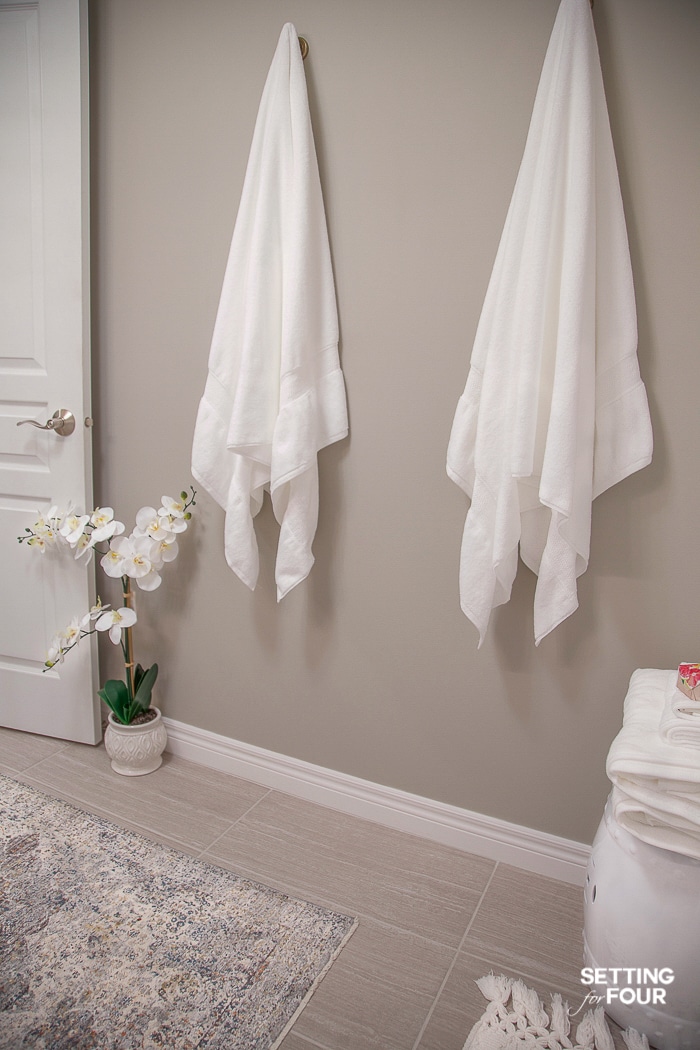 2. Layer hand towels on a towel ring: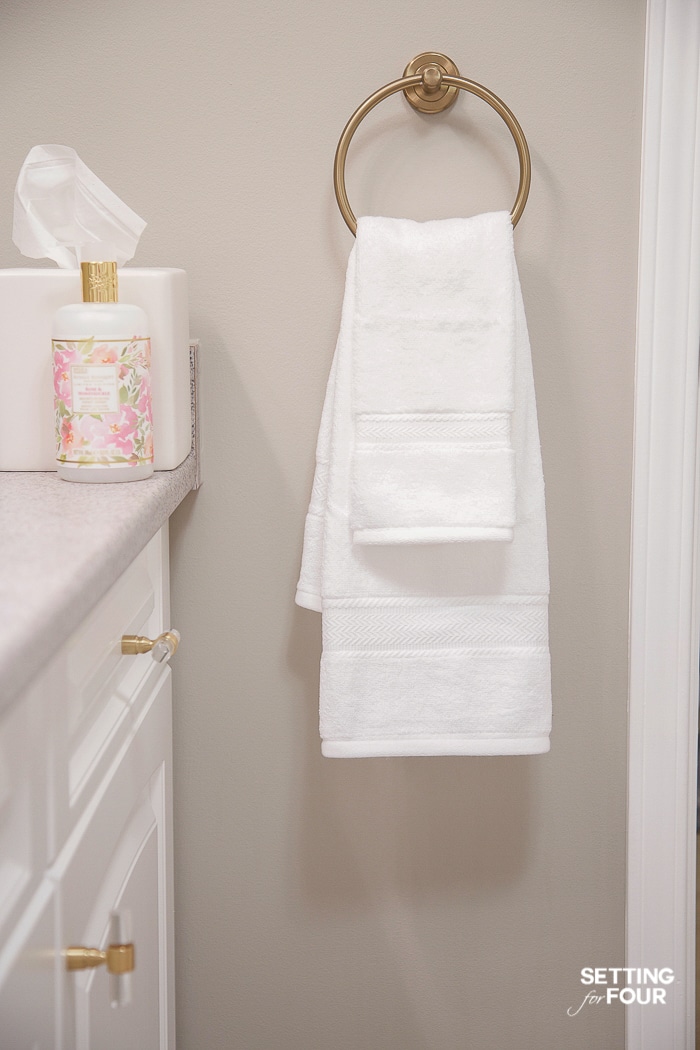 Shop the Look! Click on the images below and scroll using the arrows!

3. Stack bath towels on a garden stool – so handy when you hop out of the shower!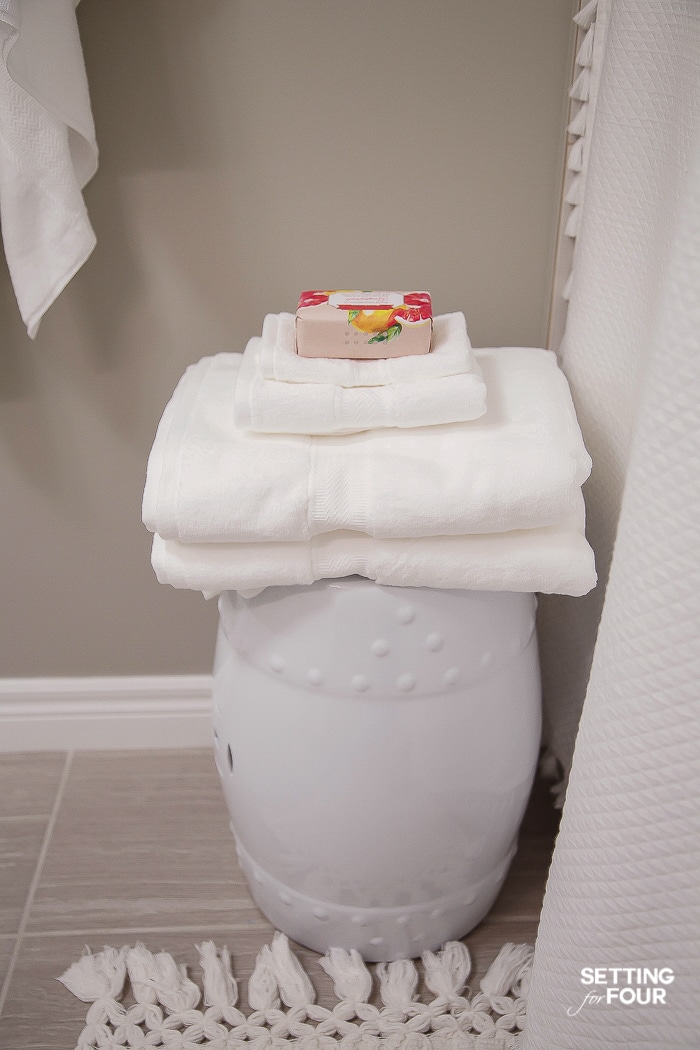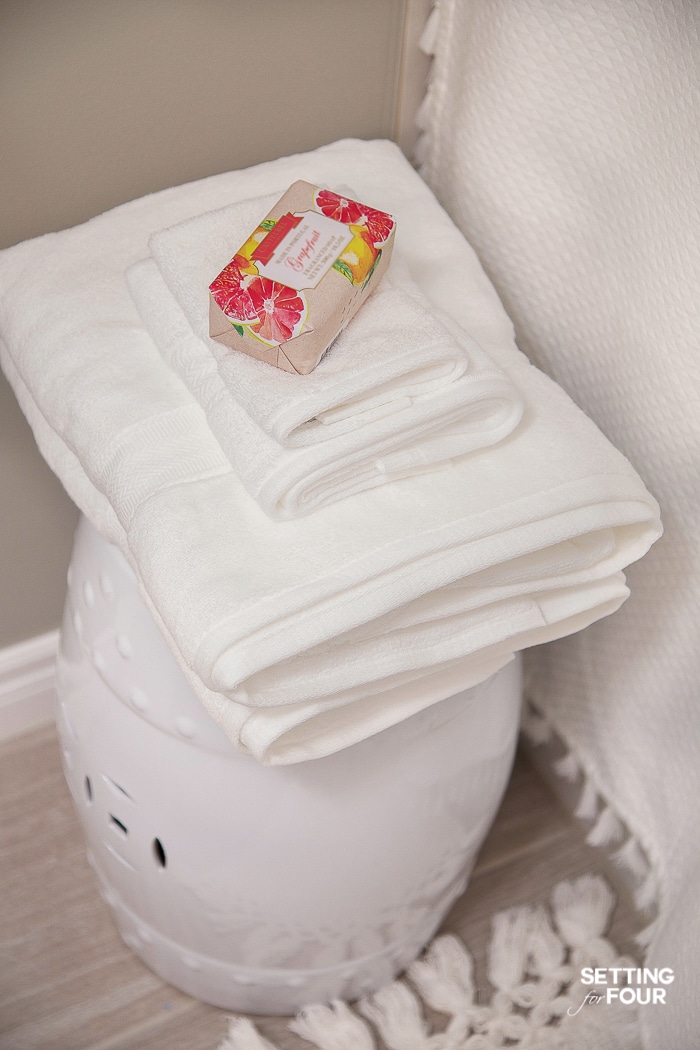 Check out these beautiful bathroom accessories!
GIFT IDEAS!
Red Land Cotton's bath bundles make fabulous gift ideas!
Mother's Day is coming up! Why not make her a gift basket filled with these gorgeous towels, sugar scrubs and some scented soaps?
These luxurious towels and their heirloom quality bedding make fabulous wedding gifts too! In fact they have a wedding registry on their website, tell the bride to be in your life!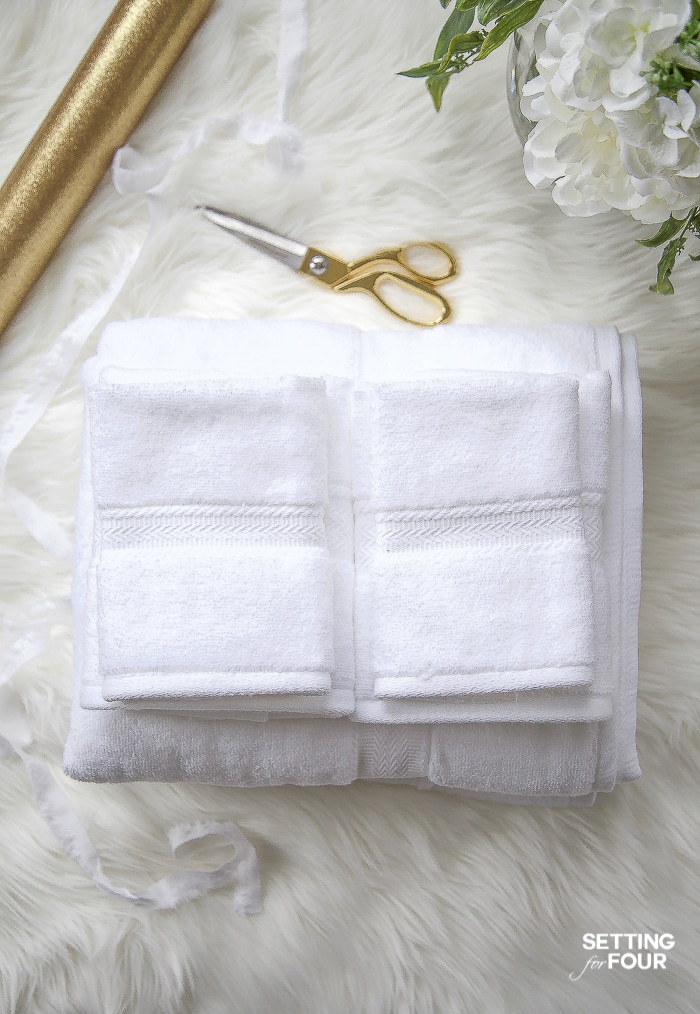 Shop the Look! Click on the images below and scroll using the arrows!

Sign up to Red Land Cotton's fun newsletter (sign up is at the bottom of their website) to get bed and bath inspiration, news, sales and promotions in your inbox.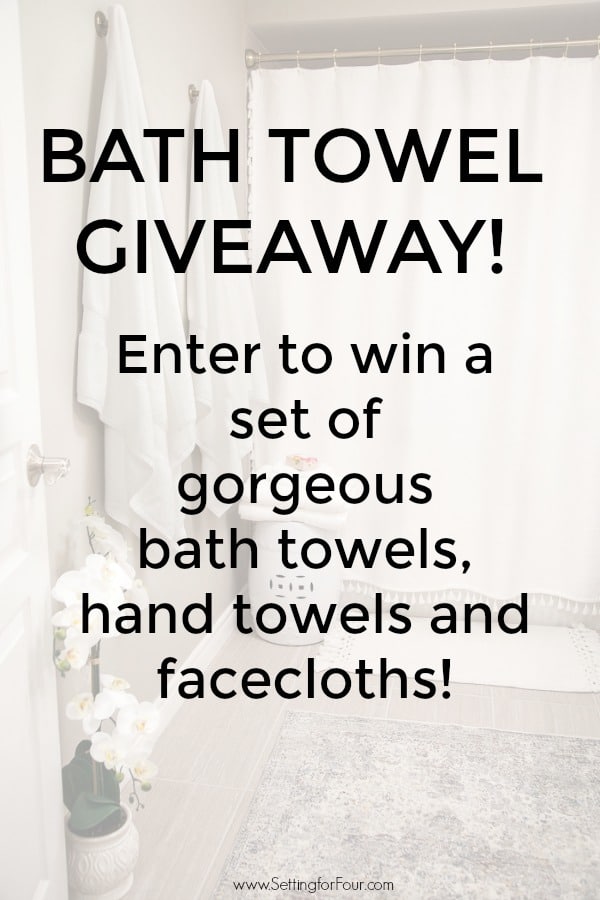 Update: The Giveaway is now over.
Congratulations to Nancy S for winning this giveaway!
Enter this exciting Giveaway for a chance to win one Leighton Bath Bundle which includes: 2 bath towels or bath sheets, 2 hand towels, and 2 washcloths in the color of your choice! Open to the USA including Alaska and Hawaii.
Go to Red Land Cotton and tell me which towel COLOR is your favorite in the comment section below!
Subscribe to my blog at the end of this post (where it says 'Get FREE Decor Tips & DIY Home Inspiration!' Enter your name and email address)
Giveaway ends April 26, 2019. Winner will be emailed by April 30th.
You may also like:
Your Guide to Choosing Cabinets For Your Kitchen & Bathroom
How To Deep Clean Your Bathroom in 5 Steps
15 Minute Bathroom Organization Tips & Declutter Ideas