See our bathroom renovation on a budget, our goals & plans! Follow the DIY projects we are tackling to fix cracked bathroom floor tile, make our grey bathroom brighter and decorate our bathroom on a budget!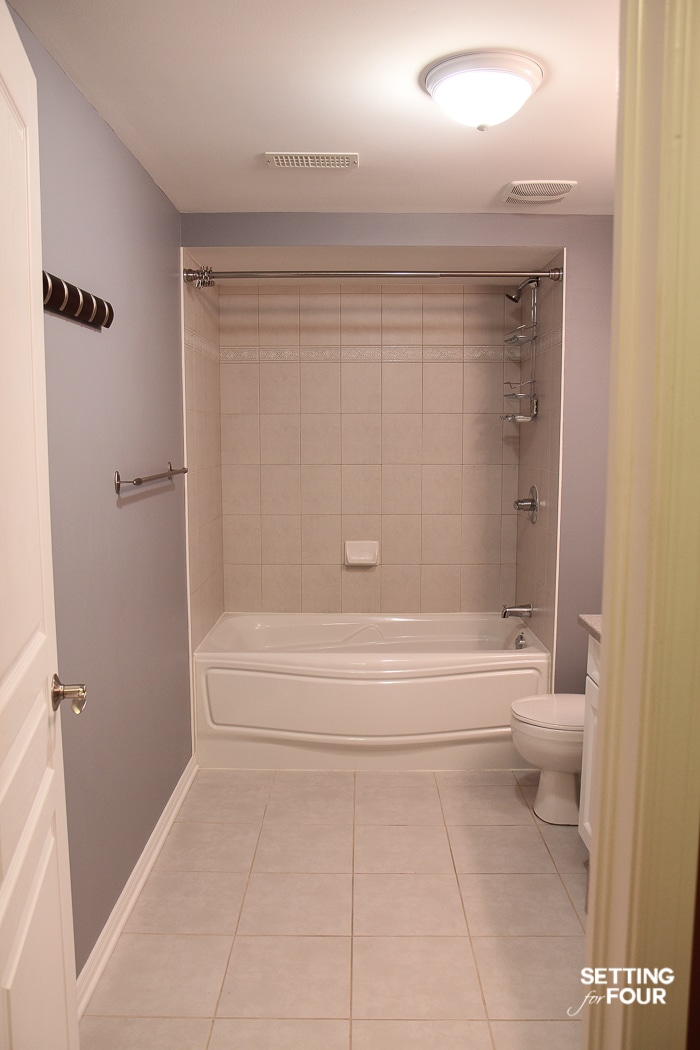 We renovated our bathroom and I am so excited to show you step by step how we did it ourselves from tiling, adding new lighting to decorating ….all on a budget!
If you saw my Spring Bathroom Refresh you saw a sneak peak reveal of this bathroom partly renovated!
We have 4 bathrooms in our current home, (one is a powder room) which is certainly nice to have …and also a lot of bathrooms to clean lol!
The bathroom that we are renovating is the one in our finished basement.
The Bathroom, What I like and Dislike:
It's really important to sit down before your renovation and make a list of the pros of the space and the cons. The pros are what you want to keep and build upon and the cons are what you want to eliminate or minimize!
Pros: It's a good size, has a tub shower and a decent nice vanity with a good amount of storage which I really love.
It also has a toilet that is still in great shape – so we'll keep it in our reno plans.
Cons: Since it's in the basement there are no windows in this bathroom so I'm hoping to add more light and brighten the look of it with some decorating tricks and lighting fixes.
The lighting is also really dated and provides little overhead light and awful task light. There is a flush mount 'boob light' and a set of dated 'Hollywood' lights over the vanity mirror.
This bathroom also has cracked floor tile and over the past few years the crack has gotten bigger and bigger.
So we decided to renovate, fix the cracked tile, paint, add new lighting and redecorate.
You can see some of the cracked tile in this pic: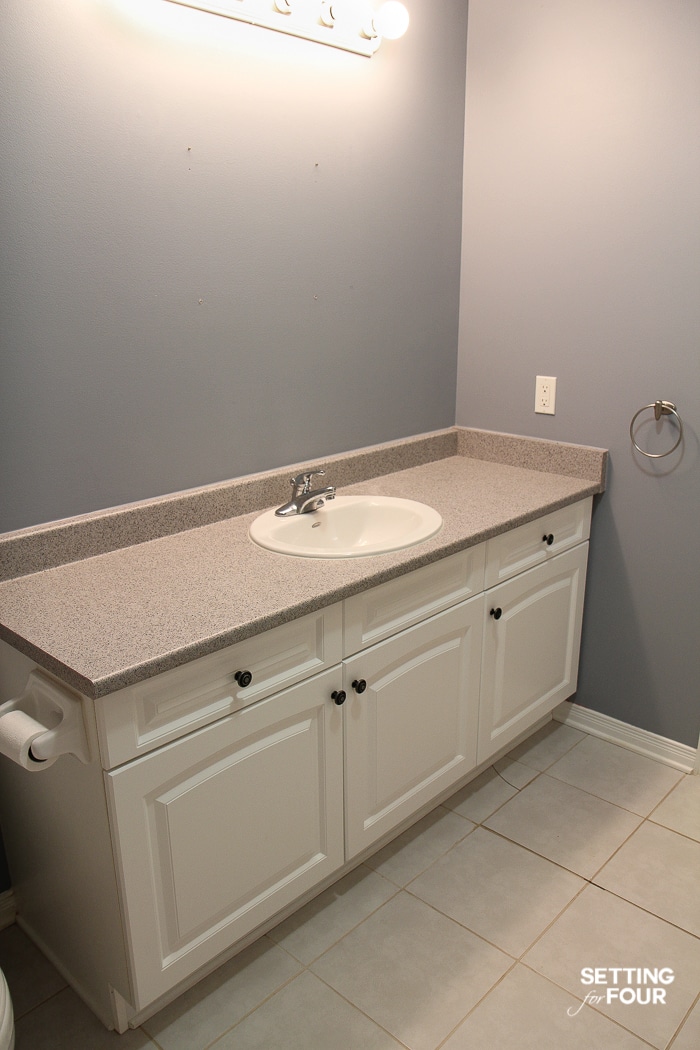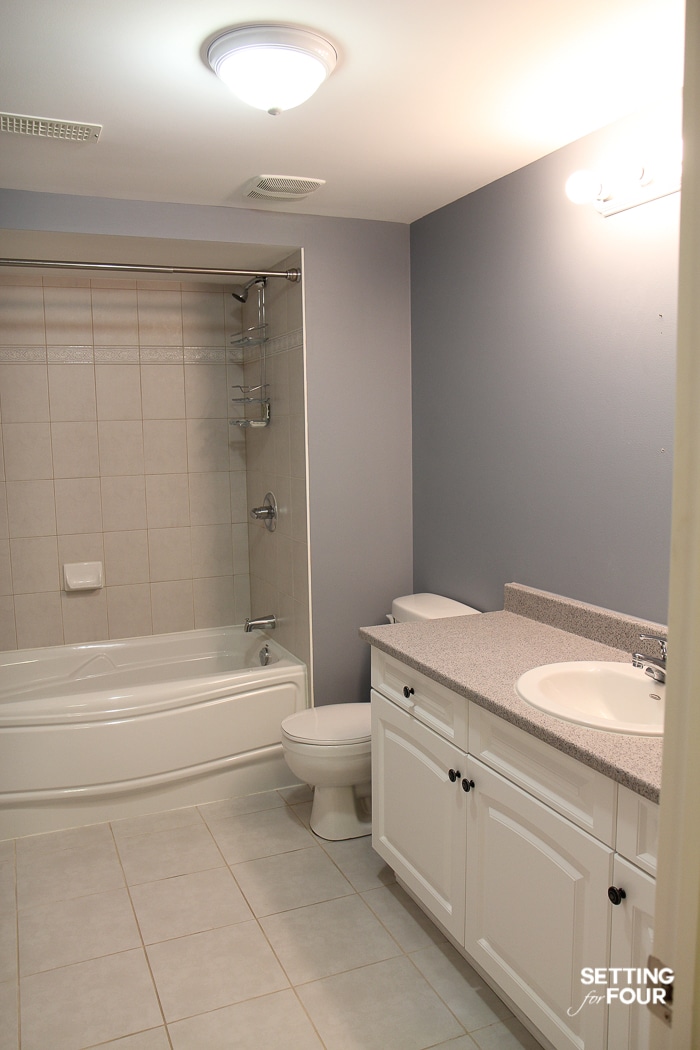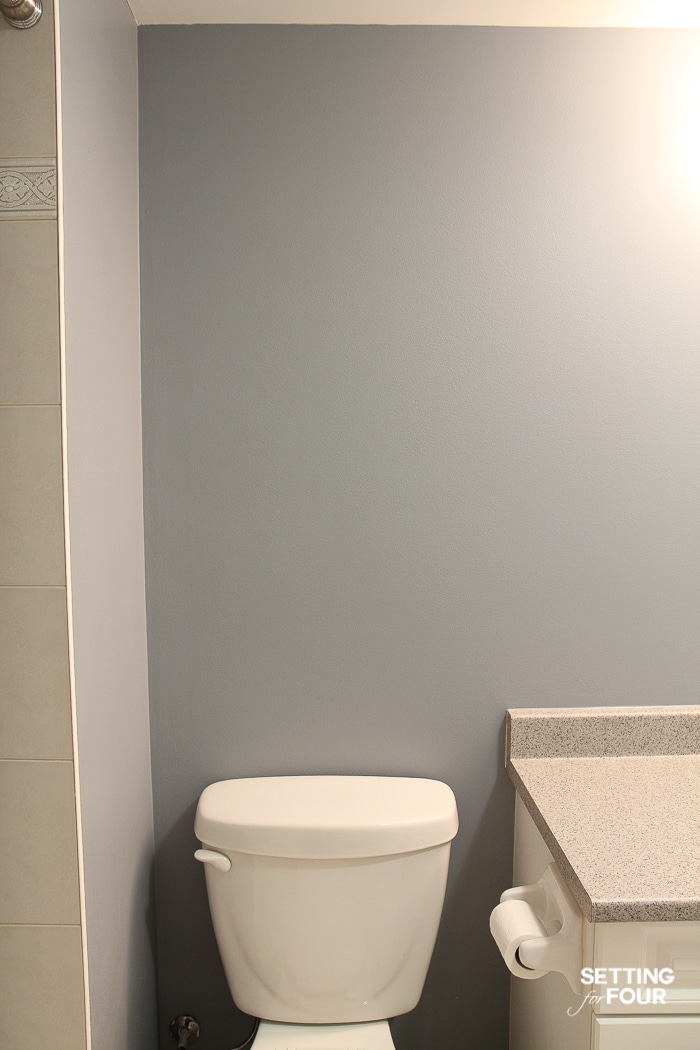 Bathroom Renovation Plans:
I used this helpful DIY Home Project Planner & Workbook to plan and track every detail of our bathroom renovation!
It's such a fabulous way to itemize each step that has to be tackled, track the budget, record the details on the materials I'm using and most of all to ensure a successful reno and finish it!
This planner allowed me to create a vision and execute it!
Bathroom renovation on a low budget:
Our goal in this renovation is to do it on a tight budget – for a few reasons.
Reason # 1 – this bathroom doesn't get used a lot since it's in our finished basement. While we use our basement a lot, we just don't use this bathroom as much as the other bathrooms.
Reason #2 – we are putting our renovation dollars in other projects in the house, like our kitchen remodel that we just finished.
If you love seeing ugly kitchen makeovers, be sure to check out our kitchen remodel where we refaced our dark wood cabinets and transformed our dark, dated kitchen into a light, bright white kitchen!
Reason #3 – The bathtub shower, toilet and vanity are in good condition so there's no need to replace them at this time. Yes the bathtub surround is not my favorite (it's a boring tile with a floral border on it). Also I would LOVE to replace the bathtub surround with some beautiful tile down the road, but it's fine for now. As I mentioned we have other bigger reno priorities. The vanity countertop is not my favorite either. It's a speckled laminate, but it's gray and workable. Again, down the road I'd love to replace it with a nice piece of white granite.
In a perfect world it would be so nice to rip everything out and replace every single thing in this bathroom. I'd love to add marble flooring, granite countertop and a marble tub surround. But that's just not reality for us at this time! Renovations are often about compromise, where to spend and where to not spend, where to splurge and where to save.
It's good to be practical and put 'dream' renos on hold until they can tackled financially!
So when you are doing your room makeovers and renos, keep that in mind! It's completely okay to renovate without replacing every single thing! Be practical! Your marriage will be for the better – (my hubby is a 'saver' is your's?) and you can enjoy your room reno without blowing the budget!
Reason #4 – Because we are not moving the sink, toilet or tub we can keep the plumbing in its existing place and savie tons of money in our reno. Moving plumbing is a big expense!
Bathroom Remodel Goals:
My the tight budget in mind, my goal with this bathroom is to turn it into a bright spa-like oasis!
I want to add warmth and brightness to the space with greige paint that has a warm undertone and with new lighting that will definitely add brightness and better overhead light and task lighting.
I also want to brighten this bathroom with my go to decorating tricks that will make a room feel larger and brighter such as adding metallic finishes that will help bounce the light, a larger mirror that will reflect light and white decor that will give the bathroom a spa like feel.
The overall color palette will be: greige, white and brass
Bathroom Renovation To-Do List
Fix cracked tile – remove existing tile and add new tile.
Add new baseboard since it has to be removed anyway to remove the old tile. We are going to add new baseboard in a taller profile.
Paint. The color of this bathroom is currently a cement gray with a blue undertone. (I don't have the name of the color because the previous owners painted it.) There are no windows in this bathroom (it's in the basement) and there is no natural light. So this color makes the bathroom look dark and small. The blue undertone of the gray paint makes the bathroom feel 'cold' and sterile. The color palette for this bathroom will be greige and white. So we'll add greige paint to the walls.
Ugly boob light – update with a semi flush light.
Dated 'Hollywood' style vanity light – update with a new vanity light.
Dated mirror – update with a new mirror.
Change the towel holder to updated style.
Remove towel bar and add towel hooks.
Change dark vanity hardware to brass and lucite pulls.
Remove wall hook rack.
Add a new updated faucet.
Add a wall shelf above the toilet for display and additional storage.
Make an extra long DIY tasseled white shower curtain to add style and brighten the bathroom.
Add a chic bathmat and area rug for the tub and vanity area.
Add a chic white soap dispenser, white decor, white orchids and other brass decor accents.
Stay tuned for more of our bathroom renovation including my bathroom mood board design plan and the beautiful floor tile we selected!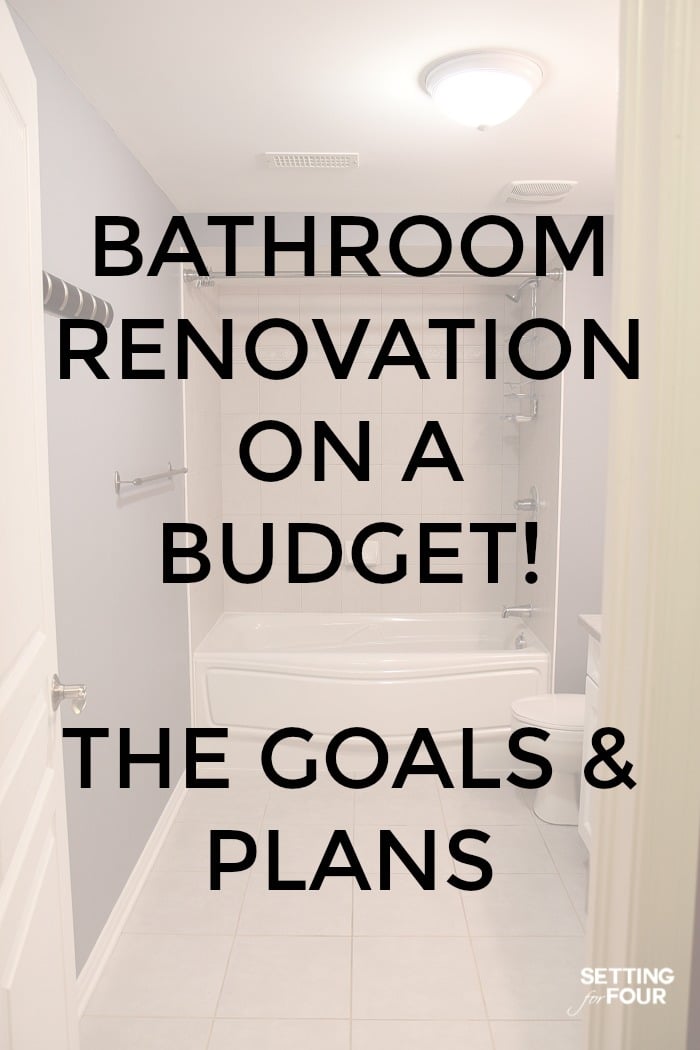 Do you need help decorating your home? I offer online decorating and color consult services – email me at settingforfour.com for more info!

You may also like:
How To Deep Clean Your Bathroom in 5 Steps
How to Clean Tile Floors – the Chemical Free Way
An Essential Guide to Choosing Cabinets For Your Kitchen & Bathroom