Description
This useful home renovation, redecorating and remodel planner & workbook organizer will get your home projects organized and save you MONEY & TIME!
No more home renovation or redecorating fails!
Every home project needs a plan for success!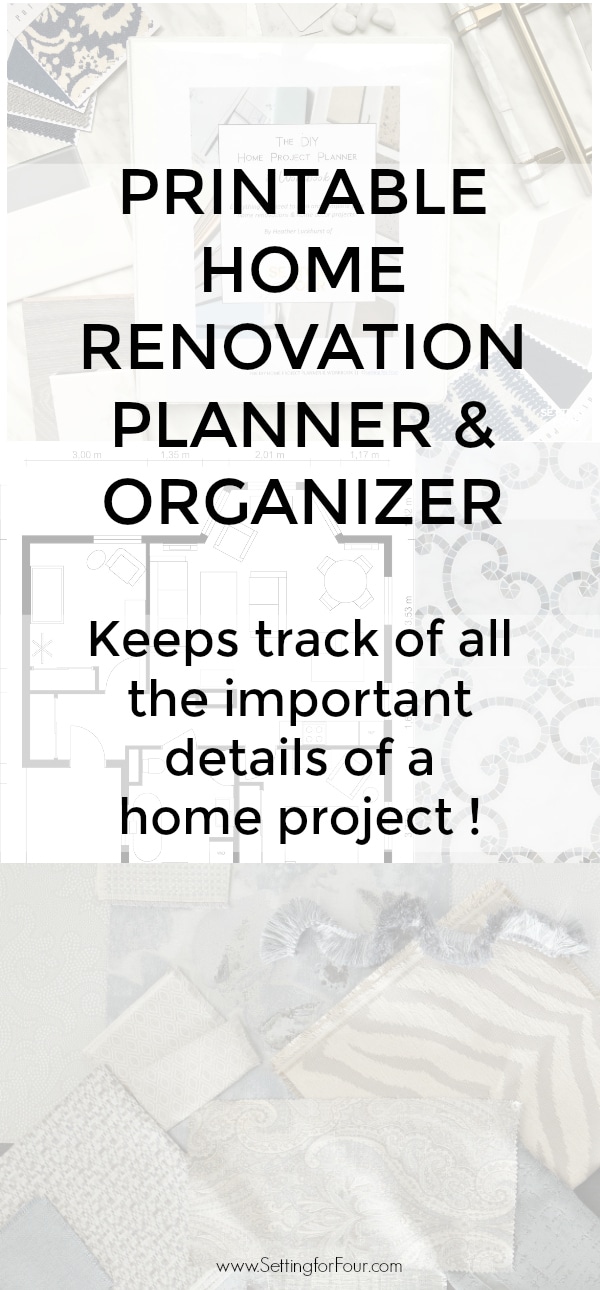 This valuable planner will take the stress out of completing your:
home renovations
kitchen and bathroom remodels
room makeovers
home decor projects
exterior and interior home projects
What I've learned with my design clients is that the thing holding most people back from completing their home renos and room makeovers and what causes their home renovations to fail is the lack of a plan.
When you're working on a home project there are so many details to keep track of:
Job bids and quotes
Material samples
Items to order
Material codes
Prices
Specifications
Measurements
Timelines
Steps to follow in the correct order
It can be so hard to keep it all straight!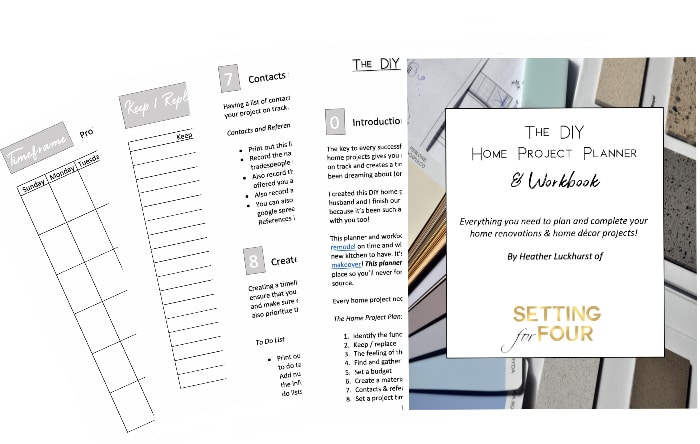 Wouldn't it be so much easier to have a tried and tested organizer? Guiding you through the entire process, step-by-step?
In this organizer I guide you through of those steps for a successful renovation and design!
Including how to start and how to finish your home projects.
So you can increase the value of your home and love living in it!
This planner & workbook includes 19 printable pages to plan, from start to finish, your HOME RENOVATION, KITCHEN/BATHROOM REMODELS, ROOM MAKEOVERS OR HOME DECOR PROJECTS!
This is a two part Planner AND Workbook – I'm giving you both!!!
1. THE PLANNER includes my easy-to-follow 8 step project guide to use in all of your home projects.
It walks you through the 8 essential steps to a successful home project and how to follow them!
When you follow these 8 steps your Home project will get finished, be beautiful and be on budget!
The Planner portion completely explains how to use the workbook so there is no guessing on what to do!
2. THE WORKBOOK includes a project overview list, material lists, project tracking sheets, budget worksheets, to do lists and time line calendars.
This two part Home Project Planner and Workbook contains the essential planning tools that will ensure your DIY home projects are successful!
The DIY Home Project Planner & Workbook Organizer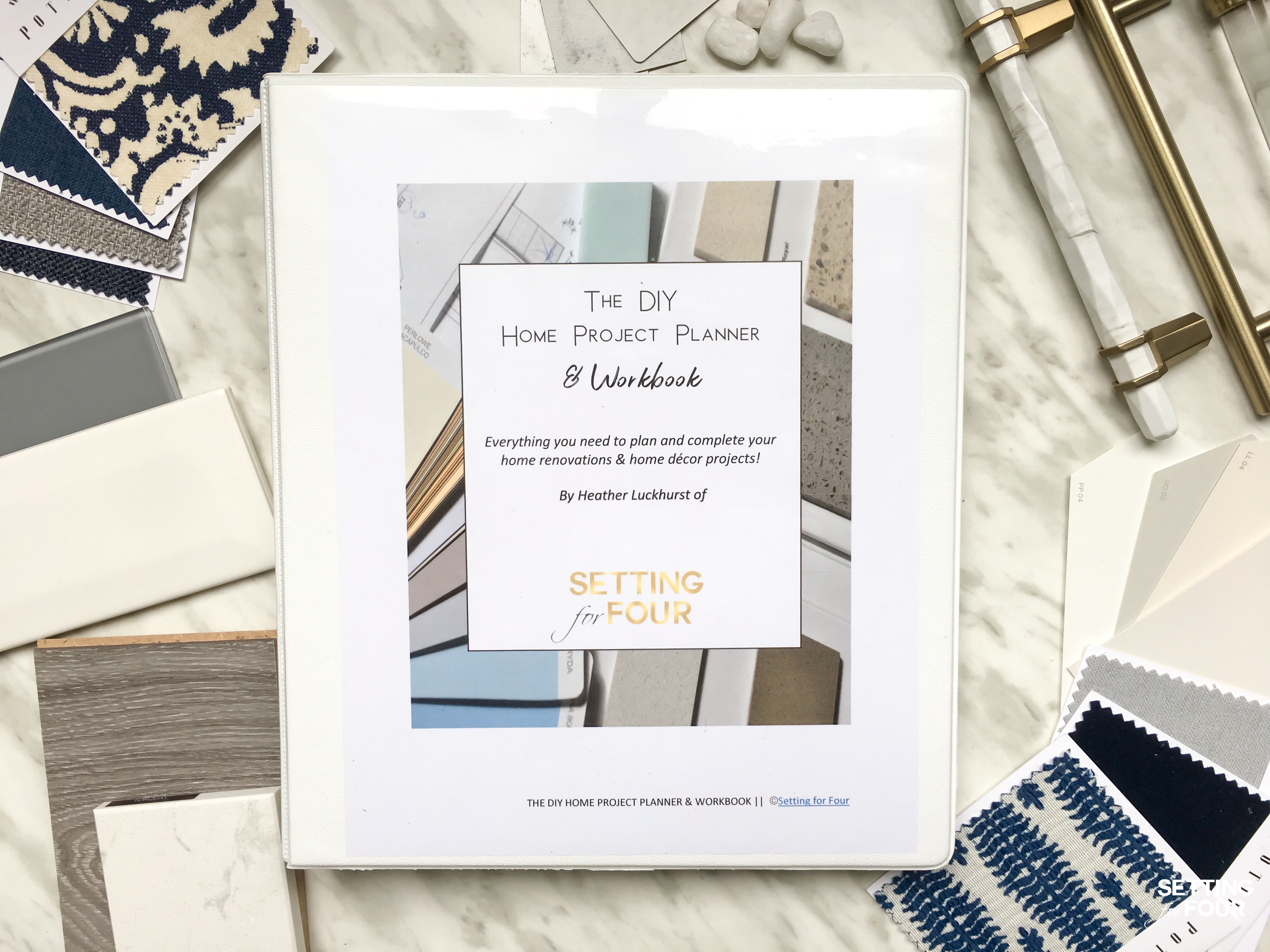 The 19 Page DIY Home Project Planner & Workbook includes:
Instant Digital Download PDF with 19 Pages, including:
• Cover page (x1 page)
• 8 Step Project Plan Guide to plan out your entire project and follow along step by step (x9 pages)
• Project Details Overview List (x1 page)
• Keep/Replace List (x1 page)
• Budget Worksheet (x1 page)
• Materials list (x1 page)
• Project Contacts List (x1 page)
• Timeframe calendar to plan the timing of your project (x1 page)
• To-Do List (x1 page)
• FREE BONUS SHOPPING GUIDE – a list of the BEST stores where I shop for tile, carpet, furniture, lighting, rugs, decor and art for my own home projects and for my design clients! (x2 pages)
I used this planner to turn our dark, dated Tuscan kitchen into this stylish white kitchen!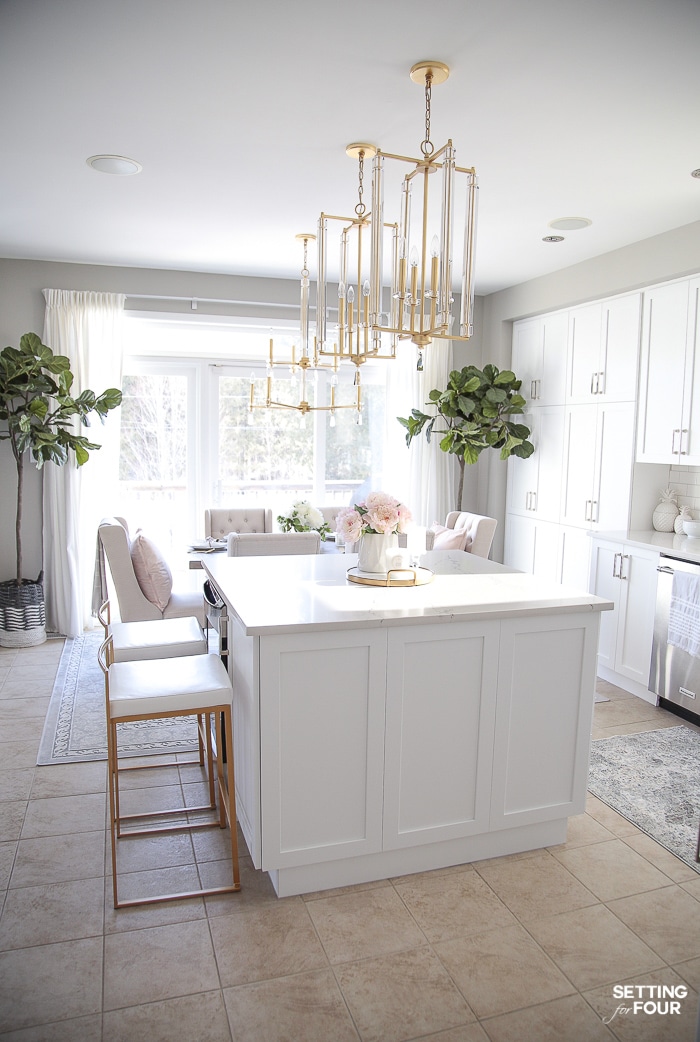 I know you'll love this planner as much as I do!
⭐ PLEASE NOTE ⭐
* This listing is for a DIGITAL ITEM, no physical goods will be shipped to you.
DOWNLOAD THIS PLANNER ONTO A COMPUTER!
*** DO NOT DOWNLOAD THIS DOWNLOAD ON AN iPHONE OR iPAD SINCE THERE ISN'T A DOWNLOADS FOLDER ON THESE DEVICES AND YOU WON'T BE ABLE TO FIND IT! ***
* The colors displayed on your computer monitor may slightly differ from the printed version depending on the printer that is being used. We cannot be held responsible for any difference in color
* This design is for personal, non-commercial use only. It may not be duplicated, resold, altered, shared, or used in derivative works.
Thank you!
Heather
* * *
Wondering what to do with your DIY Home Project Planner & Workbook pages? Create a beautiful DIY Home Project Planner & Workbook Binder to use over and over again!
Assemble them in a binder as follows:
Supply List:
Assembling your Planner Binder:
1. Download and print your DIY Home Project Planner & Workbook in color. You can print in black and white if you'd like to save ink. Print additional copies of any pages you want multiples of.
2. Punch holes in all pages with the hole punch.
3. Add the Planner Pack pages to the binder in whichever order you'd like.
4. Optional – Place pages in sheet protectors if you're worried about spills.
5. Optional – separate your planner sheets with tab dividers. You can keep the menu plans, recipes and grocery list in one section, the calendars and places to be list in another section.
6. Enjoy your planner!
If you'd like help with your home
You may also like: